Alinea (Chicago, IL)
Alinea
1723 N Halsted St, Chicago, IL 60614
312.867.0110
www.alinea-restaurant.com
Thu 08/17/2006, 07:15p-12:30a
If you were to view Alinea from across Halstead Street, you would have no idea of the culinary endeavors taking place within its walls. The restaurant sits within a rather nondescript gray stone building. There is no signage; and the large, argent "1723" numerals are your only hint as to Alinea's location. Presumably, I imagine, this
modus operandi incognito
is to keep out the riffraff and rabble that roam Chicago's streets. If anything, it makes you feel as though you're somehow "in the know."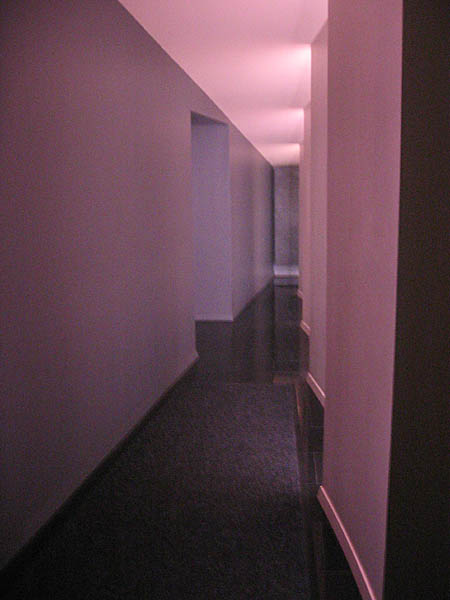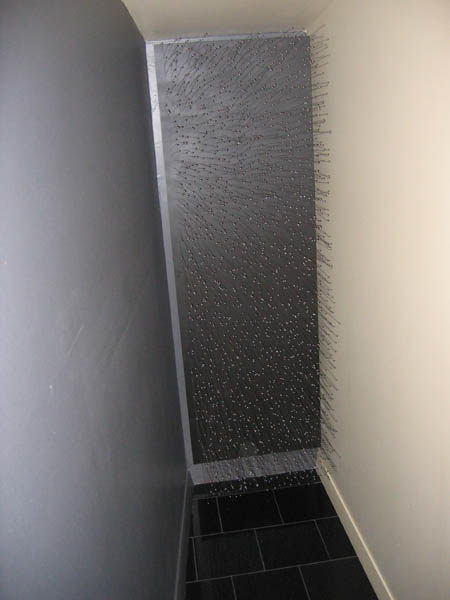 Immediately upon entering, you can tell that you will be in for quite an experience. You stand at the end of a rather peculiar-looking hallway; a panel of gently swaying fiber-optic lights at the end of the hall draws you nearer. But as you approach, a sliding doorway opens to your left. You turn to look, and are a bit startled, as the hostess is perfectly positioned, almost too perfectly positioned, to greet you (I imagine that they must have some sort of sensor or camera system set up to allow for this feat).
I had a 7:15PM Thursday reservation for a party of three and we were seated immediately upon arrival. Shortly thereafter, a young couple arrived: seemingly a man out to impressive his rather décolletéd date. After that, two older couples sit immediately to our right. Our server greets us. We discount the abbreviated Tasting menu right away; no, we are here for the Tour, a 24-course marathon of a meal that would allow us the full breath of Chef Achatz's brilliance. I am then given the wine list, a rather impressive one at that. But one or two bottles would not do a meal of this scope justice; instead, I let the sommelier pair 14 tastings (tastings are approximately 2.5oz a pour, any more and you would likely not remember the latter third of the meal!). One note about the wine pairings: the standard pairing is $115; however I requested the "upgraded" pairing, which provided five alternates to the standard pairings, adding $50 to the cost. These are marked with a "*".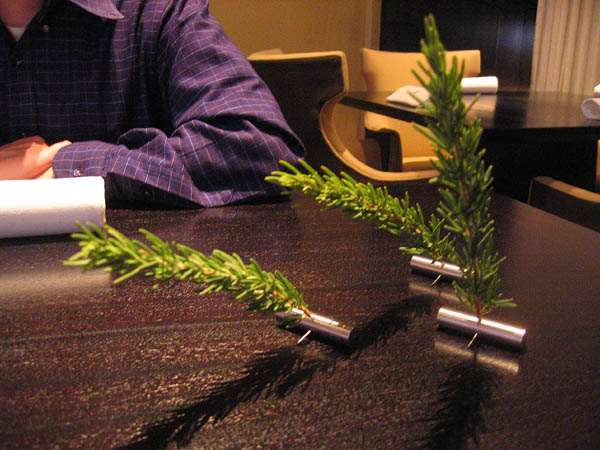 Alinea was well into its summer menu by the time we had our meal. Naturally this meant that in addition to the menu changing, the centerpiece would change as well. Alinea opened with their infamous ginger piece, then moved into honeycomb, and finally arrived at rosemary that night. These three twigs cast an alluring scent around the table, and would later become an interactive portion of the meal (see course 17).
Service was, as you might expect from a restaurant of this caliber, top-notch. Zegna-clad servers glided around the room effortlessly, unnoticed, and unobtrusively. Our water glasses never went past half empty; and the way the sommelier delved into the minutiae of our wine pairings was well-appreciated by this diner. The staff was very accommodating when it came to my photographing and note-taking for every course. In fact one staff member mentioned that they get about five people a week doing the same. That did not surprise me.
Now, let us get on to the food: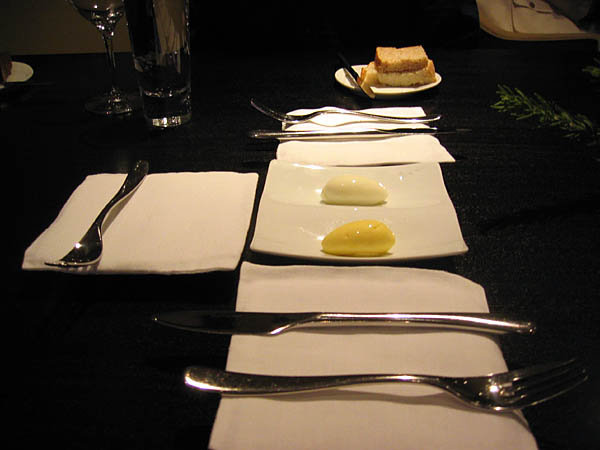 Here we see the butter presentation: a white goat's butter and a yellow cow's butter. Both were splendid, with perfect consistency and softness, and just the right amount of saltiness. We were also presented with a selection of breads; I had the pumpernickel, which was very pleasant, and the ciabatta bread, which is definitely a cut above what you get at Jack-in-the-Box!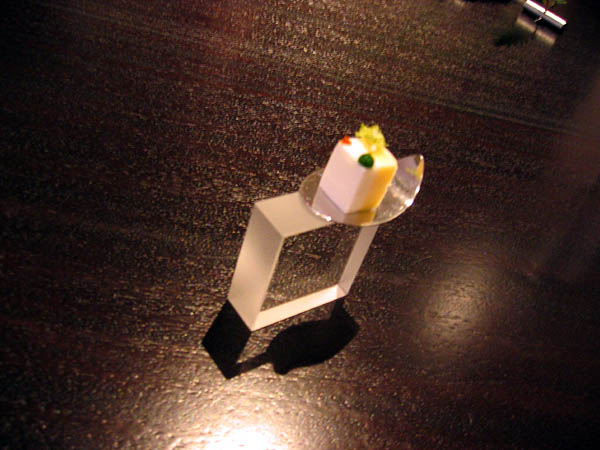 I Lhéraud "Vieux Pineau", Pineau des Charentes
01 CORN coconut, cayenne, lime
Our first course, a one-bite wonder which paired nicely with the Lhéraud, was served on a stainless steel tab perched atop a Lucite block. It possessed an ice cream-like consistency, a sweet and spicy concoction, the subtle fire of the cayenne and tartness of the lime contrasting with the coconut's smooth, mild creaminess. In fact, for me, the coconut made the dish very reminiscent of a Thai curry, refreshing if not a bit biting, a nice way to start the evening.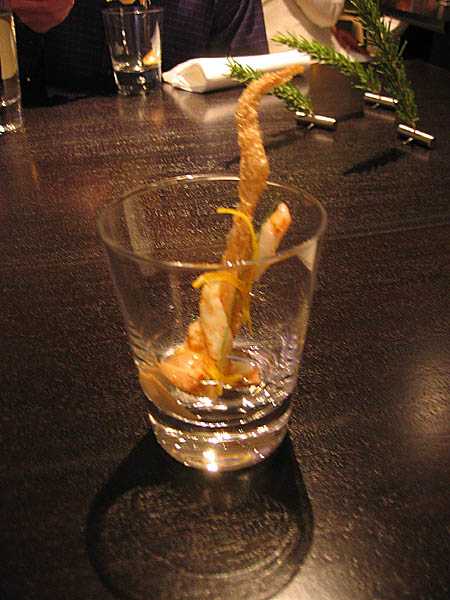 02 YUBA prawn, miso, orange
Looking like a demented straw of sorts, this was fried yuba with prawn. The idea was to use this "stick" to dip the miso emulsion at the bottom of the glass. The soft texture of the prawn paired nicely with the yuba's distinctive crunch; however, I felt that the flavors were not quite complete and lacked a certain intensity that I expected. It seemed rather bland compared to the other courses.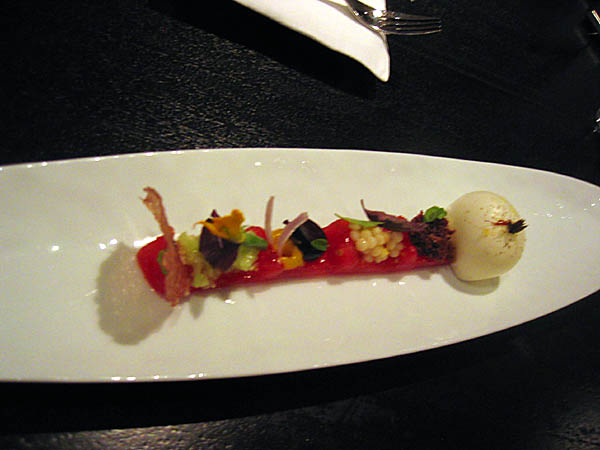 II Naiades Verdejo, Rueda, Spain 2004
03 TOMATO several complementary flavors
Paired with the Verdejo, which was one of my favorite wines of the evening, the tomato course was one of my dining companion's favorite of the night. What we had was a heirloom tomato cut into a thick strip, paired with five complementary tastes. The server called it an "organic" presentation as each one was presented slightly differently. Starting from the left of my presentation, we had "cucumber salad" (replete with a cucumber flower which had a fantastic, intense cucumber-y taste), curry pudding (rather ordinary), Israeli couscous (a bit nondescript, with a slightly chewy texture), seasoned crumrock (akin to eating heavily peppered sand), and a mozzarella ball (with a taste reminiscent of supermarket string cheese, I thought this would have a filling of some sort but soon discovered nothing but air inside; the ball gave a violent, surprising, and immensely satisfying explosion in the mouth, the first of many explosions that night).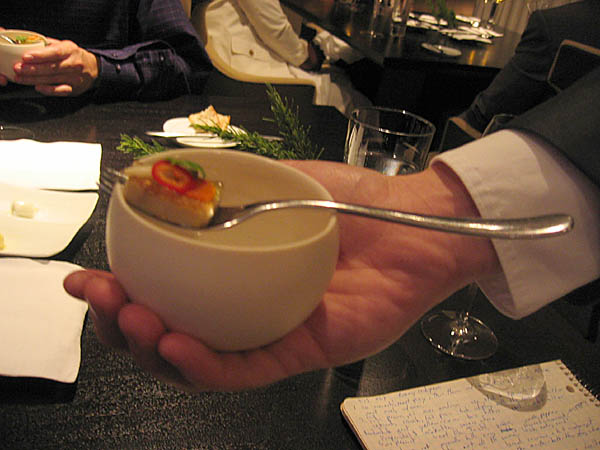 04 MACKEREL tumeric, bee balm, poppyseed
The fish was served atop a fork atop a rounded bowl. The bowl bottom was shaped in a manner that required it to be held by hand (that's the server holding up the dish in the photo). The fish's flavor was delicate, subtle, completely unlike the slight fishiness that I normally encounter when consuming mackerel. However, the fish was a bit firm for my tastes. At the bottom of the bowl was a bee balm chaser. I usually think of chasers as a pleasant tasting liquid drunk after consuming a fouler tasting substance. However, in this case the roles were reversed, as I thought drinking the balm was rather like drinking a bizarre concoction of liquefied toothpaste, deodorant, and hair spray. Suffice to say I've never tasted anything quite like it.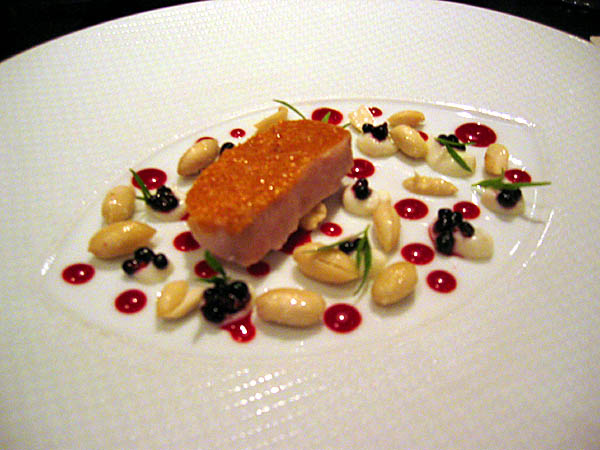 III F.X. Pichler "Loibner Berg" Riesling Smaragd, Wachau, Austria 2003*
05 HAMACHI buttermilk, blackberry, green peanuts
Next up was hamachi, or yellowtail, a sushi bar favorite of mine; this may have been the first time I've consumed the fish fully cooked. And wow, what a difference! The fish was super creamy, full-flavored, and luxurious, infused with a subtle peanut flavor, reinforced with the immaculately positioned peanuts, cassis vinaigrette drops, and blackberry pods surrounding the filet. The utter richness of this
Seriola quinqueradiata
proved the perfect complement for the fattiness of the Riesling it was paired with.
06 BACON butterscotch, apple, thyme
As yes, the infamous bacon, a "single piece of limp bacon in butterscotch, apple and thyme and hung on a tiny silver clothesline," according to
Esquire
's John Mariani. If any dish were to be named "signature," this would be it. Though my piece was not limp, it was not exactly crisp from the frying pan either. Instead, it was rigid, yet flexible, a fine balance of texture going along with a fine balance of sweet and savory, an amalgam of smoky sweet flavor that goes together surprisingly well. The dish was a favorite of one of my dining companions.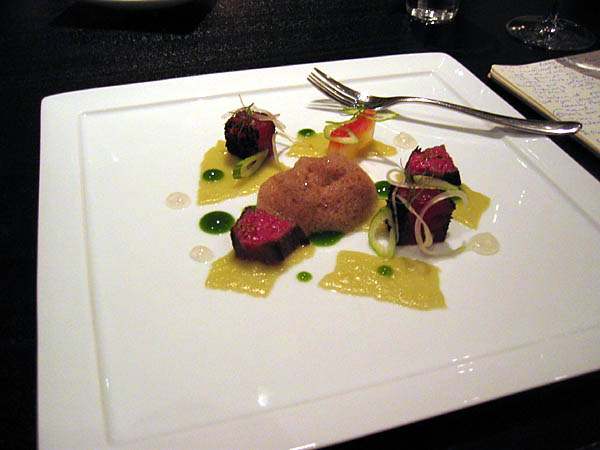 IV Abadia Retuerta "Cuvée Palomar", Sardon de Duero, Spain 2000
07 KOBE BEEF watermelon, cocoa, red wine
Our wine pairing with the Kobe, one of the standout dishes for me, was a superb mix of tempranillo and cabernet. Served with a fennel salad and an intense cocoa foam, the beef was tender even by Kobe standards. I mean look at that deep, concentrated purple hue! Pepper seared on the outside and super rare, super tender, creamy, dreamy on the inside. And I cannot discount the watermelon; Kobe and watermelon may not seem like a feasible pairing, but I guarantee you've never had watermelon like this before. An outside covered in pepper provides the perfect foil for the subtle sweetness of the melon's firm, almost meaty flesh.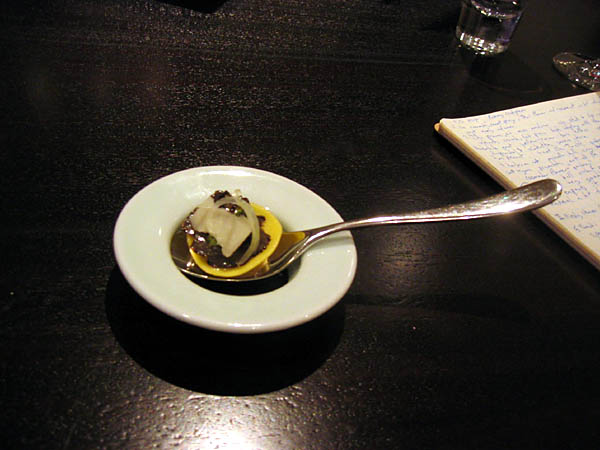 08 BLACK TRUFFLE explosion, romaine, parmesan
A signature dish at Achatz's former digs at the now defunct Trio, served in the signature "anti-plate," the explosion continues to impress. Basically we have a ravioli filled with truffle stock, and topped with a generous portion of sliced black truffle, romaine, and parmesan. Another one-bite course, we are instructed to close our mouths when chewing. Sage advice, as an explosion of truffle essence occurs instantly upon mastication. The second explosion of the night and clearly one of the best courses of the night for me.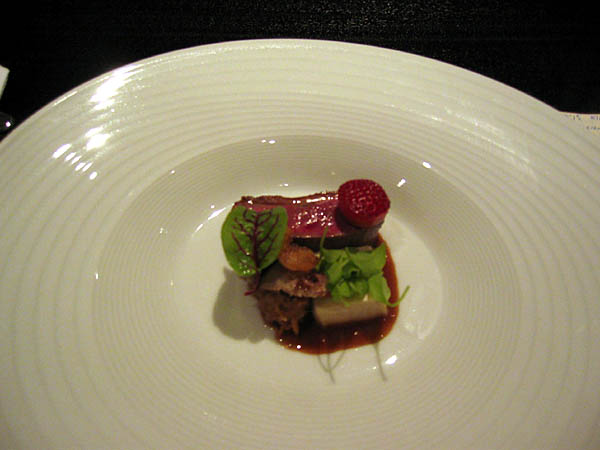 V Hermitage "Cuvée Emilie", Domaine des Remizières, Rhône 2002*
09 SQUAB strawberry, sorrel, long peppercorn
Alinea was actually my first experience with squab. Do you know what squab is? Despite the fancy name, it is merely a young pigeon. But oh how they've nobilized the common bird! We each received a breast, tenderloin, and leg, replete with crispy skin, strawberry, and a confit of sorrel, all atop a pepper custard. All three portions of meat each had their own subtly distinctive taste and texture, which went well with the paired French Syrah (an upgrade vs. a Kiwi variety). But the real star here was the skin, crispy, succulent, intense, reminiscent of Peking duck; I cannot remember having a better skin. Unfortunately the custard was rather bland, the only blemish on this otherwise perfect dish.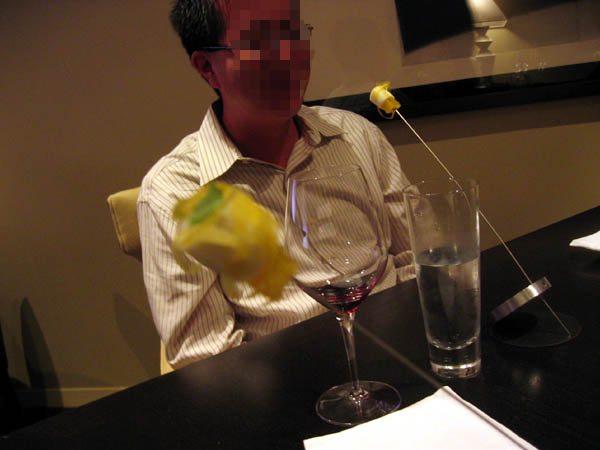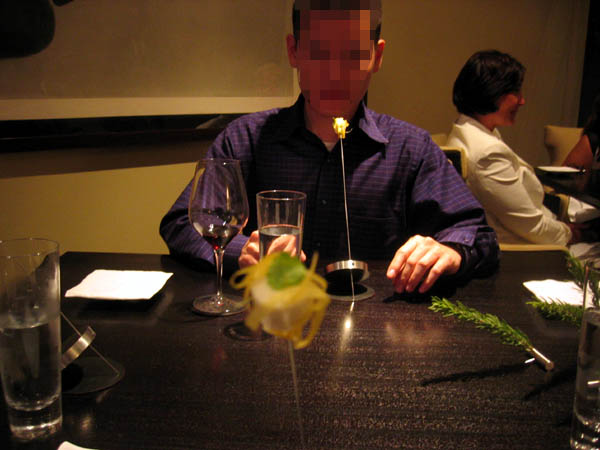 10 MENTHOL pineapple, lemon
Another "hands-free" dish, and arguably the one with the most interesting presentation (we were supposed to bite it off pole!). Attached to a thin metallic pole was a cube of menthol mousse wrapped in lemon leather and lemon zest, with a dollop of pineapple confit on the bottom. This was definitely a refreshing course, and functioned as a sort of "dessert amuse" for the first dessert section.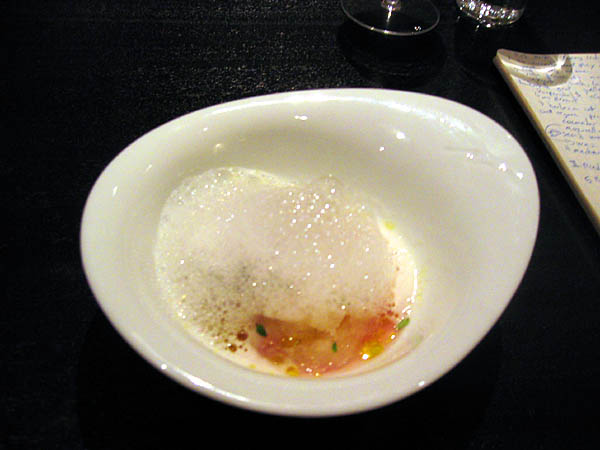 VI Dashe Late Harvest Zinfandel, Dry Creek Valley 2005
11 VERJUS lemon thyme, beet
It was here that we had our only California wine of the evening, a delightful late harvest with an intense, florid bouquet and tastes of raisin and apple. This rather peculiar looking dish is a verjus granité topped with a lemon thyme foam, all piled atop an orb of beet juice. The foam was rather unremarkable, but the granité was mildly evocative of Chinese grass jelly. Unfortunately I missed out on a potential explosion (can you tell I love them?) when I popped the beet orb with my fork. An inky purple immediately spread and tinted the remaining foam and verjus, suddenly giving flavor to the otherwise mild dish.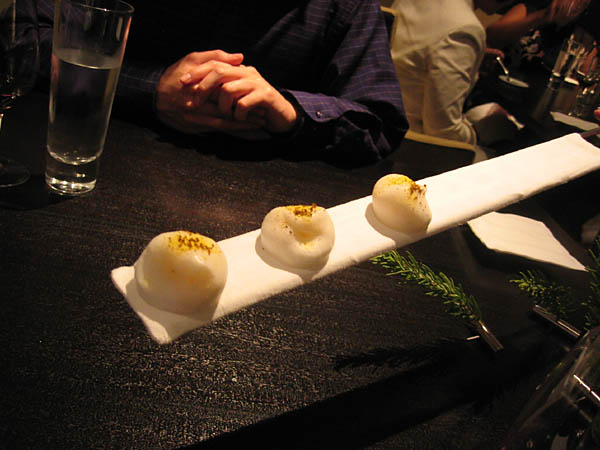 12 YOGURT juniper, mango
My favorite dessert course was also the third explosion of the night. What we had was yogurt contained in a dehydrated yogurt skin, a skin spiked with mango and juniper essence. Upon putting the contraption in my mouth, the skin dissolved, giving way to a cool dollop of mango-scented yogurt.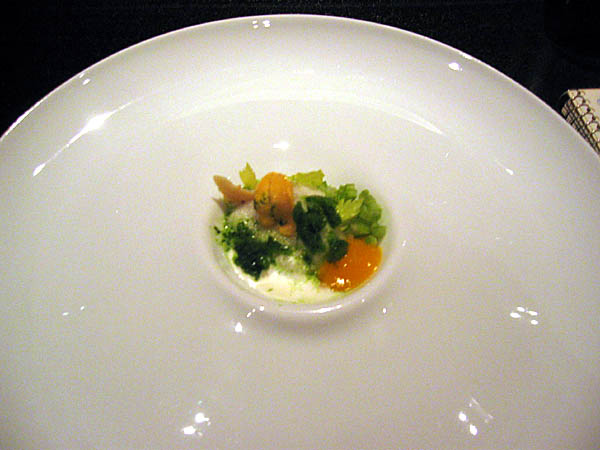 VII Raventós i Blanc "Perfum de Vi Blanc", Penedès, Spain 2004
13 SHELLFISH gooseberries, horseradish, celery ice
A amalgamation of clam, mussel, and a biting celery ice. The shellfish stood reasonably well on their own, but the celery taste was far too intense for me, though it was mitigated in part by the Cava. Probably my least favorite dish of the night.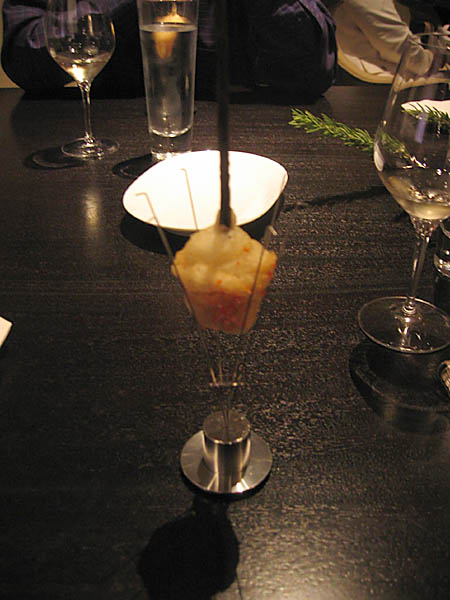 VIII Paolo Scavino "Sorriso", Langhe, Italy 2003
14 LANGOUSTINE vacherin, litchi, vanilla fragrance
Using the same tableware as the infamous "PB&J," the langoustine came wrapped in cheese vacherin with lychee and ginger. The entire contraption was fried tempura-style. That's a real vanilla bean sticking out from the top, serving both as a handle and as a source of scent (Achatz loves to pair scent with taste). Everything worked reasonably well together, but the flavors seemed rather muddled.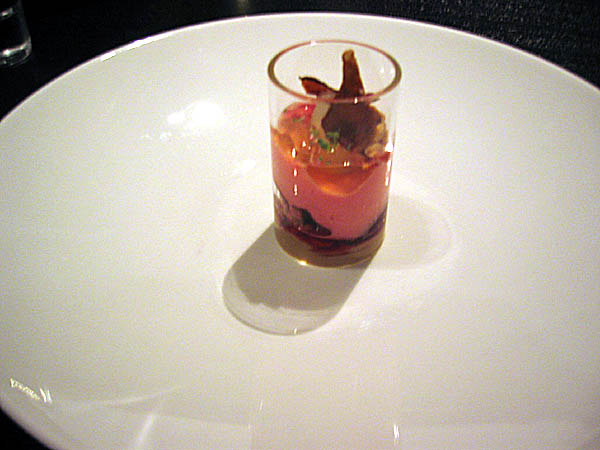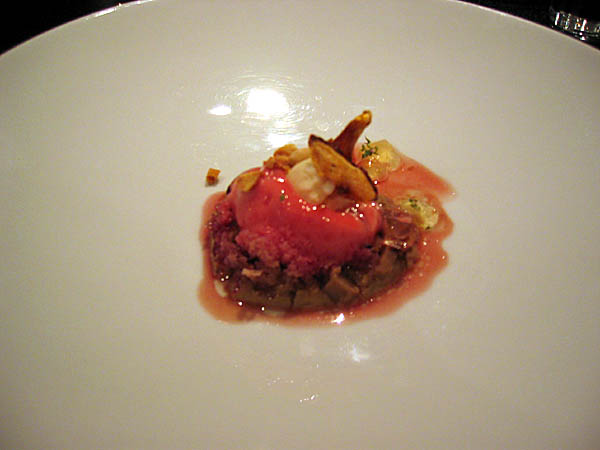 IX Lucien Albrecht Pinot Gris "Clos de Récollets", Alsace 2001*
15 PORCINI cherry, ham, toasted garlic
A bottomless glass cylinder filled with porcini mushroom puree, dehydrated ham, champagne foam, and almond ice cream. When the server removed the cylinder, the entire mishmash fell into a rather unattractive mess. The ice cream taken alone was quite superb, but the whole dish seemed to me a hodgepodge of disparate flavors that didn't mesh well with each other, with certain flavors such as the porcini dominating. Overall a rather disappointing dish that I felt didn't pair particularly well with the mineral-y taste of the Pinot Gris.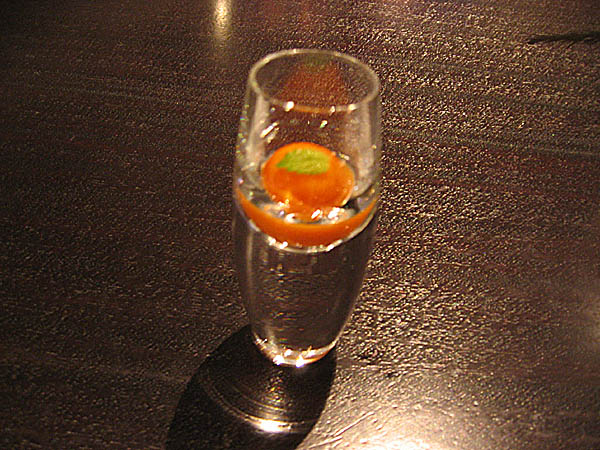 16 PEACH smoked paprika, orange
A paprika pepper shell filled with carrot juice, followed by a lemon balm chaser. The shell explodes upon hitting the palate, the fourth such explosion of the night (can you sense a trend here?). The peach/carrot flavor interplay was interesting, but ultimately didn't do much for me.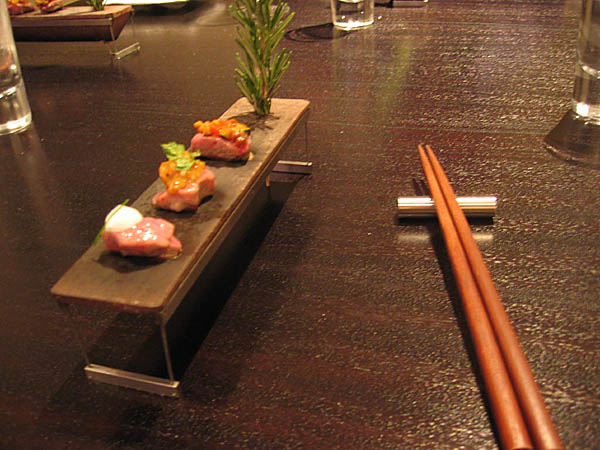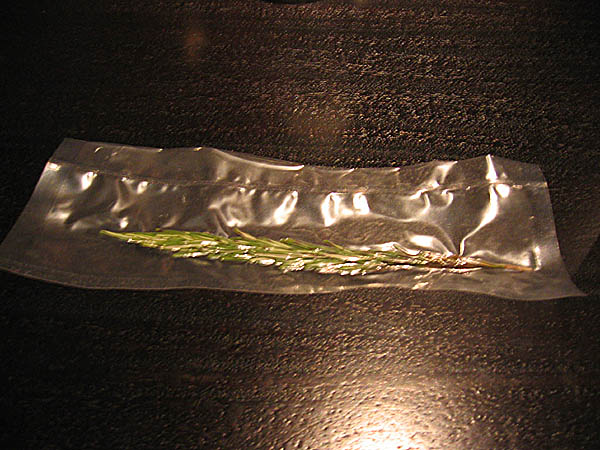 X Château de Beaucastel Châteauneuf-du-Pape, S. Rhône 2000*
17 LAMB summer vegetable jam, mastic, rosemary aroma
After a string of rather lackluster dishes, the lamb comes as a favorite dish of mine, perhaps the best lamb I've ever had. Three perfectly poached morsels of lamb arrive on a sizzling hot plinth. The server inserts the centerpiece into a hole at the head of the plate, the heat activating an invigorating rosemary aroma. The pieces are topped with a mastic-infused cream (imagine a taste not unlike what I would expect if I were to eat a pine needle), apricots (a bit more subtle than I'd like, but effective), and a summer vegetable jam (my favorite). At the end of this course I requested to keep my rosemary centerpiece. Not only did my server allow me to do so, he vacuum sealed the specimen for prefect preservation. Now that's service!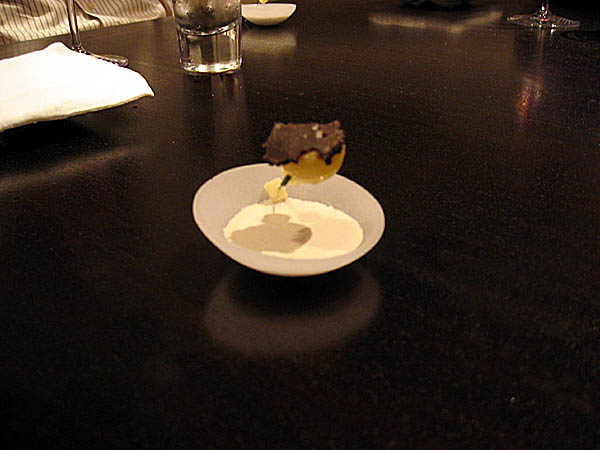 18 HOT POTATO cold potato, black truffle, butter
One of the few courses to carry over from the winter menu (along with the bacon), this is another challenger for the title of "signature dish." We have a skewer of potato, topped with a generous slice of black truffle. The basic idea was to drop the contents of the skewer into the chilled potato soup, and shoot the resultant concoction. A great idea in theory, but in practice I was rather let down, as the potato soup seemed to overpower the hints of hot potato and truffle.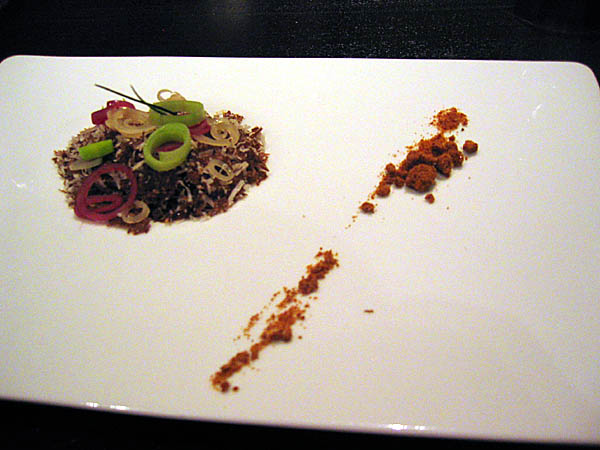 XI Bodega Mustiguillo "Finca Terrerazo", El Terrerazo, Spain 2003
19 PORK gruyère, pumpernickel, ramps
I usually don't particularly care for pork, but I liked this. A pork cheek prepared with raisins and leeks, covered in a mound of shredded pumpernickel and cheese, with a dust of caraway seed on the side. The pork itself was tender, succulent, and flavorful; however, I'm not so sure about the cover, which I found a bit dry and uninteresting. The wine was an interesting blend of 60% bobal, 20% cabernet, and 20% tempranillo, a Vino de la Tierra from Valencia (they were going pretty heavy with the Spanish wines that night).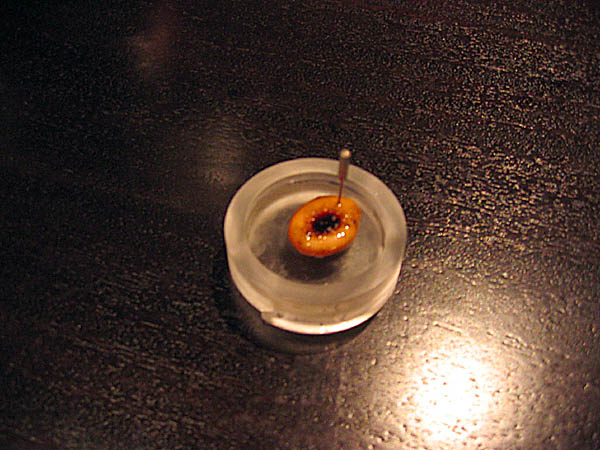 20 SASSAFRAS Blis aged sherry vinegar
This odd looking dish was a lozenge of sassafras (a type of tree by the way), topped with cracked black pepper. This was an fascinating combination but I felt the pepper overpowered the subtlety of the rest of the flavors. Overall not especially impressive.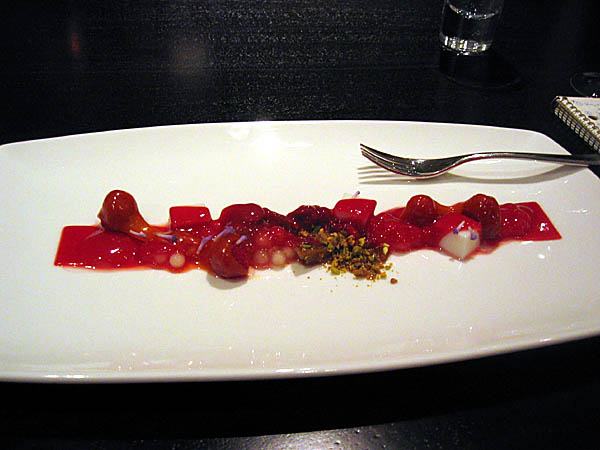 XII Forteto della Luja Brachetto "Pian dei Sogni", Piedmonte 2002
21 RASPBERRY goat milk, red pepper taffy, pistachio
The second dessert flight started with a raspberry puree served with red pepper taffy and goat milk gelée. The most outstanding part of the dish was the taffy, with a consistency not unlike Laffy Taffy (and it stuck to the teeth much like Laffy Taffy). It was nice to see the chef having some fun here with some of his dishes. The paired wine was a still, partially fermented Brachetto with a clean, effervescent taste.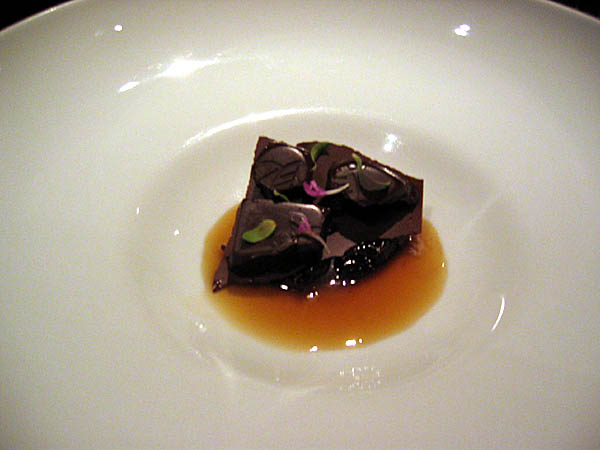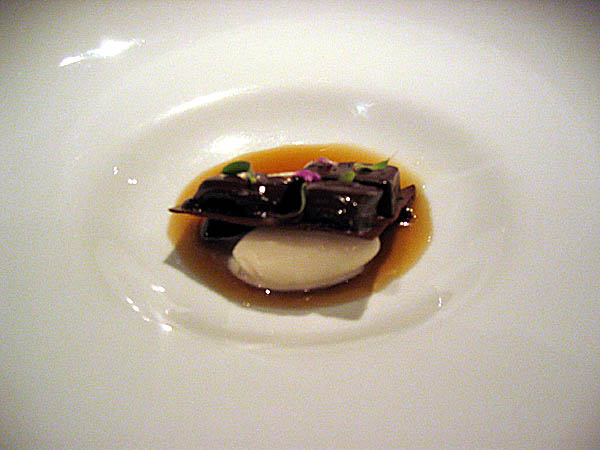 XIII De Bartoli "Bukkuram", Moscato Passito di Pantelleria 1999*
22 CHOCOLATE bergamot, cassia, figs
Ah finally, some chocolate! Our served mentioned it was served at 94 degrees though it seemed nowhere near that temperature. The sheet of chocolate was topped with cassia buds, and lay on top of ice cream and stewed figs. The chocolate itself was semisweet, with an interesting, grainy texture. Excellent.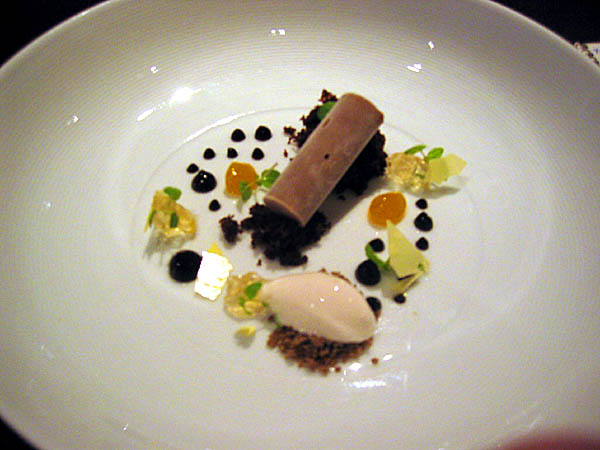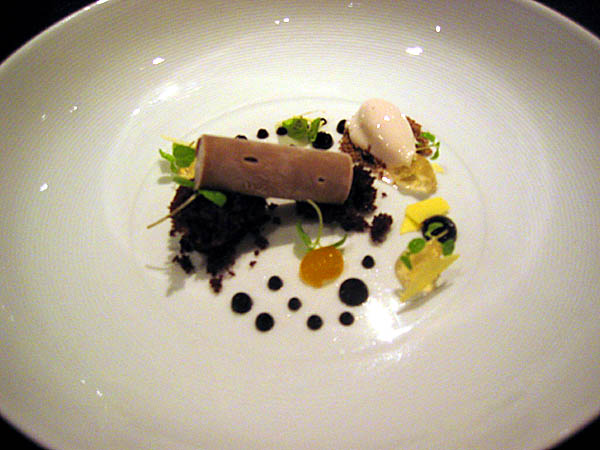 XIV Toro Albala "Don PX" 1971 Gran Reserva, Montilla-Moriles
23 COFFEE mint, buckwheat, passionfruit
A coffee ice cylinder filled with caramel laced with Bailey's Irish cream liqueur (to prevent freezing). The cylinder was paired with buckwheat ice cream and a mint/passionfruit gelée. Break the cylinder to spill the caramel. Nice.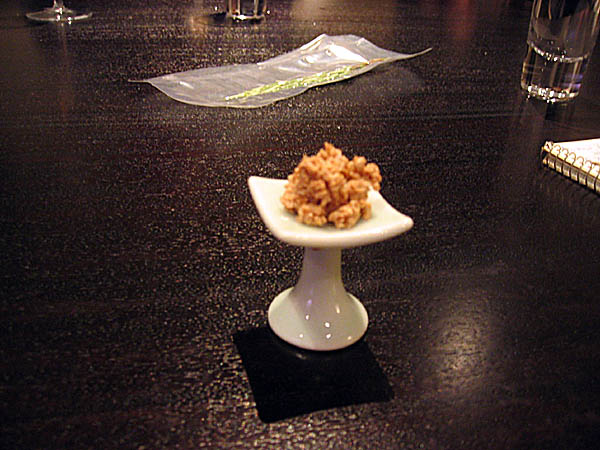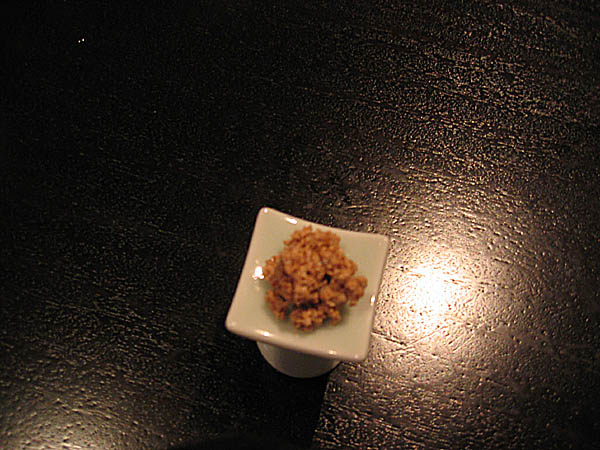 24 DRY CARAMEL salt
The final course of the meal was perhaps the most fascinating. A lump of dry caramel sits atop a white pedestal. This caramel will reconstitute upon hitting your palate. Once that happens, it is really like eating a spoonful of caramel, chewy, sweet, sticky, and a remarkable transformation in your mouth. Pure genius!
At the conclusion of the meal, we were all presented with copies of the night's menu. Not only did the menu list all the courses, it listed each wine pairing, and varied depending on whether any pairings were upgraded. I also requested the menu be signed by the chef, a request which was promptly honored.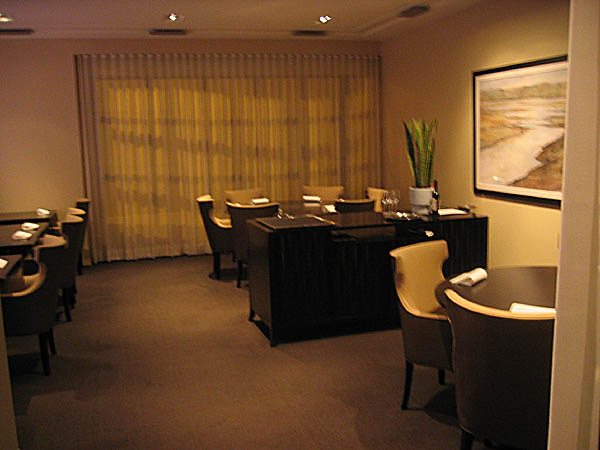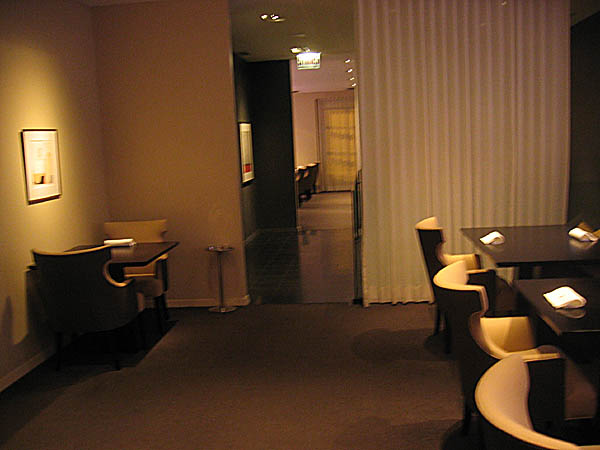 Afterwards, we had a chance to walk around and explore the restaurant in more detail. The restaurant is fairly small, with three intimate rooms, one downstairs (where we were seated), and two upstairs. As we can see, the style is modern, clean, yet possesses a certain comforting warmth, the dark-grained tables contrasting nicely with the cream-colored armchairs. One interesting thing to note is that the windows were covered by some sort of light sculpture. This gave an illusion of a ever-present twilight outside the restaurant, and was a bit disconcerting to see at midnight (Chicago is
not
the land of the midnight sun).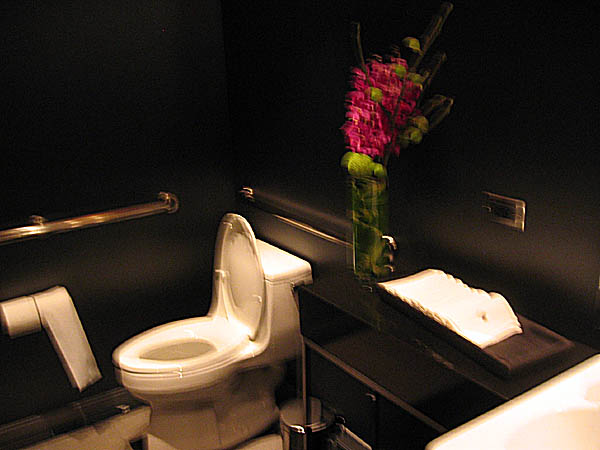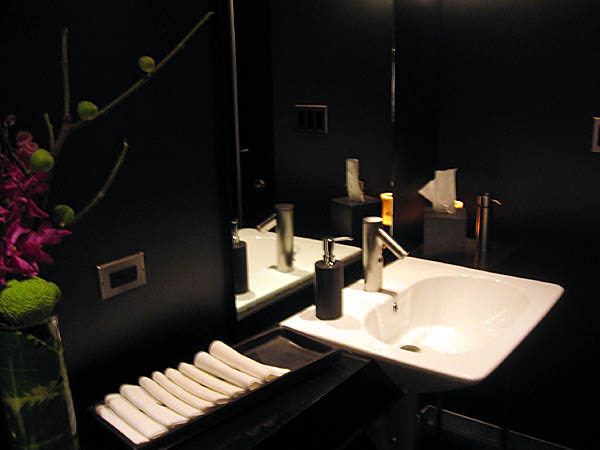 Hidden behind a nondescript black door, the restroom was chic yet functional.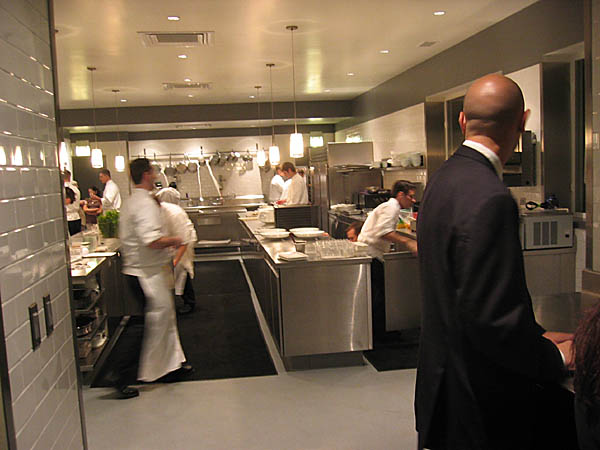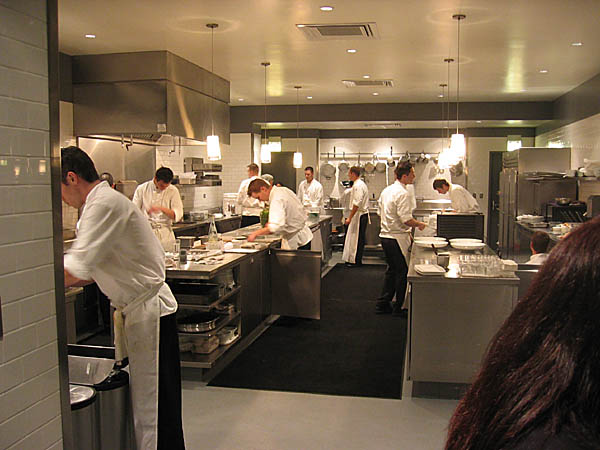 We were also able to view the kitchen, awash in stainless steel and white tile, with approximately a dozen or so chefs working within. At the end of the meal, I estimate that the staff outnumbered the patrons 2:1.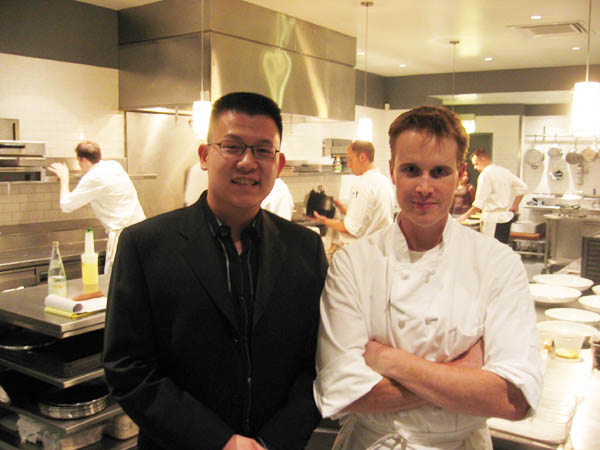 I was also able to snap a photo with Chef Achatz; arms firmly folded and tightly tucked, he reminds me of a young Gordon Ramsey. Like Ramsey, Achatz will certainly garner his first Michelin star or two, when the vaunted guide arrives in Chicago (as I'm sure it will, as it has already starred New York and will venture over to San Francisco this fall).
Overall, I must say that Alinea was the most unique dining experience I've ever experienced. Never have I experience cuisine so inventive, so insolent of establish norms, so playful, so
avant-garde
. Yes, this was a five-hour meal; but it did not feel long at all. Through his cooking, Achatz has somehow managed to make his diners completely lose track of time, and should be applauded for such. Some have criticized Achatz for misinterpreting Ferran Adrià's concepts of molecular gastronomy. I posit, however, that Achatz has taken El Bulli's influences and added his own magic, with wildly successful results. To the uninitiated, Achatz's cuisine may seem new, strange, or just plain weird; but really it is all about expanding your ideas of what can constitute food. Alinea manages to shock, amaze, provoke, and delight the diner. Grant, your stars beckon.