Alinea (Chicago, IL) [2]
Alinea
1723 N Halsted, Chicago, IL 60614
312.867.0110
www.alinearestaurant.com
Sun 05/17/2009, 09:30p-01:00a
kevinEats
probably would not have existed had it not been for Alinea. You see, I'd been interested in food and dining ever since circa 2003 (starting in my undergrad years at Berkeley--think Chez Panisse), but prior to Alinea, I never felt the urge to document any of my experiences. That all changed in August of 2006, when I made my
first visit
here. The cuisine at Alinea was so creative, so avant garde, so different than anything I'd experienced prior, that I felt positively compelled to document the meal. That sparked the blogging bug for me, and I continued to write, first posting only to MySpace, then expanding to my own domain in April of 2008. I've been wanting to go back for a while, and I felt that a return trip would be especially apropos now, given Alinea's recent capture of the #10 spot on
Restaurant
magazine's annual "
World's 50 Best Restaurants
" list.
A bit of history for the uninitiated: Opened in 2005, Alinea is one of the preeminent restaurants in the country (and the world, in fact), serving progressive American cuisine utilizing techniques often associated with the molecular gastronomy movement. Its chef/co-owner is Grant Achatz, the James Beard Foundation's Outstanding Chef for 2008. The Michigan native attended the Culinary Institute of America in Hyde Park, New York, and after graduation, landed a position at Charlie Trotter's, and later at Thomas Keller's
French Laundry
, where he attained the position of sous chef. In 2001, Achatz moved to Illinois to become the Executive Chef at Trio in Evanston.
Achatz struck out on his own in May of 2005, opening up Alinea in Chicago's Lincoln Park neighborhood to much anticipation and fanfare. The
Chicago Tribune
bestowed a four-star rating to Alinea within months of opening, as did
Chicago
magazine. Not too long after, the James Beard Foundation nominated Alinea as the "Best New Restaurant in America." Everything seemed to be going swell until the middle of 2007, when Achatz was diagnosed with squamous cell carcinoma (a type of cancer) of the mouth. After undergoing chemotherapy, Achatz announced in December of 2007 that the cancer had gone into full remission. Though some have expressed concern that the disease may have affected Achatz's sense of taste, few have argued that Alinea has suffered.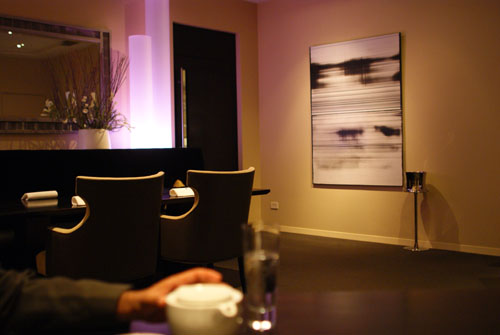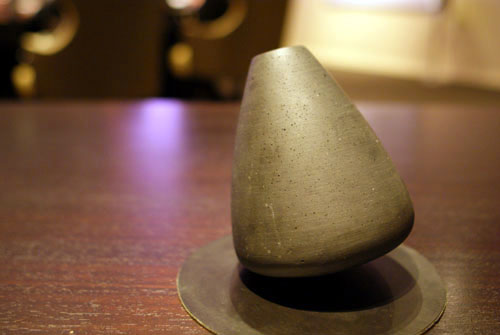 Alinea seats about five dozen diners over two floors (we were seated in the upper). The decor is sleek, modern, yet comfortable, highlighted by bare ebony-tinged mahogany tables, custom-made chairs and banquettes, and innovative art pieces. Table spacing was prodigious, and my dining companion even commented that it was like "dining in a museum." On the right, we see a photo of the night's table centerpiece, which changes periodically. Previous incarnations have included ginger, honeycomb, and, on my last visit, a sprig of rosemary. Not just for show, the centerpieces are often used as integral parts of the meal. The rosemary, for example, was used as an aromatic element in a lamb dish; I was curious to see how this unique looking vessel would pan out...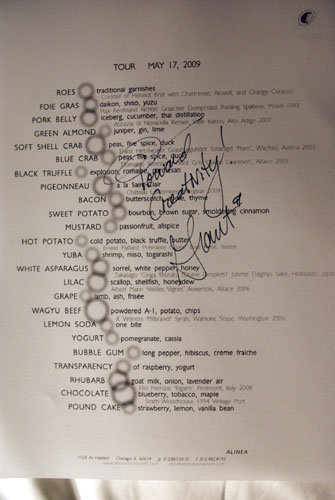 Diners have the option of two menus: a $145 12-course Tasting or a $225 24-course Tour--guess which one I chose. There is some significance to the unique layout of the menu: larger bubbles mean larger portions; darker bubbles signify more intensely flavored dishes; and the farther the bubbles are from the left edge of the menu, the sweeter the course. Click for a larger version.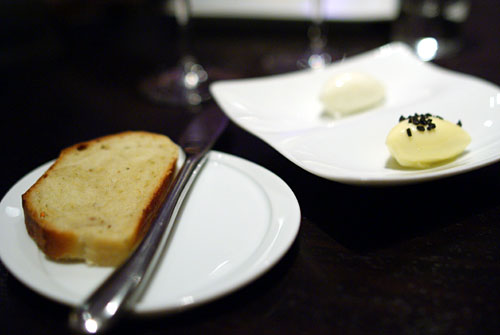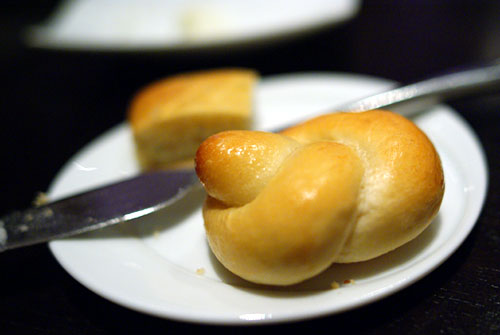 Throughout the evening, we were brought a variety of breads. These included: a warm, savory napa cabbage and pear cookie with Old Bay seasoning; shallot-thyme brioche, honey cornbread; and a dinner roll. The duo of butters consisted of a goat's milk butter and a house-made cow's milk butter with Hawaiian black lava salt.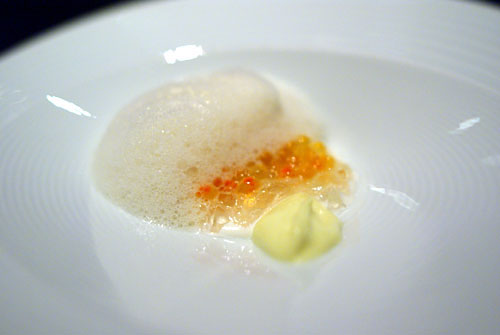 1: ROES | traditional garnishes
Cocktail of Henriot Brut with Chartreuse, Akvavit, and Orange Curaçao
To start, we were presented with steelhead and trout roe, served with "traditional" garnishes of bread foam and a dollop of egg-dill crème fraîche. I ate everything together in one bite, and noted an initial sweetness to the amalgam, followed up with a briny midpalate in which the saltiness of the roes became apparent. The finish, meanwhile, was dominated by the dill and sour crème fraîche. This course was paired with an interesting cocktail; it seemed like standard Champagne at first, but then developed added complexity due to the added ingredients (the caraway-flavored akvavit being especially notable).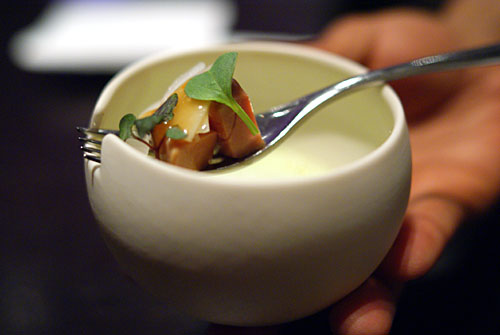 2: FOIE GRAS | daikon, shiso, yuzu
Max Ferdinand Richter Graacher Domprobst Riesling Spätlese, Mosel 1993
This was easily one of the best preparations of foie gras I've had over the past few years. It was a pâté, but tarted up with a trio of Japanese-inspired ingredients: daikon, shiso, yuzu. They provided a fantastic tartish contrast to the richness of the liver, tempering it at the beginning, but subsequently allowing the foie to come through on the finish. Incredibly, my dining companion, who'd never had foie gras before, really enjoyed this dish. The foie went very well with the wine pairing, an aged German Riesling. Now, I usually drink Rieslings young, so this 1993 era vintage was a change for me. It had a nose of intense apple, followed by a dull acidity and round fruit flavors. It was definitely less bright and less crisp than I'm accustomed to, but this softer version of the varietal paired up nicely with the foie gras.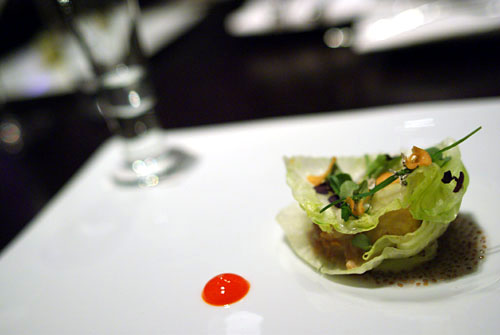 3: PORK BELLY | iceberg, cucumber, thai distillation
Abbazia de Novacella Kerner, Valle Isarco, Alto Adige 2007
Here, we were instructed to first down the Thai green chili shot, which, though quite mild, gave my mouth a somewhat tingling feeling. The iceberg lettuce cups, placed atop basil seeds, sandwiched a layer of pork belly. The overall effect reminded me of chicken salad! The meat had a distinct sweetness to it, heightened by the use of coconut, and this went well with the cool, crunchy lettuce. In addition, I really liked the use of the basil seeds, which gave the dish a refreshing conclusion.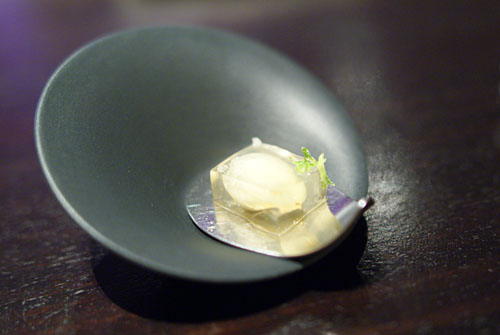 4: GREEN ALMOND | juniper, gin, lime
A green almond is basically a younger, developing version of the familiar almond, eaten when it's still soft and fleshy. Green almonds have a somewhat sour sapor, and that flavor was accented here by juniper berry, lime zest, and salt. The end result was a sweet nuttiness leading to a bitter, medicinal close. My dining companion compared the taste to "orange seeds."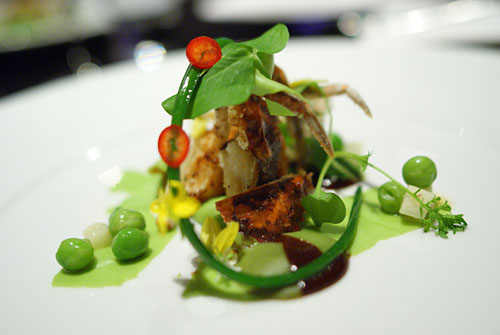 5: SOFT SHELL CRAB | peas, five spice, duck
Franz Hirtzberger Grauburgunder Smaragd 'Pluris', Wachau, Austria 2003
We have here soft shell crab with hoisin sauce and English peas. The use of hoisin gave the dish a marked sweetness and Chinese-influenced flair, and I think I even detected rice cracker. This seemed to get better the more and more I ate; the saltiness of the crab was tempered by the hoisin and vegetal tang of the peas, and even had a somewhat spicy finish. This course was actually meant to be compared and contrasted with the next one. Note the similarity in ingredients, and the wines, both Pinot Gris, but one from Austria and one from France. The Franz Hirtzberger was the lighter of the two, showing good minerality, hints of stone fruit, and a firm acidity.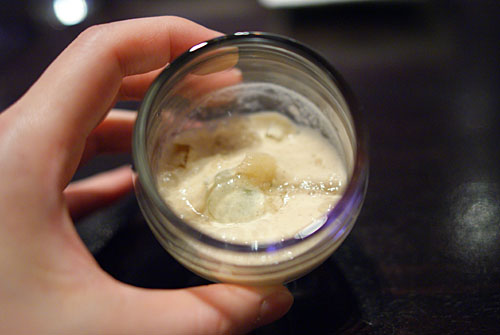 6: BLUE CRAB | peas, five spice, duck
Domaine Weinbach Pinot Gris 'Cuvée Laurence', Alsace 2003
And now for something similar, but completely different: blue crab "salad," frozen pea purée, cinnamon, ginger, rice milk, and clove. The concoction had a nose of cinnamon, with a taste that was refreshingly sweet. Using the various accoutrements to highlight the natural sweetness of the crab was genius--I wanted a bigger glass of this "crab dessert!" My dining companion, meanwhile, thought that the course had a "holiday" flavor to it (due to the rice milk, cloves, and cinnamon I'm sure). The Pinot Gris here had an almost chocolate flavor, and was much heavier, more viscous, and richer than the preceding version.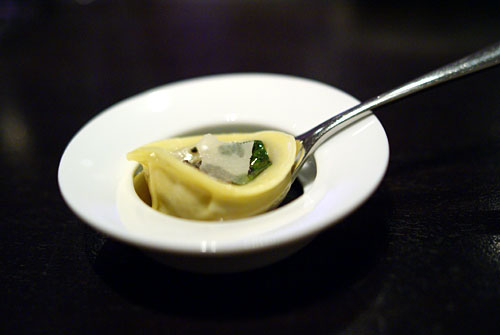 7: BLACK TRUFFLE | explosion, romaine, parmesan
Ah, the black truffle explosion, one of Achatz's most recognizable dishes, served in Alinea's signature "anti-plate." He actually developed the dish at Trio, though his first inklings for such a creation stemmed back to his time at
French Laundry
. A straightforward concept, we have a truffle stock-filled raviolo, topped with a slice of black truffle, lettuce, and cheese. Close your mouth for this one. Upon mastication, an explosion of truffle juice coats your mouth, imbuing your senses with a burst of rich, earthy truffle essence. My thoughts mirrored those of Trio owner Henry Adaniya upon first tasting the dish: "Give me a damn bowl of that thing!"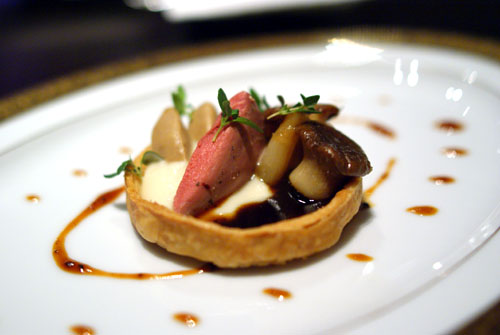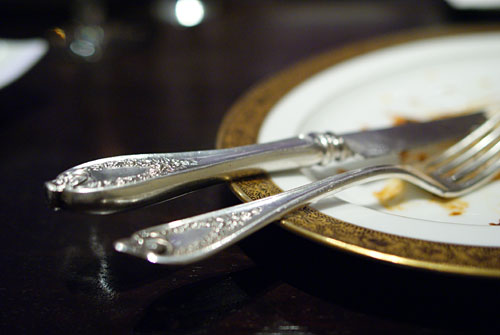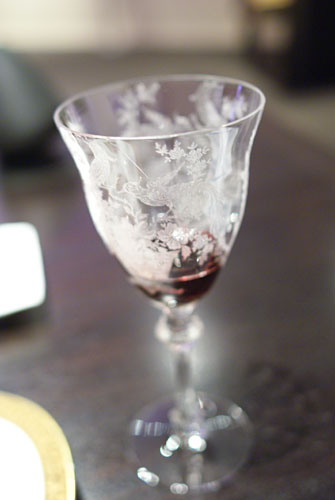 8: PIGEONNEAU | à la Saint-Clair
Château Lascombes, Margaux, 2004
The instant the wine glass was brought out for this course, I knew something was up. The glass was meant to resemble one that might have been used in the 19th century, during the life of legendary French gourmand Georges Auguste Escoffier. Though Alinea is known for its hypermodern techniques, the point here was contrast--to present a dish using only classical methods available during the 1800's. Escoffier had been an early proponent of squab (young pigeon), and in his magnum opus
Le Guide Culinaire
, he reportedly offered up 34 variations of the bird--this was number 18. It was a
tarte
comprised of squab, mushroom, onion, and quenelles of foie gras. The squab was deftly cooked to a tender consistency, complemented by contrasting sweet and savory flavors. The crisp, flaky crust was a pleasure to eat. Though the actual taste of the course was fairly pedestrian (it was like something students would cook in culinary school), I loved the idea, the
audacity
to serve something like this.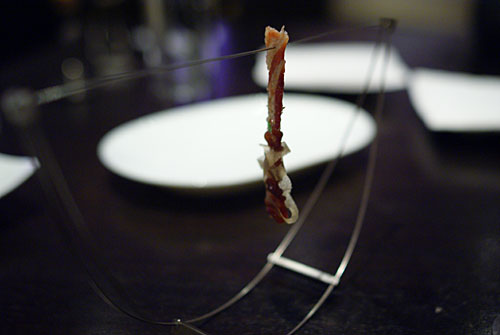 9: BACON | butterscotch, apple, thyme
Another dish revisited from my first meal here, another one of Achatz's signature creations. Compared to last time, the bacon seemed crisper this time around, a welcomed change. The key here, though, isn't necessarily the texture, but the delicate balance between the saltiness of the bacon (which hits you first) and the sweetness of the butterscotch (which lingers), moderated by apple and thyme.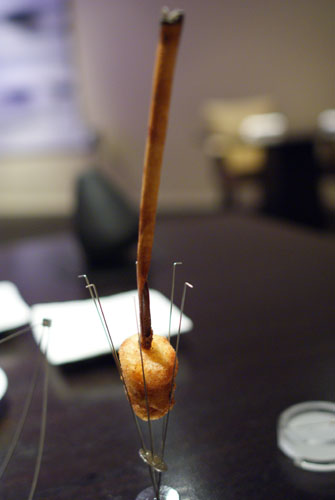 10: SWEET POTATO | bourbon, brown sugar, smoldering cinnamon
Served in the distinctive "Squid" service piece, we have here a fritter of sweet potato flavored with bourbon and brown sugar, impaled on a stick of cinnamon. The nose was intensely cinnamon-y, almost like a churro. The spicy sweetness of the cinnamon linked up nicely with the brown sugar, which is what I tasted first, but also with the woodiness of the bourbon, which lingered on the finish.
11: MUSTARD | passionfruit, allspice
Mustard ice cream--this was a first for me. It actually tasted better than it sounds. It was spicy, indeed, but this was tempered somewhat by the cool temperature of the dish, as well as the passion fruit and allspice complex. What I got was a sweet-spicy interplay, with some savory components as well.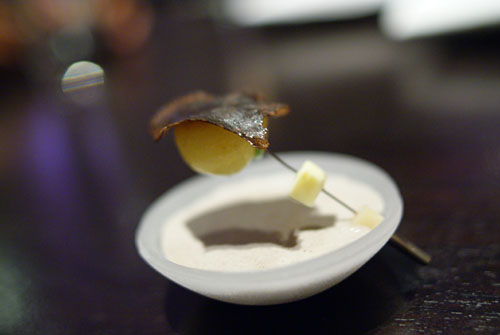 12: HOT POTATO | cold potato, black truffle, butter
Bruno Paillard 'Prémiere Cuvée' Brut Rosé, Reims
The Tour menu at Alinea can be thought of almost as two complete tasting menus back to back. With the previous three sweet courses dispensed with, we start anew with another one of Achatz's most well-known creations. The concept here is to have contrasting hot/cold elements, kept apart until ready to be eaten; the paraffin wax bowl and pin were custom designed with this idea in mind. To eat, simply hold the bowl and pull the pin, releasing the truffle-coated hot potato into the cold truffle and potato soup (think vichyssoise), and shoot it in one gulp. Be careful not to splash your sleeves! I was a bit let down by this dish before, but enjoyed it much more this time around. It works not only because of the hot/cold interplay, but also because of the differences in texture, and the juxtaposition of truffle and potato--how the truffle elevates the common potato to such a lofty status. The course was paired with a rosé Champagne, one that I'd actually ordered by the bottle before at
Joël Robuchon
. I found the sparkler very toasty, but this characteristic went well with the weightiness of the potato and truffle.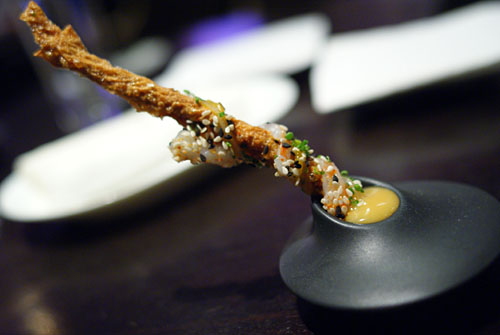 13: YUBA | shrimp, miso, togarashi
Yuba refers to tofu skin, and here it was rolled and transformed into a hard, crunchy stick, then surrounded with gulf shrimp, chives, and shichimi, and then placed in a well of miso-mayonnaise emulsion. The contrast between the crispy yuba and shrimp worked for me here, as did the application of togarashi. However, I felt that the miso was overly sweet, dominating the other components of the dish; I thus limited its application.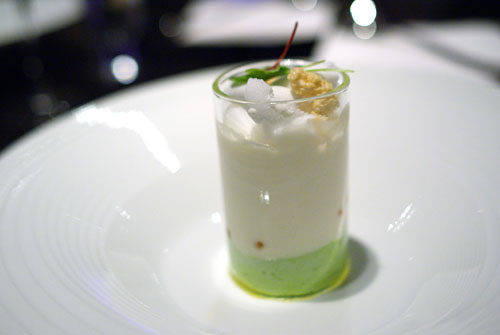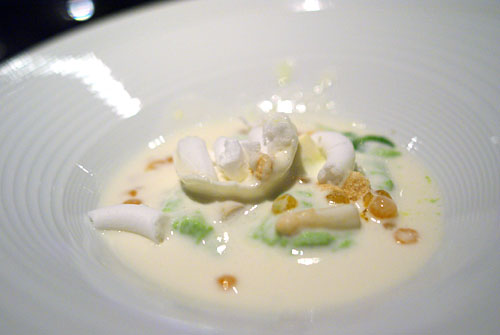 14: WHITE ASPARAGUS | sorrel, white pepper, honey
Takasago 'Ginja Shizuki (Divine Droplets)' Junmai Daiginjo Sake, Hokkaido, Japan
All the elements of this dish seem so nicely arranged in the "glass," but alas, your server lifts it up before you know it, spilling the contents haphazardly on your plate. The white asparagus was presented here in a soup-like form, and though not visually apparent, the vegetable's crisp bitterness was clearly present. However, its power was tempered, first by the tangy sorrel purée, then by the fruity tapioca balls. An interesting study in taste, texture, and temperature, as well as presentation.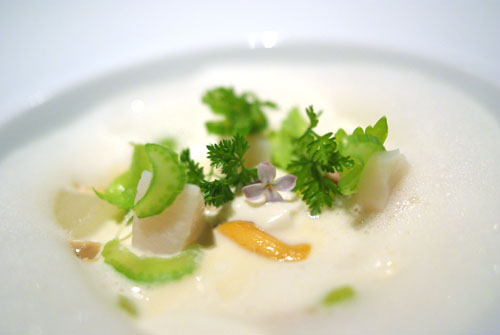 15: LILAC | scallop, shellfish, honeydew
Albert Mann 'Vieilles Vignes' Auxerrois, Alsace 2006
Razor and littleneck clams, scallops, celery, honeydew foam, lilac pillow. The shellfish were what really made this dish for me; they were done to a fantastic texture and their briny flavor went perfectly with the sharp, tangy celery. The honeydew, surprisingly, wasn't a huge factor in this course for me. The dish had a lingering lilac close, which really went well with the floral, fruity wine.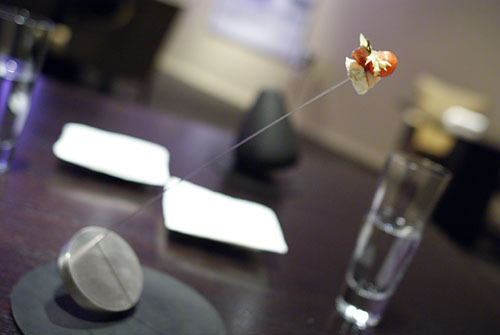 16: GRAPE | lamb, ash, frisée
A hands-free dish, consisting of an olive oil-poached grape, vine ash, lamb loin, almond cheese, and frisée, all speared on a metal "antenna." To eat, just lean in, and take a bite. The grape, with all of its juicy tartness, was a great complement to the cheese, while the lamb, unfortunately, wasn't particularly apparent.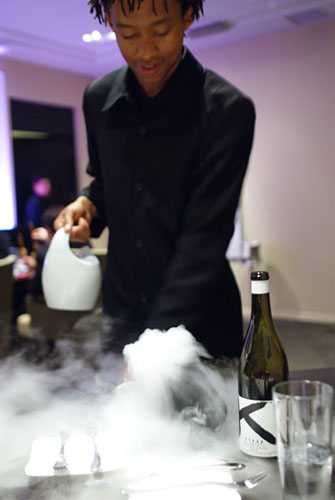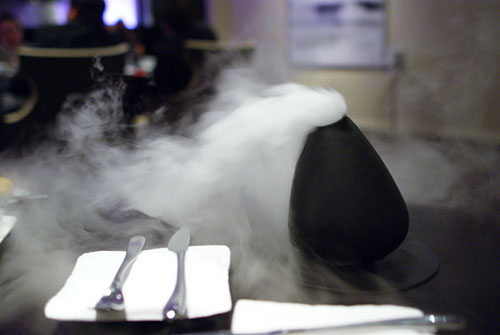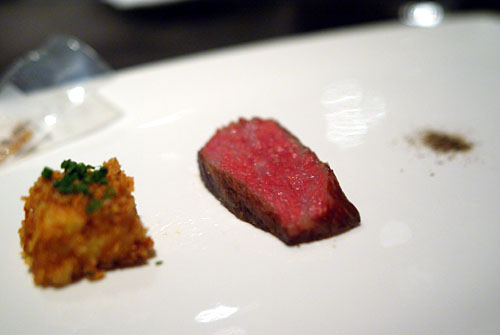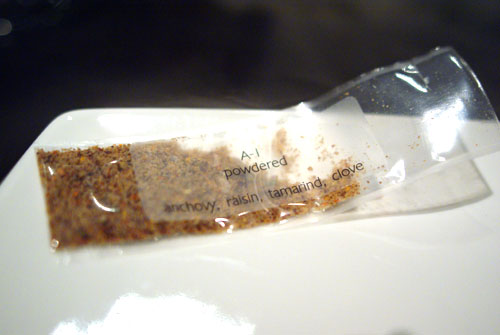 17: WAGYU BEEF | powdered A-1, potato, chips
K Vintners 'Milbrandt' Syrah, Wahluke Slope, Washington 2006
What we have here is Alinea's fanciful take on the classic combo of steak and potatoes. The steak itself was quintessential Wagyu--rich, fatty, decadent; it would've been great just by itself. Now, I'm of the belief that a good steak can stand alone
sans
sauce, but I'd make an exception here. I haven't had A1 too many times, but from what I recall, the powdered version here was a fairly good representation flavor wise, with elements of anchovy, raisin, tamarind, and clove. Sprinkled over the beef, it was a superb accoutrement, easily better than the salt and pepper also provided. Remember that centerpiece? Well, our server proceeded to lament that the smell of cooking meat was lacking here. To correct that deficiency, he proceeded to pour hot water into the centerpiece, which was filled with dry ice and aromatics. The resultant mist was to be inhaled while consuming the beef, simulating the smell of the grill--
trés cool
.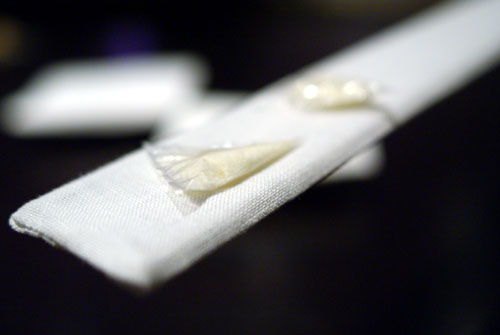 18: LEMON SODA | one bite
This was some sort of "lemon soda" powder, encased in an edible potato starch wrapper. It was tart, as expected, but also a bit salty--a bracing transition from the savories to dessert. It reminded me of those lemon soda packets I used to eat in my childhood!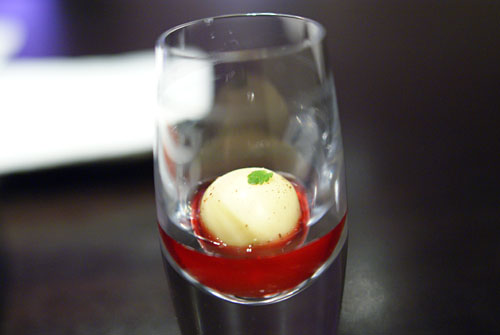 19: YOGURT | pomegranate, cassia
We have here a hard-shelled yogurt sphere filled with yogurt juice; it exploded in my mouth upon mastication, and its tangy contents went nicely with the sweet pomegranate juice. My dining companion compared this dish's flavor to that of the Indian dessert
ras malai
.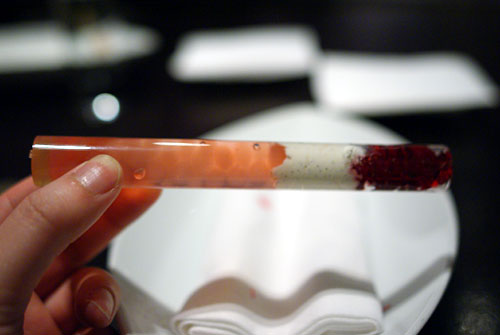 20: BUBBLE GUM | long pepper, hibiscus, crème fraîche
Our server told us to put our mouths on this cigar-like contraption, and suck, purple end first. It was interesting to first experience the tangy hibiscus, then the creamy crème fraîche, and finally the "bubble gum." I had trouble fitting it all in my mouth. The bubble gum was actually comprised of tapioca pearls cooked in Bubble Yum stock! As a result, it really did taste like bubble gum--a very fun dessert.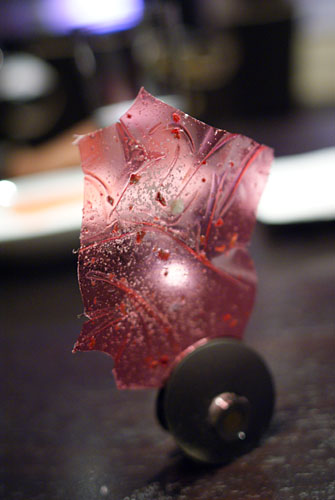 21: TRANSPARENCY | of raspberry, yogurt
Think of a thin, hard, brittle raspberry-flavored Fruit Roll-Up, and you have the idea here! Very tart, yet tempered somewhat by the yogurt and rose petal. Note the cool metal clip holder.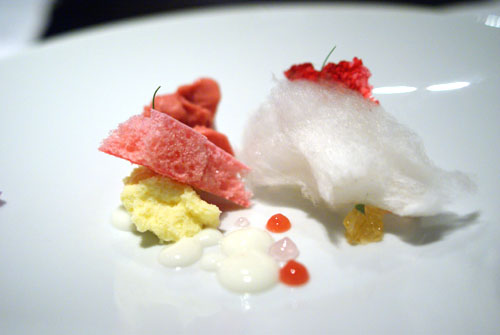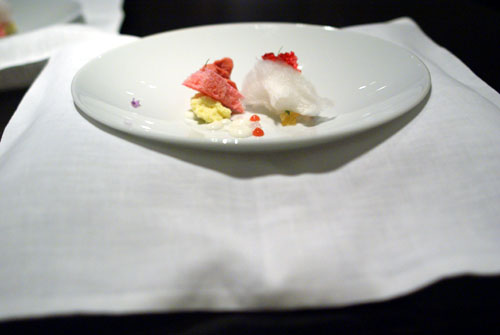 22: RHUBARB | goat milk, onion, lavender air
Elio Perrone 'Bigaro', Piedmont, Italy 2008
This was a fascinating play on tastes and textures--the sweet onion cotton candy, goat milk cheesecake, marmalade, ice cream--all the elements seemed so disparate on their own, but together, it worked. I especially appreciated the slight savory component of the onion. The whole amalgamation sat atop a pillow filled with lavender air; the weight of the plate slowly forced out plumes of the lavender aromatics as we continued to devour the dish, adding a nice floral touch to the course. The floral, fruity flavors of the dessert were also present in the paired rosé wine, which was a nice touch.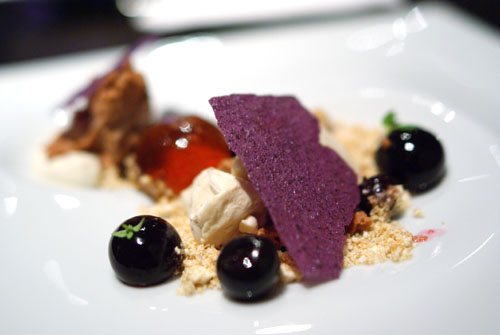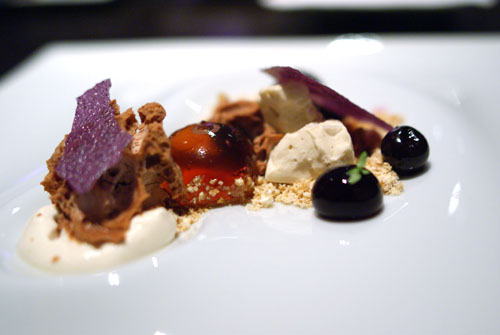 23: CHOCOLATE | blueberry, tobacco, maple
Smith-Woodhouse 1994 Vintage Port
Here, Alinea takes chocolate to new heights. The blueberries weren't really blueberries, but rather orbs of blueberry gelée imbued with their tangy flavor; the maple syrup was done "spherification" style, encased in a thin membrane and bursting upon being pierced by my fork; the ice cream was incredibly rich and dense, infused with just a bit of tobacco flavor--the highlight of the dish for me. This was a case of dissonant ingredients forming a whole greater than the sum of their parts. The Port was a perfect pairing, showing heady, smoky, raisin-y notes that bound everything together.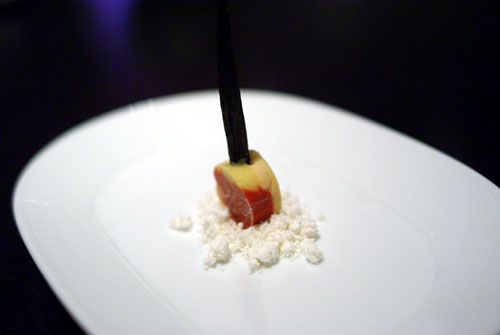 24: POUND CAKE | strawberry, lemon, vanilla bean
Having been raised on Sara Lee pound cakes, I felt that this dessert captured the essence of the cake, both in taste and texture. The "cake" was served impaled on a vanilla bean, which imparted its flavor in spades, balanced by a fruity strawberry contrast.
The bill for a party of two. Note the whopping 11.5% sales tax!
In 2006, I prognosticated a Michelin star or two for Achatz and Alinea. Sadly, Michelin has yet to make its way to Chicago, but based on this experience, I'd expect no less than a double when and if the guide arrives in the Windy City. This time around, I found the food sharper, cleaner, more focused, more intentional, and most importantly, tastier. Achatz has certainly grown as a chef, but have I grown as a diner? I think so. The cuisine, the concepts, they make more sense now, though there's still plenty that goes over my head I'm sure. That's not to say that things are old hat now. Hardly in fact. Alinea continues to surprise, to enchant, to incite and to excite, to inspire, and to expand the very notion of what constitutes food--I'd expect nothing less from Achatz and company.