Sunday, December 03, 2023
Saturday, October 14, 2023
Da Terra (London, United Kingdom)
Da Terra Restaurant
8 Patriot Square, London E2 9NF, United Kingdom
+44 20 7062 2052
www.daterra.co.uk
Sat 10/14/2023, 07:30p-11:00p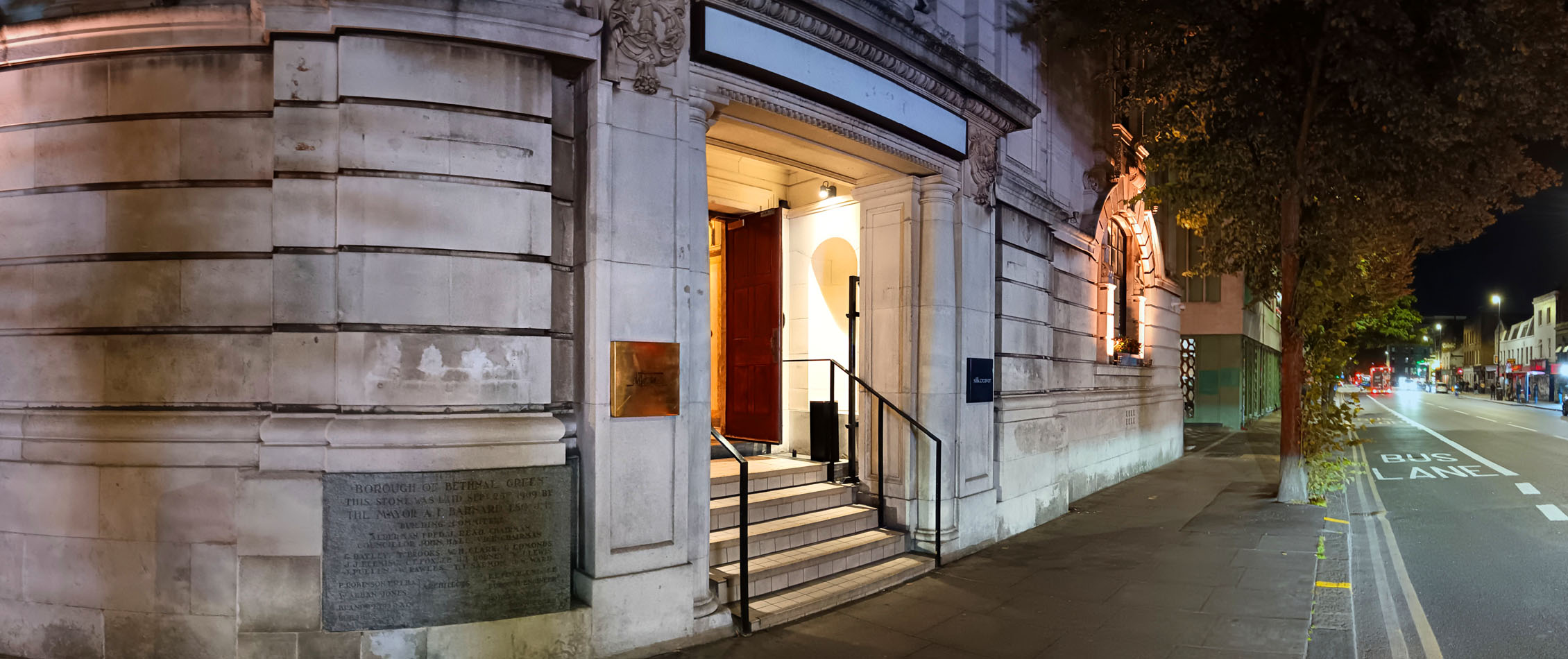 After my meal at
L'Enclume
last night, I spent another four or so hours on the train to make my way down to London the following day. I was staying at Dukes Hotel in St James's, so subsequent to checking in, I took the Tube to Bethnal Green for my first dinner in the city. Opened in 2019, Da Terra ("from the earth") comes to us from Chef/Owner Rafael Cagali, and is a newer place that I'd been reading lots of positive things about. The cuisine can be thought of as modern European, but influenced by Cagali's Italian-Brazilian roots.
About the Chef
: Rafael "Rafa" Cagali was born in September 1981 in São Paulo, Brazil, and boasts Italian heritage thanks to his great-grandfather. As a youngster, he was interested in food, but was more interested in football (soccer), and never considered cooking professionally until later on. When he was 20, he relocated to the UK in order to study economics and learn English, and while living in Fulham Broadway, began working at a local brasserie in order to make some money. In 2004, Cagali started studying culinary arts at Westminster Kingsway College, during which time he cooked at The Vincent Rooms, the school's training restaurant.
Following, he spent three years under Stefano Baiocco at Villa Feltrinelli in Gargnano, Italy, followed by stints at both Quique Dacosta and Martín Berasategui in Spain. The Chef subsequently moved back to England and landed a position at
The Fat Duck
, where he worked with longtime Head Chef Jonny Lake. It was also here where he would meet Charlie Lee, his future partner in both business and life. From there, Cagali transitioned to a post at Yashin Ocean House in South Kensington, which debuted in September 2013. He was then hired by Simon Rogan and opened Fera at Claridge's in May 2014 (Lee joined him here), then took on the Head Chef position at Aulis at Fera when it launched in December 2015.
When the standalone Fera bowed in October 2017, Cagali was also Head Chef, but he decamped in 2018 to start work on his own restaurant, in partnership with Chef Paulo Airaudo (of Amelia in San Sebastián) and Lik Peng Loh (of
Unlisted Collection
). Da Terra thus debuted in January 2019 and was almost immediately well-received, earning its first Michelin star just eight months after opening, and its second in January 2021. More recently, just this past June, the restaurant garnered the #3 spot in The Estrella Damm National Restaurant Awards, behind only Ynyshir and
Moor Hall
.
Cagali has since followed up Da Terra with a more casual Brazilian eatery called Elis, which opened in August 2022 in the same building. Named after jazz singer Elis Regina, the place also pays homage to the Chef's mother, who ran a jazz bar-slash-"kilo" restaurant in São Paulo in the 1970s.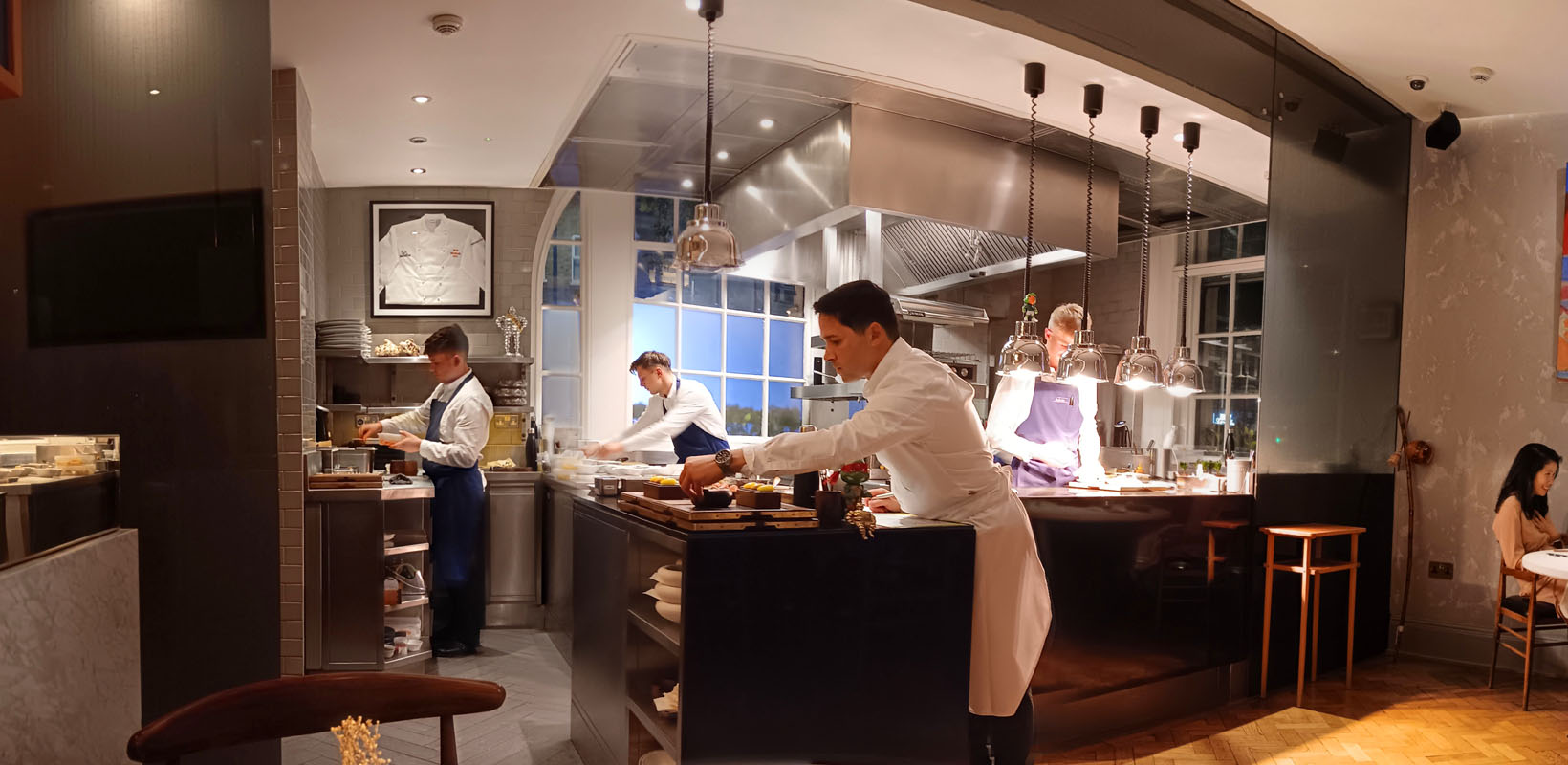 Da Terra is situated on the ground floor of the Town Hall Hotel & Apartments, an Edwardian building that originally dates back to 1910. The space formerly held Lee Westcott's The Typing Room, and before that, Nuno Mendes' Viajante, and has been revamped by the Brighton-based firm
Blenheim Design
. Shown above is the view from my table (I had the best seat in the house) into the restaurant's extremely open and surprisingly small kitchen. A fun fact: Chef Gareth Ward of Ynyshir was sitting at the table right next to mine.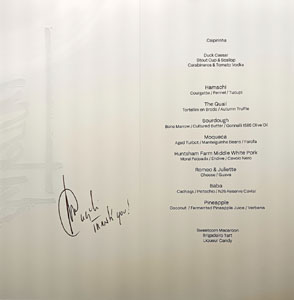 Here we see the night's menu, which was priced at £230 ($281.24) a person (plus 15% service), with an optional wine pairing at £150 ($183.42). There's also a £170 ($207.87) tasting menu at lunch, while the corkage fee is £70 ($85.60) per bottle, or £40 ($48.91) per half-bottle. Click for a larger version.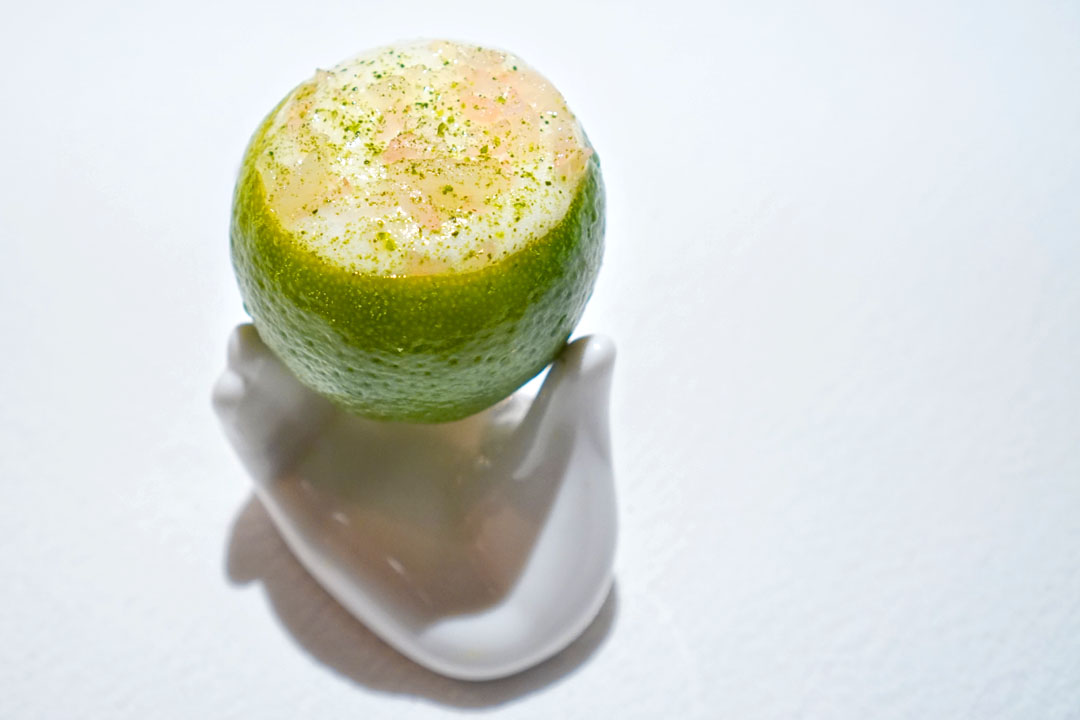 Amuse Bouche 1: Caipirinha
My meal commenced, fittingly, with a thoroughly reworked version of Brazil's most iconic cocktail. This was created from classic ingredients of cachaça, lime, and sugar, but aerated and set into a foam. The end effect was super pungent and astringent, with nearly herbaceous lime notes that really woke up the palate.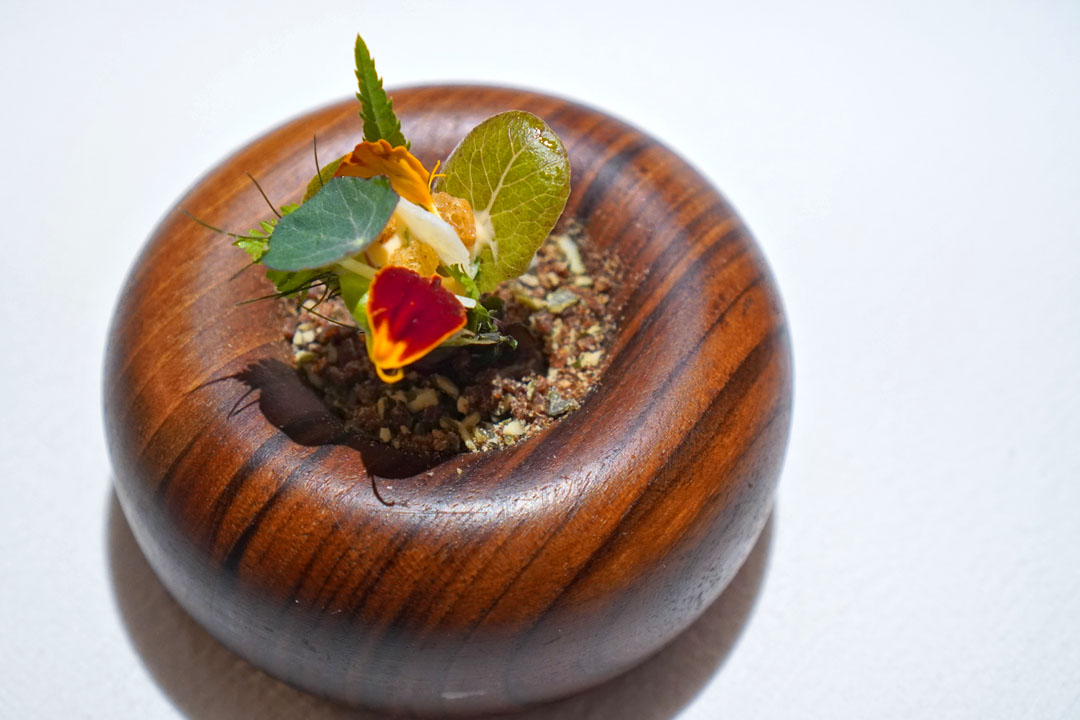 Amuse Bouche 2: Duck Caesar
Featuring three different varieties of lettuce along with sundry herbs and savory duck ham, this one-biter did a commendable job capturing the essence of the traditional salad.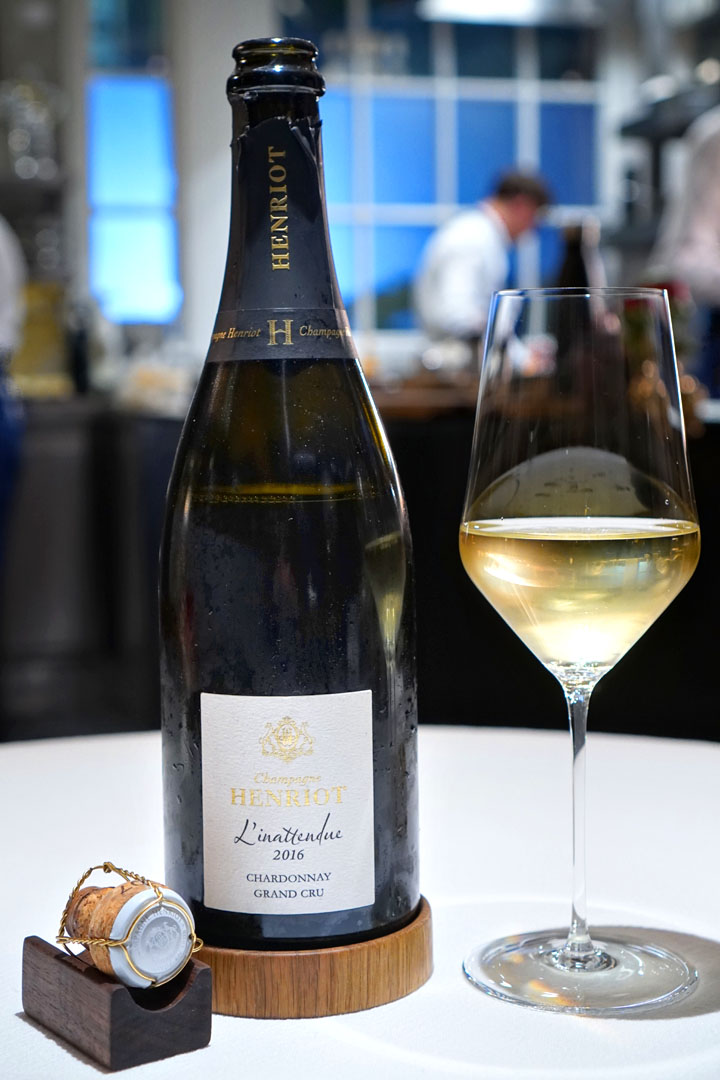 To drink, I'd pre-selected a bottle of the
Henriot, 'L'Inattendue Grand Cru', Brut, 2016 [£178 ($217.66)]
after reviewing a copy of Da Terra's wine list ahead of time (the list can be seen
here
). Initial whiffs were unexpectedly, unabashedly nutty and funky, while my first sips brought more of those nuts, alongside rich apples that appeared on the midpalate and lingered long. However, the nose quickly began displaying a much yeastier, brioche-y character that I found rather appealing. Later on, aromas became considerably more tropical, while the palate went in a bright, dry, orchard fruit-laced direction, but with an underpinning of barnyard.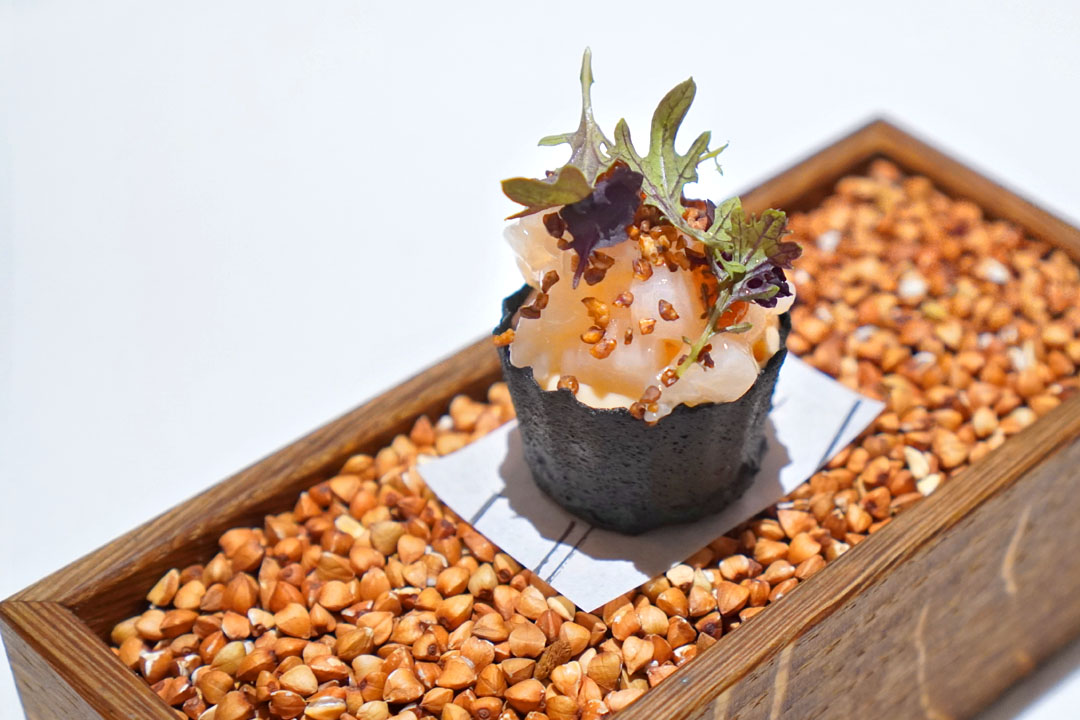 Amuse Bouche 3: Stout Cup & Scallop
An amalgam of scallop and scallop roe ate creamy and sweet, but also showcased a growing brine and umami that linked up swimmingly with the nutty crunch of buckwheat.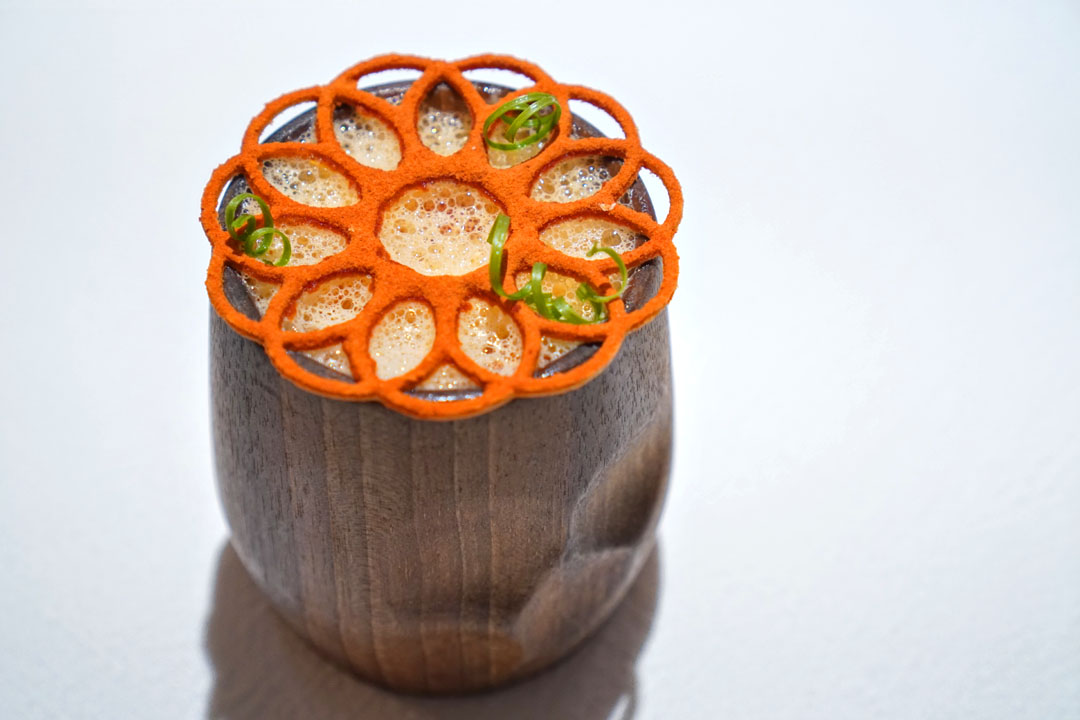 Amuse Bouche 4: Carabineros & Tomato Vodka
Carabineros prawns were cooked in a butter sauce that incorporated their heads, giving the shrimp a wonderfully heady salinity and savor that was juxtaposed against the long-lasting piquancy of roasted-confit'd tomato. The olive oil sourdough tuile, meanwhile, imparted a delightful crunch to the dish.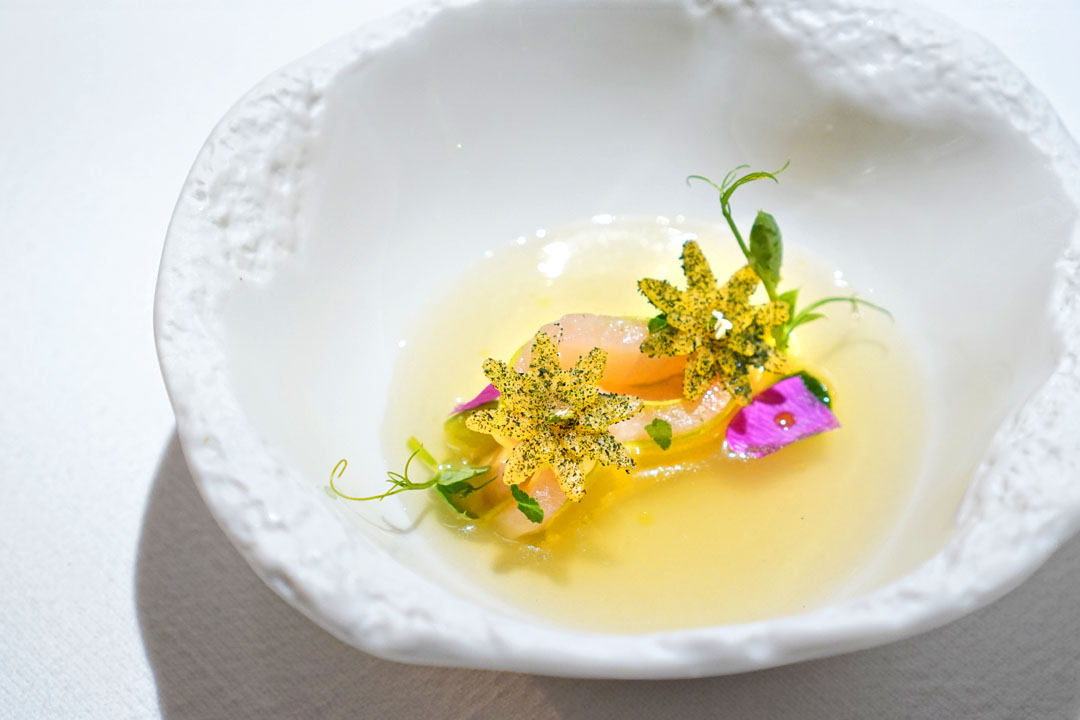 1: Hamachi
| Courgette / Fennel / Tucupi
In my first proper course, seven-day aged Japanese yellowtail was presented with confit Amalfi lemon skin and courgettes, then set in a consommé made from tucupi (fermented cassava juice). I was a big fan of the wonderfully bright, tangy, vegetal flavors here, and how they all worked together to even out the fattiness of the fish.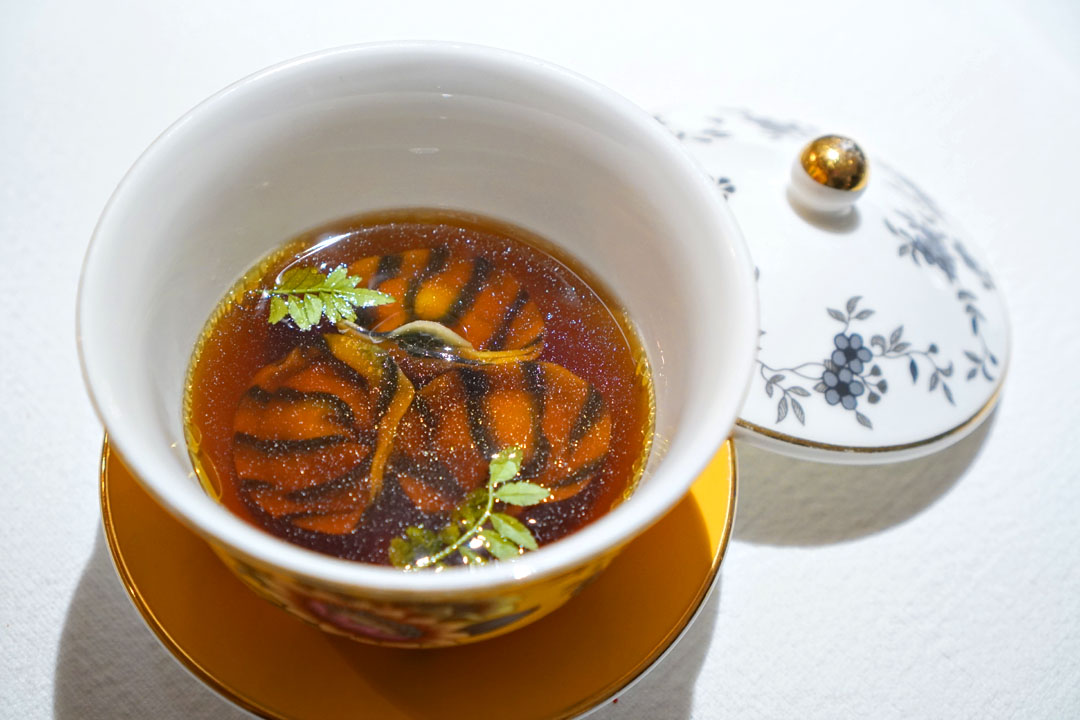 2: The Quail
| Tortellini en Brodo / Autumn Truffle
Next came a four-part presentation of quail, with the bird sourced from Epping, Essex if I recall correctly. In any case, I began with the tortellini, which was probably the best version of the stuffed pasta that I've had. I loved how the quail's concentrated, gratifying flavors were conveyed, but even more impressive was the broth, with its amazing depth, savor, and almost rye-like spice.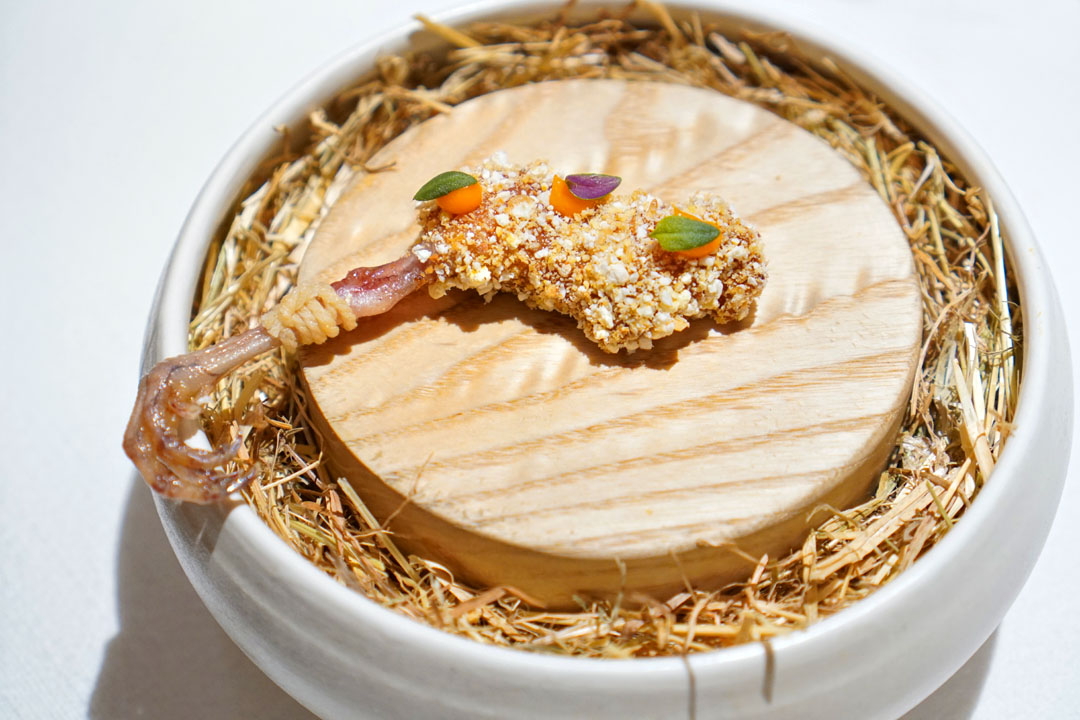 The leg portion, meanwhile, was also a winner, and I was enamored with how the crunchy coating of "popcorn" played foil to the robustness of the bird.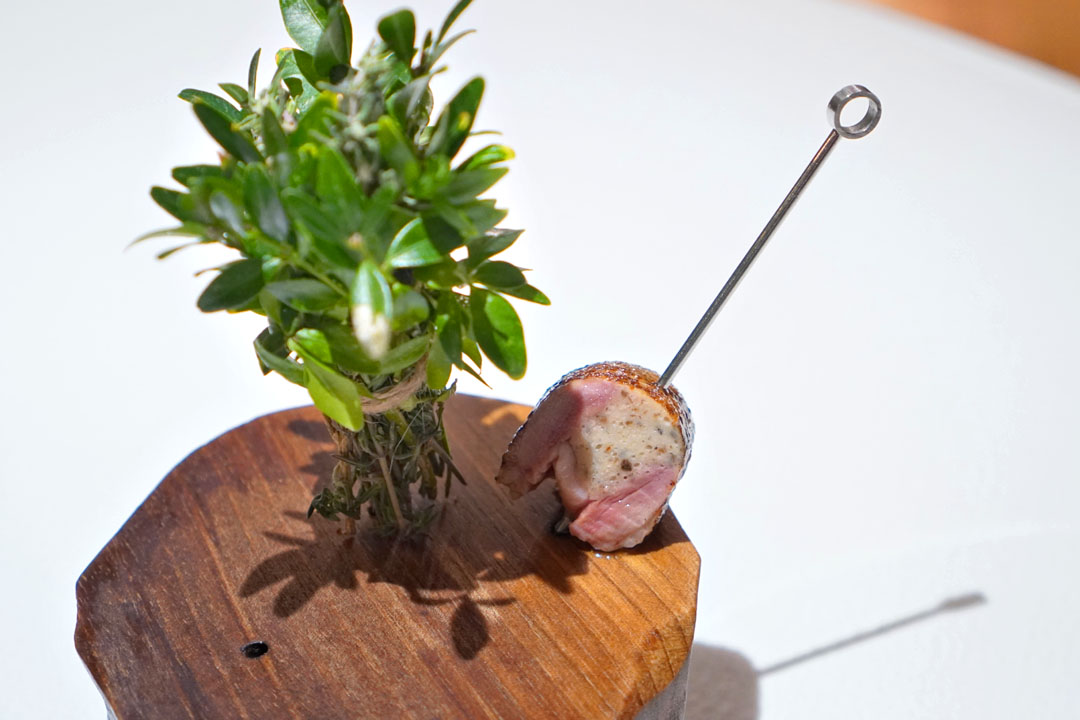 Next came the quail's soft, delicate breast, skewered and accompanied by the refined musk of truffle.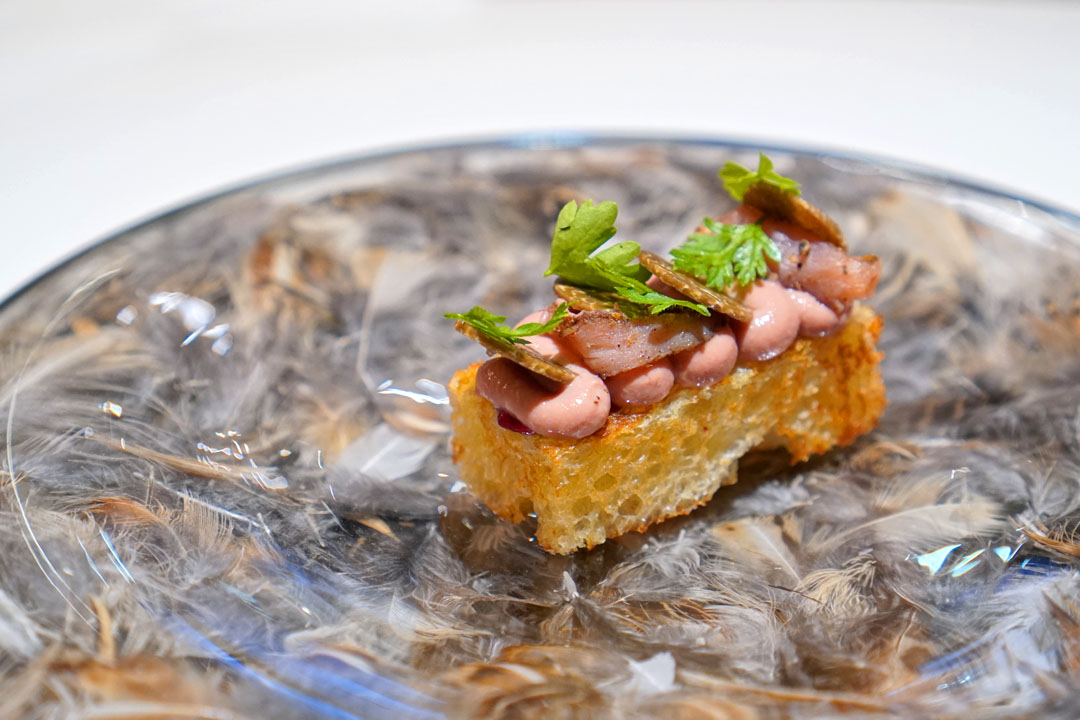 Lastly, a quail liver parfait was utterly elegant, its delicacy marrying well with the restrained spicing from quail pastrami, all while a soft, toasty housemade brioche moderated all the elements in play.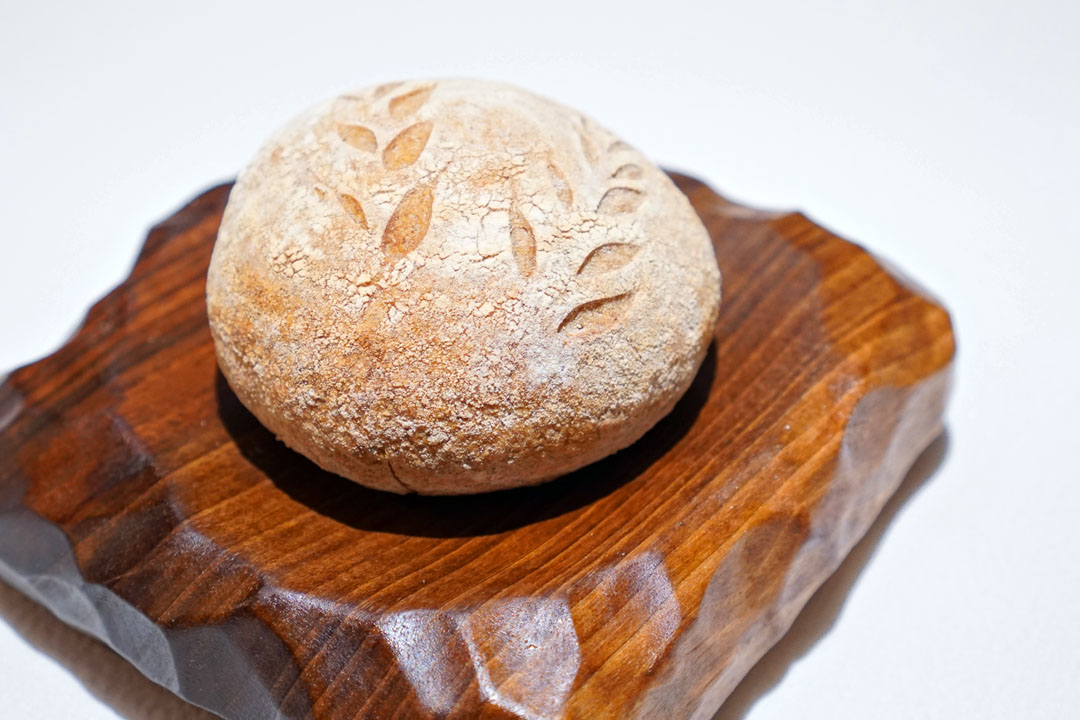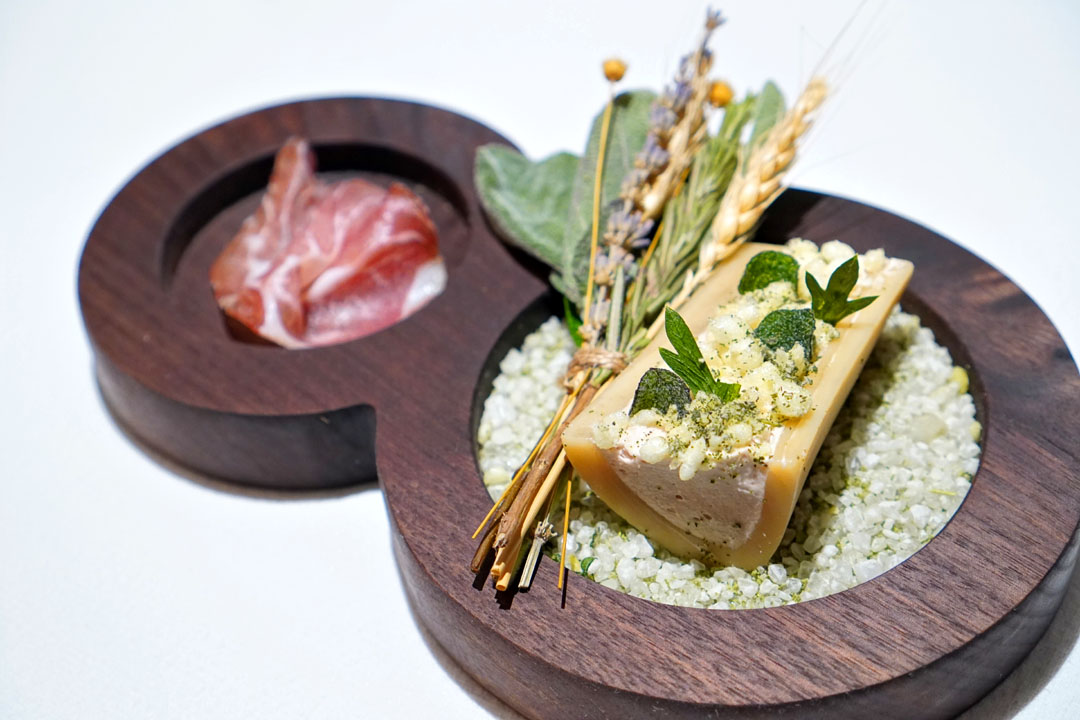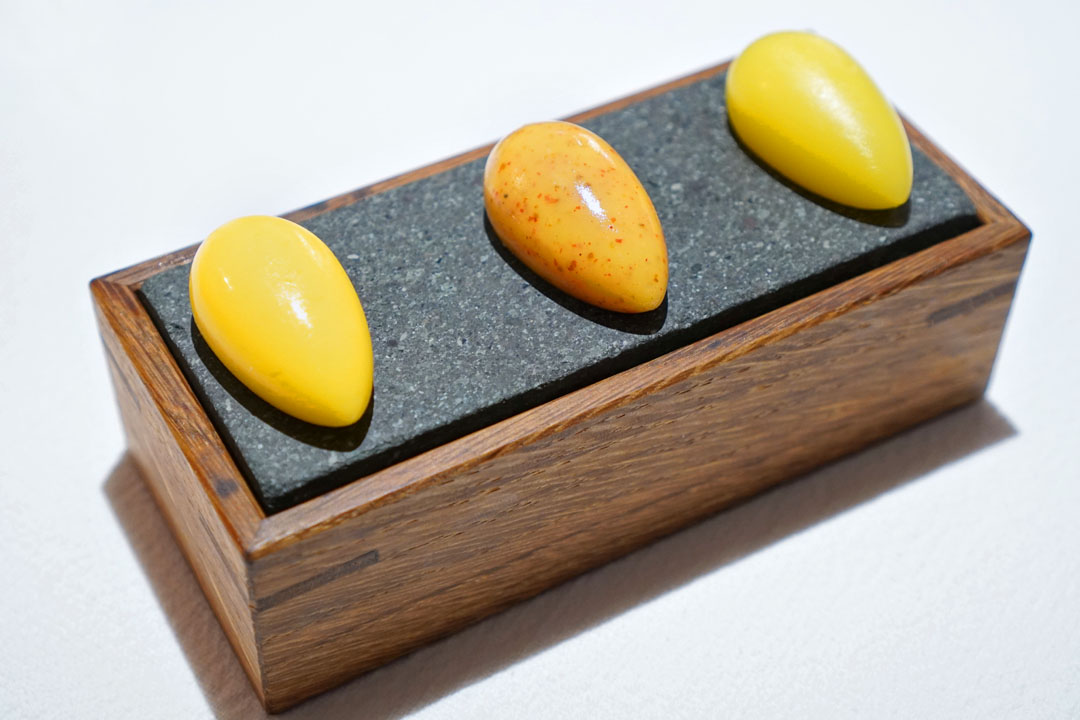 3: Sourdough
| Bone Marrow / Cultured Butter / Gonnelli 1585 Olive Oil
The bread service was certainly one of the most impressive I've encountered. The sourdough itself possessed an unexpectedly chewy consistency, and I was left wondering if they'd incorporated tapioca flour in there. It was joined by slices of wonderfully salty, slick, six-week aged coppa, as well as an impossibly light-n-airy bone marrow topped with parsley and some puffed, crunchy bits, which tasted almost like popcorn. Lastly, we had three of the most perfect quenelles I'd ever seen. On the left was a cultured sea salt butter, which had the slightest hint of herbaceousness. On the right was textured olive oil, which I'd not seen before, but which showed off all the grassy, fruity, bittersweet elements I was looking for. However, my favorite of the trio was the pink peppercorn butter in the middle, which had a fantastic, fruity pungency that made me question why people don't infuse butter with the berries more often.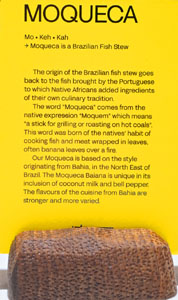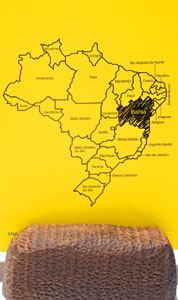 In preparation for my next course, I was presented with a card detailing the background of moqueca, which is a type of Brazilian seafood stew. Click for larger versions.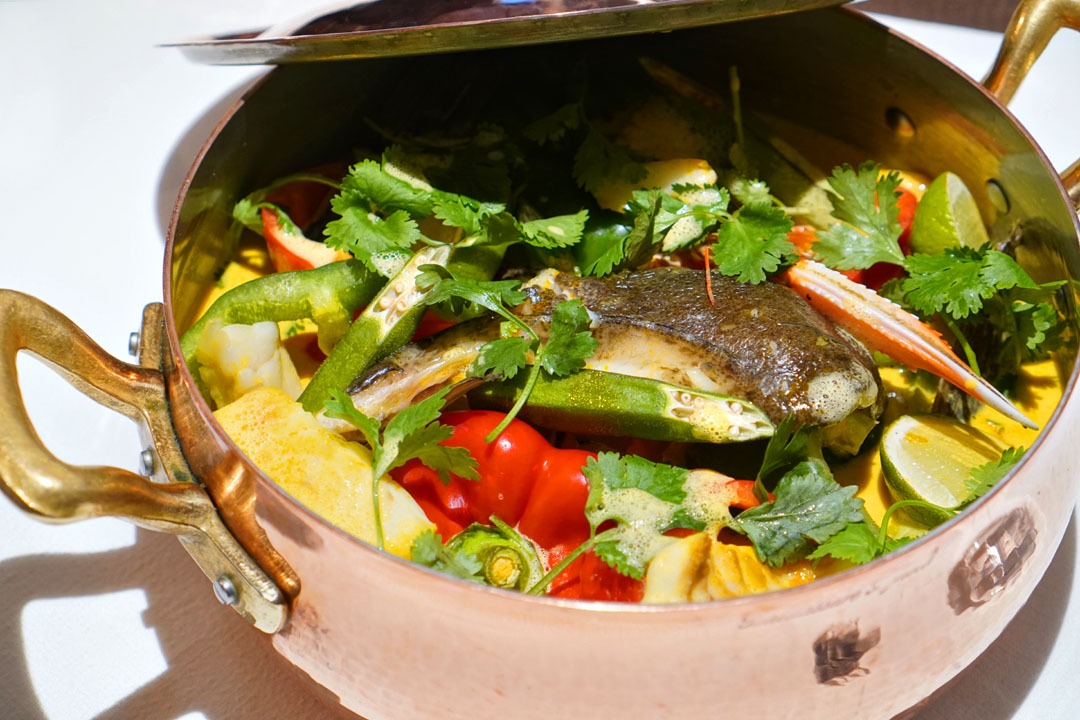 I was then shown a pot of moqueca baiana (a variety from the Bahia region), which was then brought back to the kitchen to be plated.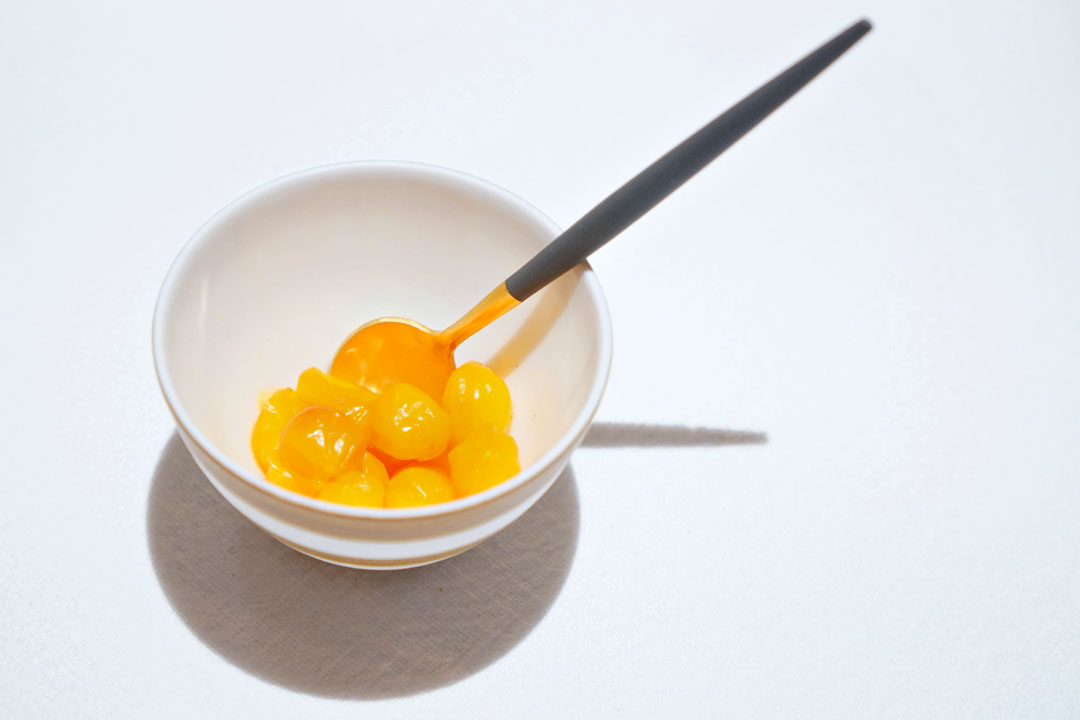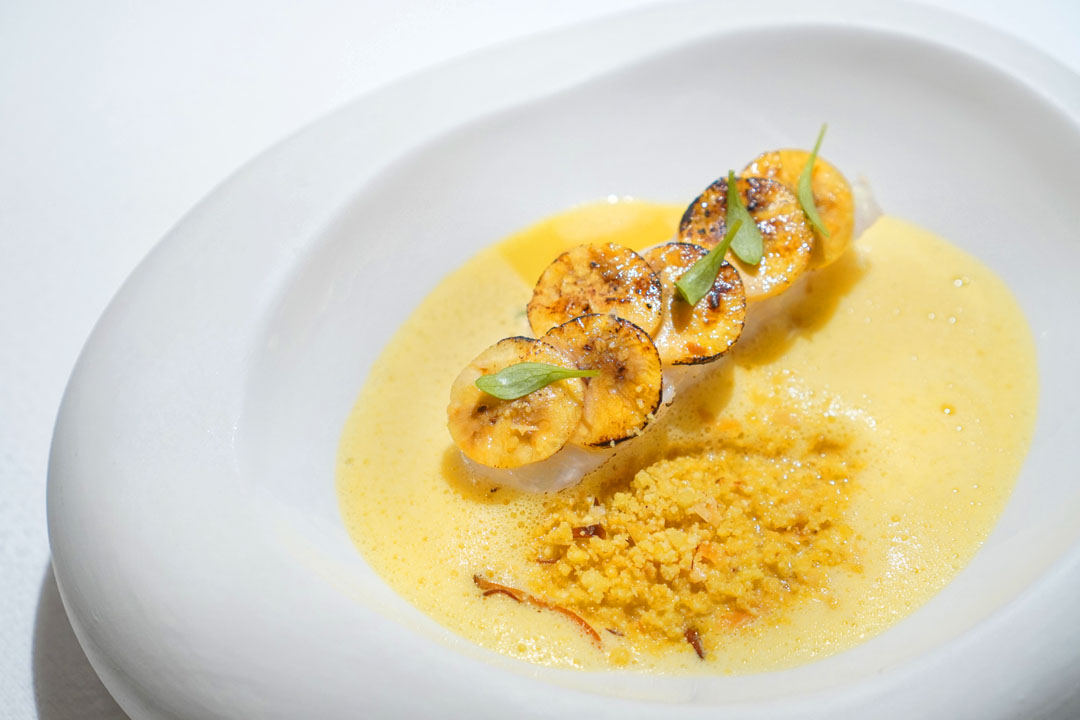 4: Moqueca
| Aged Turbot / Manteiguinha Beans / Farofa
Cornish turbot was aged for three days and poached in brown butter, making for an immensely "meaty," satisfying eating experience. The fish combined perfectly with slices of cooked plantain, homey manteiguinha beans, a hint of herbiness, and especially the nutty, toasty crunch of farofa. I was also a fan of those tiny yellow chiles on the side, which offered up a strong, sharp, fruity heat that somehow didn't overwhelm the fish. This was my favorite course of the night, and probably the best turbot I've ever had.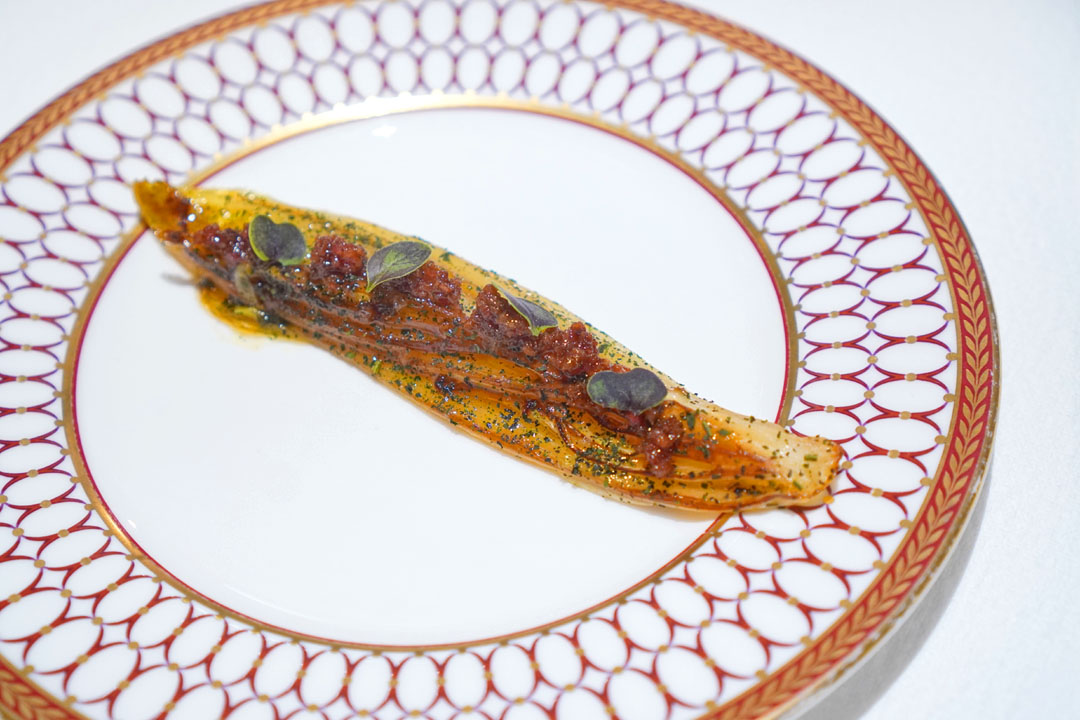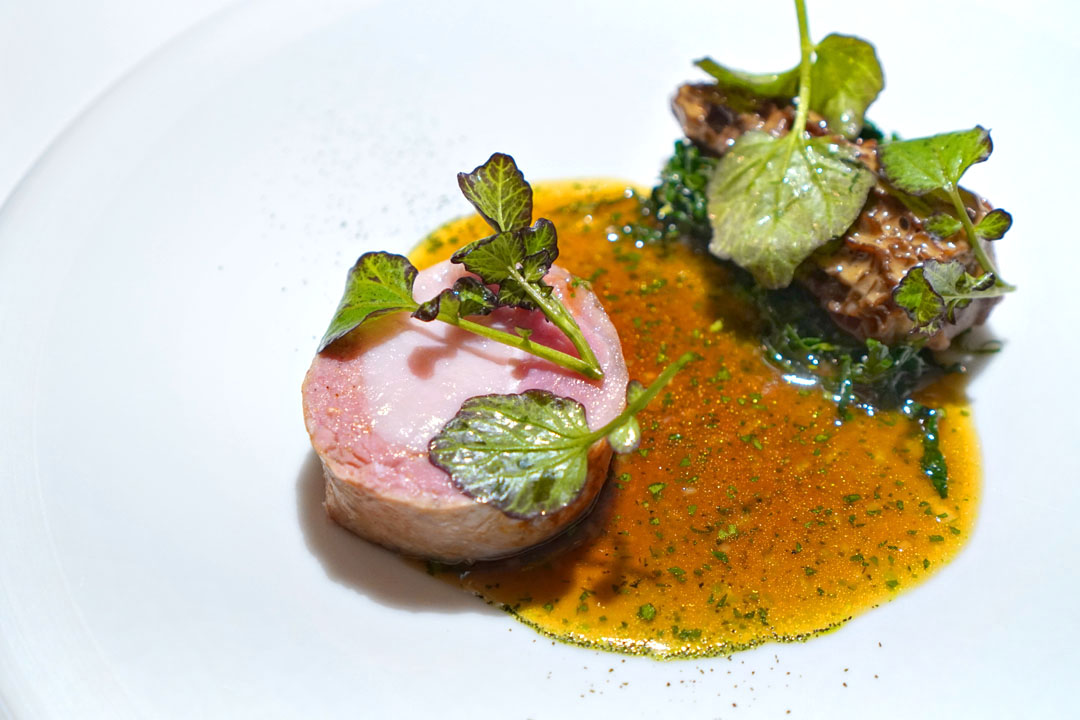 5: Huntsham Farm Middle White Pork
| Morel Feijoada / Endive / Cavolo Nero
55-day aged pork shoulder and loin were turned into something resembling a galantine, then cooked rare, resulting in bevy of wonderfully porcine, herby flavors. Also very tasty was a woodsy morel mushroom stuffed with black bean feijoada and bitter greens, while a chimichurri-based sauce helped tie everything together. The dish was accompanied by a slice of endive dressed with an enticing salty-n-sweet bacon jam.
6: Romeo & Juliette
| Cheese / Guava
The formaggio course was named after the Romeu e Julieta, an iconic Brazilian dessert comprising guava paste and cheese. The dish featured a great interplay between a farmhouse-y chèvre and a sugary guava jelly, all while a fennel-caraway cracker imparted both texture and a nutty spice.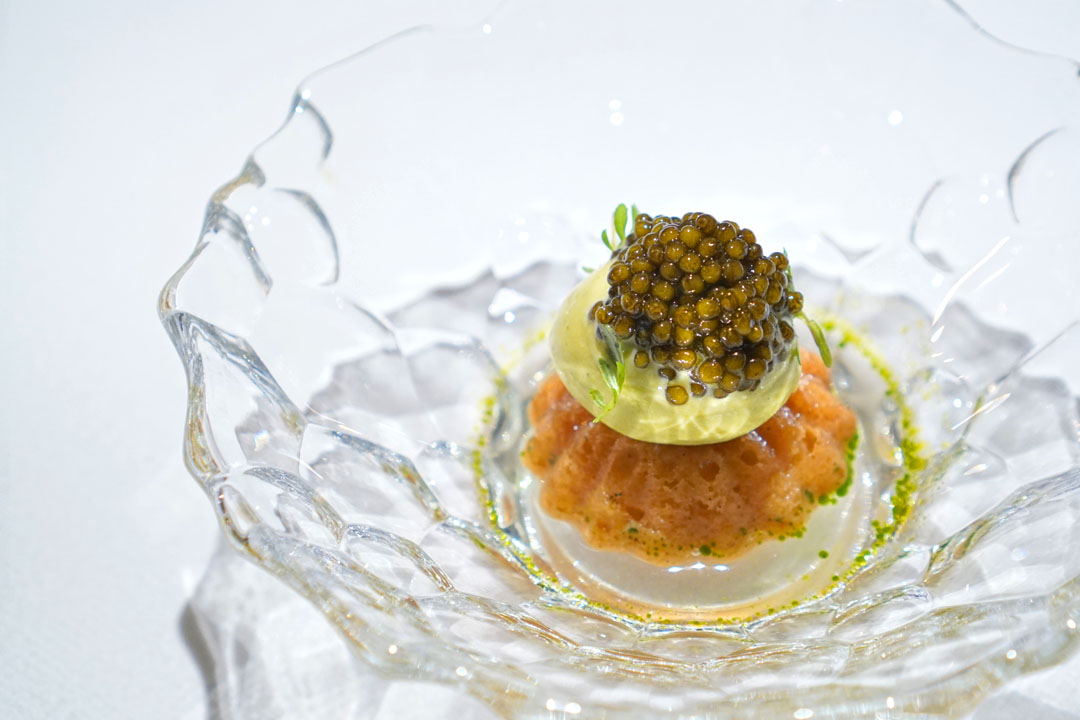 7: Baba
| Cachaça / Pistachio / N25 Reserve Caviar
Pre-dessert duties were handled by this riff on the classic rum baba. I reveled in the boozy, citric nature of the cachaça ice cream, but the key here was that caviar, which imparted this pervasive yet subtle nuttiness and salinity to the course that was really clever.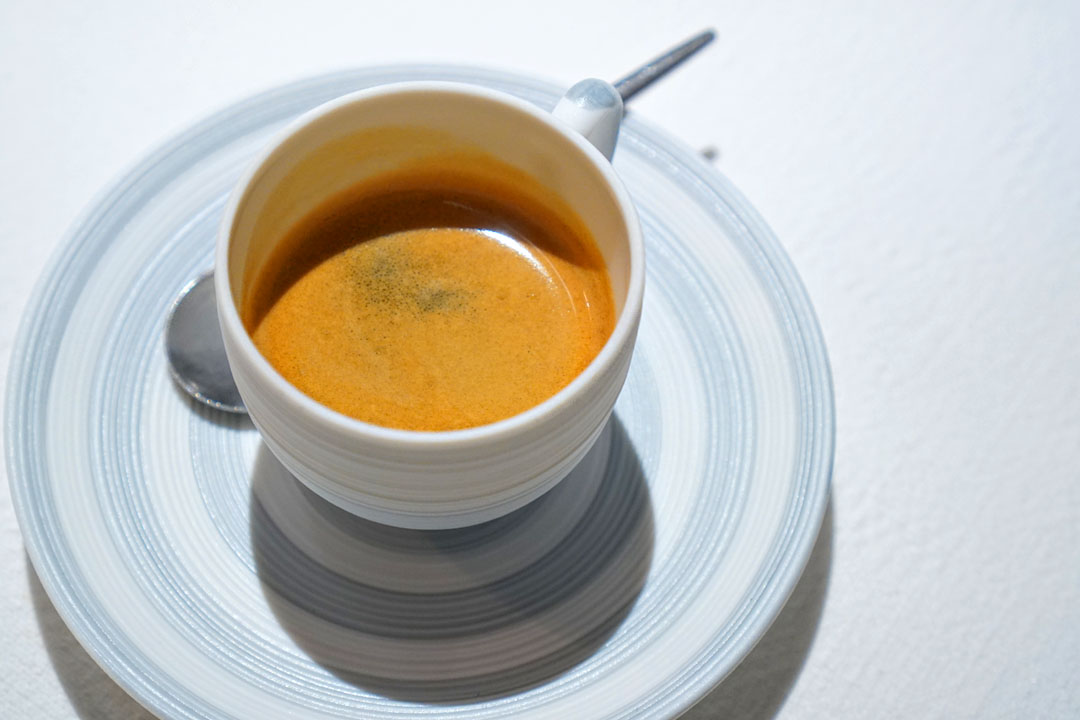 At this point, I requested a cup of
Wild Kopi Luwak [£18 ($22.01)]
espresso, sourced from the London-based Difference Coffee Company. Despite all the infamy surrounding civet coffee, I didn't find it all that different from my typical espresso, perhaps being a tad fruitier and softer than usual.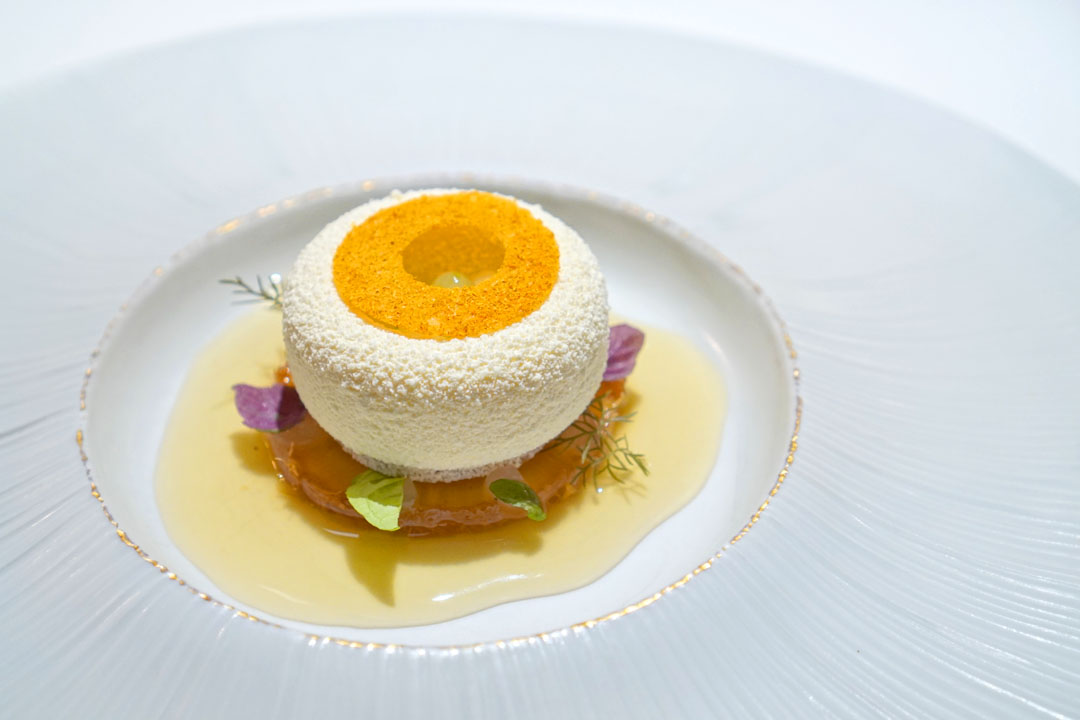 8: Pineapple
| Coconut / Fermented Pineapple Juice / Verbena
Dessert proper brought a bang-on marriage of coconut parfait and roasted pineapple, perked up by the brightness of verbena. I got some great textures here, too.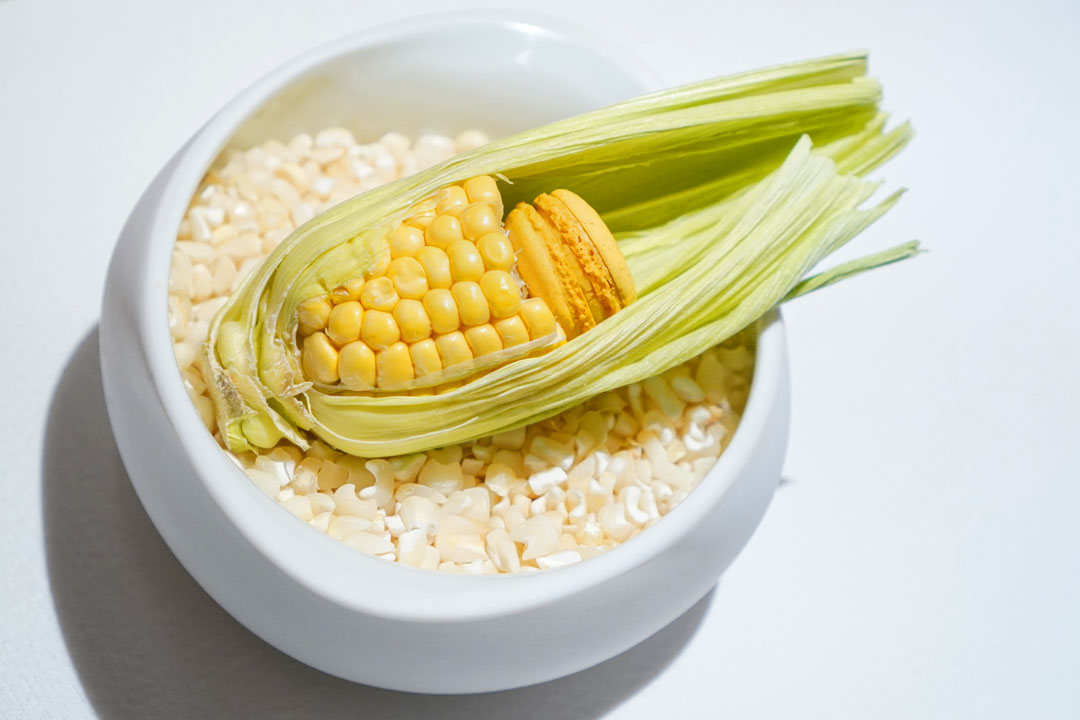 Petit Four 1: Sweetcorn Macaroon
I'm a sucker for a good macaron, and this was a good macaron. I'd never had one flavored with sweet corn before, and I have to say that it really did convey the essence of the corn in a really forceful, yet fine-spun manner.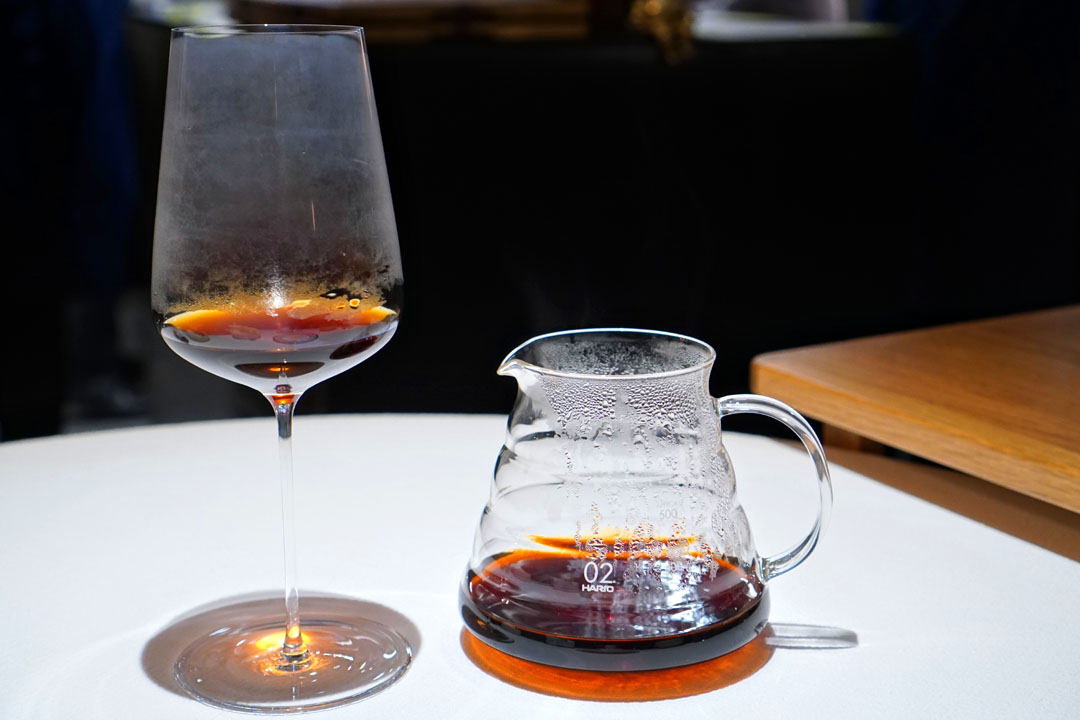 After the espresso, I opted for some filter coffee in the form of the
Ethiopia Cup of Excellence Champion Farm - Natural [£17 ($20.79)]
, also from Difference Coffee Co. What struck me here was how smooth and fruity this was, but at the same time, there were these smoky and cacao notes that kept things interesting. Also, I believe that this was my first time sipping coffee from a wine glass, and I will say that I rather liked it.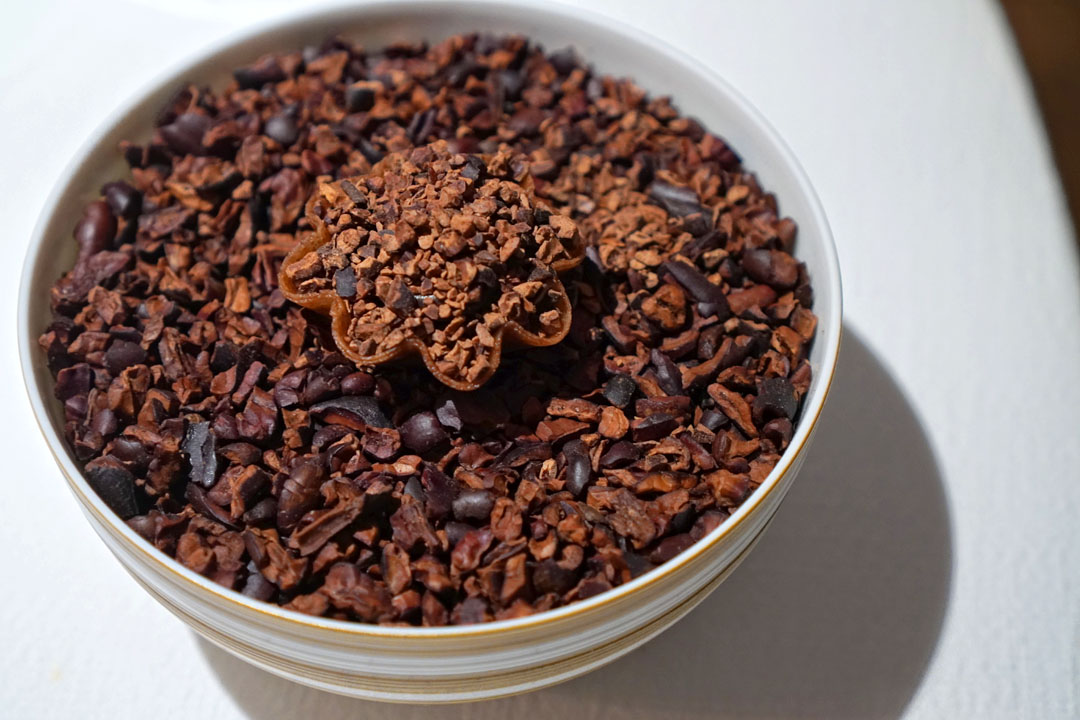 Petit Four 2: Brigadeiro Tart
Here was a take on a classic Brazilian confection called the brigadeiro. Think overtly chocolate-y, and a bit bitter, with a nice crunch to it.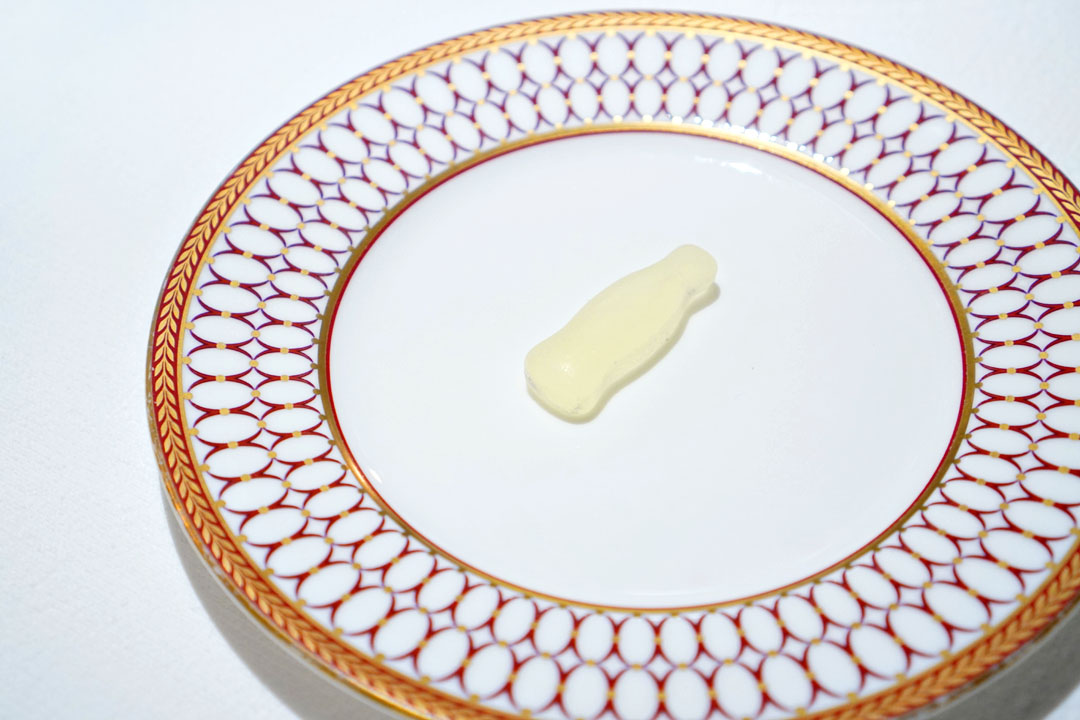 Petit Four 3: Liqueur Candy
This was a tart, fizzy limoncello candy, set in a super delicate corn starch-sugar shell.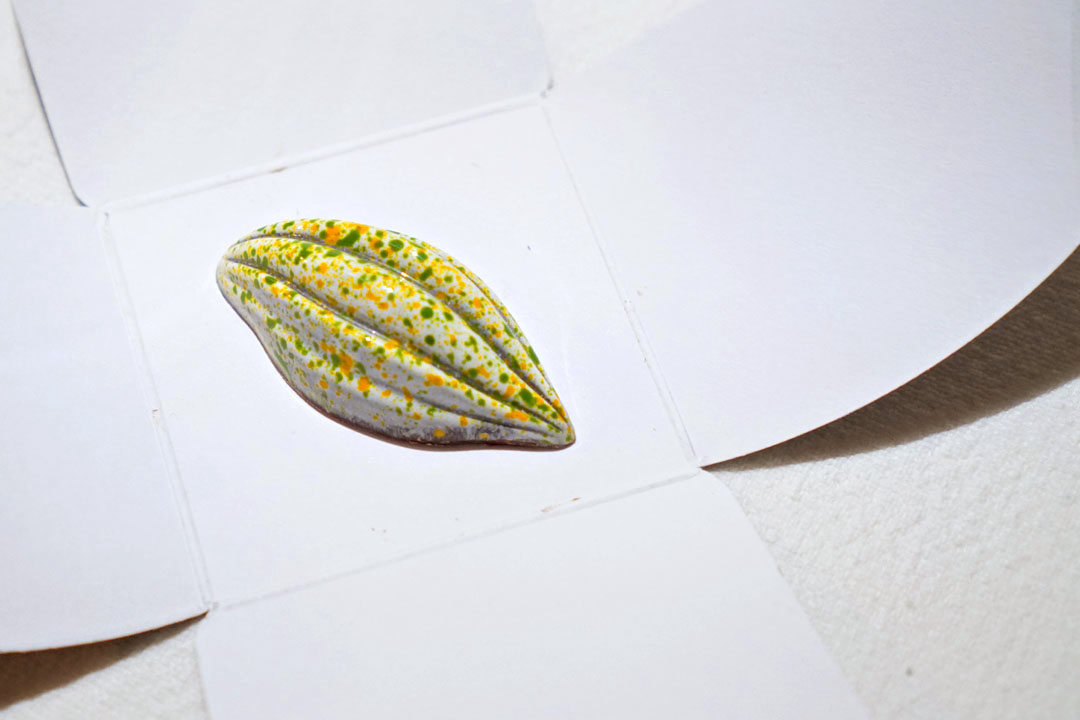 Last up: a rather visually-striking passion fruit curd set in chocolate.
Contemporary Italian-inflected Brazilian is a cuisine that I never thought I needed in my life, but Cagali and his team managed to show me the error of my ways. I found the food here uncompromisingly personal, creative, and original, and the way that the Chef combined his cultural background with his training in some of the world's top kitchens was masterful. There was just this grace and elegance to the cooking that spoke to me, yet at the same time, the dishes were bold, vivacious, complex, and even playful at times. Needless to say, service was also top-notch. Thus, though Da Terra may be a relative newcomer, I'm happy to report that all the great things I'd read about it are indeed very much merited.