Frenchy's Bistro (Long Beach, CA)
Frenchy's Bistro
4137 E Anaheim St, Long Beach, CA 90804
562.494.8787
www.frenchysbistro.com
Fri 10/06/2006, 08:40p-10:00p
Celebrating its tenth anniversary this year, Frenchy's is a quaint French bistro-style restaurant unfortunately located in a not-so-great area of Long Beach. The exterior is quite nondescript, and you probably wouldn't stop if you were just passing by. But fortunately I wasn't just passing by, as I had a recommendation from a coworker of mine. The restaurant's Zagat food rating of 27 further convinced me. Frenchy's serves a nice collection of traditional French fare: foie gras terrine, pork tenderloin, rack of lamb, filet mignon, crispy duck, and the like.
We originally had reservations for 8:00, but due to some unforeseen circumstances on our part, we couldn't start until 8:40. The restaurant was very accommodating to our situation and this attitude pervaded the entire evening. I was quite pleased with the service, which I found genial and expedient.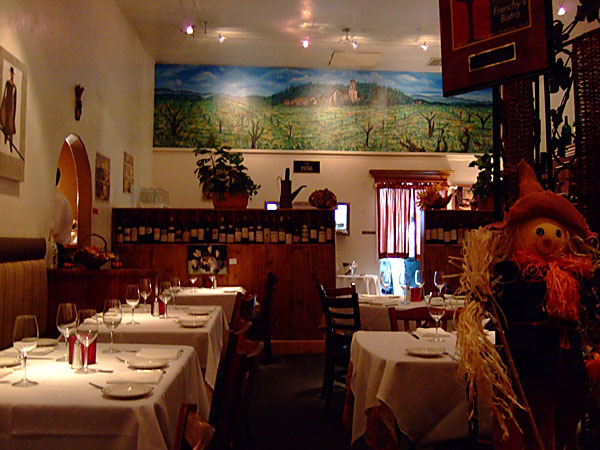 Frenchy's consists of a smaller dining room where we were seated (pictured), a larger dining room to the left with about 15 tables, and a large salon to the right (used for private events). The overall ambiance is warm and inviting.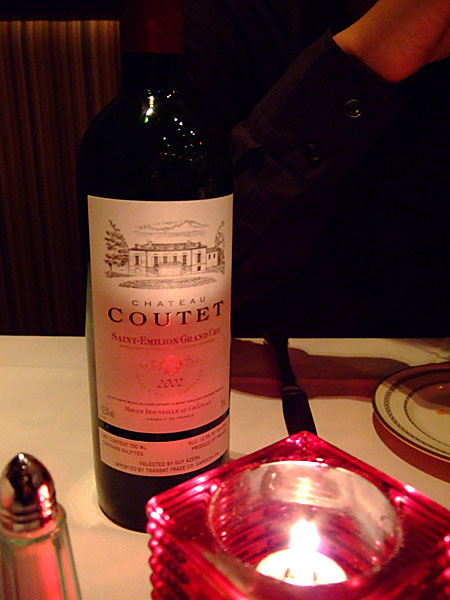 We had a nice bottle of Bordeaux with the meal, a 2002 Château Coutet Grand Cru, from Saint-Emillion. I found the wine quite approachable and easy drinking, though my dining companion felt that the tannins were a bit strong.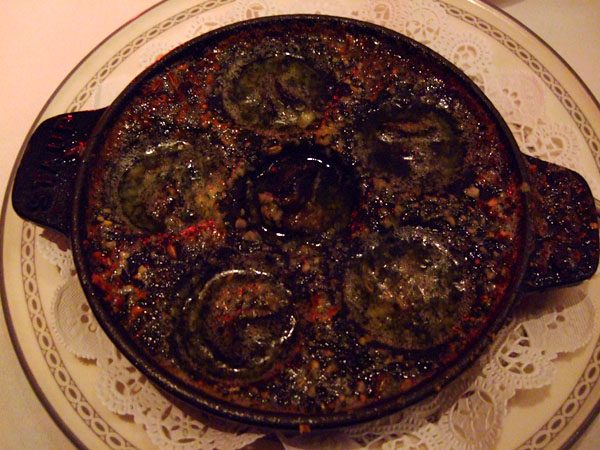 Old-Fashioned Escargots in Garlic Butter on a Cast Iron Plate "Staub"
Whenever there is escargot on the menu, I have a hard time not ordering it; and this occasion was no exception. The snails were tender, but firm enough to have a pleasant, slightly chewy texture. The garlic here was not as strong as I'm used to however.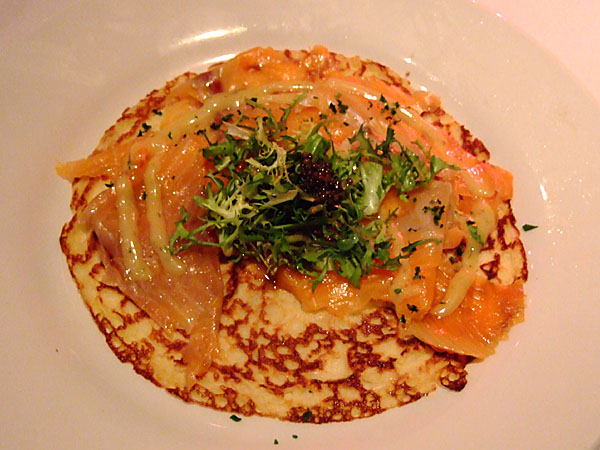 Salmon Gravlaks, Potato Crepe & Sevruga Caviar, Dill/Mustard Sauce
Similarly, we have a hard time not ordering gravad lax or smoked salmon when it's on the menu. This preparation was actually unlike any other I've had before. I felt there was a bit too much going on with this dish and would've preferred it if the flavors of the dill/mustard were a bit stronger. The caviar on top was quite good.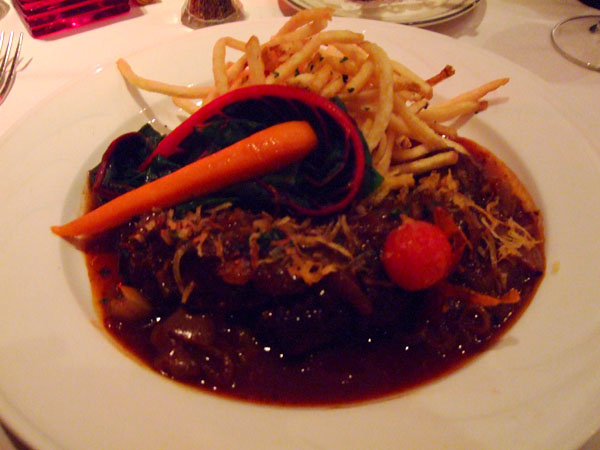 Hanger Steak "Onglet" Traditional Shallot Sauce
Hanger steak is a piece of meat from the underside of the cow; it hangs between the rib and the loin, hence the name. I have been told that hanger steak can be rather tough if not prepared correctly; fortunately that was not the case here. I ordered the meat medium-rare and the steak came in pre-cut slices, which was a bit of a surprise. That was not a problem, as the steak proved to be quite tender (though obviously not as tender as the filets I normally get), and full of flavor. The pommes frites and vegetables were well-suited complements.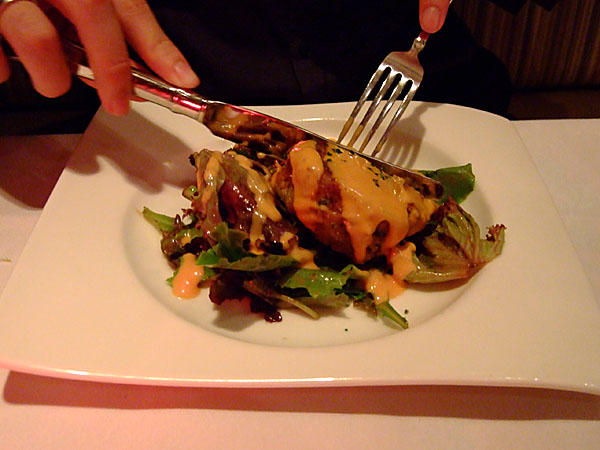 Dungeness Crab Cake on Wilted Spinach, Tomato/Brandy Sauce
Unfortunately I didn't get to try much of this dish, through from the little I did have it seemed to have a good amount of crab and little filler, which is generally a good sign.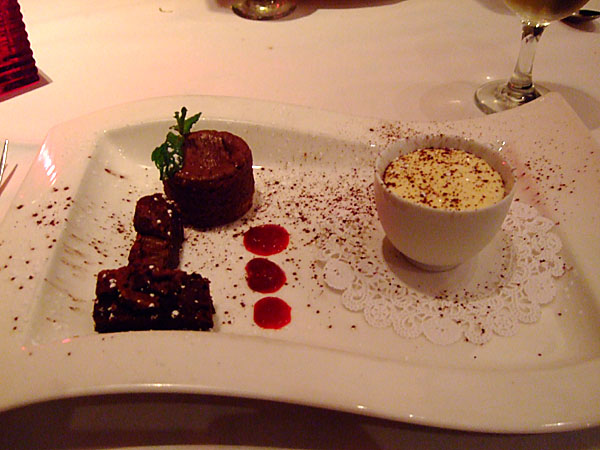 My dessert was the chocolate mousse, chocolate cake, and chocolate "brownie." My favorite portion was the mousse. I very much appreciated the fact that the sweetness of the dessert did not overpower the sweetness of the Muscat I had with it.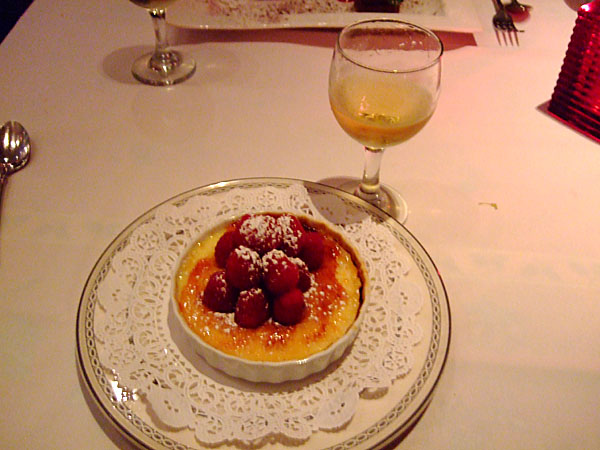 We also had the crème brûlée with raspberries, which was quite tasty, with a rich custard base and nicely caramelized top. We paired this with a Sauternes.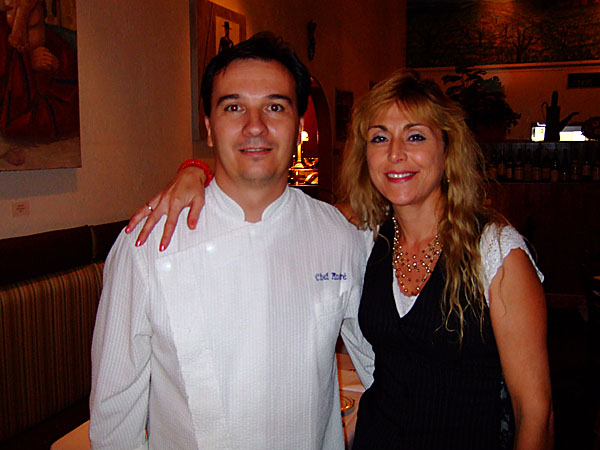 Executive Chef André Angles and his wife Valerie, who serves as hostess. They were very gracious during our stay, chatting with us after the meal and giving us a tour of the salon area.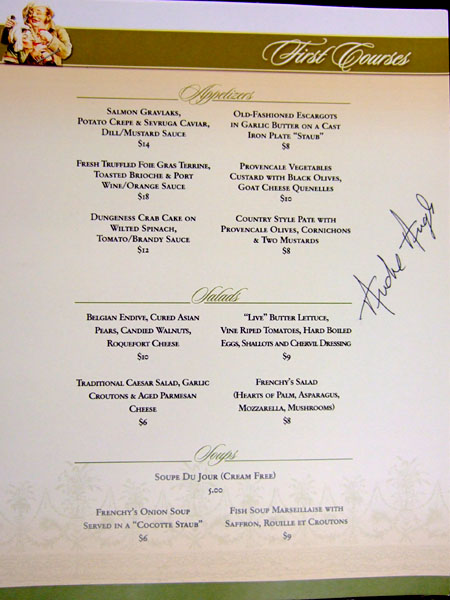 Chef Angles also provided two signed copies of the menu, a nice touch!
Overall I'm quite happy with Frenchy's Bistro. The restaurant serves up solid, tasty, hearty traditional French fare in a comfortable setting, at reasonable prices. As Frenchy's is located relatively close to work, it is now a viable lunch option and I look forward to dining there again soon.