Urasawa (Beverly Hills, CA)
Urasawa
218 N Rodeo Dr, Beverly Hills, CA 90210
310.247.8939
www.gayot.com/restaurants/features/urasawa.html (review, restaurant has no web site)
Sat 11/04/2006, 07:00p-10:30p
A special thanks goes out to Ryan, without whose invaluable input this photo essay would not have been possible.
You certainly won't find a Philadelphia roll here, nor the venerable California roll; teriyaki chicken is all but verboten. This is not Japanese for the masses (I recall an apocryphal account of Janet Jackson leaving when Urasawa wouldn't serve her a spider roll); and that's exactly why we made the trek up to Beverly Hills. This is foodie nirvana; this was a meal literally
years
in the making. There was no turning back (especially given the $100/person cancellation fee).
Hiroyuki Urasawa honed his skills under the watchful eye of Masa Takayama at the old Ginza Sushi-Ko. A few years ago, reportedly under the influence of none other than fan and French Laundry uber-chef Thomas Keller, Masa shuttered Ginza and moved to New York, where he opened his eponymous restaurant at Time Warner Center. But Masa's spirit lives on through Urasawa, who at age 38, has done a keen job of filling Masa's shoes (or err...clogs).
But Urasawa does not want to be found, or so it seems. Going down Rodeo Drive, you see no external signage, nothing indicating that LA's priciest restaurant lies just a few steps off Via Rodeo. I suppose this is intentional, to keep out the riff-raff and the merely uniformed. You enter via a parking garage off Dayton Way, valet only, naturally. Very incognito. The fact that Urasawa is open by reservation only further adds to its mystique; in fact, that evening, two women who tried to dine
sans
reservation were promptly turned away.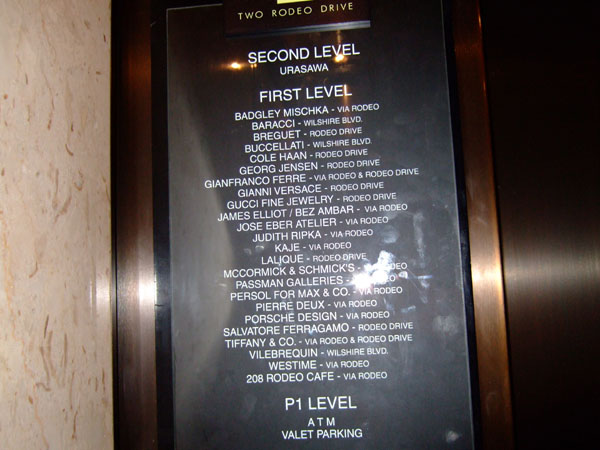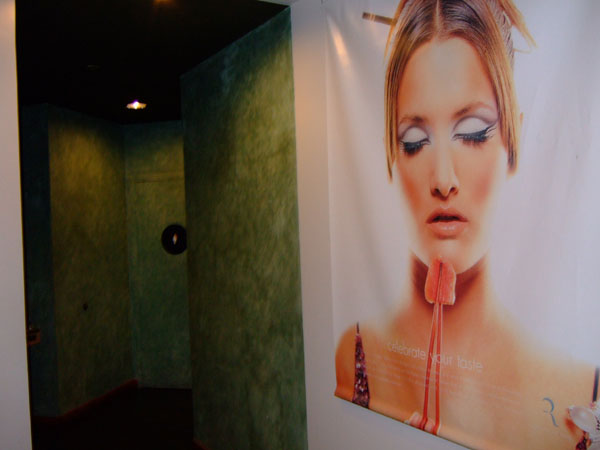 Once out of your car, you immediately enter the elevator and go up, past Tiffany, Ferragamo, and Versace to the second floor, which Urasawa commands all to itself. The elevator door opens behind you. You see a rather peculiar looking hallway, with unsightly green walls, not exactly what you were expecting. Then you look right, towards the restrooms.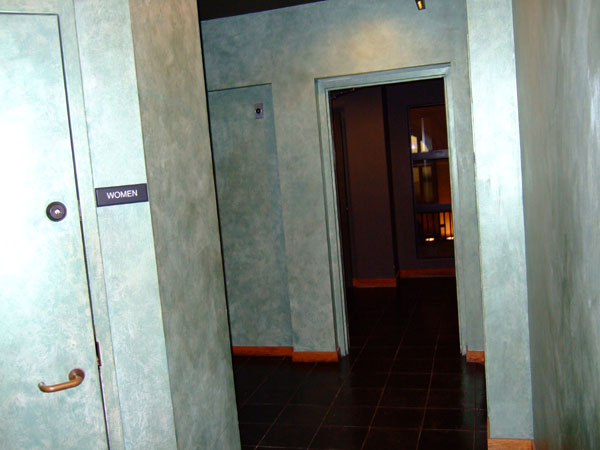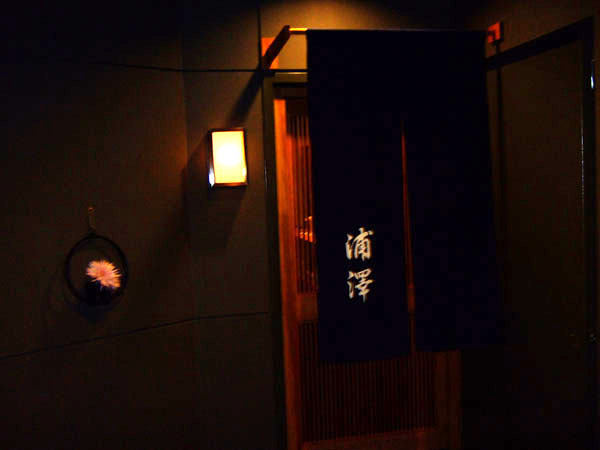 Walking past the bathrooms (you may want to take a pit stop here) and turning left, you finally arrive at something that looks like the proper entrance to a world-class Japanese restaurant. Part the indigo curtains and enter.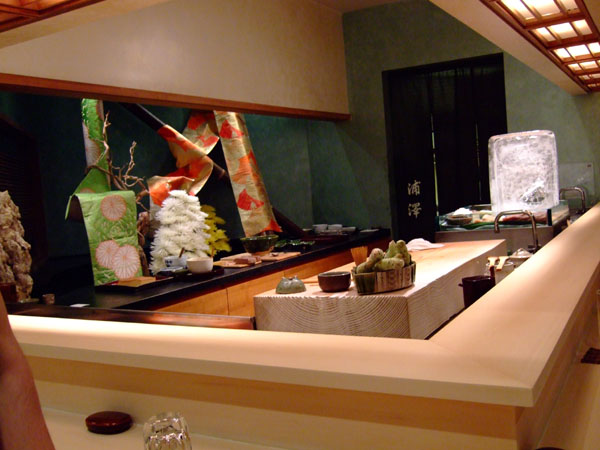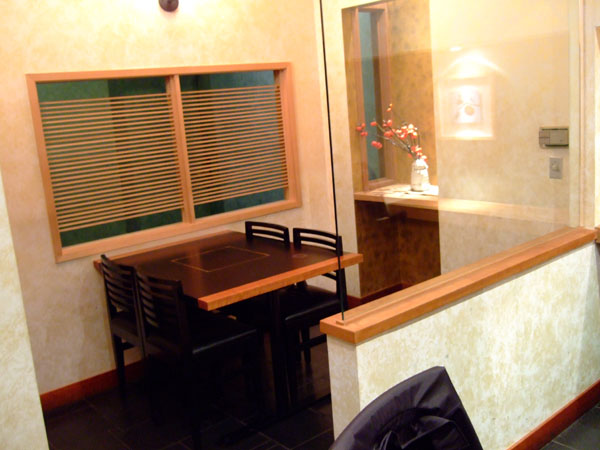 Urasawa's bar is made from silky smooth maple, sanded daily, and just begs to be touched. The L-shaped bar seats three on the short side and six on the long side, with the best seats in the corner. That night, my party of five shared the bar with another party of three. The "private" room seats four and from what I hear is rarely used; however on this particular night, it was indeed filled by a foursome vacationing from Ireland. Thus, given Urasawa's small size and the sheer length of the meals (~4 hours), the restaurant can seat only about a dozen people per night.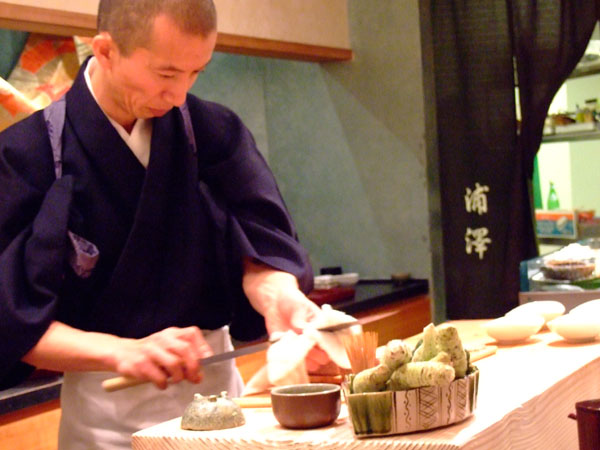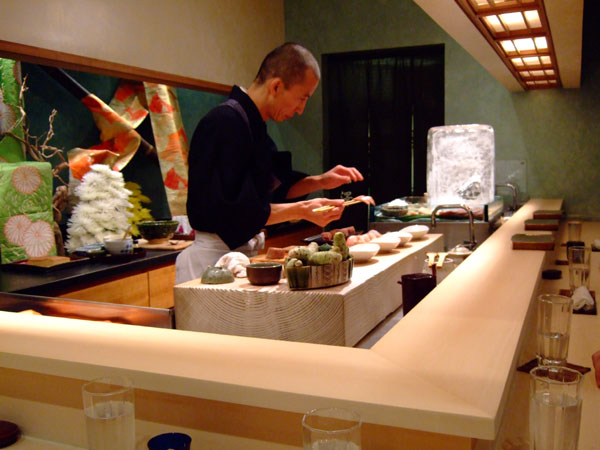 Clad in the traditional
haori
, the master at work. Note the fresh wasabi root in the corner of the solid maple chopping block; the typical imitation horseradish paste doesn't pass muster here.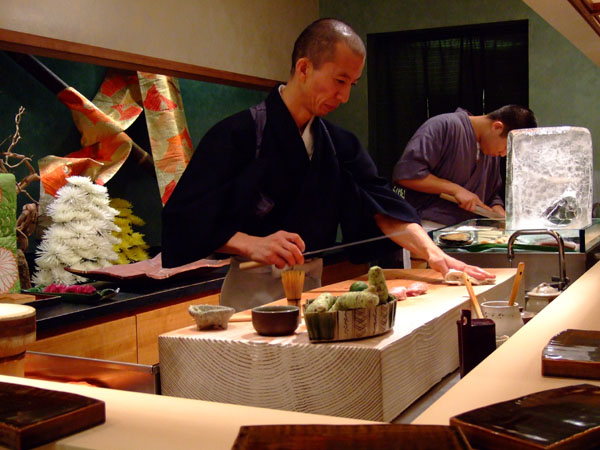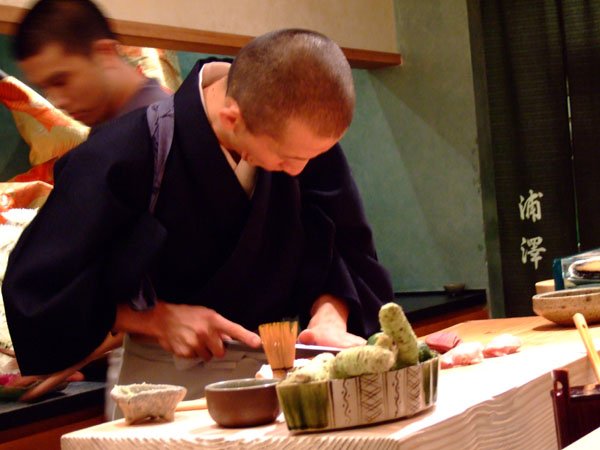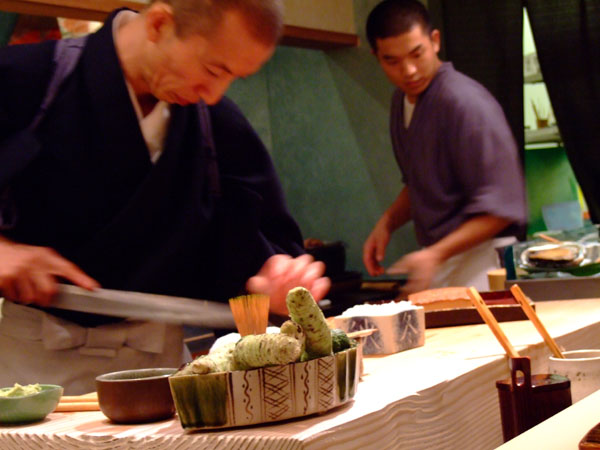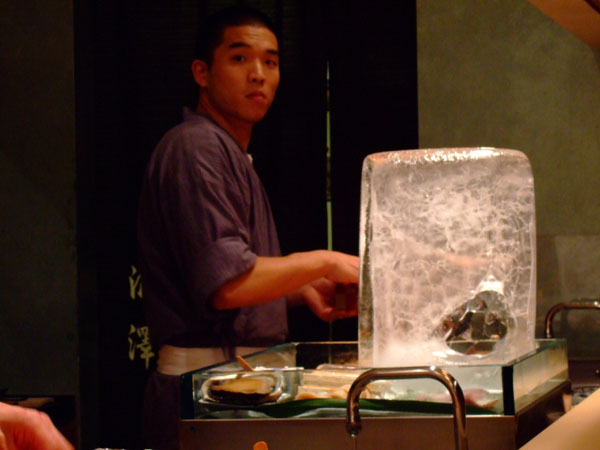 Assistant Sung is pictured here; Hiro-san quipped that he used to work off to the side where Sung was, when Masa still ran the place in the Ginza Sushi-Ko days. Along with Urasawa and Sung behind the bar, there was also a waitress and a bus boy in the front of the house, and three more in the back, yielding a superlative staff-to-guest ratio. As you might expect, service was top-notch: quick, friendly, and courteous.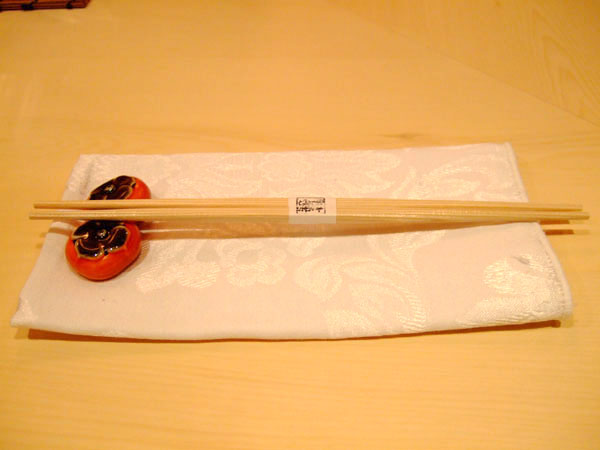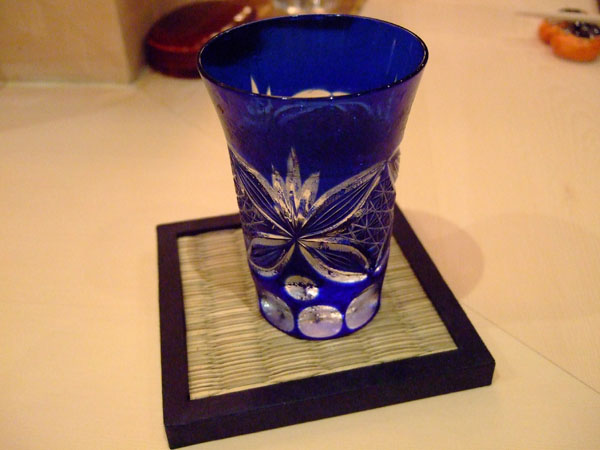 Left
: Chopsticks rest atop a nicely embroidered napkin.
Right
: A lovely blue crystal glass awaits the kiss of chilled sake. This style of glassware is referred to as
kiriko
, meaning cut-glass. There are a few places in Japan that have the tradition of cut-glass production, with Tokyo (or Edo) being one of them. Thus, it is appropriate to use
kiriko
in an Edomae sushi restaurant.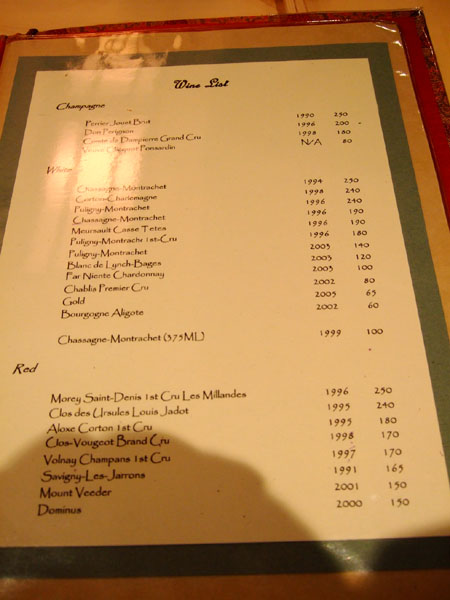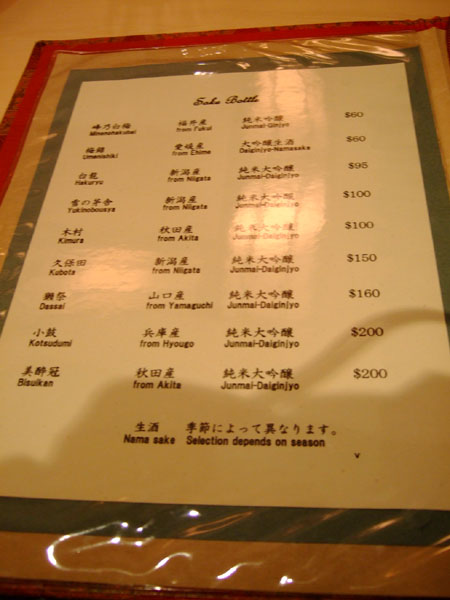 On the topic of sake, here we see Urasawa's wine, sake, and beer list. We had two bottles of
Kubota
followed by two of
Koshino Omachi
. Both are
junmai-daiginjyo
's from Niigata. We found the
Kubota
clean, crisp, and refreshing with only a whisper of alcohol. The
Koshino
, on the other hand, began with an intoxicating floral bouquet but ended on a more astringent note. Click photos above for larger versions.
At the start of the meal, Hiro-san introduced himself ("My name is Hiro") and asked each of us our names (he thinks Kevin is a "good name"), which he promptly wrote down so he could refer to us by name throughout the night, a nice personal touch. Now, onto the food: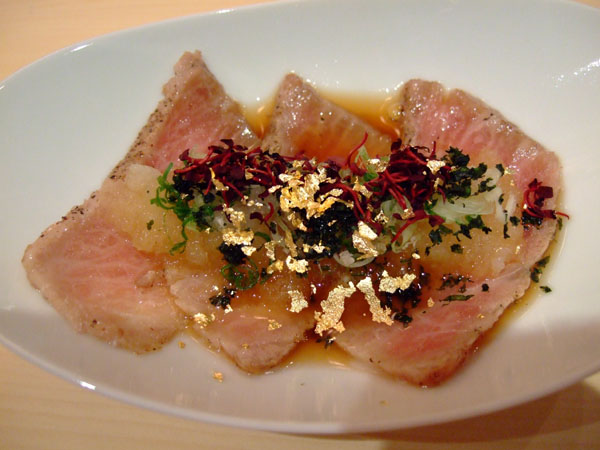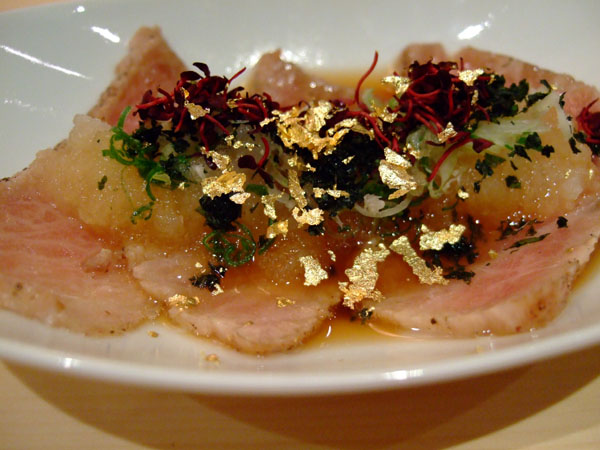 1. Toro Tataki
- Topped with orange ponzu, radish, scallion, and 24-karat edible gold leaf. The fish had a slightly charred or pan-seared flavor and intense marbling more akin to Kobe beef than fish. The orange ponzu balanced well with the toro's slightly seared flavor. However, some felt the radish overpowered the finish of the scallion. A great way to kick off the evening.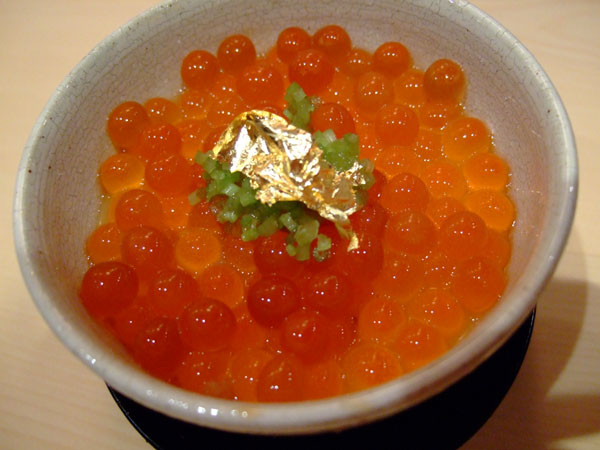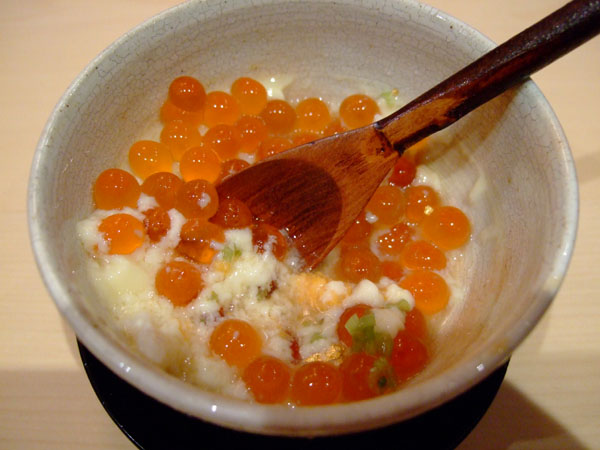 2. Egg Custard
- With salmon roe, sea urchin, shrimp, and more gold leaf. A harmonious dish, no flavor took center stage here. The salmon roe gave pleasant bursts of cold, light, briny sweetness in the mouth. The egg custard's intensity varied based on bite, but some thought it had an unpleasant flavor of boiled eggs at times. The uni was much milder in taste than we were accustomed to; nobody in our party really liked uni previously but everyone ate it with a smile here.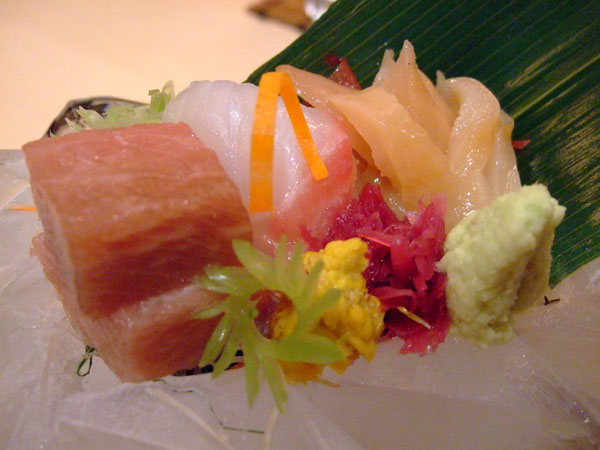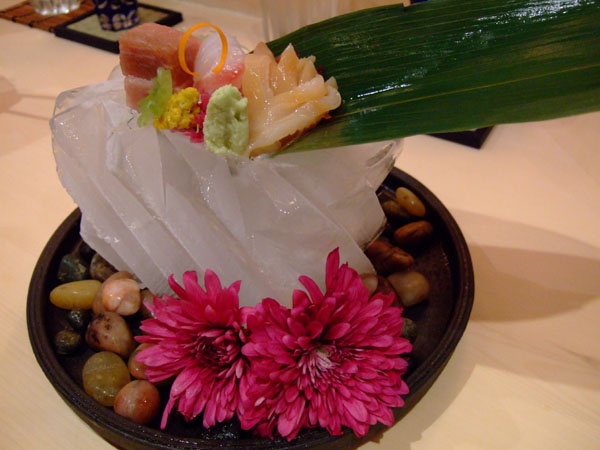 3. Sashimi
- From left to right: toro, snapper, orange clam, all served on the infamous hand-carved block of ice. The snapper had a lighter flavor and crisper texture than usual. The clam also was milder and much tastier than I expected, while the tuna was so fatty it almost melted when chewed. On a humorous note, two members of my party were chastised by Urasawa for reaching for the sashimi before it was properly served by the staff.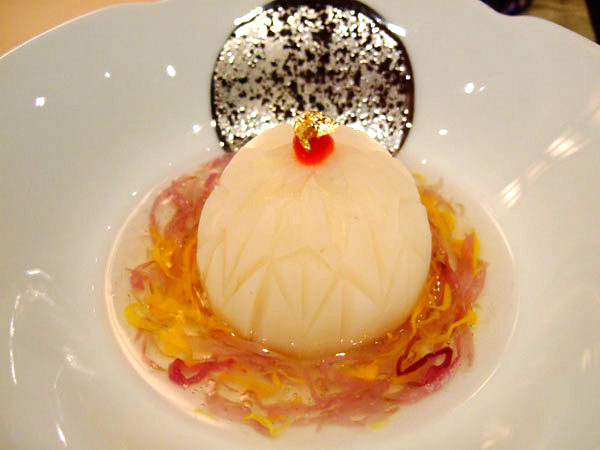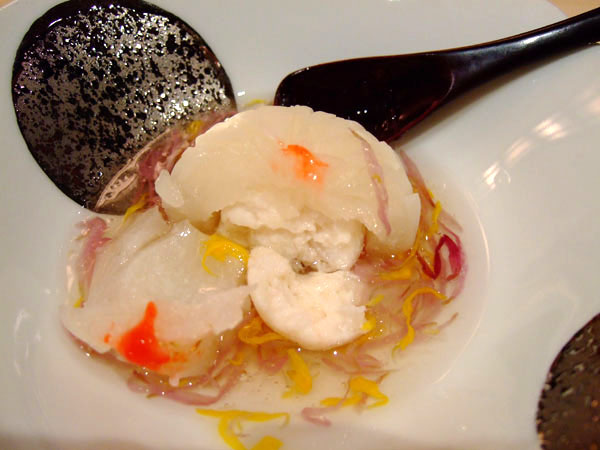 4. Dumpling
- A intricately carved turnip exterior encasing an interior of shrimp paste, in a sea of chrysanthemum syrup reminiscent of tea. The turnip was soft with a subtle resistance while the shrimp provided most of the flavor. Chewing the shrimp paste, I kept trying to extract extra flavor, which wasn't there. This was probably the weakest course of the meal, as the flavors lacked intensity and the shrimp didn't really go well with the tea, which is a bit ironic since those are the two icons of dim sum.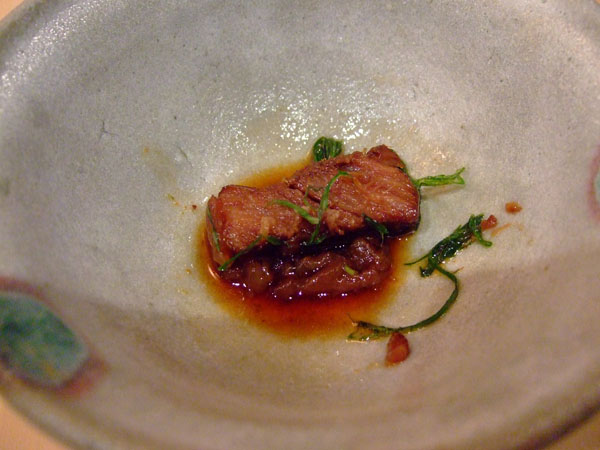 5. Beef
- From the Saga prefecture in the Kyushu region of Japan. Cooked in a sauce of sweet sake, regular sake, and yuzu soy, the beef was suggestive of the Chinese braised variety. Containing small bits of marbling, the meat was quite literally melt-in-your-mouth and broke apart upon contact. Typically when cooking Kobe-style beef, you have to be careful not to let the fat run off; but this seemed well-cooked, probably at low temperatures, with almost liquefied fat and connecting tissue. Unfortunately, we couldn't wait to try this and took a few bites before snapping the photo.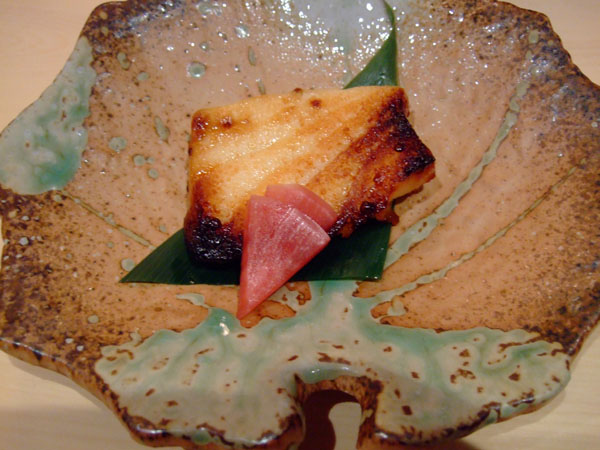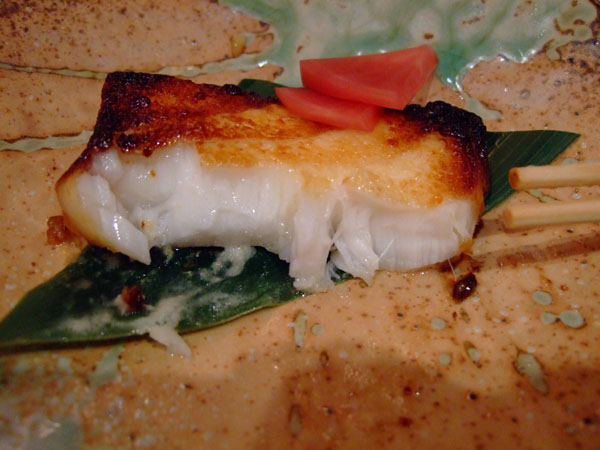 6. Sea Bass
- Prepared misoyaki style, the miso flavor was faint, almost ethereal. The bright, white flesh was a bit firmer than I would expect in sea bass, which was a plus for me. The sweet, tart radish had me a bit worried, but its crunchy texture matched well with the creaminess of the fish.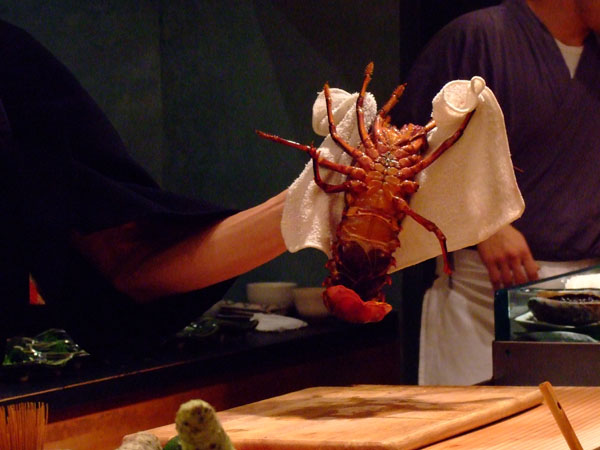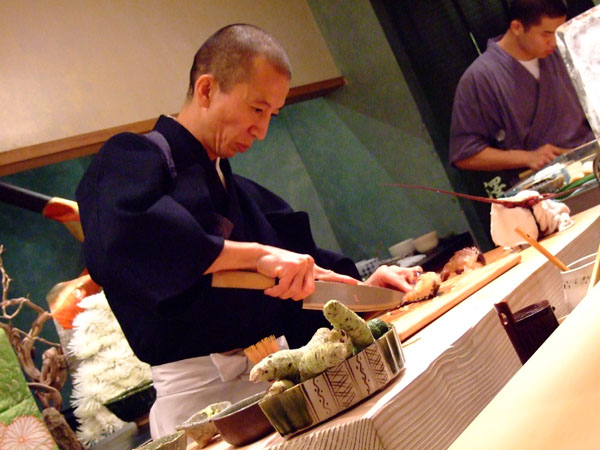 One minute you're a lobster just crawling around your tank...The next minute Hiro-san is cutting off your tail to serve to us in the next course...This is the difference between live and merely fresh...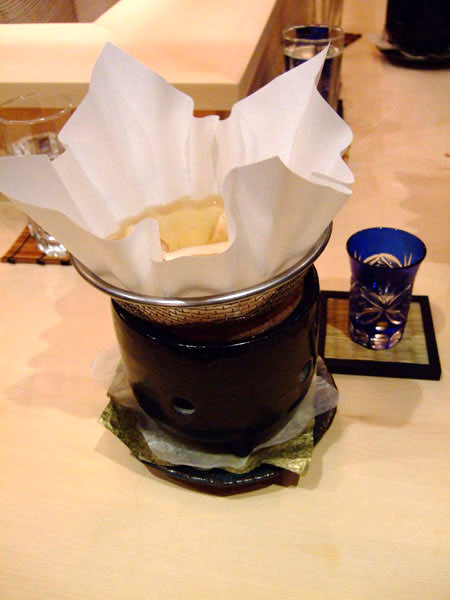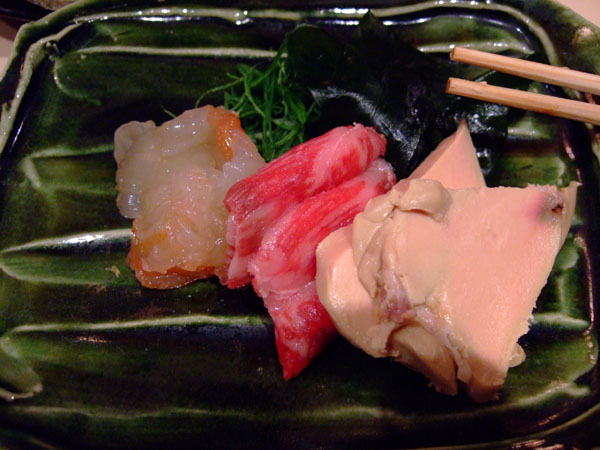 7. Shabu-shabu
- Soup stock with mushrooms in a paper basket over a burner, a favorite course for some. The meats were the lobster from above, pinkish, intensely-marbled Japanese beef, and foie gras. The staff cooked our first pieces for us; we were told to cook the lobster and beef very quickly, and cook the foie until it was soft. The lobster was crisp, tight, and very fresh (obviously), however I preferred to cook the crustacean a bit longer than recommended. The beef had a great texture, though some thought it lost a bit of flavor when cooked and preferred to eat the meat raw. Surprisingly, the star of the troika was the foie gras; I usually am not a fan of foie, but this, this was mild, soft, pure liquid decadence, and was a favorite among many members of our party, members who would normally never order foie gras.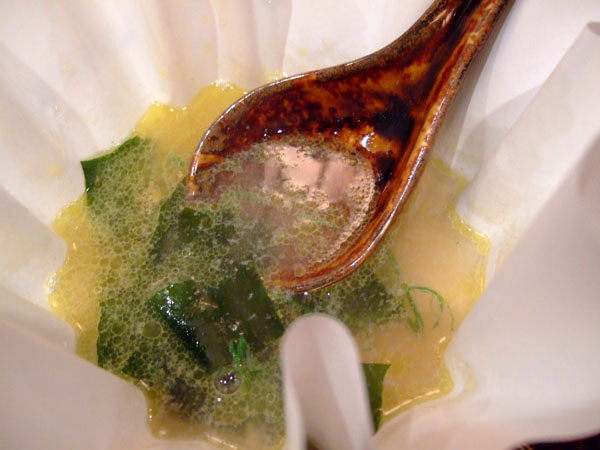 8. Soup
- The stock from the shabu-shabu. For me this was very reminiscent of a miso soup enhanced with the flavor of mushroom and the fattiness of oils from the cooked meat.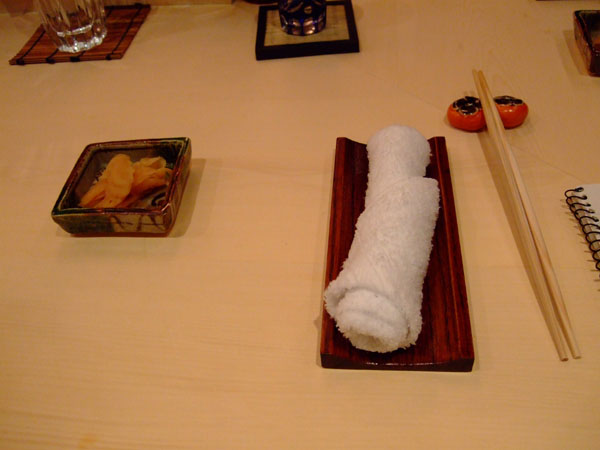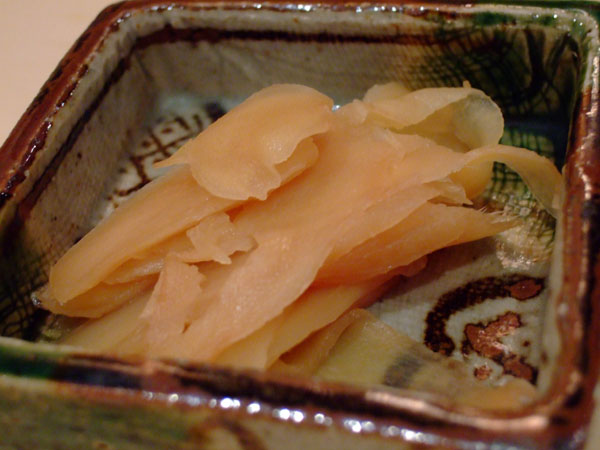 And with that, we were done with the
kaiseki
part of our meal. Next up was the sushi. A note on the ginger: superb, great texture, with a lingering heat. The stuff you normally get with sushi seems artificial compared to this. I normally don't touch the ginger, but ate almost all of mine that night.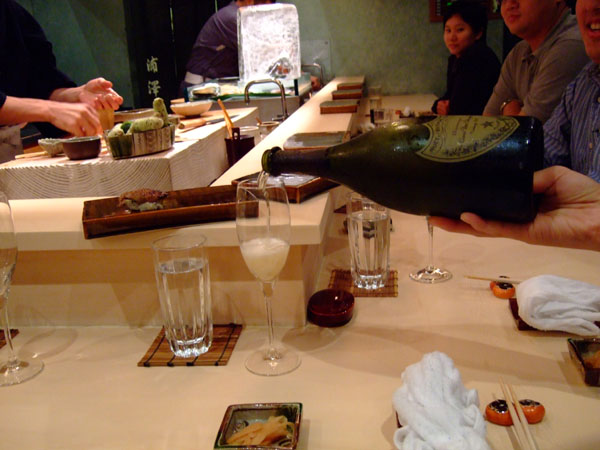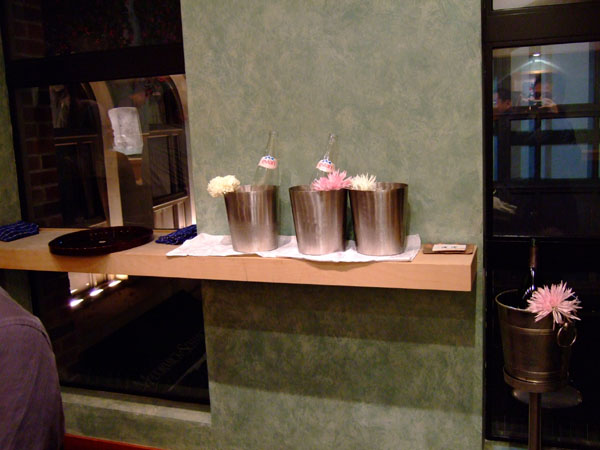 Left
: Naturally, a meal of this magnitude must be matched with libations of comparable caliber. Champagne provides a well-suited foil to sushi; and the 1993 Dom Perignon was a fine example of such. The 1993 has a unique style compared with the 1996 and 1998 vintages, fundamentally similar yet more complex, with strong hints of pencil lead and minerals and a finish suggestive of a fine sauternes. One member of my party even preferred it to his old favorite, the 1997 Roederer Cristal; the Cris was crisp, dry, and clean, a wonderful way to cleanse the palate after a piece of sushi; with the Dom however, different flavors came to the fore depending on which fish it followed.
Right
: The Dom chilled with some sort of flower, along with $8 bottles of Evian.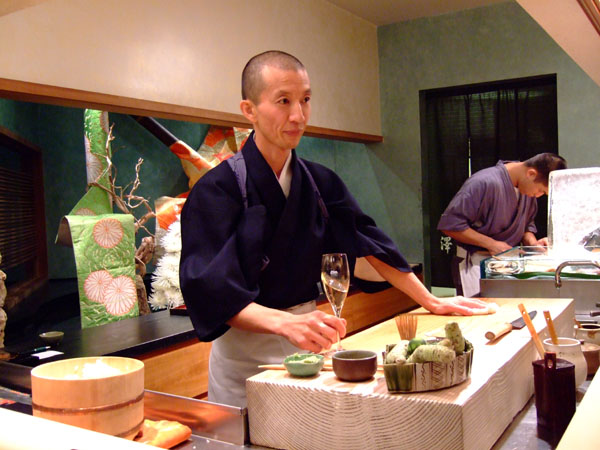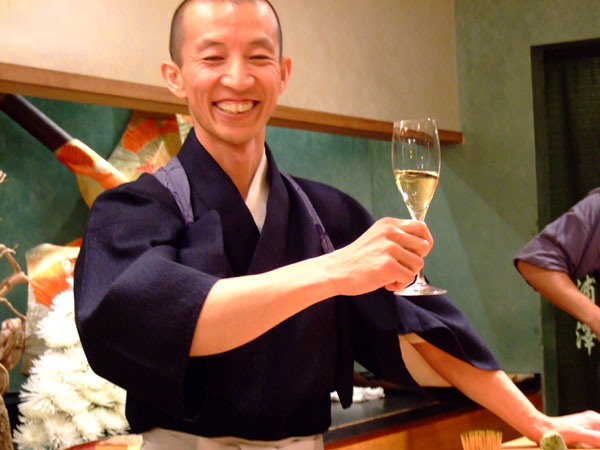 We offered Hiro-san a glass of the bubbly as well. But of course we didn't want him drinking too much!
And now onto the sushi. For optimal taste, we were told to eat each piece, by hand, within ten seconds of it being placed in front of us(!):
A note about the rice: The term
sushi
in Japanese refers only to the rice portion of nigiri, and thus we cannot overemphasize the importance of rice in the whole of sushi. The grains here were invisible, transparent, melding seamlessly with the fish, yet added substance and structure. Hiro-san would grab rice from a periodically-refreshed basket and form blocks of the perfect size, depending on the fish at hand.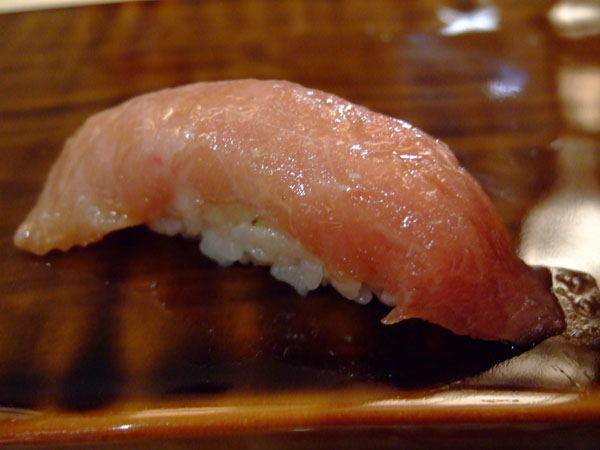 9. Toro
- Everything you'd expect from top-notch toro: fatty, flavorful, melt-in-your-mouth goodness. Could this be better than the "super toro" I had at Katsu-ya?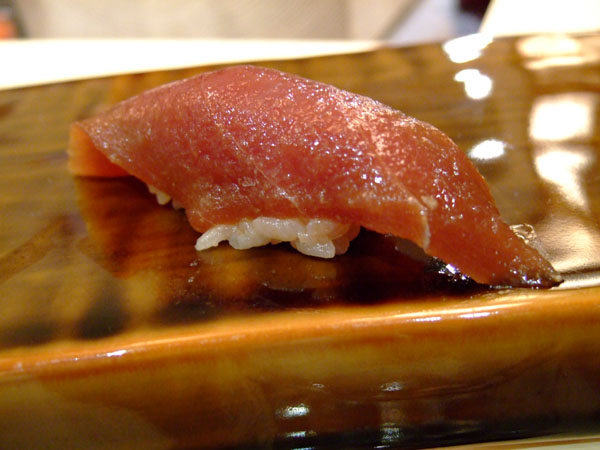 10. Hon Maguro
- This bluefin was softer than the maguro that one normally gets. It had an almost toro-like consistency and a more concentrated taste than usual.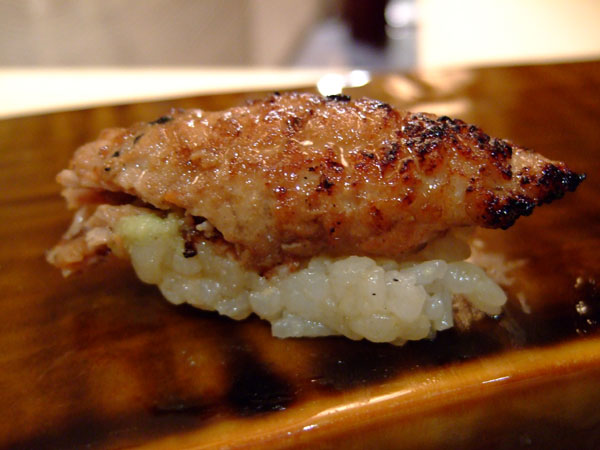 11. Toro, Cooked
- Considering how good the uncooked toro was, my first thought was "blasphemy!" But this was a lot better than I thought it'd be. The cooking imparted a charred BBQ flavor to the fish, added a slight bit of gumminess, and relaxed the tendons.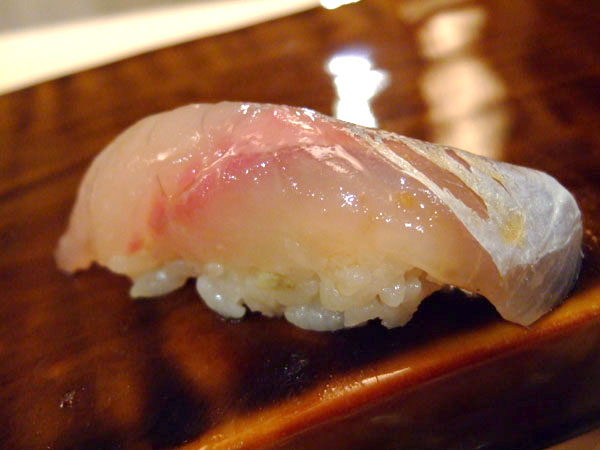 12. Sawara
- Spanish mackerel from Kyushu island Japan. The fish had a lighter, less oily taste compared to typical mackerel.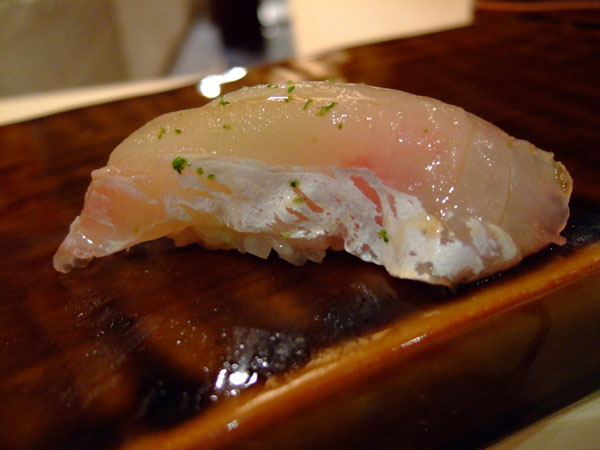 13. Tai
- Red snapper garnished with yuzu zest. Compared to the sashimi served earlier, this had a crisper texture that didn't "break" as easily. I preferred this preparation, while some others did not.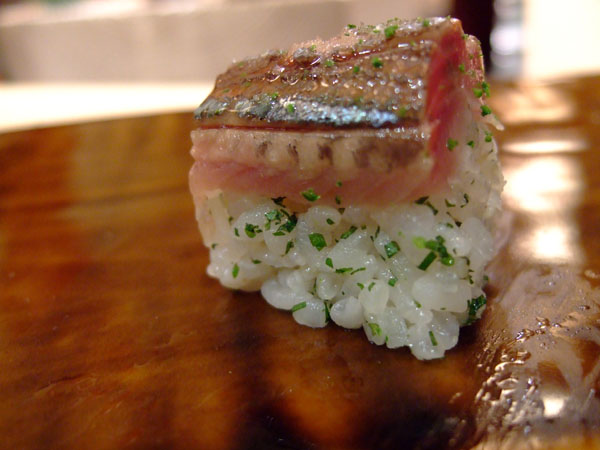 14. Sanma
- Pike mackerel from Hokkaido. My first experience with this fish, I thought it had a sweet, fruity taste with hints of cherry.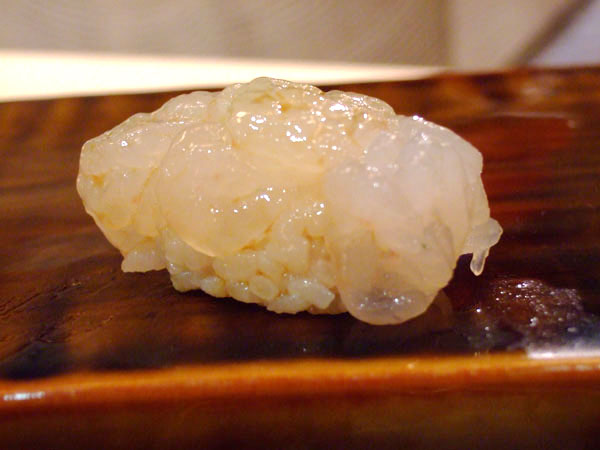 15. Shiro Ebi
- This was my first time experiencing these tiny white shrimp from Toyama prefecture. The shrimp was served raw and about two dozen pieces were needed for a single piece of nigiri. I thought it was a bit creamier than your standard sweet shrimp and quite delicious! However, others found it reminiscent of well-masticated ika and much preferred a single piece of amaebi.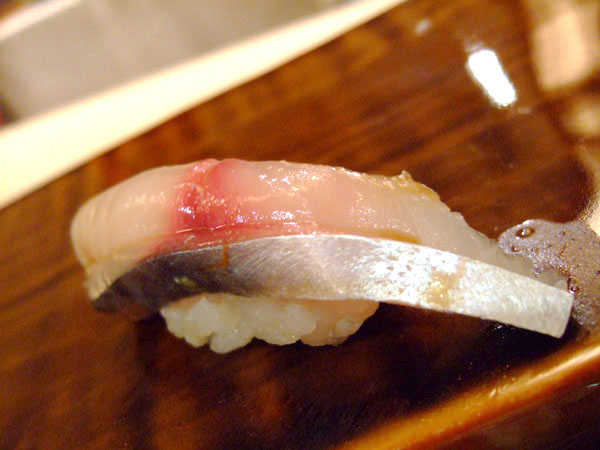 16. Aji
- Japanese mackerel, with a flesh that breaks up upon chewing. Oily, fishy, delicious, this was the quintessential expression of mackerel.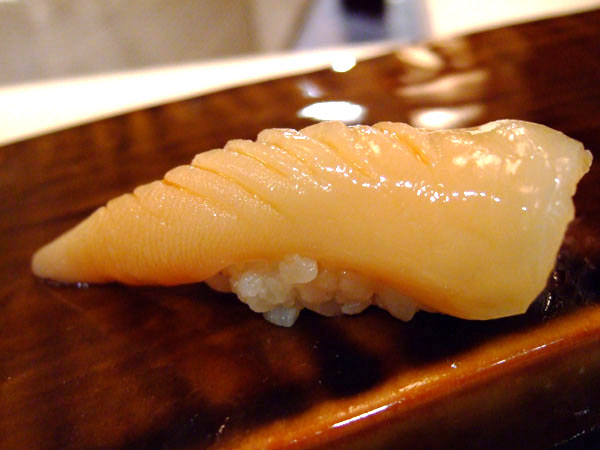 17. Aoyagi
- Orange clam. Sweet, with mild flavors of the ocean that add rather than dominate. Compared to others we've had, Urasawa's version was softer and more yielding, rather than stiff and rubbery. I've always avoided clam in the past but I think I'm starting to develop a fondness after this!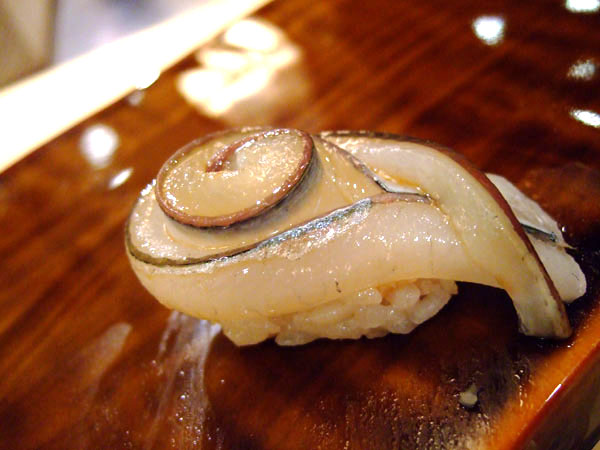 18. Sayori
- My first experience with needlefish. Using chopsticks, Urasawa coils a strip of the fish into a beautiful, silvery spiral. In addition to being physically striking, the fish was suggestive of snapper, crisp but firm throughout.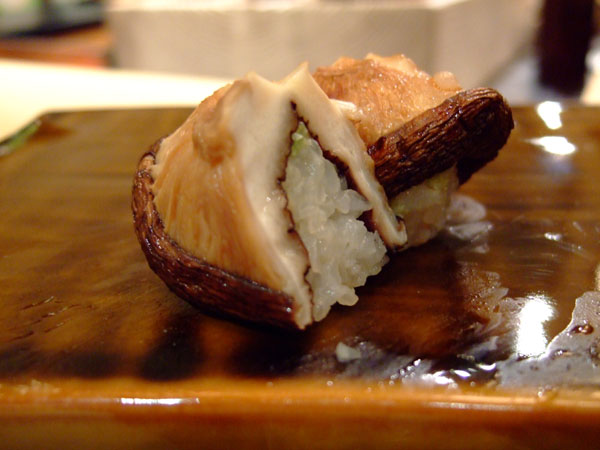 19. Shitake
- Mushroom nigiri? It works better than you might think. The flesh was firm, flavorful, and a welcome change of pace.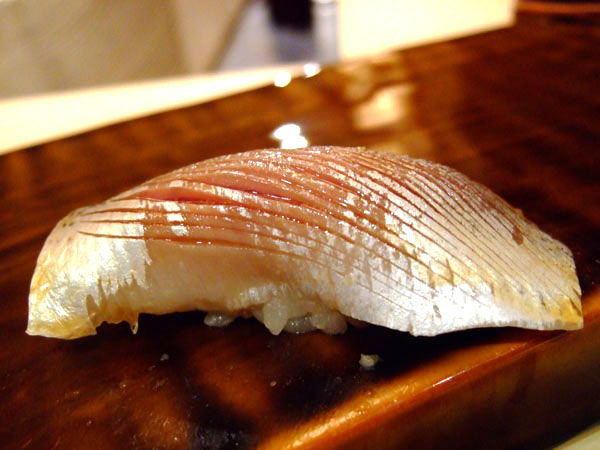 20. Kohada
- We were told this was Japanese herring, but typically I hear it called gizzard shad. In any case, it had a slightly sweet taste and was quite delectable. Look at the detailing on the fish; those slits were cut by hand.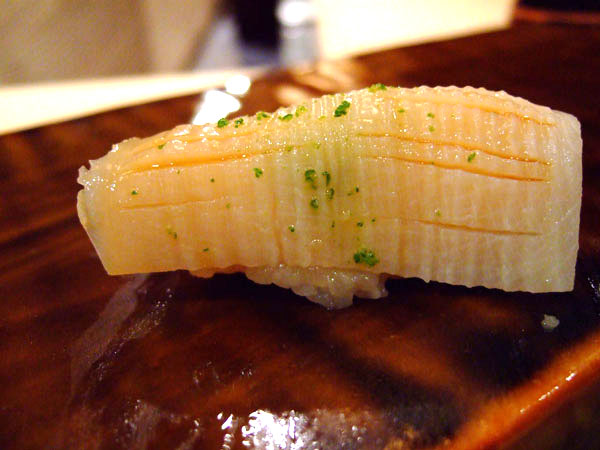 21. Awabi
- Abalone can be a bit rubbery when raw, so note the cross-hatching designed to tenderize the mollusk. It was garnished with yuzu, which imparted a slight citrus flavor and reminded me a bit of chewing on an orange rind.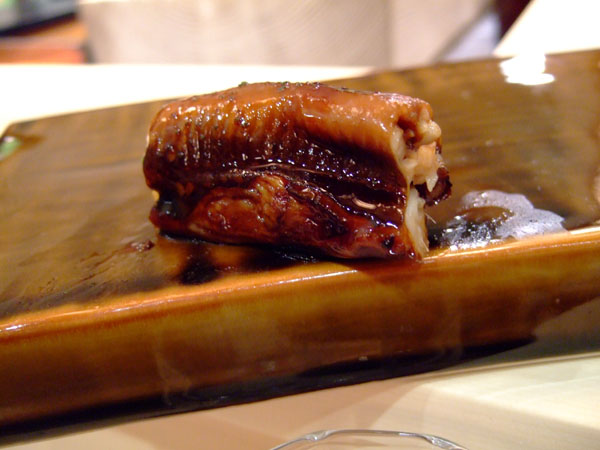 22. Anago
- This sea eel was a bit firmer and fuller-flavored than you typically get. We typically prefer unagi but this holds its own easily.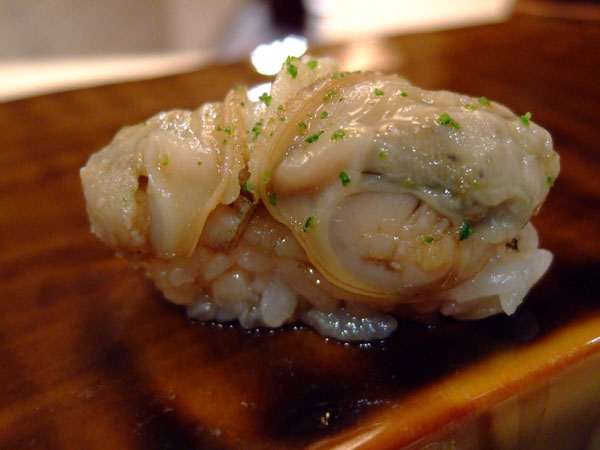 23. Mirugai/Hamaguri
- In the restaurant, this was identified as mirugai, translated as geoduck. However, I was later informed that this item appears to be hamaguri, or hard clam. In Edomae sushi, cooked hamaguri (ni-hamaguri or ni-hama for short) is often found and photos I've seen do support this claim. In any case, it was slightly sweet and had a yielding yet resilient texture. This was my first time trying mirugai, though hopefully not my last.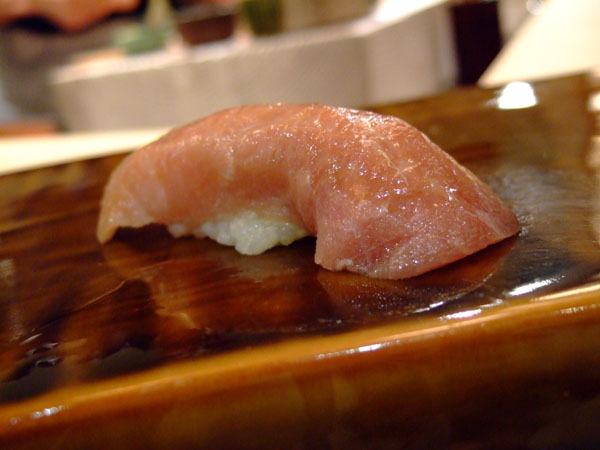 24. Toro #2
- Hiro-san overheard us raving about the toro so he decided to give us another serving. We didn't complain!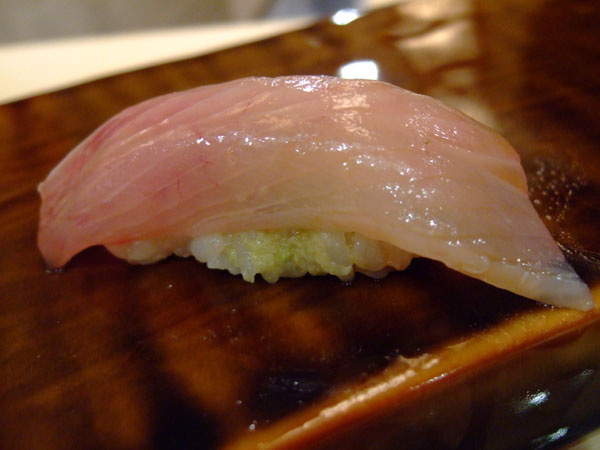 25. Katsuo
- Japanese skipjack, another first for me. Soft and mild, this fish was perfectly balanced and reminiscent of snapper.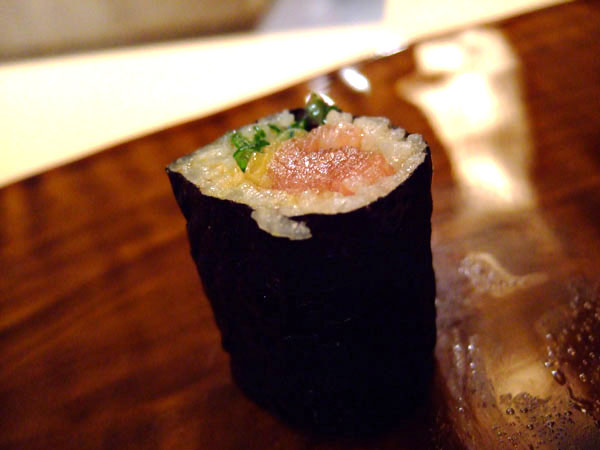 26. Toro Maki
- A fitting conclusion to the flight of toro, this maki was garnished with scallion and pickled radish, which provided a refreshing crunch.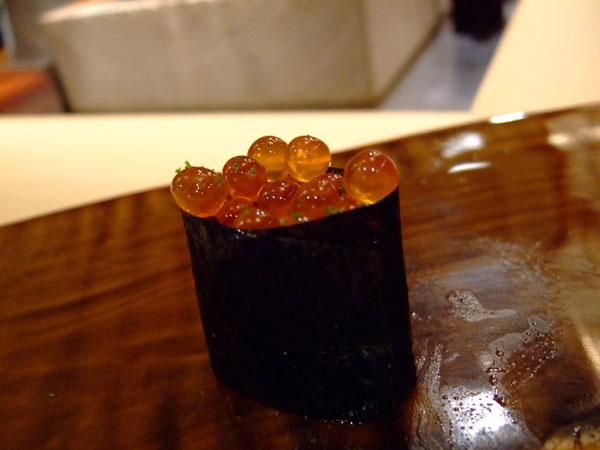 27. Ikura
- Salmon roe, as if we didn't have enough in the second course. These bright, briny orange globes were the largest I've had and provided a plethora of miniature explosions in the mouth.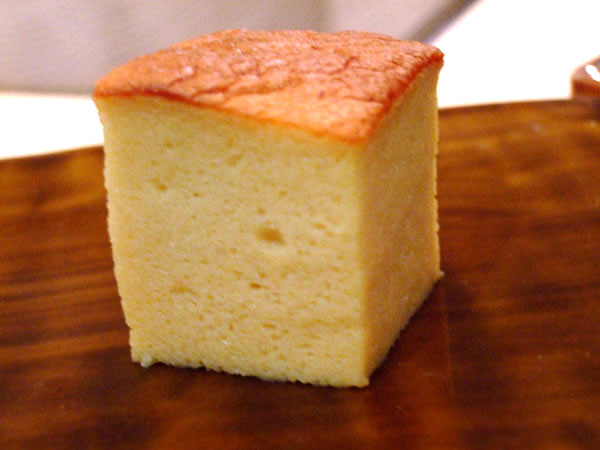 28. Tamago
- Urasawa mentioned that tamago is a good judge of a sushi restaurant. And looking (and tasting) more like a pound cake than your typical egg omelet, this tamago certainly speaks very highly of the rest of the food.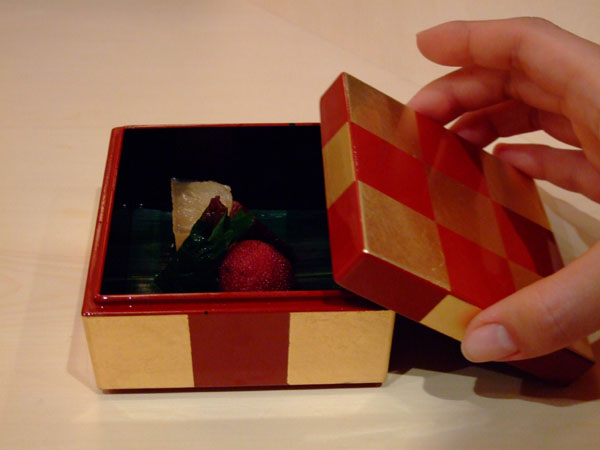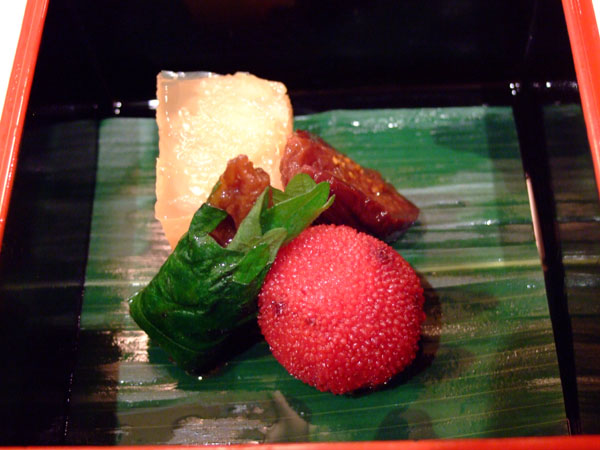 29. Mountain Peach
- With apricot wrapped in shiso leaf and grapefruit jelly, served in a lacquered gold and red box. Looking like a lychee at first glance, this peach was unlike any other I've ever had before. Urasawa also mentioned that the jelly was made with real fresh-squeezed grapefruit juice; after tasting it, I do not doubt the claim.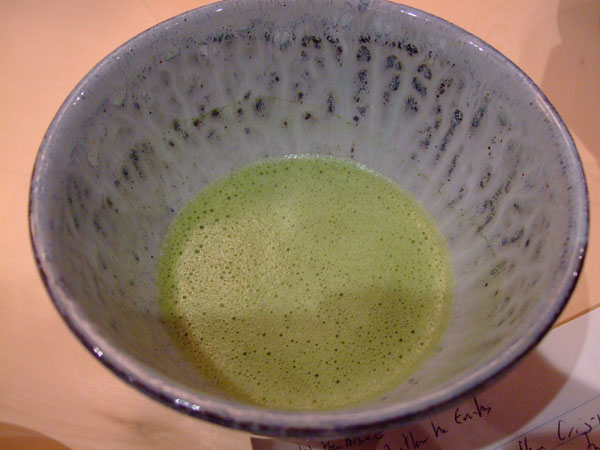 30. Sesame Ice Cream
- Homemade right there behind the bar and served with soy milk, black sugar, and once again, gold leaf. I'm not usually a big fan of sesame, but this had a very intense yet smooth sesame flavor that I enjoyed; it was not as in-your-face as Matsuhisa's version. The texture was also unlike that of any ice cream I've had previously, almost like a cold mascarpone. A frothy green tea matcha was served alongside the ice cream; matcha is a powdered green tea that has been grown in the shade and which was originally used in Japanese tea ceremonies.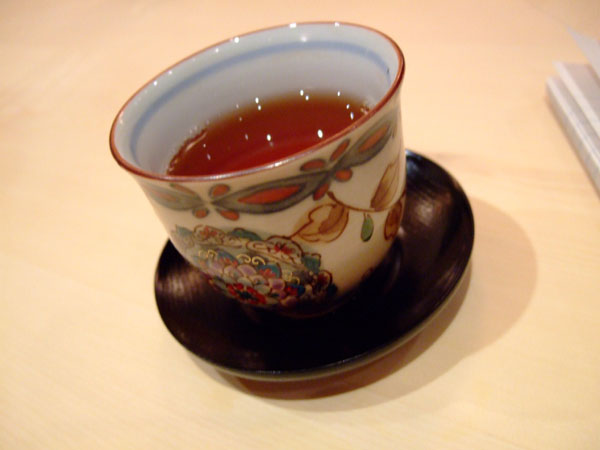 31. Roasted Green Tea
- I'm not usually much of a tea drinker, but this was a superb concoction and a fitting way to close the meal.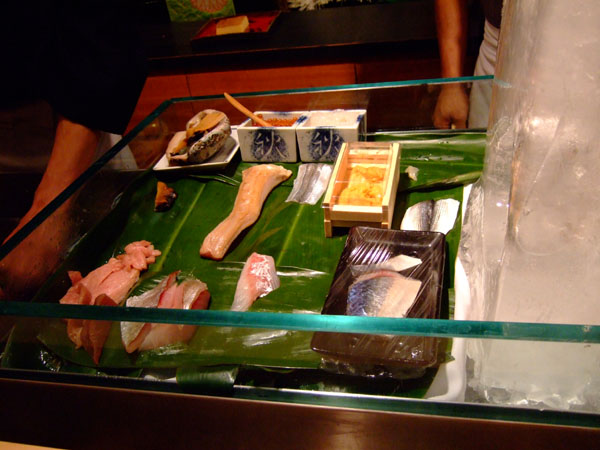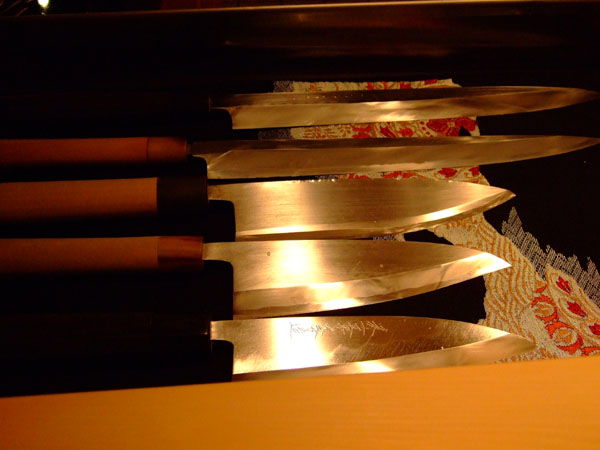 Left
: By the end of the night, Urasawa's glass case of goodies was nearly depleted.
Right
: The cost of Hiro-san's knives can run well into the four-figures
each
.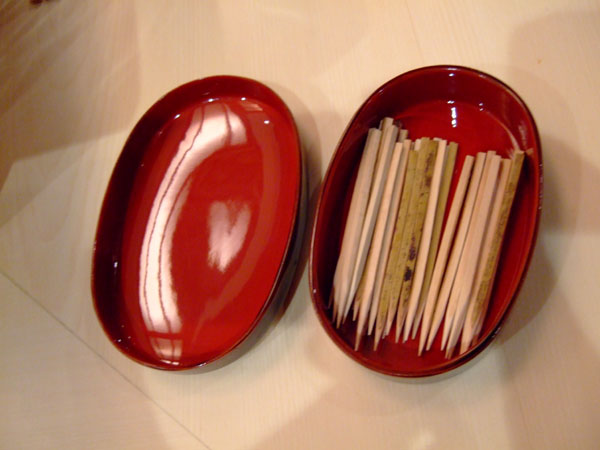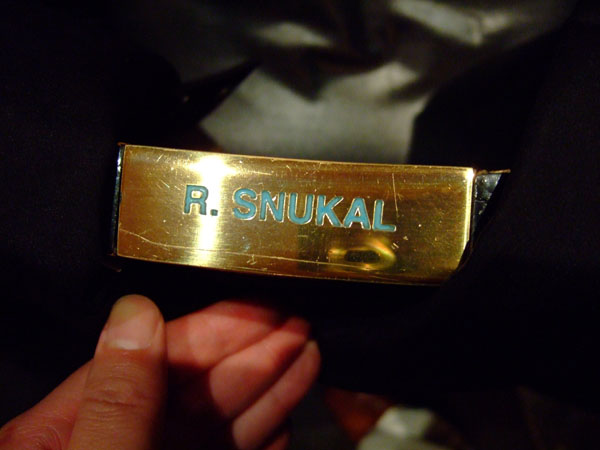 Left
: Red lacquered boxes contain toothpicks.
Right
: I assume the chairs are tagged with the names of Urasawa's best customers.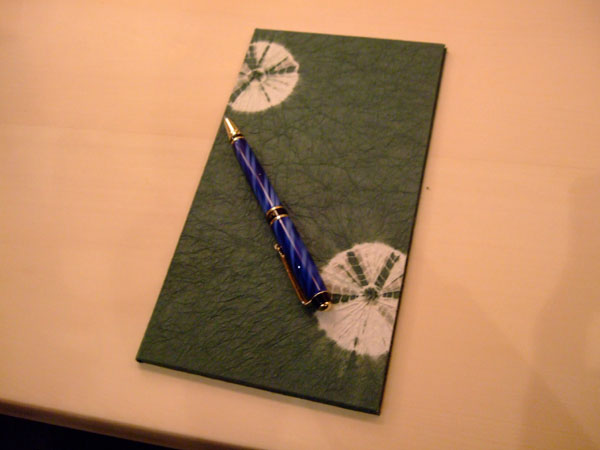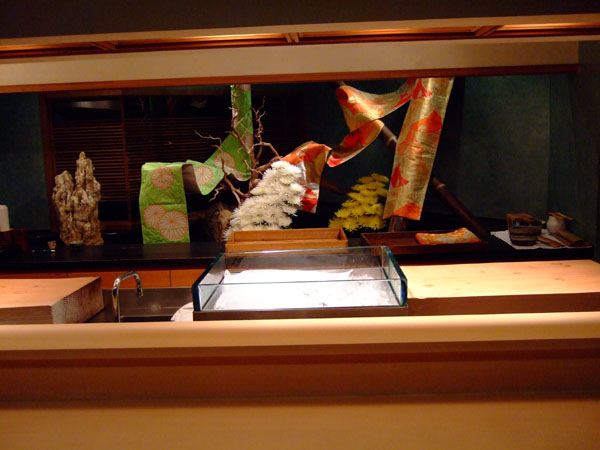 Left
: The sum of the evening's damage exceeded a paycheck.
Right
: Everything is cleared away from the bar at the end of the night.
An interesting note: over the course of the meal, Hiro-san recommended two restaurants in the LA area:
Angelini Osteria
for Italian and the modern French eatery
Sona
. Unfortunately I have not had the opportunity to dine at either establishment.
A word on fugu: Since the winter months are the ideal times for fugu, we asked Hiro-san if he served the delicacy. He responded that he had in the past, but was fined for doing so. He tried again apparently under a different name, but was fined again and his shipment seized by customs. We were surprised to discover that fugu was in fact banned in the state, since we had had it before at Abe in Newport Beach. Apparently, you can still get fugu at Masa in New York however.
Urasawa was the most unique, personal dining experience I've ever had, the culmination of my culinary adventures to date. When you dine here, you dine with your own personal chef, one who will expertly craft a meal so fine you can't help but like it. Add to that the freshest ingredients imaginable, many of them actually flown in fresh from Japan, and many of the rest, including the salt and the soy, prepared on site. And what's more, the detail and care that Hiro-san puts into each bite is tremendous: the way he carefully filets the fish, forms the sushi rice with his hands, the way he adds the perfect amount of wasabi, brushes on soy, and sprinkles on sharkskin-grated
sudachi
; it is exact, finely-honed, brilliant. This is sushi at its apex, interactive cuisine at its zenith. For those who can truly appreciate it, Urasawa is more than just food. It's art. It's dinner
and
a show. It's an
experience
. And yes, it's a downright bargain.