Mexicali Taco & Co (Los Angeles, CA)
Mexicali Taco & Co
702 N Figueroa St, Los Angeles, CA 90012
213.613.0416
www.mexicalitaco.com
Tue 1/6/2015, 07:55p-10:30p

One of the more prominent parts of LA's taco landscape is certainly the Baja-inspired Mexicali. The place started with founders Esdras Ochoa and Javier Fregoso, who grew up in Mexicali and its sister city Calexico across the border. After leaving jobs at Hustler Casino in Gardena, the two started Mexicali Taco in 2009 at a parking lot on the corner of 1st and Beaudry in Downtown, serving a limited menu of their hometown eats. Word soon began to spread about the place, and eventually caught the attention of real estate investor Paul Yoo, who quickly became a regular patron. In 2011, the owner of the lot ended their partnership, forcing Fregoso and Ochoa to temporary set up shop in front of The Daily Dose that October. However, Yoo soon came to the rescue, and the three teamed up and opened this Chinatown brick-and-mortar outpost in February 2012.

Inside, what's shown above is basically what you get. Order at the counter, get a number, grab one of the five red picnic tables, and your food will be brought out to you Carl's Jr. style.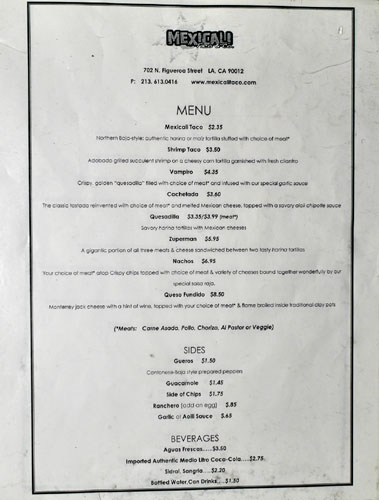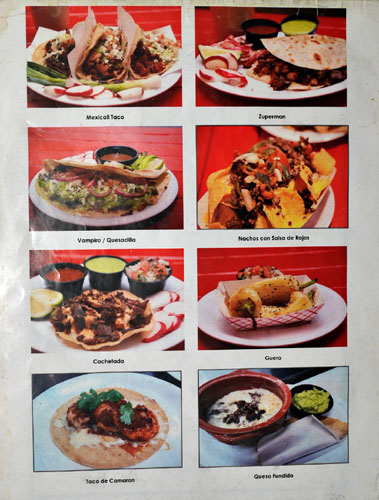 Mexicali's menu is pretty straightforward, comprising a relatively small number of items, most available with your choice of meat. Click for larger versions.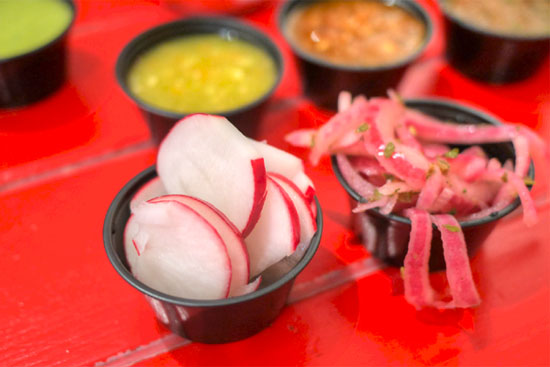 Condiment options tonight were a sharply spicy tomato-habanero salsa, a smoky chipotle(?), a mild salsa roja, a prototypical pico de gallo, and a low viscosity,
taqueria
-style guacamole. Other fixings included pickled red onion, radish, cucumber, lime, and shredded cabbage.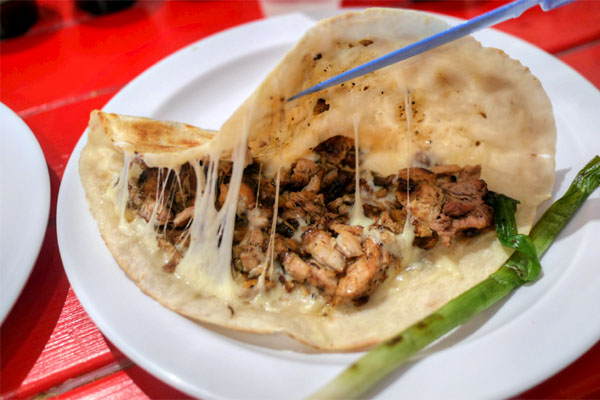 Vampiro (Pollo) [$4.35]
| Crispy, golden "quesadilla" filled with choice of meat and infused with our special garlic sauce
We began, naturally, with the vampiro, pretty much Mexicali's signature dish by this point. It was a pretty impressive rendition of your classic quesadilla, super cheesy, with the
queso
really bringing together the smoky, charred chicken, garlic sauce, and slightly crisp flour tortilla. You'll want to get this.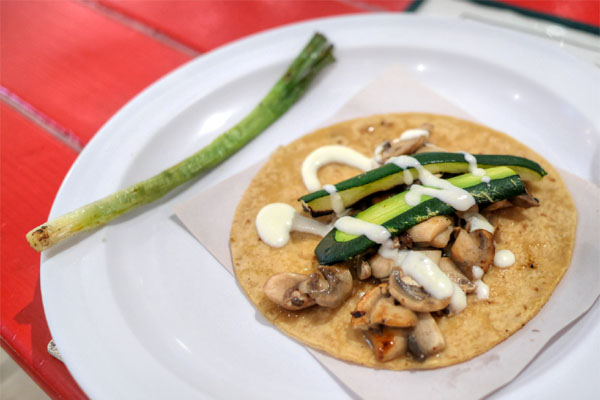 Mexicali Taco (Veggie) [$2.35]
| Northern Baja-style: authentic harina or maíz tortilla stuffed with choice of meat
The first of a few tacos was of the vegetarian variety, which I found surprisingly satisfying. I liked the smokiness that pervaded the dish here, and the crunch of the veggies was appreciated as well.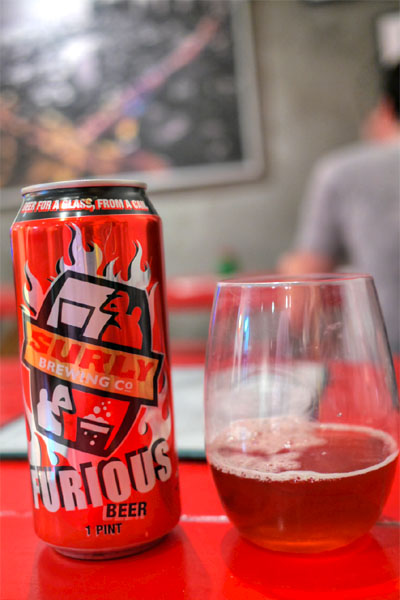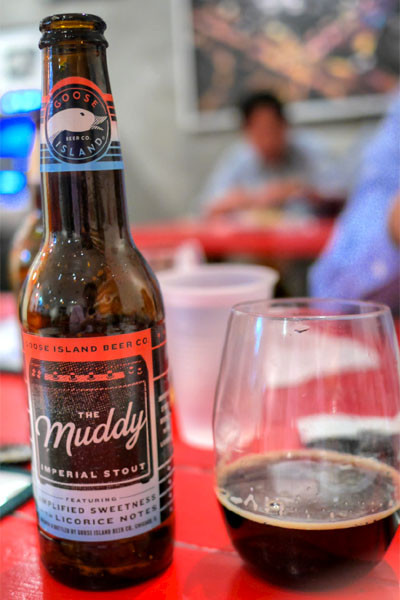 One of the great things about Mexicali is that they're BYOB friendly, so naturally we busted out a few beers that we had with us. The
2014 Surly Furious
was our requisite IPA, and was super, super tropical on the nose; I don't think I'd ever had a beer that smelled so much of mango. However, that nose belied the palate, which was bracingly bitter, with a hoppiness that evened out the sweeter notes in the brew. The
2014 Goose Island The Muddy
, on the other hand, was pretty close to your classic stout. Think smooth roasty malt, coffee, and chocolate, with the subtly sweet spice of the licorice coming into play toward the middle.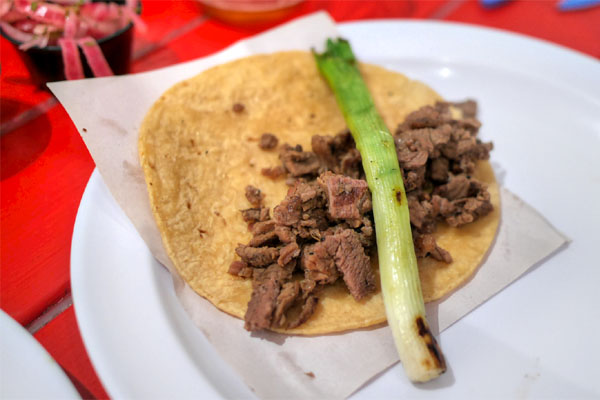 Mexicali Taco (Carne Asada) [$2.35]
| Northern Baja-style: authentic harina or maíz tortilla stuffed with choice of meat
The ubiquitous carne asada arrived unadorned, with a good helping of the meat in a fairly substantial tortilla. The asada gave off a pleasing beefiness to it, along with a much-appreciated smoke that really called for a splash of salsa to bring it all together.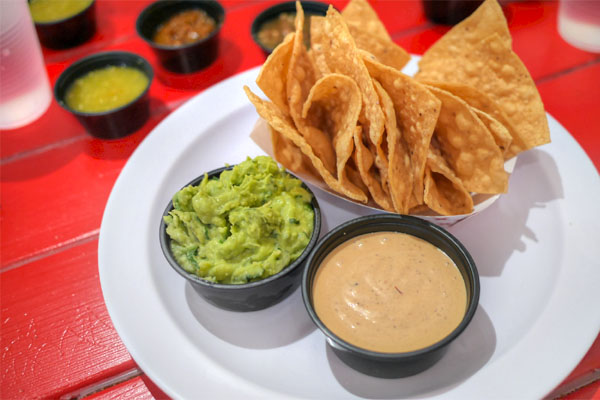 Side of Chips [$1.75]
Guacamole [$1.45]
Aioli Sauce [$0.65]
Next, we made sure to get a side of chips, which were a tad oily, but delightfully crunchy, a fitting base on which to enjoy the two accompaniments. Guac was well-textured and deftly conveyed the goodness that is avocado, though it could've used more acidity. The chipotle aioli, meanwhile, was very good, creamy and possessing just the right amount of creeping heat.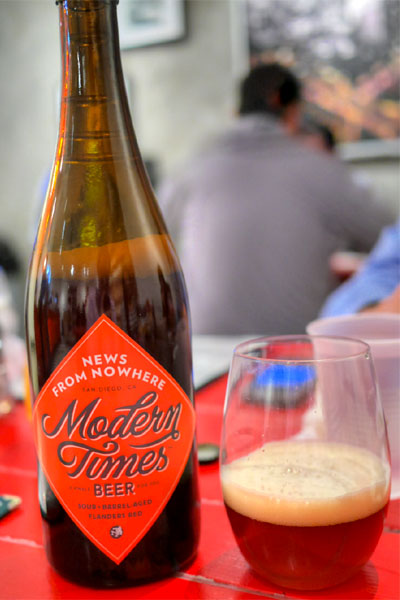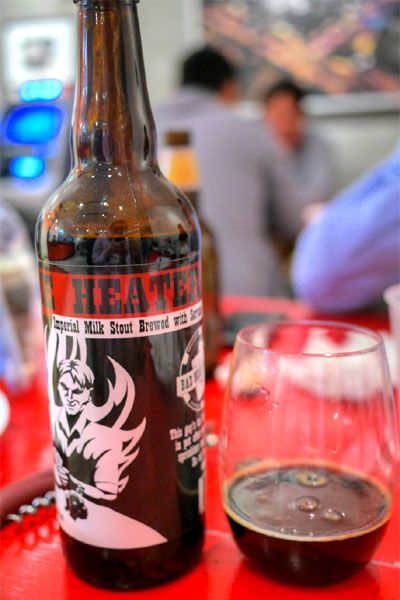 Sour duties were handled by the
2014 Modern Times News From Nowhere
, a new, highly-anticipated, tasting room-only release from the brewery. Done in the Flanders Red style, the beer was aged in red wine barrels and was classically delicious in essence, with plenty of tart red berry, oaky vanilla, and funk, making for a puckering, vinous drinking experience. I wasn't quite as keen on the serrano-infused
2014 Bad Beat The Heater
though, as the interplay between the lingering heat of the pepper and the creamy, sweet, roasty qualities of the stout didn't quite sit well with me.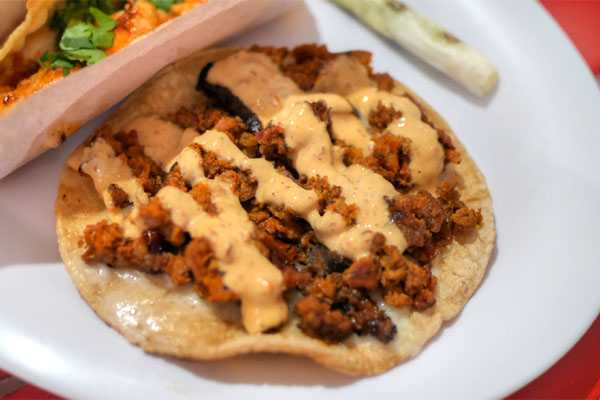 Cachetada (Chorizo) [$3.60]
| The classic tostada reinvented with choice of meat and melted Mexican cheese, topped with a savory aioli chipotle sauce
The cachetada was a must-try as well, sort of a reimagined tostada that brought together meaty, spicy chorizo with just the right amount of cheese, the whole thing tied together by that addictive chipotle sauce. Great crunchiness here, too.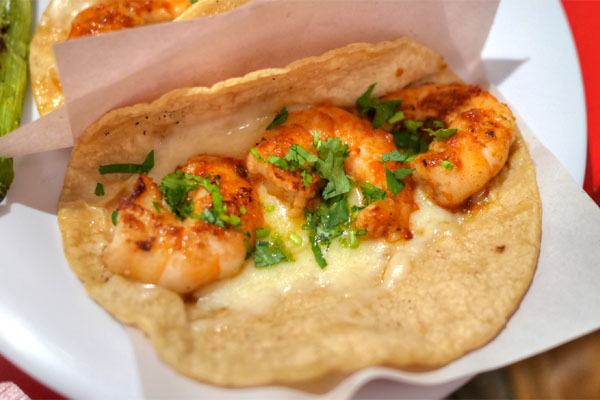 Shrimp Taco [$3.50]
| Adobado grilled succulent shrimp on a cheesy corn tortilla garnished with fresh cilantro
The shrimp taco was a pleasant surprise, with the
camarones
coming out nicely textured and imbued with a healthy amount of brine, the cheese doing a good job as a supporting player.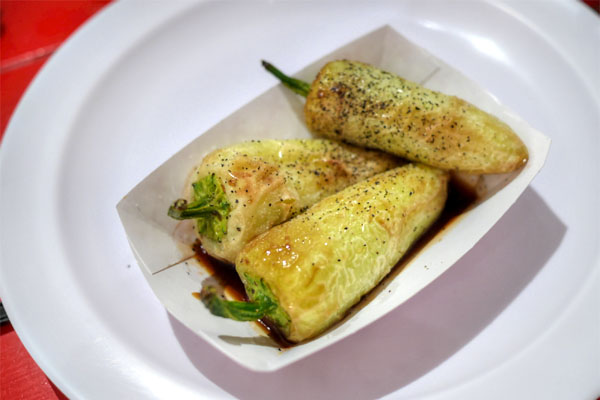 Gueros [$1.50]
| Cantonese-Baja style prepared peppers
Sprinkled with dry chile, the Gueros were pretty robust, providing a savory-spicy pungency that stays with you.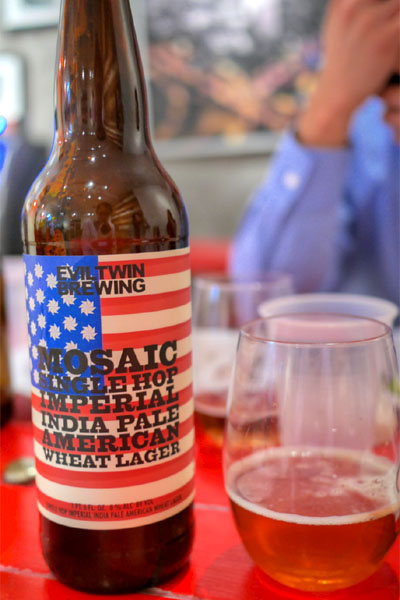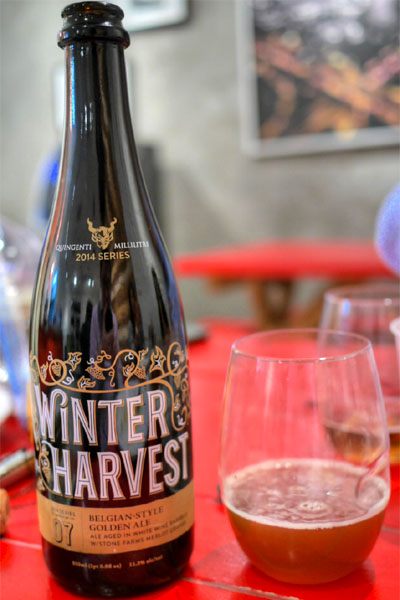 Next to imbibe was the long-monikered
2014 Evil Twin Mosaic Single Hop Imperial India Pale American Wheat Lager
. This one drank much like an IPA, with loads of bitter, botanical aromatics on the nose, which led to flavors of tropical fruit and caramel-y malt on the tongue. It was followed by the
2014 Stone Winter Harvest
, the seventh release of the brewery's Quingenti Millilitre barrel-aged series. The Belgian-style blonde was brewed with Merlot grapes back in April 2012, then aged for 27 months in Sauvignon Blanc and Chardonnay casks. The result was a beer with a distinct white wine-like character, loaded with juicy hints of tropical fruit and nuances of oak, all overarched by a slight yeastiness. Very neat.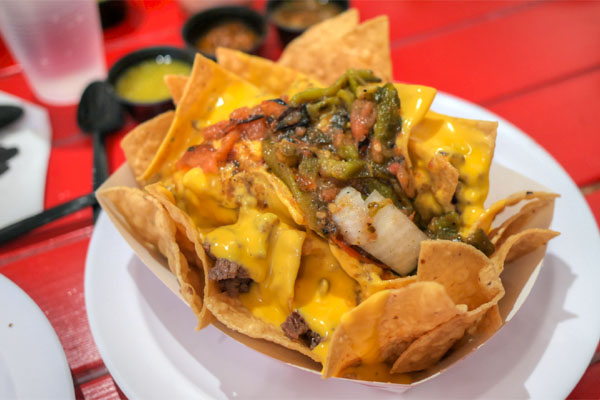 Nachos (Carne Asada) [$6.95]
| Crispy chips topped with choice of meat & variety of cheeses bound together wonderfully by our special salsa roja
Nachos were very, very cheesy, too much so in fact, as the cheese tended to overwhelm some of the inherent goodness of the asada here. I did appreciate the peppery salsa on top as a moderating element, and the chips were as gratifying as ever.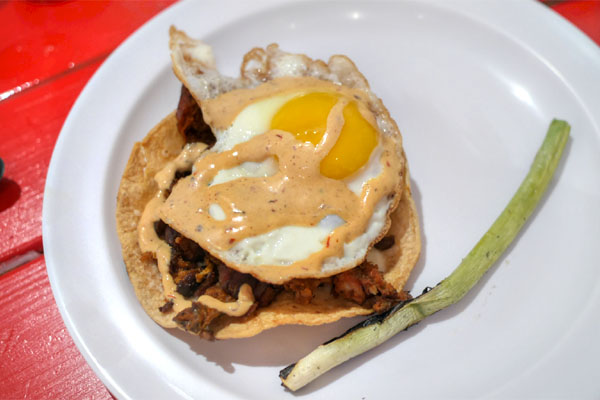 Cachetada Ranchero (Chorizo) [$3.60 + $0.85]
| The classic tostada reinvented with choice of meat and melted Mexican cheese, topped with a savory aioli chipotle sauce
We all enjoyed the cachetada above, but to make it ever better, we went for a version done
ranchero
style, or topped with egg. It was almost breakfast-like in its deliciousness, with the lushness of that runny
huevo
really lending an enveloping richness that bound all the elements here together. Can't go wrong with this.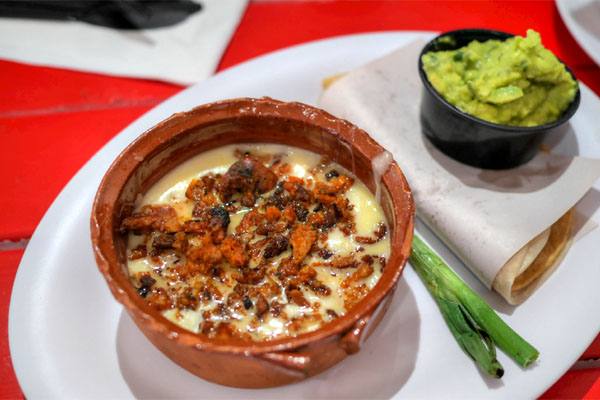 Queso Fundido (Chorizo) [$8.50]
| Monterey jack cheese with a hint of wine, topped with your choice of meat & flame broiled inside traditional clay pots
Mexicali's take on
queso flameado
was enjoyable as well, with the super stringy cheese working hand-in-hand with the meaty heat of that chorizo. Great scooped up with some tortillas or chips. Just be make sure to eat it quickly, lest the cheese congeal.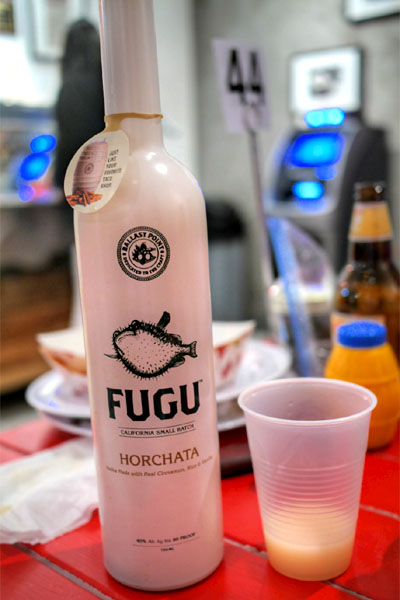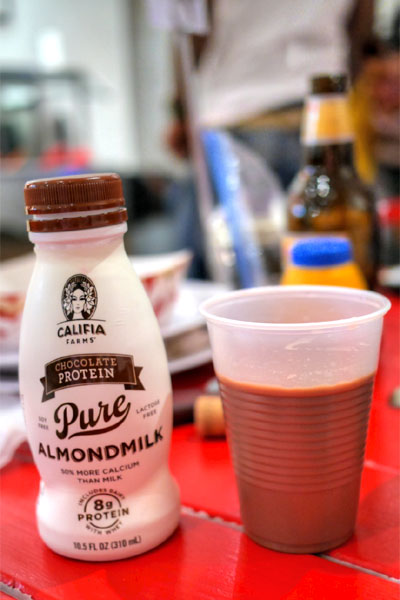 Taking a break from the beer, we opened a bottle of the
Ballast Point Fugu Horchata
, an horchata-flavored vodka from one of San Diego's most celebrated breweries (it seemed apropos giving the setting). Made with cinnamon, vanilla, and rice, this really did recall its namesake drink, giving up lots of sweet, creamy spice over a hefty backbone of alcoholic heat, especially toward the finish. To soften it up, we then proceeded to mix in some
Califia Farms Chocolate Protein Almondmilk
, which effectively hid any of the booze and made for a chocolate shake-like drinking experience.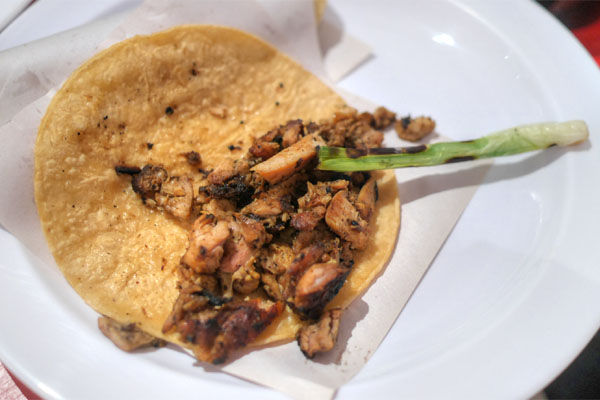 Mexicali Taco (Pollo) [$2.35]
| Northern Baja-style: authentic harina or maíz tortilla stuffed with choice of meat
Our final taco featured chicken, and really showed off the blackened nature of the bird, delivering lots of bitterness, char, and smoke along with the savoriness of the meat.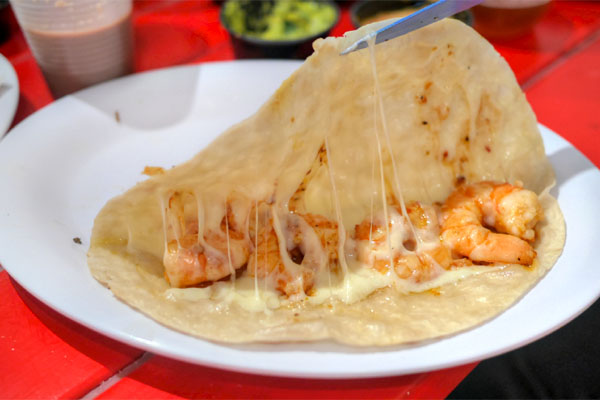 Quesadilla (Shrimp) [$3.99]
| Savory harina tortillas with Mexican cheeses
A shrimp-enhanced quesadilla delivered, with the snappy, saline shrimp the star here and melding seamlessly with the gooey cheese.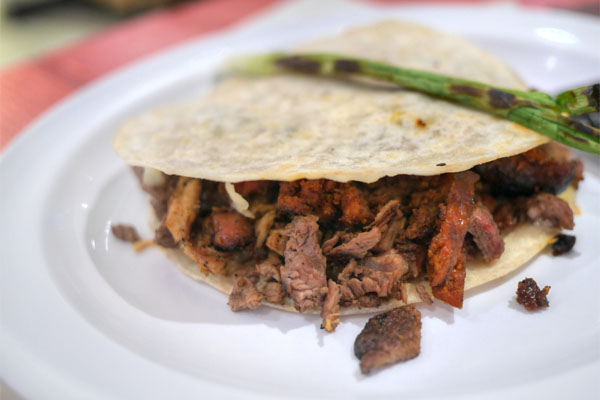 Zuperman [$5.95]
| A gigantic portion of all three meats & cheese sandwiched between two tasty harina tortillas
We ended with the Zuperman, in effect a gangbang of asada-pollo-chorizo-cheese between two comparatively flimsy flour tortillas. It was indeed the sluttiest dish of the night, but also tasty, with its multifaceted meatiness meshing with the cheese and salsa and satisfying in a base sort of way.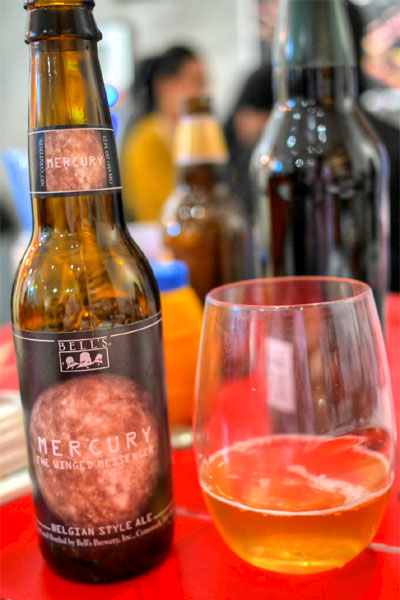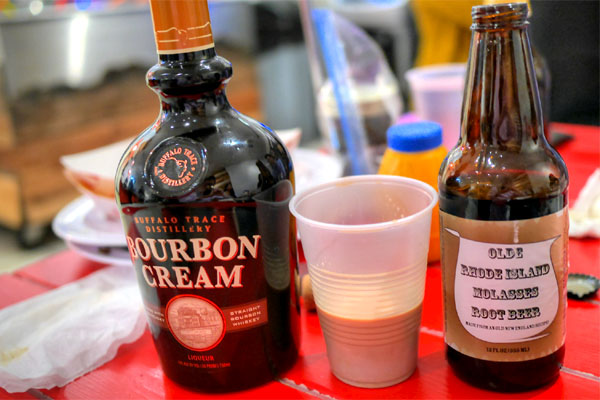 The
2014 Bell's Mercury
was the third release in a series of beers inspired by Gustav Holst's
The Planets
. A Belgian-style ale, this one didn't do much for me at all, tasting much like a pedestrian pale ale--rather mediocre. We then finished with a sampling of the
Buffalo Trace Bourbon Cream
, a commixture of bourbon and cream that was like a grown up version of Baileys. Yummy alone, and not bad with a splash of
Olde Rhode Island Molasses Root Beer
either.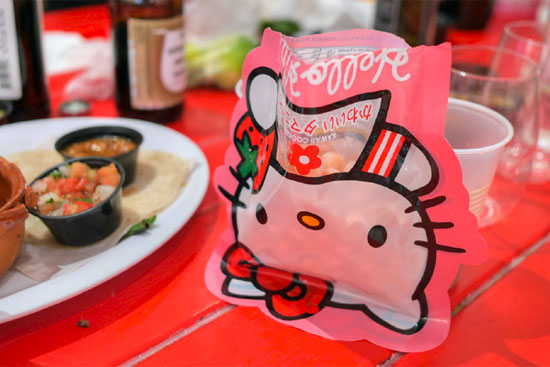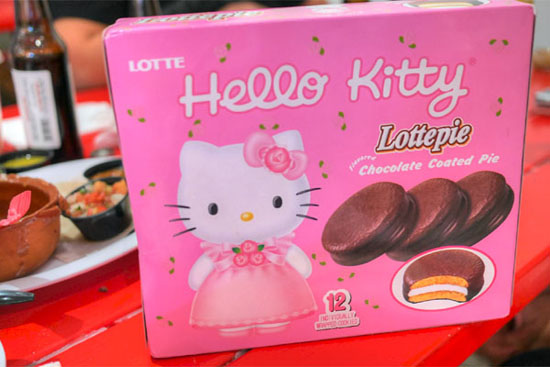 They don't really do desserts here, so with the savories done with, we brought out some of our own. The strawberry-flavored
Morinaga Hello Kitty Kawaii
missed the mark a bit, with good flavor but a disconcertingly chalky texture. More to my liking were the
Lotte Hello Kitty Lottepies
, soft, chocolate-coated cookies with a strata of fluffy marshmallow.
Mexicali's been around for a while now, but it's taken me this long to make it out here. I'm glad I did though, as the place was a nice change of pace from the fancier taco options out there these days. The cooking's straightforward, unadorned, but also satisfying in its simplicity, and I don't think I'd ever get tired of those cachetadas.