JiRaffe (Santa Monica, CA)
JiRaffe Restaurant
502 Santa Monica Blvd, Santa Monica, CA 90401
310.917.6671
www.jirafferestaurant.com
Fri 12/19/2014, 07:30p-10:20p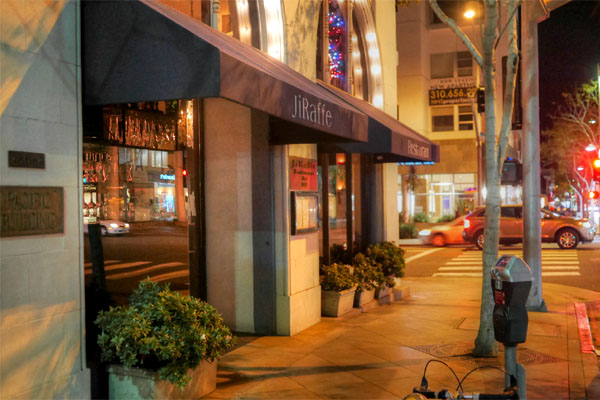 A lot of restaurants have been announcing their closures as of late, and one of the most longstanding has certainly got to be JiRaffe, Raphael Lunetta's Cal-French eatery that opened back in 1996. I'd actually never been to the place before, so I made it a point to visit before the final service on Valentine's Day.
About the Chef
: Lunetta was born and raised in the Los Angeles area, attending Washington Elementary and later Santa Monica High. An appreciation for food was instilled in him at a young age, especially from his travels to southern France to visit his aunt. His primary passion, though, was surfing, which he started in elementary school along with friend and fellow chef Josiah Citrin (they met in fourth grade). Lunetta began competing in the sport in junior high, and began his first restaurant job as a busboy in eighth grade, both to support his surfing habit and his eating habit. Following high school graduation, he moved to Hawaii to surf professionally, sponsored by O'Neill, while Citrin left to cook in France. He would visit his friend often though, and they traveled throughout Europe, surfing and eating.
In 1987, Lunetta decided to put surfing on hold, stay in Europe, and work at restaurants. After a couple years, he returned to Santa Monica and got a job at Bruce Marder and Marvin Zeidler's Broadway Deli, then went to
Patina
, where Citrin was cooking. In 1993, the duo went on to open Capri in Venice (the site of
Wolf in Sheep's Clothing
and the current
Salt Air
). From there, they helped debut Alan Jackson's (Lemonade) eponymous Jackson's in West Hollywood as well as his Jackson's Farm in Beverly Hills (now The Farm of Beverly Hills, where
Ben Ford
worked early on). After a while, Lunetta and Citrin got the itch to start the restaurant that they'd always wanted to have together, and thus left Jackson's side to work on JiRaffe, which debuted on April 11, 1996.
The place was well received, and the two were named one of
Food & Wine
's "
Best New Chefs
" the following year. However, in February 1999, Citrin sold his stake in JiRaffe to his partner and left to launch
Melisse
. The two would team up five years later, when they opened Lemon Moon, a breakfast and lunch spot that's perhaps best known for hosting
LudoBites 8.0
. Since then, Lunetta served as a guest judge on Season 2 of
Top Chef
(when
Ilan Hall
beat out
Marcel Vigneron
) in October 2006, consulted for 41 Ocean (replacing Chris Crary) in April 2013, and fought
Neal Fraser
on
Knife Fight
last November.

Inside, things are about what you'd expect given the place's vintage. Lots of browns, though it is sorta cozy.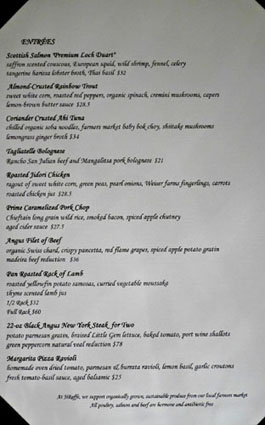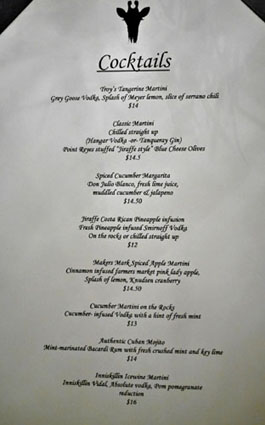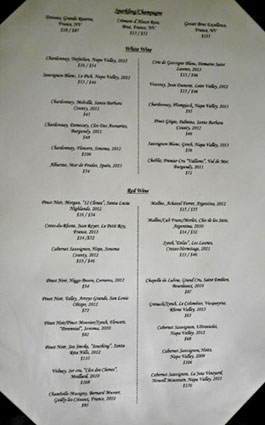 Separated simply into starters and mains, the JiRaffe menu's definitely got an old school, rustic French-inspired Californian thing going on, which is probably what's kept the place afloat for so long. To drink, you get a circa 2002 cocktail list, a smattering of beers, and a small array of wine. Click for larger versions.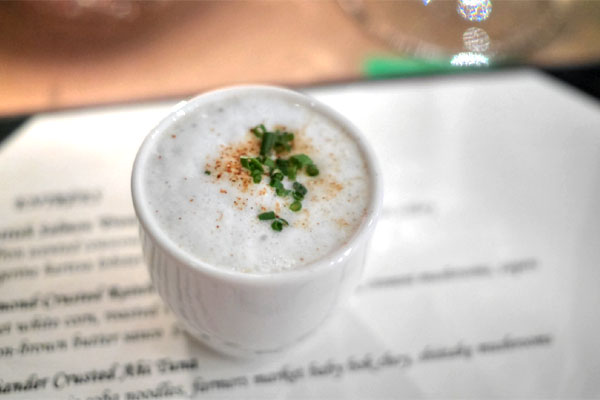 We commenced with JiRaffe's signature amuse: a mushroom cappucino soup with Pecorino(?) foam. It was a hot, comforting beginning, with the earthy tangy of the mushrooms taking on an almost truffle-y richness while the cheese added a bit of salt to the shot.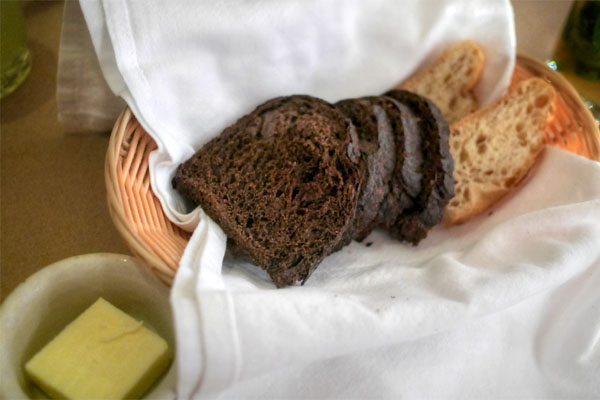 Bread service wasn't anything to write home about.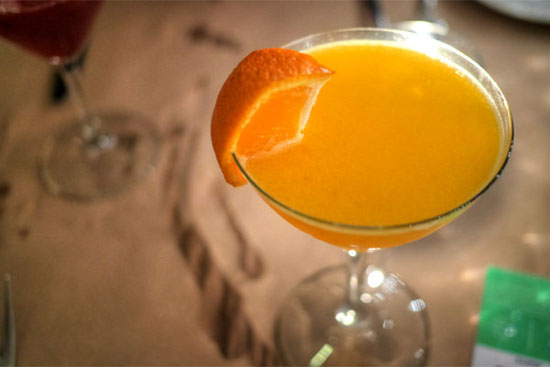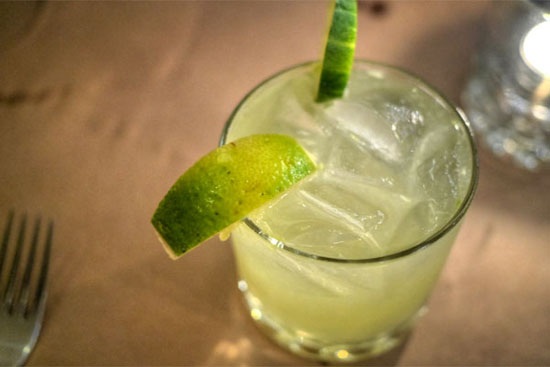 Troy's Tangerine Martini [$14.00]
| Grey Goose Vodka, Splash of Meyer lemon, slice of serrano chili
Spiced Cucumber Margarita [$14.50]
| Don Julio Blanco, fresh lime juice, muddled cucumber & jalapeno
Time to go with a couple of the cocktails.
Troy's Tangerine Martini
really did convey the bright, juicy essence of the fruit in a very apparent manner initially, though the back end was all about the booziness of vodka; I didn't get much from the serrano at all. The
Spiced Cucumber Margarita
, meanwhile, was a fairly light, smooth, "round" concoction, with airy flavors of lime and cucumber gliding over a base of tequila.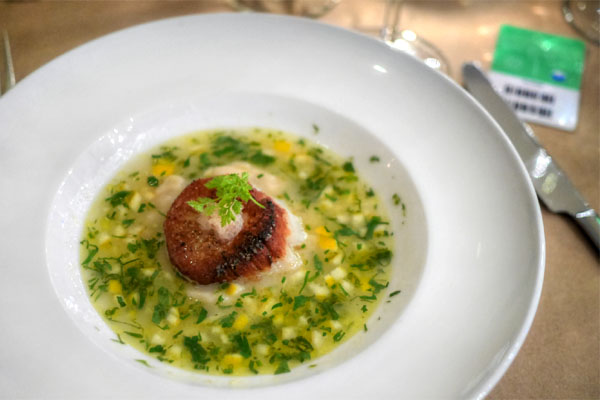 Scallop [$12.00]
| tomato, meyer lemon, parsley
A singular scallop came out well-caramelized and well textured, showing off a tasty bit of brine that paired well with the herby nuances in the dish. The lemon was a touch strong at times, though, and needed to be turned down a notch.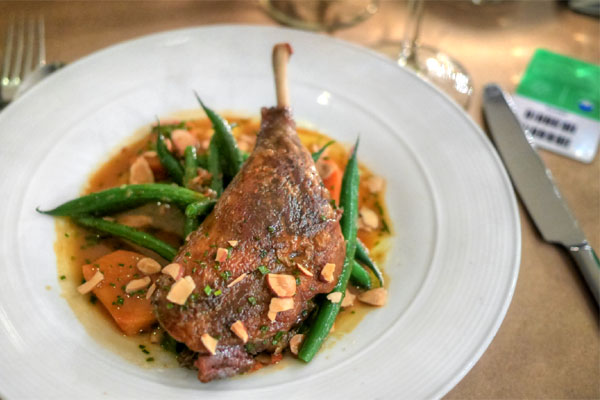 Duck Confit [$20.00]
| haricot vert, persimmon, shaved almonds
I'm generally a fan of duck confit, but this one fell short, as I found it on the dry, tough side sadly. Flavors were pretty good however, though the persimmon was unnecessary.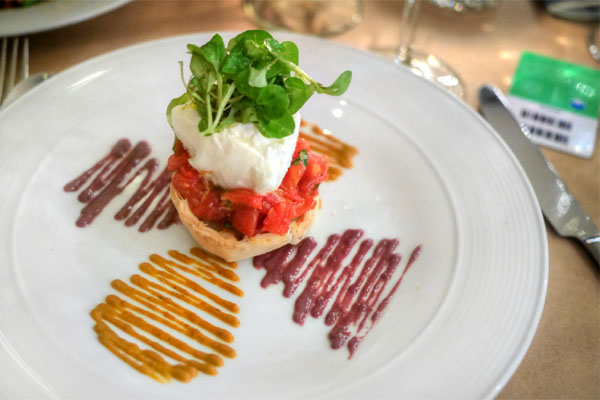 JiRaffe Classic Valdivia Farms Tomato Tart [$16.00]
| burrata cheese, caramelized balsamic onions, basil, ratatouille, and olive sauces
A tomato tart was tangy and sweet, with the bright flavors of the tomato meshing with the burrata while the basil added a much appreciated aromatic component to the fray--very classic in essence. Great flakiness on the crust here, too.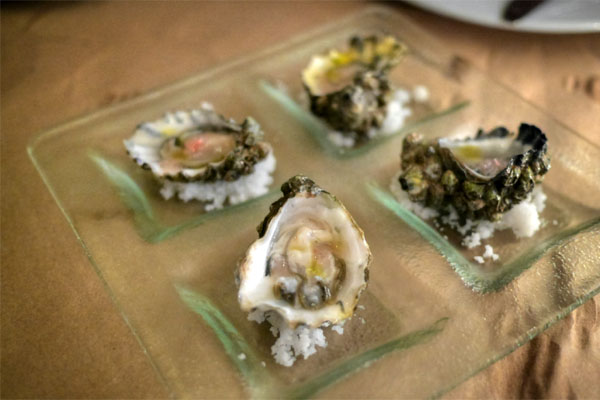 Kumamoto Oysters [$16.00]
| lime
Kumamotos displayed their signature salinity, set off by fun, citrusy bursts from what I believe was finger lime.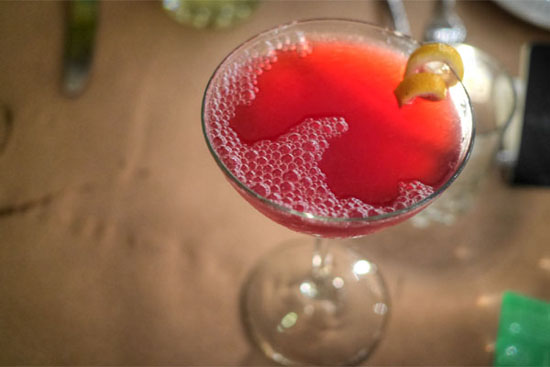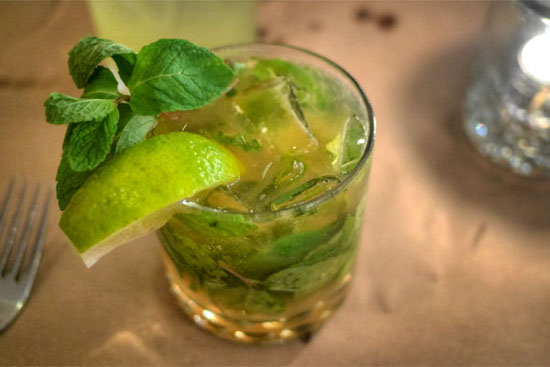 Inniskillin Icewine Martini [$16.00]
| Inniskillin Vidal, Absolute vodka, Pom pomegranate reduction
Authentic Cuban Mojito [$14.00]
| Mint-marinated Bacardi Rum with fresh crushed mint and key lime
The
Inniskillin Icewine Martini
was sort of a fun cocktail, with a commixture of vodka booziness and pomegranate tartness up front and a lingering finish redolent of sugary ice wine. Lastly, I made sure to order the
Authentic Cuban Mojito
, my O.G. drink from back in the day. This was actually a very solid rendition, with a tasty interplay of lime and mint flavors that really melded swimmingly with the rum.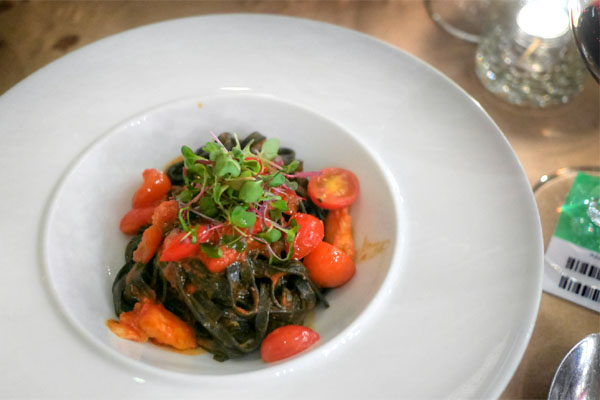 Black Linguini [$21.00]
| red deep sea crab, light spicy cherry tomato sauce
Next up was a trio of pasta courses. The black linguini was nicely textured and did a respectable job harmonizing tomato, heat, and the brine of the crab here. My gripe was that the seafood veered overdone.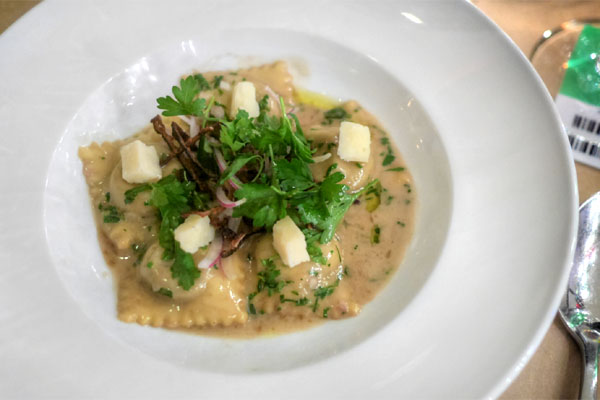 Mushroom Ravioli [$16.00]
| aged gouda, truffle pecorino, salad of flat leaf parsley, julienned shiitakes, thyme infused mushroom sauce
The ravioli made for a rich and gratifying sort of dish, one that smartly conveyed the classic, savory goodness of the mushrooms. I appreciated the levity imparted by the greenery up top, while the Pecorino added an additional hit of salt to things.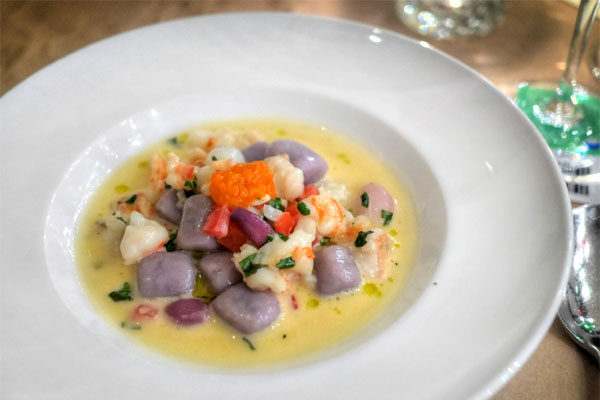 Purple Peruvian Gnocchi [$16.00]
| rock shrimp, pearl onions, mandarin tomato concasse, herb-infused tomato nage
The favorite dish of the evening for everyone at the table was clearly Lunetta's gnocchi. It was one of the best versions of gnocchi I've had in fact. The pasta came appropriately textured and hearty, beautifully matched to the snappy, saline shrimp while notes of onion and tomato balanced out the plate. Something that I just wanted to keep eating.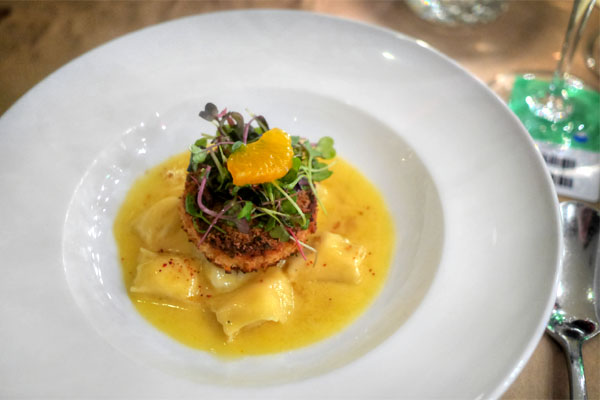 Red Deep Sea Crab Cake [$16.00]
| parsnip puree, crab raviolini, herb salad, tangerine segments, citrus nage
I'm a sucker for crab cakes, so this was a must-try for me. The actual cake could've used less filler, but taste-wise it did a laudable job in exuding the sweet-saline essence of the crustacean. I wasn't as keen on the accompaniments here, though, as I found the sweetness of the parsnip distracting.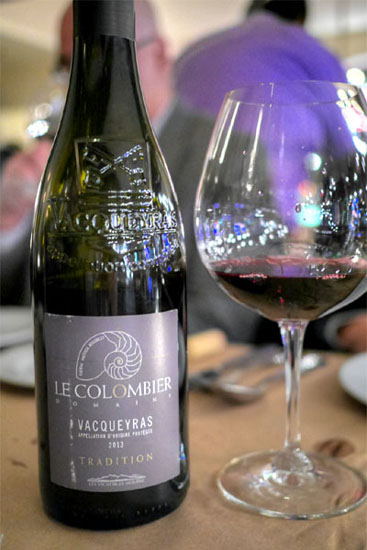 For our larger courses, we opted to get a bottle of the
Grenache/Syrah, Le Colombier, Vacqueyras, Rhone Valley, 2013 [$65]
. A Rhône blend, this one was intense on the nose with notes of jammy berry fruit and spice. You got more of that on the palate, along with a slight booziness backed by a tannic character. Pretty tasty.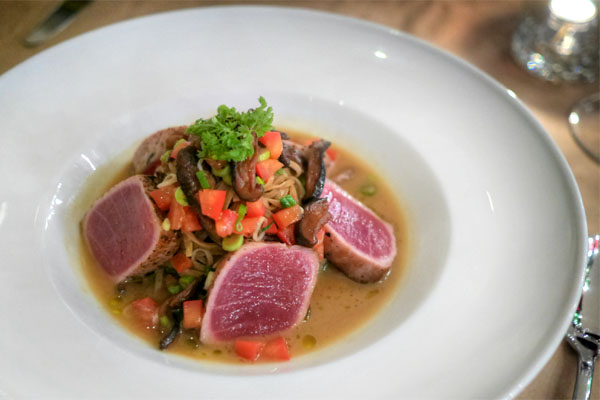 Coriander Crusted Ahi Tuna [$34.00]
| chilled organic soba noodles, farmers market baby bok choy, shiitake mushrooms, lemongrass ginger broth
Asian-y crusted ahi tuna is one of those dishes that seemingly came of age in the early 2000's, but has since fallen out of favor for one reason or another. I hadn't had it for a while now, so it was actually sort of nice to taste such a thing again. There was a pleasing temperature contrast here with the fish, and the peppery crust was a great contrast for the subtle flavors of the tuna. I was also fan of the crunchy bok choy, but the soy/umami flavors here were on the strong, domineering side, stealing my attention away from the ahi.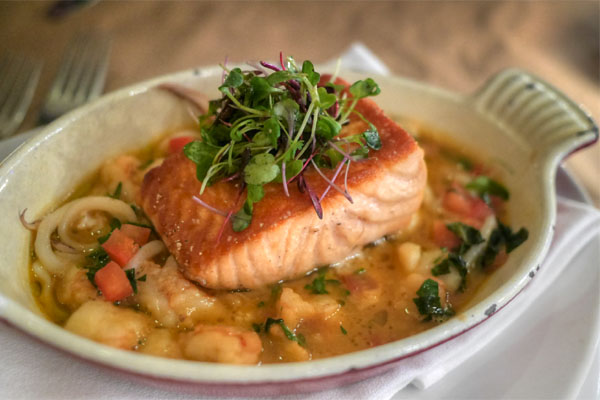 Scottish Salmon "Premium Loch Duart" [$32.00]
| saffron scented couscous, European squid, wild shrimp, fennel, celery, tangerine harissa lobster broth, Thai basil
Salmon arrived at a good temperature and consistency, with a crispness to it. The fish, though, seemed underseasoned, so the combo of squid and shrimp was really needed to bring up the dish. Tasty broth though, and I enjoyed the cous cous element here, too.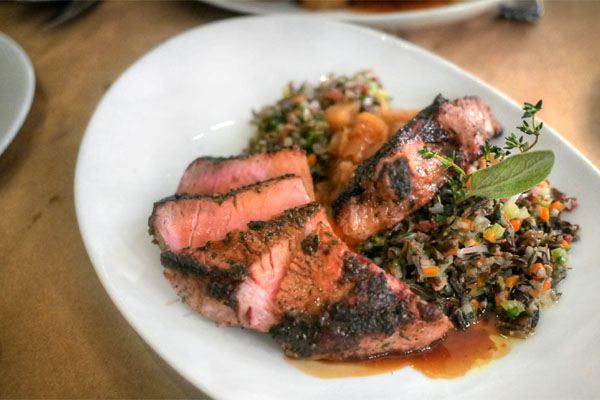 Prime Caramelized Pork Chop [$27.50]
| Chieftain long grain wild rice, smoked bacon, spiced apple chutney, aged cider sauce
Getting into the meats now, the pork came out cooked to a pleasingly rare temperature, and had a good amount of bitter char to go along with the chop's satisfyingly piggy savors. I enjoyed it alone, along with the wild rice, but some of the other accoutrement rendered the dish overly sugary, overly floral.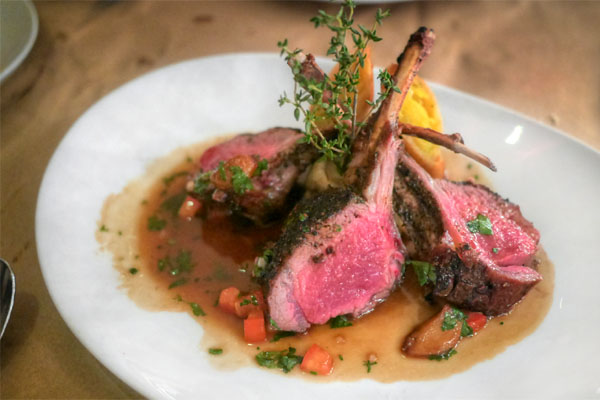 Pan Roasted Rack of Lamb [$32.00]
| roasted yellowfin potato samosas, curried vegetable moussaka, thyme scented lamb jus
Our final savory brought us an attractive looking lamb rack. It didn't disappoint in the taste department either, giving up appropriately ovine flavors along with a great bit of char and spice. And those cylindrical samosas? Damn tasty.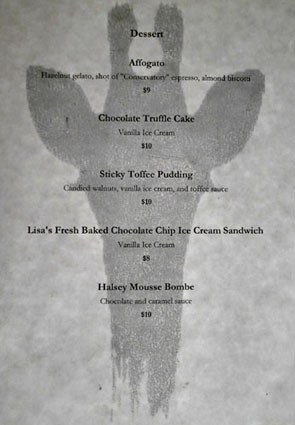 We went ahead and ordered everything on the dessert menu, along with the special of the night. Click for a larger version.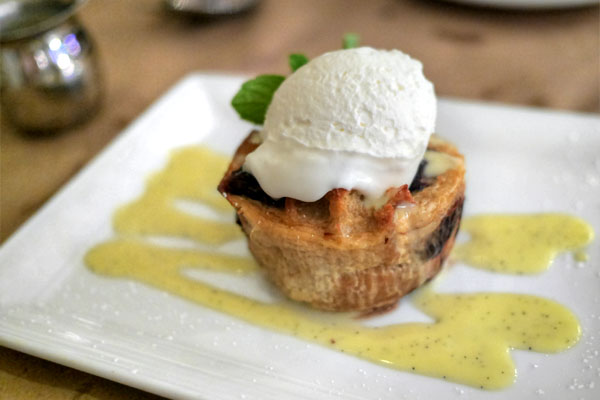 Bread Pudding
The kitchen ended up sending out an extra, off-menu item, ostensibly as a result of the large amount we ordered. I found it a strong rendition of the dessert, with delectable notes of spice and dark fruit in a moist little package.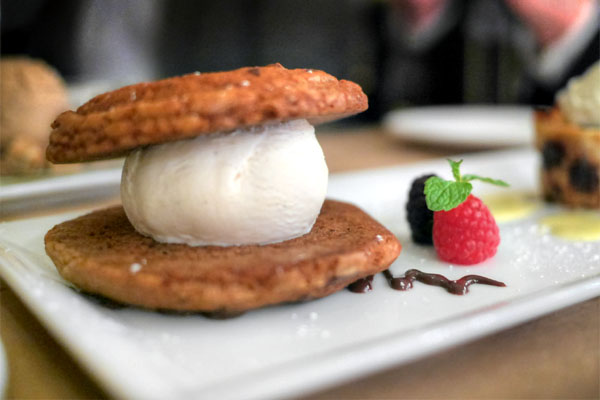 Lisa's Fresh Baked Chocolate Chip Ice Cream Sandwich [$8.00]
| vanilla ice cream
The ice cream sandwich was another standout, with the buttery, sweet spice of the cookie working beautifully with the vanilla.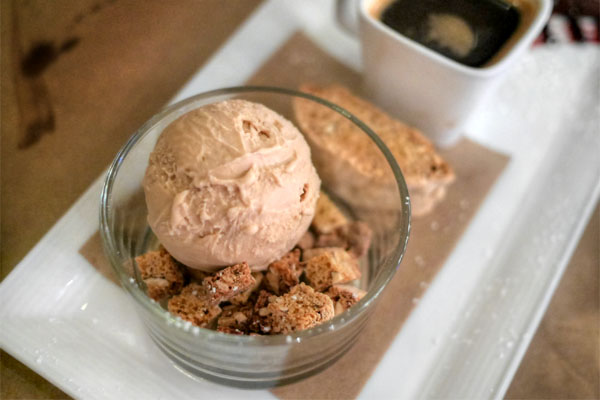 Affogato [$9.00]
| hazelnut gelato, shot of "Conservatory" espresso, almond biscotti
The affogato was pleasantly coffee-forward, with the espresso playing well with the gelato while the biscotti gave us some textural variation.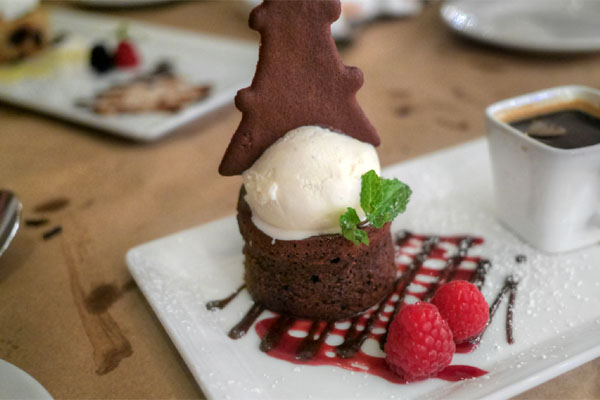 Chocolate Truffle Cake [$10.00]
| vanilla ice cream
The chocolate cake was tasty enough, though pretty much your typical "molten lava cake."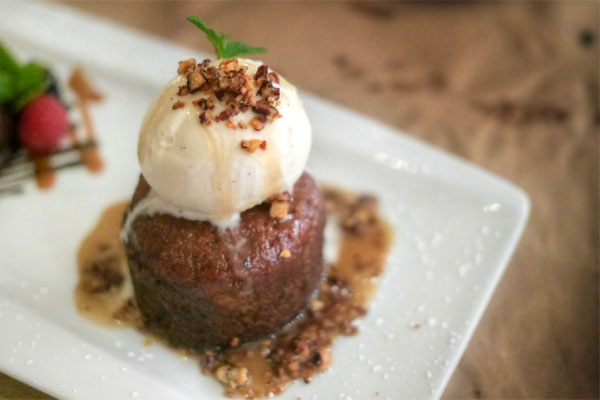 Sticky Toffee Pudding [$10.00]
| candied walnuts, vanilla ice cream, and toffee sauce
Another favorite was the toffee pudding, with all of its dark, sticky flavors perfectly matched with the ice cream and those crunchy candied walnut bits.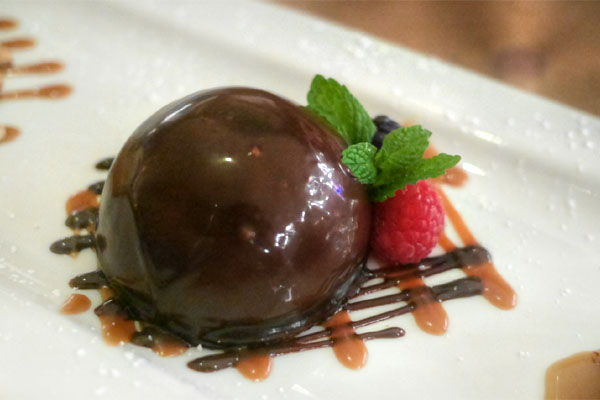 Halsey Mousse Bombe [$10.00]
| chocolate and caramel sauce
The bombe combined what I believe was a caramel mousse with heftier flavors of chocolate and caramel.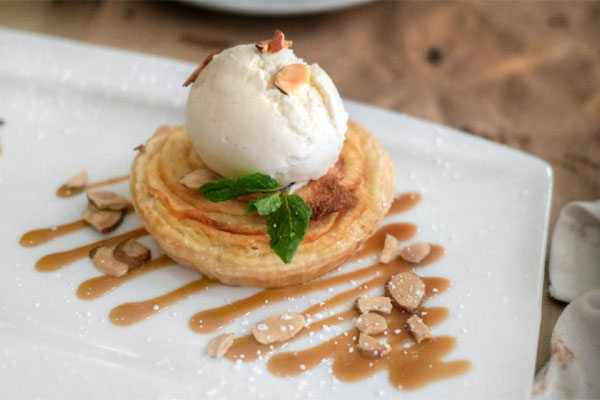 Apple Tart [$8.00]
The dessert special of the night, our apple tart had a nice spice and sweetness to it, though the actual pastry part came out a touch soggy.
Dining at JiRaffe was a bit of a throwback. The food was solid, though on the staid side, and the whole vibe of the place definitely leaned conservative. A revamp, thus, seems like a good idea. From what I've heard, Lunetta is planning to stay in the space. His new concept will apparently feature more casual, and I'm guessing, more modern fare, though I don't think he'll stray too far from his roots. Look out for that in the coming months; I certainly will be.