Twenty Eight (Irvine, CA)
TwentyEight Restaurant
19530 Jamboree Rd, Irvine, CA 92612
949.852.2828
www.twentyeightoc.com
Fri 12/26/2014, 07:00p-10:15p
I don't get to OC too often, but my latest trip down south was to visit Twenty Eight,
Top Chef
alum Shirley Chung's (she was my favorite to win Season 11) first solo project that soft-opened on December 10th (they've since grand-opened). She's teamed up with restaurateur/caterer Stacie Tran, and though her involvement here started out as a consulting gig, Chung has been brought on as partner. The idea for Twenty Eight (a reference to the age when she started cooking professionally) is to present food reflective of the Chef's Continental training, her travels, her years working in Vegas, and of course, her childhood spent in China.
About the Chef
: Born and raised in Beijing, Chung developed an appreciation for food and cooking at a young age thanks to her grandmother, Liang Siyi ("Sylvia"), the Chinese Red Cross' deputy director of International Relations and daughter of influential scholar
Liang Qichao
. For educational reasons, her family eventually moved to the US when she was 17. Chung attended California State University Hayward, and after graduating with a business administration degree, worked in Silicon Valley for four years. Interestingly, she hosted her own radio show on 96.1 FM (KSQQ) during this period, and also met her future husband, who helped convince her to switch careers. To that effect, she left her job in tech and enrolled at the California Culinary Academy in San Francisco. After
staging
at
The French Laundry
, she moved to Las Vegas in 2004 to help Thomas Keller open Bouchon at The Venetian.
Chung then moved to
Guy Savoy
at Caesars and later joined Mario Batali at B&B Ristorante, Otto Enoteca e Pizzeria, and Carnevino, where she was CdC. In 2010, she teamed up with
José Andrés
and opened China Poblano at The Cosmopolitan, which was soon nominated by James Beard for "Best New Restaurant." At China Poblano, Chung was able to both learn about Mexican cookery as well as rediscover Chinese cuisine, which she'd never cooked professionally before. However, she left the place in early 2013 and found a spot on
Top Chef: New Orleans
, where she finished a very respectable third. With her newfound fame, she started Chung Lee Consulting and found Tran as her first client. Twenty Eight was supposed to open in June 2014, and the Chef was originally slated to return to Vegas to start her own place following the debut, but as a result of her coming on as partner, she's relocated to Orange County and is putting it all on the line here.

Twenty Eight occupies the site of the old Kimera, and the former restaurant's red- and brown-heavy digs have been replaced by a decidedly more monotone affair.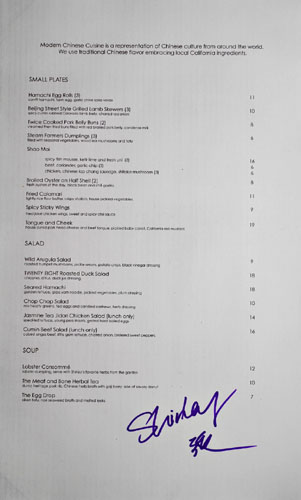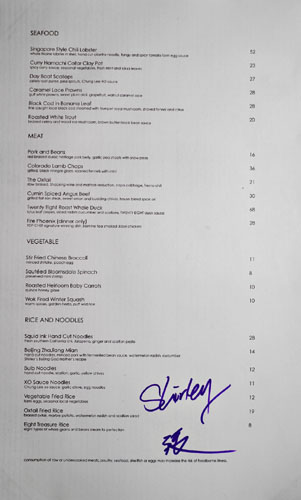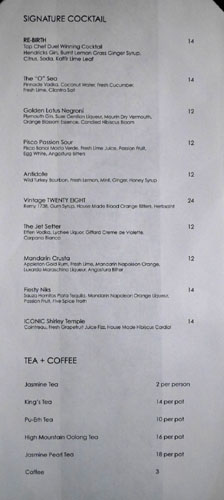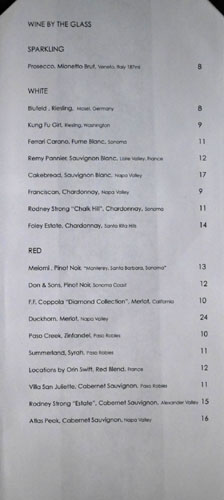 Twenty Eight's menu is fairly extensive, split amongst starters, mains, and sides, with varying degrees of Chinese influence. To drink, you get some slightly Asian-y cocktails, wines, and tea. Corkage was $20, but was graciously waived this evening. Click for larger versions.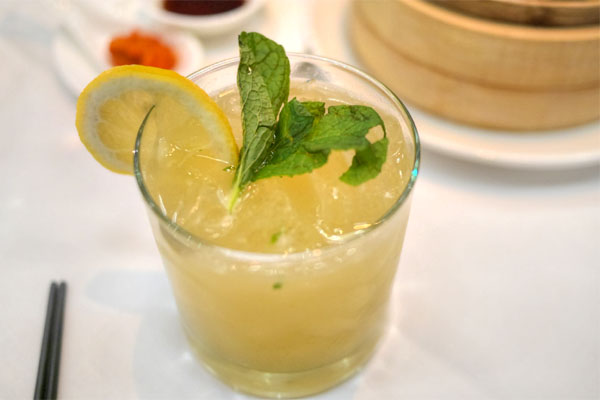 Antidote [$12.00]
| Wild Turkey Bourbon, Fresh Lemon, Mint, Ginger, Honey Syrup
Our first cocktail was surprisingly subtle, with a sweet-n-sour combo of honey-ginger-lemon doing a good job evening out the potency of the bourbon here.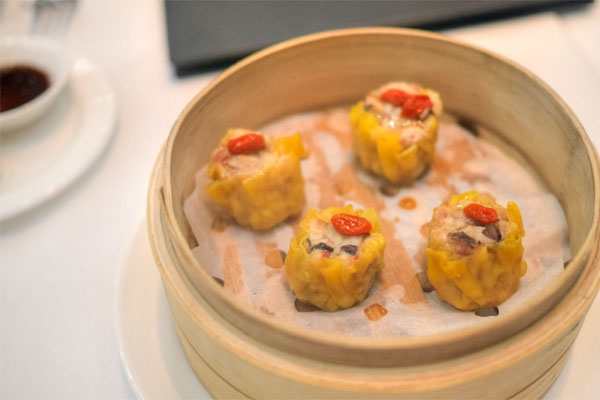 Shao Mai [$6.00]
| chicken, chinese lap chang sausage, shitake mushroom
Our first bites comprised two preparations of the dim sum staple
shumai
. This version featured chicken, the bird amped up by the smoky/savory weight of the
xianggu
and sausage while the wolfberry added a touch of sweetness.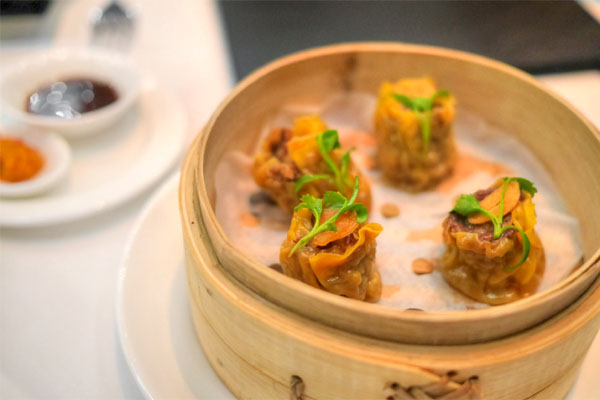 Shao Mai [$6.00]
| beef, coriander, garlic chip
The beef dumplings were a bit more full-bodied, taken up a notch by the zestiness of coriander. The wrappers here seemed a touch more substantial as well.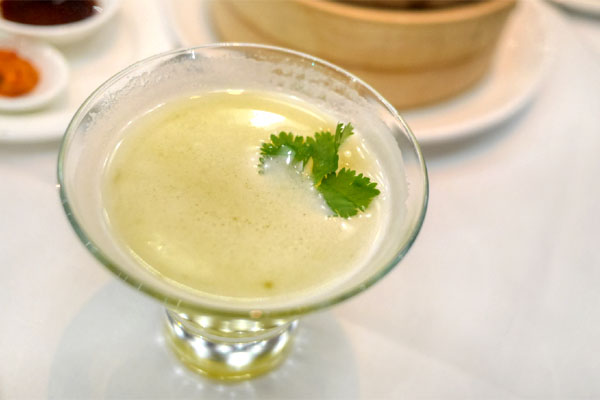 Special Ginger Cocktail [$14.00]
| Skyy Vodka, Fresh Pineapple juice, Fresh Ginger, Lime Extract
The evening's cocktail special was loaded with fruity notes of pineapple on the nose, with the ginger coming in later, joined by tangy lime and a slight undercurrent of booziness.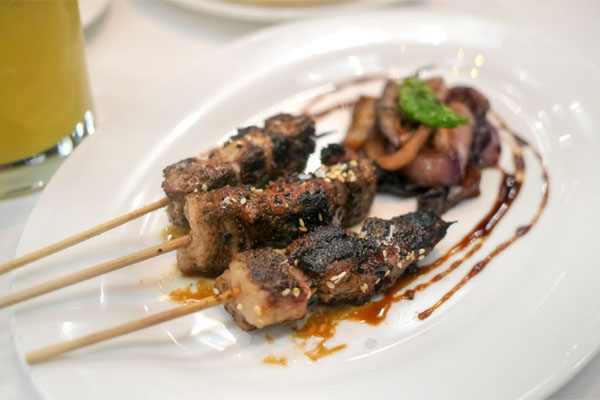 Beijing Street Style Grilled Lamb Skewers [$10.00]
| spicy cumin rubbed Colorado lamb belly, charred red onion
Next was the Chef's
shao kao
inspired skewers. Lamb belly was appropriately fatty, with a heavy char and a trace of cumin-y warmth. It might be interesting to have more types of skewers on offer in the future.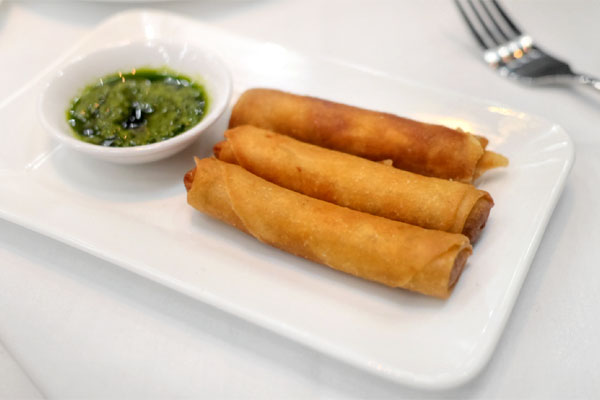 Hamachi Egg Rolls [$11.00]
| confit hamachi, farm egg, garlic chive salsa verde
The thinly-rolled
chun juan
weren't much to look at, but delivered taste-wise, showcasing the richly-flavored yellowtail in a crisp, fun package. Smartly paired with a zippy salsa verde, I could've just kept popping these.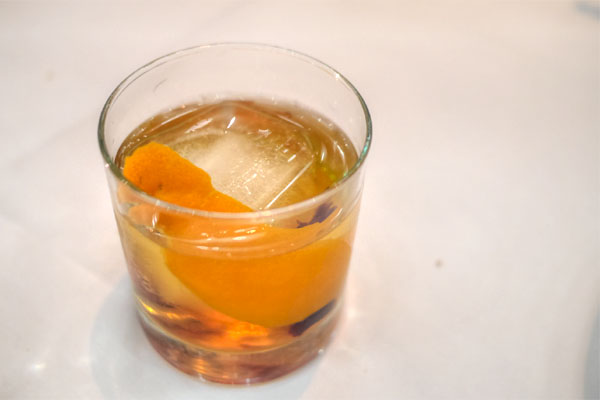 Golden Lotus Negroni [$12.00]
| Plymouth Gin, Suze Gentian Liqueur, Maurin Dry Vermouth, Orange Blossom Essence, Candied Hibiscus Bloom
The restaurant's take on the Negroni was my favorite of the three cocktails, a classically-leaning concoction with a great bittersweet character and an unexpectedly pleasant floral component.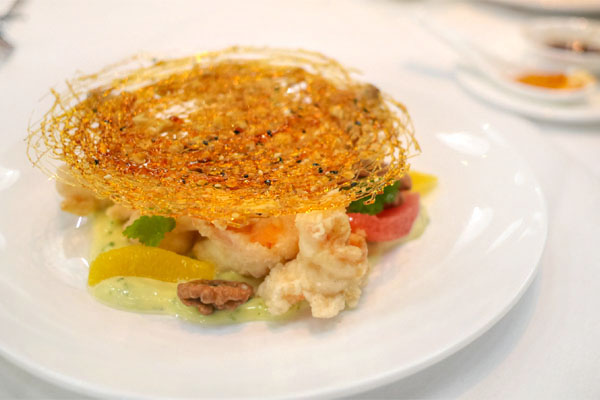 Caramel Lace Prawns [$28.00]
| gulf white prawns, sweet plum aioli, grapefruit, walnut caramel lace
Chung then sent out a version of the ubiquitous restaurant dish honey walnut prawns. The shrimp themselves were nicely cooked, snappy, meaty, and imbued with a sweetness that melded seamlessly with the plum aioli. The actual walnuts were also on point, but I wasn't quite as enamored with the citrus segments here, and the sugarwork didn't do much for me. I'd like to see this kept more O.G.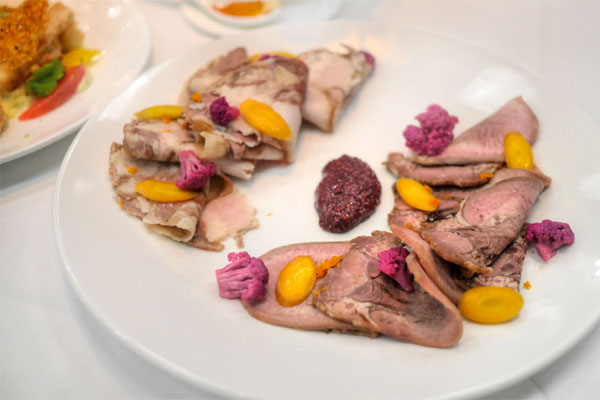 Tongue and Cheek [$19.00]
| house cured pork head cheese and beef tongue, pickled baby carrot, California red mustard
Next up was seemingly a riff on the Sichuan staple
fuqi feipian
. Beef tongue was hearty and slightly smoky, while the head cheese veered slicker, more delicate, with a tasty porcine presence. Pickles and mustard provided the requisite acidity to counterbalance the meat. That being said, I would've liked some more traditional accoutrements, some more spice, some oil, some
ma la
in there.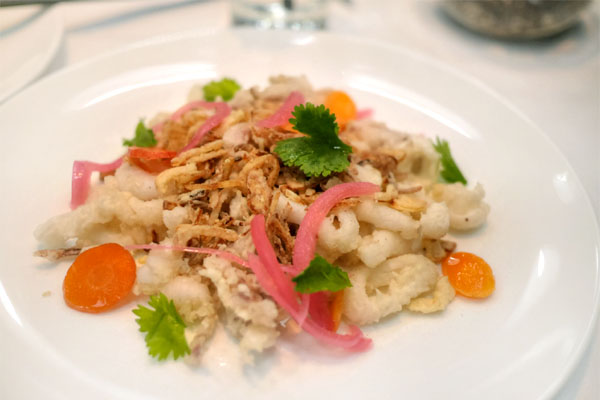 Fried Calamari [$11.00]
| lightly rice flour batter, crispy shallots, house pickled vegetables
Squid was lightly fried and still retained its texture, with its heavily salted flavors set against the crunchy pickles and cilantro. I was a fan of the crispy shallots, too. However, I could've used more pepperiness (including the Sichuan type), more heat here, not to mention some more tentacle action.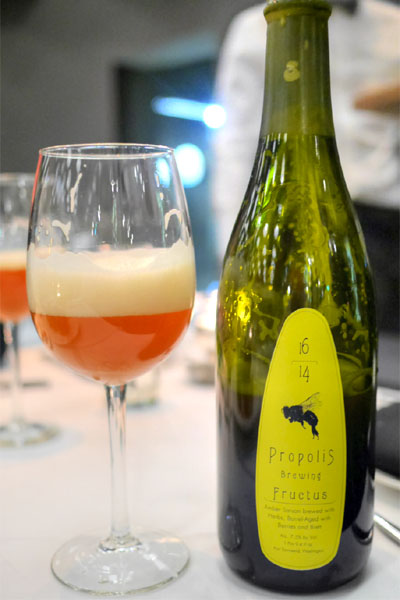 I brought along a couple beers, the first being the
2014 Propolis Fructus
, an amber saison brewed with bittering aromatic herbs and aged in Syrah wine casks with strawberries, raspberries, and
Brettanomyces
. I'd actually never had anything from the brewery before (I think they only recently began distributing in SoCal), but this was a very promising introduction. Lots going on here--earthy, funky, herbal, spicy, bitter, tart, and fruity--but it really came together perfectly.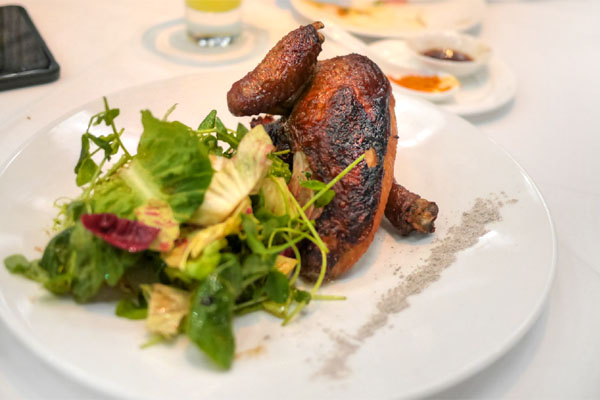 Fire Phoenix [$28.00]
| Top Chef signature winning dish, Jasmine tea smoked Jidori chicken
Next was one of my favorites from the meal, a dish ostensibly inspired by one that helped Chung defeat Brooke Williamson on
Top Chef Duels
earlier this year. The bird itself arrived superbly cooked, a lovely presentation of both white meat and dark that ate juicy and robustly flavored. The crux of the course, though, was the aromatic, smoky element, which really elevated the protein.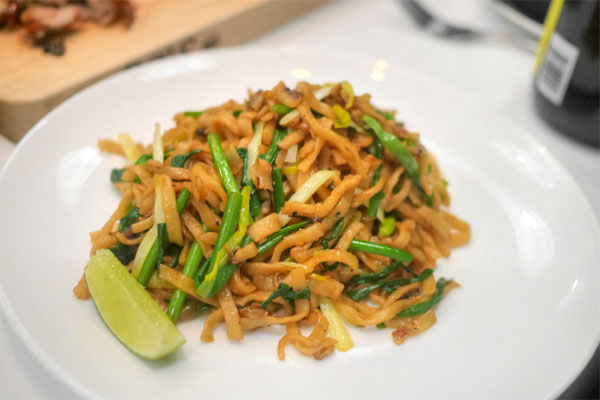 Bulb Noodles [$12.00]
| hand cut noodle, scallion, garlic, yellow chives
I was impressed with the hand-cut noodles as well. I found them well-textured, and perfectly set against the astringency of the scallion-garlic-chive combo. Even better with a squirt of lime. You could just take down a big plate of this and be satisfied.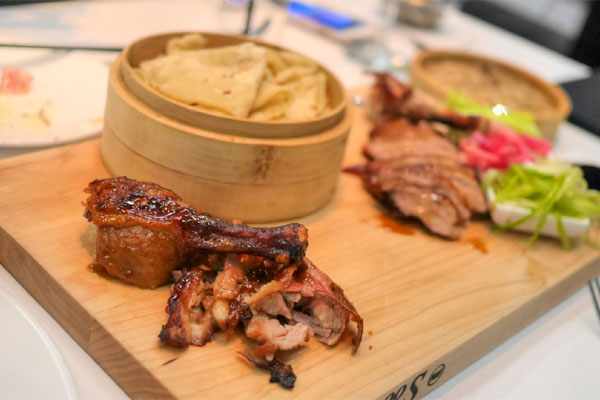 Twenty Eight Roast Whole Duck (Half) [$38.00]
| lotus leaf crepes, sliced radish cucumber and scallions, Twenty Eight duck sauce
The restaurant's take on the classic Peking duck was an impressive spread. Taken alone, the meat was certainly very "ducky," and combined with the veggies, bittersweet sauce, and particularly good crepes (some of the best I've had), made for some tasty bites indeed. I did miss the crispy skin, though.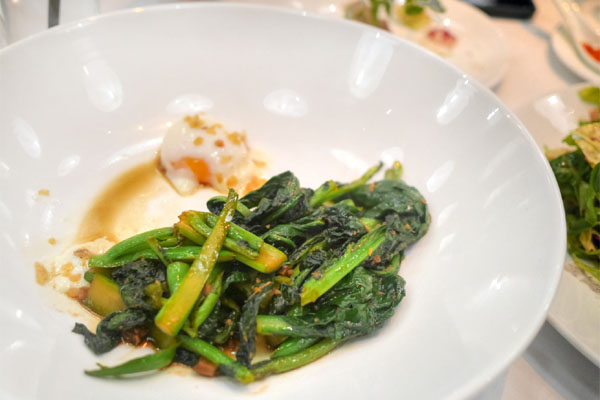 Stir Fried Chinese Broccoli [$11.00]
| minced shitake, poach egg
A side of Chinese broccoli was spot on, a strong presentation of the bitter, crunchy vegetable that was dutifully heightened by the incorporation of heady shiitakes and luscious runny egg. The Chef has described her veggie preps as "sexy," and this certainly was.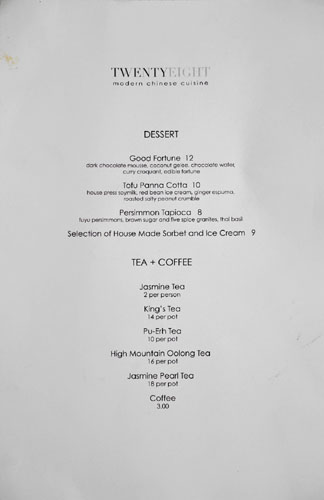 Time for dessert, which at Twenty Eight is the work of Chung herself, as there's no separate Pastry Chef currently. Click for a larger version.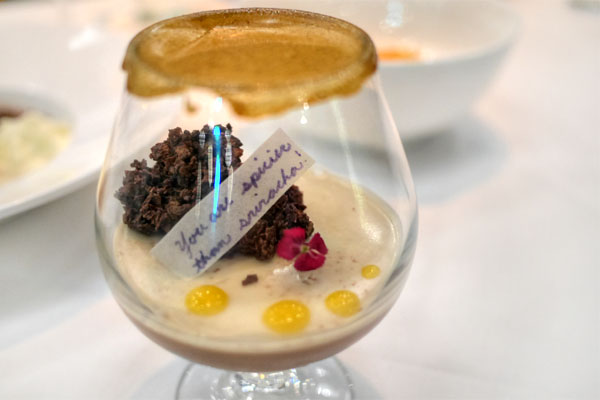 Good Fortune [$12.00]
| dark chocolate mousse, coconut gelee, chocolate wafer, curry croquant, edible fortune
In lieu of standard fortune cookies, we had this instead, a worthy replacement in my estimation. There was an enjoyable interplay between the chocolate and coconut elements, but the key for me was the croquant, which added a wonderful crunch that really lifted the dessert.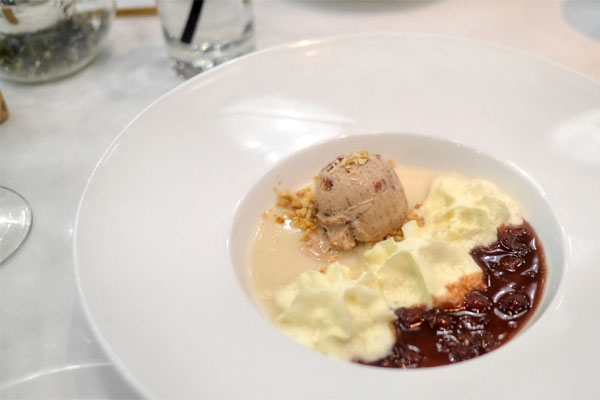 Tofu Panna Cotta [$10.00]
| house press soymilk, red bean ice cream, ginger espuma, roasted salty peanut crumble
Following was Chung's interpretation of
douhua
, traditionally a tofu pudding. This one worked for me, with the mild panna cotta melding well with the sugary red bean while sharp notes of salty peanut and astringent ginger completed the experience.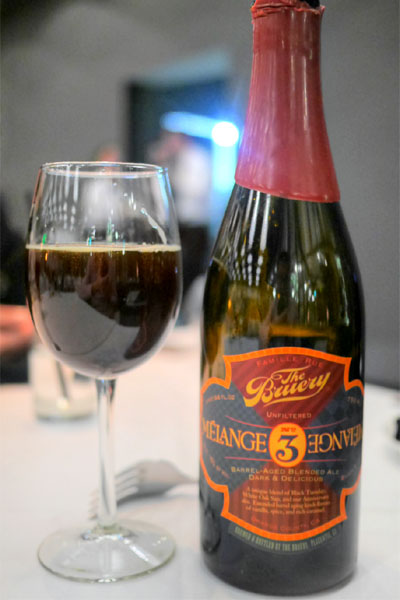 To go with dessert, we opened a bottle of the
2012 The Bruery Melange No. 3
, a blend of Black Tuesday stout, White Oak Sap wheatwine, and Anniversary series old ale, all barrel-aged. It was a hefty beer to be sure, with a nose redolent of raisin, bourbon, and brown sugar. Taste-wise, I got more of the same, along with vanilla, spice, and a palpable booziness, with everything coming together nicely. The Bruery does high-power beers well, and this was no exception.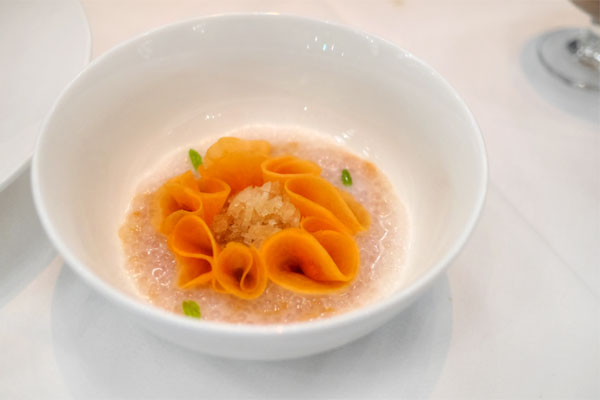 Persimmon Tapioca [$8.00]
| fuyu persimmons, brown sugar and five spice granites, thai basil
Here, the comparatively mild sweetness of persimmon was paired with the sugary spice of two granitas. Thai basil did help offset the strong, perfume-y flavors at play, though I would've liked more of it.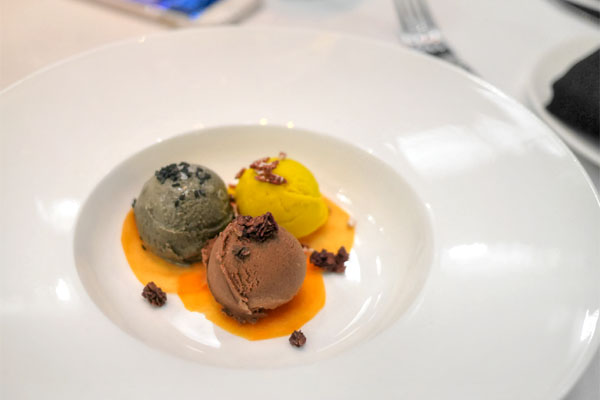 Selection of House Made Sorbet and Ice Cream
To close, the Chef sent a sampling of her homemade ice creams. We enjoyed the pumpkin and chocolate varieties, though everybody's favorite was the black sesame, which really did a great job conveying the nutty sweetness of the ingredient (it reminded me of
tangyuan
filling). Excellent use of the savory, crunch bits on top, too.
Twenty Eight's a restaurant that I'd been curious about for a while now. It's a worthwhile addition to the often lacking OC dining scene, and as far as I know, I don't think anyone else is attempting this type of cuisine in the area. Most of the dishes worked, giving up classic, comforting flavors in modern packaging, though a few could benefit from some editing. After all, I think Chung's at her best when she's sticking closer to her Chinese roots. This could be a game changer, so I'm excited to see where she takes it.