Kaori (Fullerton, CA)
Kaori Japanese Restaurant
133 W Chapman Ave, Fullerton, CA 92832
714.871.9395
www.kaorisushioc.com
Tue 05/28/2019, 08:30p-10:35p

If you recall, earlier this year I reported on the new
OmG Omakase by Gino
in Santa Ana, run by Jinho Choi. Prior to OmG, Choi owned and operated Kaori, which he'd opened up back in 2007. I was a bit curious about Kaori, and thus decided to pay the place a visit. Its current Chef/Owner is Sang "Eric" Lee, who took over around September last year.
About the Chef
: Lee Sang was born circa 1978 in Seoul. His father died when he was 12, and he was a self-professed problem child. He began working in restaurants at the age of 19 as a way to make some much-needed cash, and started out at both Chinese and (non-sushi) Japanese places. Members of his mother's family lived in the US, so Lee and his little brother eventually moved Stateside in 2001. He was 23 at the time, and soon began working for the Kabuki restaurant chain, then learned under a Masa-san (Masato Nakabayashi?), who was the sushi chef at Yamashiro.
Following, he decided to strike out on his own and purchased an existing business: Sushi Ko in Porter Ranch. He created a new menu there, and even employed his brother as a sushi chef, but wound up selling the place. Lee's next restaurant was the roll-focused Sushi and Wasabi in Agoura Hills, which I believe he still owns. He was then on the hunt for a third restaurant to buy, found Kaori, and was instantly attracted to its coziness. After negotiating for six months with Choi, he was able to complete the purchase at a reduced price, with the goal of serving omakase-style dinners that were never feasible at his other businesses.
Note that Chef Lee was assisted this evening by Jihan, or "Leah," who I believe was there prior to the change in ownership.

Inside, things haven't changed much from when Choi was around, but the new Chef has added his own touches here and there.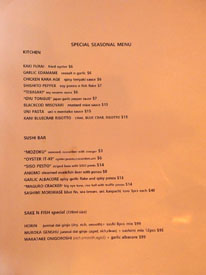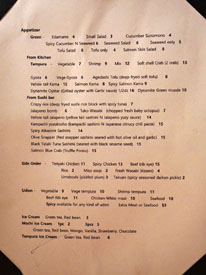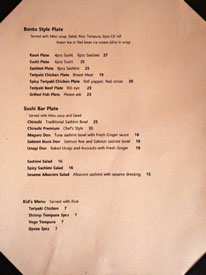 Kaori's menu is pretty typical, and features your usual sushi selections along with a number of composed dishes and seasonal specials. In addition to all this, there are two omakase levels at $70 and $100 a head, and we ended up going with the latter. Drink-wise, you get a handful of wines, the usual beers, and a small list of sakes. Corkage is $15 for wine, and $20 for sake. Click for larger versions.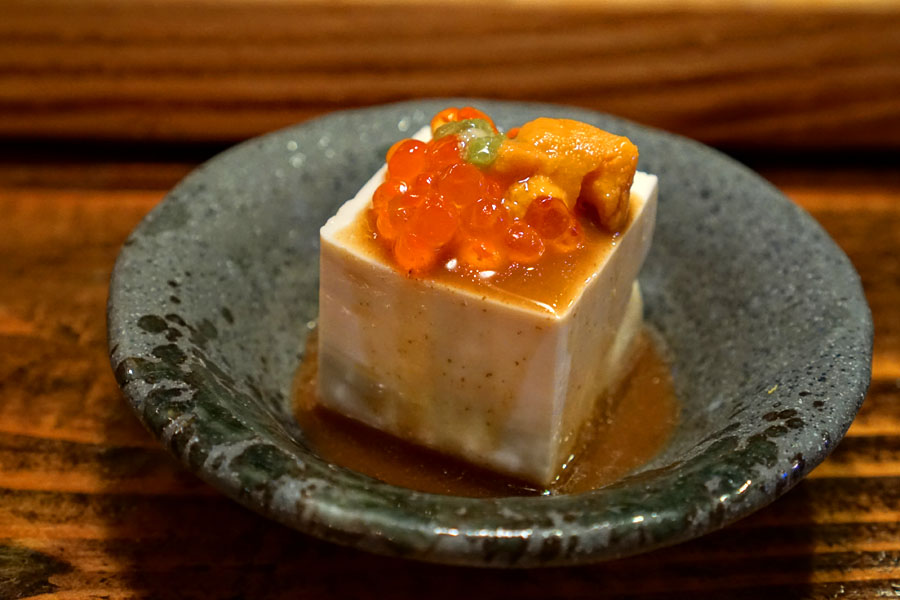 1: Goma Dofu
We commenced with a mild, nutty block of sesame tofu, one perked up by salty pops of salmon roe and the tanginess of the included dressing. Hokkaido sea urchin, meanwhile, added just a bit of luxuriousness to the dish.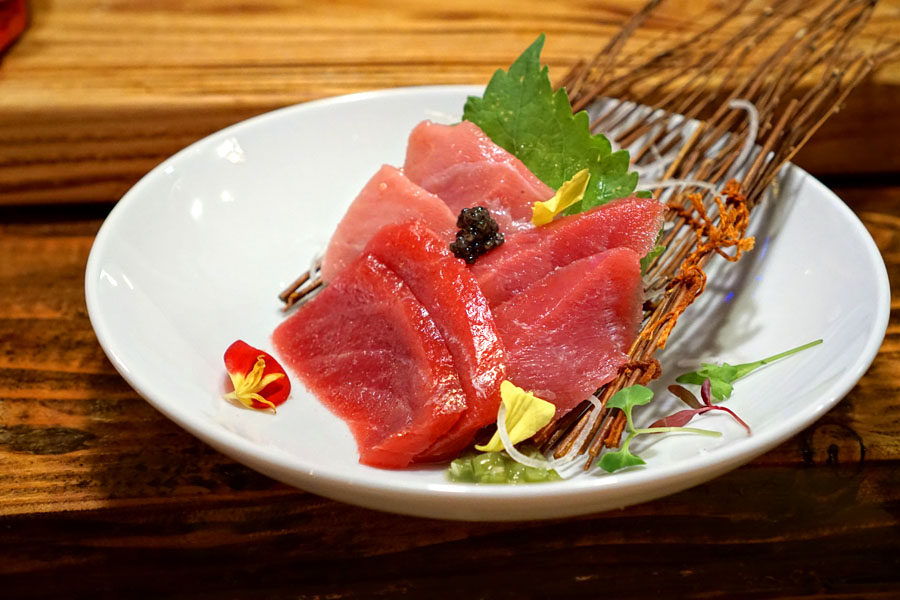 2: Kuromaguro Sashimi
Of sashimi course consisted of three cuts of Spanish bluefin:
Akami - Super soft, and well matched by wasabi or a dollop of that salty Spanish caviar.
Chutoro - The medium fatty tuna, somewhat surprisingly, wasn't a huge step up in terms of richness.
Otoro - This, on the other hand, was super oily and utterly fatty, with a melt-in-your-mouth consistency. A bit sinewy though.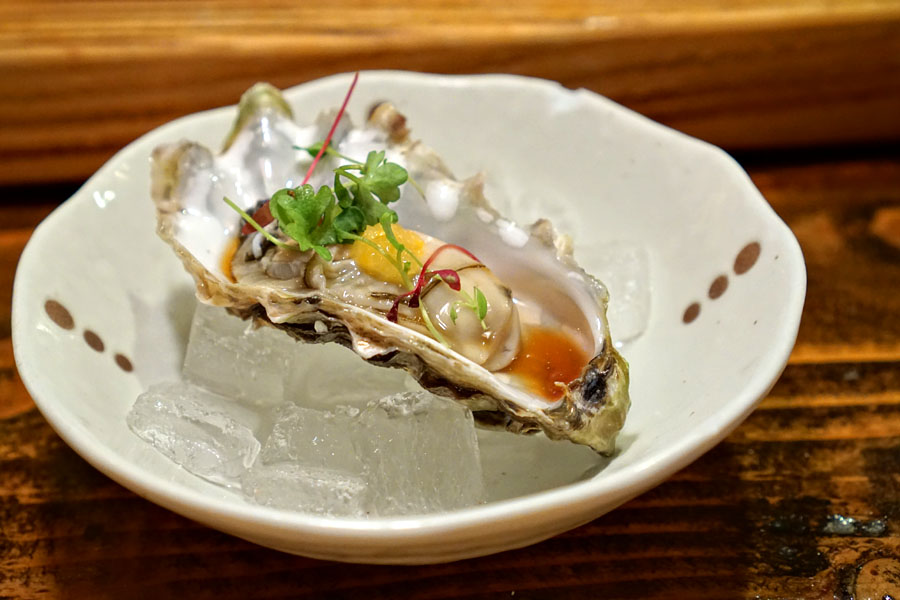 3: Hama Hama Kaki
With its clean, subtle brine, our lone Hama Hama oyster took well to the application of tart ponzu and fresh yuzu.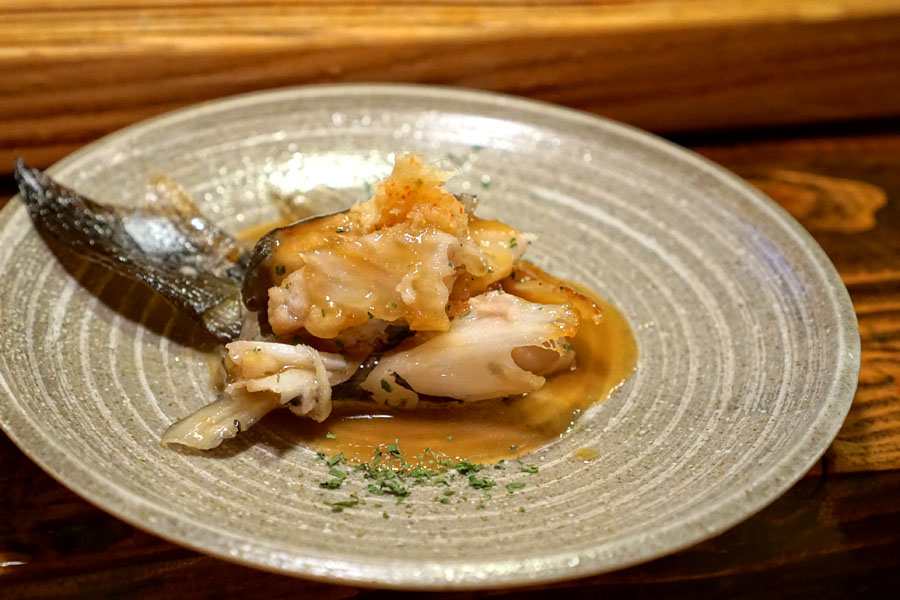 4: Gindara Kama Misoyaki
Here was black cod collar, grilled with miso. The fish had a soft, almost gelatinous consistency, but unfortunately, its flavors were just too sweet for my liking. The radish-ginger mix on top tried its best to counteract that sweetness, but it wasn't enough.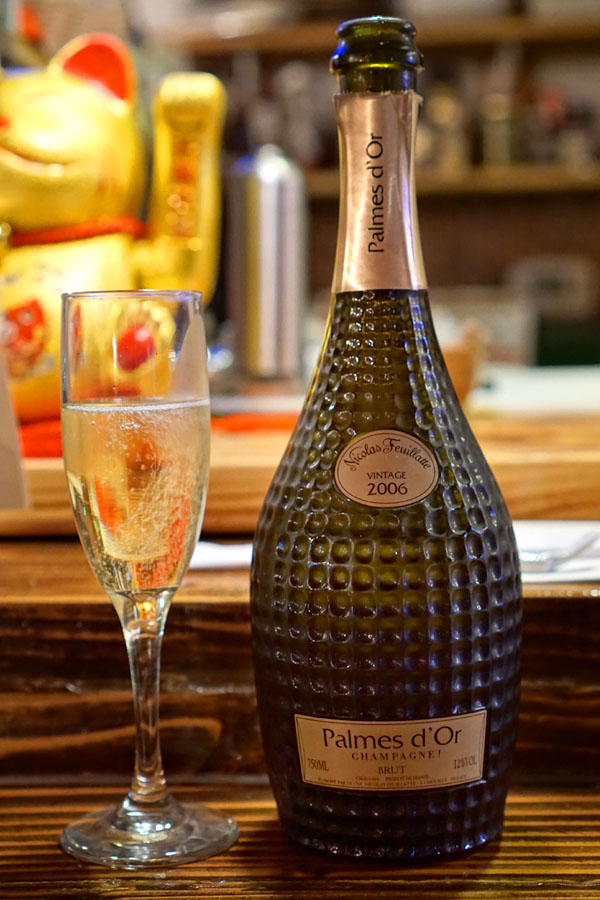 To drink, we started with a bottle of
2006 Nicolas Feuillatte Champagne Brut Cuvée Palmes d'Or
. It had a fruit-forward nose that showcased notes of citrus, honey, and toast, with a slight blue cheese-like funk underneath. The wine had a soft, round, fruity palate, one layered with distinct nutty and tart lemon nuances, all backed by alcoholic heat and a bit of minerality.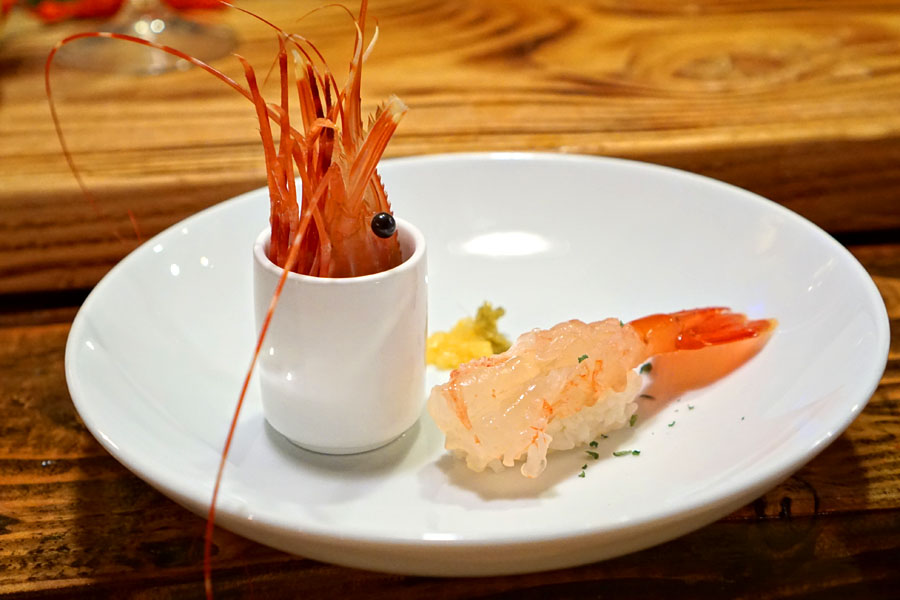 5a: Amaebi
Sweet shrimp was super clean tasting, with a spot on crispness. Even better with a dash of
yuzukosho
-fueled heat.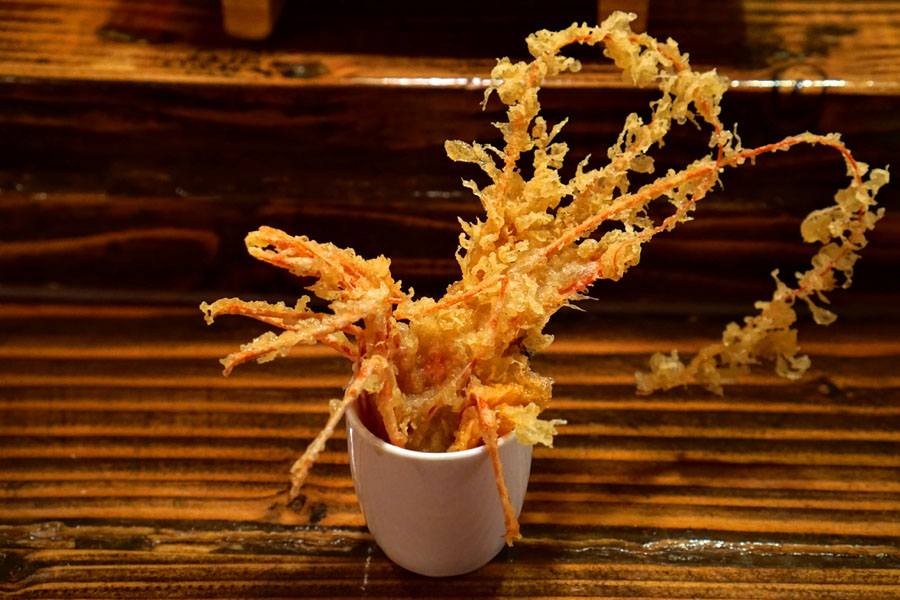 5b: Amaebi no Atama
The fried head of the shrimp above was sweeter than usual (due to the batter used), and somewhat difficult to eat given that it was placed in a small cup filled with what I believe was a ponzu-based sauce.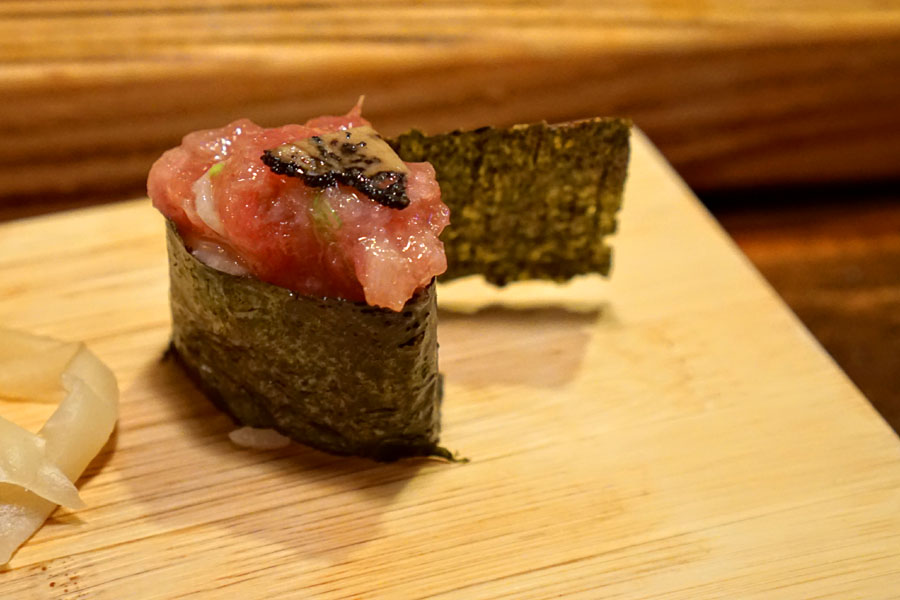 6: Negitoro Gunkanmaki
Diced fatty tuna was augmented by the richness of
shoyu
while zesty scallion worked as a time-tested contrast. The truffle imparted an additional oomph initially that I appreciated, though the nori was a bit rough for my liking. Nevertheless, still a favorite bite of mine.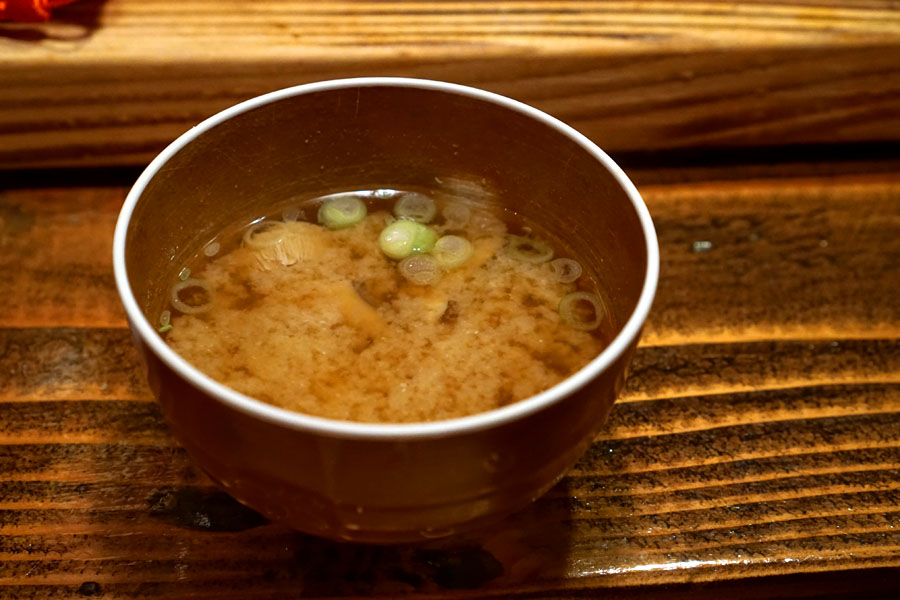 7: Misoshiru
Made with a large helping of
akamiso
, tonight's miso soup was much earthier than usual. The potency of the broth was boosted by the incorporation of oyster, while slices of mushroom imparted both umami and texture. Nice counterpoint from the scallions here as well.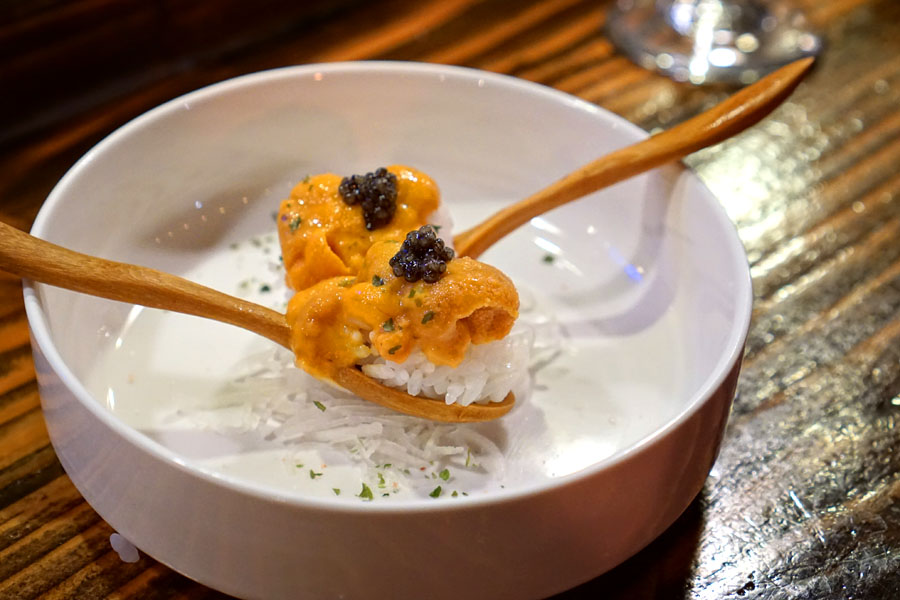 8: Uni
Hokkaido uni came out very balanced, its sweetness evened out by its expected minerality. The caviar on top wasn't even necessary.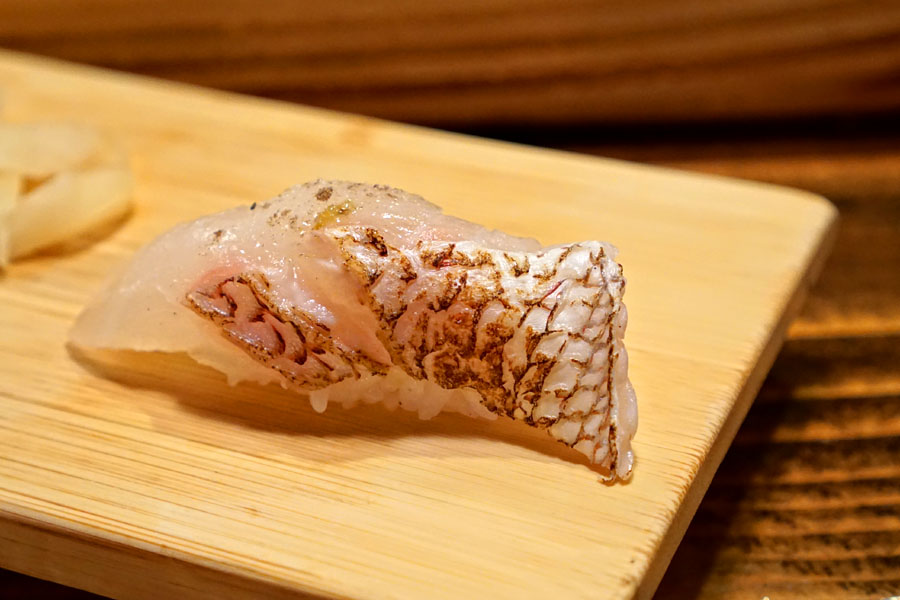 9: Madai
Red sea bream arrived torched, its clean, lean flavors meshing superbly with hints of salt, citrus, and smoke.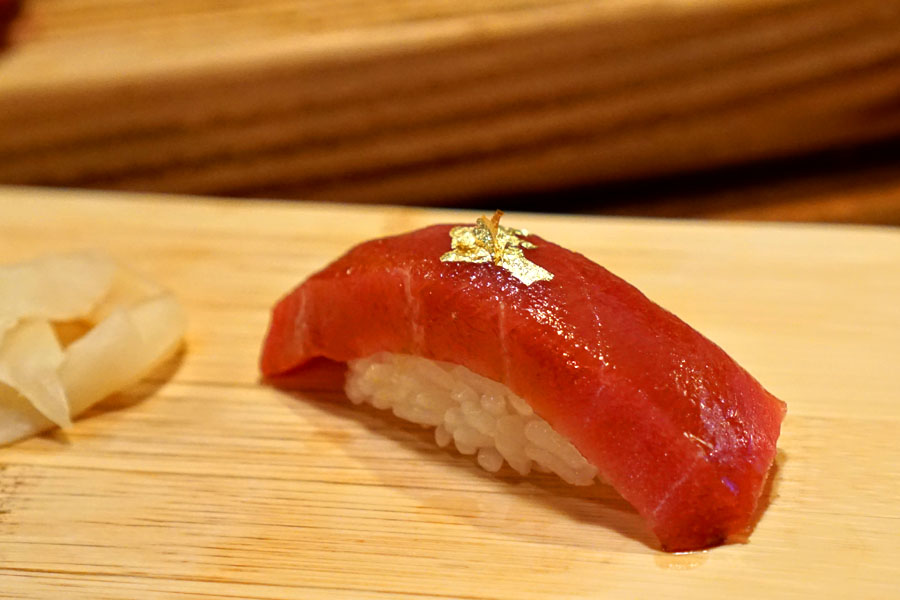 10: Maguro
Standard tuna was a bit bland unfortunately, and really drew attention to the coldness of the
shari
here. A miss for me.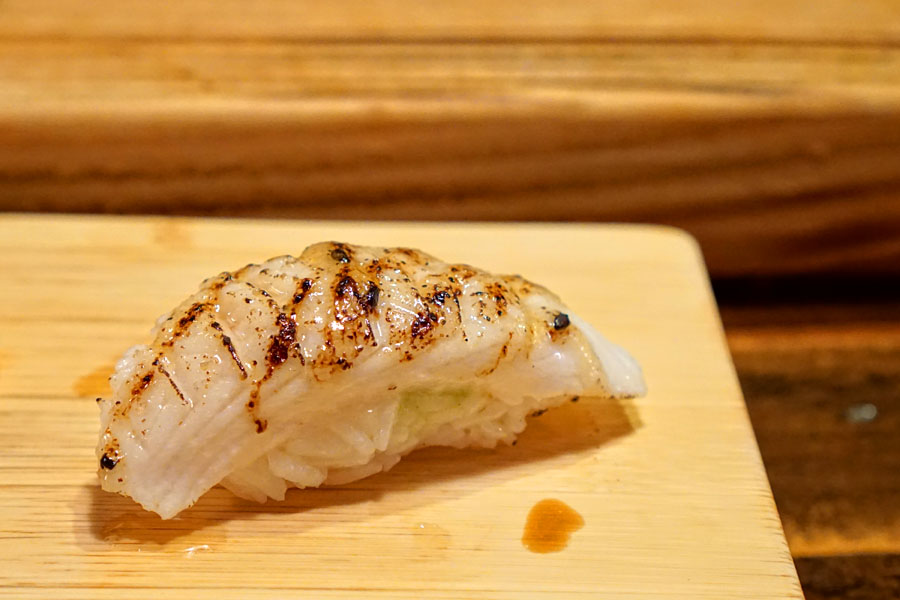 11: Gindara
The black cod was a standout, as the searing really brought out the rich, oily, fatty nature of the fish. Excellent smoke character here as well.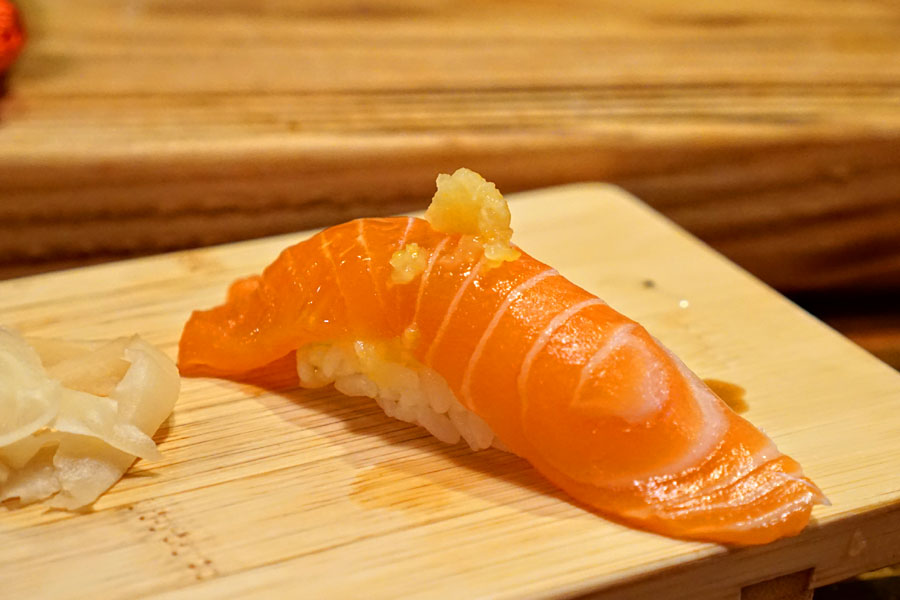 12: Sake
Scottish salmon arrived accompanied by yuzu, lime, and olive oil. Sadly, the fish was weak-tasting, and really needed something more, since the sour notes here weren't doing it justice.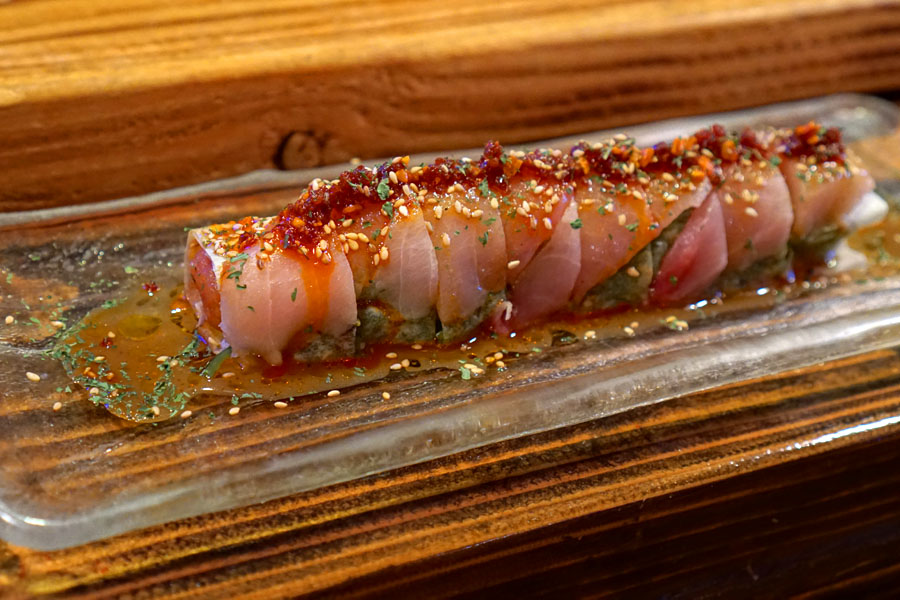 13: That Roll
I was surprised to see a bastardized roll like this during the course of our meal. It contained no rice, but instead was composed of a core of spicy tuna, rolled in yellowtail, with sweet pepper, parsley, ponzu, and sesame seeds. It definitely packed some heat, so the hamachi ended up serving as a moderating element. I didn't care much for the sweet pepper, though I did appreciate the nuttiness of
goma
. Again, this really didn't need to be part of our dinner.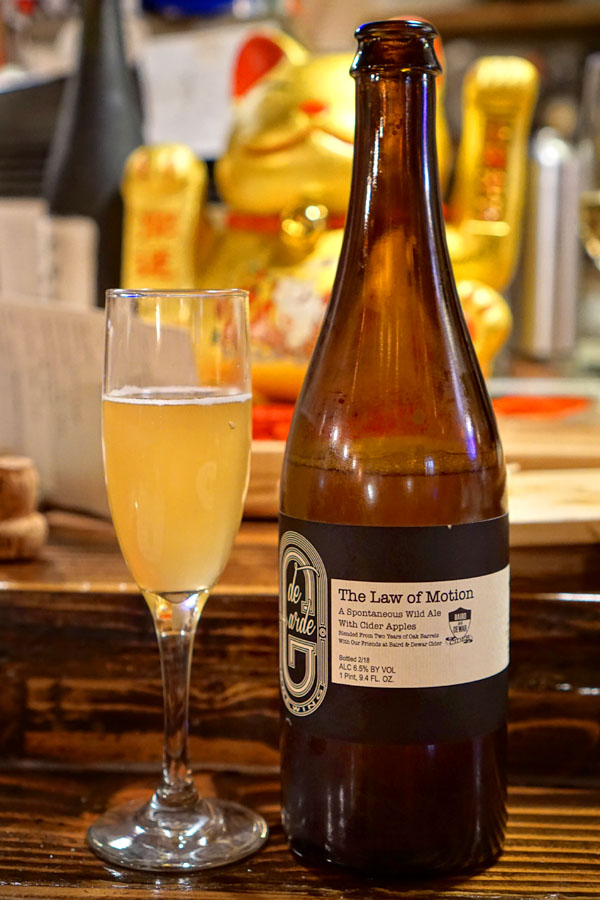 We moved on to some beer, specifically the
2018 de Garde The Law of Motion
, a blend of two year-old, oak-aged, spontaneously-inoculated wild ale with oak-aged apple cider and fresh apple juice, created in collaboration with Baird & Dewar cidery. Nose of lemon and pome fruit, with a definite funkiness mixed in there. Taste-wise, I got more tart citrus and an astringent, drying quality, along with barnyard and oak, while the apples came through more on the finish. Very enjoyable, though I actually wish that the apples were more prominent.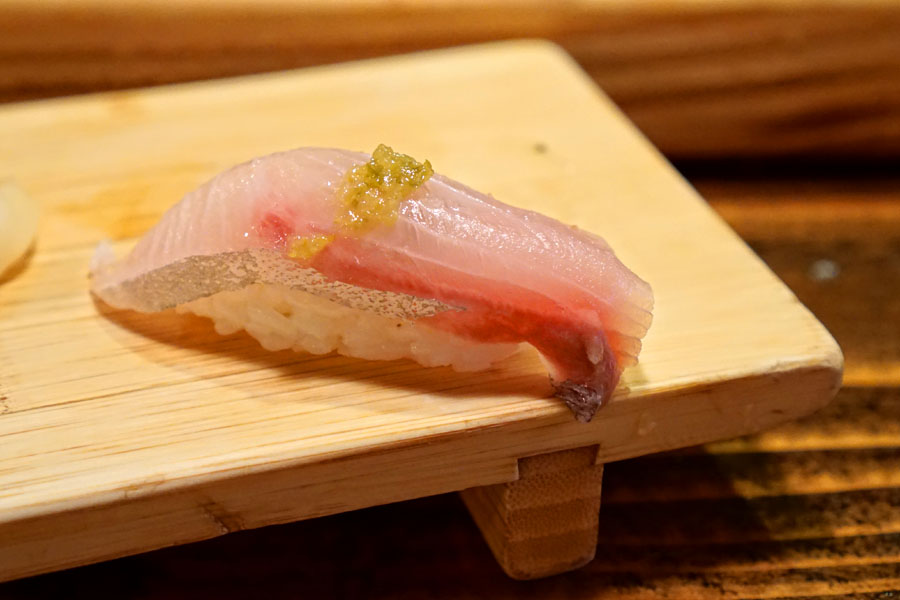 14: Kanpachi
Amberjack was superbly textured, and had its fresh 'n' clean flavors smartly paired with the zing of
yuzukosho
. Regrettably, the rice sort of got in the way here.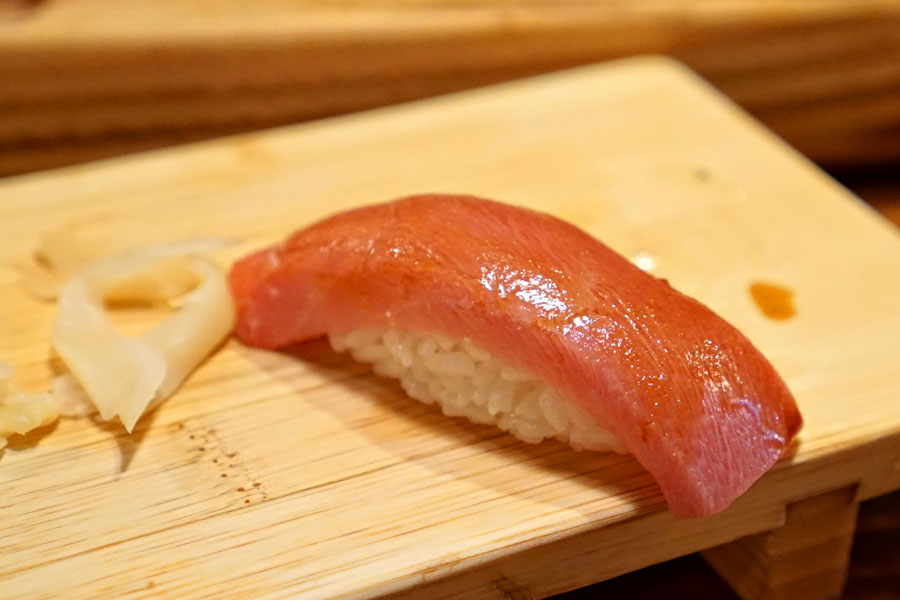 15: Toro
A slab of fatty tuna was just what you'd expect, and that's not a bad thing.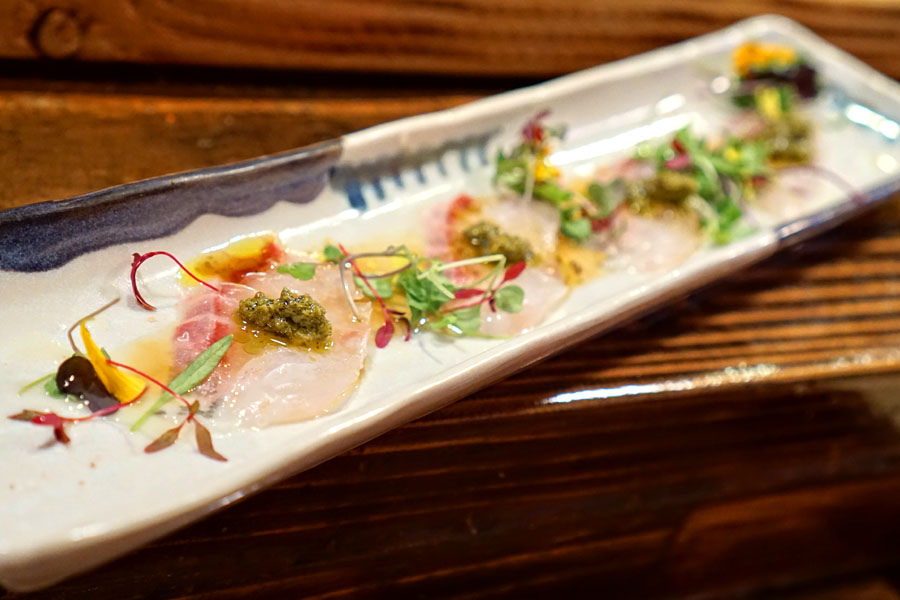 16: "Siso Pesto"
In this crudo-like course,
suzuki
(striped bass) was paired with a yuzu pesto that was just on the verge of being overpowering.
17: Watarigani Risotto
A blue crab risotto wasn't nearly as creamy as I'd prefer. That being said, it tasted pretty great, since the rice was imbued with the earthy brine of
kanimiso
, and had a nice smidge of heat on the back end from the spicy garlic on top.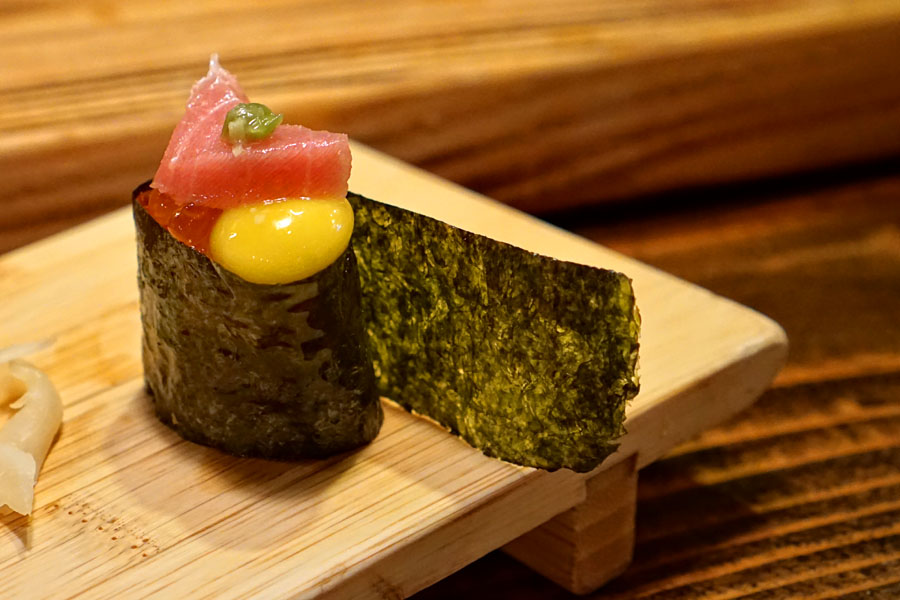 18: Ikura Gunkanmaki
A prototypical presentation of salmon roe was amped up--perhaps unnecessarily--by the inclusion of toro and
uzura
(quail egg).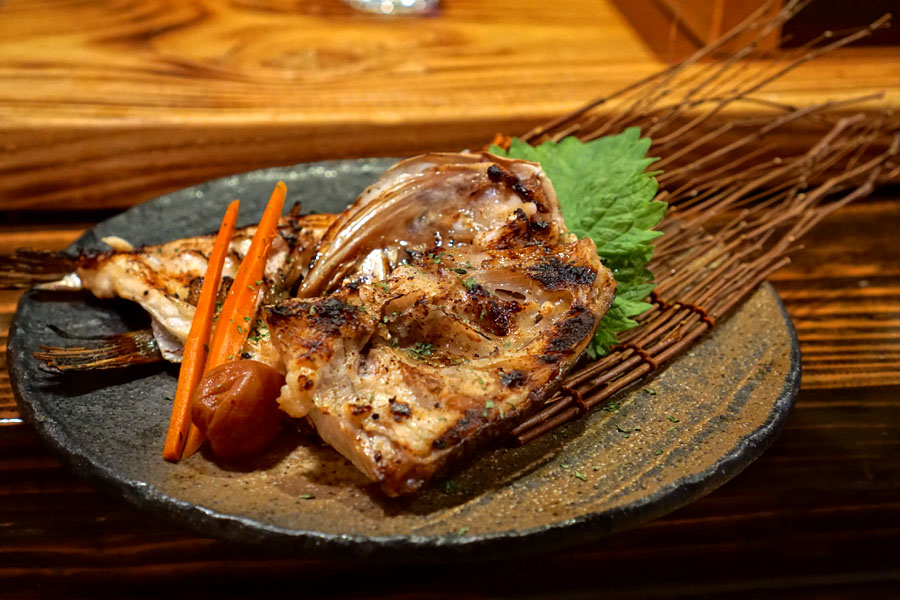 19: Madai no Atama
Sea bream head was supple, smoky, and pretty tasty, especially with a dash of the included yuzu ponzu.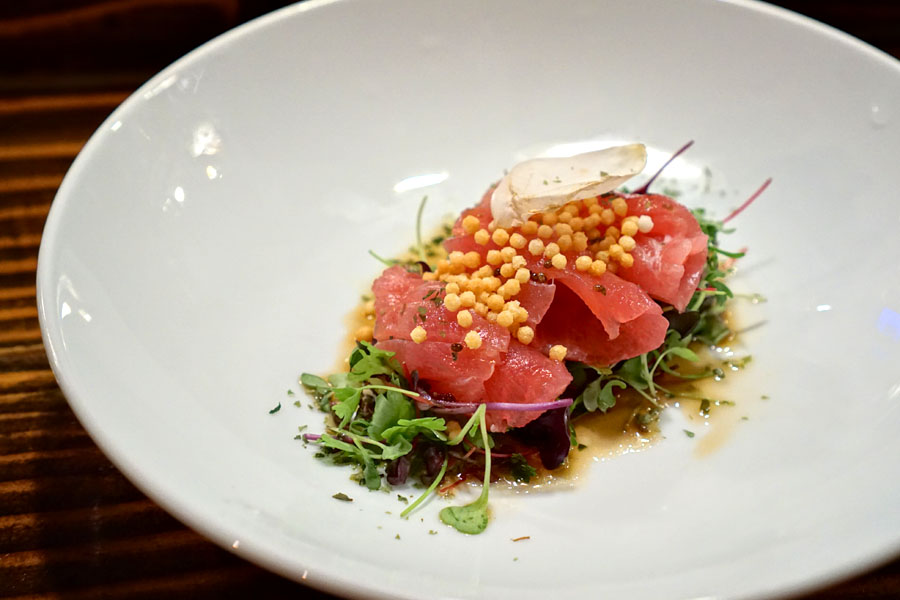 20: "Maguro Cracker"
Shards of bigeye tuna were placed on a bed of "Asian mix" salad dressed with truffle ponzu, then topped with
arare
. The fish ate clean, and worked well enough with the savory-yet-piquant ponzu. My favorite part, though, just might've been those rice crackers.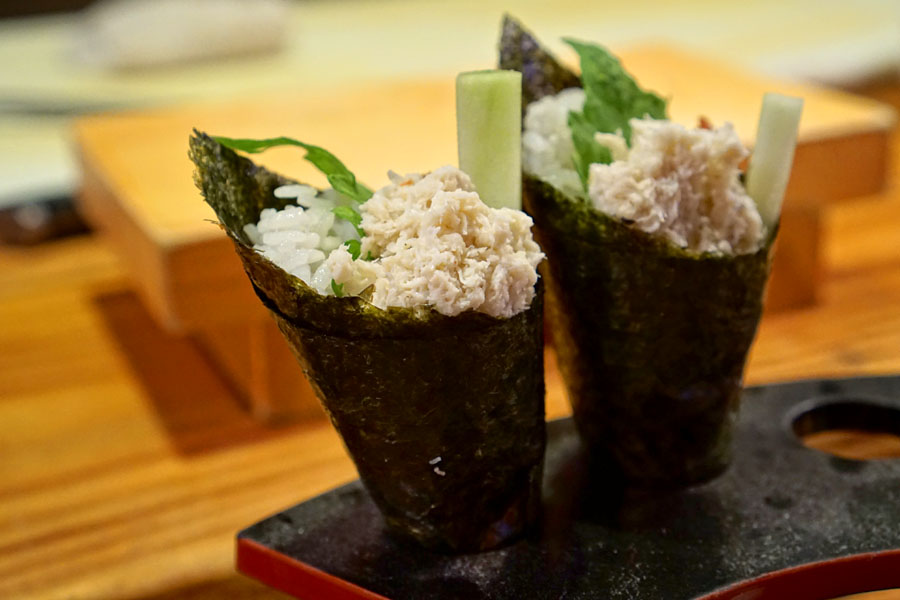 21: Watarigani Temaki
Blue crab hand rolls definitely showcased the sweetness of the crustacean, while the inclusion of
umeboshi
provided a salty-sour blast that I didn't think needed to be there.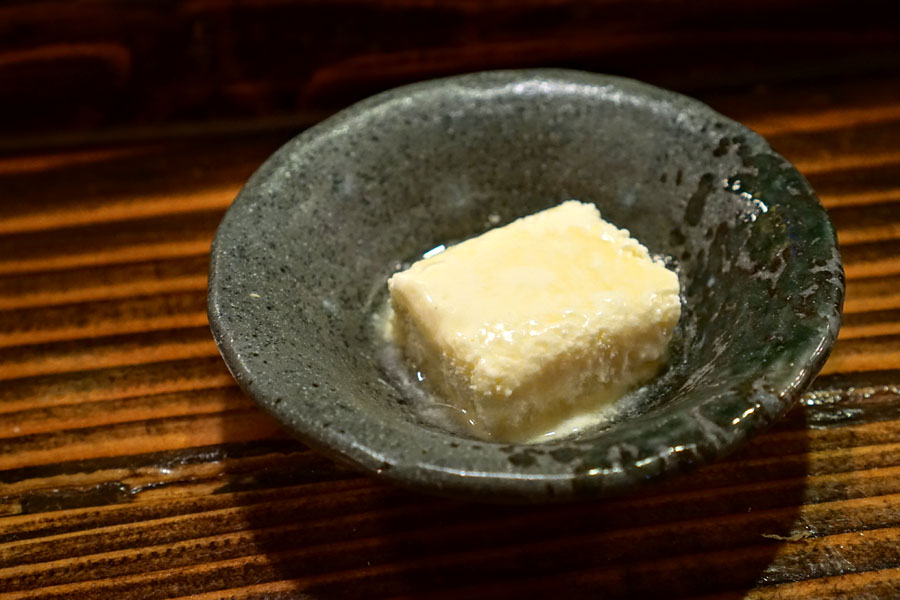 22: Milk Ice Cream
We ended on a high note thanks to this dessert, which had a wonderful touch of savoriness to go along with its sweetness. There was a bit of yuzu tartness here that made perfect sense as well.
In the end, Kaori was about what I had in mind. The food was pretty solid, though there were certainly some clunkers in there, and overall the meal was a bit lacking in polish. I'd rank it squarely below the top echelon of sushi spots in Orange County.