Ma'am Sir (Los Angeles, CA)
Maam Sir Restaurant
4330 Sunset Blvd, Los Angeles, CA 90029
323.741.8371
www.maamsirla.com
Sat 06/08/2019, 08:15p-10:15p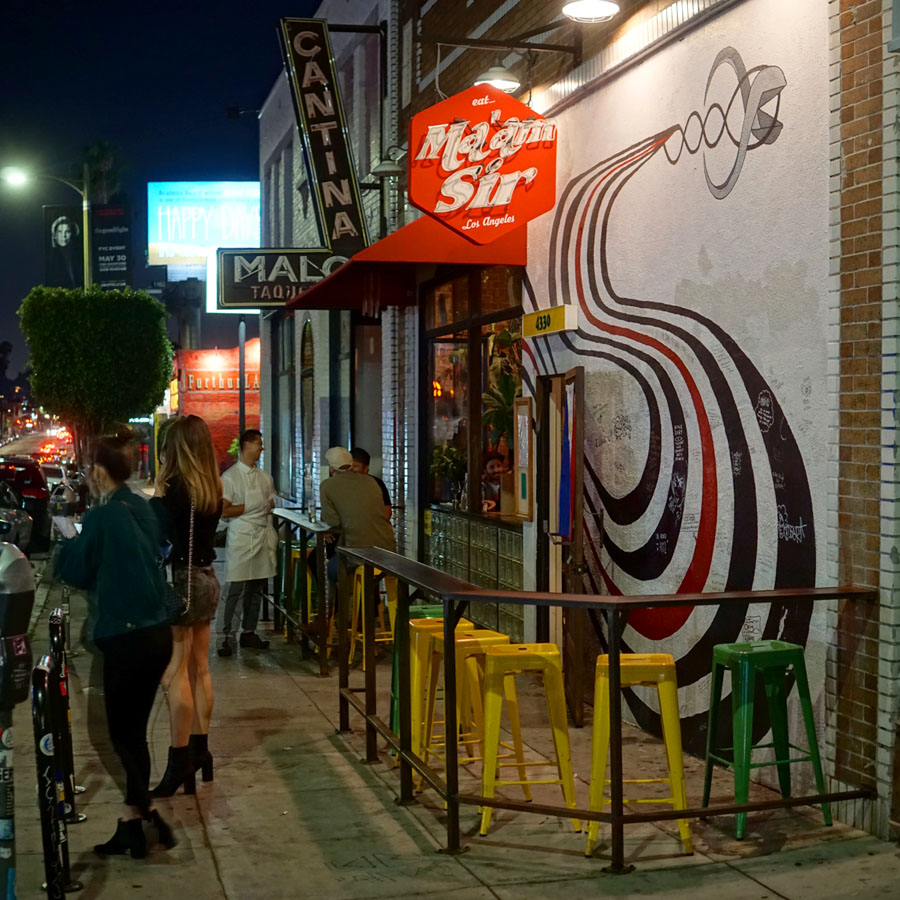 The last time I caught up with Charles Olalia, it was when I visited
RiceBar
back in July 2017. The tiny rice bowl spot was a pretty big hit for the Chef, and as a result, he was set on opening a second outpost of the concept. However, in early 2018, he was approached by Wade McElroy and Russell Malixi (
Horse Thief BBQ
,
Cafe Birdie
, Good Housekeeping) to partner on a modern Filipino eatery. Said eatery was to take over the duo's spot Bar Angeles in Silver Lake, which shuttered at the end of March that year (after just over a year of being open). Following a quick flip, Ma'am Sir debuted on June 13th, named after a popular greeting used in Philippine hospitality trade.
After a mere four months, the restaurant landed a four-star review from
Time Out
's Simon Majumdar, which was soon followed by another glowing review from the
LA Times
' Bill Addison, while
GQ
deemed the place one of its "Best New Restaurants in America" in April this year. Most recently, Olalia decided to shut down Rice Bar at the end of May after the place's lease expired. Interestingly, the location was quickly snatched up by AC Boral (known for his Rice & Shine pop-ups), who's already turned it into another Filipino rice bowl-ery called Baon.
On a related note, I found out that the Chef de Cuisine here is none other than Derrick de Jesus, whom we last saw cooking over at
71 Above
back in September 2016. From there, he moved over to Tallula's as part of the opening team, then started doing a series of pop-up dinners under the Hubris banner (now named Mirasol it appears).

Situated next door to the recently-shuttered Malo, Ma'am Sir retains the same basic layout of its predecessor Bar Angeles. However, the room's been given a tropical makeover, and now sports rattan fixtures, hanging vines, and photos of Filipino celebs on the walls. Total area is around 1,800ft
2
, and there's room for around 70 diners.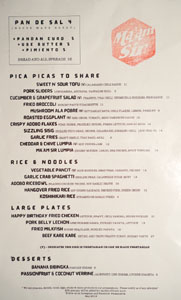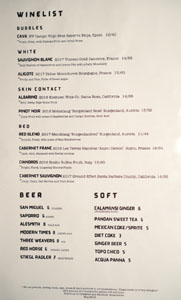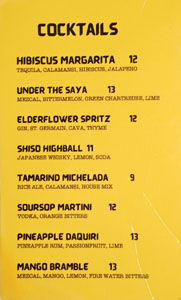 The menu lists Olalia's interpretations of shareable Filipino favorites and
pulutan
-type dishes. On the beverage side of things, you get cocktails from barman Rafa DaCosta (Aatxe, Hecho Cantina, Pisco Latin Lounge--all in San Francisco), along with some beer and a mini wine list. Click for larger versions.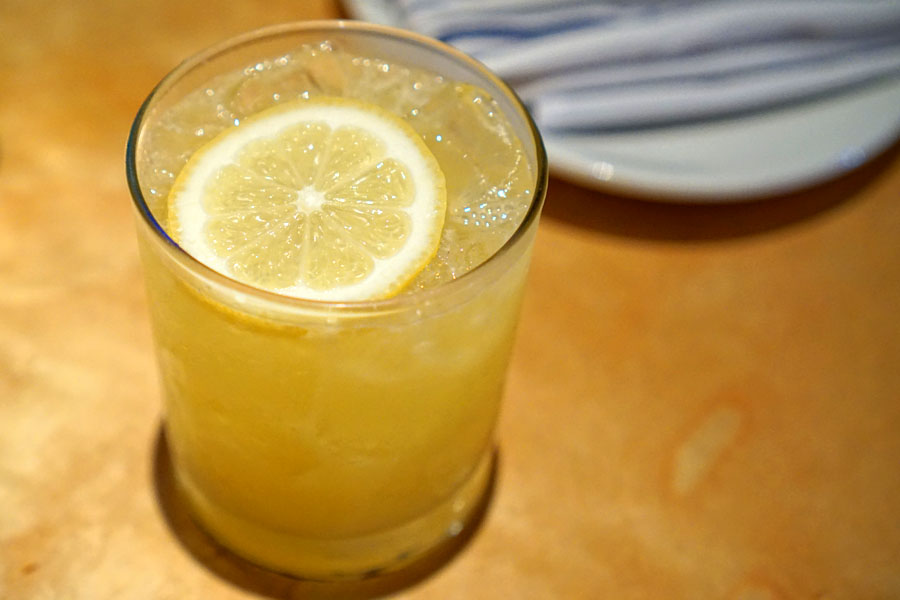 Mango Bramble [$13.00]
| Mezcal, Mango, Lemon, Fire Water Bitters
We went with cocktails this evening, and our first married the smokiness of mezcal with tropical notes of mango and a marked citrusy character. Refreshing, with a lingering heat thanks to those bitters.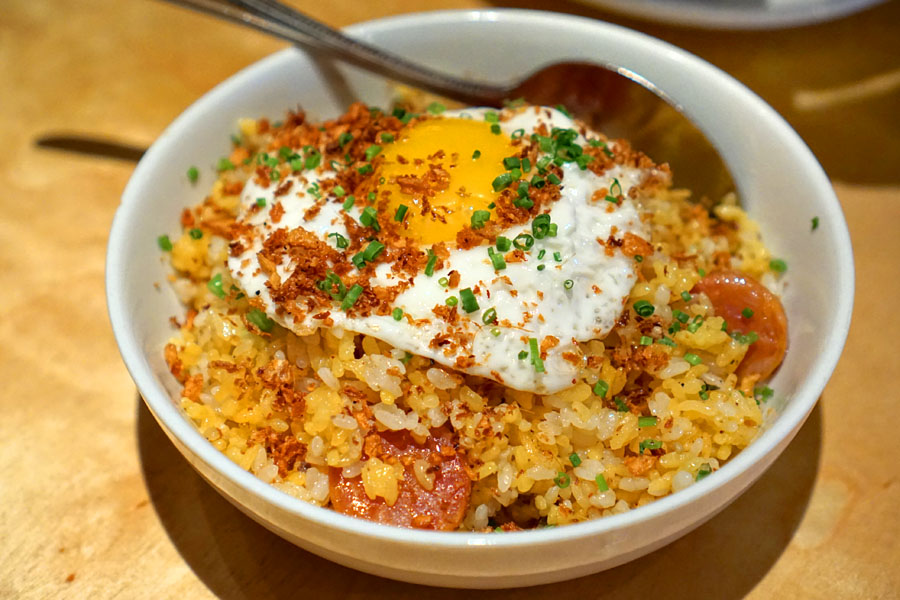 Hangover Fried Rice [$14.00]
| Lop Chong Sausage, Smoked Fish, Green Onion
Fried rice is almost always a good bet, and Olalia's riff on
sinangág
was no exception. I loved the depth imparted by the fish here, and you could really taste the essence of
wok hei
in the dish. The sweetness of the
lap cheong
worked swimmingly as a contrast, while zesty scallions lightened things up. A table favorite.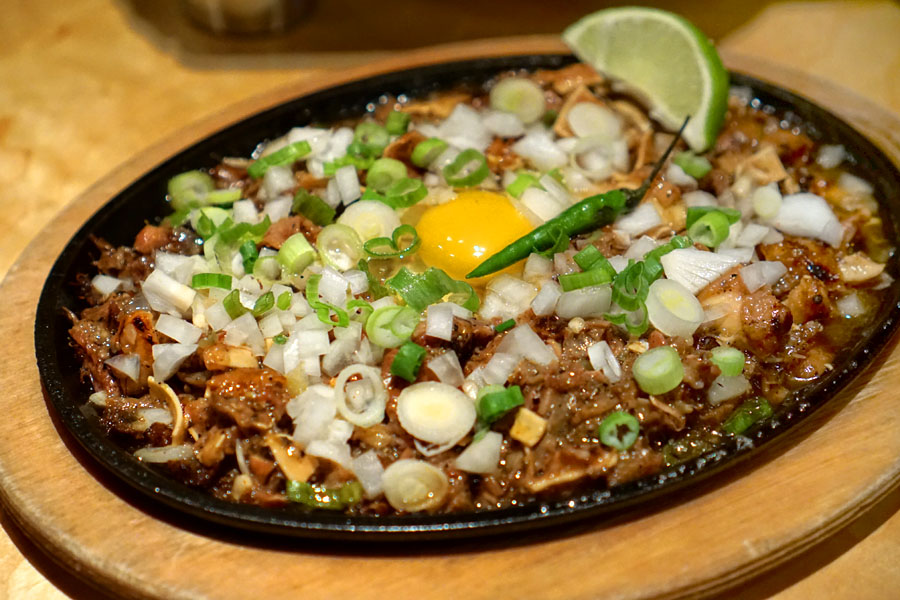 Sizzling Sisig [$14.00 + $3.00]
| Grilled Pig's Head, Onions, Calamansi, Serrano Chili + Add Egg
Arriving on a sizzling platter was a mass of sundry pig parts, imbued with a pungent, porcine funk, moderated just the slightest by a punch of acidity from the calamansi. It was an intense eating experience, and not for everyone I imagine. I will say that I would've liked more textural contrast in the dish, like some fried pork bits or perhaps some
chicharrones
.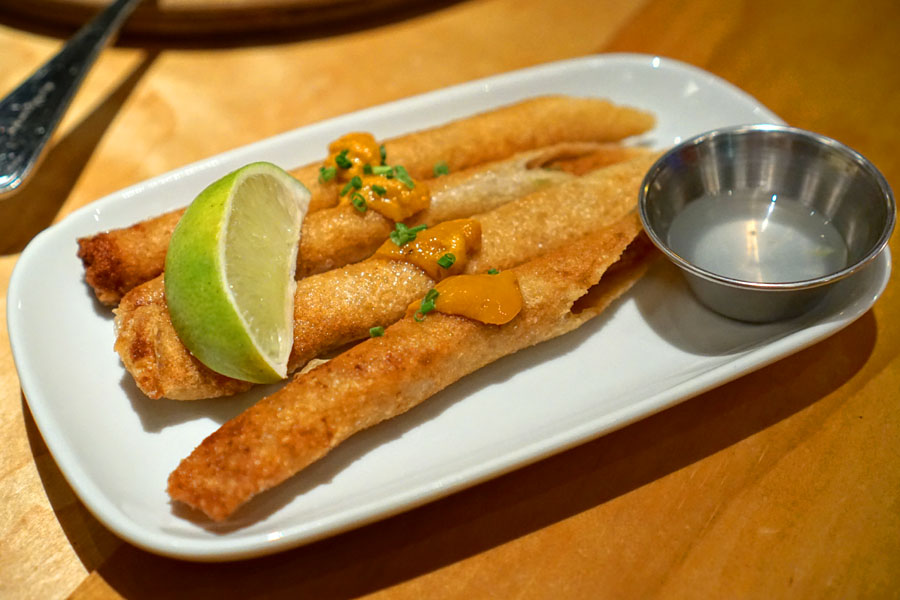 Ma'am Sir Lumpia [$14.00]
| Shrimp Mousse, Lardo, Sea Urchin, Spicy Vinegar
Next came the restaurant's most well-known dish, the Chef's version of
lumpiang Shanghai
. I was a big fan of the mousse here, which was simultaneously refined, yet fully imbued with the sweet salinity of the shrimp. Things were on point texturally too, with the lumpia displaying a wonderfully delicate crunch (thanks to the use of what I believe was
feuille de brick
). The rolls were delish alone, but even better when taken with the paired vinegar sauce, which imparted an acidity that really lifted the dish. My only concern here was the uni, which I found distracting.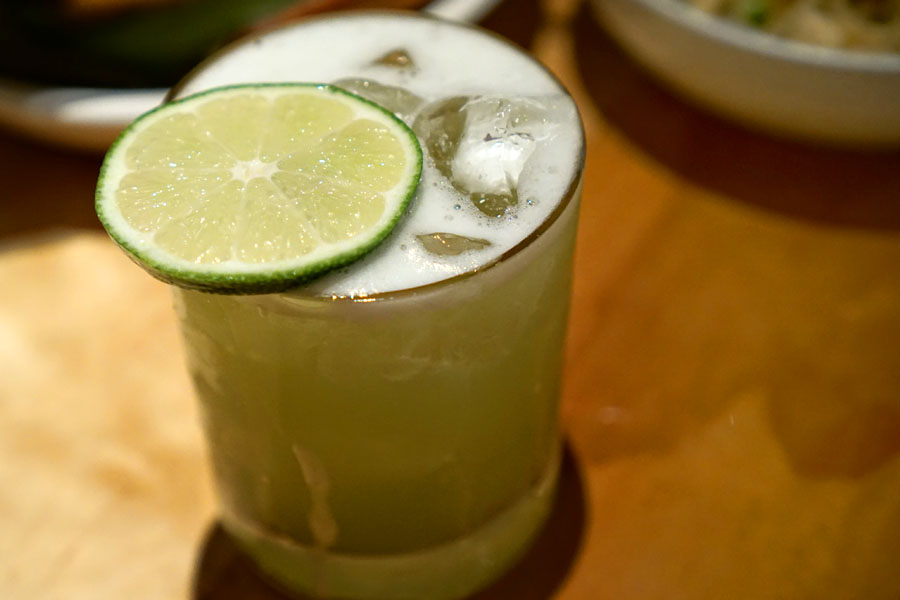 Under the Saya [$13.00]
| Mezcal, Bittermelon, Green Chartreuse, Lime
I don't think I've ever had bitter melon in a cocktail. I'm actually not a fan of the fruit, but it worked here, its bitter, vegetal flavors pairing particularly well with the lime while the Chartreuse took more of a backseat.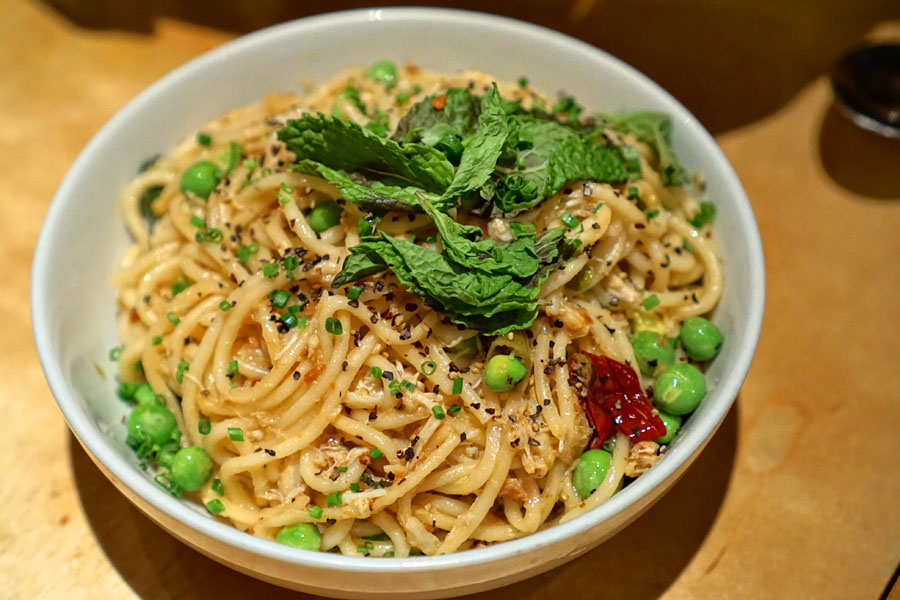 Garlic Crab Spaghetti [$19.00]
| English Peas, Calabrian Chile, Mint
The
ispageti
was another standout. I loved how clearly the sweetness and brine of the crab was presented, and how that matched up with the brightness of the peas, all while the chilies imparted just the right amount of heat. There was this overarching tartness in the noodles that worked for me as well.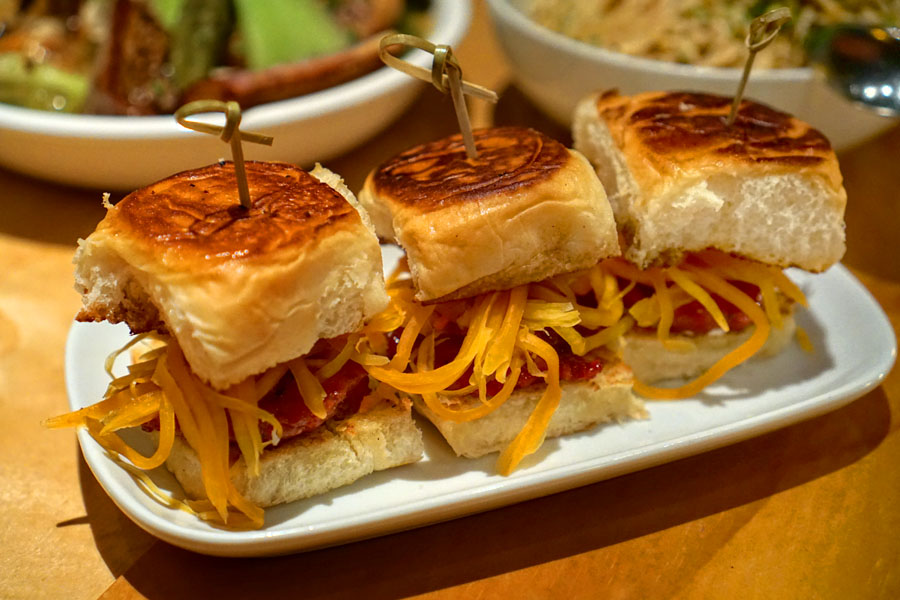 Pork Sliders [$9.00]
| Longganisa, Atchara, Hawaiian Roll
Next we enjoyed a complimentary serving of sliders. They really showed off the sweet-savory character of the
longaniza
sausage, and I really appreciated the contrasting acidity and crunch provided by those pickles. The Hawaiian bread here actually worked to smooth out the flavors at play. A favorite of ours.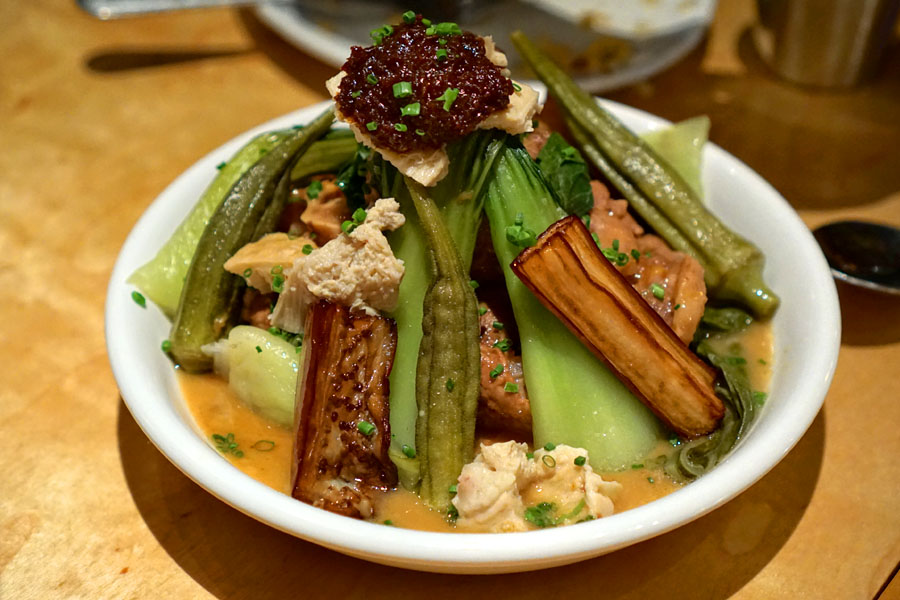 Beef Kare Kare [$27.00]
| Oxtail and Tripe Peanut Curry, Shrimp Paste
In Olalia's interpretation of
kare-kare
, oxtail and tripe were super tender, and paired with a surprisingly robust peanut curry. The incorporation of salty
bagoóng alamáng
amped up flavors even further, while the various veggies toned things down a tad.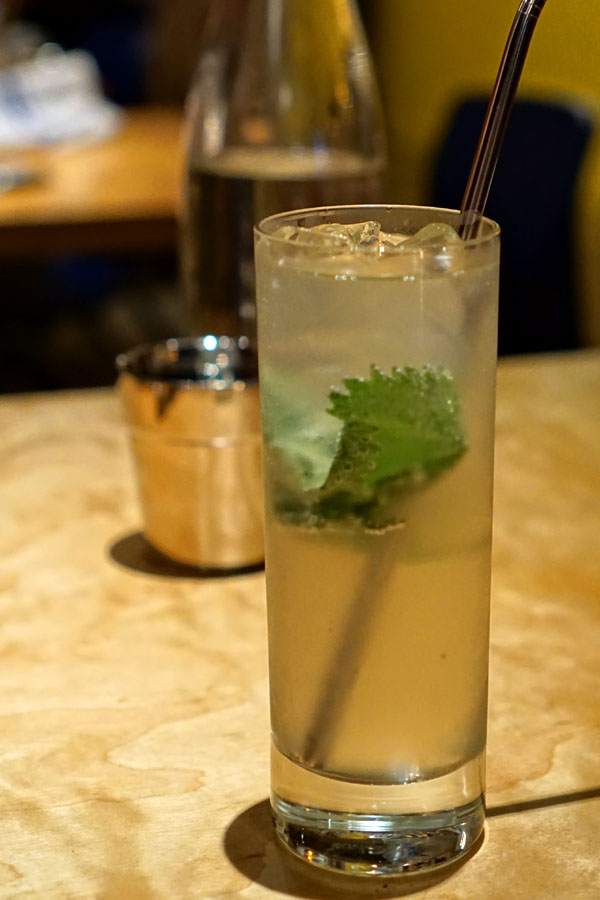 Shiso Highball [$11.00]
| Japanese Whisky, Lemon, Soda
The night's final cocktail was a pretty straightforward
haiboru
. Think tart, bitter, and herbaceous at first blush, with candied lemon and whisky coming in on the mid-palate.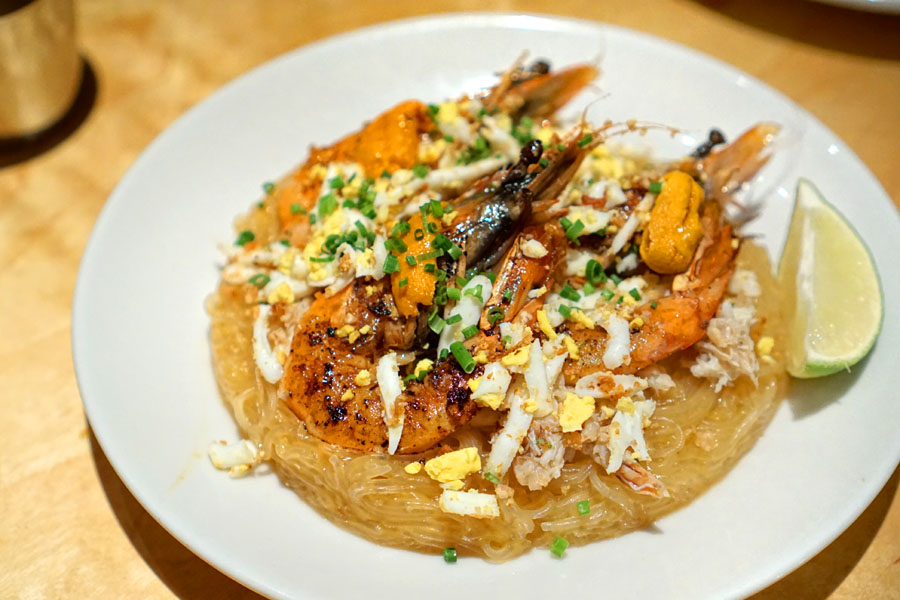 Pancit Palabok
The kitchen then sent out a luxurious rendition of
pancit palabok
, one featuring New Caledonian blue prawns, sea urchin, and crab, in addition to the usual gravy and eggs. I loved how the heady, oceany flavors of the various items of seafood were so forcefully conveyed here, tempered by the egg and those slick, soft, slippery noodles. The star of the show, though, was the shrimp, which were beautifully charred and positively loaded with brine. However, once again, the uni wasn't really needed.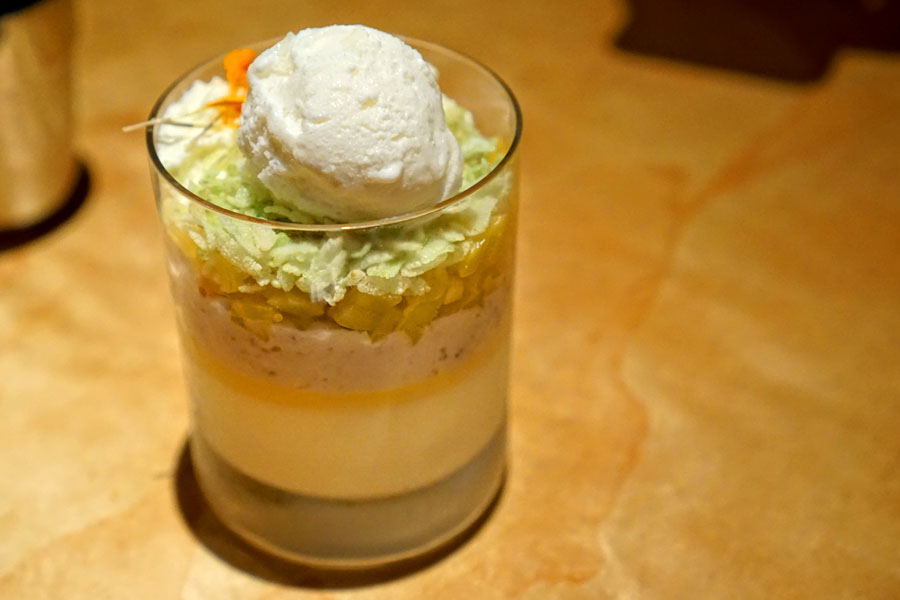 Passionfruit & Coconut Verrine [$8.00]
| Jackfruit, Ube Cream, Lychee Granita
Time for dessert. Our first showcased a fantastic array of textures, along with boatloads of creamy, tropical fruit flavors. Yum.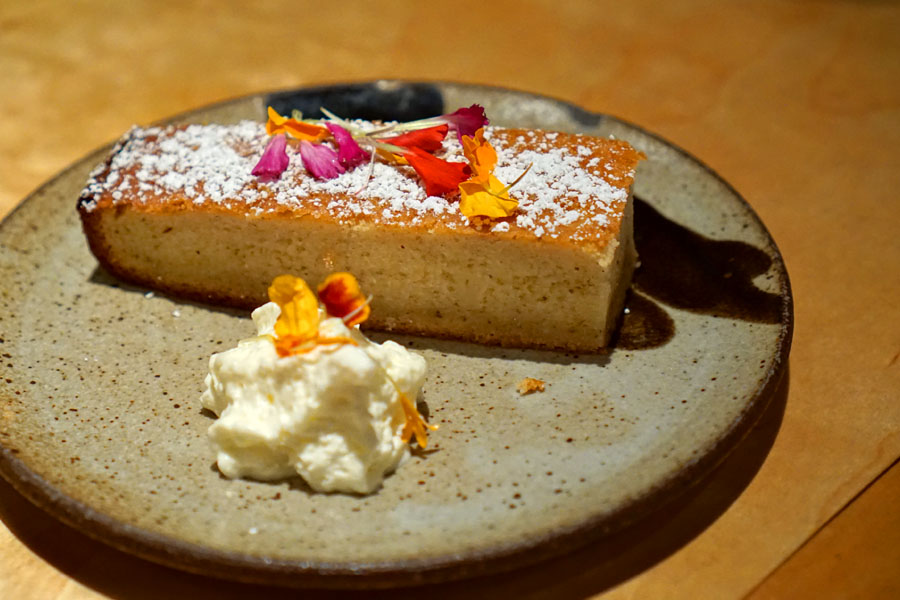 Banana Bibingka [$8.00]
| Pandan Cream
Last up was the
bibingka
, a dense, chewy, yet supple cake that was really satisfying in terms of texture. The actual banana here was pretty subtle, and instead the unmistakable fragrance of pandan stole the show.
Despite a seeming overreliance on sea urchin, Olalia's doing some pretty neat things here at Ma'am Sir. The heart of the cooking is Filipino to be sure, but it's definitely informed by the Chef's time spent in LA. This isn't food you'd find back in the Motherland, but instead a new wave, personalized take on the cuisine that'll help keep Philippine cookery in the spotlight.