Animal (Los Angeles, CA) [2]
Animal Restaurant
435 N Fairfax Ave, Los Angeles, CA 90048
323.782.9225
www.animalrestaurant.com
Tue 04/09/2013, 07:30p-10:15p
At this point,
Animal
is pretty much required eating for food-focused Angelenos, and is undoubtedly
the
place where visiting culinary dignitaries
come to dine
,
and cook
. Recently though, I discovered that a friend of mine (an LA native and self-described foodie, no less) had never tried Jon Shook and Vinny Dotolo's often-times raucous, yet surprisingly refined cooking. Hell, it'd been a while since my last visit here as well, so, as such, we scrounged up a reservation and gave the place another go (I was especially interested given that I'd just found out that Alex Chang from
Paladar
was working here).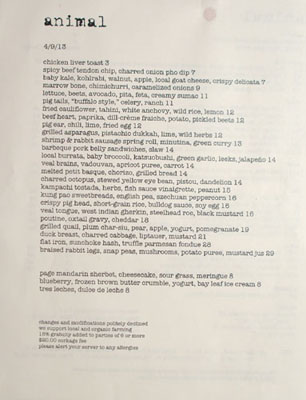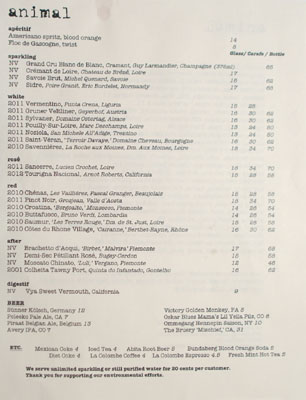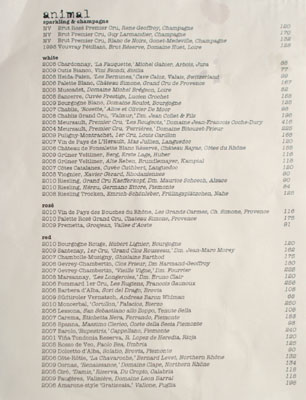 Animal's menu remains much as it's always been, inscribed in increasing order of heftiness and featuring a number of old standbys (see poutine, pig ear) in addition to new dishes. To drink, wine's the main story here--a cool, global list compiled by Operations/Beverage Director Helen Johannesen. Click for larger versions.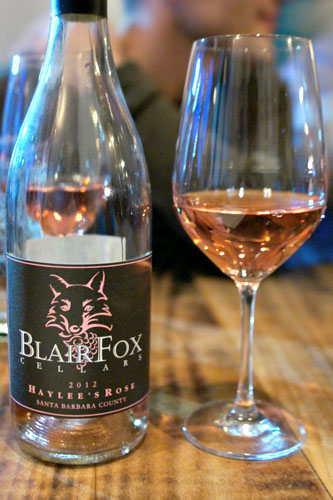 Sitting across from me was none other than
Michael Nemcik
, whom you might remember from
Sirena
and
LudoBites
. He brought along a couple of small-lot, boutique-y, Rhône-varietal wines from Santa Barbara County, the first of which was the
2012 Blair Fox Haylee's Rose
. It was as fun and fruity as it looked, a blend of Grenache and Syrah grapes loaded with bright berry aromas and even more fruit on the palate, all nicely balance by a touch of crisp minerality.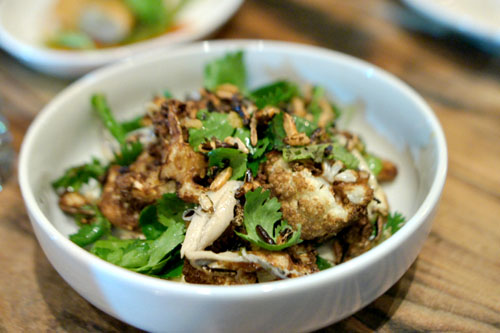 fried cauliflower, tahini, white anchovy, wild rice, lemon [$12.00]
Given my penchant for cauliflower, this was obviously a must-order item, and boy, did it ever deliver. In fact, I might go as far as to say that this was the best that I'd ever eaten. The anchovy just added a fantastic depth and savor to the vegetable, which was then utterly balanced by the brightness of the lemon and herbs in the dish. At the same time, the cauliflower was spot on texturally, and the use of puffed rice contributed even more complexity and interest to the course. A masterpiece rendered in
Brassica
.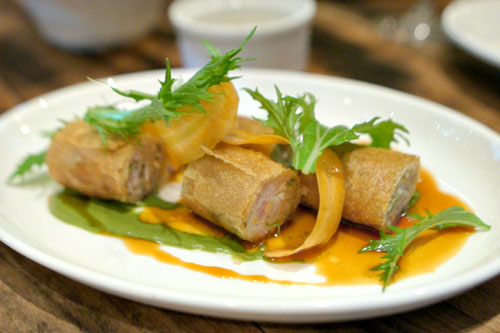 shrimp & rabbit sausage spring roll, minutina, green curry [$13.00]
These spring rolls beat out all the ones that I've encountered at Chinese restaurants, no question. I loved how the sweetness of the shrimp was so forcefully and faithfully conveyed, and how the wrapper offered up such a perfectly crisp and savory counterpoint to the filling. The rolls were delicious alone, but the accompanying green curry and minutina just took things over the top.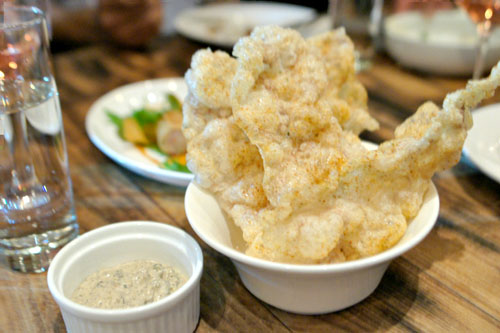 spicy beef tendon chip, charred onion pho dip [$7.00]
Tendon chips were sort of like the ultimate cracklin': fluffy, yet crunchy on the tooth, with a subtly beefy taste that was masterfully paired with the rich, in-your-face blast of goodness from the
pho
dip.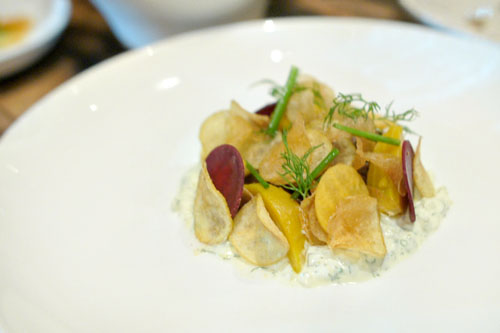 beef heart, paprika, dill-crème fraiche, potato, pickled beets [$12.00]
Corazon
was similarly enjoyable, offering up a hearty blast of meatiness with a fascinating textural component, tarted up with a sprinkle of paprika. I loved the salty crunch from the chips here, and how the crème fraîche brightened up the dish. Hell, even the beets were good, offering up a sweet 'n' sour succulence to the mix.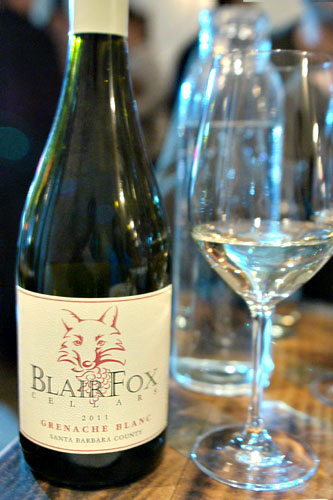 With the rosé all drunk up, it was time for the
2011 Blair Fox Grenache Blanc
, a weightier expression of a Rhône varietal, much heavier on the tongue with a mix of hay, citrus, and underlying boozy tones.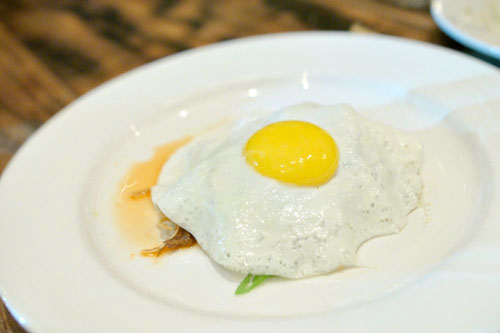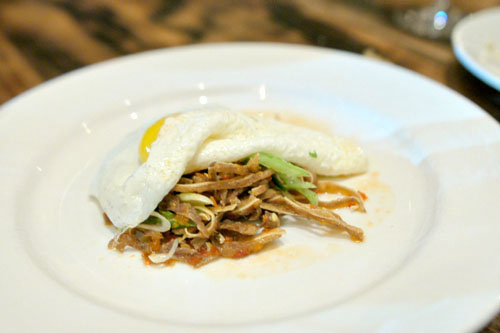 pig ear, chili, lime, fried egg [$12.00]
The pig ear that I had on my
first visit here
remains my all-time favorite, and is probably still the best example in the City. The stars of the show are clearly those crisp, chewy, unabashedly savory strips of
oreille
, perfectly fried and gorgeously complemented by the chili, lime, and scallion present. If that wasn't enough, the egg, wonderfully liquid, added a rich, runny, enveloping lushness to the dish that just tied everything together. There's a reason why this almost never leaves the menu.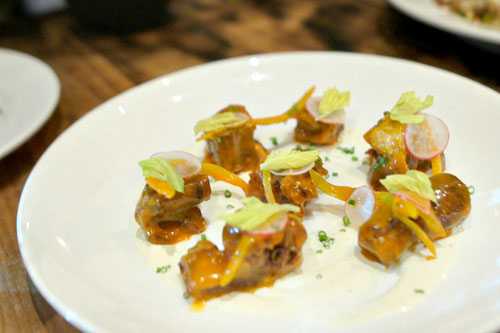 pig tails, "buffalo style," celery, ranch [$11.00]
If someone wanted to replace Buffalo wings with Buffalo tails, I wouldn't protest given the examples here. They had all the spicy, savory goodness of the traditional dish, but with the added textural complexity from the use of pork tail. I certainly enjoyed them alone, but the celery, radish, and ranch just
worked
, completing the classic flavor profile in laudable fashion.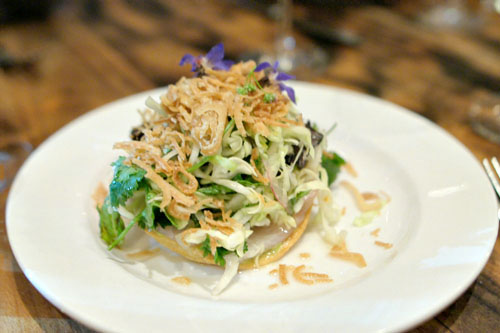 kampachi tostada, herbs, fish sauce vinaigrette, peanut [$15.00]
Next up was a version of the famed hamachi tostada that
Aziz Ansari
(prolly my favorite comic these days) always raves about. The dish hasn't skipped a beat due to the substitution, because it was flawless, as in there was nothing,
nada
that I wanted to change. The kampachi alone was spot on, but the real magic was with the fish sauce, which added a bevy of flavors and facets to the amberjack that worked hand-in-hand with the fragrant herbs and crunchy peanuts in the dish. An absolute must-try.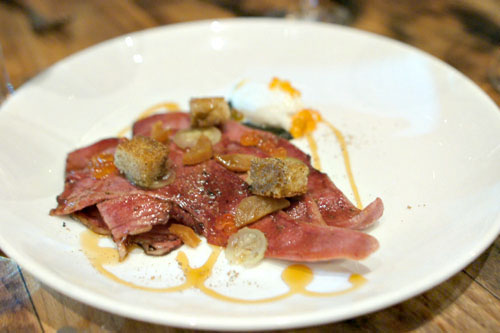 veal tongue, west indian gherkin, steelhead roe, black mustard [$16.00]
Veal tongue was oh-so satisfying: smoky and unabashedly savory, with a good bite to it and a well-placed hit of salt from the trout roe. I'd love to make a sandwich out of this.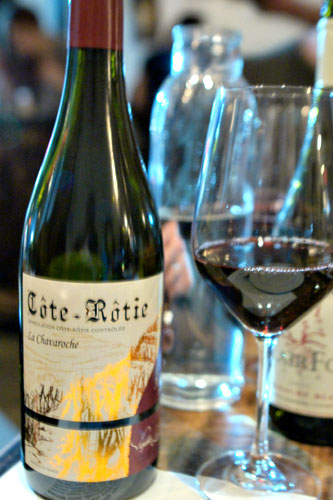 Going off of the wine list now, we ended up with the
2006 Côte-Rôtie, 'La Chavaroche,' Bernard Levet, Northern Rhône [$132]
. This paired well with the heartier fare to follow, showing off a palpable meatiness bounded by nuances of pepper and red fruit. Lovely in the mouth, and definitely a wine of substance.
charred octopus, stewed yellow eye bean, pistou, dandelion [$14.00]
Sadly, given that we were passing around each dish to share, I failed to grab a piece of the octopus in time. It certainly
looked
promising though, and the remaining beans were absolutely delightful as well. I'm sure I would've loved this.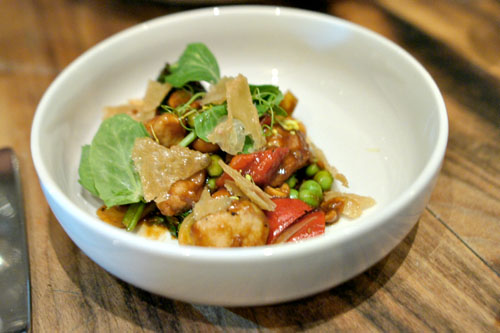 kung pao sweetbreads, english pea, szechuan peppercorn [$16.00]
Here, the kitchen reworked the Szechuan classic to incorporate sweetbreads; the result was pretty smashing. The organ meat arrived supple and mild, even appealing to the more tentative diners at the table, and was finished off beautifully by the kick of the peppercorn. An explosion of savory, spicy flavors, masterfully moderated by the levity of the peas and other associated greenery in the dish.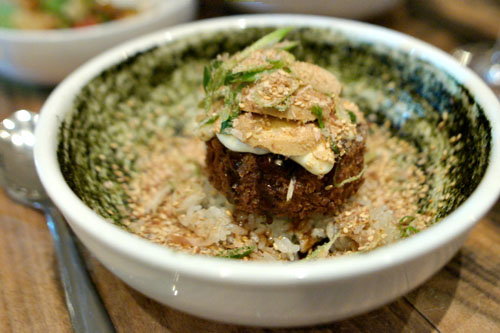 crispy pig head, short-grain rice, bulldog sauce, soy egg [$16.00]
Tête de cochon
was presented here in globular form, showing off a mouth-watering heft that was heightened even further by the sweet and umami notes from the
tonkatsu
sauce. The soy egg and rice, meanwhile, provided an offset to the strong flavors at play, rounding out this Asian-inflected dish commendably.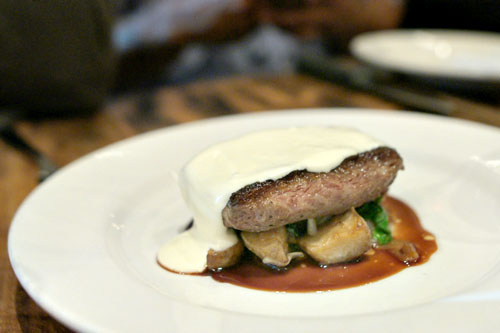 flat iron, sunchoke hash, truffle parmesan fondue [$28.00]
The flat iron, unfortunately, was the least successful item on the menu. The hash was much appreciated, and I was rather fond of the Parm fondue, but the steak itself I found somewhat lacking, both in terms of taste and texture.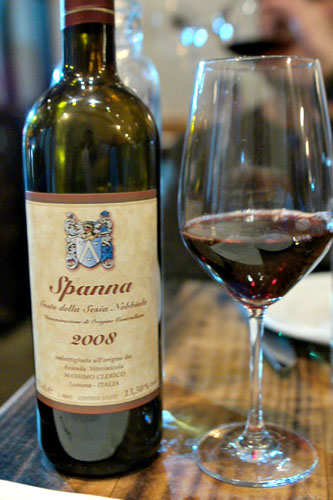 The next pick was the
2008 Spanna, Massimo Clerico, Coste della Sesia Piemonte [$98]
, which some of us weren't as enthralled with. It was perhaps a bit thin, definitely light, with a nice bouquet and juicy red fruit notes. Not bad, but I suppose it just didn't have the consequence that people were looking for.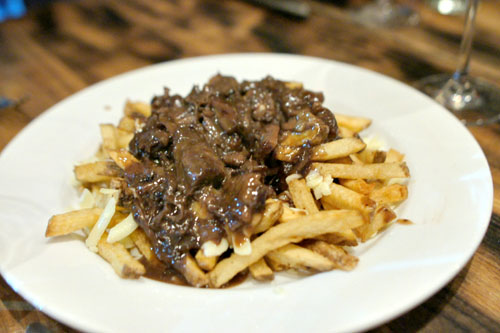 poutine, oxtail gravy, cheddar [$18.00]
Next up was one of Animal's signature dishes, a mainstay on the menu if there ever was one. We're talking big, dark, salty flavors from the oxtail, a bit of cheesy goodness, and some great fries. It may not be the model of finesse, but it satisfies.
At this point, the kitchen sent out an off-menu special consisting of a
Flintstones
-style turkey leg that's brined, smoked, then fried, taking the better part of a day to prepare. It certainly beat out the versions I've picked up at the fair, arriving tender and flavorful, delectable alone, and even better with a dab of the included BBQ sauce and a bite of that celeriac slaw.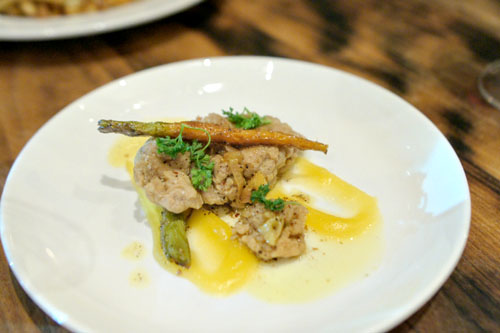 veal brains, vadouvan, apricot puree, carrot [$14.00]
The brain was obviously a bit of a challenge to the more squeamish diners at the table, but even they gave in eventually. It really wasn't off-putting at all, with the crisp, yet creamy organ melding well with the spicy nuances from the vadouvan, all while the carrot and apricot added further blasts of color and contrast to make you forget that you're eating
brain
.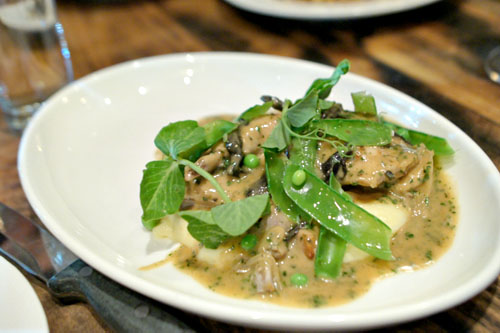 braised rabbit legs, snap peas, mushrooms, potato puree, mustard jus [$29.00]
Our final savory gave us rabbit in leg form. The meat was prototypical of the animal: tender, and yes, tasting a bit of chicken, while the potatoes and mushrooms just made plain sense. The key here, though, was the mustard and pea, which really imparted a sense of balance and proportion to the course.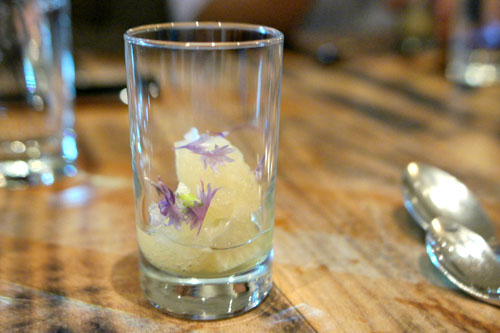 Before dessert, we were provided a shot of pomelo ice with Tokaji gelée, a bright, bracing palate cleanser that did its job admirably, expertly blending the citrus fruit with the sugariness of the wine.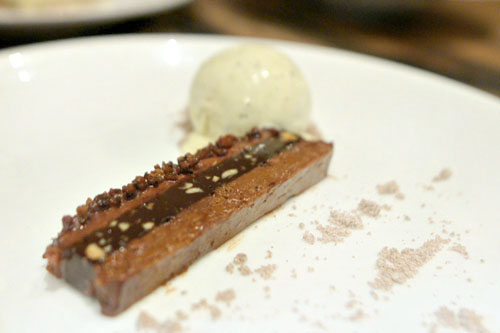 bacon chocolate crunch bar, s&p ice cream [$8.00]
Time for the saccharine stuff. We began, fittingly, with Animal's signature dessert, a possible progenitor to all those savory-sweet things that are all the rage these days. It's a deft mix of chocolate-y, nutty, and salty, one that never fails to satisfy. And the addition of the S&P ice cream? Spot on.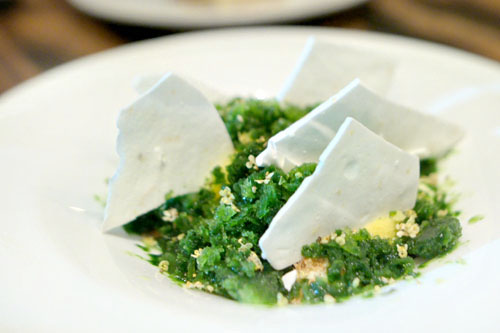 page mandarin sherbet, cheesecake, sour grass, meringue [$8.00]
A couple of my dining companions were a bit taken aback when this came out. After all, how could guys known for Kit-Kat desserts and tres leches come out with something that looked like it belongs in
Jordan Kahn
's repertoire? The taste, though, I think convinced them. The base of sweet, tart cheesecake flavors worked out surprisingly well with the grassy granité here, and the addition of the meringue was the proverbial icing on the cake. Maybe a bit weird, but wonderful.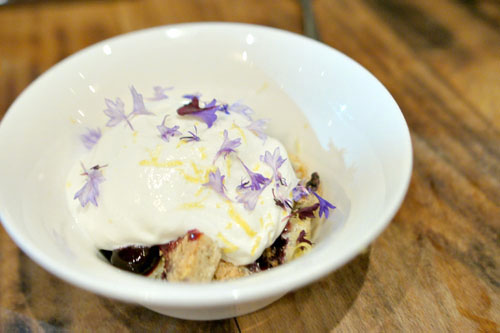 blueberry, frozen brown butter crumble, yogurt, bay leaf ice cream [$8.00]
Speaking of Animal's more modern desserts, this one was arguably even better, acting as a sort of deconstructed and reconstructed blueberry pie, with a faultless interplay between the crumble "crust" and the fruit, all while the yogurt and ice cream added the requisite lightness to the fray.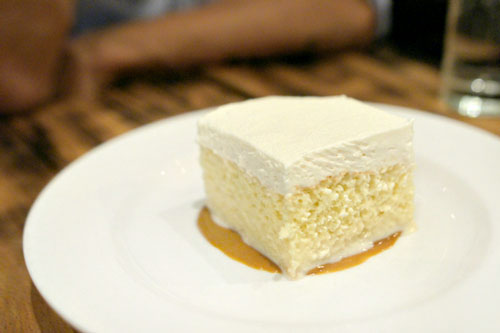 tres leches, dulce de leche [$8.00]
And of course, we closed with the restaurant's famed tres leches, as good as ever with its saturated consistency and multifaceted sugariness. Straightforward, but sort of profound at the same time. Excellent.
I think there's still this perception out there that all Dotolo and Shook are capable of is in-your-face, blunt, meat-heavy cooking. Hell, even
Food & Wine
just called it "
stoner-dude grub
." That would be selling them short, though, as the food is so much more than that. In fact, I'd go as far as to say that their lighter dishes may even outshine the more substantial ones. Really, the kitchen here is a master of balancing heft and levity, of melding the high brow with the low. The result is cuisine that's smart, precise, and unabashedly of-the-moment. In fact, it's been utterly of-the-moment for the past five years, and shows no sign of stopping, thank god. And no, I didn't miss the foie gras at all.