Shunka (Costa Mesa, CA)
Sushi Shunka
369 E 17th St, Costa Mesa, CA 92627
949.631.9854
Sat 03/30/2013, 08:00p-10:35p

I've always been impressed with the quality-to-price ratio offered at sushi joints in Orange County, places sushi as
Ohshima
and
Nana San
where you can get really good sushi without spending triple digits per person (which seems to be the requirement in LA proper). The last such restaurant on my "to-eat" list was Shunka, so I was determined to finally make it out here. Shunka's the work of Chef/Owner Yuki-san, previously head sushi chef at the longstanding (ca. 1978) Matsu in Huntington Beach. Yuki-san spent over 15 years there before opening Shunka in March 2012.

Shunka occupies the space that once held John Arteaga's Frenzy Sushi (tagline: Sushi Gone Wild!). The layout remains basically the same, but the decor's been tweaked to convey a more serious tone. The bar seats about 15, while a few tables line the walls.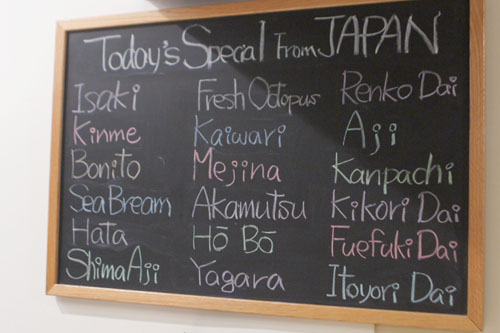 Shunka's menu features your standard sushi fare, though the way to go is to sit at the bar and order
omakase
. If you insist on à la carte, I would at least pick selections from the specials board. Click for larger versions.
Amuse Bouche: Marinated Snapper
Upon being seated, our
itamae
Juro-san quickly thrust before us small bowls of snapper, cooked in sake and soy. The dish didn't look like much, but was surprisingly satisfying, conveying a firm, dense, meaty texture along with a subtle fishiness that paired swimmingly with the mix of sweet and umami flavors present.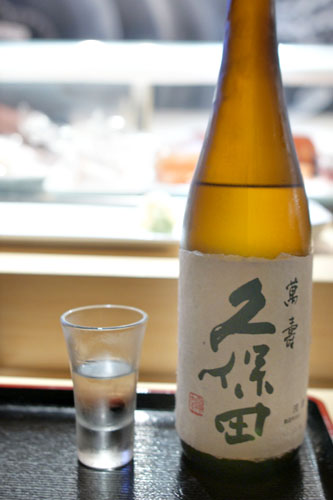 To drink, we decided upon a bottle of the
Kubota Manjyu [$120]
, a legendary
junmai daiginjo
from Niigata's Asahi Shuzo brewery. Though the sake's fairly common, it's also unquestionably enjoyable: smooth, silky, and displaying a delicious blend of fruity and floral nuances along with a light touch of crisp, stone-y minerality toward the close.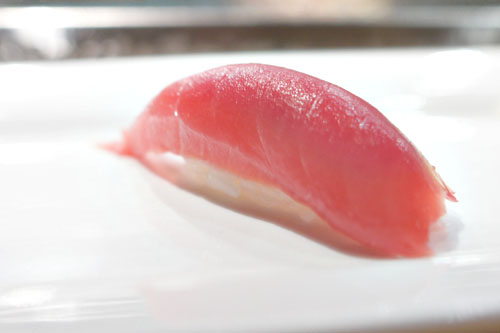 1: Kuromaguro
We commenced our parade of sushi with a textbook cut of bluefin, which I found slick and supple, with a mild savor that was brought out by the application of soy sauce.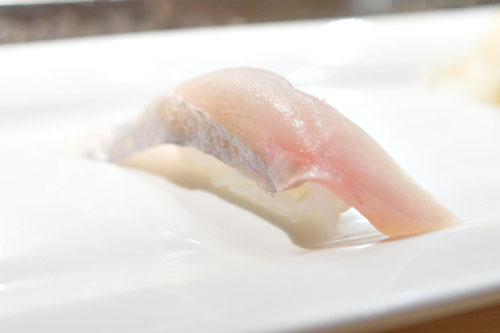 2: Kanpachi
Amberjack, meanwhile, was also on point, with a particularly satisfying consistency and mouthfeel to it.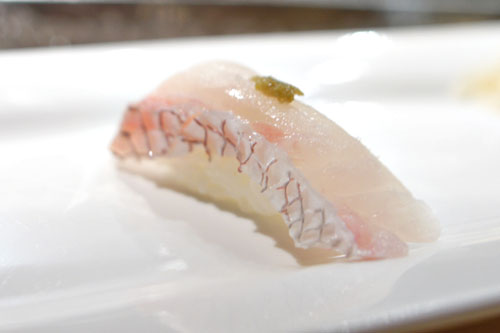 3: Tai
Sea bream arrived clean and crisp, with a fantastic bit of zing from the
yuzukosho
that really complemented the delicate flavors of the fish.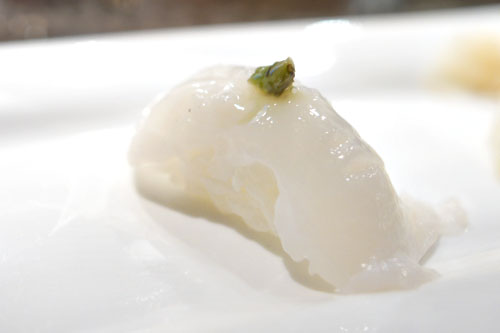 4: Tako
Live octopus was superb: creamy, yet snappy in texture, with a softly salty taste that went perfectly with the spicy condiment on top.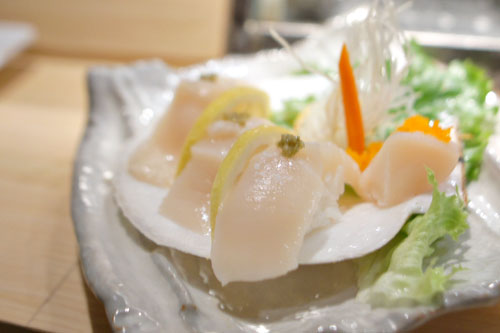 5: Hotategai
Juro-san then dispatched a live scallop in front of us, presenting the bivalve in its own shell. I loved it, reveling in its soft, sweet, saline flesh, perked up by pinpoints of salt and a tiny dab of
yuzukosho
.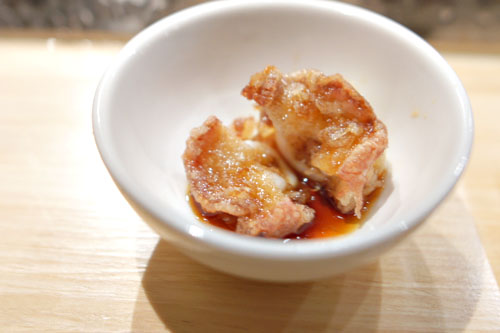 6: Kyuuban
I believe these were the suction cups from the octopus above, deep fried to perfection. I really liked the crispness here, as well as the super-savory flavors at play and how they paired with the tangy, umami-laced sauce.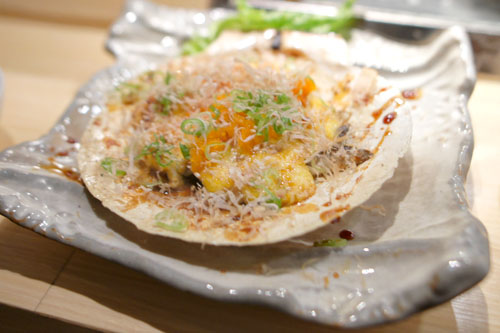 7: Scallop Dynamite
With the remaining "sides" of the scallop, Juro-san prepared what amounted to a scallop dynamite. The
hotate
's firm flesh worked out surprisingly well against the hot, hearty, and creamy elements in the dish, with the scallion providing a much needed dose of levity to the mix.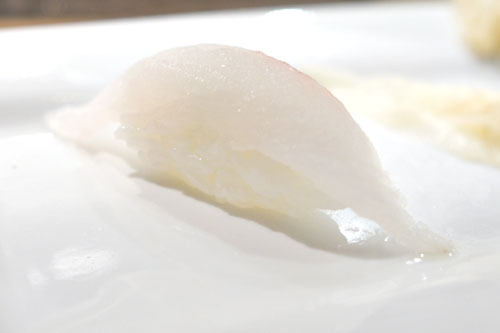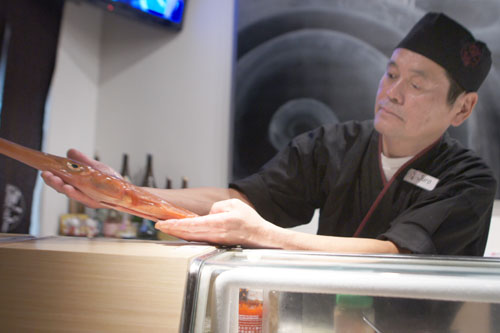 8: Yagara
We were then given cuts of trumpetfish, a real rarity in sushi restaurants that I'd actually never tried before. The flavor on this one was very, very mild, so for me it was all about the texture: soft and supple, but with a very pleasing snap to it.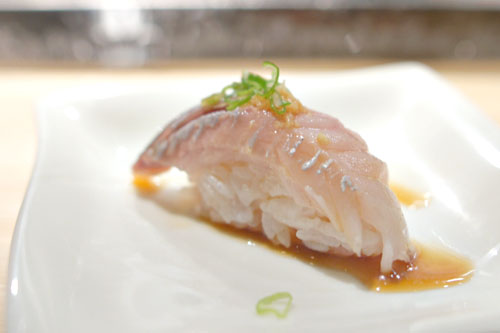 9: Aji
Next, an entire mackerel (a small one) was prepared for us by the Chef. It was very mild, very delicate for
aji
, with a lovely counterpoint in the form of that ginger and scallion, though I would've preferred less sauce.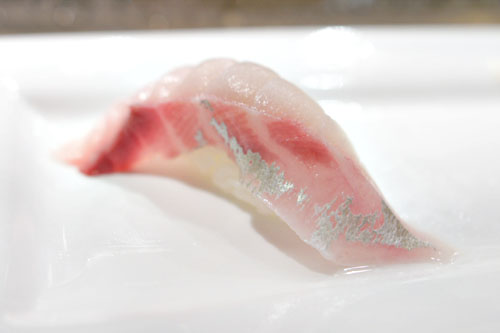 10: Shima Aji
Striped jack was spot on with its crisp, snappy consistency and sweet, saline flavors. Very nice!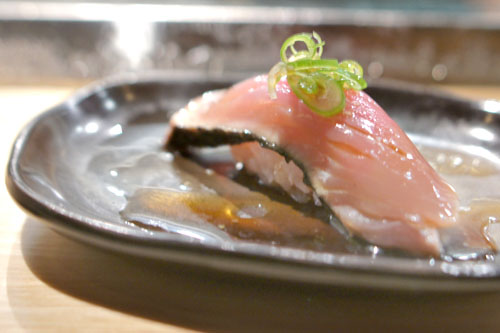 11: Katsuo
Bonito, or skip jack tuna, gave us a fantastic savoriness that was deftly offset by the scallion. The tang of the accompanying ponzu made sense too, though perhaps less would be more here.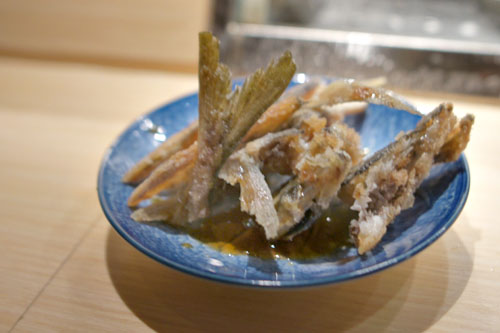 12: Hone Senbei
At this point, the remains of the mackerel from above were deep fried to make some delightful bone crackers, which showed off the savory, ocean-y essence of the fish, balanced by a hit of citric sourness.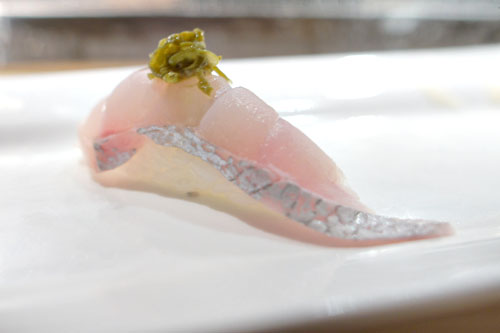 13: Medai
Medai
was yet another rarity, something that I'd only had before at
L2O in Chicago
when Laurent Gras was still there. Also known as Japanese butterfish or blue nose, it was somewhat creamy in texture and benign in taste, with a great kick of piquancy from the topping of what I believe was some sort of pepper.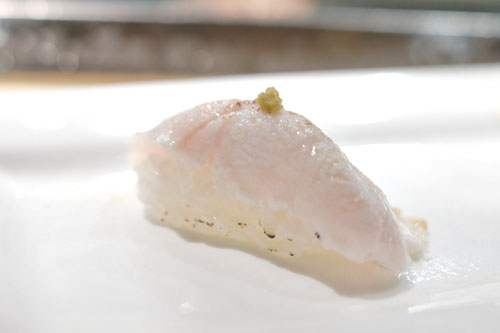 14: Akamutsu
Juro-san followed that up with
akamutsu
, a.k.a. gnomefish, blackthroat seaperch, or deep sea snapper. It's a fish that I'd only tried before at Las Vegas'
Bar Masa
. Tonight, it was fantastic, with a glorious savory char character that paired gorgeously against the salt-spicy jolt of
yuzukosho
.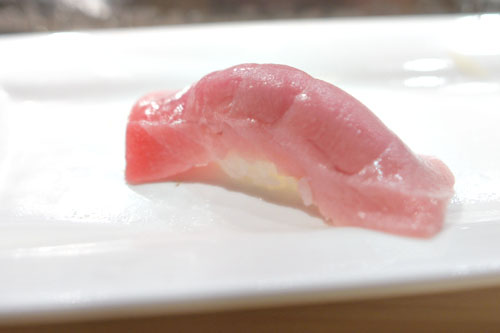 15: Toro
Toro was of the medium variety: cool, dense, fatty, and almost melt-in-your-mouth, though not particularly interesting.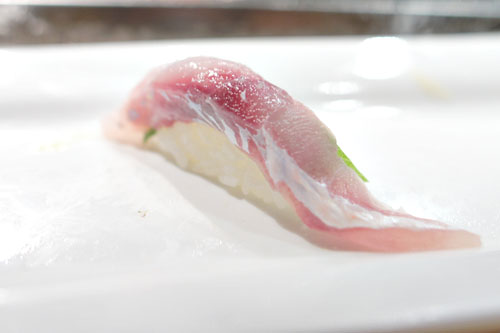 16: Itoyori Dai
Itoyoridai
is another hard-to-find specimen. Known as golden threadfin bream, its flesh was lean and subtle, with the shiso and salt here serving as great accompaniments.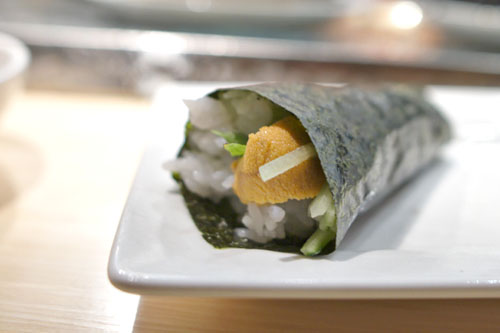 17: Uni No Temaki
Our only roll of the night featured lush, creamy tongues of sea urchin, which paired well with the minty shiso notes in the course. Loved the undercurrent of spice here as well.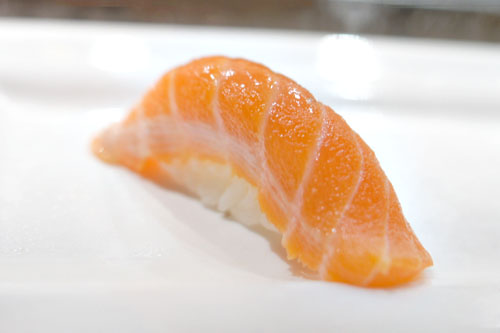 18: Sakura Masu
Ocean trout was crisp to the bite, and very full-flavored, with a palpable brine that worked out well with the lemon-y tartness present.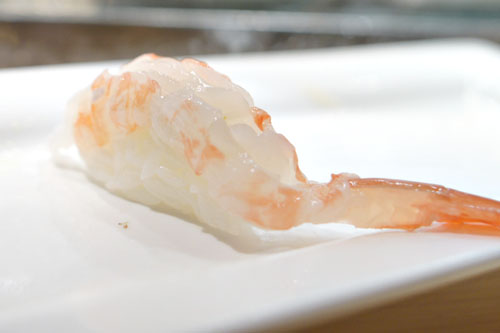 19: Amaebi
Sweet shrimp was butchered right before our eyes, the result of which was a masterful preparation of
amaebi
: sweet, creamy, and saline, with certain crispness and spring to it.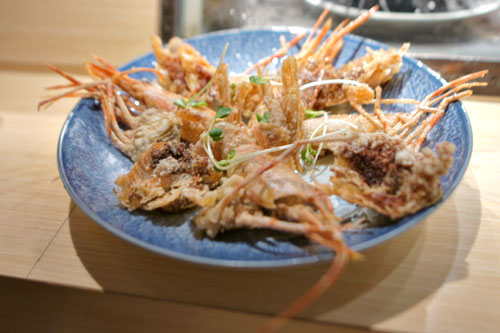 20: Ebi No Atama
The heads of the aforementioned shrimp, of course, were then deep-fried and brought out.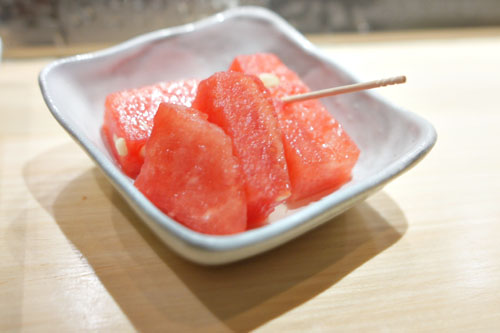 21: Suika
Dessert comprised watermelon, which seemed particularly succulent and sweet.
Our
itamae
Juro-san, along with fellow chef Eiji-san and server Shiori.
Have no doubt, Shunka managed to impress. Save for a few minor quibbles, the food here was pretty much spot on, really solid, with a selection of rare seafood that's hard to match. Service was also commendable, as were the chefs' fun, lighthearted demeanors. The restaurant is certainly one of the top sushi spots in OC, and was a fantastic value to boot, coming in at only $58.50 per person, food only. Sushi fiends, take notice.