Bouchon (Beverly Hills, CA) [3]
Ad Hoc Fried Chicken at Bouchon
235 N Canon Dr, Beverly Hills, CA 90210
310.271.9910
www.bouchonbistro.com
Mon 03/04/2013, 07:15p-10:25p
Fried chicken is just one of those things that--like risotto or uni--I just can't resist ordering when it's on a menu. And for the past several years, the version at Thomas Keller's
Ad Hoc
has served as my gold standard, a magnificent preparation of the bird that's pretty much the pinnacle of fried avian perfection in my eyes. I wasn't the only one smitten, and the chicken has turned into a thing of legend, even spawning its own
do-it-yourself kit
. Thus, I wasn't too surprised when it became a mainstay at
Bouchon
, popping up roughly once a month as the star of the show in always-packed fried chicken nights.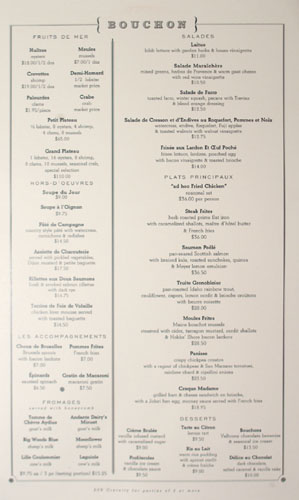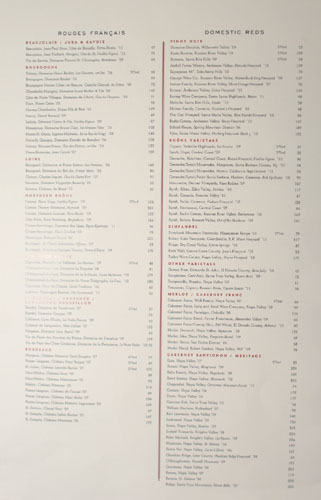 Now, just because it's
poulet
night at Bouchon, that doesn't mean the regular menu isn't available as well. We ended up doing the "ad hoc Fried Chicken, seasonal set" at $36 per person, with a couple of additional courses thrown in for good measure. Click for larger versions.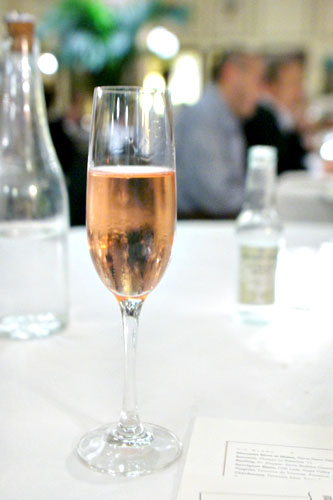 To wet our whistles, a bottle of bubbly was certainly called for, and we went with the
Crémant de Bourgogne Rosé, Parigot & Richard MV [$60]
. It was a fun, lively, easy-drinking sparkler to start, with a definite fruity sweetness to it and just a hint of countervailing minerality and yeast.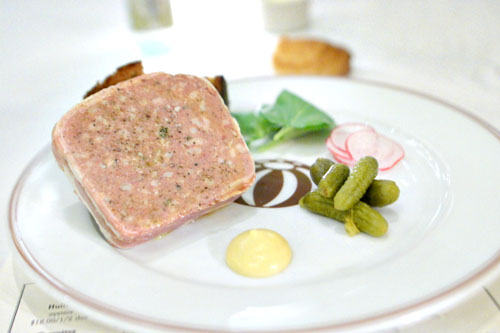 Pâté de Campagne [$14.50]
| country style pâté with watercress, cornichons & radishes
A French country style pâté was right on the money, with the forcemeat showing off a rustic, gritty consistency and a boatload of pork-y goodness, enhanced with just enough liver-y edge. Lovely alone, and even better when contrasted by a dab of mustard and some pickles.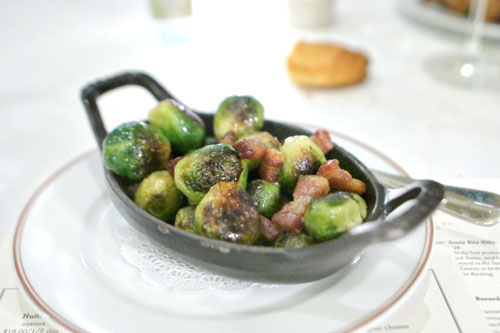 Choux de Bruxelles [$7.00]
| Brussels sprouts with bacon lardons
Brussels, meanwhile, were spot on: unabashedly bright and bitter, with a wonderful char and a great hit of salt from the bacon.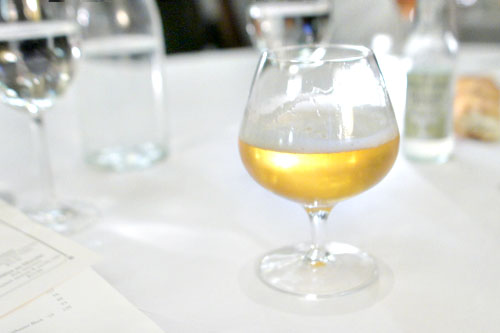 Sommelier Alex Weil sent out a glass of
Belgian Blonde Ale, Anderson Valley Brewing Co., "White Apron," CA [$6]
, a floral, spicy, effervescent pale ale that happens to be produced exclusively for Thomas Keller restaurants. Note that this replaces the previous "White Apron," which was Czech Pilsener brewed by Russian River.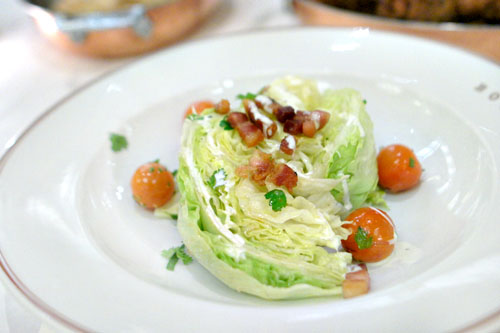 Wedge Salad
The iceberg brought a welcomed levity to the meal, with the crisp shards of the lettuce forming a fitting base on which the lardons, tomato, and buttermilk dressing could really sing. Utterly straightforward, but undeniably effective.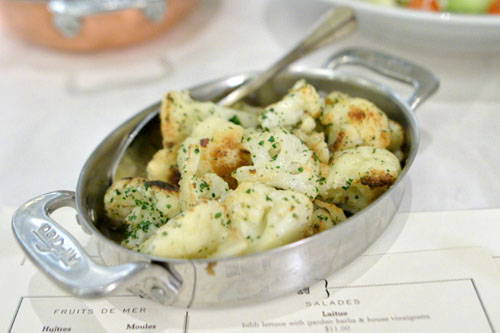 Roasted Cauliflower
The cauliflower was prototypical in presentation, nicely done, but a touch on the soft side.
To go with our main course, we enjoyed a bottle of the
Pernand-Vergelesses, Domaine Marius Delarche, Les Combottes '11 [$76]
, a gift from a diner at another table. It was unmistakably white Burgundy in style, a tight, stony expression of Chardonnay that worked surprisingly well against the chicken.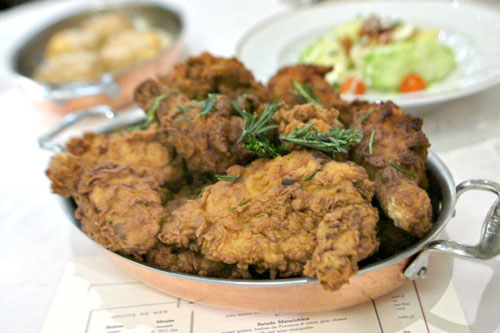 Ad Hoc Fried Chicken
And now, we come to the evening's
pièce de résistance
, the much ballyhooed fried chicken. The bird is first brined in a lemon-herb mixture, then dredged in flour (with a mix of garlic powder, onion powder, paprika, cayenne, and Salt-n-Pepa), dipped in buttermilk, and then dredged in the coating once more before being fried. The end result of this effort was a delicious version of the American classic, with the rough, savory, delightfully crisp crust forming a fantastic complement to the tender, juicy, flavorful flesh within, all while the use of rosemary and thyme added a great herbaceous counterweight in the dish. I'd reach for the drumsticks first, but the white meat didn't give up much.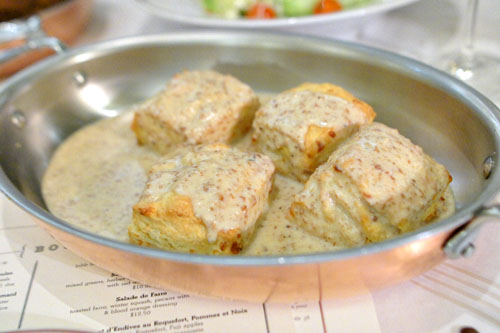 Biscuits & Gravy
Biscuits were firm and dense, a bit monolithic alone, but a great vessel to soak up the hearty, mouth-watering gravy.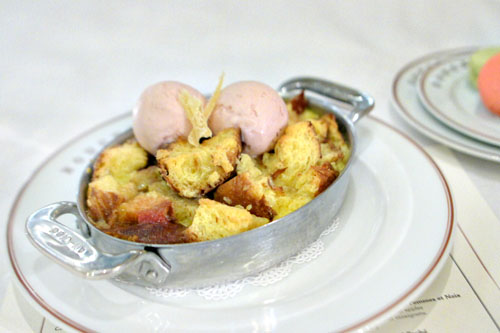 Rhubarb & Strawberry Bread Pudding [$18.00]
| for two
For dessert, we went with quite possibly the best bread pudding I'd ever eaten. Its consistency was just what I wanted, a blend of fluffy, dense, and luscious textures that were imbued with a fruity, sweet spice. It was delectable by itself, but the two mounds of tart, tangy ice cream on top just sealed the deal.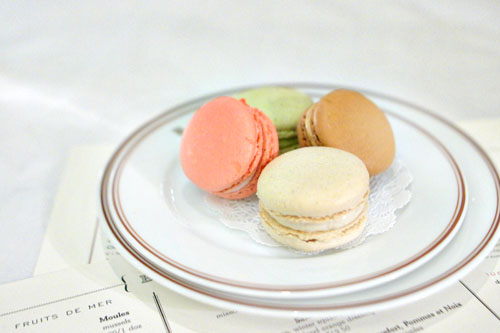 And finally, some macarons, in raspberry, green tea, peanut butter & chocolate, and vanilla flavors if I recall correctly.
Overall, we had a lovely evening. The food was on point, nothing too fancy, nothing that shows off, but straightforwardly satisfying dishes that hit the spot. As for the oft-lauded chicken, it didn't quite reach the majestic heights of the bird at Ad Hoc (I have my doubts that anything will), but was tasty and comforting nonetheless--
a must-try for every fried chicken fiend out there
.