Paladar Underground Restaurant (Los Angeles, CA)
Paladar Underground Dinner
Los Angeles, CA 90007
818.645.8664
www.paladarunderground.com
Thu 04/28/2011, 07:00p-10:00p

Underground dining seems to be all the rage these days. Of course, at the high-end you have places such as
Wolvesmouth
and
Pheast
, but on the other end of the spectrum, I was surprised to find out about
Paladar
, a supper club launched a year and a half ago by two undergraduate students at USC: Alex Chang (a kinesthesiology major) and Bobby Kronfli (a music industry major). Chang serves as chef, while Kronfli runs the front-of-the-house and handles the business side of things (perhaps a natural fit, given that his family owns Italian wine bar
Bacaro LA
). As for the name,
paladar
refers to small, family-operated restaurants run out of someone's home, popular in Latin America, and indeed, true to form, Paladar takes place inside the two roommates' North University Park apartment.
Two seatings of roughly 30 people each are available: 7:00 and 9:00. As for the menu, normally three courses are offered (app, main, dessert), priced at a very affordable $15 (key for their mostly student clientele). Tonight, which happened to be the last dinner served at this location, the supper club returned to its roots, offering up classic American fare with a Paladar twist. In addition, I also requested some additional courses ahead of time so that I could better gauge the food. BYOB is encouraged, though cocktails are sometimes available, and I'm told that there were even occasional wine pairings from Paladar's resident sommelier, Cameron Parsons.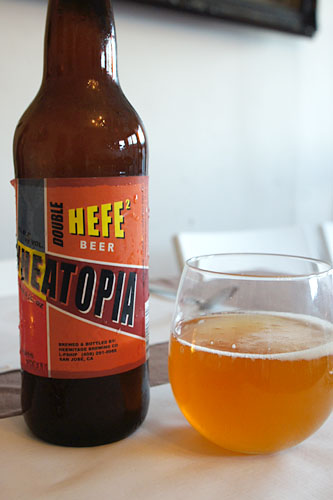 Taking full advantage of the BYO policy, I brought along a couple of beers and a Beaujolais. The Hermitage Brewing Wheatopia, interestingly enough, was a hefeweizen that didn't quite taste like a hefeweizen. It certainly wasn't bad though, being very easy-drinking with a subtle smokiness and pleasant malt character.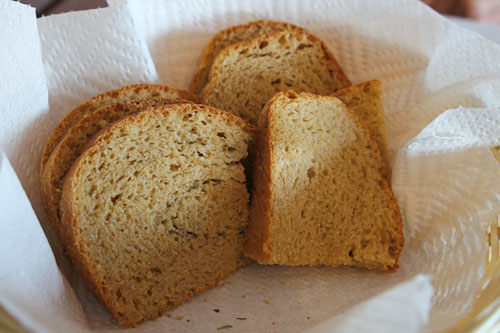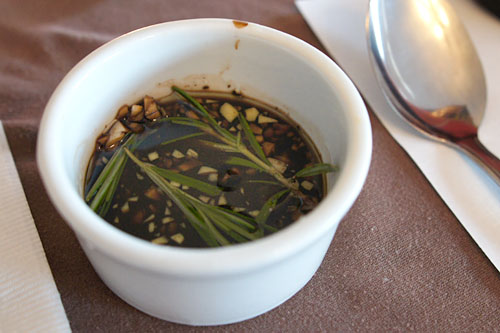 Bread is provided by
Bicycle Bread Company
, a local bakery founded by USC graduate Stephen Gordon back in 2008 (he was later joined by his younger brother Ben Gordon, a USC undergrad). I believe what we had tonight was a Honey Wheat, which I found quite delicious, especially when paired with the accompanying dipping sauce.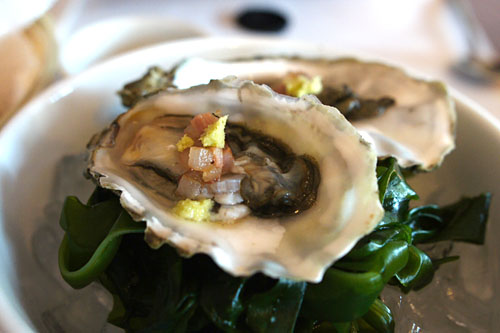 1: Fanny Bay Oysters/ Guanciale/ Wasabi/ Kelp
Oysters from Fanny Bay, British Columbia showed off a healthy bit of salinity, and finished with a bright, briny flourish reminiscent of cucumber. They were nicely countered by the heat of the wasabi, while the guanciale served to add some savoriness to the mix. Meanwhile, I used the kelp as a sort of palate cleanser after consuming the dish.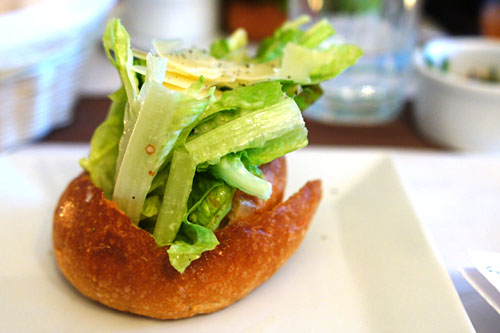 2: Mixed Romaine Lettuces/ Home-Made Caesar Dressing/ Parmigiano Reggiano/ Crouton.
Paladar's take on a classic Caesar salad was next. The flavors here were traditional, but the use of a crouton "bowl" was somewhat novel.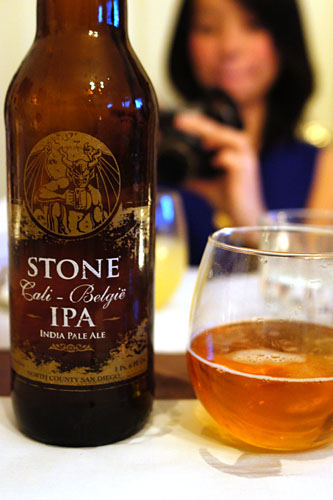 With the hefe dispensed with, it was time to open the Stone Cali-Belgique IPA. I often find Stone's IPAs a bit assertive for my palate, so I definitely appreciated this Belgian-inspired effort. The beer showed off a prototypical hoppiness to be sure, but it also conveyed tempering notes of spice, citrus, and herbs that I really liked.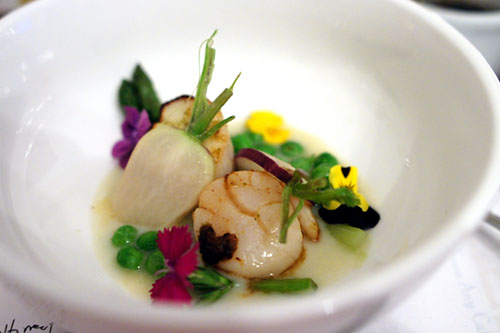 3: Sea Scallop/ English Peas/ Asparagus/ Radish/ Spring Onion Purée/ Yuzukosho.
Scallops arrived just about perfectly cooked, showing off the delightfully rare consistency that I crave. They demonstrated a marked salinity and very apparent pepperiness (from the
yuzukosho
, a Japanese yuzu-pepper-salt seasoning, I imagine), but were beautifully balanced by the various vegetables at play here (with the peas being particularly enjoyable). I really appreciated the maturity displayed in the plating as well. My favorite course of the evening.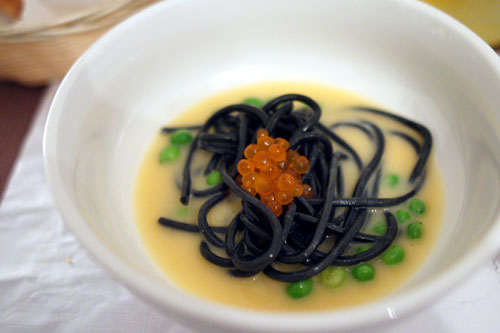 4: Squid Ink Noodles/ Ika Shiokara-Butter Emulsification/ English Peas/ Ikura.
Quite simply,
ika shiokara
is a Japanese delicacy of fermented squid guts, and as you'd expect, it has a very strong, very fishy flavor. It's not something that you see every day, and in fact, I'd only had it twice before: at
Aburiya Toranoko
and at
Hachi
. As such, I was rather surprised to see it being employed at Paladar. Here, the
shiokara
's power was moderated by the inclusion of butter, but even then, it lent a hefty dose of brine to the otherwise mild noodles. This intensity was further heightened by the use of
ikura
(salmon roe), but the peas did an admirable job in balancing out the dish.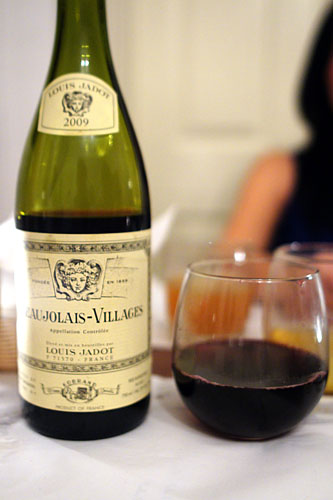 In preparation for our
pièce de résistance
, I popped open the 2009 Louis Jadot Beaujolais-Villages that I'd brought. It was sort of the quintessential Beaujolais, a light, simple, tart-ish wine with loads of juicy fruit flavors and a slight peppery tinge. Eminently drinkable, and perfect for early summer quaffing.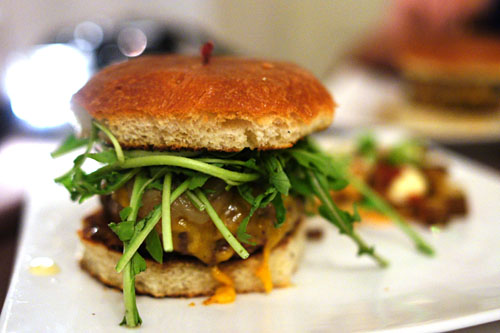 5: The PALADAR Burger: Angus Beef/ Cheddar Cheese/ Onion Jam/ Remoulade/ Wild Arugula/ Brioche Bun. With: Yukon Gold Potatoes/ Aioli.
The Angus patty arrived at the right temperature, and was suitably tender, succulent, and imbued with a proper beefy goodness. The pairing of cheddar cheese was straightforward, but effective, and the arugula's bitterness served as a healthy counterpoint in the burger. I appreciated the tanginess of the remoulade, and I even enjoyed the onion jam, which I was afraid would be too sweet. In a way, this sort of reminded me of a more approachable version of the
Father's Office
burger. The accompaniment of potato with aioli was also quite delectable, reminding me a bit of the classic dish of
patatas bravas
.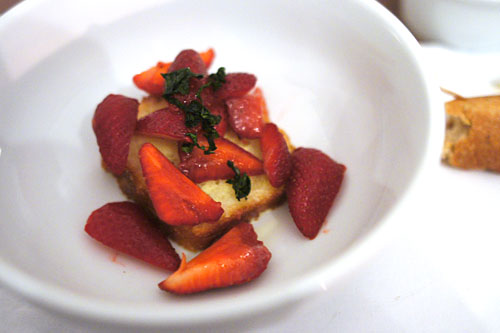 6: Pound Cake/ Fresh Market Strawberries/ Creme Anglaise/ Candied Basil.
The pairing of pound cake with strawberries wasn't exactly novel, but nevertheless enjoyable. The key here was that candied basil, which contributed some pungent, spicy overtones to the dessert that really helped tie everything together.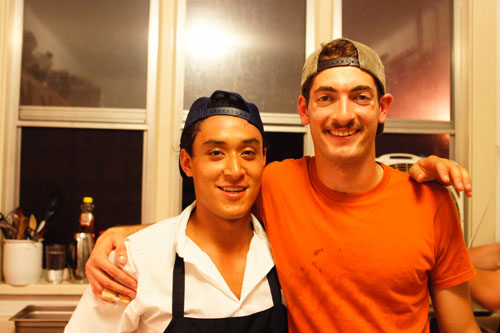 Alex Chang and Robert Kronfli.
I didn't quite know what to expect coming into Paladar, but the kitchen managed to turn out a rather satisfying meal. I wish I had something like this when I was an undergrad--I'd be coming here all the time! I was able to see the underpinnings of some real talent in Chef Chang, which is especially impressive given that he's had no formal training and only started cooking recently. He's stated that he'd like to pursue cooking full-time, so it'll be interesting to see where that leads him.
As for what's next for Paladar, expect a
documentary
(directed by Gil Freston) to be released in the near future. More importantly, given that the duo is graduating, Paladar will be moving to
Bacaro LA
, which is actually just a stone's throw away from the old apartment. I'm curious to see what they can do with a real space and a real kitchen. The first dinner will be Mother's Day, Sunday, May 8, so be on the lookout for that!