San Diego Breweries Part 1
Toolbox Brewing Company
1495 Poinsettia Ave, Vista, CA 92081
760.598.1477
www.toolboxbrewing.com
Fri 04/24/2015, 03:55p-04:40p

I recently found myself down in the San Diego area for a quick tour, and given my penchant for beer, it made sense to stop by a few places on the way. First up was North County's Toolbox Brewing, named after a somewhat fanciful description of the downtown SD skyline. Specializing in small-batch sour and farmhouse ales, the brewery debuted at the start of September last year and is the work of owners Spencer Peters and Amanda Elder, as well as brewmaster Peter Perrecone.

Befitting the name, there's certainly a handyman theme happening inside the tasting room, with a nod toward the area's military history as well.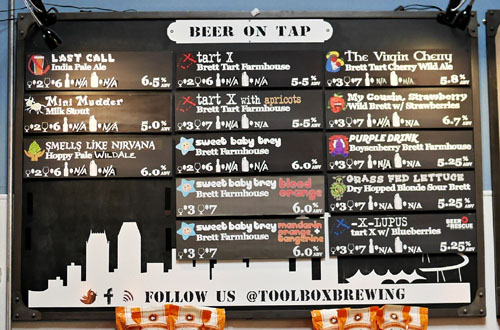 Above, we see Toolbox's tap list, which slants heavily toward the sour, farmhouse, and fruited stuff (not that I'm complaining). Click for a larger version.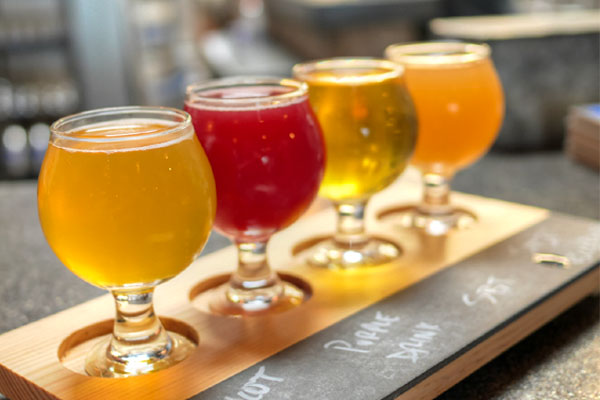 We went with a quartet of four-ounce tasters for our first round (left to right):
Tart X with Apricots / Brett Tart Farmhouse [$3]: Nice floral, fruity apricot and funk in the aroma; on the tongue, the sourness and earth dominate, with stone fruit taking a bit of a backseat.
Purple Drink / Boysenberry Brett Farmhouse [$3]: Surprisingly light on the nose, with just a touch of the fruit, while the taste brought more tartness and a whisper of berry.
Sweet Baby Trey / Brett Farmhouse [$2]: The subtle graininess on the aroma really belied the super funky, almost blue-cheese like flavors of the beer.
Sweet Baby Trey with Blood Orange / Brett Farmhouse [$3]: Amazingly, this had even more lactic earthiness than the base beer, all augmented by juicy, dark notes of blood orange.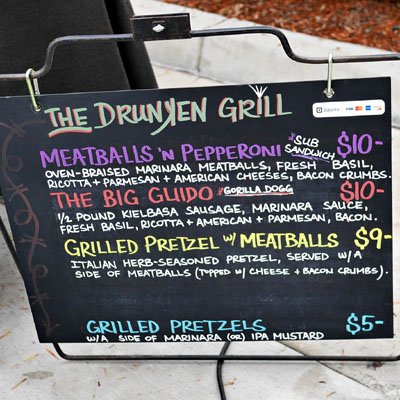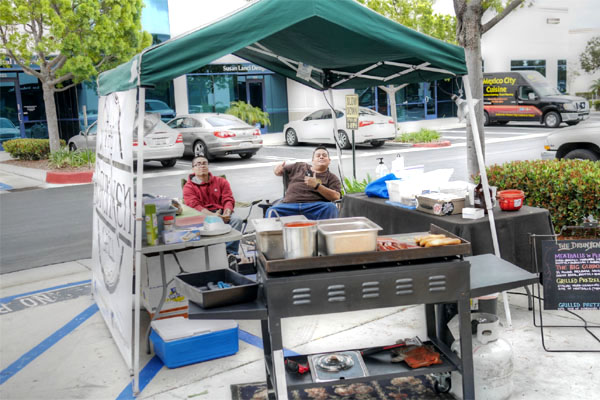 Local outfit
The Drunken Grill
provided beer-appropriate eats this afternoon.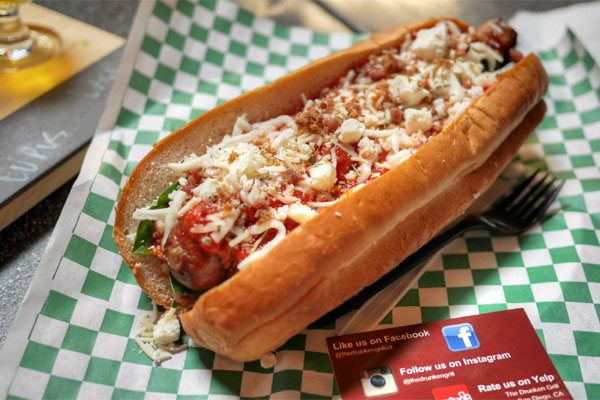 The Big Guido [$10.00]
| ½ Pound Kielbasa Sausage, Marinara Sauce, Fresh Basil, Ricotta + American + Parmesan, Bacon
Not wanting to drink on an empty stomach, we ordered up The Big Guido, which certainly lived up to its name as probably the largest hot dog I'd ever encountered. Despite its somewhat ridiculous size, there was a great snap and juiciness on the actual sausage, and its slightly herby flavors went well with the tangy marinara and trio of cheese while basil added some welcomed aromatics to the mix.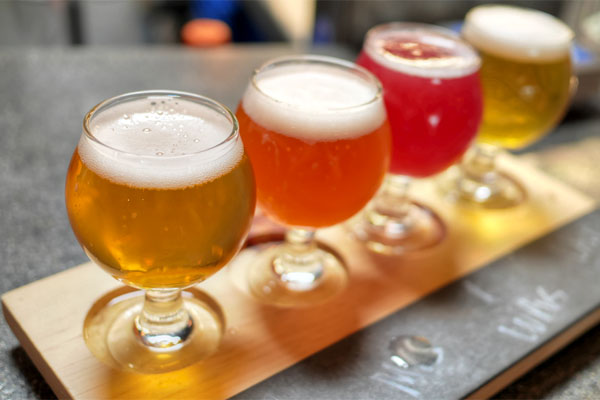 With some food in our bellies, we were ready to go for a second flight (left to right):
The Virgin Cherry / Brett Tart Cherry Wild Ale [$3]: Unfortunately I didn't get much cherry with this one; instead, notes of lemon, grain, and slight earth seemed to dominate.
My Cousin, Strawberry / Wild Brett with Strawberries [$3]: Delicious strawberry jam on the nose, though the taste had a funkiness to it that veered disconcerting.
X Lupus / Tart X with Blueberries [$3]: Berry fruit and band-aid intermingled in the aroma, while on the tongue, I got more grain, more yeast, more tartness.
Last Call / India Pale Ale [$2]: The sole non-sour/farmhouse of the bunch, this was a sharp, piney IPA, true to the San Diego style I suppose.
My SD beer tour got off to a promising start. I think a large part of it had to do with the styles of beer here: the sour, the funky, the fruited stuff, all of which are right up my alley. Besides that, I did appreciate the craftiness, and intimacy of the place to boot. A new one, but a good one.
---
The Lost Abbey / Port Brewing Company
155 Mata Way, San Marcos, CA 92069
800.918.6816
www.lostabbey.com
www.portbrewing.com
Fri 04/24/2015, 05:00p-05:20p

We went from a newbie in the form of Toolbox to one of the most respected names in the game. A bit of history is in order:
The story of Port/Lost Abbey starts with the brother-and-sister team of Vince and Gina Marsaglia. In 1987, the Colorado natives founded Pizza Port in Solana Beach as a pizza-only establishment. However, the restaurant was transformed into a brewpub in 1992, with Vince as the head brewer. Tomme Arthur then joined the team in 1997, taking over as brewmaster, and subsequently released a number of beers that firmly established Pizza Port as a leader in the San Diego beer scene.
Given all the acclaim, expansion was a must, and in 2005, Arthur and the Marsaglias partnered with financial guru Jim Comstock to found Port Brewing at the old Stone facility in San Marcos. Arthur left Pizza Port in the capable hands of one Jeff Bagby (who stayed there until the end of 2011), and debuted the new brewery in March 2006. The Lost Abbey, a separate brand specializing in Belgians, sours, and barrel-aged beers, later bowed in May that year. Most recently (as in earlier this year), the team expanded their portfolio to include The Hop Concept, a new line comprised solely of IPAs.

Inside, the room strikes a balance between intimacy and capacity. Note the paintings by the brewery's in-house artist Sean Dominguez adorning the walls.

The draft list here is pretty evenly split between the Lost Abbey and Port beers. There's also quite an array of bottles available, but generally nothing too limited (i.e. don't count on Duck Duck Gooze popping up). Click for a larger version.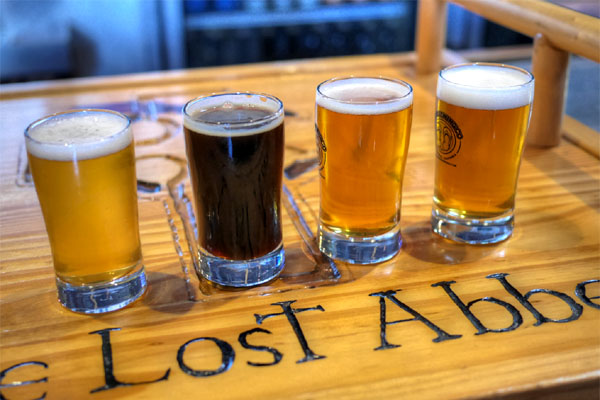 At only a dollar a pop, tasters are the way to go (left to right):
Carnevale / French Country Ale with Brettanomyces [$1]: Spicy and grainy on the nose, with a palate imbued with flavors of peach, biscuit, and Brett earthiness.
Board Meeting / Dark Brown brewed with Coffee & Cocoa Nibs [$1]: Very coffee-forward, both in terms of aroma and taste, all over notes of chocolate from the nibs and a noticeable hoppiness.
Mongo IPA / 2x IPA with Columbus, Cascade & Amarillo Hops [$1]: The first of two IPAs, this one smelled piney and sharp, with just a trace of citrus, and tasted of more hops and bready malt.
Citrus & Piney [$1]: Compared to the Mongo, this was noticeable juicier on the nose, probably due to the incorporation of orange zest, while on the tongue, tropical fruit intertwined with even more hop character and spice.
Unfortunately we didn't get to spend much time here due to schedule constraints, but the place might be worth a revisit. The selection of beers was pretty solid, though I will say that I would've liked to have seen some sours in the mix.
---
Stone Brewing Co.
1999 Citracado Parkway, Escondido, CA 92029
760.294.7866
www.stonebrewing.com
Fri 04/24/2015, 05:30p-06:30p
Next up was a visit to the unquestioned behemoth of the SD brewing scene. Stone was founded by Greg Koch and Steve Wagner back in '96, in the facility that's now home to Port/Lost Abbey as described above. They moved to the Escondido site here in 2006, which also houses the Stone Brewing World Bistro & Gardens restaurant, a Stone Company Store, and an acre of gardens. Today, Stone's the largest brewery in Southern California and one of the largest in the country.

The building, unsurprisingly, is massive, and we found a table in the restaurant's sprawling outdoor dining area.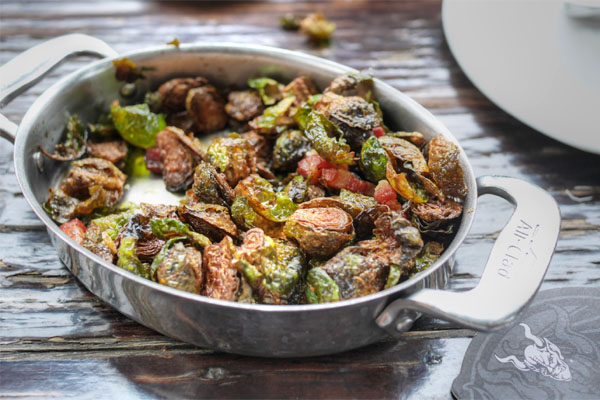 Brussels Sprouts [$7.00]
| Crispy Brussels sprouts with a sweet and sour twist and fried pancetta lardons
Brussels were pretty typical: bitter and charred, with a sweet 'n' sour component.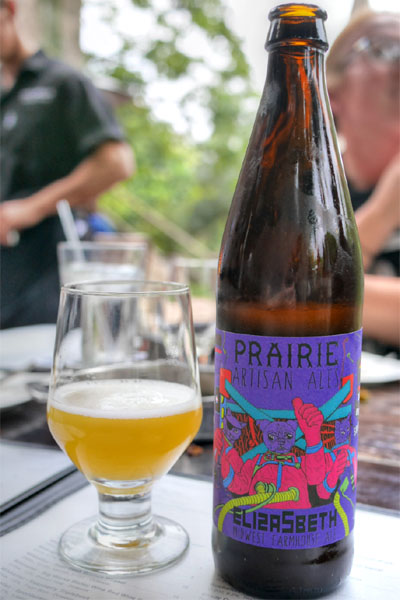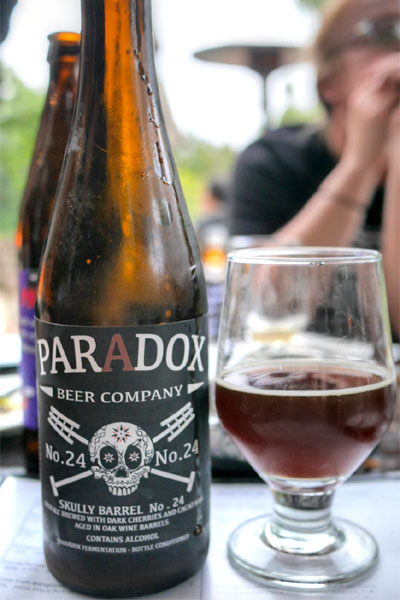 Ironically, we didn't actually have any of Stone's beers this evening, but instead opted for a couple bottles off their list:
Prairie Artisan Ales - Eliza5beth / Golden Farmhouse Ale aged on Apricots [$16]: Refreshing on the nose, with acidic aromas of bright citrus and stone fruit; the taste follows, and also adds more tartness, biscuit, spice, and earth--not bad.
Paradox - Skully Barrel No. 24 a.k.a. The Cherished aged in Bordeaux Barrels / Brewed with Dark Cherries and Cacao Nibs [$18]: My first beer from Paradox, this one was pretty neat, with a pleasant sourness to it that really balanced out the chocolate-covered cherries aspect of the brew.
Again, we were time-constrained, so we didn't really get a proper experience here unfortunately. A revisit is definitely an option, and I wouldn't mind taking a tour next time, either.
---
Modern Times Beer
3725 Greenwood St, San Diego, CA 92110
619.546.9694
www.moderntimesbeer.com
Fri 04/24/2015, 11:20p-11:55p

Modern Times was the initial impetus for the trip, given that there were bottles of bourbon barrel-aged Monsters' Park that had to be picked up. Founded back in 2013 by homebrewer and former Stone employee Jacob McKean, MT's one of the most promising breweries to come out of San Diego in a while, known for their solid year-round beers, top-notch barrel-aged brews, and burgeoning sour program.

Situated near San Diego International Airport, Modern Times' Lomaland Fermentorium is without a doubt one of the coolest-looking tasting rooms I've encountered.
16 taps are generally on offer here, comprised of both core beers and special offerings, in addition to house-roasted coffee. Click for a larger version.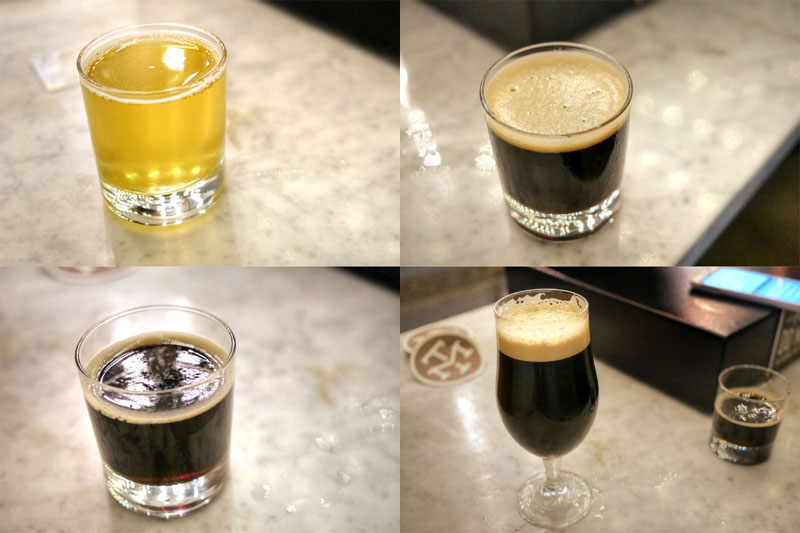 We opted for a foursome to sample (left to right, up and down):
Funky Universal / Chardonnay Saison with Brett [$4]: Refreshing, clean, and dry, with notes of light grain, Brett, tartness, and subtle fruit in an overall vinous package.
Black House with Coconut & Cocoa / Coffee Stout [$4]: Like a liquid Mounds bar, 'nuff said.
Black House with Vanilla on Cask: Soft and supple, with lovely notes of sweet vanilla intertwined with the base beer's coffee and roast characteristics.
Nitro Black House [$6]: Great coffee aromatics on this one, all in a delightfully smooth, silky package.
We also popped a bottle of the
Mount Remarkable [$6.99]
, which had just been released. It was the brewery's first lager, a low-weight, floral, hoppy beer with a grainy, bready base.
Of all the new breweries in the area, Modern Times is the one that I'm most excited about. I'll be watching them closely, and have already ordered and received their follow-up Monsters' Park releases, featuring a combination of rum barrels, vanilla, coffee, cacao, and coconut.
Stay tuned for part 2 and four more breweries...