Aaron Franklin & Adam Perry Lang at Nick's Cafe (Los Angeles, CA)
Aaron Franklin & Adam Perry Lang Pop-Up at Nick's Cafe
1300 N Spring St, Los Angeles, CA 90012
Fri 04/10/2015, 02:50p-08:10p
Back in March, it was reported that Aaron Franklin of Austin's Franklin Barbecue would be hitting the road for a series of pop-ups to promote his upcoming cookbook
Franklin Barbecue: A Meat-Smoking Manifesto
. If that wasn't enough, joining him would be
Adam Perry Lang
, a fellow author and BBQ authority. However, such plans were soon nixed, only to be replaced by a more formal affair: a twosome of dinners to be held at
Animal
on April 13th and 14th. Designated El Jefe: Austin Midnight Dinner, the meals represent a collaborative effort with
Roy Choi
/Jon Favreau, and
cubanos
are indeed expected to be available outside. Reservations for this latest iteration of El Jefe sold out expectedly quickly, so in order to bring BBQ to the masses, Franklin and Perry Lang recently organized a more egalitarian, first-come-first-served gathering at Nick's Cafe in Chinatown.

Though the event was advertised as starting at 6:00, I was somehow convinced to get there around 2:30. Turns out that was way overkill, as I think there were about five other people in line, all milling around the smoker.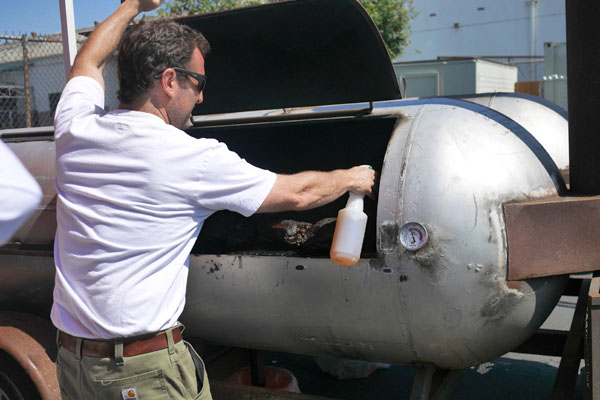 Every so often, Perry Lang would open up the contraption and spray the briskets (with a Worcestershire/water mixture I hear).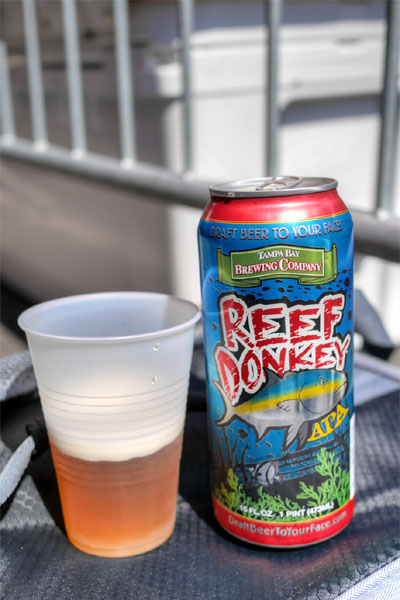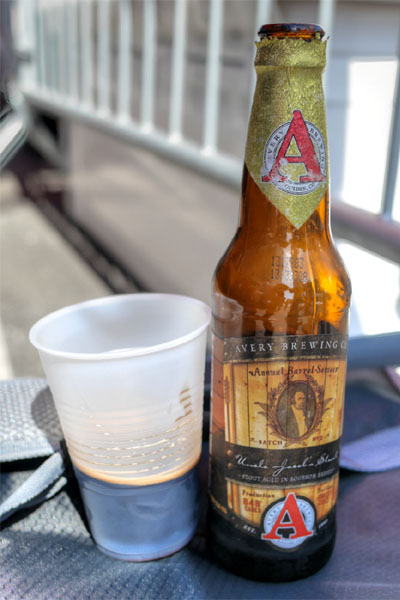 Given the long wait, I brought along a few beers to help pass the time. First up was a pale ale, the
Tampa Bay Brewing Reef Donkey
, which I found deliciously juicy, floral, and citrus-y on the nose. On the palate, it was sharper, more bitter, pinier--definitely a case of smelling better than it tastes. This was followed by the
2013 Avery Uncle Jacob's Stout
, a six-month bourbon barrel-aged stout that I didn't particularly care for. I have a hard time describing it, but there was this odd astringency that just tasted off to me. Maybe this was a bad bottle, but it lacked the characteristics of most BBA stouts out there.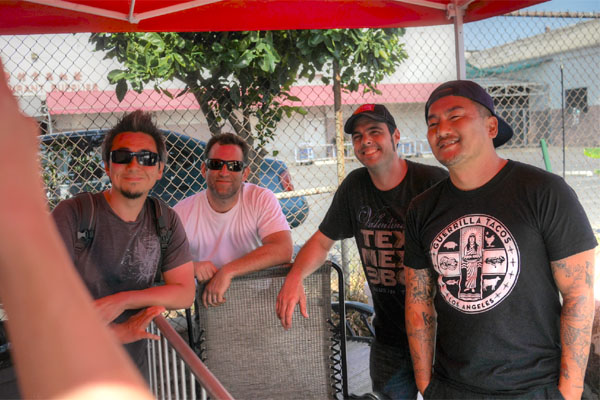 And look who shows up: none other than Roy Choi (with some
Chego
bowls for the team).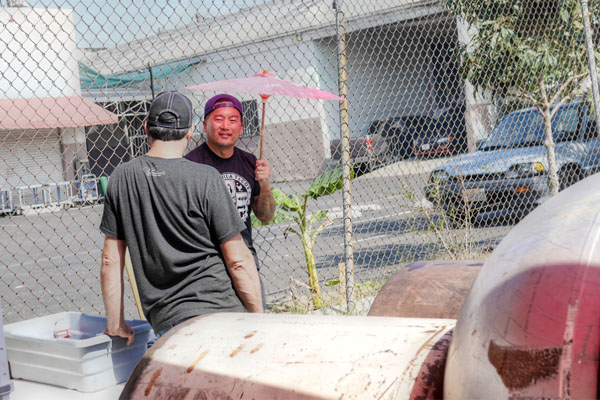 Where did he even get the umbrella?

3:30, and still fewer than 10 people in line.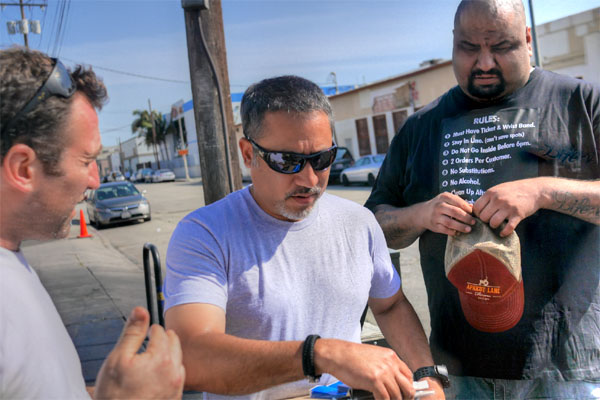 4:00, and we were instructed to form a line in order to secure wristbands and tickets.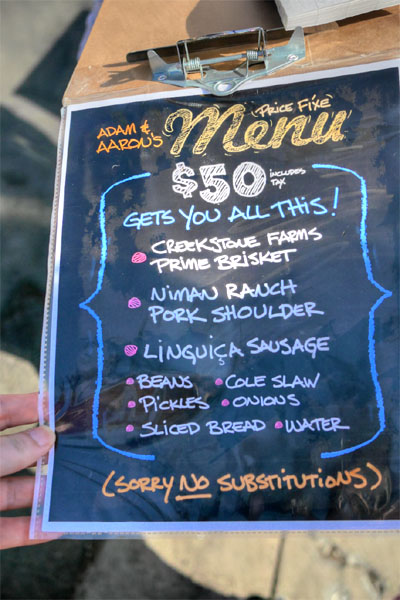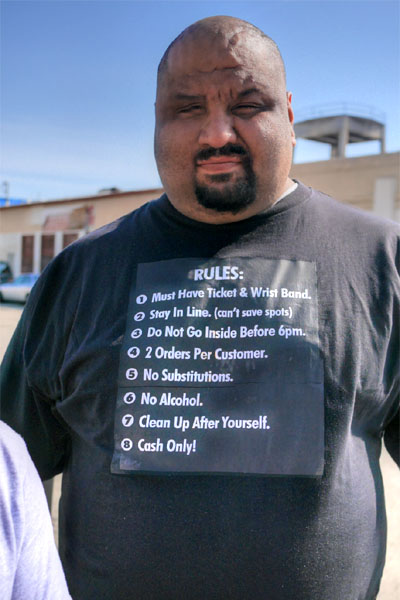 We were also presented with the $50 prix fix menu (cash only, limit two orders per person, inclusive of tax and tip) and the house rules at this time.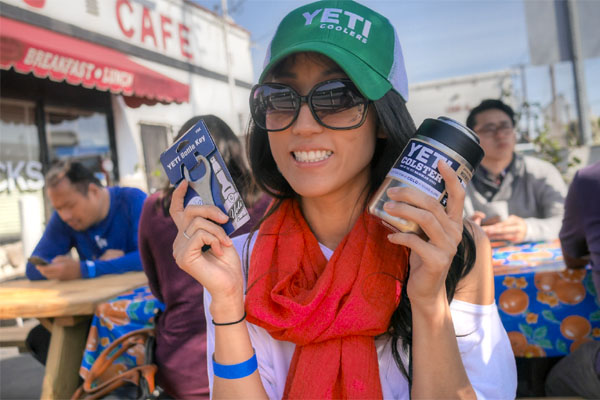 Once ticketed and banded, we were able to sit down at picnic tables seemingly plucked from right out in front of
Pok Pok Phat Thai
. I'm assuming that the event was sponsored in part by
Yeti Coolers
(actually, Franklin is a brand ambassador), because reps from the company were on hand doling out swag (including extra goodies to Miss First-in-Line above).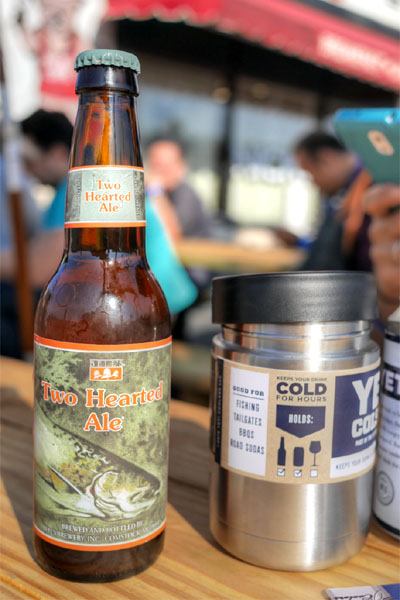 Time for more beer, this time the
2014 Bell's Two Hearted Ale
. An IPA, this smelled heavily of juicy citrus and tasted of smooth malt and crisp hop bitterness. Quite good, though definitely
better fresh
.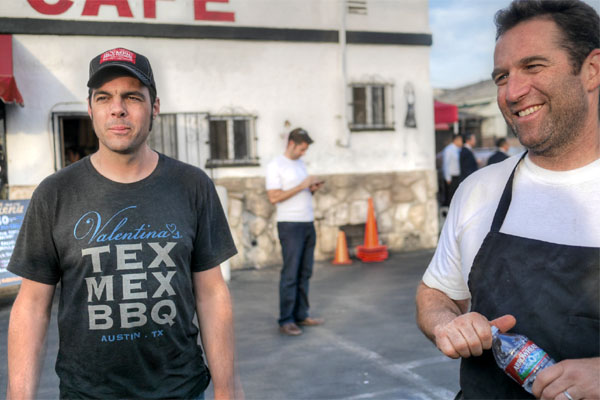 6:00 came and went, and the two chefs soon came out to explain that more smoker time was needed.

We were then instructed to line up once again, this time for the actual food.

6:30 sharp--inside at last.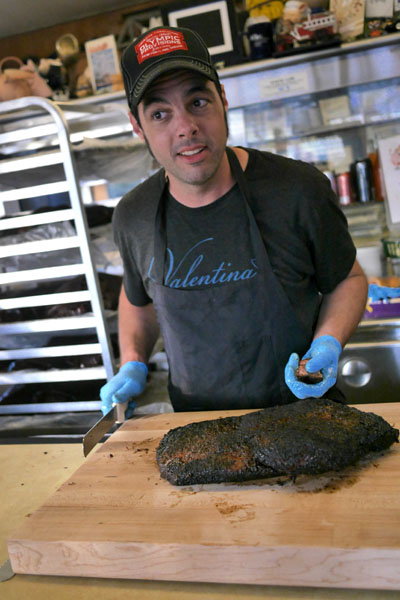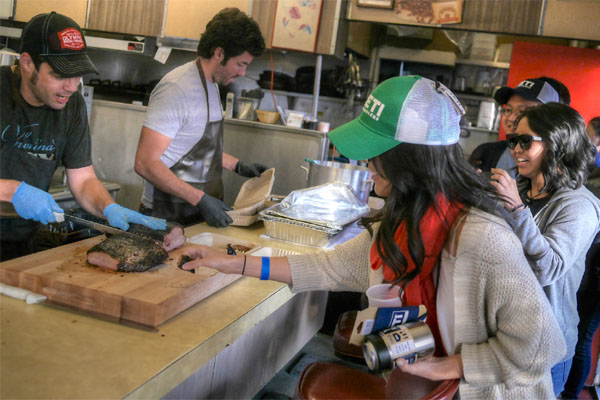 Franklin proceeded to carve out the first piece of brisket for the first person in line.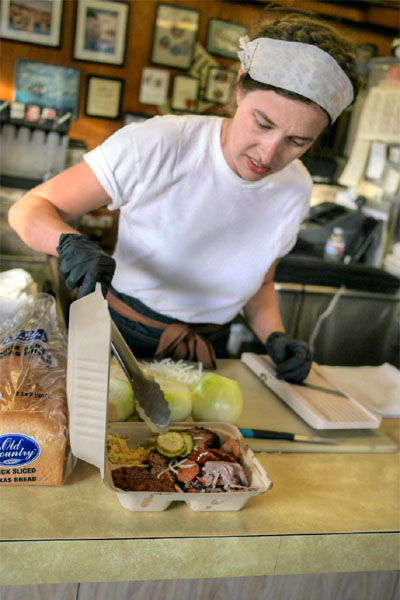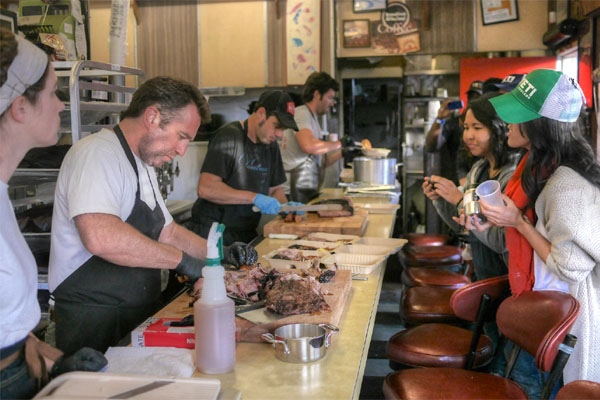 They had an assembly line going: first the sides, then the brisket, the sausage, the pork, and finishing up with the onions, pickles, and bread.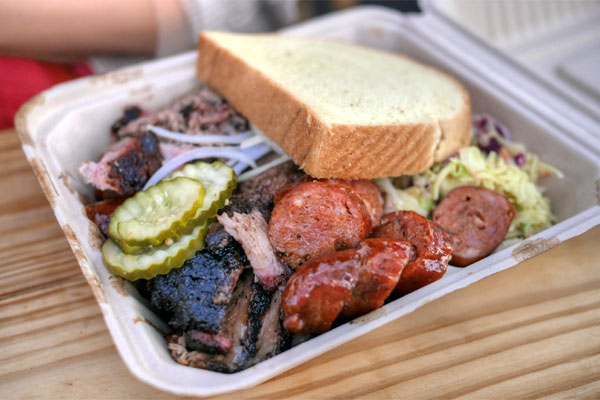 And here we see the finished product, a plate comprising Creekstone Farms prime brisket, Niman Ranch pork shoulder, linguiça sausage, beans, coleslaw, pickles, onions, and sliced bread.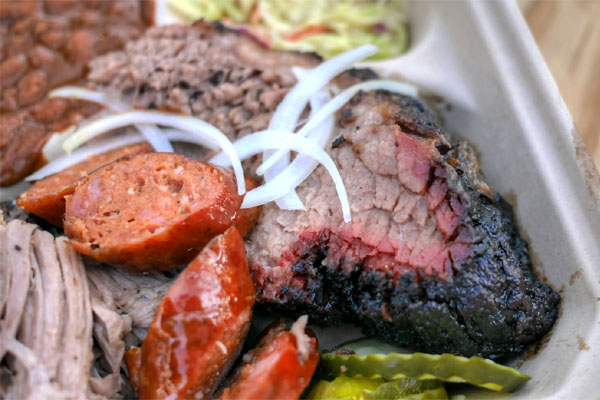 You gotta start with the Creekstone Farms prime brisket of course, easily some of the most flavorful I've had. I often yearn for more smoke on my brisket, but that wasn't a problem here, with its loads of smoke, char, and salt set against the inherent goodness of the beef. My only quibble? There were a few bites that veered overly dry.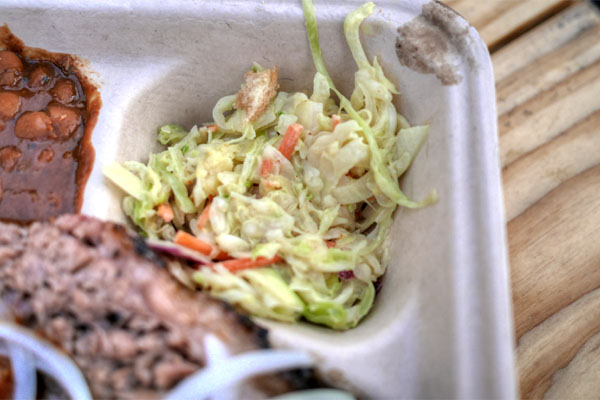 The coleslaw was a worthy example, a nice touch of levity to counteract all the meat in play.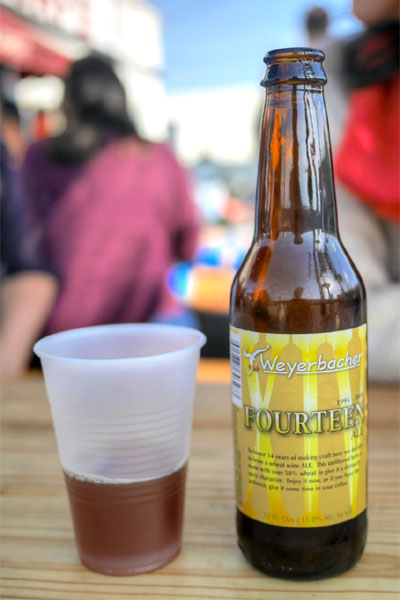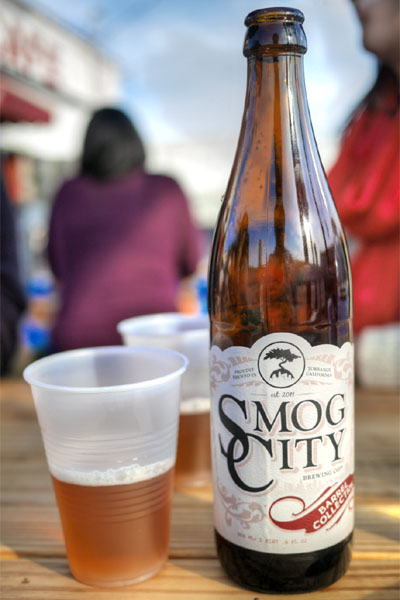 More beer. The
2009 Weyerbacher Fourteen
was certainly the oldest of the bunch, made to celebrate the brewery's 14th anniversary. A wheat wine, I found this sweet, almost berry-like, with a nice malt profile to pair with the spicy and bitter notes present. Following was the
2015 Smog City Goldie
, a bourbon barrel-aged Belgian golden strong ale that was just released at the start of April. I wasn't a fan of this one, finding it far too sugary, far too candied, with a strong boozy component.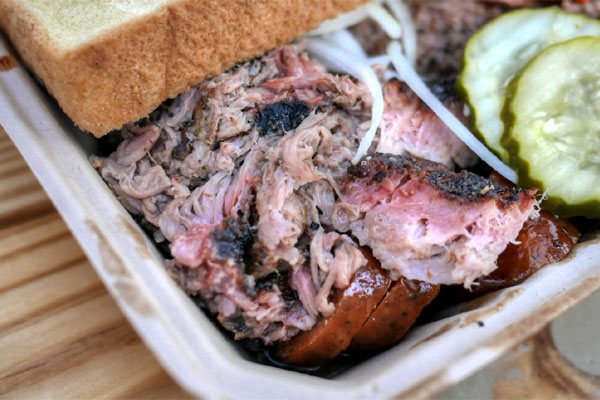 Niman Ranch pork shoulder was pretty much spot on, coming out all juicy and tender, with a great char and porky savor to it all.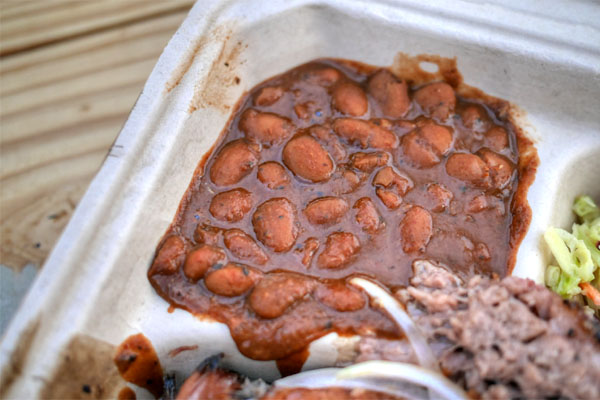 Beans had a bit of a spicy kick to 'em, which was a nice touch.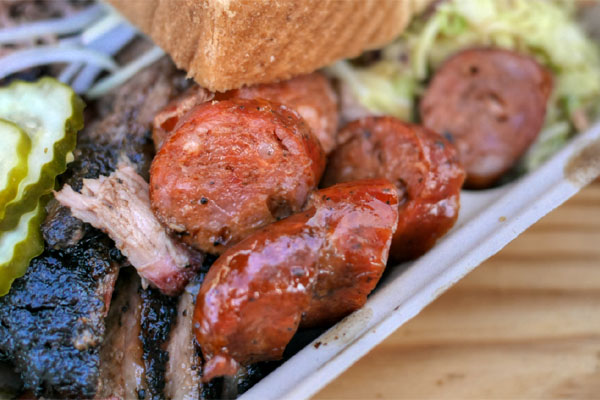 Linguiça sausage was a winner, beautifully textured with a great snap to the casing and a palpable, but not domineering spice.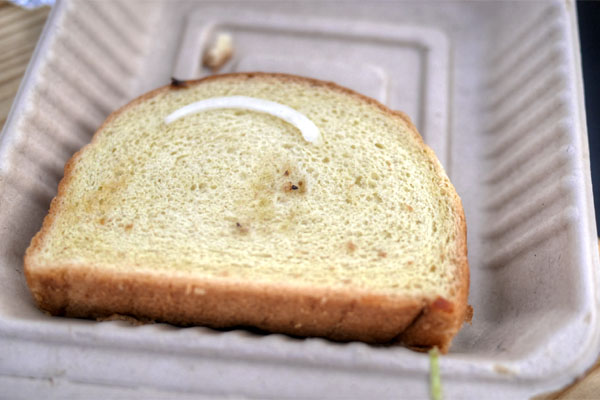 Sliced bread was of the Old Country variety, a thick, substantial cut that did a commendable job soaking up all the leftover liquid.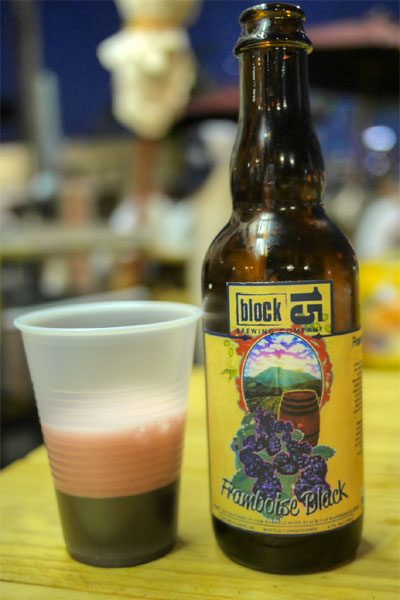 Last to imbibe was a brewery-only release from last November, the
2014 Block 15 Framboise Black
, a blend of Belgian-style witbiers fermented with
Brettanomyces
and
Lactobacillius
and then aged a year in French oak with black cap raspberries. Jammy and wonderfully aromatic on the nose, it tasted of subdued fruit, with a dry, countervailing mustiness, spice, and tartness to even it all out.

The two had quite a bit of meat left over at the end of the night, some of which I heard was donated to a local homeless shelter.
Overall, the event was pretty well orchestrated, and so despite the long waits, the time actually passed by pretty quickly thanks to the ticketing system and the ability to sit down and relax for much of the duration. I had no real complaints with the food, either, which ranks right up there with the best I've had in town. Now all we need is a permanent spot...