La Estrella (Los Angeles, CA)
La Estrella Restaurant
940 S Lorena St, Los Angeles, CA 90023
323.266.4349
Sat 04/04/2015, 04:10p-05:20p

After loading up on seafood over at
Mariscos Jalisco
, we continued onward in our Boyle Heights excursion. The next stop was La Estrella, which may or may not be related to the trucks in both Highland Park and Pasadena.

We skipped the truck outside and instead took a seat indoors, a small, colorful spot replete with a jukebox in the back.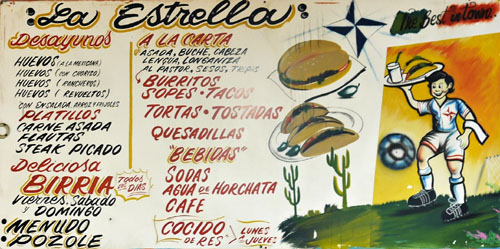 La Estrella's menu is posted simply on the wall, sans prices (so I wasn't exactly sure what everything cost). Click for a larger version.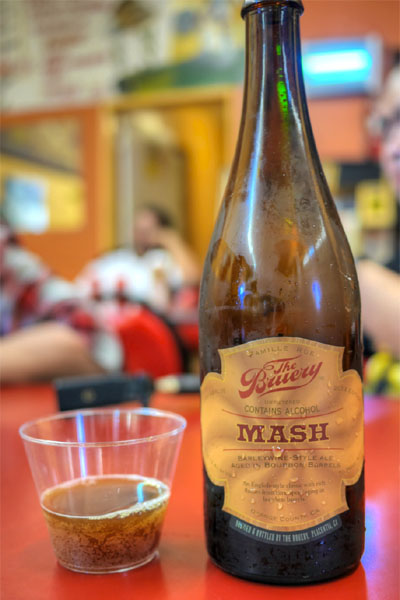 Time for more
cerveza
. The
2014 The Bruery Mash
was a barleywine aged in bourbon barrels, a not particularly aromatic ale, but one loaded with huge mounts of rich malt and sweet caramel flavors.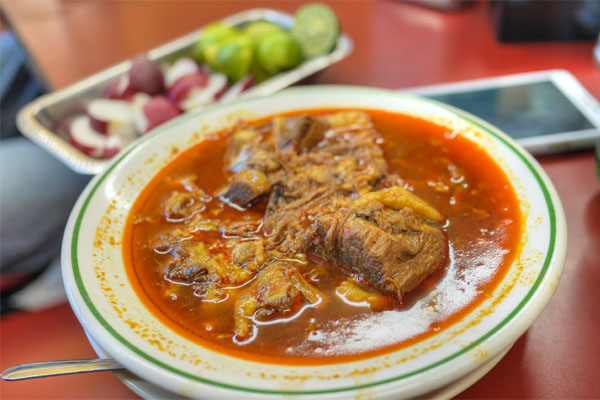 Birria [$8.25 (est)]
La Estrella is supposedly known for
birria
, and indeed, it was one of the better preparations of the goat I've had, the meat coming out super tender and brimming with deep, heady, spicy flavors. Quite gratifying, and even better with a squirt of lime and some bitter, crunchy radishes.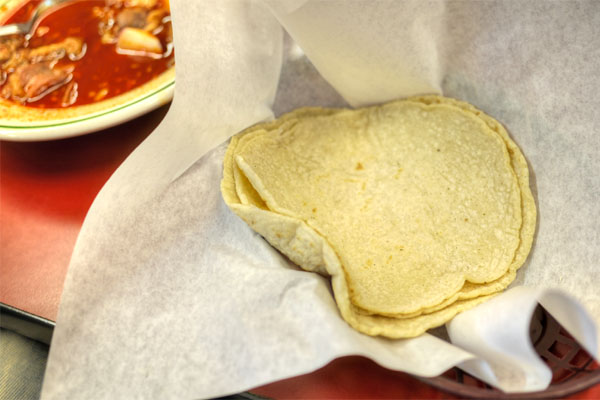 Some tortillas to accompany the goat.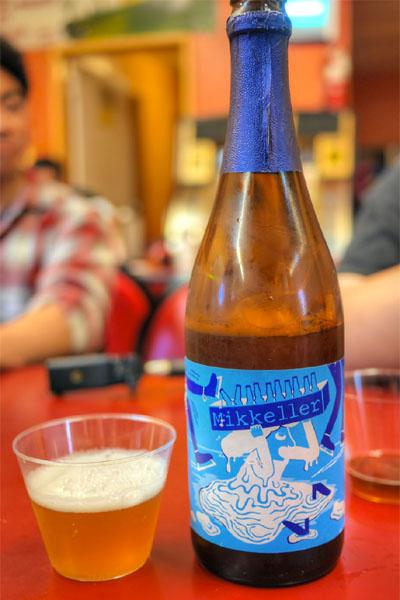 Next to imbibe was the
2014 Mikkeller Winbic
, a Christmas beer that blends Spontanale
gueuze
with saison. I got a nice bit of sweet holiday spice on the nose here, and on the palate, more sweetness and fruit, joined by a light funk, citrus, and a pleasant, refreshing acidity.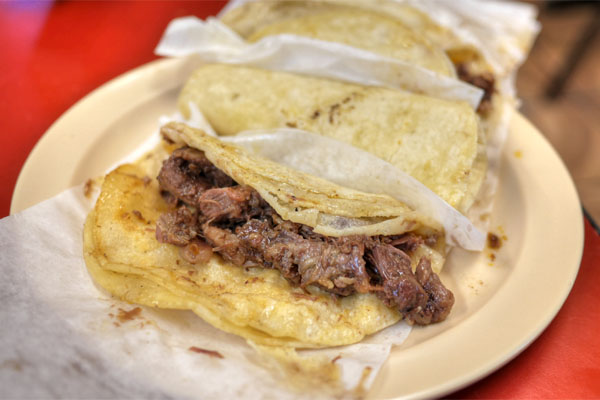 Taco de Cabeza [$1.25]
We had to get a couple tacos, and started with the head variety, a tender, fatty preparation imbued with some deeply beefy savors.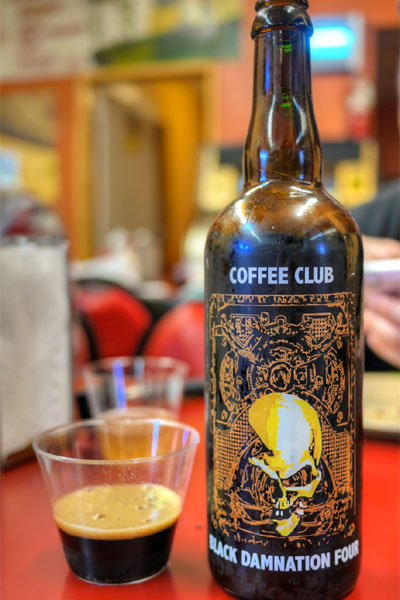 Our first stout of the crawl was the
2012 De Struise Black Damnation IV - Coffee Club
, made from Black Albert aged six months in old rum barrels. I quite liked it, the beer's sweet, spicy, dark fruit nuances working well with the requisite coffee notes and the booziness of the rum barrel.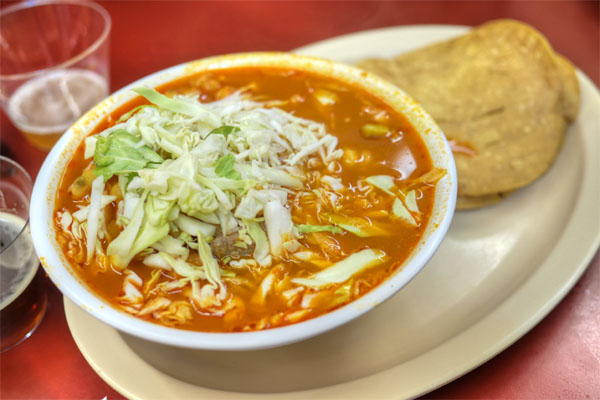 Pozole [$8.25 (est)]
I'm a pozole fan, so this was a must-order for me. It was a quintessential rendition of the soup, with the tender shards of pork nicely complemented by the broth while the veggies on top provided aevity and crunch. The key, of course, was the hominy, which added the necessary heft and substance to the dish.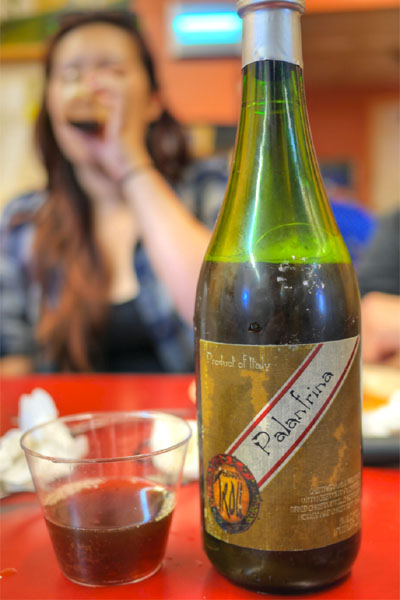 Brewed with chestnut flowers, dried chestnuts, chestnut honey, and chestnut jam, the
Birrificio Troll Palanfrina
was actually my least favorite beer of this entire afternoon. A light sweetness on the nose led to a thin, slightly tart, flat, dull sort of beer. Not a fan.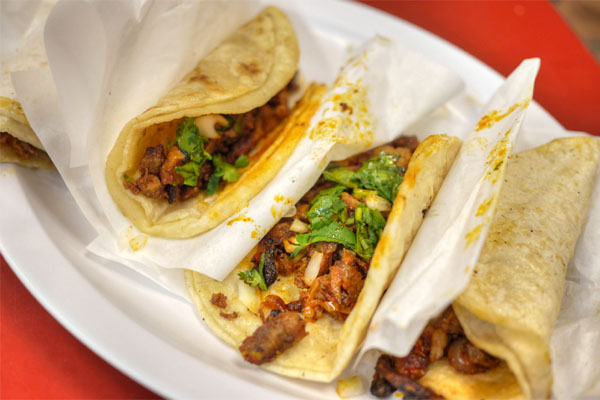 Taco de Al Pastor [$1.25]
We concluded with the al pastor, some of the best I've had in fact due to the wonderfully savory, slightly sweet, and deeply-satisfying flavors present.
Aside from the somewhat lackadaisical service here, we were pretty satisfied with La Estrella and its hearty eats. The soups are certainly worth a try, and be sure to get that al pastor.