Eight Korean BBQ (Los Angeles, CA)
Palsaik Korean BBQ
863 S Western Ave, Los Angeles, CA 90005
213.365.1750
www.eightkoreanbbq.com
Thu 04/09/2015, 07:30p-09:15p

One of the more unique KBBQ joints in town is no doubt Eight, which opened in summer 2011 as Palsaik (they changed their name in late 2013, presumably to attract a larger clientele). The original moniker translates to "eight colors," and indeed, the conceit here is that the restaurant specializes in eight different flavors of
samgyupsal
. Eight is a branch of a vast chain of pork belly specialists, with dozens of locations in Korea, three in Malaysia, one in Singapore, and another SoCal outlet down in Buena Park.

Inside, the vibe is clean, sleek for KBBQ, with perhaps the most interesting design detail being those oil drum-looking stools (which cleverly open up for storage).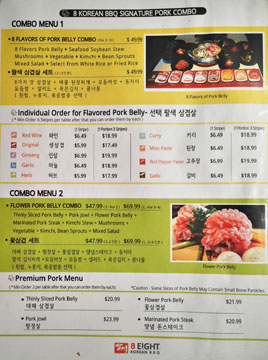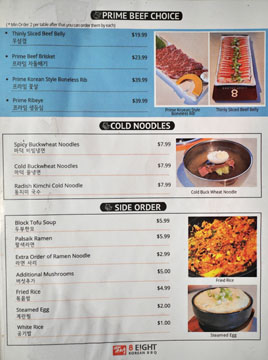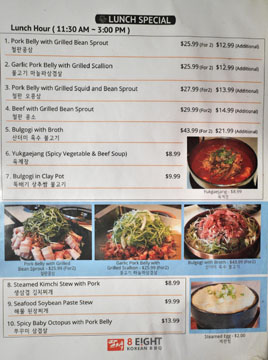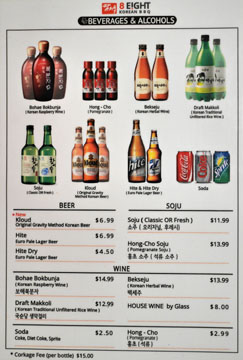 The main unit of consumption here is obviously the set of eight flavors, though each variety is available separately too. There are also a few additional pork selections, a couple requisite beef options, and some sides. To drink, you get your typical selection of Korean booze. Corkage is $15, though we weren't charged for our bottles this evening (possibly because we were discreet). Click for larger versions.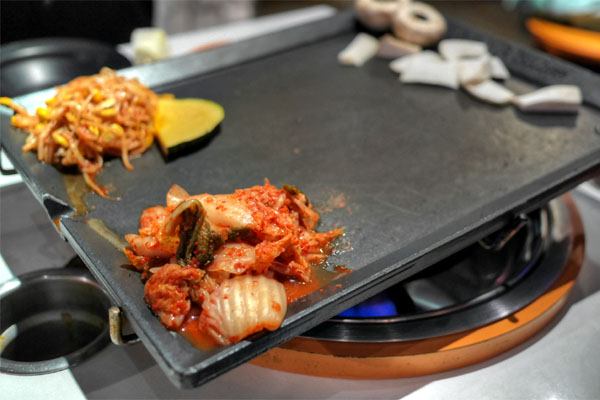 The grills here are unique, slanted to one side in order to let the pork juices flow into waiting mounds of
kongnamul
and good ol'
baechu kimchi
.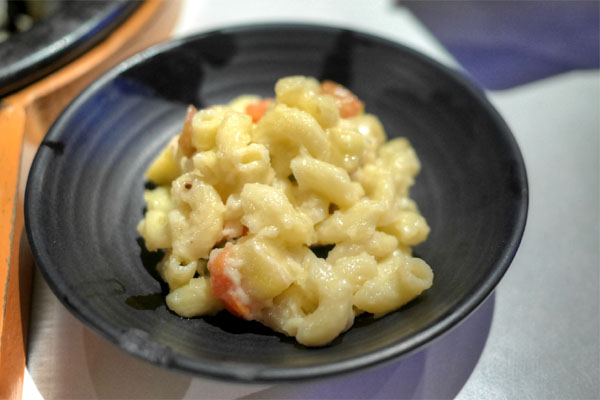 Other
banchan
included this light, subtly sweet 'n tangy macaroni salad.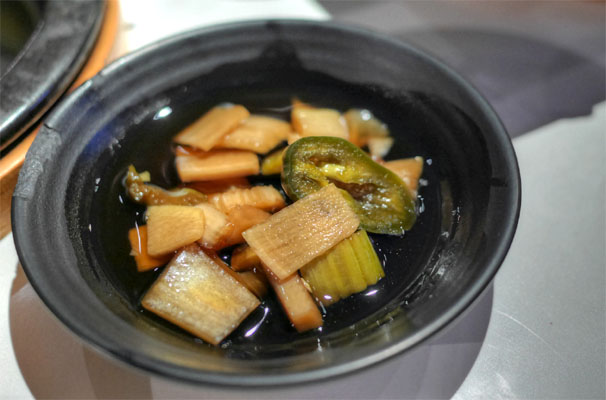 My favorite were the
yangpa jangajji
and
gochu jangajji
, or soy sauce-pickled onions and jalapeños.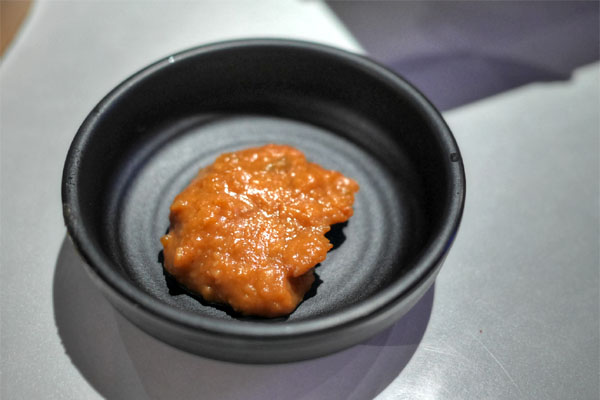 Ssamjang
was provided, natch.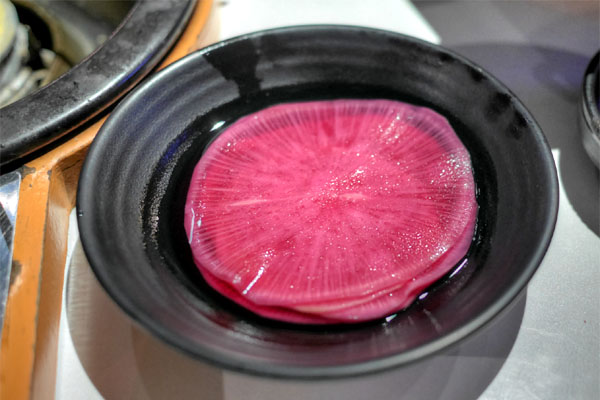 Violet disks of pickled
mu
(daikon) were crunchy and refreshingly tart.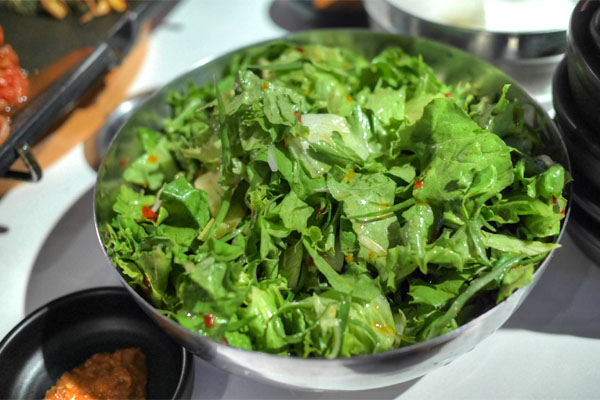 The requisite lettuce salad, to provide that much needed touch of lightness to the meal.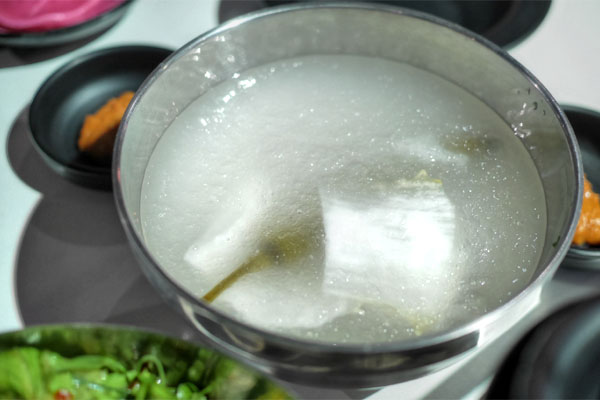 And lastly, some watery
mul kimchi
.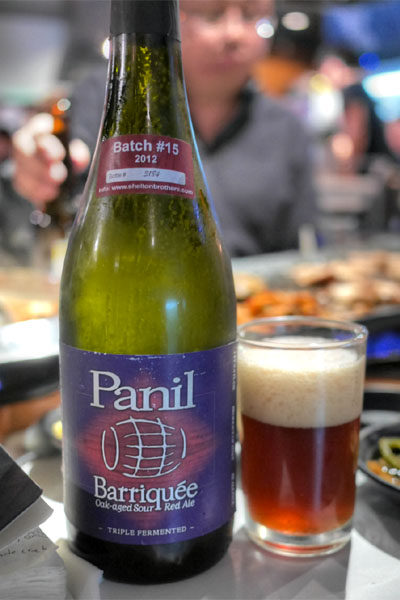 We BYOB'd it and got started with a sour, the
2012 Panil Barriquée
. A cognac barrel-aged Flanders Red, this one was quite to my liking. I noted lots of oaky, earthy funkiness in the beer, joined by flavors of dark fruit and a pointed sourness.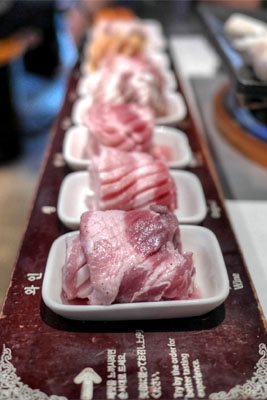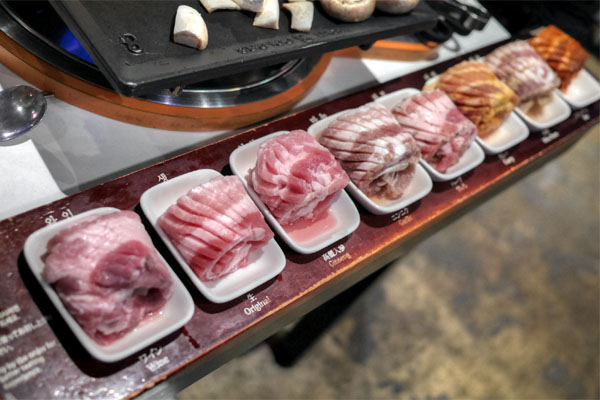 8 Flavors of Pork Belly Combo [$49.99]
Naturally, we had to taste the rainbow and started with Palsaik's signature (and oft photographed) 8 Flavors of Pork Belly, which includes Seafood Soybean Stew, Mushrooms, Vegetable, Kimchi, Bean Sprouts, Mixed Salad, and Fried Rice.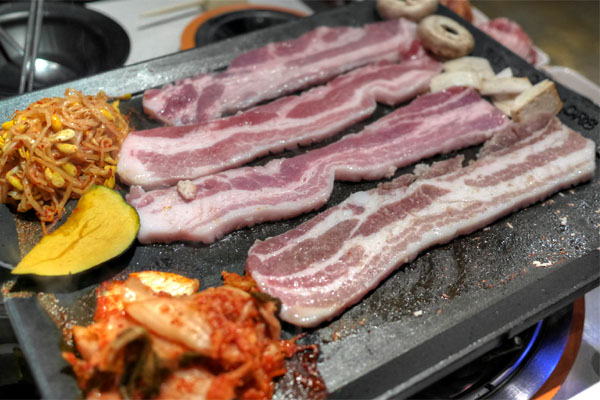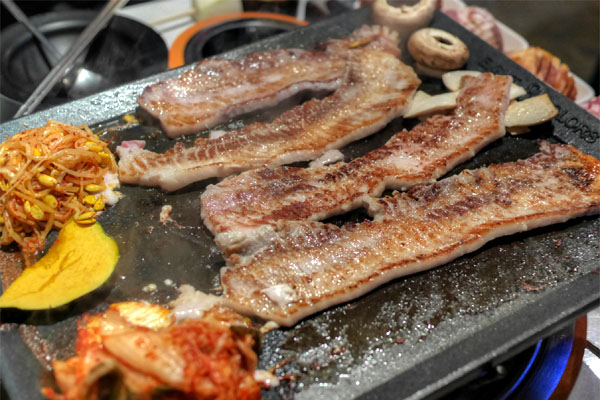 The slabs of pork belly are grilled for you, four at a time, starting with the mildest-flavored examples.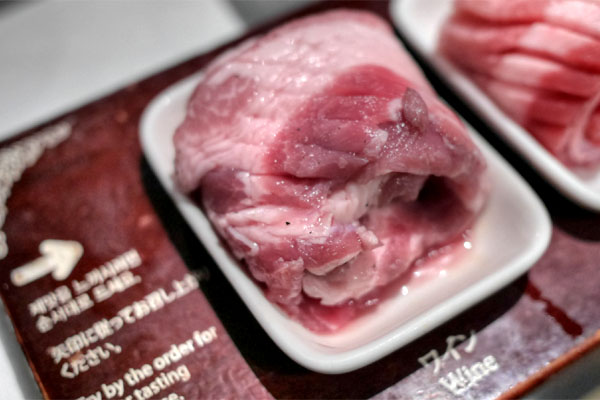 First up was the
Red Wine
, which had some
very
slight wine-y undertones, being otherwise typically porky. Not bad, though I wouldn't have identified this as being marinated in wine if you didn't tell me.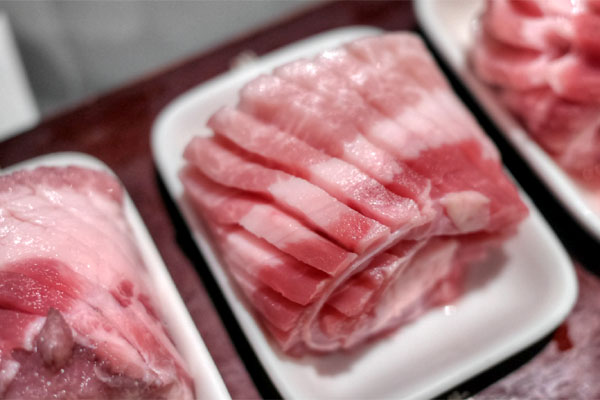 The
Original
was just what you'd expect, giving up a pronounced porcine presence tempered by a lovely touch of char. Can't go wrong with the O.G.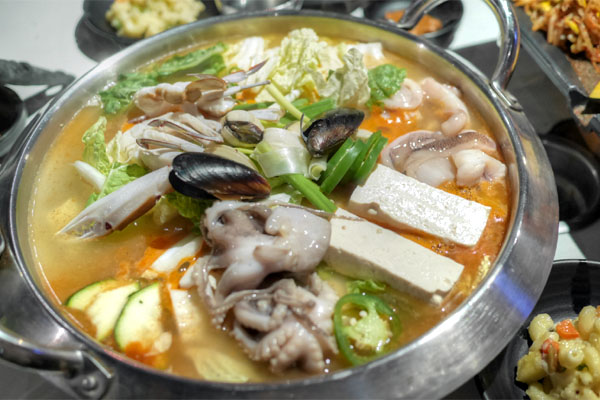 Along with the belly came the
haemul doenjang jjigae
. This had some nice depth to it, with the ocean-y essence of the seafood augmented by the earthiness of soybean paste as well as the spicy underpinning of the stew. Hot and hearty.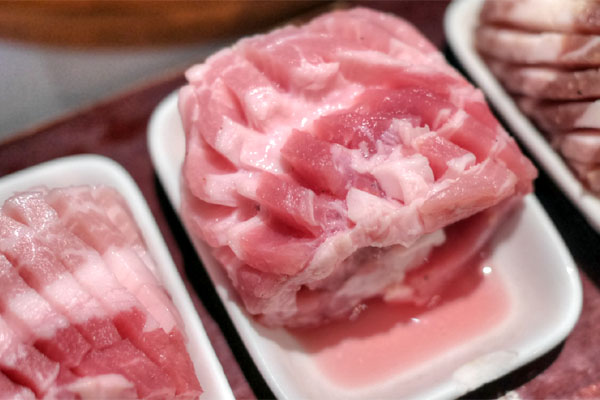 Ginseng
, meanwhile, showed off a medicinal sort of bitterness toward the midpalate.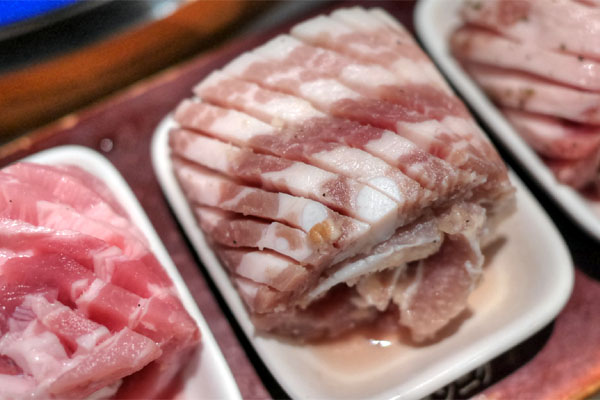 Garlic
was my favorite of the first foursome, with the zesty notes of the
maneul
marinade doing a great job complementing the natural flavors of the pork.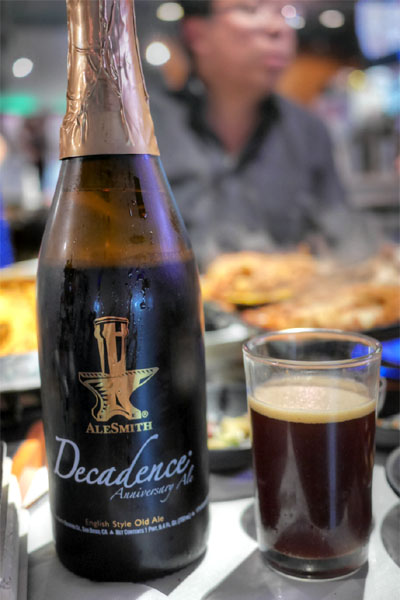 The oldest beer tonight was the
2010 AleSmith Decadence English Style Old Ale
, an unabashedly malty tipple loaded with notes of dark fruit and a discernible spice. Still quite youthful despite its age.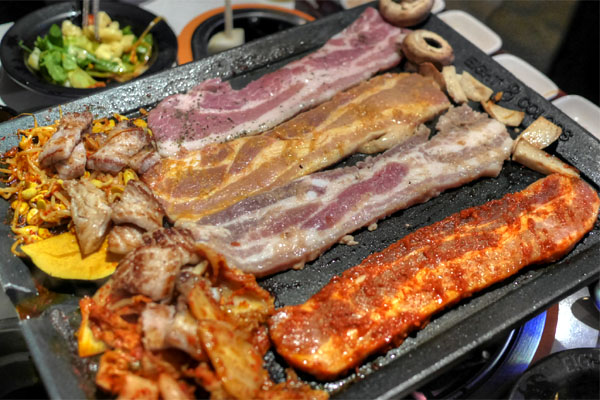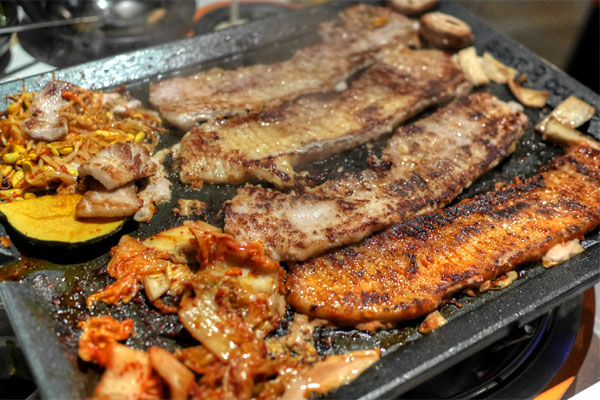 At this point, the second, more vibrantly colored set of pork bellies hit the grill.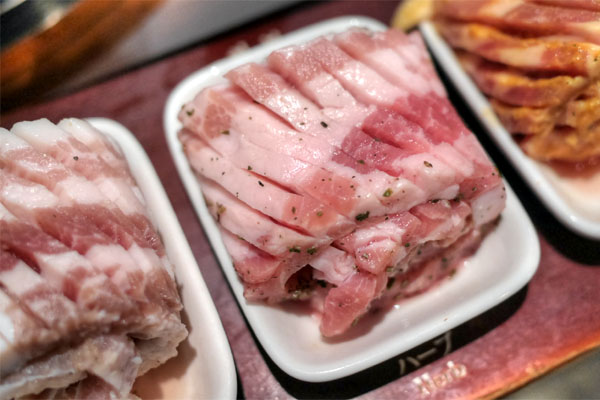 The
Herb
arrived super herby indeed, with tons of what I believe was rosemary. A very "Western" tasting example.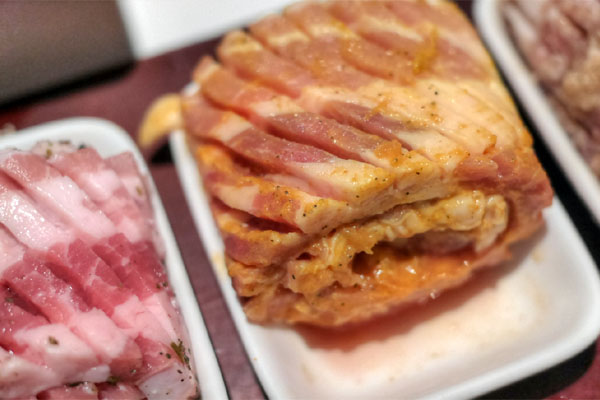 Curry
worked pretty well, presenting the aromatics of a curry powder that you might find in Singapore-style noodles.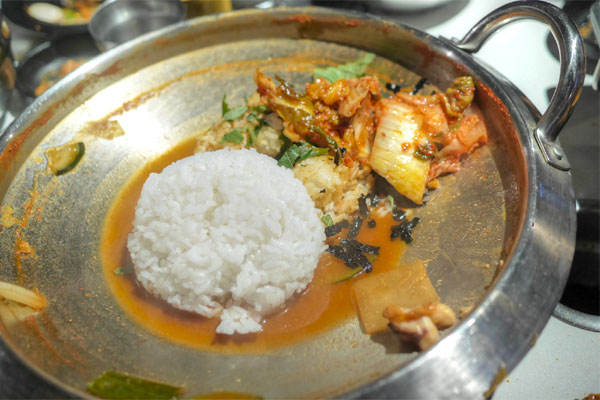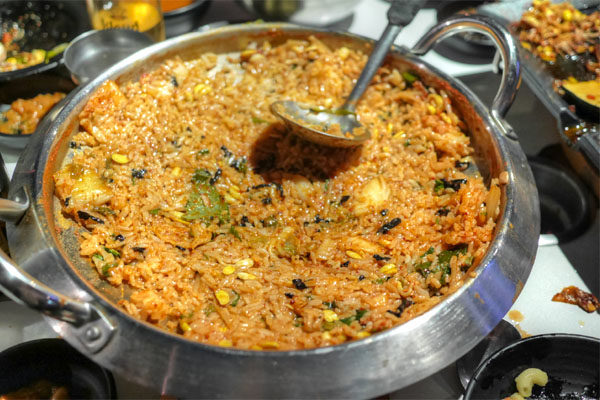 With the
jjigae
all drunk up, our server proceeded to whip up some
kimchi bokkeumbap
with the dregs. It was a fine example, though I would've liked some more
nurungji
to mix things up texturally.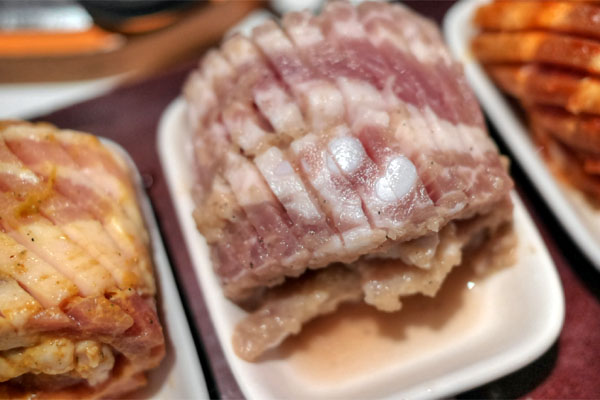 My overall favorite just might've been the
Miso Paste
version. The inclusion of
doenjang
here provided a great depth of flavor that really heightened the intrinsic goodness of the
samgyupsal
.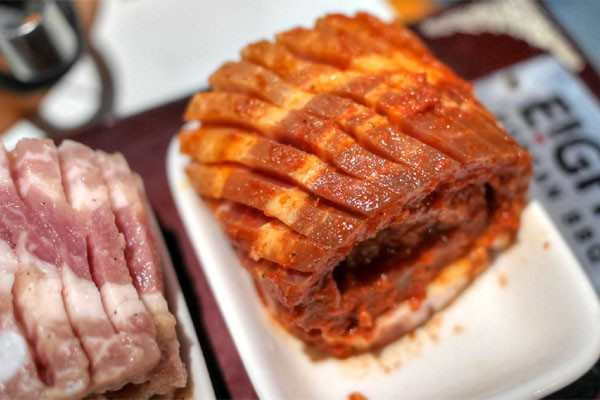 Last up was the
Red Pepper Paste
, which also made sense, the
gochujang
giving up a palpable, though not overwhelming heat to complement the pork.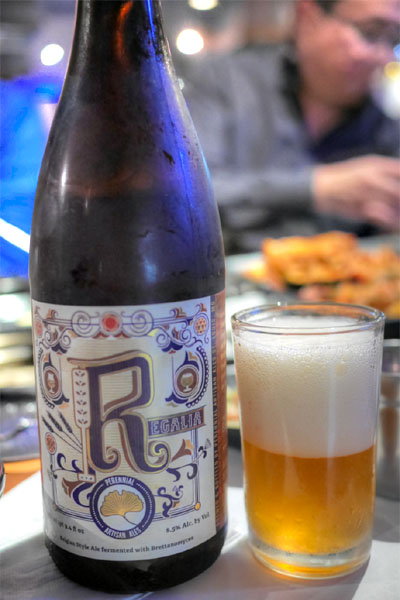 And now for something lighter, the next beer was the
2014 Perennial Regalia
, a farmhouse-style saison brewed with barley, wheat, and spelt and fermented with
Brettanomyces
. Some lovely sweet, fruity, citrusy notes on this one, all underscored by the funky, yeasty backbone of the beer. Very nice.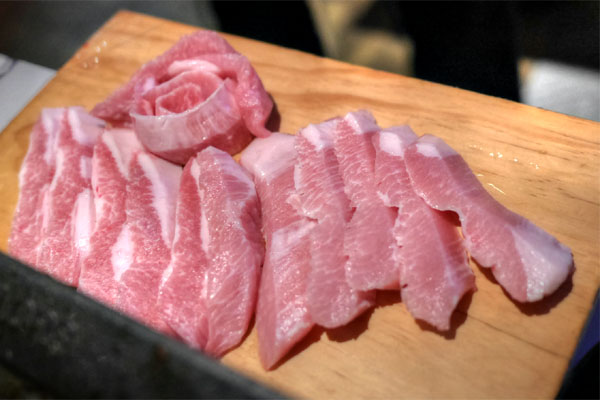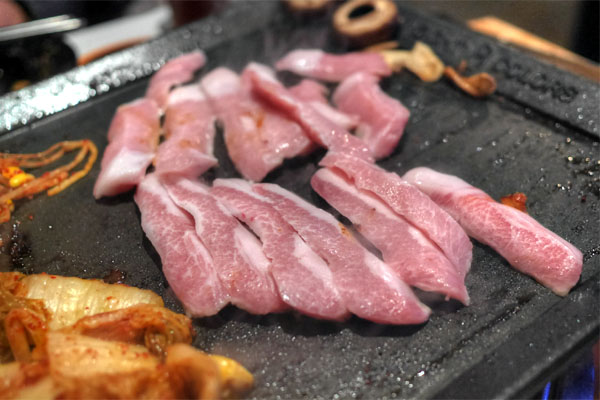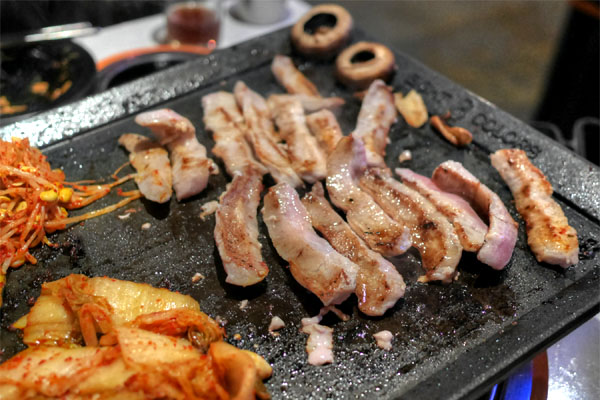 Pork Jowl [$23.99]
With the combo all eaten up, we moved on to the
hangjunsal
, a deeply-flavored presentation of jowl with a satisfying texture and well-placed bit of charring.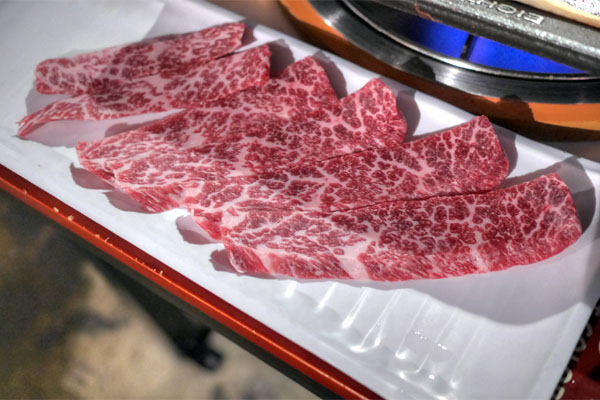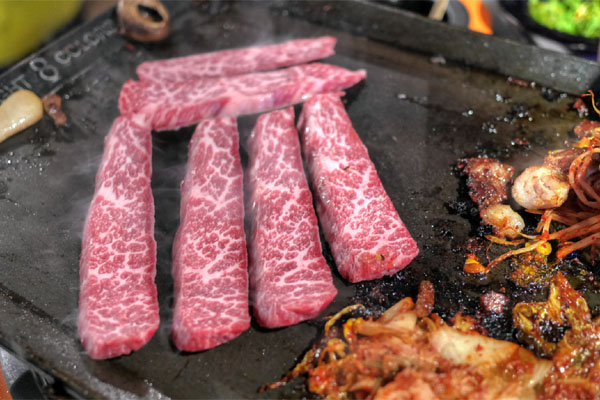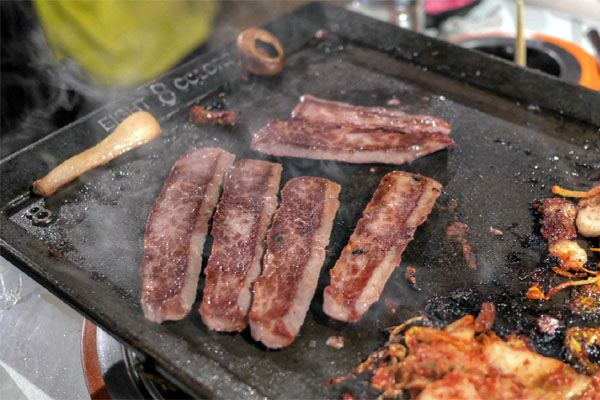 Prime Korean Style Boneless Rib [$39.99]
Moving on to beef,
kkotsal
was super tender and super juicy, with a delicate flavor profile.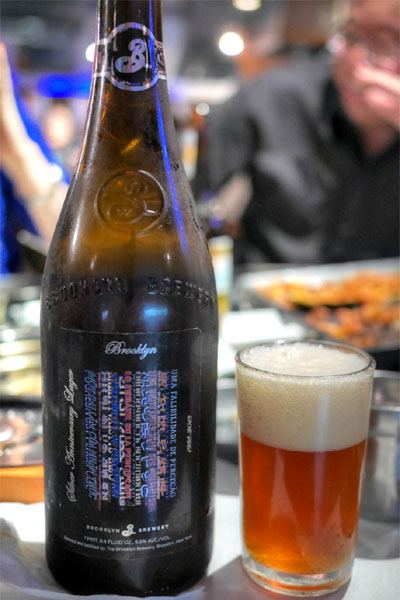 The final beer came in the form of the
2013 Brooklyn Silver Anniversary Lager
, produced two years ago to celebrate the brewery's 25th anniversary. A special
doppelbock
version of the original lager the company introduced in 1988, this one was quite lovely, with a great base of dark fruit, caramel, and malt nuances joined by a countervailing hoppiness and spice.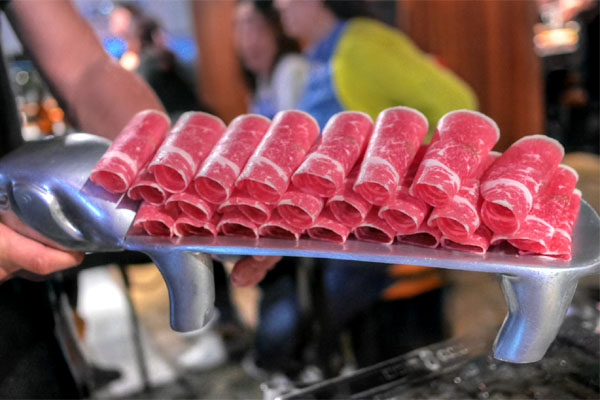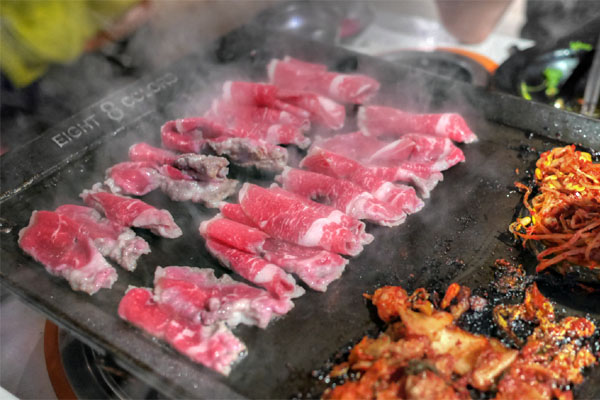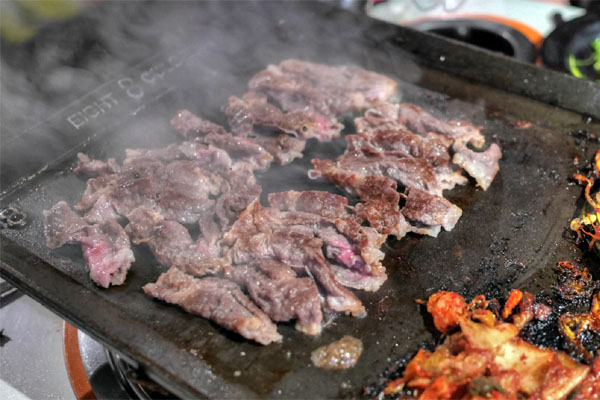 Prime Beef Brisket [$23.99]
Last up was the
chadol
, our traditional opening meat. Palsaik's was a pretty prototypical example, thinly-sliced, tender, with an apparent beefy quality to it.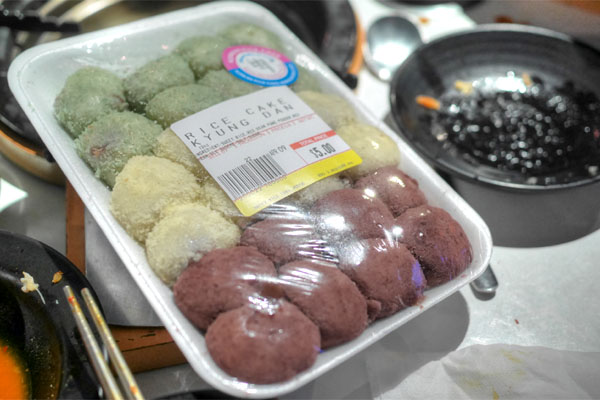 No dessert was served, so we sufficed with some
kyung dan
from Happy Rice Cake House a few doors down.
The concept behind Eight/Palsaik is a bit gimmicky, but the food actually delivers for the most part. The eight flavors of belly are distinct enough and generally tasty, though some preparations do work better than others. Meanwhile, the quality of the non-
samgyupsal
cuts appears to be on point as well, and the service wasn't lacking either. We all left pretty happy with the place.
---

Due to the lack of real dessert, we headed on over to Sul & Beans following the meal.

Opened in October 2014, Sul & Beans is, of course, a dessert cafe specializing in
bingsoo
, Korean-style shaved ice.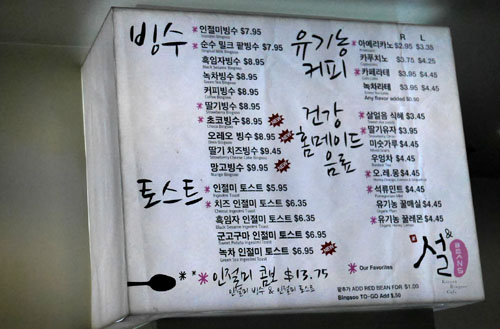 Above we see the menu, featuring various types of
bingsoo
along with toasts and beverages. Click for a larger version.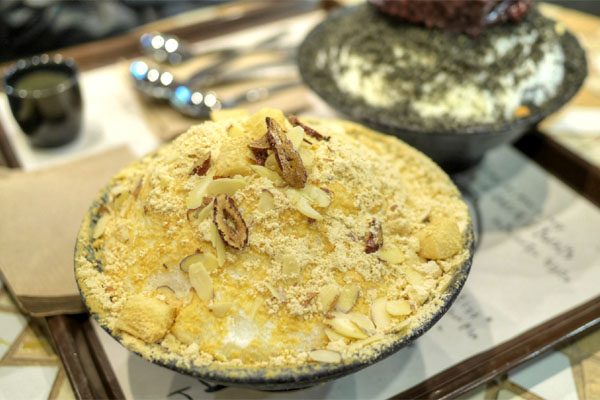 Injeolmi Bingsoo [$7.95]
We started with the signature
injeolmi
variety. This was good, real good, coming out nutty and sweet, with a wonderfully gratifying mouthfeel from the powder. Fantastic crunch provided by the dried jujubes as well, and just very well put together overall. Probably the best
bingsoo
I've had.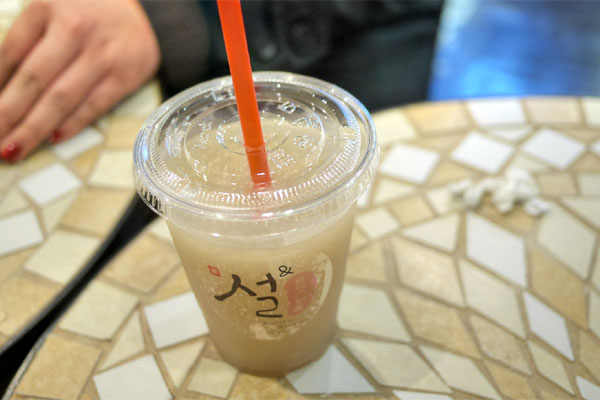 Sweet Rice Punch [$3.45]
Sikhye
was as sweet and as ricey as you'd expect.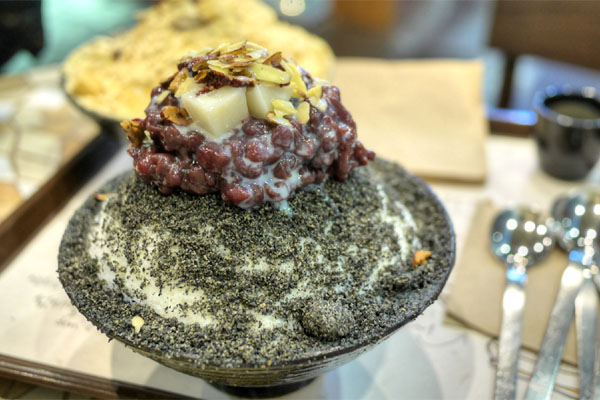 Black Sesame Bingsoo [$8.95]
The black sesame
patbingsu
also delivered in a big way, with the nutty essence of the
chamkkae
beautifully matched to the sugariness of red bean. And again, excellent crunch from the
daechu
as well. I liked this quite a bit more than
Okrumong
's.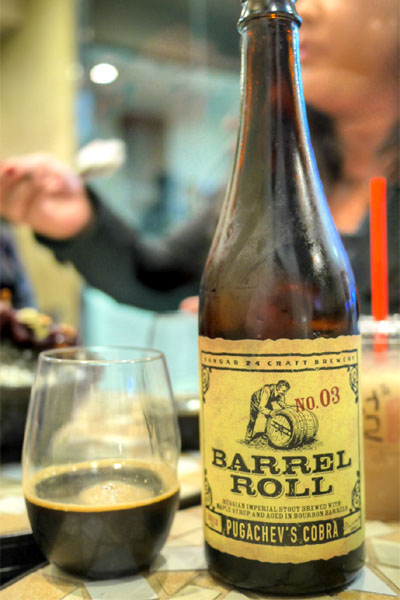 We also made sure to finish the last beer I had on me, the
2013 Hangar 24 Barrel Roll No. 3 Pugachev's Cobra
, an imperial stout brewed with maple syrup and aged eight months in bourbon barrels. It was a classic BBA stout, teeming with a bouquet redolent of coffee, chocolate, and dark fruit, while tasting of more dark fruit and coffee, malt, and bourbon character.