Magal BBQ (Los Angeles, CA)
Magal Korean BBQ Restaurant
3460 W 8th St, Los Angeles, CA 90005
213.383.1909
www.magalbbqusa.com
Thu 02/26/2016, 07:35p-09:40p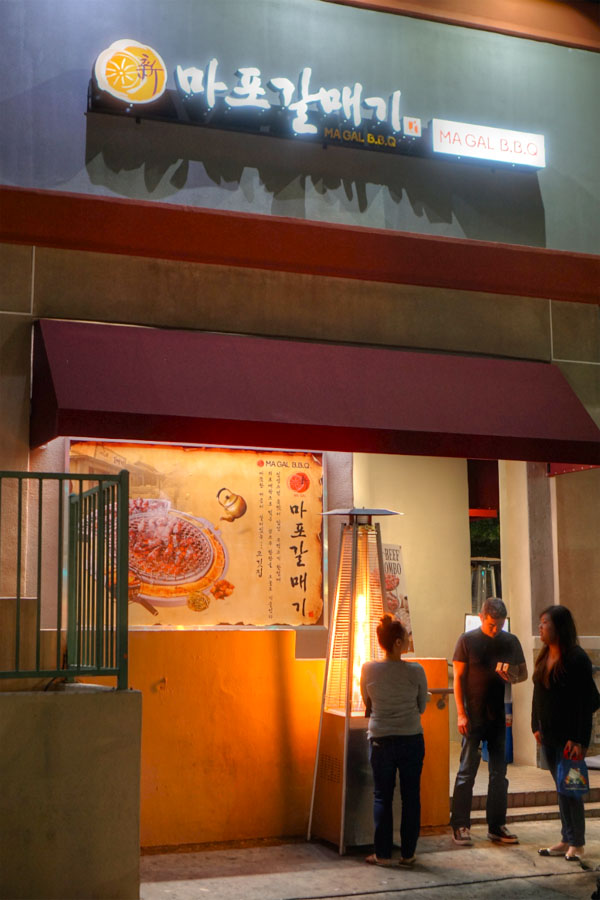 One of the newest entrants to LA's ever-popular KBBQ scene debuted back on December 9th. Magal (short for MApo GALmaegi) is part of a chain that claims 500 locations worldwide, mostly in Korea, but also in Hong Kong, China, Thailand, Indonesia, and even Flushing, New York. As the name would imply, the place ostensibly specializes in
galmaegisal
(pork skirt meat), a bit of an uncommon sight here in the States but apparently a thing back in the Motherland.
Unusually, Magal didn't take over the home of a former restaurant. Rather, it occupies the address previously held by a bookstore: Dong-A Book Plaza. Inside, things a cheery, convivial, and apparently quite close to what a popular KBBQ joint in Seoul might look like.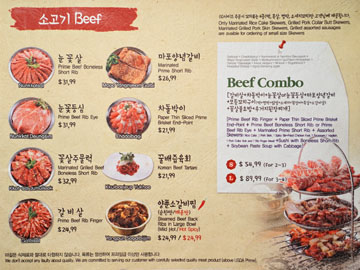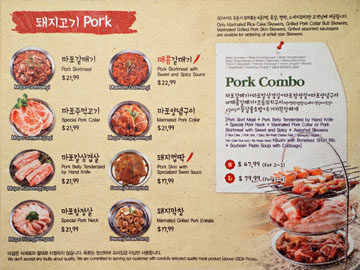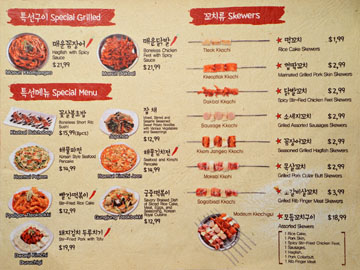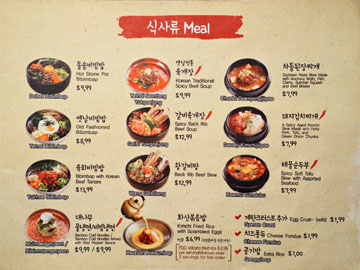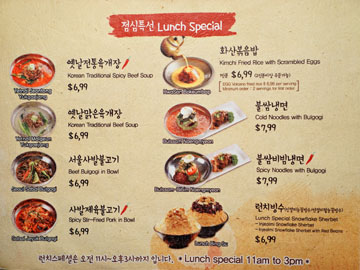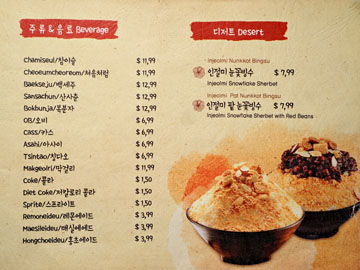 As for the menu, the place does specialize in pork, though there's a complete beef selection too. Combos, of course, are offered in addition. There are also skewers, which you don't typically see, as well as the usual complement of accompanying dishes, and even
injeolmi bingsu
for dessert (though it didn't seem to be available this evening). Drink-wise, you get your typical Korean beer, soju, and other alcoholic beverages. Click for larger versions.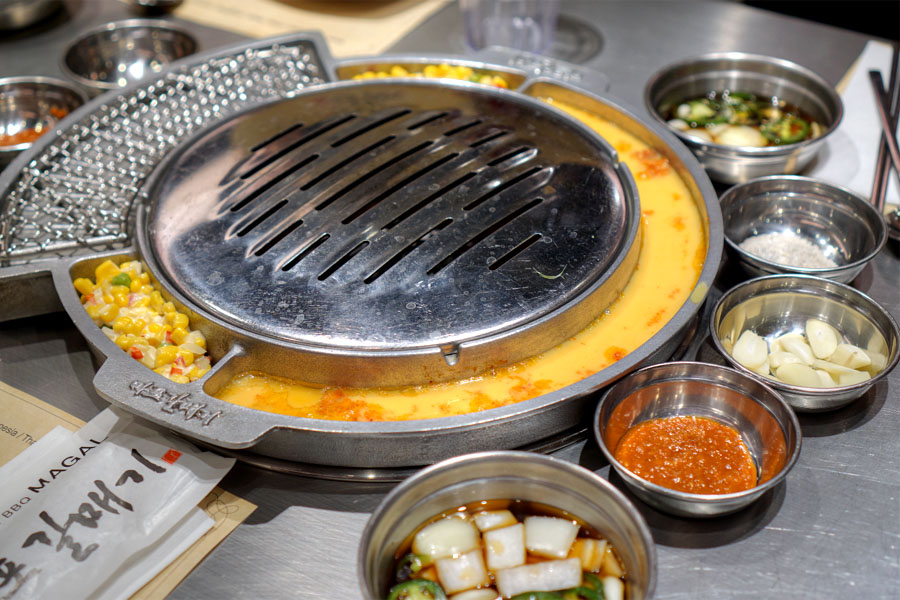 The grill setup. Apparently, Magal lays claims to the invention of the whole egg trough/moat thing that's been popularized around these parts by the likes of
Kang Hodong Baekjeong
.
Condiments included your usual
ssamjang
, garlic, salt & pepper, and
chadol
sauce.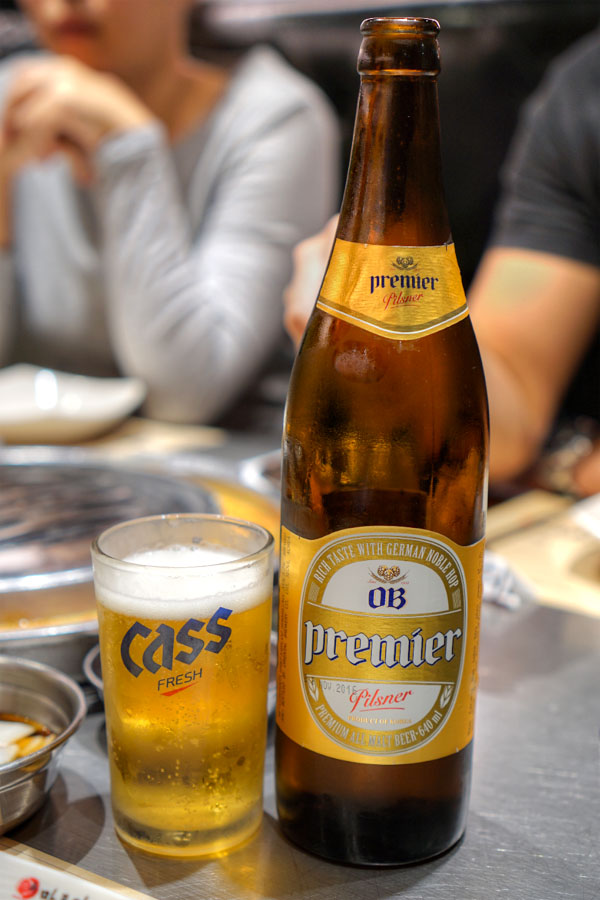 The
OB [$6.99]
wasn't a bad interpretation of your everyday pale lager.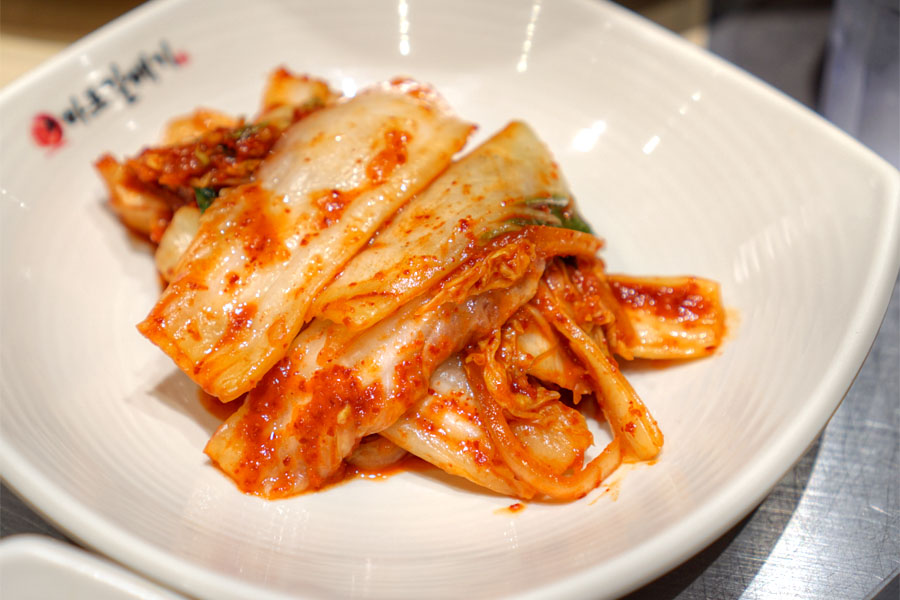 Baechu kimchi
was about what you'd expect.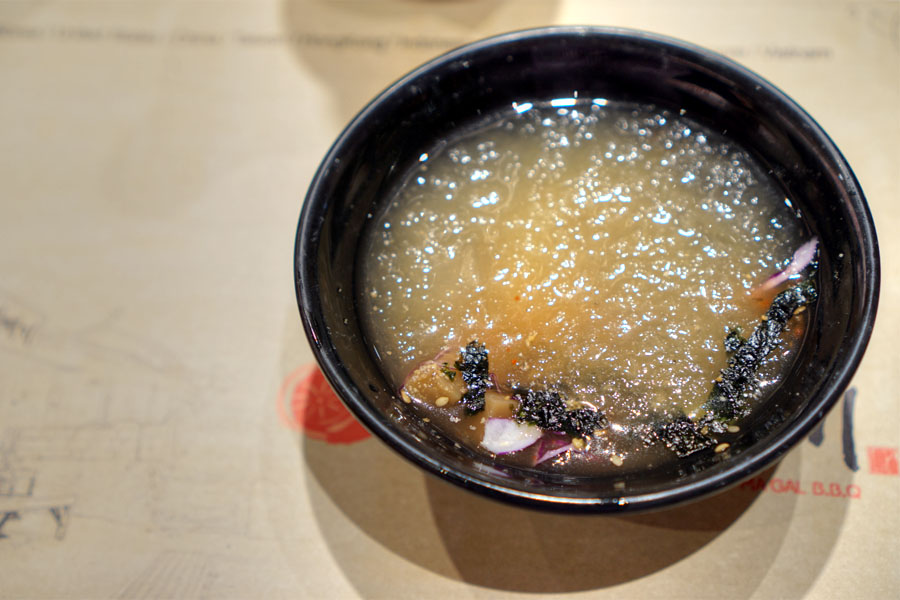 However, the
mukbap
was a surprise, a cold, refreshing sort of soup that you don't typically see all that often at KBBQ.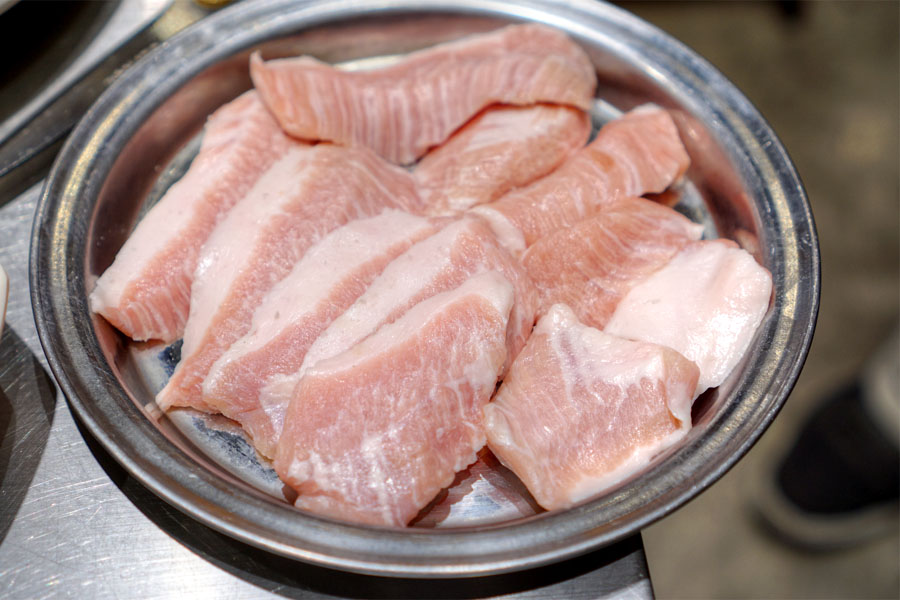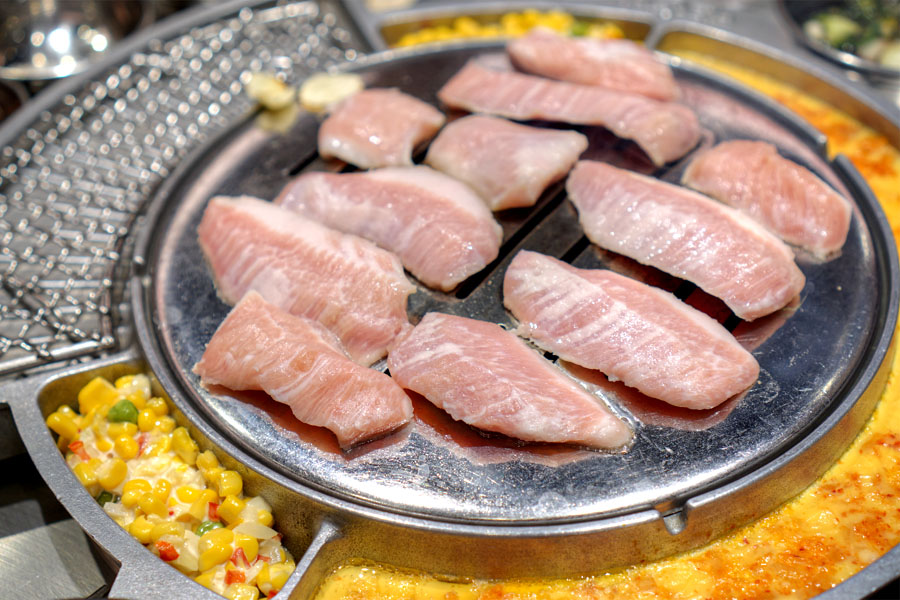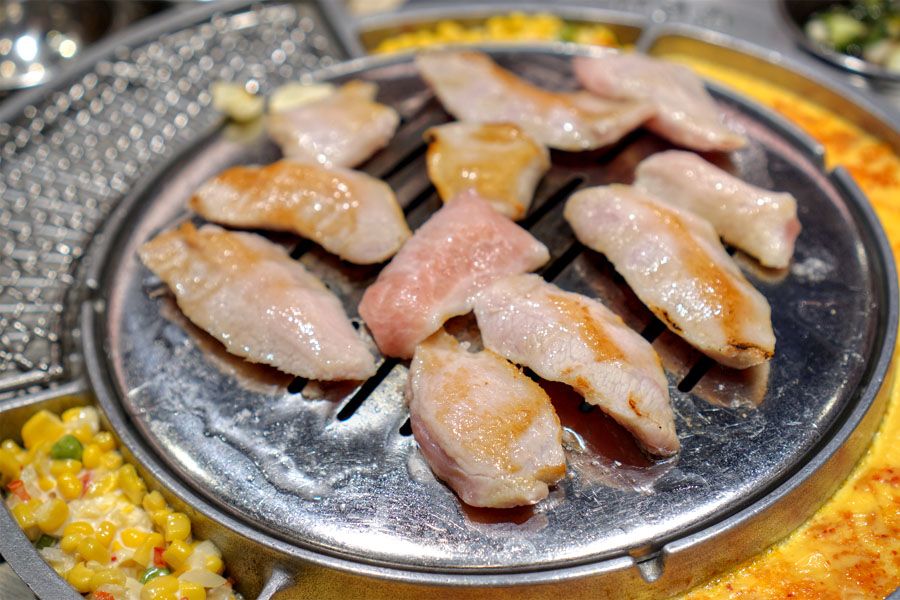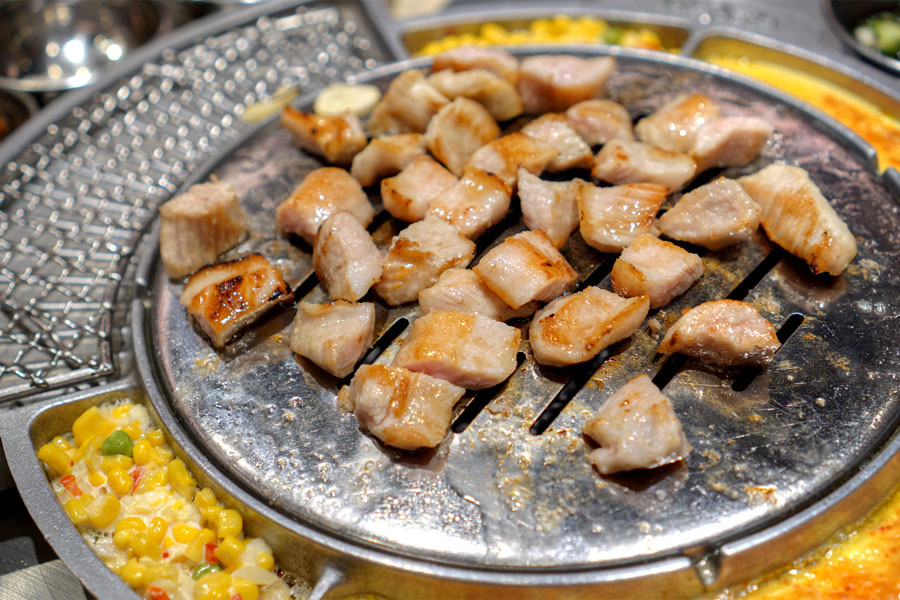 Special Pork Neck [$21.99]
Our first meat was the
mapo hangjeongsal
, arguably my favorite cut at the moment. It was just what I wanted from the jowl: firm but yielding, with a bit of chew, and loaded with plenty of porky goodness. Nice touch of caramelization too.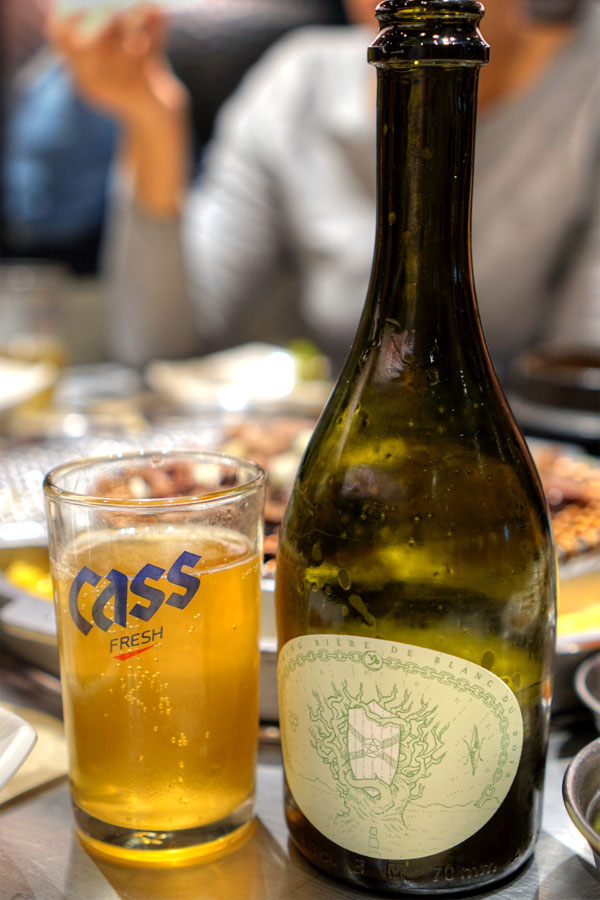 Next to drink was the
2015 Jester King Bière De Blanc Du Bois
, a barrel-aged sour with Texas-grown Blanc du Bois wine grapes. It was a tasty one, with tart, vinous notes on the nose, and a taste that brought more of the same, along with a funky, dusty complexity that I enjoyed.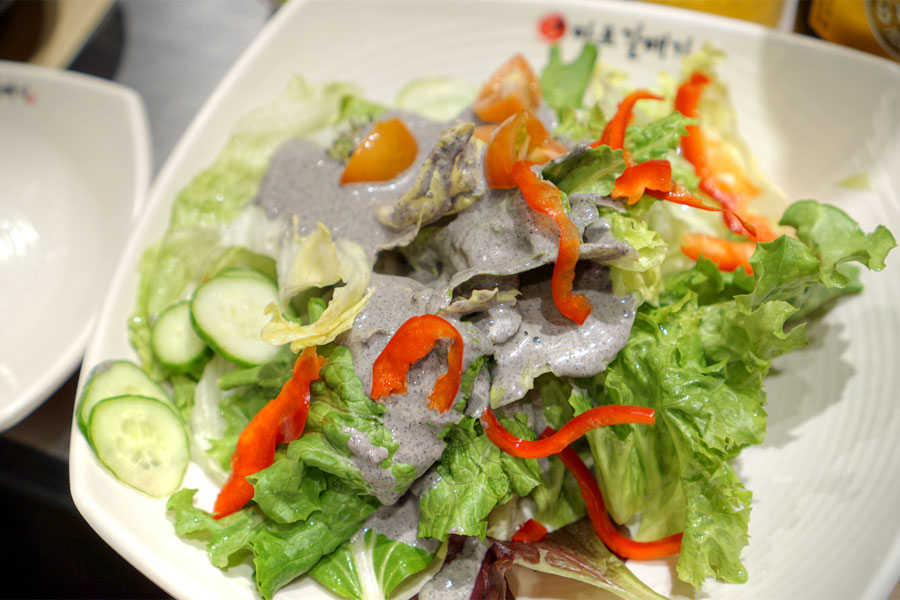 The salad was visually jarring with what I believe was a black sesame-laced dressing.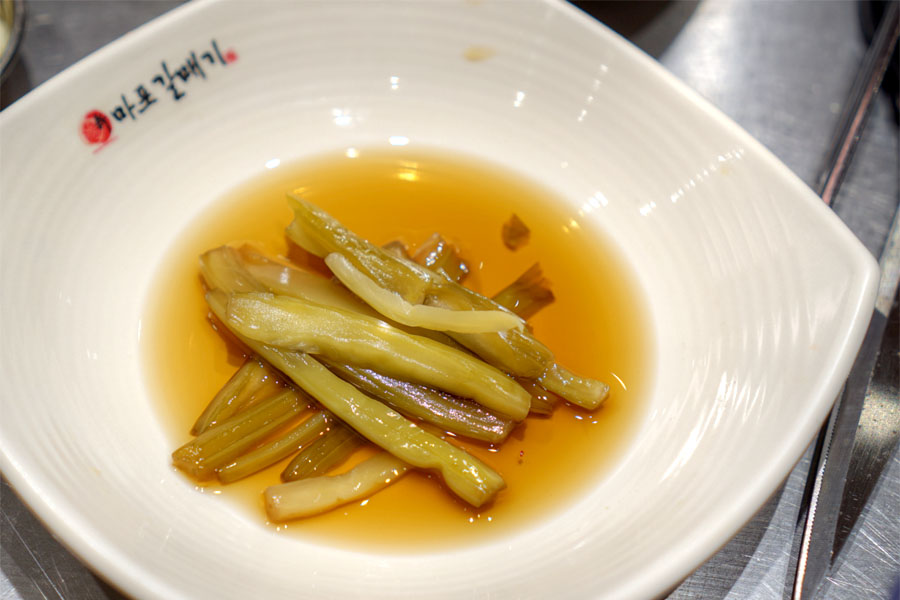 Bitter batons of pickled celery made for another uncommon
banchan
.
I was a fan of the
kongnamul muchim
, with its crunch, spice, and countering zippiness from the green onion.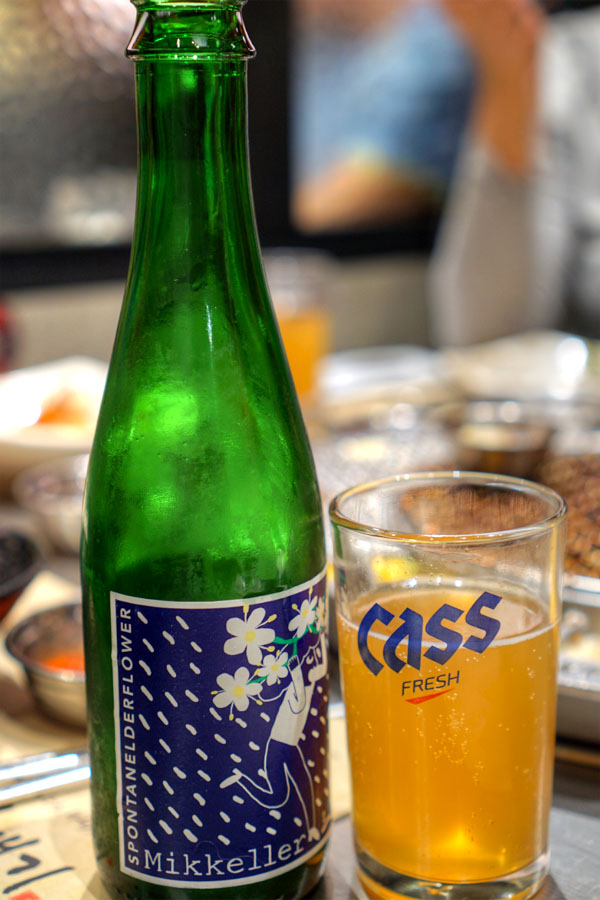 The
Mikkeller Spontanelderflower
was a lambic-style beer brewed with elderflower and sea buckthorn. I wasn't terribly into this, as instead of the fruity, floral nuances typically associated with elderflower, I got loads of astringency from the buckthorn that didn't sit well with me.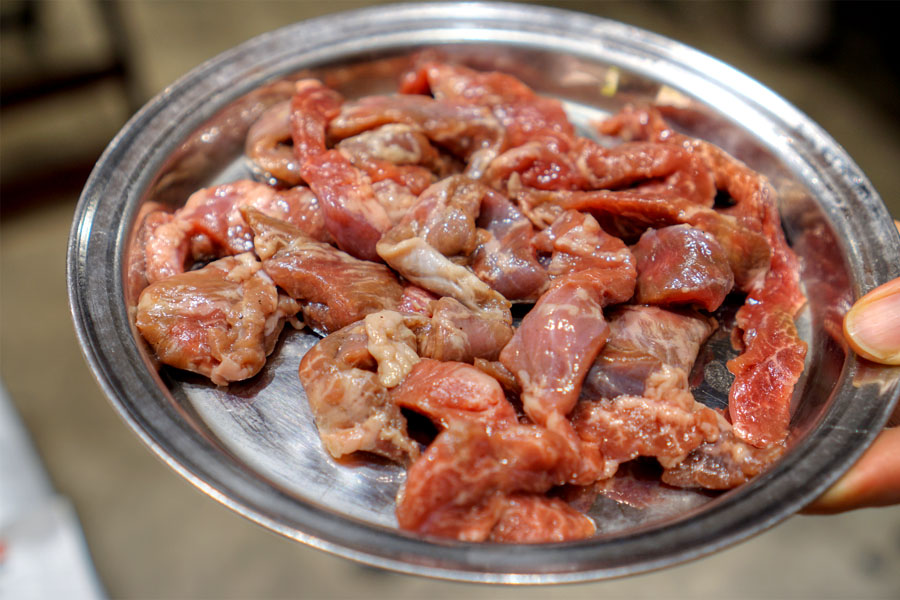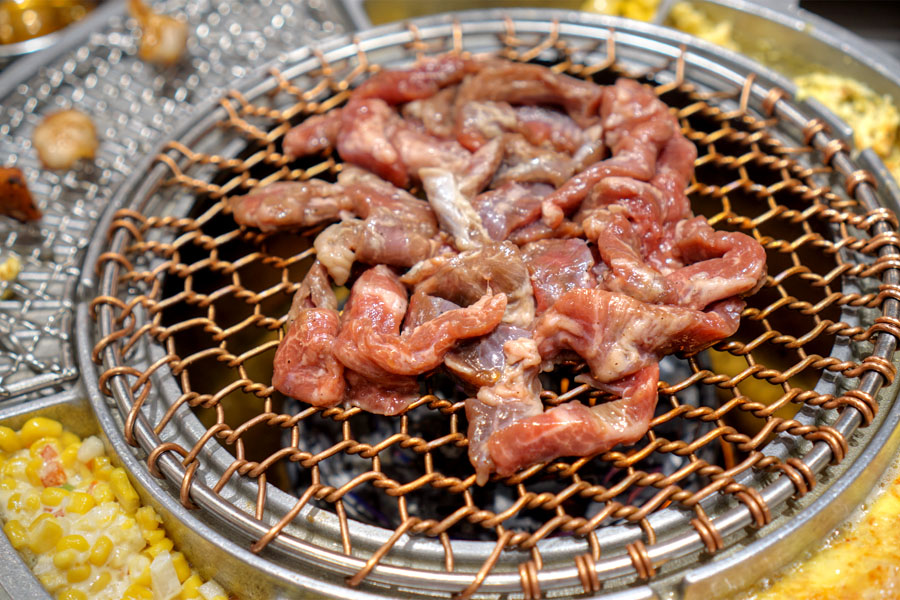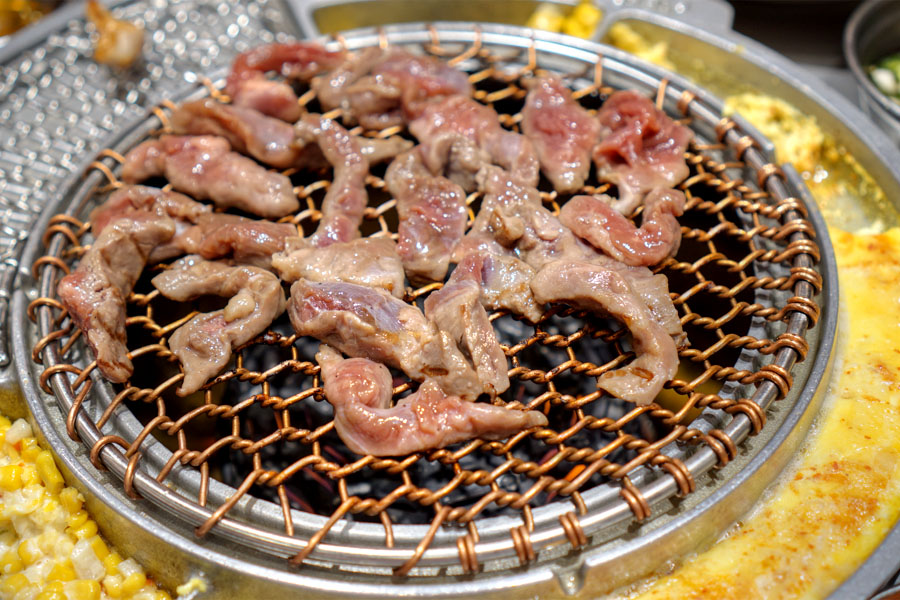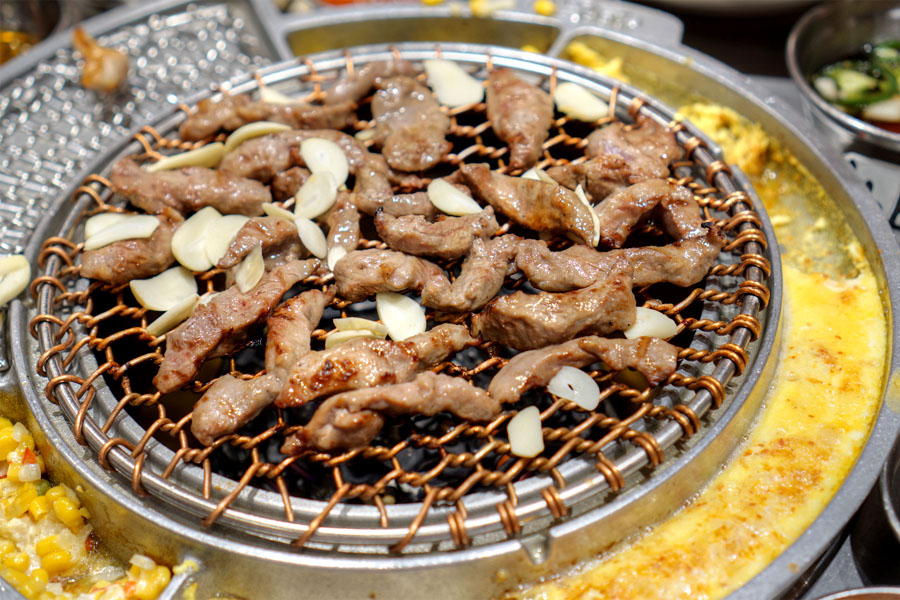 Pork Skirtmeat [$21.99]
Naturally, we had to try the restaurant's signature cut, the
mapo galmaegi
. I don't think I've ever encountered this before at KBBQ, and I must say that I found it almost beef-like in nature, with a sweetness underpinning the whole experience. Very tasty, and certainly worth trying if you haven't had it.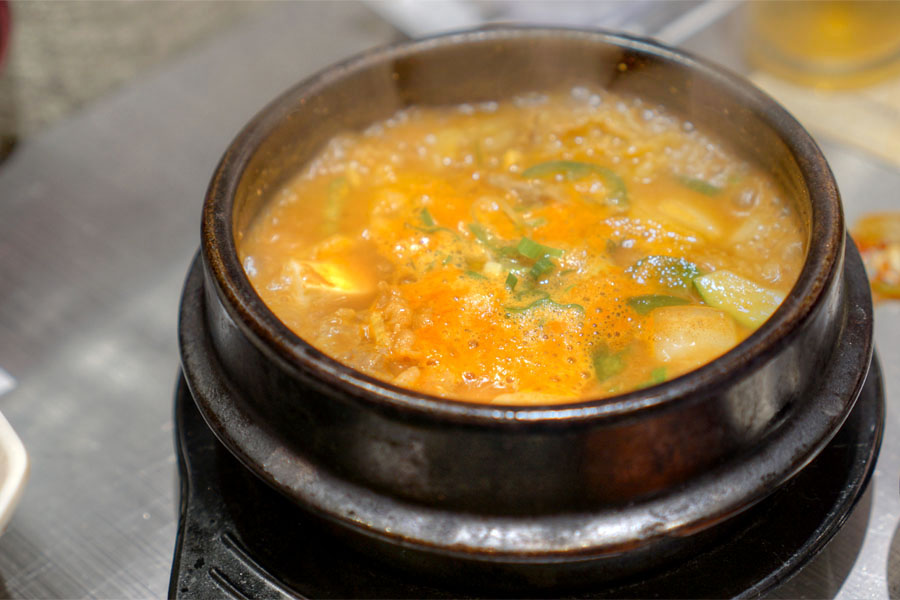 Soybean Paste Stew Made with Anchovy Broth, Fish, Clams, Summer Squash and Beef Brisket [$7.99]
Chadol doenjang jjigae
was quite good, showing more depth and more umami than most preparations, probably thanks to the incorporation of large amounts of seafood.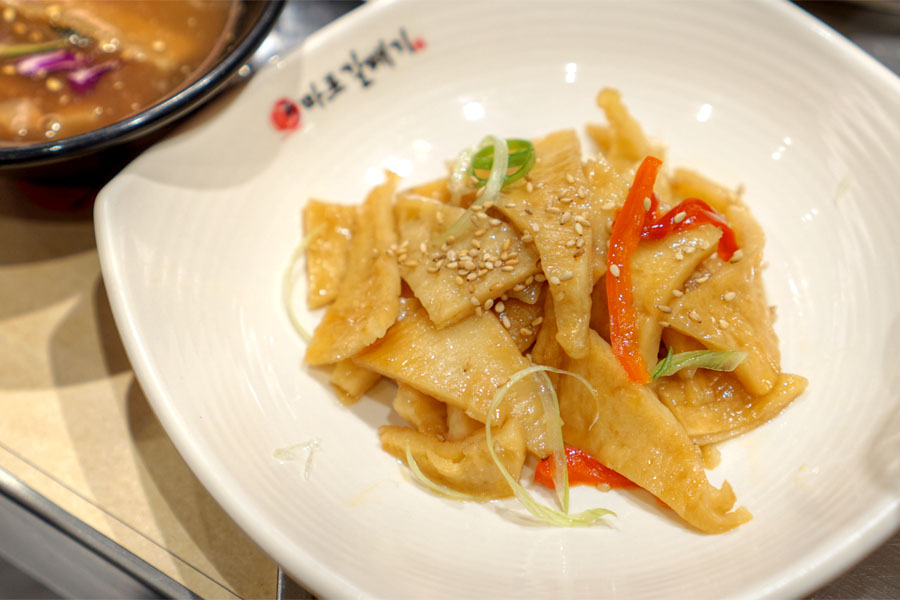 Eomuk bokkeum
(fishcake) was on point, with a nice contribution from the bell peppers and sesame seeds.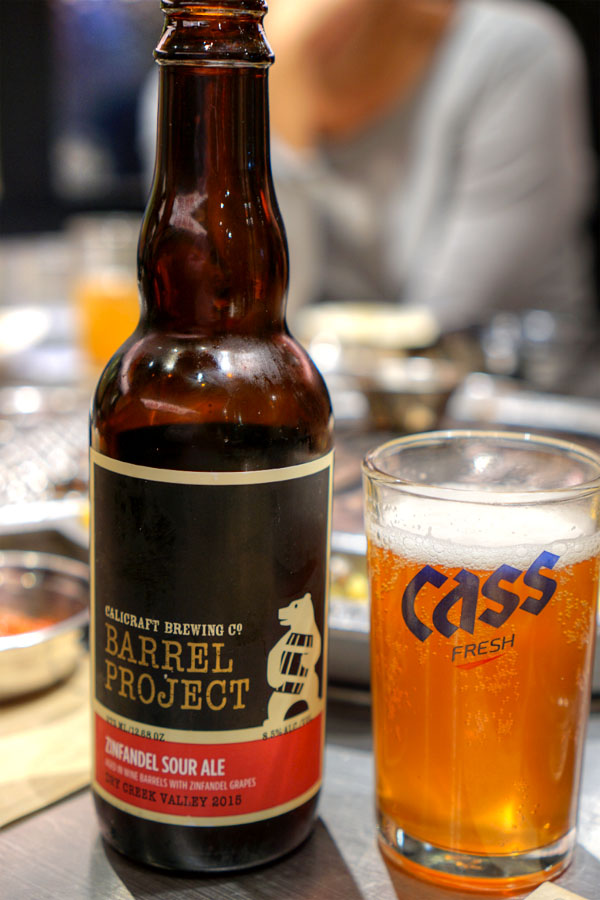 Our final bottle was the
2015 Calicoast Barrel Project: Sour Zinfandel
, comprising Buzzerkeley pale ale aged in Zinfandel barrels for 6-8 months, with pomace and
Brettanomyces
added. It was another tasty wine-inspired beer: fruity, funky, and dry to the smell, with a vinous palate that showed off sour red fruit, mustiness, and oak.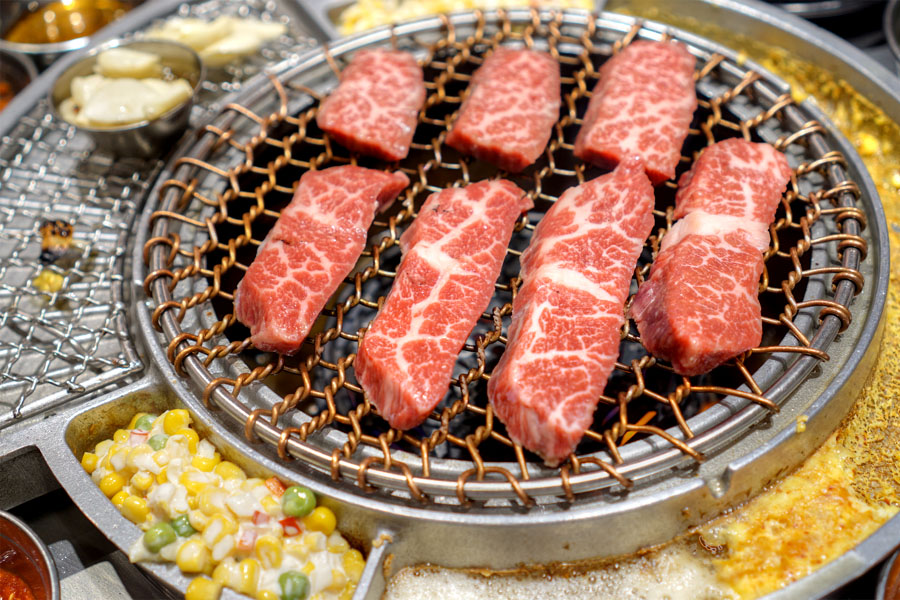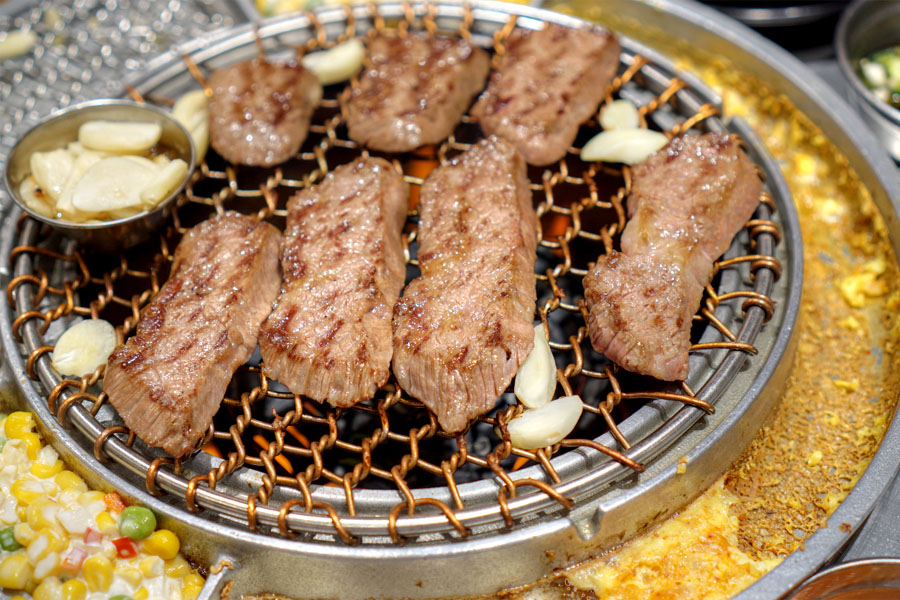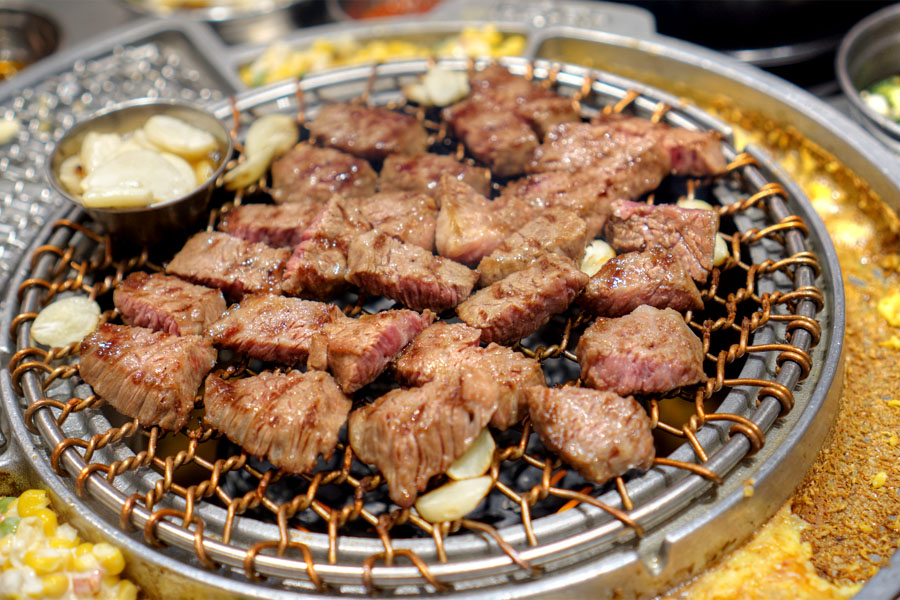 Prime Beef Boneless Short Rib [$31.99]
The
nunkkotsal
managed to be the sole grilled beef option tonight, and it didn't disappoint. Think juicy and tender, with a mix of sweet, bovine flavors well-matched to the garlic.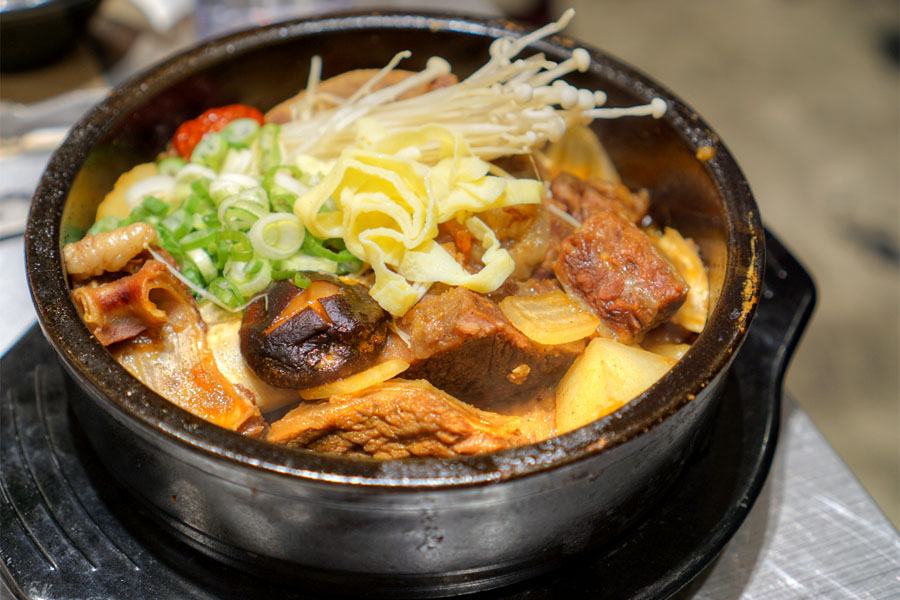 Steamed Beef Back Ribs in Large Bowl (Hot Spicy) [$24.99]
Our most substantial dish of the night came in the form of the
maeun yangpun sogalbijjim
, which had all the deep, dark, beefy notes you'd expect, perked up by a smidge of spice while the veggies gave some brightness. Yum.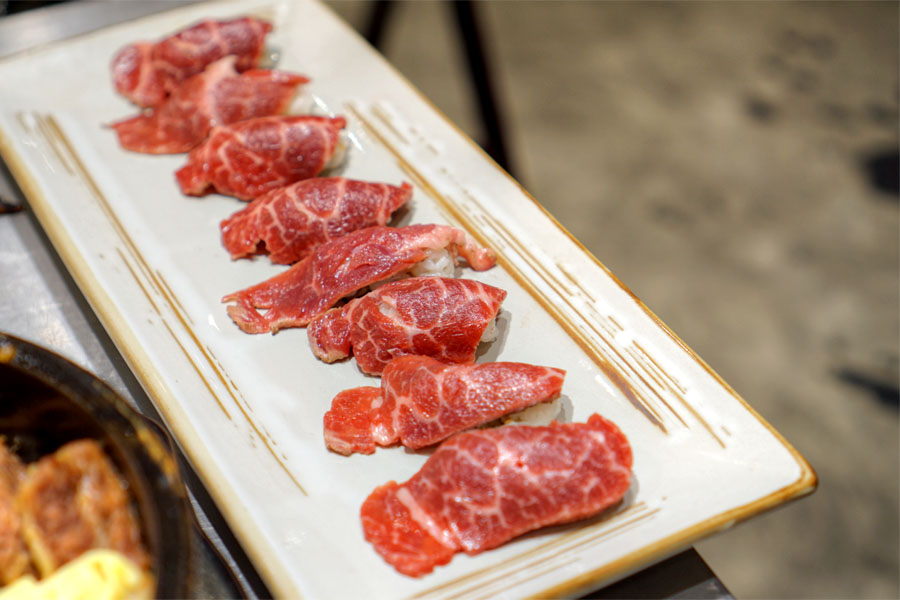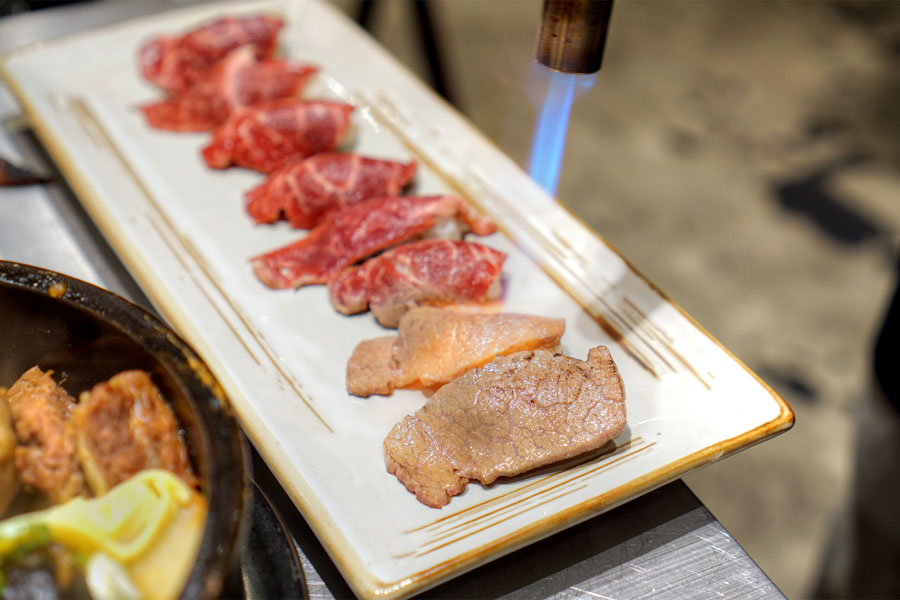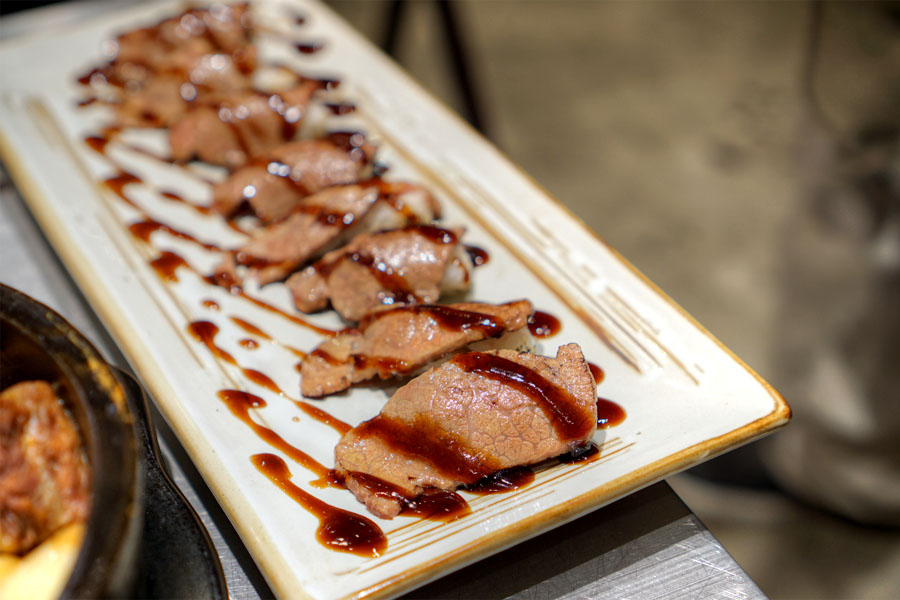 Boneless Short Rib Sushi [$15.99]
Last up came the
kkotsal bulchobap
, one of the more unusual dishes on the menu. They actually did a nice job torching the meat, making for supple, slightly charred slices of beef that married well with the rice on the bottom. I could've used less sweetness on the sauce, though.
I left pretty impressed with Magal. Meat quality was right up there, while the sides and more composed dishes were of high quality as well. I actually wouldn't mind trying more of the menu. Another strong contender for the City's KBBQ pantheon I have to say.