Dan Sung Sa (Los Angeles, CA)
Dan Sung Sa Restaurant
3317 W 6th St, Los Angeles, CA 90020
213.487.9100
www.dansungsala.com
Wed 02/24/2016, 11:30p-12:35a

After a pretty stellar cocktail experience at
The Walker Inn
, we needed some food in our bellies to soak up the booze and thus moseyed over to Dan Sung Sa, perhaps Koreatown's quintessential
sooljip
. Named after
Danseongsa
, the first movie theater in Korea, the bar was started in 1997 by Byung Cho--a Korean immigrant who came to the US in 1992--and has firmly established itself as one of the top spots to get your
anju
(drinking food) fix.

Inside, things are decidedly old-school-Korean-drinking-hall chic. There's lots of hand-finished wood (crafted by Cho himself), and lots of scribbling on said wood, not to mention retro posters and whatnot lining the walls. I dig it.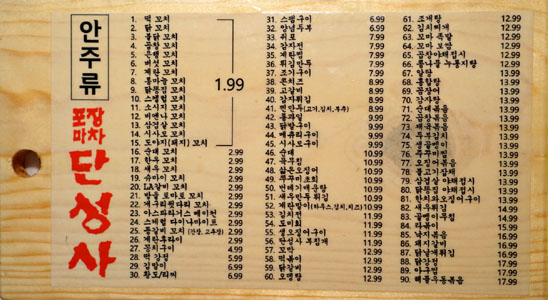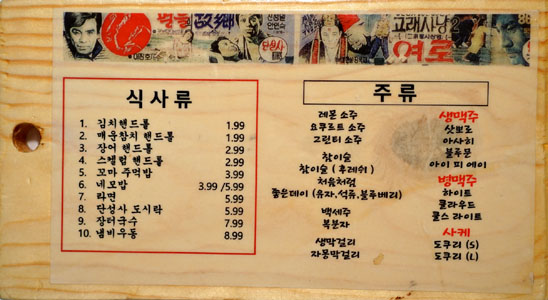 As far as the menu goes, you get all your
pojangmacha
-inspired classics, with a particular emphasis on the skewer selection (and don't worry, there's an English version of the menu as well). Drink-wise, think beer, soju,
makgeolli
, and the like, natch. Click for larger versions.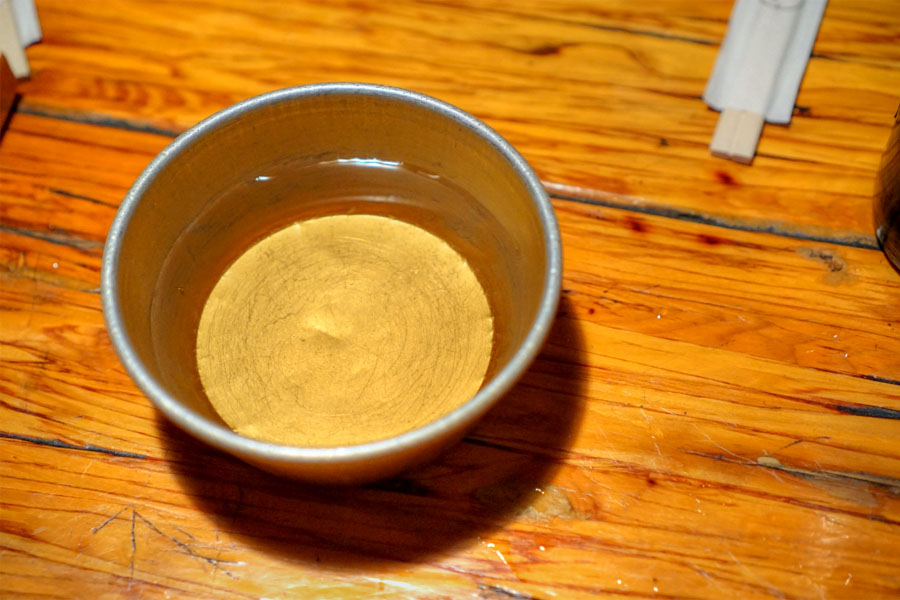 Beverage-wise, we largely went with the complementary
boricha
, that toasty, roasty barley tea.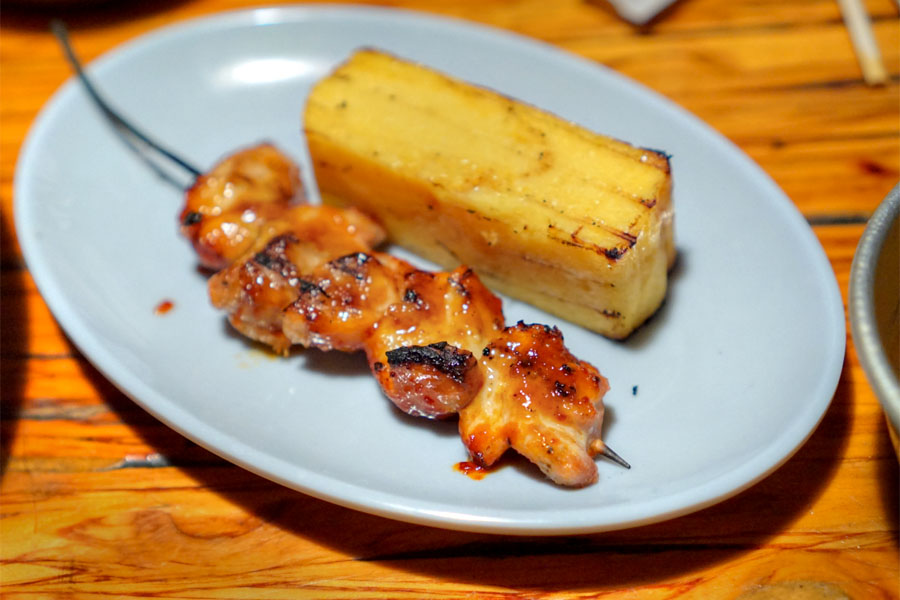 Spicy fire chicken skewer [$1.99] & Egg cake skewer [$1.99]
Coming out all spicy and smoky, the
bul dakkochi
was very tasty indeed, as was the fluffy, slightly sweet
gyeran kkochi
. Interestingly, we didn't actually order these items, so I'm not sure if they were meant to be complementary or what.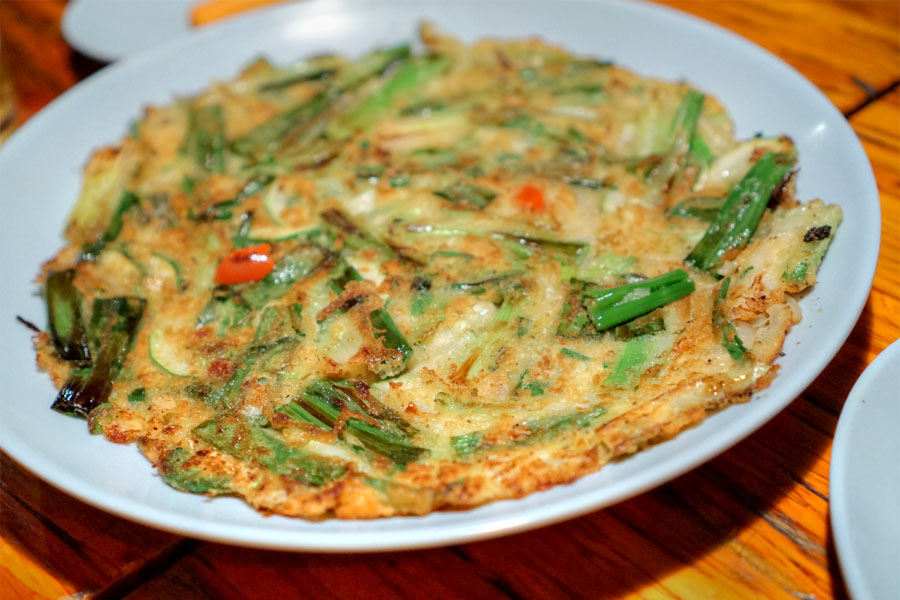 Scallion pancake [$11.99]
We ordered a
haemul pajeon
(
Dan Sung Sa buchimgae
on the menu), but somehow managed only to get the non-seafood version. That being said, it was one of the better versions I've had, spot on texturally, and with the zestiness of the green onions really well conveyed. Yum.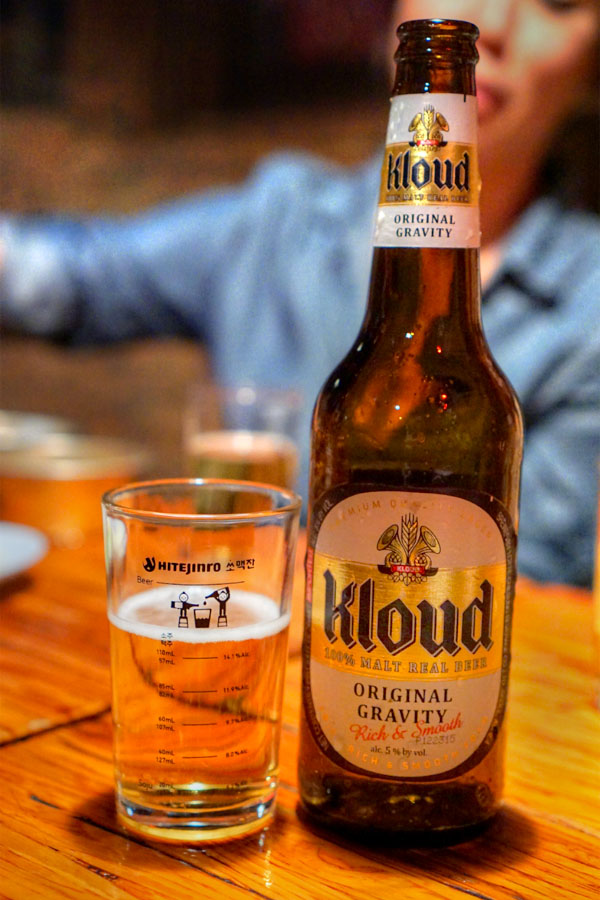 Given where we were, at least one beer seemed called for, hence a bottle of
Kloud [$6.99]
, which I actually find a bit more flavorful than your typical Korean suds.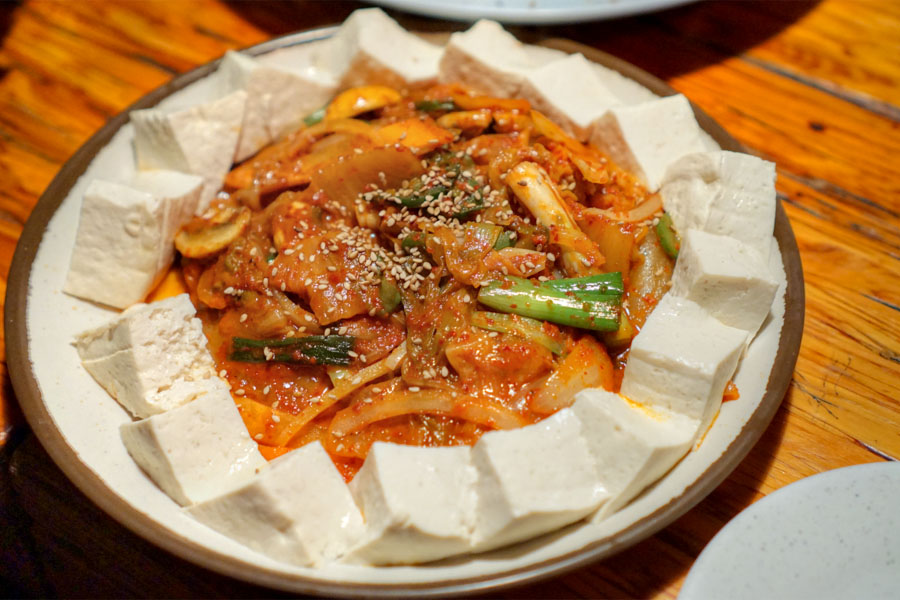 Steamed tofu & kimchi [$13.99]
Dubu kimchi
was on point as well, with the pungent, spicy kick of the kimchi perfectly contrasted by those dense little nuggets of tofu.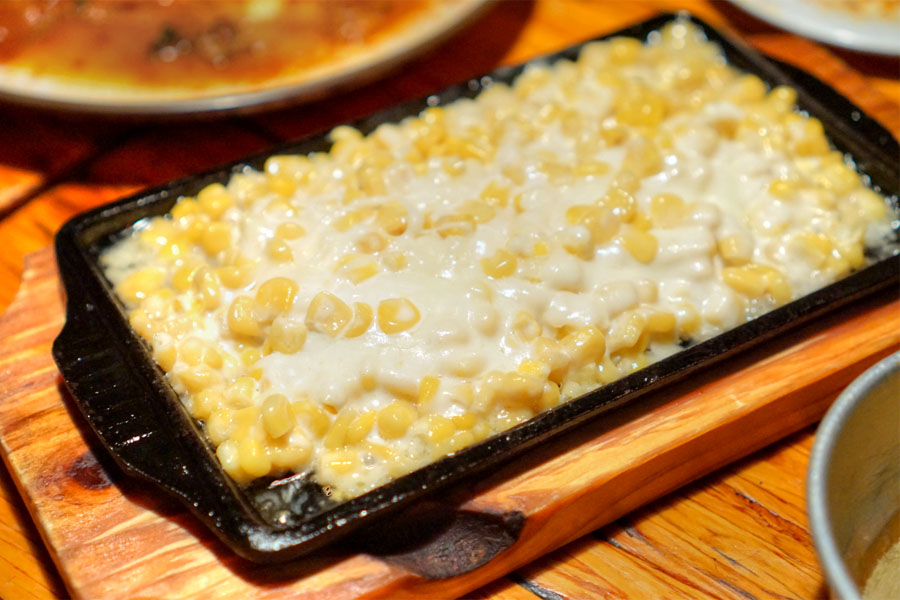 Corn cheese [$8.99]
The
kon chijeu
, meanwhile, came out sweet 'n' savory, and properly cheesy.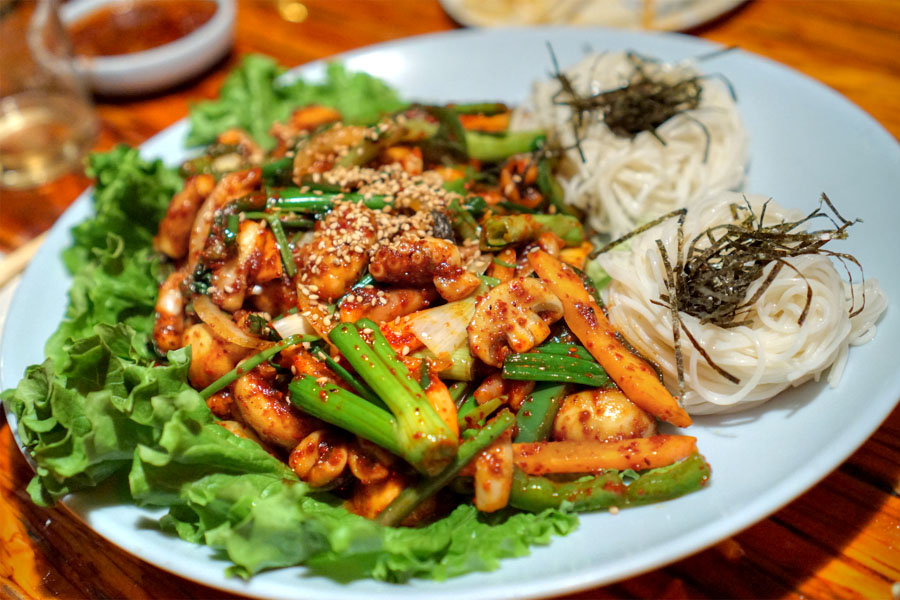 Stir fried spicy octopus w thin white noodle [$16.99 + $???]
Last up was the
nakji bokkeum
, which turned out to be one of the strongest preparations I've had, with the spicy, supple-yet-crunchy octopus impeccably matched with the various veggies, those scallions especially. Great counterpoint from the
somyeon
(which was an extra, unknown charge), too.
After sampling a dozen or so cocktails, DSS definitely hit the spot, serving up the comforting, cozy sort of Korean cuisine that you want after having a few. Sort of an essential K-town spot. We'll be back of course.