Maude (Beverly Hills, CA) [6]
Maude Restaurant
212 S Beverly Dr, Beverly Hills, CA 90212
310.859.3418
www.mauderestaurant.com
Tue 02/09/2016, 09:00p-11:35p

If you recall, I sampled Maude's carrot menu
not long ago at all
, so why the hasty return? Well, during the last dinner, I was offered an opportunity to attend, and jumped on the chance given that I'm a huge potato fan. It's easily the most versatile root vegetable by my estimation, and I pretty much enjoy it prepared in every which form, so I was excited to see what the kitchen could do with the staple.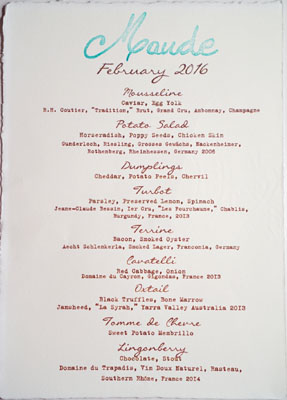 Not surprisingly, tonight's potato menu kept the $125 price point we saw in January, while wine remained at $95 and $125 for the Regular and Reserve pairings, respectively (I went with the Regular). Click for a larger version.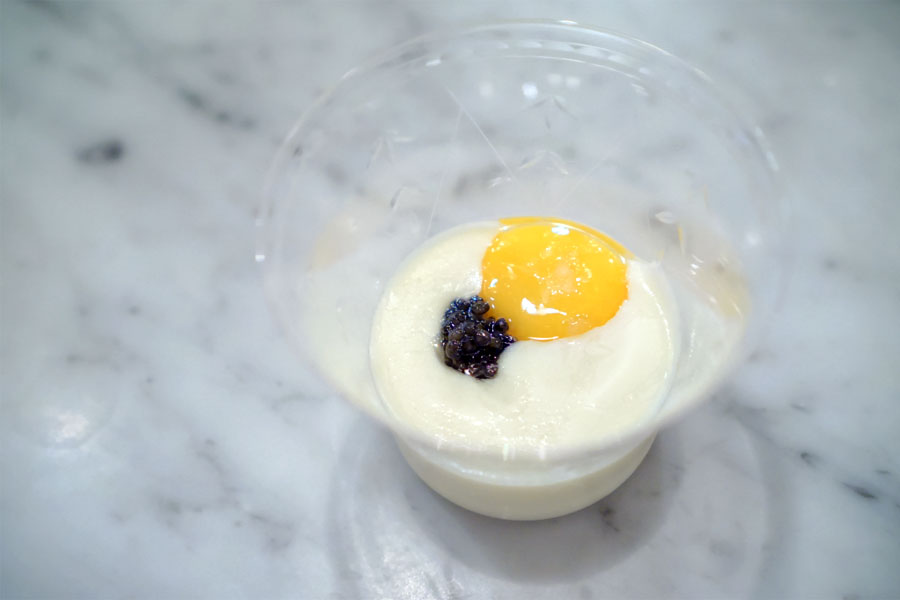 1: Mousseline
| Caviar, Egg Yolk
R.H. Coutier, "Tradition," Brut, Grand Cru, Ambonnay, Champagne
The
pomme
mousseline was among the creamiest I've had, its richest kicked up even further by the lushness of that confit egg yolk. Crucial was the caviar, which gave things a much needed prick of salt. A good match to the toasty, nutty-oxidative sparkler.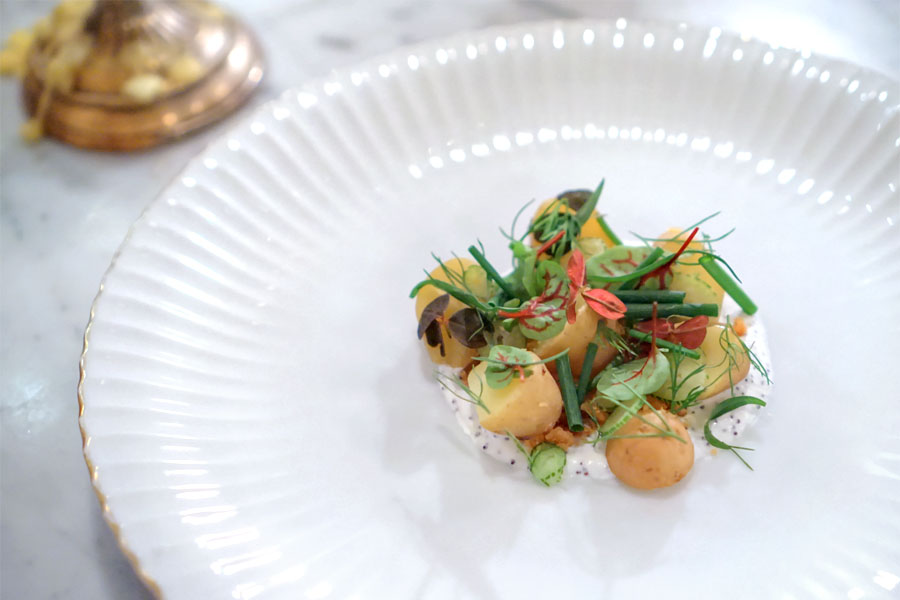 2: Potato Salad
| Horseradish, Poppy Seeds, Chicken Skin
Gunderloch, Riesling, Grosses Gewächs, Nackenheimer, Rothenberg, Rheinhessen, Germany 2006
Potato salad's one of my go-to dishes, and I'm pretty sure this was the fanciest one I've ever encountered. Nice back-and-forth here between the zippy horseradish and comparatively mild potato, with the
fines herbes
imparting even more brightness to the mix. I was a fan of the salty, crispy chicken skin as well, and overall the dish showcased some lovely textures.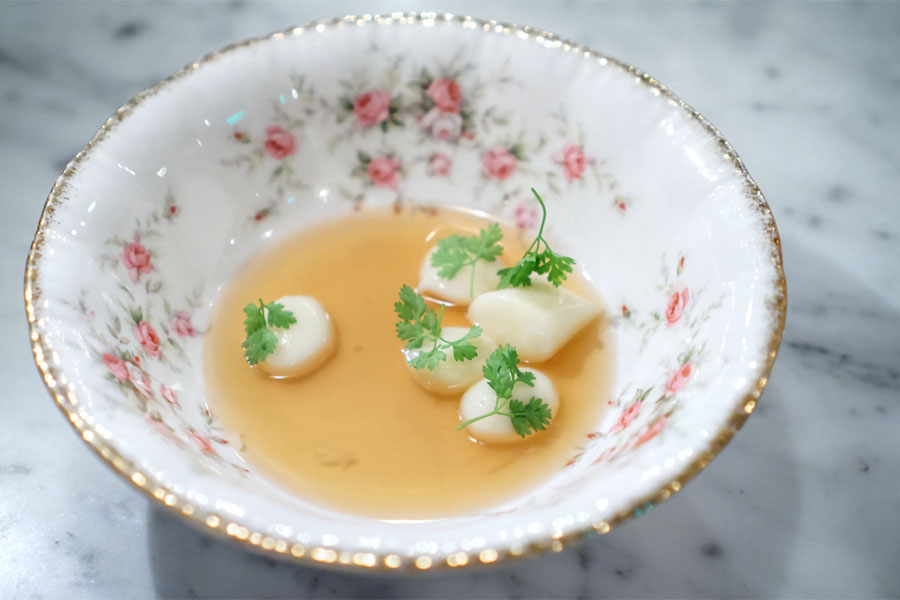 3: Dumplings
| Cheddar, Potato Peels, Chervil
Dumplings made from Mrs. Quicke's cheddar were super soft, silky, with a subtle cheesiness to 'em matched to the savoriness of potato skin consommé and the herbaceousness of chervil. I found it interesting how the course effectively softened the grassiness, smoke, and caramel notes of the paired Riesling.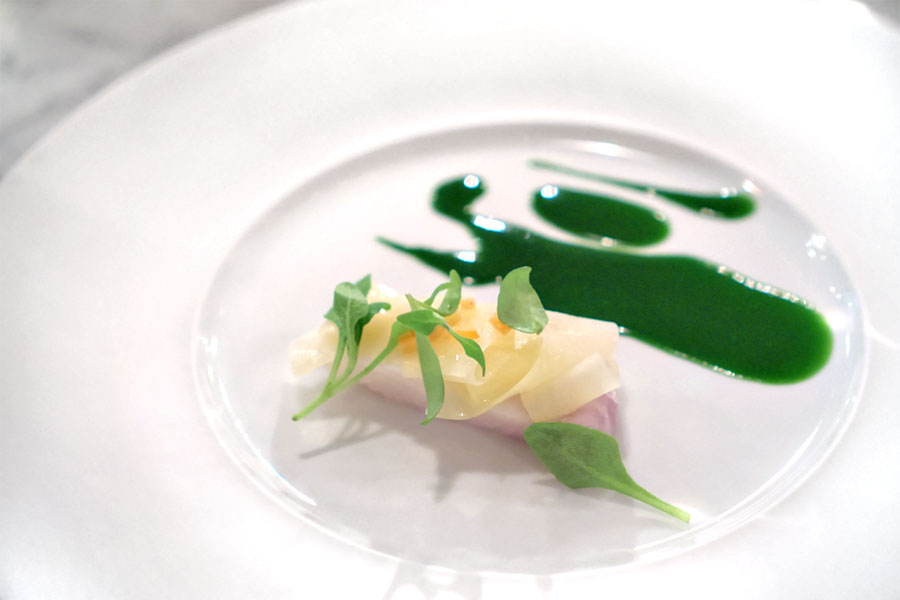 4: Turbot
| Parsley, Preserved Lemon, Spinach
Jeane-Claude Bessin, 1er Cru, "Les Fourchaume," Chablis, Burgundy, France, 2013
Cultured butter-poached turbot came out firm and briny, but tempered by the crunch of that potato ribbon while a delightfully verdant, zingy parsley-spinach purée served as an exclamation point. Said sauce also worked to intensify the wine, a lighthearted Chablis with refreshingly floral and juicy stone fruit notes.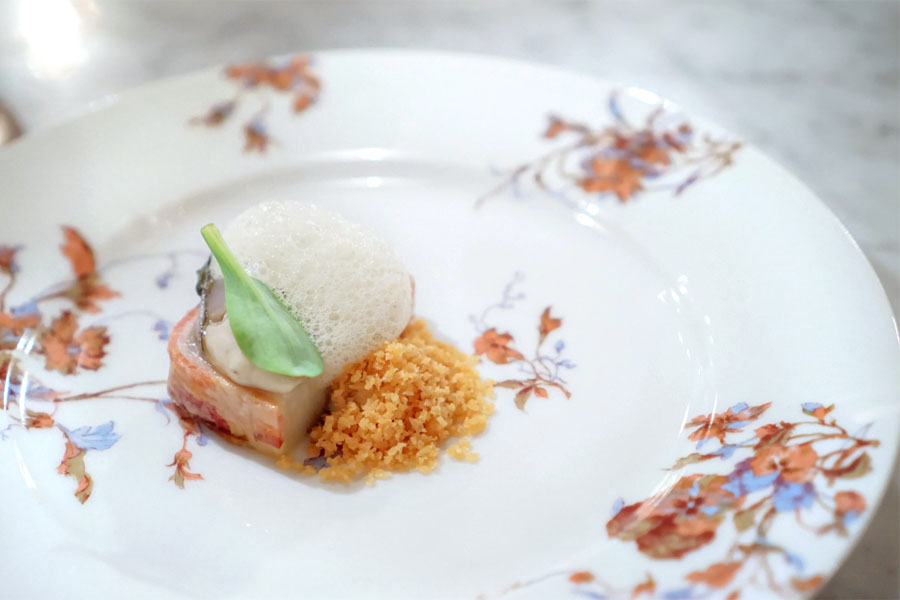 5: Terrine
| Bacon, Smoked Oyster
Aecht Schlenkerla, Smoked Lager, Franconia, Germany
A rectangular portion of well-cooked potato didn't convey much on its own, so key to the dish was the oceany punch of oyster along with the salty bacon, which mirrored the smoke apparent in the paired lager. Great textures from the breadcrumbs.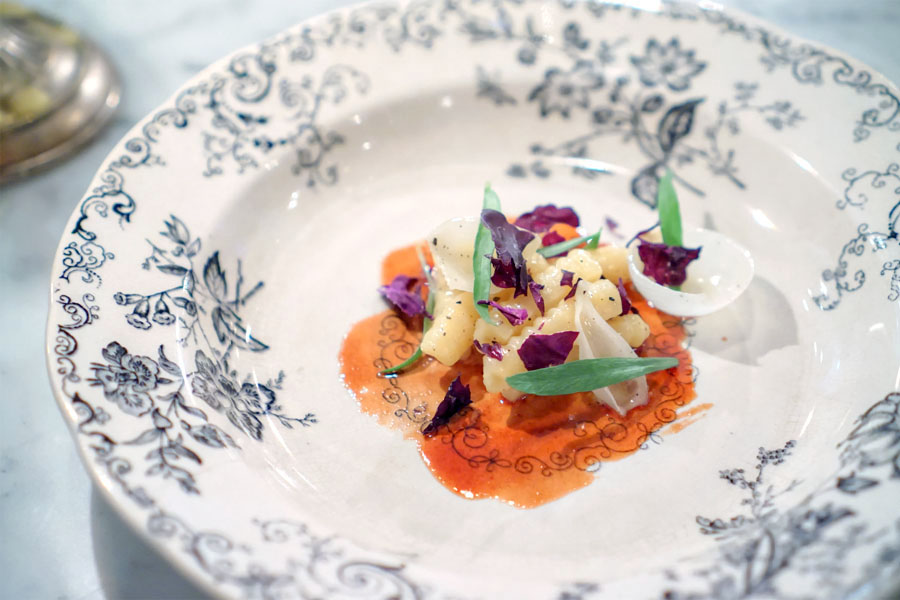 6: Cavatelli
| Red Cabbage, Onion
Domaine du Cayron, Gigondas, France 2013
Potato cavatelli matched well with accompaniments of tarragon and pearl onion, as well as a sweet-tart sauce that moderated the potent dark fruit, herb, and spice notes in the included Gigondas. I wasn't so keen on the texture of the red cabbage here, though.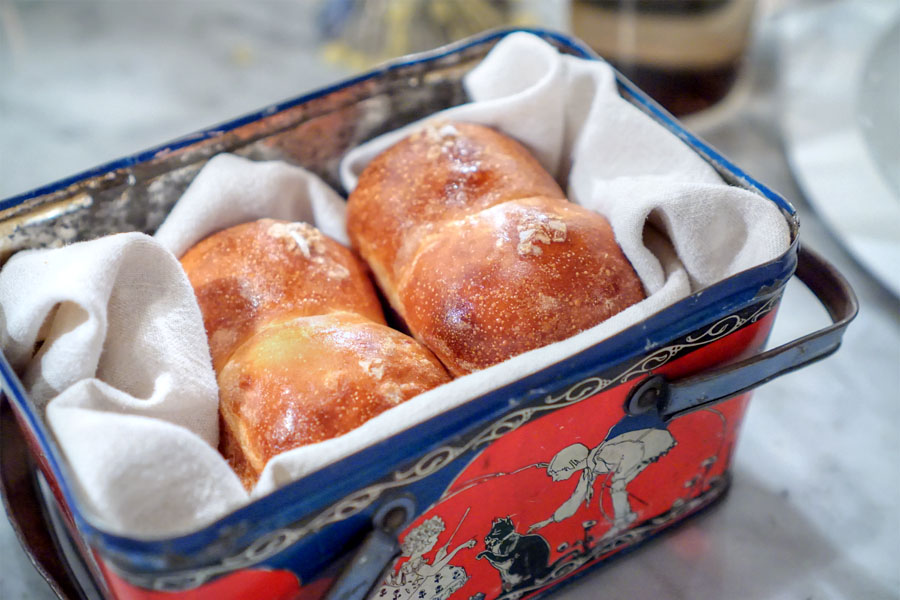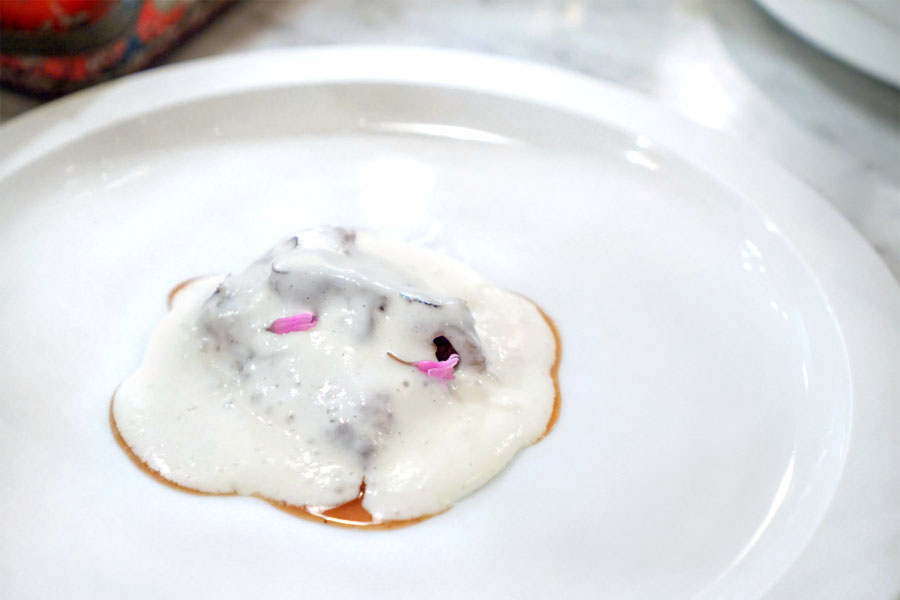 7: Oxtail
| Black Truffles, Bone Marrow
Jamsheed, "La Syrah," Yarra Valley Australia 2013
The red Burgundy-braised oxtail wasn't much to look at, but delivered in the taste department. Super tender to the bite, the beef displayed the deep, dark flavors you'd expect, all set against the levity of a potato foam. I made sure to use the wonderfully sweet-ish dinner rolls provided to mop up the remaining liquid.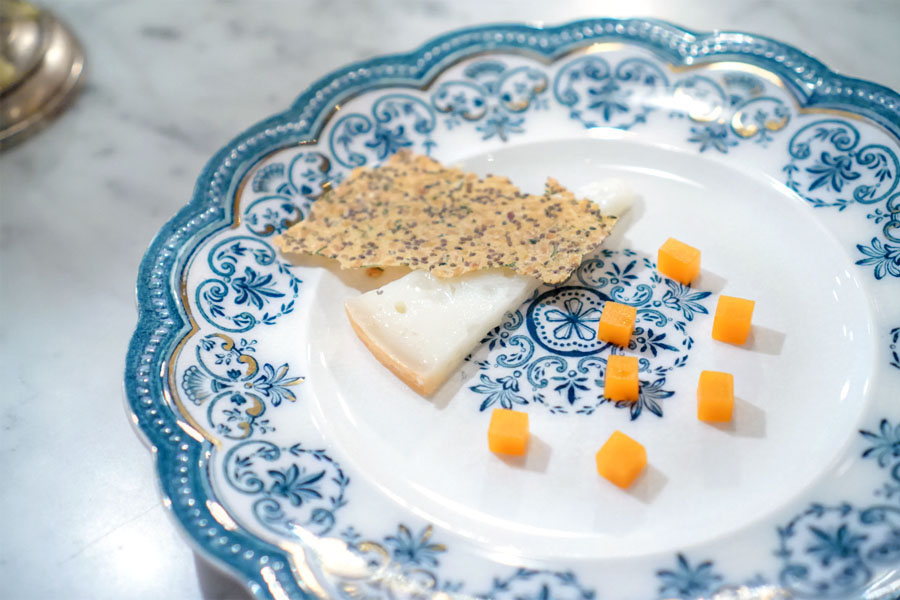 8: Tomme de Chevre
| Sweet Potato Membrillo
For our cheese course, a semi-soft goat's milk cheese from the Pyrenees showed off a richness and funk that worked well alongside the sugary
dulce de batata
. Great nutty crunch from the mashed potato-chia-hemp-golden sesame chip, too.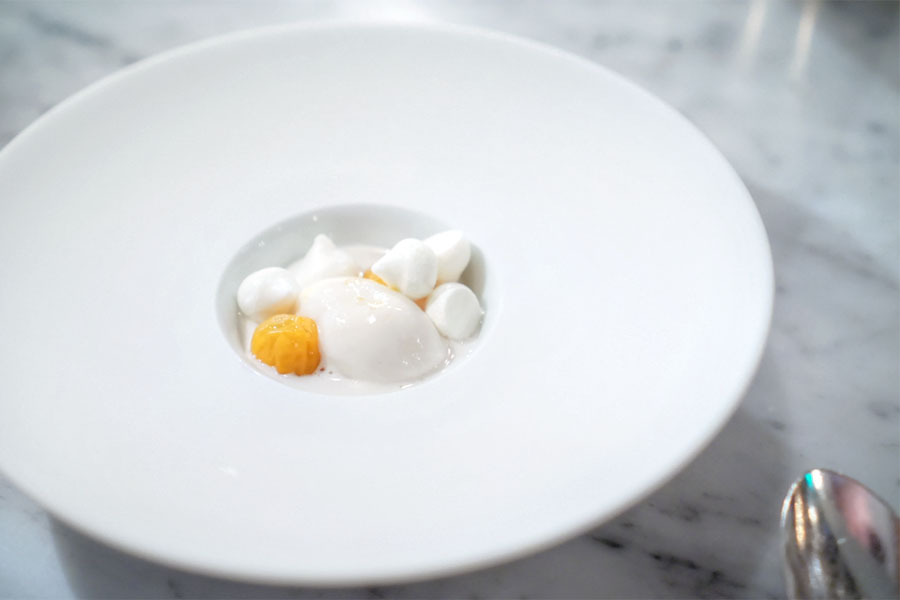 The pre-dessert married a richly-flavored sweet potato-white potato sorbet with tart gooseberries and tangy lime meringues.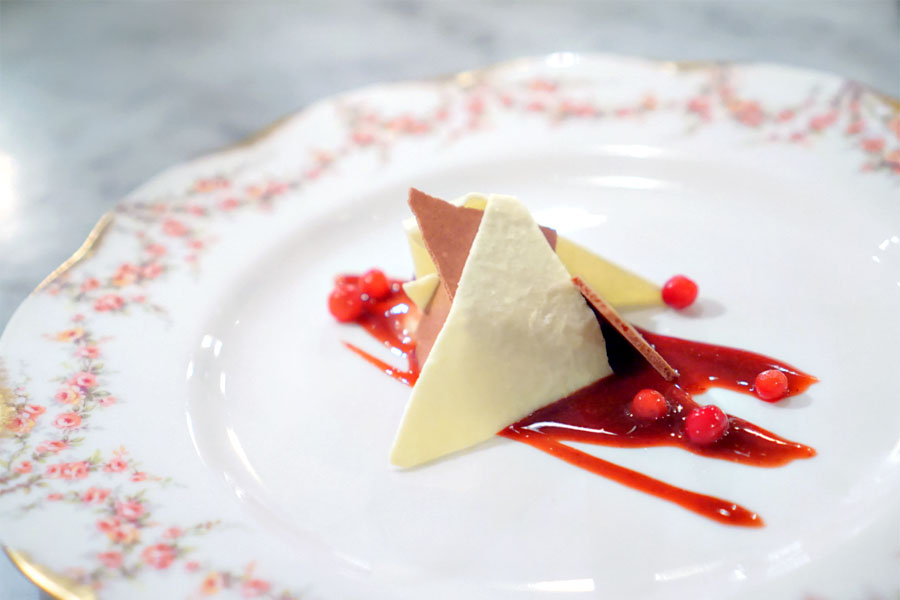 9: Lingonberry
| Chocolate, Stout
Domaine du Trapadis, Vin Doux Naturel, Rasteau, Southern Rhône, France 2014
A lingonberry and stout sauce made for a sweet, intensely-flavored dressing for the shards of frozen white potato mousse and milk chocolate cremeux-plus-tuile. A sort of classic chocolate-berry combination amplified by the luxurious dark fruit notes in the dessert wine.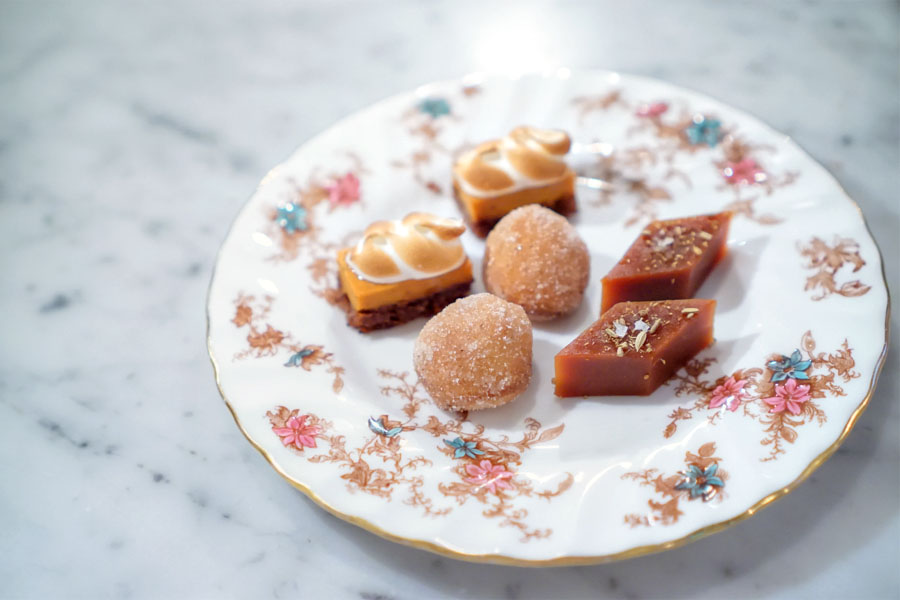 Mignardises tonight comprised sweet potato caramels with sea salt and fennel, spicy choux pastries of potato with mascarpone and cinnamon sugar, and cozy bites of sweet potato pie.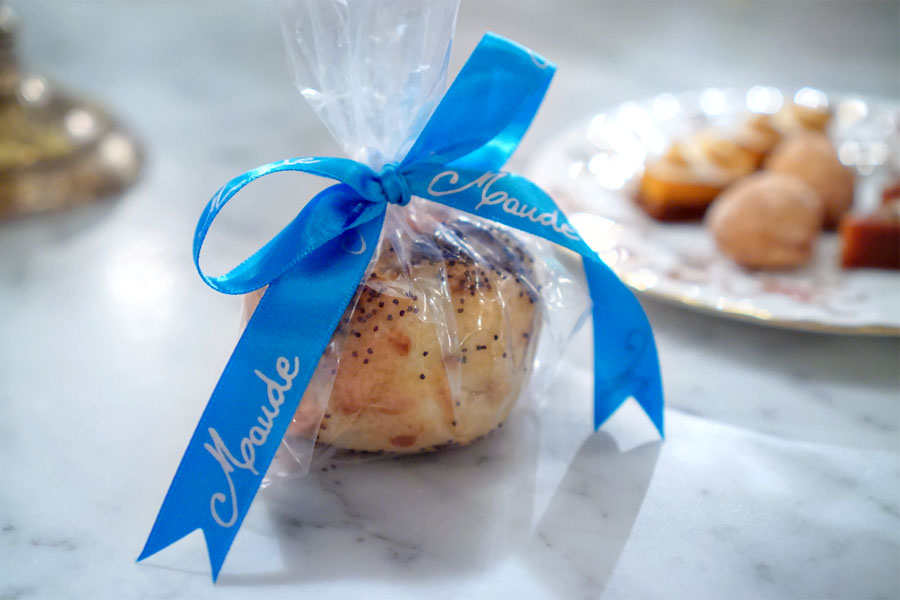 The take-way was a hearty poppy seed-coated knish, stuffed with caramelized onion, roasted potato, and parsnip. Yum.
The potato is pretty much the humblest of ingredients--apparently used mainly for livestock feed until popularized by the efforts of Antoine-Augustin Parmentier--but made for one of the stronger meals I've had at Maude. The team did a nice job showcasing the commonplace crop, presenting it in some surprising ways that I'd not expected nor encountered before. All that was missing were some
frites
.