Bluefin (Newport Beach, CA)
Bluefin
7952 E Pacific Coast Hwy, Newport Beach, CA 92657
949.715.7373
www.bluefinbyabe.com
Wed 12/27/2006, 01:00p-03:00p
Takashi Abe honed his skills under the legendary Nobuyuki Matsuhisa (of Nobu fame). Some years ago, he left Matsuhisa in Beverly Hills and created his own restaurant, Restaurant Abe, on the Newport peninsula. It was there that I honed my penchant for sushi over two years ago. However, in 2005, Abe-san sold his namesake eatery for reasons unknown; but word quickly spread that he was to open a new place, Bluefin, overlooking the Pacific at Crystal Cove. My foodie friends and I patiently waited for Bluefin to open; and when it did, we and other faithful were quick to test it out. Unfortunately however, we all felt that some of the magic was gone. It was good, but not as good as the old Restaurant Abe. We knew something was missing; perhaps Bluefin was just going through growing pains. So we decided to wait it out. And so we waited, over a year, and now we're back.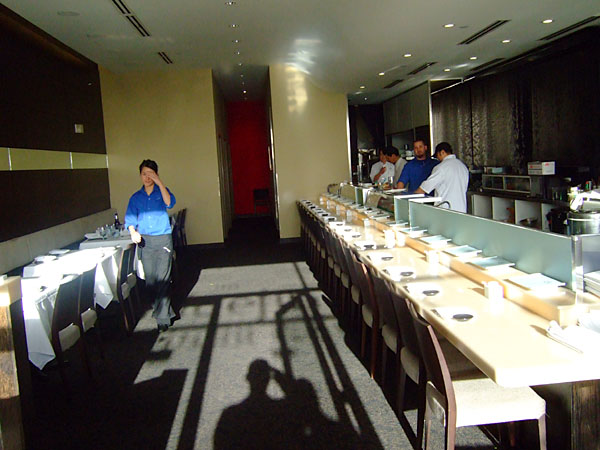 People often complained about Restaurant Abe's decor; fortunately for them, Abe's new space is much improved. It is a stark, modern space, with light colors and dark wood, a waterfall feature, and a lighted sushi bar. Unfortunately however, the new space is also smaller, and as a result you are often privy to the conversation at the next table over. Bluefin is usually crowded during peak hours; the photo above was taken at about 3PM, in between lunch and dinner services.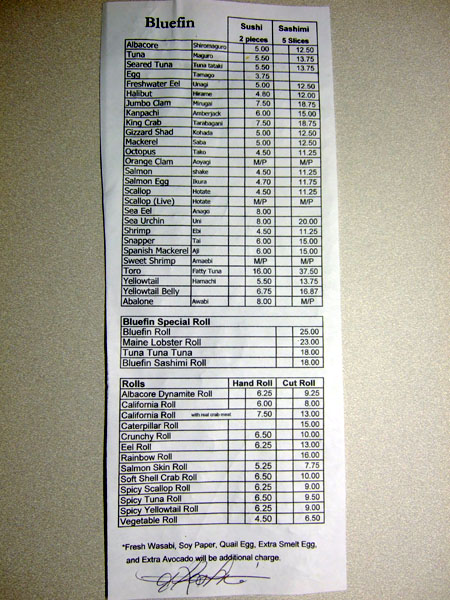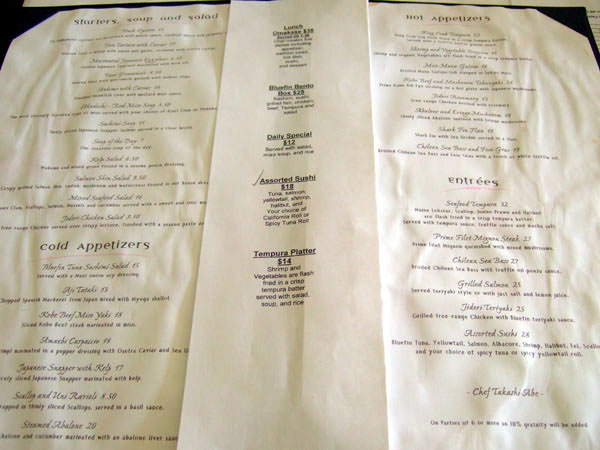 Here we have the sushi menu and the regular menu. There is also a specials board with the day's special items (e.g. Kobe beef carpaccio, kinki fish, halibut jalapeño, live octopus, etc.). Based on my experiences, I recommend ordering omakase or from the specials board (and make sure to get the unlisted halibut carpaccio too, an old favorite from the Restaurant Abe days). This particular day we had the 5-course lunch omakase plus a few extra items. Note that I had Abe-san sign the sushi menu; he seemed almost embarrassed when I asked him to do so. Click for larger versions.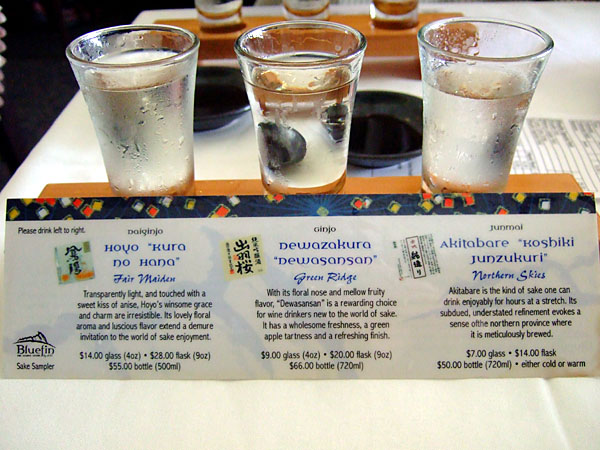 I ordered the "Bluefin sake flight," which consisted of one glass each of junmai, ginjo, and daiginjo sakes. I found the daiginjo to be the most floral and fruity, while the middle ginjo was the most biting. My favorite however was the junmai, due to its heady overtones of rice and mellow finish. In addition we also ordered two large bottles of Asahi later on.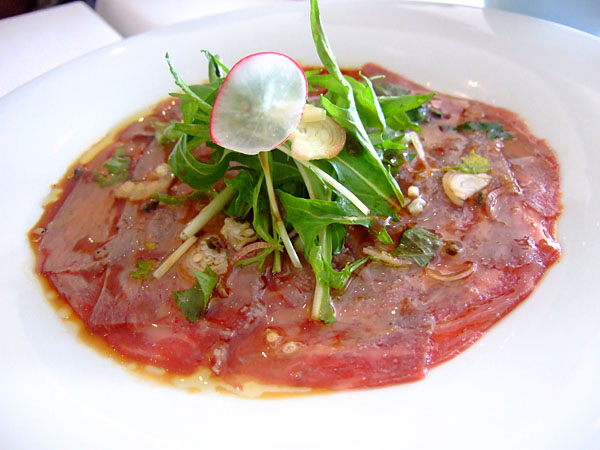 Kobe Beef Carpaccio
Served with onion, radish, greens, and ponzu. The beef had a nicely marbled complexion typical of Kobe-style beef. However, I tasted a bit too much ponzu, which competed for my attention with the flavor of the meat. I would prefer that a high-quality cut of beef be prepared more simply, to let the flavor of the meat stand by itself.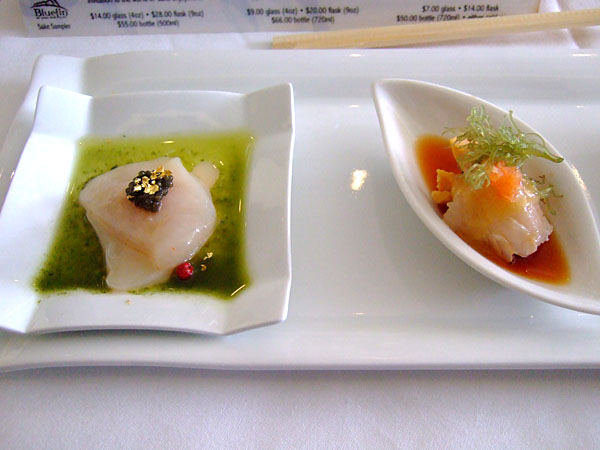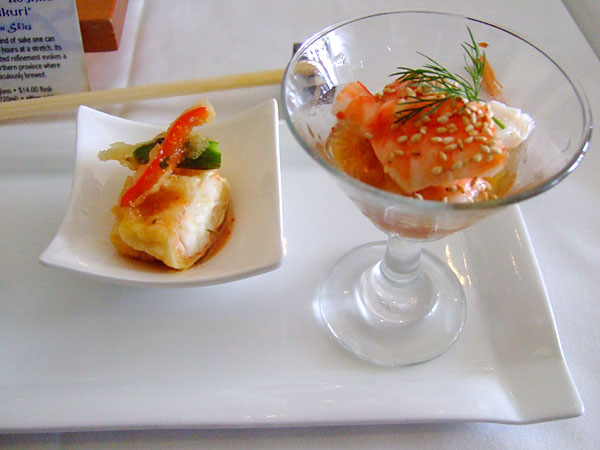 1. Scallop & Uni / Halibut & Ankimo / King Crab / Tiger Prawn
Going from left to right: scallop "ravioli" stuffed with uni, topped with caviar and gold leaf, in basil and peppercorn sauce (very mild surprisingly, a great way to kick things off); halibut wrapped ankimo, or monkfish liver (I'm not usually a fan of ankimo but this was quite good); king crab tempura with peppers (can't go wrong with this!); tiger prawn ceviche with sesame, on a bed of sea cucumber (great taste and texture with the prawn, not sure about the sea cucumber pairing though).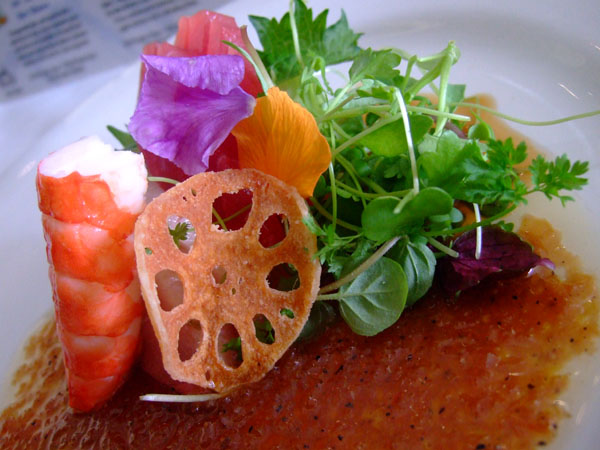 2. Sashimi Salad
Our salad course consisted of ebi, hamachi, and maguro, garnished with cucumber, lotus root, shiso, sprouts, some sort of edible flower petals, and ponzu with grilled daikon. The tuna and the yellowtail (hidden behind the lotus and the flowers in the photo) were nice, and surprisingly so was the shrimp. I usually stay away from cooked shrimp but this was good, with a meatier composition and stronger flavor than I get at most places. And just look at those colors!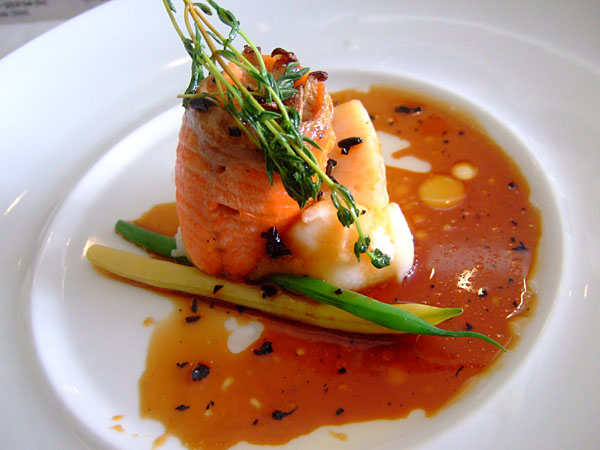 3. Trout
What everyone at the table initially mistook for salmon turned out to be trout, stuffed with shitake mushroom, on a bed of scallop, mashed potato, and string beans. Unlike the trout we had at Stonehill Tavern a few days earlier, this trout was almost nothing like salmon in taste or texture, having a richer, oilier taste and a creamier consistency.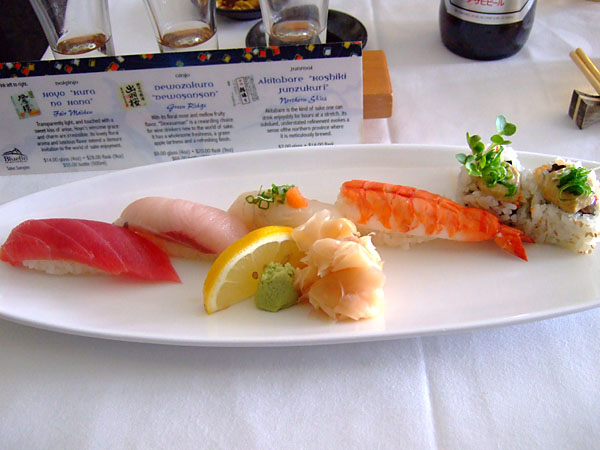 4. Mixed Sushi
Our sushi course consisted of maguro (tuna-pleasant, mild taste), kanpachi (amberjack-a bit heavy on the wasabi but otherwise good), hirame (halibut-my favorite of the bunch), ebi (shrimp-again, as in the salad, much better than I'm used to), and shiro maguro roll (albacore-topped with a creamy vegetable oil, tasty!).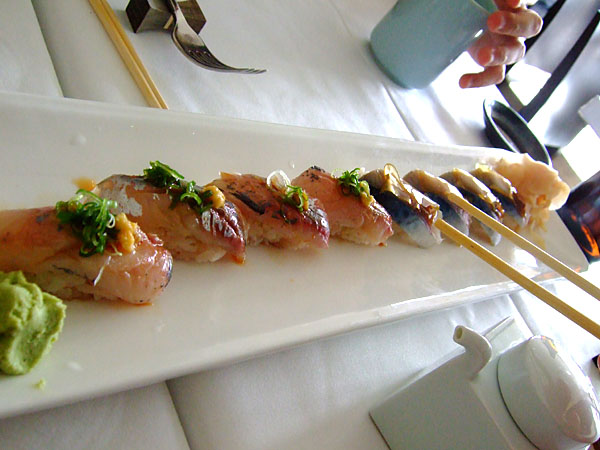 Sawara & Aji
Here we have two versions of mackerel: Spanish and Japanese. Both were indeed delectable, but I'd have to give the nod to the Spanish variety, topped here with scallion. It had a lighter taste compared to the Japanese variety, which was sweeter and fuller-bodied.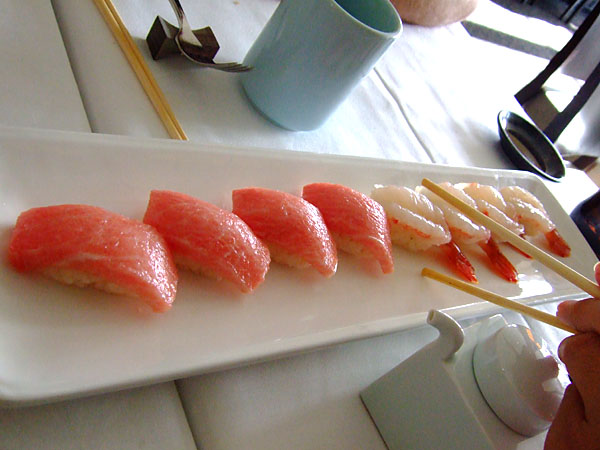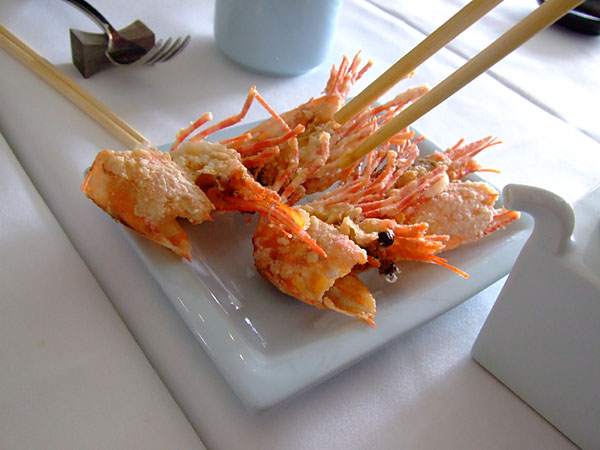 Toro & Amaebi
The toro was oily, fatty, and full of flavor, as expected, though the texture was not as melt-in-your-mouth as it could've been. The amaebi had the subtle sweetness and freshness I was looking for, but didn't have quite as much "snap" as I'd like. And of course, what better way to finish off amaebi than with their deep-fried heads, replete with tiny eyeballs? Delish.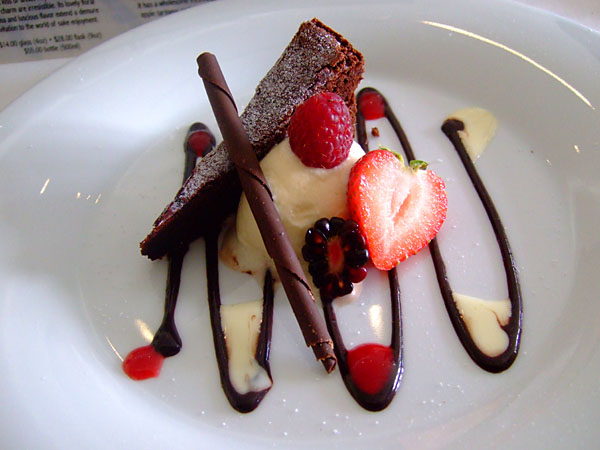 5. Chocolate Cake
Chocolate cake with vanilla ice cream, accompanied by strawberry, raspberry, and chocolate. The ice cream was the real standout for me here; and overall this dessert was a wonderful way to end the meal.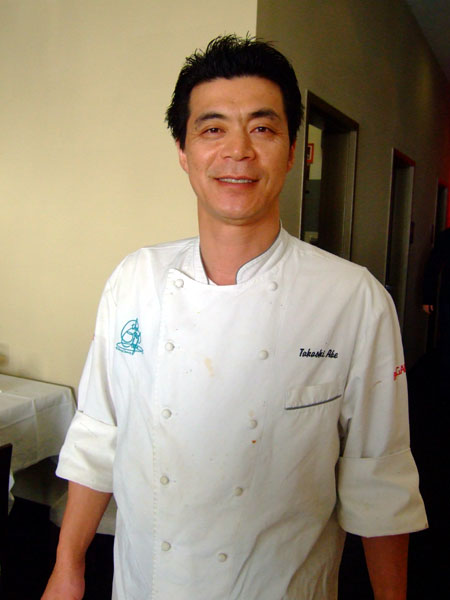 What a difference a year makes! On our first visit, we complained that the new restaurant lacked Abe-san's touch, his flair, his élan. Guys, I think it's back. We thought that Bluefin would forever remain in the shadow of the restaurant on the peninsula. But no, the old magic is here, and Abe-san even has a few new tricks up his sleeve (his dishes seem on the whole to be much more creative). At $35, the lunch omakase is a downright steal.
This
is the Abe I remember. Welcome back.