Kokekokko (Los Angeles, CA)
Kokekokko
203 S Central Ave, Los Angeles, CA 90012
213.687.0690
www.fooddigger.com/RestaurantDetail.aspx?id=21202 (FoodDigger, restaurant has no web site)
Fri 04/10/2009, 06:30p-10:10p
Yakitori (literally "grilled chicken") represents a method of cooking various skewered chicken parts. Typically, the chicken is either basted with a
tare
(sweet soy) sauce or sprinkled with
shio
(salt), and grilled over charcoal. The food is common izakaya fare, and is meant to go well with beer and sake. Kokekokko would be my first foray into a dedicated yakitori restaurant, one that even raises its own chickens apparently. The place is somewhat infamous for its slow service and subpar treatment to the uninitiated, but fortunately for me, I came here with a regular.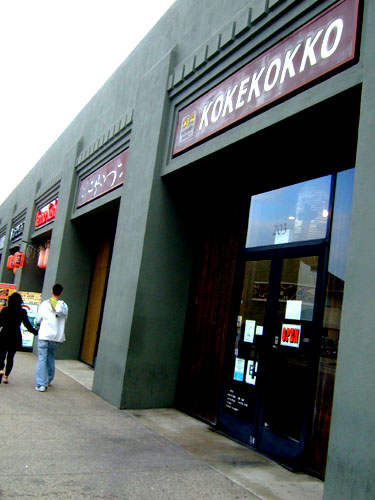 Kokekokko is located in Little Tokyo in Downtown LA, right across the street from Japanese Village Plaza Mall. Parking is on the street if you can find it, or do as I did and spend $4 to park in the structure just west of the building.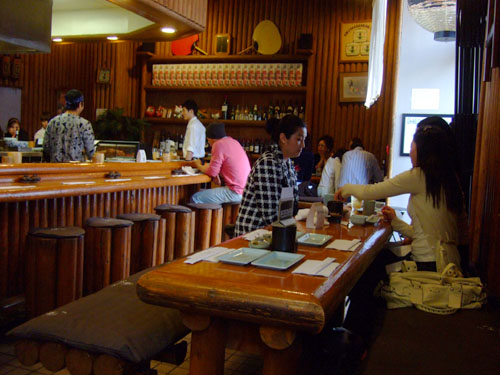 The interior is teeming in wood, giving the place a quaint, rustic feel; even the chairs are made from logs, though this makes them rather uncomfortable unfortunately. The photo above shows the restaurant when we arrived for a 6:30 reservation. If you want to get in without a wait, it's best to come before 7:30, and in fact, reservations are only taken from 6:00 to 7:00. Apparently, the best way to experience Kokekokko is to sit at the bar, though on this particular night, the bar was pretty much booked up. In addition, there's also a private room available.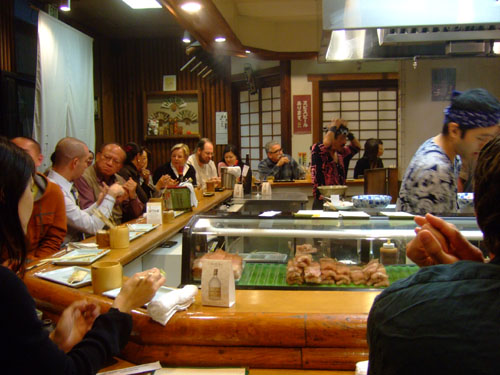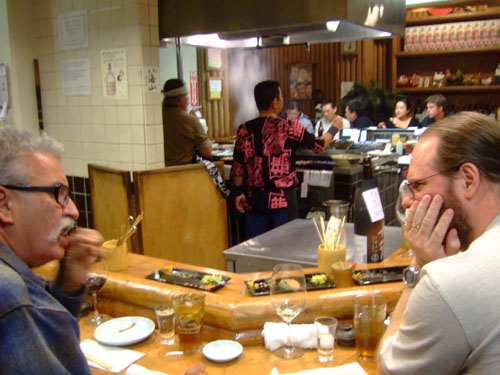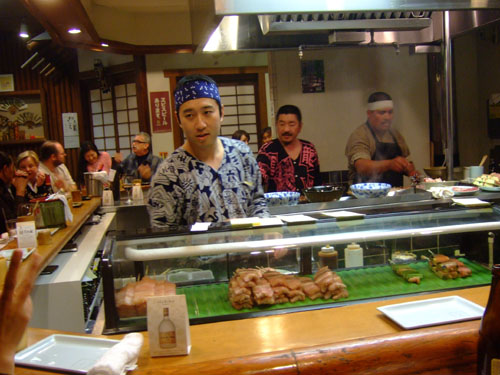 These shots show the action at the bar as the night progressed. The man in pink is Tomo-san (Tomohiro Sakata), the owner of the place. He mans the charcoal grill, and is known for his stern demeanor and his penchant for yelling at (and even physically striking, on one account) his employees, though he's not afraid to have a good time by downing drinks bought for him by customers. If you look closely at the photos, you'll notice that some patrons have black plates; these are Kokekokko's best customers; the plates are from Japan, and are customized with their names.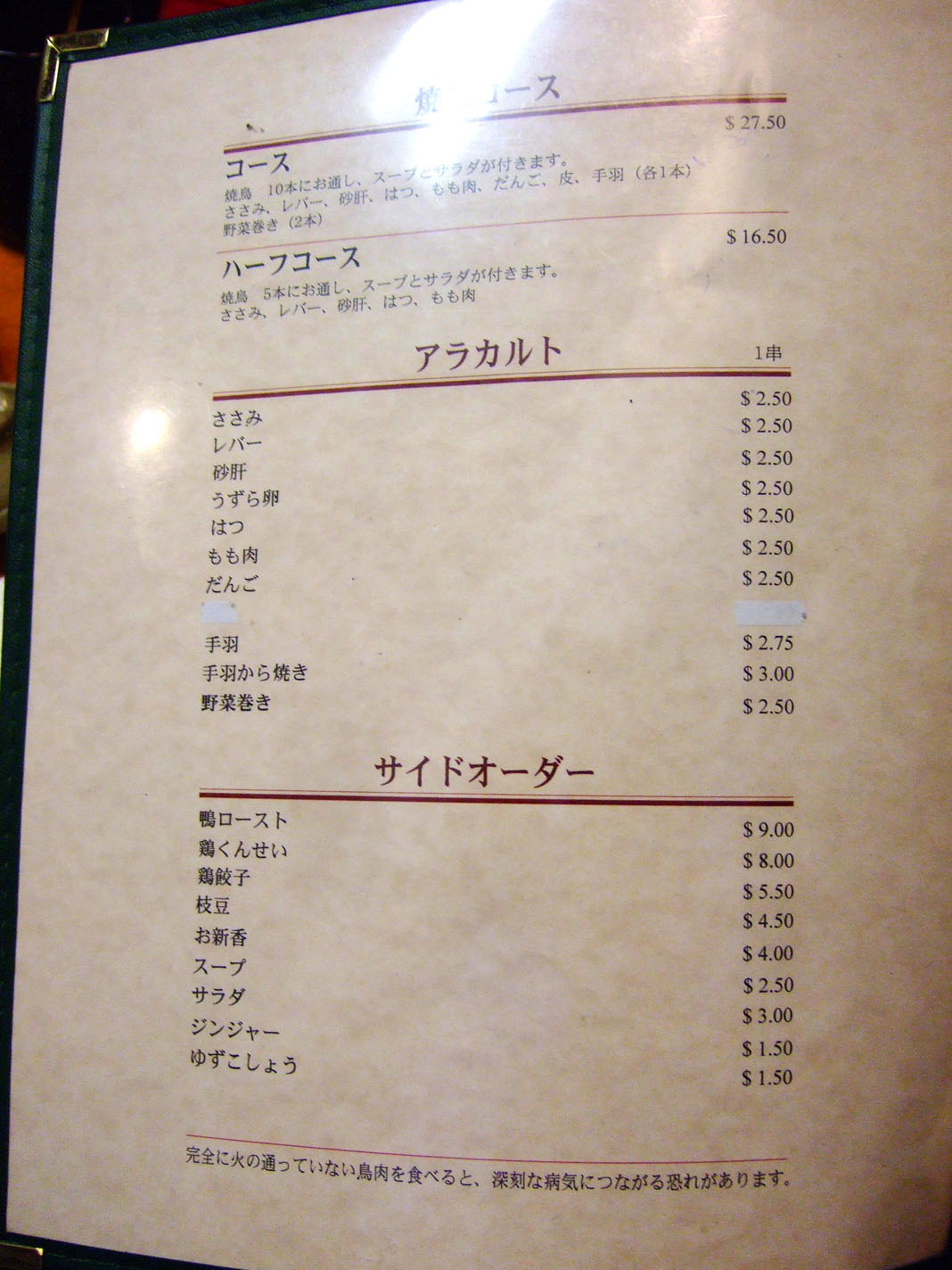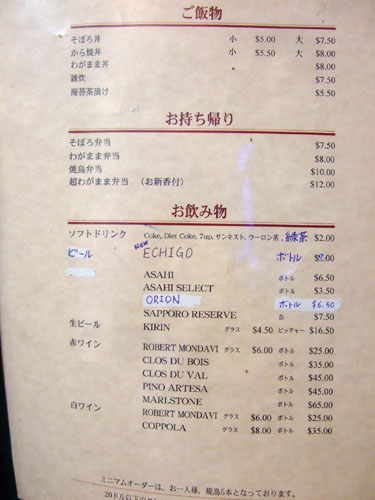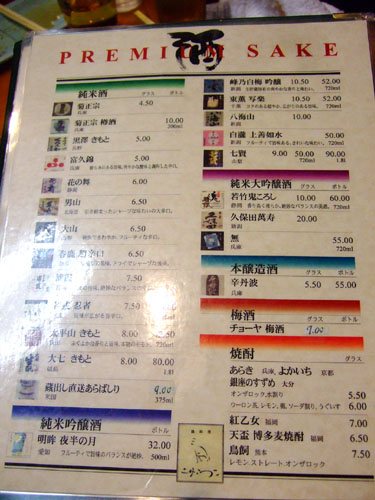 The menu is shown above, and I'm told there is also an English version as well; click for larger versions. Of much infamy is Kokekokko's five skewer per person minimum, as well as the "secret" items not listed on the menu (which will be revealed below). The sake selection is also quite nice.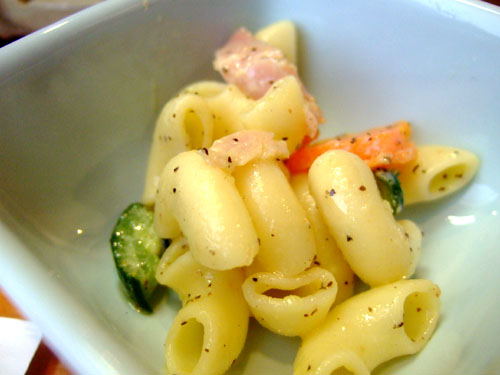 Upon being seated, we were brought small plates of macaroni salad. These are generally referred to as
otoshi
(in the Kanto region, or
tsukidashi
in the Kansai), and are meant to be eaten with alcohol.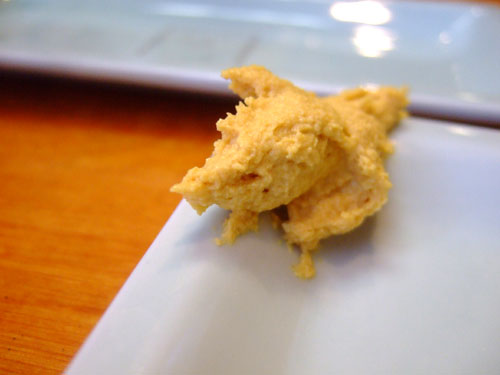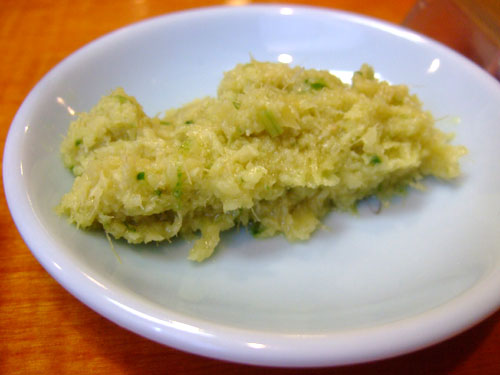 Shortly afterward, we were brought two condiments to go with the yakitori. The fist was
karashi
, a type of Japanese mustard often served with
oden
. Be warned, this stuff is intense! The second item was a ginger and green onion dip (
negi shoga
I believe) that was quite addictive; I could eat the stuff by itself.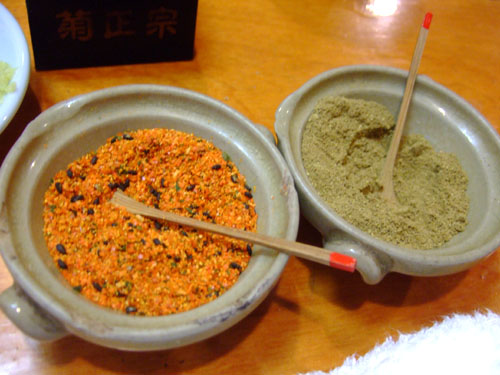 In addition, on the table were two small bowls of spices. On the left is
shichimi togarashi
("seven flavor chili pepper"), a mixture of seven spices, usually consisting of a subset of the following: red chili pepper (the main ingredient), roasted orange zest, yuzu zest, yellow and black sesame seeds, poppy seeds, rapeseed, hemp seeds, nori, ginger, and
sansho
. The other spice was, in fact,
sansho
, or ground Sichuan pepper.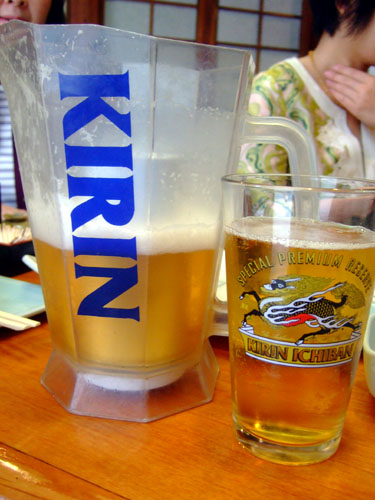 Yakitori goes great with beer, so we decided to order two pitchers of Kirin Draft [$16.50]. The beer had a more apparent rice component to it compared to your typical Kirin, and given that it was on tap, we suspected that the beer might actually be brewed in Japan (sadly, most Kirin in the US is produced by Anheuser-Busch in Los Angeles).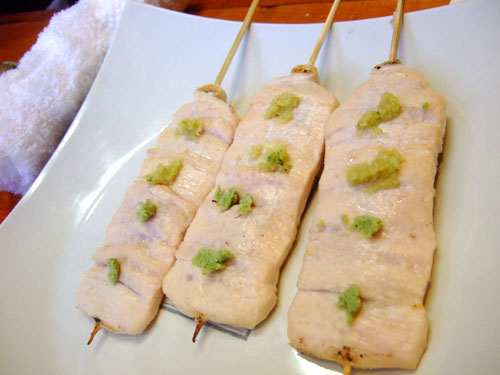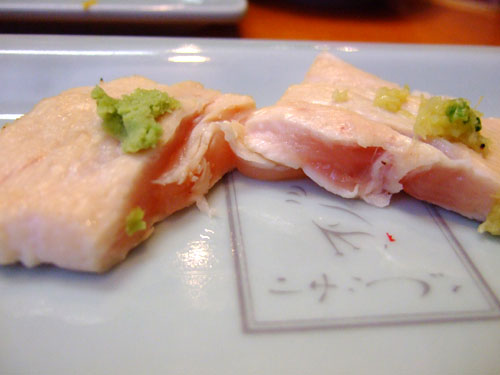 Sasami / Breast [$2.50]
This was described as "white meat" chicken or "chicken tenders." Notice that the chicken was topped with two types of condiments. On the bottom, we have wasabi, and on top, the aforementioned ginger dip. The wasabi added a spicy tang that went decently with the sasami, but the ginger really did a great job countering the smokiness of the meat. What was interesting was that the meat was actually prepared rare, which is highly unusual for chicken (due to Salmonella concerns). As sasami can often be dry and lean, this actually gave the meat a great texture that I rather enjoyed. I've even heard rumors that Kokekokko serves up chicken sashimi!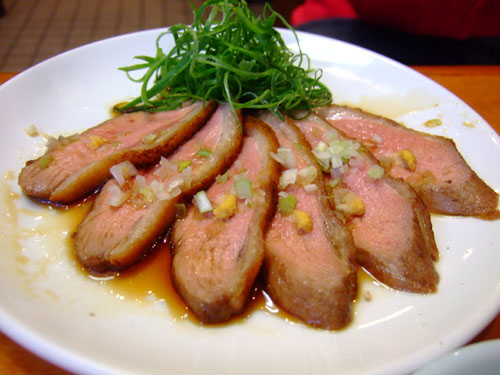 Kamo Roosto / Roasted Duck Breast [$9.00]
As we see here, there are indeed a few non-chicken items on the menu. The roasted duck was nice enough, with the sauce providing a pleasing sweet-savory interplay to the bird. The included vegetables added a important textural contrast and also balanced the heaviness of the meat.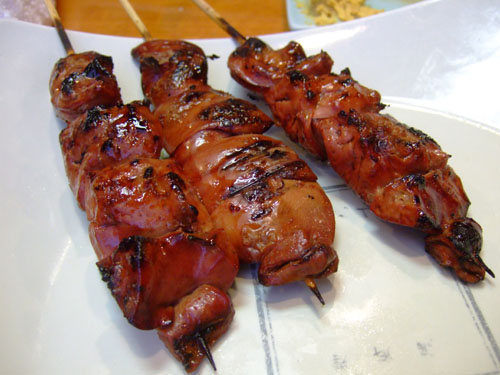 Reba / Liver [$2.50]
I expected the chicken liver to be somewhat like foie gras (duck liver). Rather, it was much drier, grittier, with a starchy texture. It also had a rather strong flavor, which was tempered by the application of
karashi
(recommended by the chef) or
sansho
.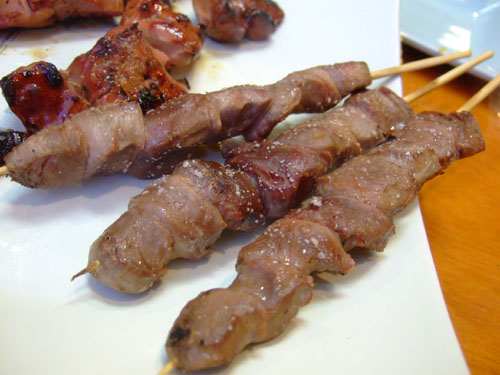 Sunagimo / Gizzard [$2.50]
The gizzard is a specialized muscular "stomach" used for grinding up food. It had a unique, very crunchy texture and a flavor that was lightly imbued with the essence of chicken. The gizzards were sprinkled with salt to draw out their flavor.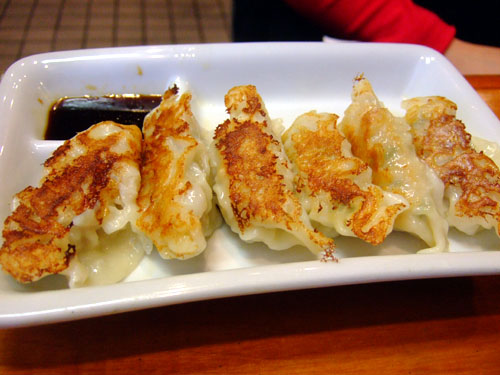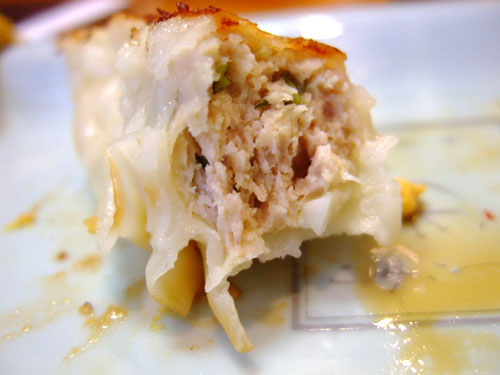 Tori Gyoza / Chicken Gyoza [$6.60]
These were fantastic, some of the best gyoza I've had in fact. The dumplings were stuffed with a delectable mix of ground chicken, and the wrappers were fried to just the right consistency, providing a light, savory crunch to accentuate the meat. The soy sauce wasn't even necessary, though it certainly complemented the gyoza well.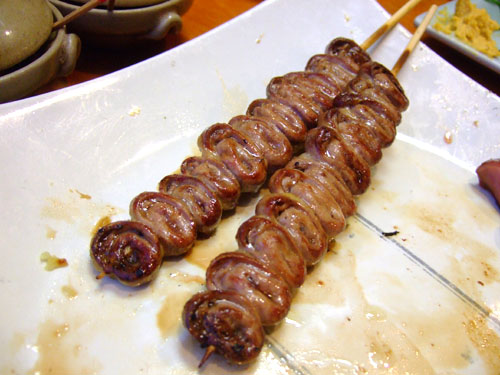 Hatsu / Heart [$2.50]
Surprisingly, the
hatsu
turned out to be one of my favorites of the night. It had a great smoky flavor with a slightly spicy finish, but what I liked even more was its texture, which was simultaneously tender and crisp.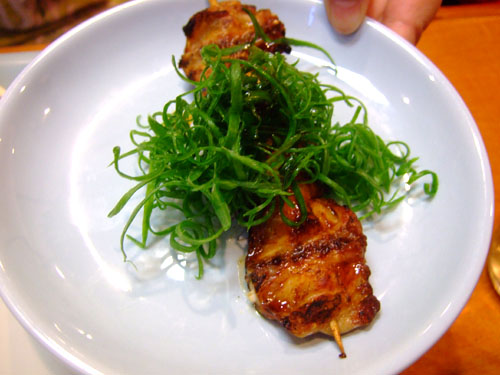 Bonjiri / Tail
Our first "secret" menu item, the tail was my favorite skewer of the meal. The
bonjiri
consists of the small bits of meat around the chicken's tail bone; the muscles around this part are well-used, yet the tail is also quite fatty. It was superbly flavorful, with a great crunch, and was juicy, yet not overly greasy.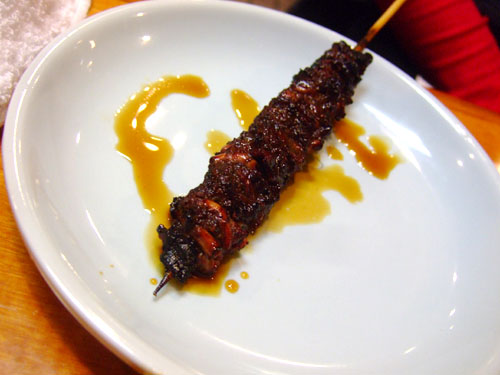 Tokujo Hatsu / Special Heart
Another off menu item, this was a special preparation of heart that was done in a different kind of marinade. The result was a much more richly flavored, yet more complex
hatsu
, with a soft yet snappy texture. Very good.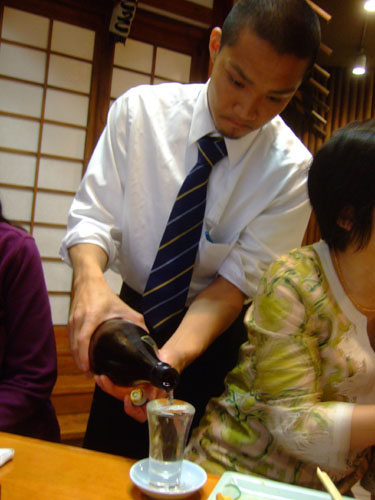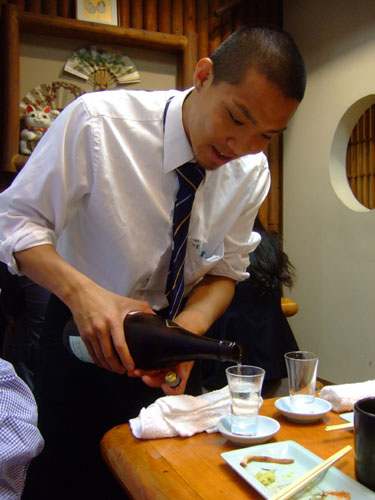 At this point, we decided to move on to sake, with our selection being the premium Hakkaisan Junmai-Ginjo at $10 a glass (we ended up going through 16 of them). I'd had this particular sake before, and it was as dry, crisp, and delicious as I remembered. Notice how the server is overfilling the sake glass as a show of generosity. This is the first time I've seen this done, but it went a bit too far, as one overzealous pour ended up spilling on one of my dining companions!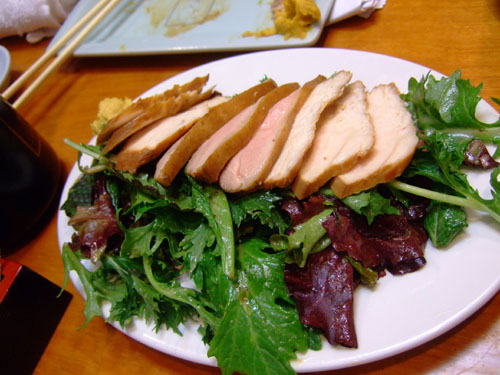 Tori Kunsei / Smoked Chicken [$8.00]
This course actually consisted of three types of meat. The first was a smoked chicken that almost had a "hammy" flavor to it. The second wasn't chicken at all, but smoked duck, which was tougher in texture but softer in flavor. The third was a milder preparation of chicken. The poultry was served atop a bed of greens, which were dressed with a tangy sauce, effectively cutting the weight of the meat.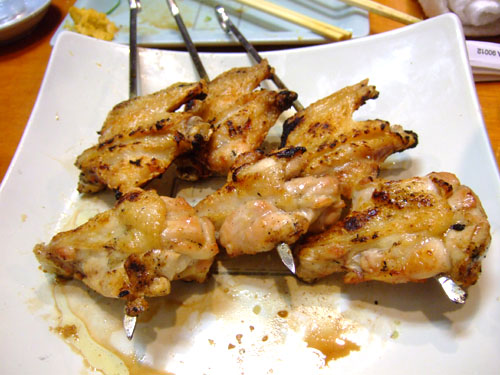 Tebasaki / Wing [$2.75]
Wings are known for their high fat and gelatin content, as well as their rich, smoky chicken flavor. This was a bit more difficult to eat than most other skewers, given the presence of bone. Nevertheless, it was delicious.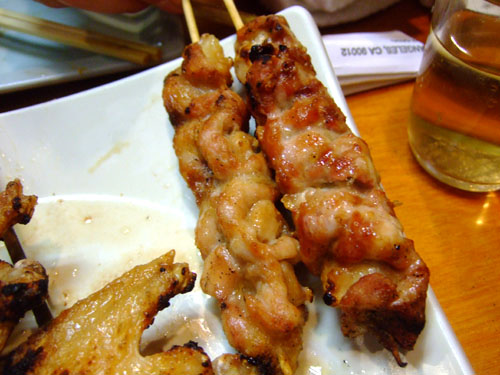 Nankotsu / Cartilage [$2.50]
This was cartilage, also known as gristle. Gristle can come from three parts of the chicken: knee, thigh, and breast. I'm not sure which one this was, but I believe breast gristle is the most common in yakitori. In any case, though the
nankotsu
didn't have a particularly strong flavor, it had a fantastic crunch. Nice!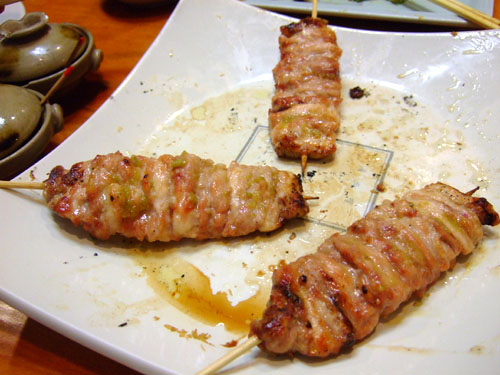 Seseri / Neck
Another off menu item, the neck is a highly sought after part of the chicken, as there is relatively little neck meat per bird. The
seseri
was tender, yet had a superb crisp fattiness to it. It was served topped with
yuzu kosho
(a sauce made from yuzu zest, chili pepper, and salt), and the condiment's citrus tang deftly countered the smokiness of the bird. One of my favorites.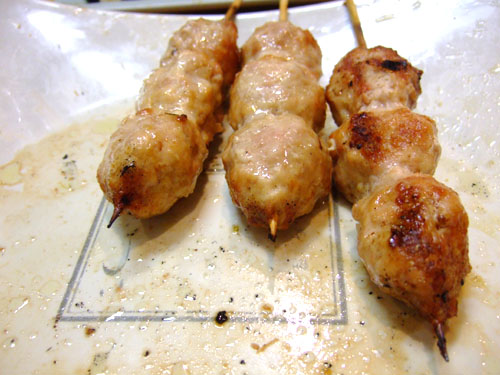 Dango / Chicken Meatball [$2.50]
Dango
usually refers to a type of Japanese dumpling made with rice flour. But at Kokekokko, Tomo-san uses the term to name his
tsukune
, or chicken meatball. The
tsukune
at most places contains filler, but since Tomo-san's contains nothing but chicken, he gets offended when his version is referred to as mere
tsukune
! No matter the name, the meatballs were excellent--juicy, flavorful, and superb with the
shichimi
.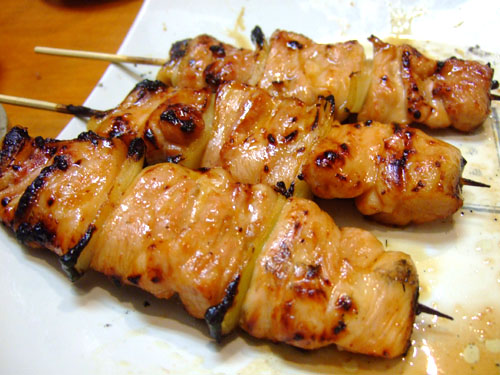 Negima / Thigh with Leek [$2.50]
Negima
refers to yakitori made with chicken and
negi
(leek). Though the cut here was thigh, other parts of the bird can be used as well. The leek was a fitting complement to the chicken, adding a bit of bitterness to counter the chicken's flavor. This was even better when eaten with the ginger sauce.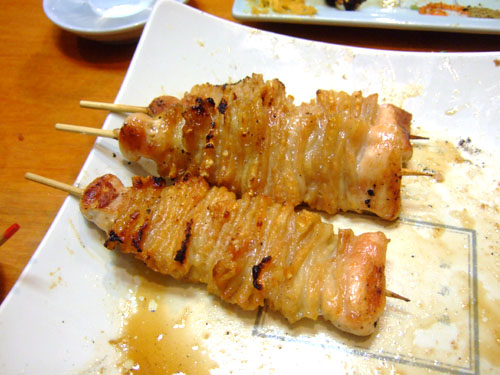 Kawa / Skin
This was one item that I really wanted to try, and it happened to be an off menu item.
Kawa
is usually taken from the thigh or neck of the bird, though the neck is preferred I'm told. In any case, the skin was grilled until crispy, and had a superb flavor to it, without being overwhelmingly fatty. Very good.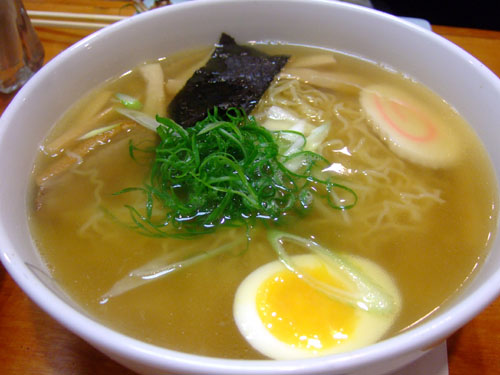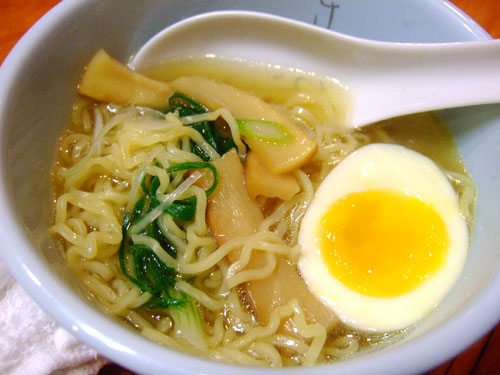 Ramen [$8.00]
Once we dispensed with the yakitori, we moved onto a bowl of ramen, made with chicken stock as you'd expect. The dish had an eggy flavor, accentuated by the tang of seaweed, all over a base of chicken essence.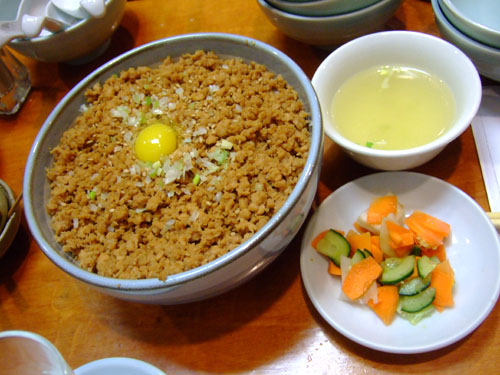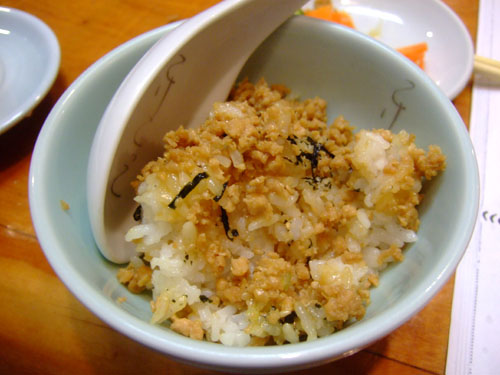 Tori Soboro [$7.50]
Kokekokko is well-known for its
soboro gohan
, basically a dish of chicken fried with soy/mirin/sake/ginger served over rice, with quail egg and nori. The chicken flavor actually took a back seat here, with the rice and seaweed really taking center stage for me. The
soboro
came with a cup of light chicken broth, which we eventually poured into the rice mixture, afterwards adding a dash of
sansho
as well.
I must say that I had a fantastic time at Kokekokko. The food was tasty, and we didn't really have any problems with the rest of the experience. At the same time though, I could definitely see how non-regulars could find issue with the service. Nevertheless, this was a great introduction to yakitori for me, and I look forward to expanding my repertoire at other yakitori-ya.