Thai Nakorn (Stanton, CA)
Thai Nakorn
11951 Beach Blvd, Stanton, CA 90680
714.799.2031
www.yelp.com/biz/thai-nakorn-restaurant-stanton (Yelp, restaurant has no web site)
Tue 02/24/2009, 07:55p-08:05p
In my post on
Phuket Thai
, I wrote that Thai Nakorn is
the
spot for Thai food in Orange County. The place is almost an institution, having been around for 20 years--a lifetime in the restaurant business. Thai Nakorn (fyi: "Nakorn" means "city") specializes in Northern and Northeastern Thai, or
Isan
, cuisine. Influenced by neighboring Laos, the food is characterized by its heavy use of chilies, sticky rice, garlic, and lime. Prototypical dishes from the region include
larb
(meat salad),
som tam
(spicy papaya salad), and
gai yang
(grilled chicken).
I'd first eaten at Thai Nakorn many years ago, when it was still at its original location at 8674 Stanton Ave in Buena Park (by Knott's Berry Farm). In 2003, another Thai Nakorn opened up at 12532 Garden Grove Blvd in Garden Grove (by The Block); apparently, there was some family feud and most all the staff left the original Thai Nakorn for this new location. The Buena Park location was eventually shut down in 2005, as the building's landlord wanted to raze the structure in order to clear the way for condos. As for the new Garden Grove location, I actually paid a visit in late 2006 with a Thai colleague of mine--I recall the food being very good. All was going well until January 8, 2007, when the building burned to the ground. I never found out what caused the fire, but I've heard uncorroborated allegations of arson.
I believe the plan by the owners, Wanida Sreewarom and family, is to rebuild in Garden Grove (a quick check on
Google Maps
confirms this, showing the building under construction). On April 23, 2007, they opened a new Thai Nakorn in Stanton as an interim solution--the subject of this post. At one time, there was also a Thai Nakorn located in Mission Viejo. From what I understand, that restaurant was also the result of some family infighting, and was never up to par food-wise. The family has since rid itself of ownership, and the place is now called Glass Door.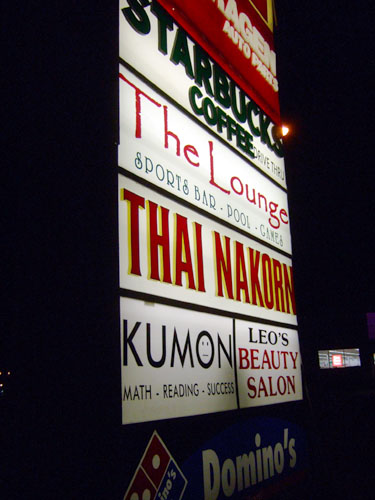 Thai Nakorn's new location is definitely a step down from its former dig in Garden Grove. The restaurant is sandwiched between a Kragen auto parts store and The Lounge, the Thuy Li-owned bikini sports bar-cum-pool hall.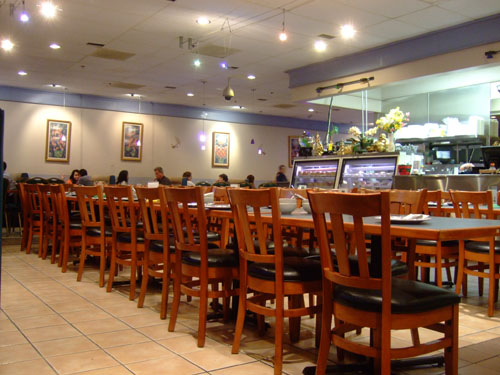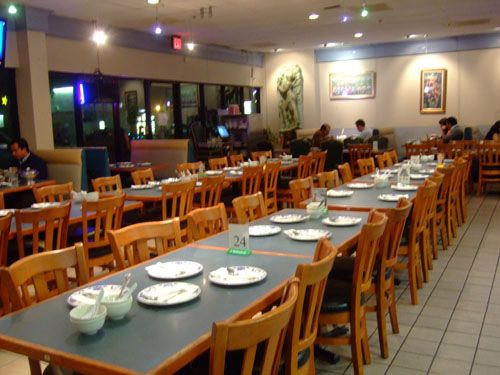 The interior also lacks the glamour of the previous locale, and seems cold, clinical in comparison.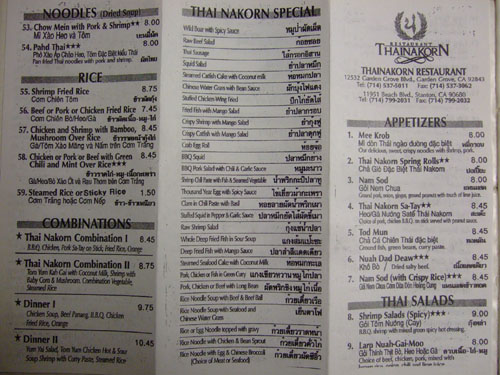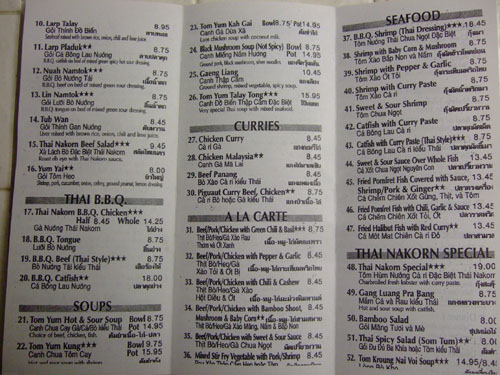 The menu is slightly more interesting than that of your typical Thai place. Note also how the address of the Garden Grove location is still listed along with the Stanton one. Click for larger versions.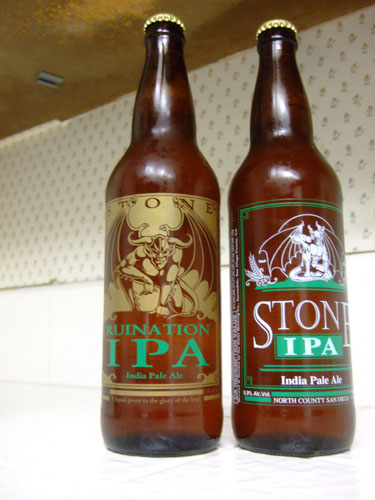 To wash down the famously spicy food, we first popped a bottle of Canals & Nubiola Cava Brut from Cataluña, Spain. Cava is, of course, Spain's answer to Champagne, and this was a nice example of it--clean, crisp, refreshing, with loads of citrus, a bit of stone fruit, and some yeast on the finish. Great for staving off the heat.
We then went with a duo of India Pale Ales from Stone Brewing Company in Escondido, CA. IPAs are generally bitter, hoppy beers. The standard Stone IPA was a pretty prototypical example of the style, with loads of hop balanced by the richness of malt and a bit of citrus tang. Kicking things up a notch, the Stone Ruination is a double IPA, meaning more hops, and more malt. Compared to the standard IPA, this was definitely hoppier and more bitter, but also spicier, more floral, and more complex.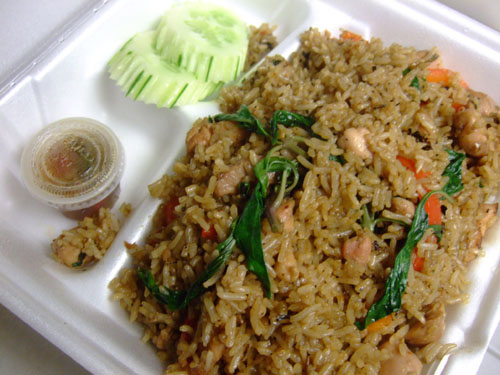 Chicken with Green Chili and Mint Over Rice [$8.45]
We wanted a rice-based dish, but something more interesting than the typical Thai fried rice, so we decided to go with this. The chili and basil really came to the fore on the palate, backed by just a hint of mint. The initial sensation then gave way to the comparatively mild savoriness of the rice. It had just the right amount of spiciness, so pouring on the small container of chili sauce pushed things over the top.
Pahd Thai [$8.00]
Pan fried Thai noodles with pork and shrimp. Pad Thai is just about the most prototypical Thai dish out there, so it's a bit surprising that the dish is actually of Vietnamese and Chinese origin, and only became well-known in Thailand in the past century. I'm actually not a huge fan of the dish (give me a
pad kee mao
any day), but my dining companion wanted to order it. The noodles came with bean sprouts, nuts, and pepper flakes on the side, and we eagerly dumped every last bit of it on. The result was a pad Thai that was a bit too sweet for me, thought this was somewhat tempered by the nutty and spicy components of the dish. I quite liked the crunch provided by the fresh bean sprouts, but overall, I've had better.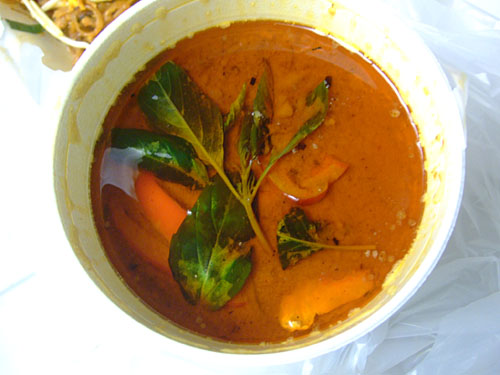 Beef Panang [$8.45]
Beef panang is basically a curried beef dish, flavored with coconut, kaffir lime, sugar, and of course, fish sauce (
nam pla
). The beef itself was almost like a braised preparation, quite tender, and actually reminiscent of the beef in Chinese
niu ro mein
, or beef noodle soup. Panang typically contains less coconut milk than other curries, and as a result, it was quite spicy indeed, though the bell peppers did offset some of the heat. Very nice. This would be superb over rice.
Thai Nakorn serves up some tasty (and spicy!) food, though at the same time, it wasn't necessarily head and shoulders above other Thai places I've tried. I recall my previous meals at Thai Nakorn being much more interesting, but I really think it comes down to what you get; it definitely helps to come with Thai people who know what to order. Nevertheless, I know I'll be back--hopefully at the newly finished Garden Grove location.