Urasawa (Beverly Hills, CA) [4]
Urasawa
218 N Rodeo Dr, Beverly Hills, CA 90210
310.247.8939
www.fooddigger.com/RestaurantDetail.aspx?id=11155 (FoodDigger, restaurant has no web site)
Sat 03/28/2009, 06:10p-12:10a
This was actually my fourth visit to Urasawa. For my previous visits, see
October 2008
,
May 2008
, and
November 2006
. Joining me this time were Aaron of
Food Destination
(the organizer of the dinner), Brian of
FoodDigger
, Danny of
Kung Food Panda
, Mike of
Right Way to Eat
, and Will of
FoodDigger
, among others.
At Urasawa, you're pretty much a "regular" if you come more than once a year, so I guess that makes me one. I found out that I'm somewhat well-known around the place, as Yoshie-san (Hiro-san's sister and a waitress at the restaurant) exclaimed "Kevin-san" upon seeing me (she didn't know I was coming, as Aaron made the reservation). They're also quite aware of
kevinEats.com
, and even mentioned that a week earlier, a customer came in as a result of viewing this site!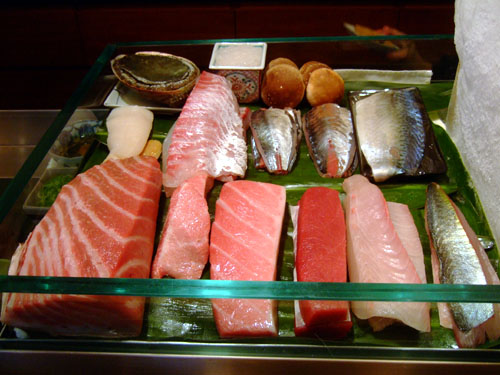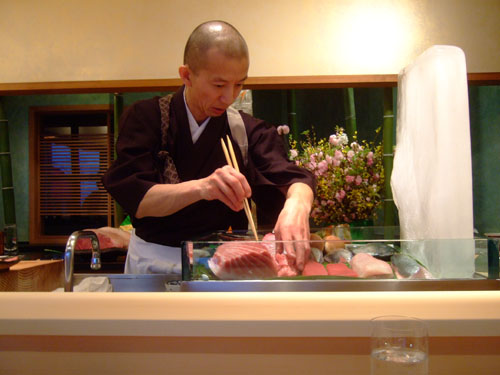 Above we see the fish case at the beginning of the night. We see various cuts of tuna in front, with snapper, mackerel, and various shellfish in the back. In hindsight, I should've gotten an "after" shot of the case; it was nearly cleaned out at the end of the night.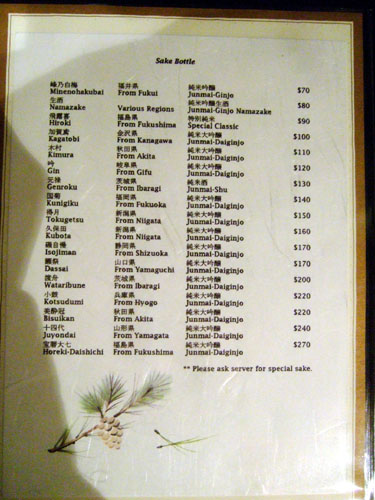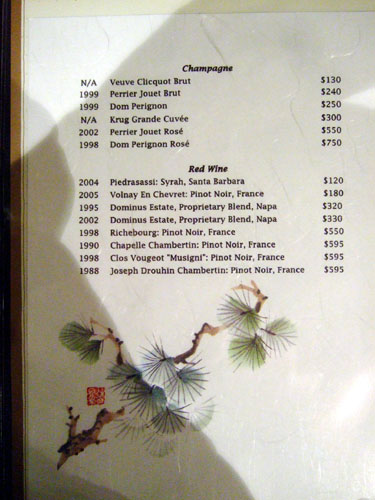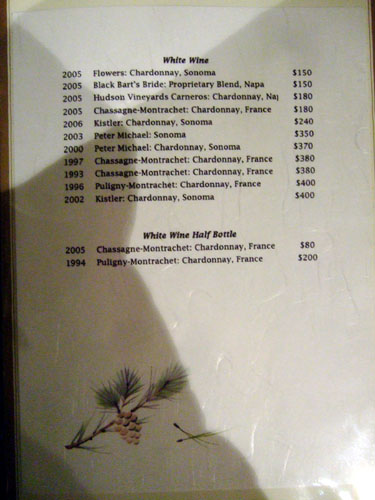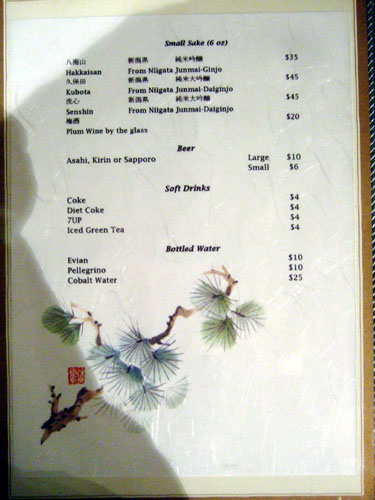 The beverage menu is shown above; click for larger versions. Especially worth noting is the sake list, which has grown considerably since my
first visit
. New sakes this time included the Hiroki from Fukushima, the Gin from Gifu, the Genroku from Ibaragi, the Tokugetsu from Niigata, the Isojiman from Shizuoka, and the highly sought after Juyondai from Yamagata. Gone were the Kunigiku and the Fukukomachi (which I had
last time
). We even got to find out what the "special sake" was all about (more on that later). One area that I find lacking is the beer selection, which only has the three major Japanese breweries represented: Asahi, Kirin, and Sapporo. I'd really love to see some more interesting beers such as Echigo, Hitachino, Orion, Otaru, or even Yebisu (Sapporo's premium brand).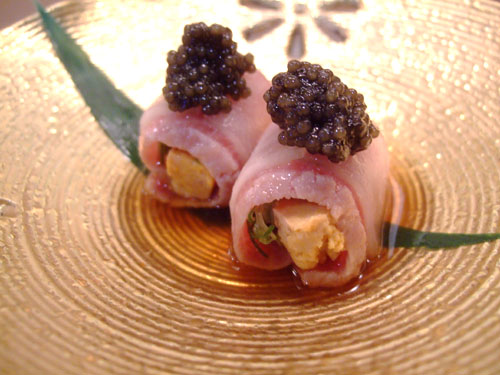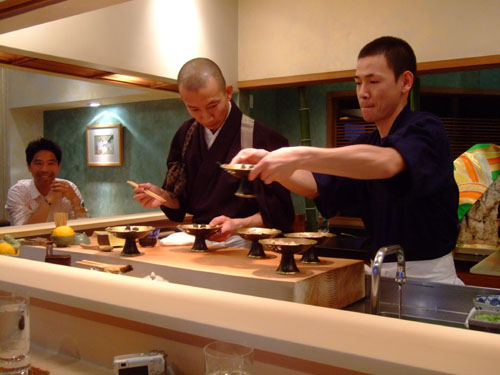 1. Toro-Senmaizuke Maki
- This dish consisted of ankimo (monkfish liver), shiso, and scallion wrapped in seared toro and
senmai-zuke
(salt-pickled
shogoin kabu
turnip from Kyoto), topped with caviar, all in a light citrus ponzu sauce. The initial taste was sweet on the attack (a combination of the
senmai-zuke
and the sauce), which then gave way to the mintiness of the shiso mixed with the creaminess of the ankimo on the midpalate, finally finishing with a slight fishiness. The ankimo really did a lot to temper out the tanginess of the other ingredients, adding weight and depth to the dish. Amazingly, the caviar took a back seat here, with its signature brininess countered by the dish's other elements. A very cohesive, balanced course.
We brought plenty of booze of our own, but decided to kick things off drink-wise with a sake, specifically the Harushika "Shiboribana" Junmai-Ginjo Namazake [$80], from Nara Prefecture. Namazake is, of course, unpasteurized sake and thus requires refrigeration (FYI: pasteurization is a process of heating the sake to around 150°F, meant to reduce the number of pathogens present and also to stabilize certain enzymes). Namazake generally has a younger, brisker, more in-your-face taste compared to other varieties. The example here was notable sweet, viscous, bold, brash, with a hot finish. Quite nice!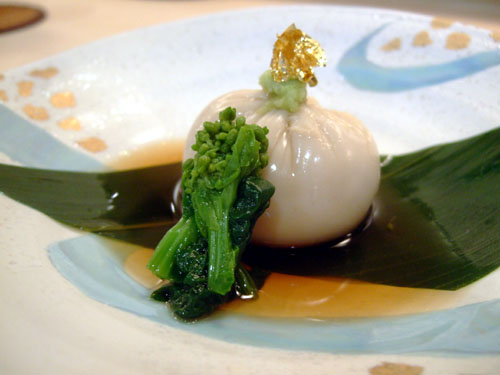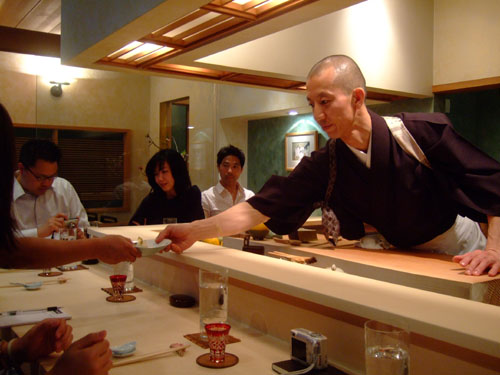 2. Goma Dofu
- Despite the name, goma tofu, or sesame tofu, isn't actually tofu. Instead, it's an amalgam made from water, sesame paste, and kudzu/kuzu powder (from the root of the kudzu vine). Here, the Kyoto-style tofu was stuffed with uni, served with
nanohana
(rapeseed stems, a type of Spring vegetable), and topped with wasabi and gold foil. The goma dofu was denser and creamier than standard tofu, and had a definite sesame finish to it. We were told to spread out the wasabi--good advice, as its tang served as a fitting contrast to the delicate tofu. The
nanohana
, meanwhile, was like a cross between broccoli and kale, and added a lovely crisp texture contrast to the dish, as well as a subtle bitterness.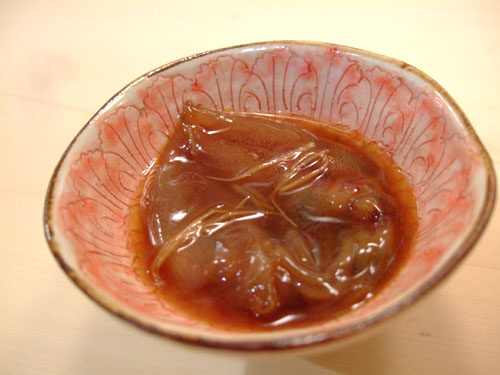 3. Hotaru Ika
- Also known as the firefly squid or the sparkling enope squid,
hotaruika
are a regional specialty of Toyama Prefecture. The squid are small, about three inches in length at maturity, and are bioluminescent. We were instructed to place the squid in our mouths, drink some sake, and chew the resulting mishmash. The
hotaruika
's sharp, briny, gingery flavor was deftly countered by the relative sweetness of the sake. I also had this on my
second visit
.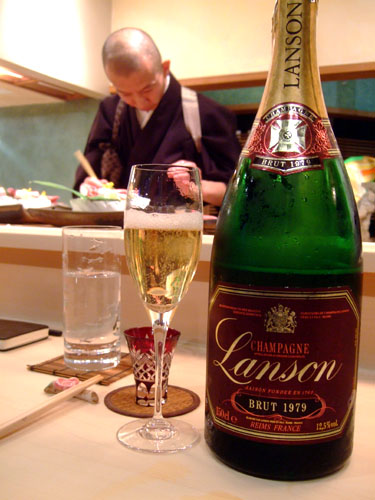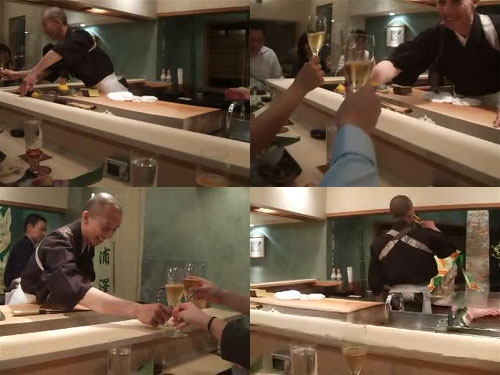 Will brought a magnum of the 1979 Lanson Champagne Brut (50/50 Chardonnay/Pinot Noir) for us all to enjoy. And enjoy we did! Despite the wine's age, it still had a great apple nose and subtle hints of fruit on the palate, backed by an undertone of toast and yeast. The Lanson also had a lovely, round, creamy texture and was surprisingly delicious while being fully mature. I actually likened it to the fantastic 1978 Dom Perignon we had at
Shibucho
. As seen in the video above, Hiro-san seemed to enjoy it too!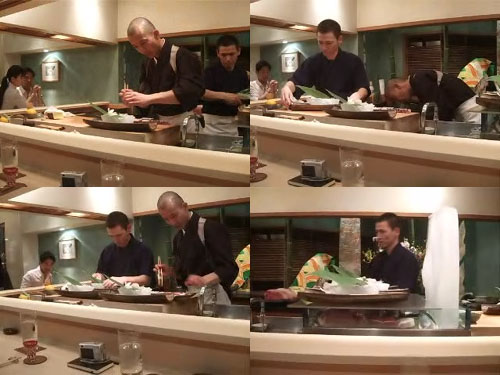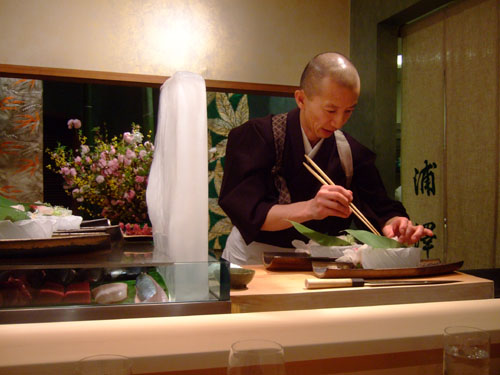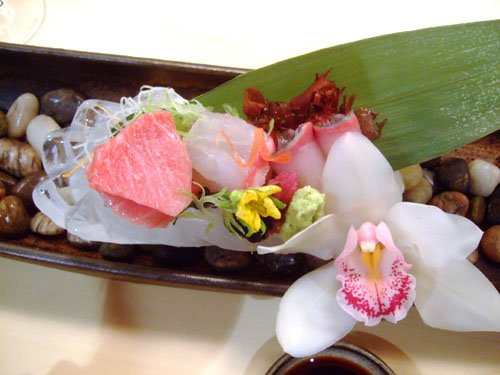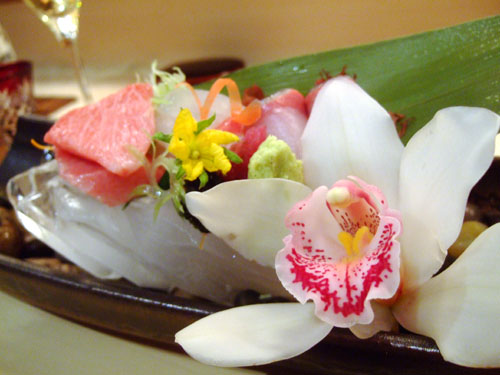 4. Sashimi
- The sashimi course, served in a hard-carved block of ice, is one of the constants in the Urasawa experience; see the video above for a clip of Hiro-san and Ken-san putting together the dish. The trio of fish consisted of toro from Spain, tai from Kyushu, and kanpachi from Toyama. The wasabi from was Shizuoka (famous for its wasabi), the shoyu from Wakayama (the "birthplace" of soy sauce), the carrot from Kyoto, and the orchid from Los Angeles! I didn't inquire about the origins of the red cabbage, white daikon, green daikon, cucumber flower, or seaweed. The toro was immensely fatty and melt-in-your-mouth, with the fish oozing oil upon mastication; but it wasn't heavy--in fact, the flavor was very mild. Eating the fish with the soy and wasabi really made the toro work, with the two elements countering the unctuousness of the fish. I had the snapper next; it had an almost creamy texture, and a very mild, clean flavor. The tai really needed the wasabi to bring out its best features. Finally, the kanpachi had a fantastic texture, tender with a bit of bite, and its flavor was marked by a very subtle sweetness, one that was drawn out when eating it with its accompaniments.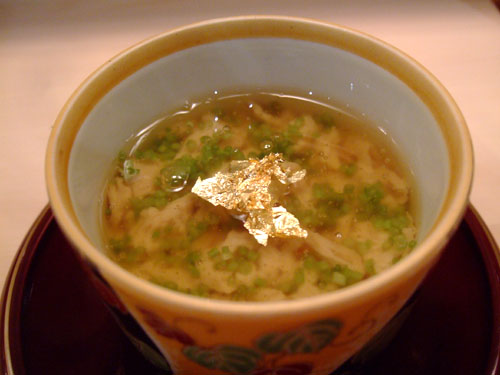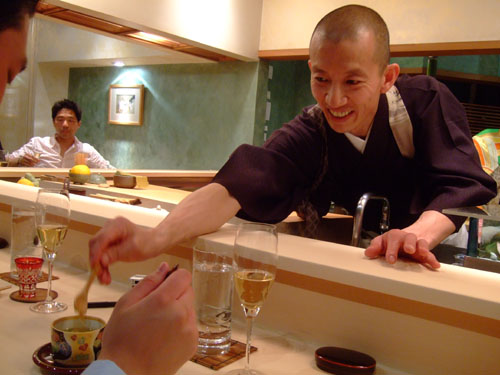 5. Chawanmushi
- Though this was referred to as chawanmushi (basically a steamed egg custard), its transparent body was unlike that any other chawanmushi I've seen, with a consistency more akin to gelatin than egg. The dish contained a bevy of ingredients, including: yuba (tofu skin), mitsuba (a type of vegetable), hairy crab, squash, uni, snapper, shrimp, ginger, ginko, and shiitake, all topped with a touch of gold foil. With so many disparate ingredients, each bite was different, each bite a pleasant surprise. However, all bites were backed by an overarching light smokiness, the tang of ginger, and the subtle bitterness of the mitsuba. I don't hesitate in saying that this was probably the best chawanmushi I've ever had. In the photo above, we can see Hiro-san mixing up Aaron's!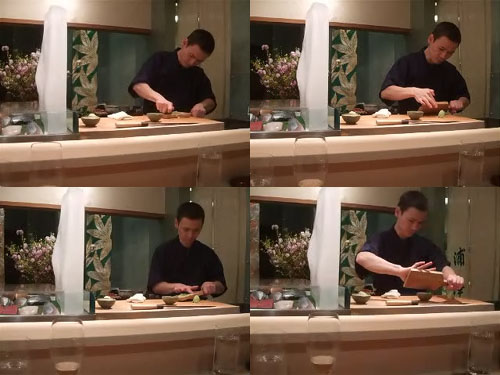 In this video, we see Ken-san prepping wasabi root with his shark skin
oroshigane
grater.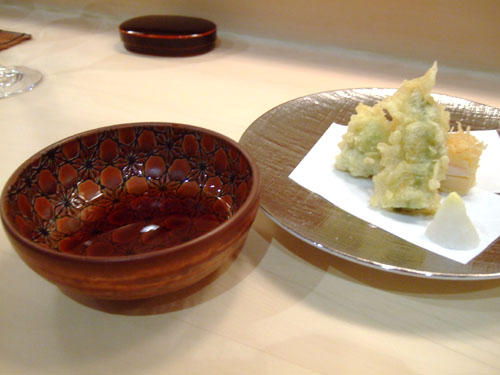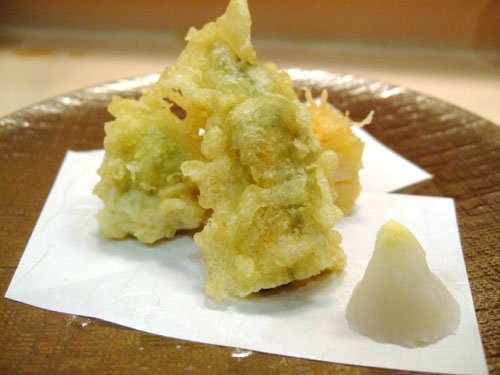 6. Spring Vegetable Tempura
- Your standard tempura ingredients won't cut it at Urasawa; no, I was able to try three that I'd never tasted before, all seasonal and best in the spring time. First up was
taranome
(young shoots of the aralia elata/Japanese angelica/tara tree), which had just come into season. It was prepared with an uni sauce and had a meaty texture, with a slightly bitter flavor. Next was
fukinoto
, the buds of the fuki/giant butterbur/coltsfoot/bog rhubarb. It was done with Kyoto miso, giving the tempura just a hint of sweetness, and had a creamy, pasty texture that was fascinating. Last but not least was a tempura of bamboo sandwiched with shrimp paste. I loved the texture contrast here (the crispness of the bamboo was awesome), as well as the subtle interplay between the flavors of the bamboo and the shrimp. As with most tempura, the examples here were served with
tentsuyu
dipping sauce (made from shoyu, mirin, and dashi) and grated daikon. Humorously, Ken-san nearly jumped across the counter when he saw me eating the tempura
sans
sauce! I had to assure him I just wanted to try a small bite without the
tentsuyu
, just to see how it was.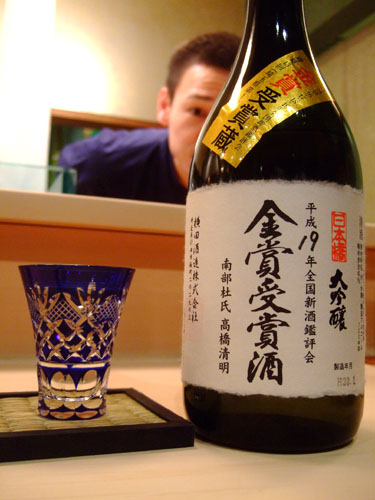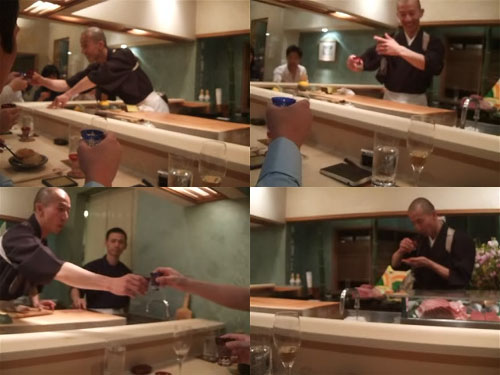 For our next drink, we opened up a bottle of daiginjo-class sake Brian had purchased in Japan, one that had won a gold medal in the 2007 National Sake Competition in Japan. It was called Nihonbashi, or "Japanese bridge," and was produced by Yokota Brewery in Saitama Prefecture, under the watch of
toji
, or head brewer, Kiyoaki Takahashi, a member of the influential
Nanbu toji
group from Iwate Prefecture. Having someone from this group is a mark of honor, and the brewer's name will often be listed on labels of high-end sake, as it was here. It any case, it was smooth, subtle, delicate, and delicious. Hiro-san seemed to really enjoy this one as well; in the video, we hear him exclaiming "So good!" upon tasting it.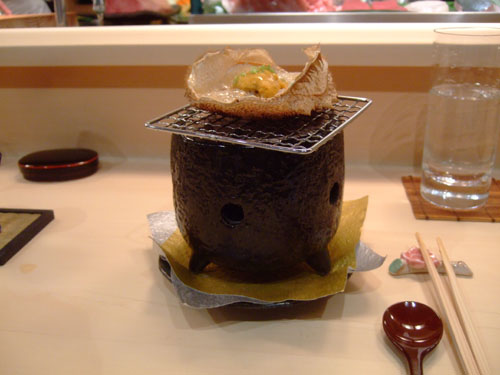 7. Kani Miso Korayaki
- This consisted of Hokkaido
kegani
(horsehair crab or hairy crab) meat and its kani miso (internal organs), topped with uni and mitsuba, all cooked in the crab's shell over a hibachi. The dish's aroma was intoxicating, and the flavor was simply the most intensely "crabby" I'd ever experienced, really imbuing me with the pure essence of crab, punctuated by the soft creaminess of the uni and the bitterness of mitsuba. This was my favorite course of this entire meal and arguably the best crab dish I've ever tasted.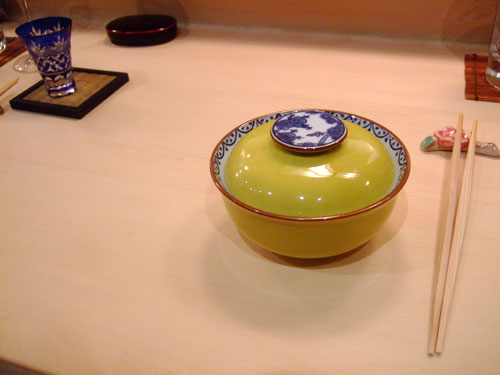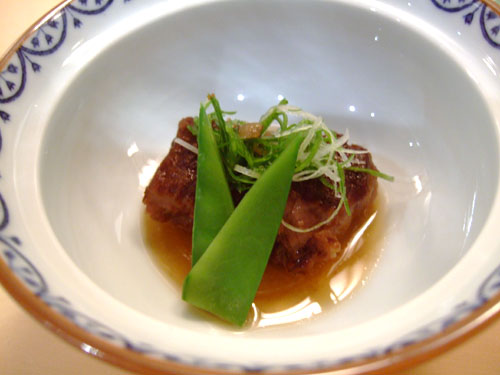 8. Saga Beef
- This was Wagyu beef from Saga Prefecture on Kyushu island, cooked for two days in sake and shoyu, and served with daikon, scallion, and snow peas. The result of this extended cooking session was an incredibly soft and tender texture. I literally was able to eat this without chewing, instead using my tongue to mash the beef against the roof of my mouth! Flavor-wise, this had a distinct sweetness to it, which was expertly offset by the use of the scallion and snow peas; the veggies were also key in providing some textural contrast to the dish. I actually had this same course on my
third visit
.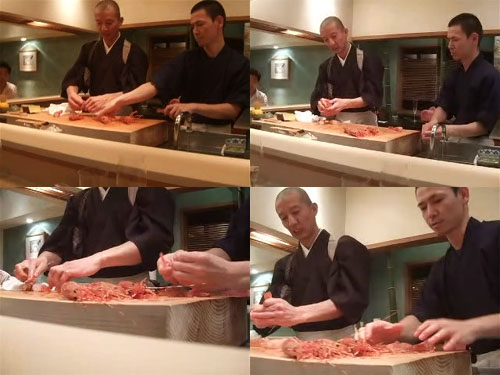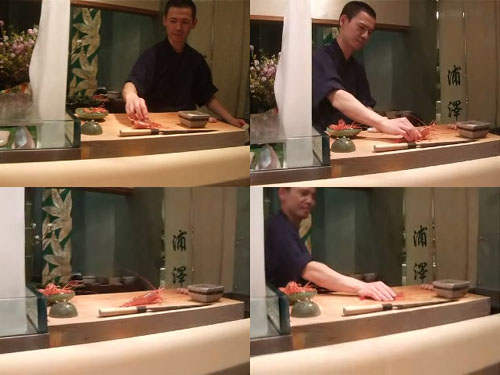 In these videos, we see Hiro-san and Ken-san preparing live shrimp (
botan ebi
I believe) for the shabu shabu course to follow.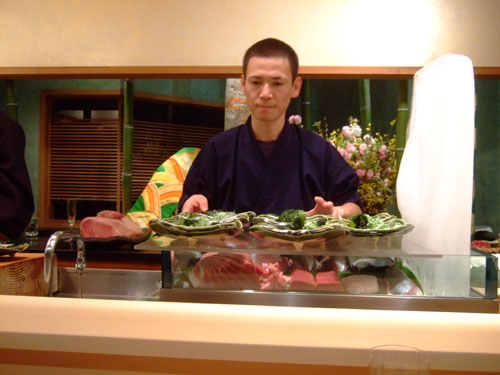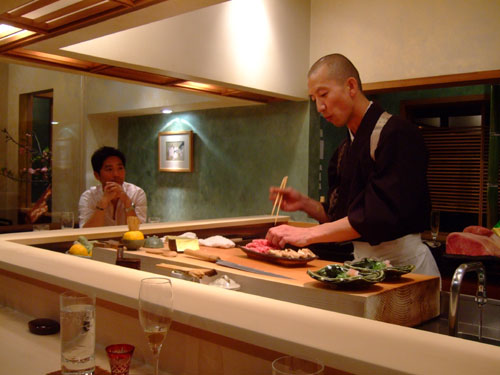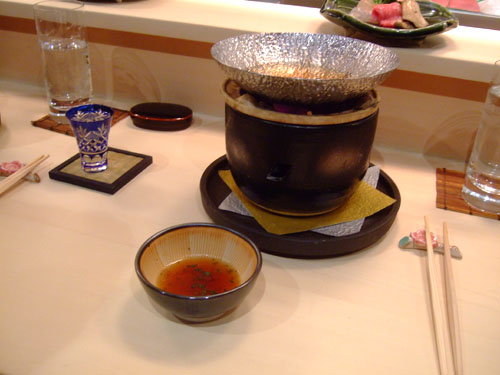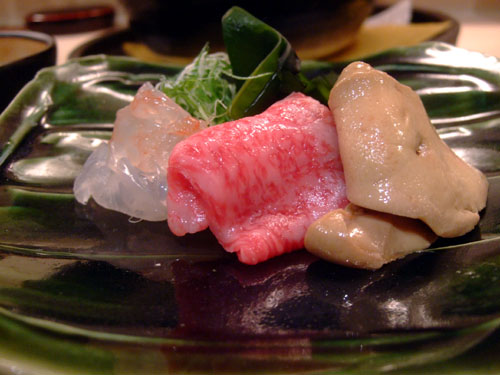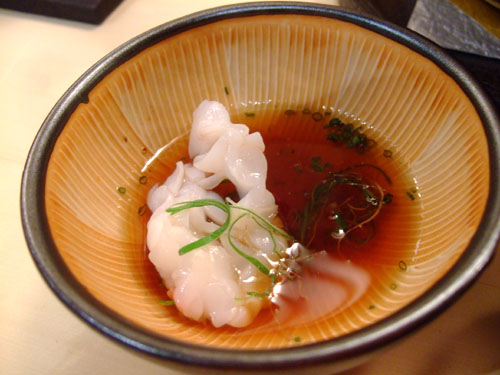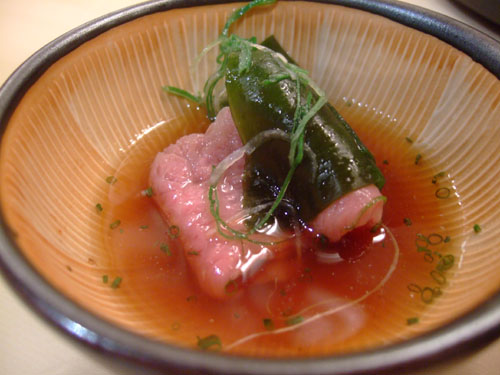 9. Shabu Shabu
- The shabu shabu course is always one of the most highly anticipated courses at Urasawa. This time, we had amaebi, Saga beef, and foie gras. The sweet shrimp and foie were the first to go into the pot. The shrimp was cooked quickly, resulting in a crisp, snappy texture, and when dipped in the ponzu sauce, had a great sweet-salty interplay. The beef went in next, and after some light cooking, we ate it with the kombu kelp--it turned out remarkably tender, and really soaked up the sweetness of the ponzu. Finally, it was time for the foie gras, which requires the longest cooking time. The result was fantastic, as expected--rich, decadent, subtle yet profound. In fact, Aaron mentioned that it was better than any seared preparation he's had. Note the new hibachi with its metal bowl; in all my previous visits, we'd made use of one with a paper bowl. When I inquired, I was told that the paper version would be brought out when summer draws near.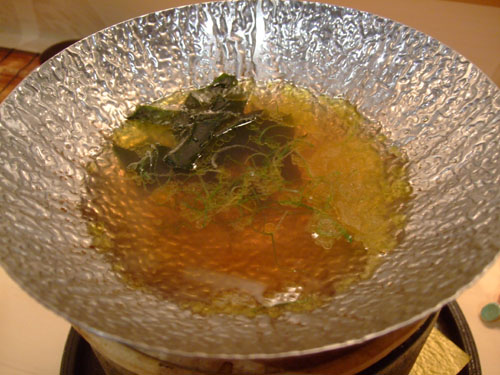 10. Shabu Shabu Broth
- The shabu shabu broth is always a treat. An interesting anecdote: early in the night, we saw Hiro-san tasting some sort of liquid multiple times. When we inquired, it turns out he was taste testing the broth, which he adjusts to account for the body size of the diner. He said that we were all pretty "skinny" so I guess no major adjustments needed to be made! In any case, the base of the broth is dashi and kombu, but the key is that the soup absorbs the multitude of flavors of the ingredients that are cooked in it. Its flavor was sharp and intense, yet not overpowering, saturated with the heady, hearty essence of the foie gras.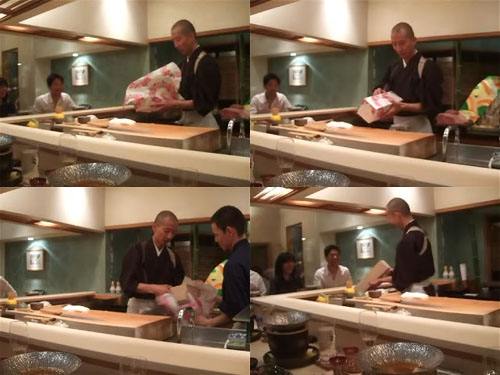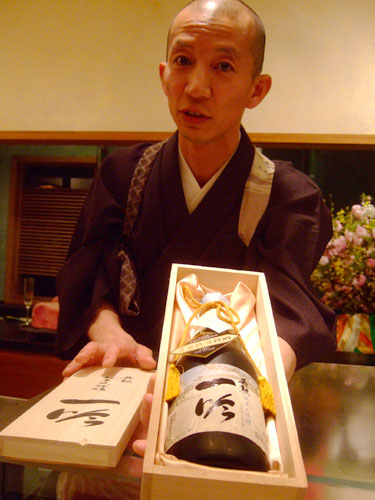 In the video above, we see Hiro-san unwrapping and presenting a very special sake to us: Ichigin. Its quality is apparent just by looking at the packaging--I don't think I've ever seen sake come in its own wooden box. Apparently, this sake is incredibly difficult to acquire in the States; the few bottles Hiro-san has were given to him by his mother Yoko when she visited from Japan. This is the "special sake" mentioned on the menu--now you know!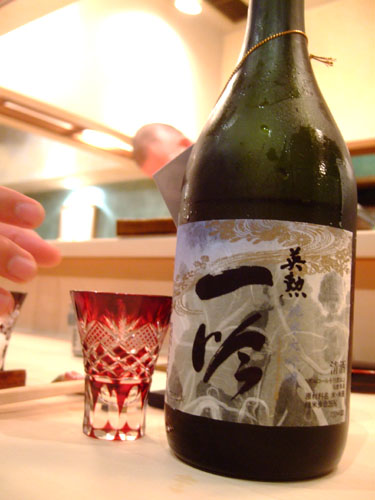 I thought that was the end of it, but unbeknownst to me, Brian and Will had secretly purchased the bottle, for a staggering $350 (thanks guys!). Eikun "Ichigin" is a junmai-daiginjo class sake brewed by Saito Shuzo in Kyoto Prefecture, one that's won gold medals at Japan's National Sake Competition for 11 consecutive years. It's made from the famous
yamada nishiki
rice (polished to a
seimai-buai
of only 35%) and
shiragiku-sui
spring water. The result was marvelous--arguably the best sake I've tasted. It had a delicate fruitiness as expected from a daiginjo, but the flavor of rice was present as well. The aroma was light, floral, and juicy, and this continued onto the attack, imbued with a subtle sweetness. After this initial impression, things got more complex, with the drier side of the sake coming into play, showing off the characteristics of its rice, alcohol, and water. Faultless.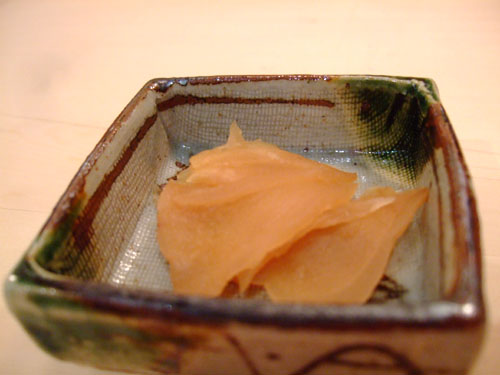 When the gari comes out, you know that the gauntlet of sushi is about to begin. The ginger this time seemed sweeter and softer than in visits past.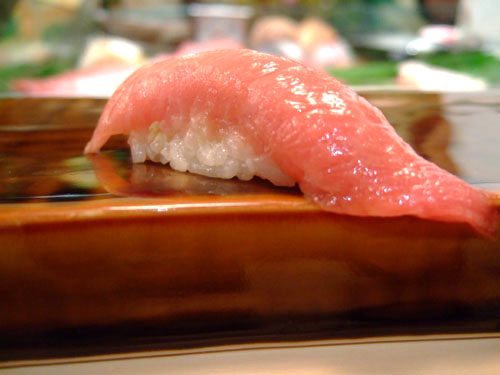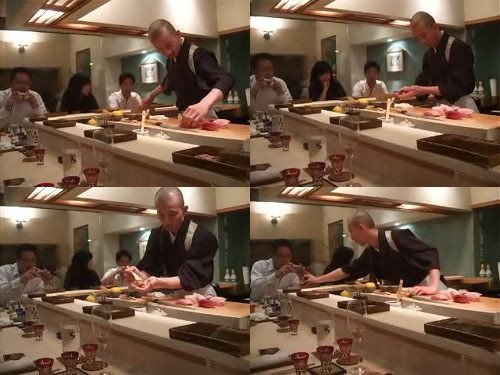 11. Toro / Tuna Belly
- Unlike pretty much any other sushi chef, Hiro-san likes to start out with toro. I'm not complaining, as his toro is always decadently fatty, unctuous, and rich, with the wasabi adding a touch of heat to accent the fish. This is, quite simply, the best toro I've had in the States (the #1 spot belongs to
Kyubey
in Tokyo). In the video, we can see the artistry involved in creating a piece of toro nigiri.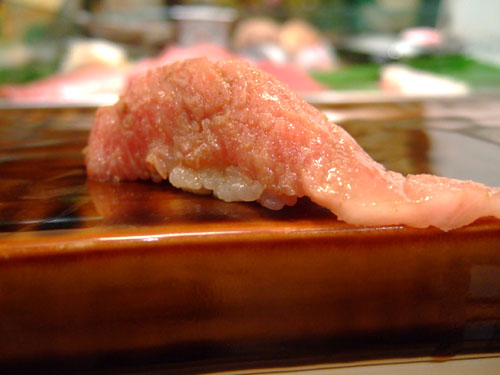 12. Seared Kama Toro / Tuna Collar
- Kama toro is a cut of tuna from the fish's collar area, of comparable fattiness to toro (from the belly), but much rarer. It's something that I've only had at Urasawa. The kama toro had a richer taste and fattier complexion than standard toro, and its flavor was punctuated by a light smokiness imparted by the searing. Excellent.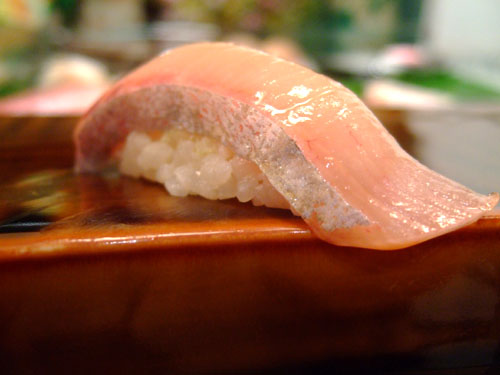 13. Kanpachi / Amberjack
- Kanpachi is related to the common yellowtail, and as a result, it's somewhat similar in flavor, though sweeter, less oily, and more tender. Delicate and refined, kanpachi isn't terribly distinctive or in-your-face, though it certainly is delicious.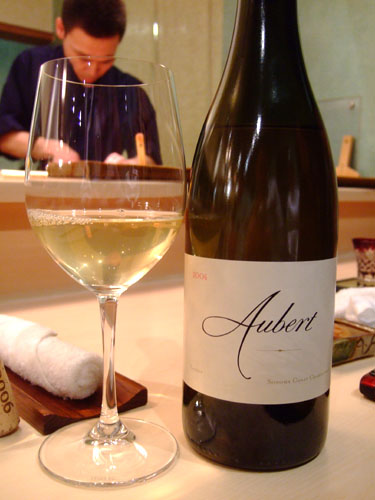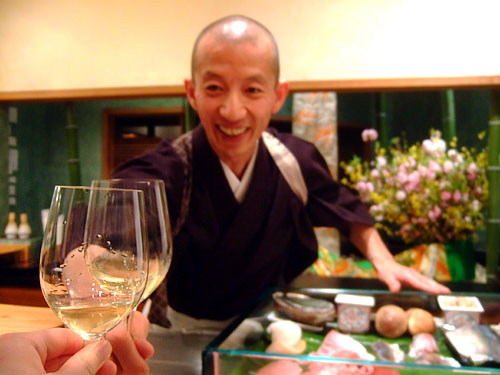 California Chardonnay isn't something I normally pair with sushi, so I was curious about how this 2006 Aubert Chardonnay Lauren Vineyard from my personal collection would turn out. The nose was marked by juicy citrus, apple, and stone fruit notes, which continued onto the palate, where those flavors were joined by light tinges of minerals and wood, finishing long with refreshing crisp acidity and absolutely no heat to give away its 15.8% weight. I usually don't care for Chards, especially California ones, but this was superb--probably the best Cal Chard I've ever had.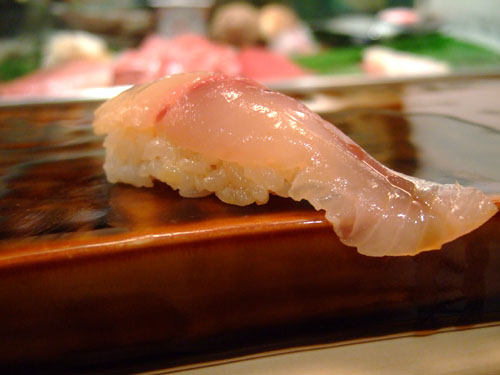 14. Aji / Spanish Mackerel
- Aji has become one of my favorite sushi fish, and this reminded me why. Mackerel can be overpowering at times, but that wasn't an issue here. It had a subtle fishiness to it, which was countered and complemented by the wasabi. Great snappy texture on this one too.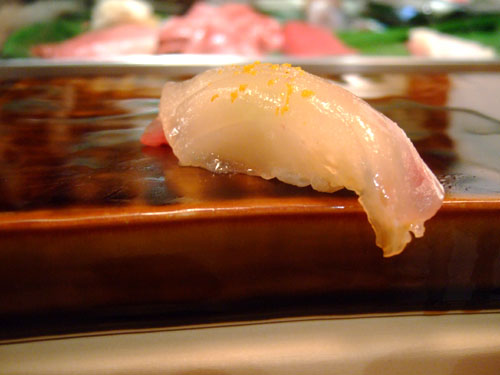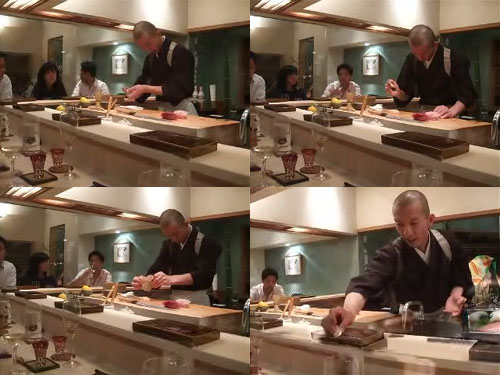 15. Tai / Snapper
- From Kyushu. A perfect piece of tai, the fish had a great snap to it and a mild flavor that was heightened by the use of yuzu zest. In the video above, we see Hiro-san preparing two pieces of tai nigiri.
16. Hon Maguro / Bluefin Tuna
- The quintessential expression of tuna. Maguro rarely stands out, but this is about as good as it gets. The tuna's flavor was straightforward and clean, well-accented by the wasabi.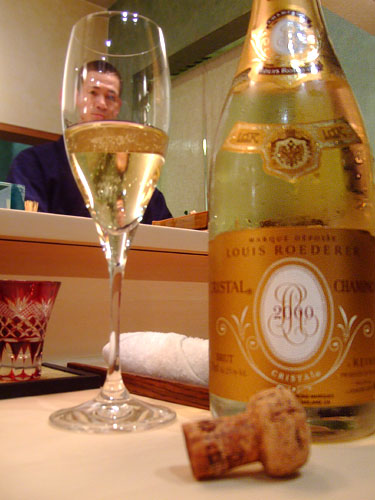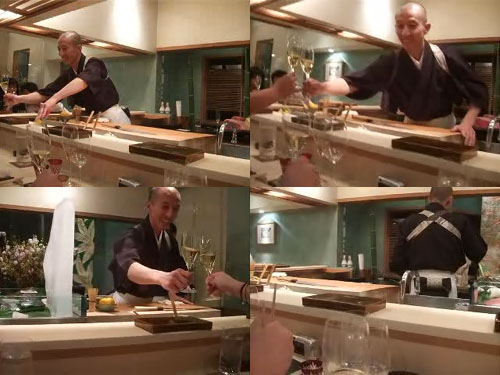 The second bottle I brought was the 2000 Louis Roederer Champagne Cristal Brut, which I also had on my
second visit
. As expected, the wine showed typical citrus, honey, and floral notes, along with a nice minerality and a touch more toast than I'd expected. The video shows Hiro-san clinking glasses with the entire party. Cristal: always a good decision.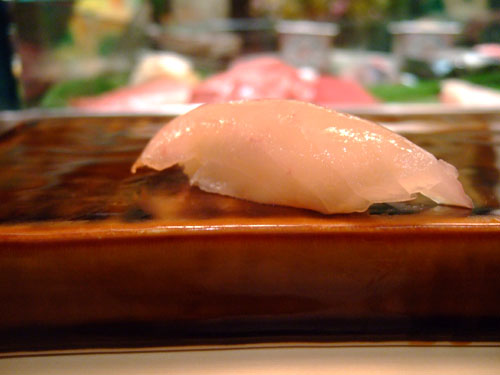 17. Shima Aji / Striped Jack
- This was actually my favorite fish on my
second visit
, and though it didn't reach quite the same heights this time, it was still lovely, with a fresh, light flavor highlighted by a wasabi finish. The most distinctive thing about the shima aji wasn't its flavor, but its great crunchy texture.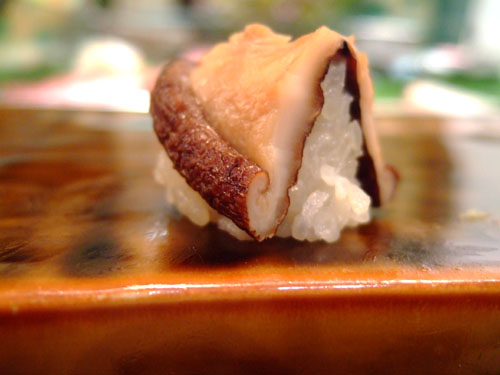 18. Shiitake
- Shiitake has shown up on every Urasawa visit so far, and yet, I've not had it at any other restaurant. The mushroom had a strong, smoky, earthy flavor (reminding me of a Chinese-style preparation) that stood in stark contrast to the vinegared rice and spicy wasabi.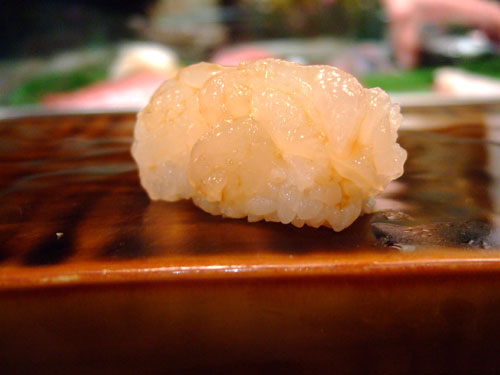 19. Shiro Ebi / White Shrimp
- Tiny shrimp from Toyama Prefecture, where they're a regional specialty. Consisting of over a dozen shrimp, the nigiri broke apart instantly upon mastication, spreading the shrimps' sweet creaminess everywhere. Gina really liked this one, though I must say that a large, single piece of shrimp is my preference.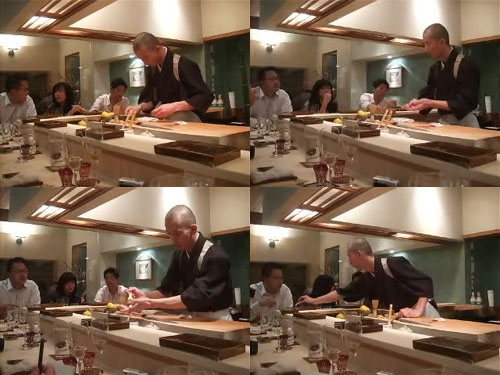 20. Seki Saba / Japanese Mackerel
- As with its cousin seki aji, seki saba is considered the crème de la crème when it comes to mackerel. Seki saba is caught in the Bungo Channel (a strait that separates Kyushu from Shikoku) off the coast of Oita Prefecture. Now normally, seki mackerel has a very fine, delicate flavor that I find simply fantastic. Unfortunately, this didn't live up to my expectations, which I think was my fault, as I let the fish sit too long. Typically, I'll eat the sushi within seconds of it being served to me, but in this case, I happened to get distracted by a side conversation and let the fish sit for over a minute. The result was a taste that was duller, blunter, less refined that it should've been, with a texture that was drier and tougher. Hiro-san has a 10-second rule for a reason; stick to it! I know I will next time. See the video for a clip of Hiro-san shaping a piece of seki saba for Will.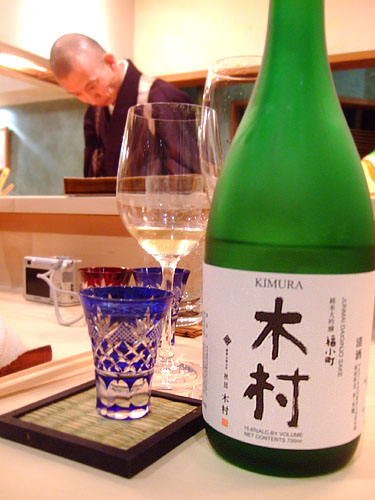 Our cups were empty yet again, so we purchased a bottle of the Kimura Junmai-Daiginjo Sake [$110] from Akita Prefecture. Light, dry, and smooth, it was a lovely sake, but one that paled in comparison to the previous two that we had.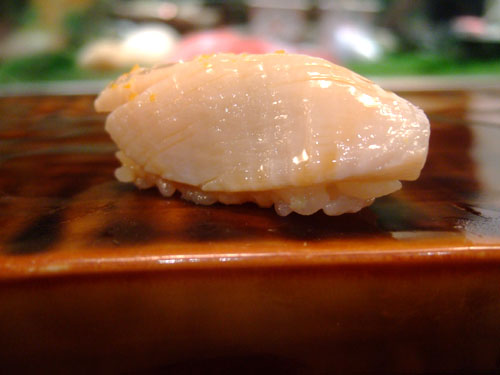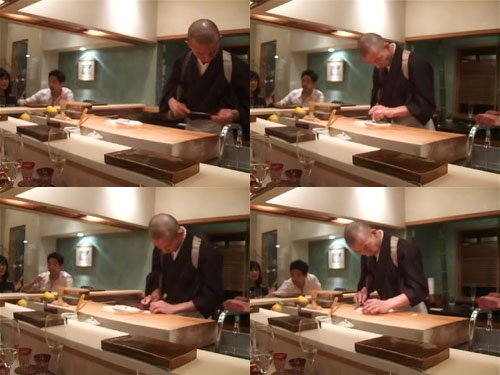 21. Awabi / Abalone
- Often times, abalone can be too tough, but that wasn't the case here. The mollusk, shipped from Japan, had just the right amount of snap to it, and its briny flavor was set off nicely by the application of yuzu zest. In the video above, we see Hiro-san cutting slices of abalone; note how he tenderizes the abalone by scoring it with his knife.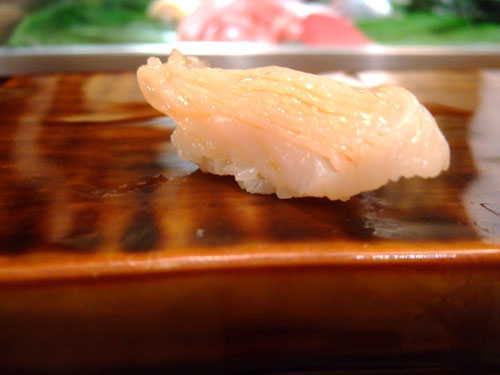 22. Mirugai / Geoduck
- Also known as the king clam or elephant trunk clam, the mirugai had a definite crunch to it, yet was yielding to the bite as well. The flavor was sweeter than that of the abalone, and was nicely contrasted by the use of wasabi.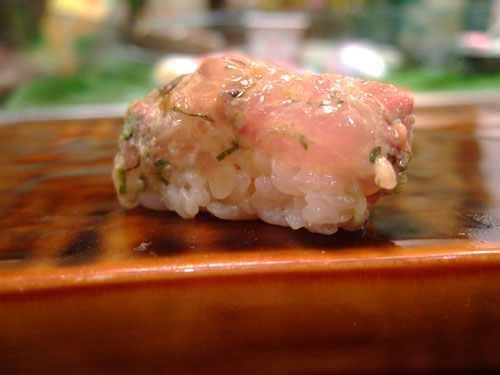 23. Aji No Tataki / Chopped Spanish Mackerel
- Another type of nigiri exclusive to Urasawa, this consisted of diced aji mixed with shiso, ginger, Kyoto miso, and scallions. Rather than being fishy, the nigiri had a light sweetness from the miso, which was countered by the sharp tang of shiso, ginger, and scallion. Very nice.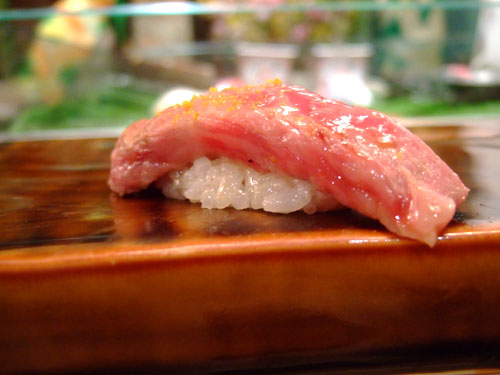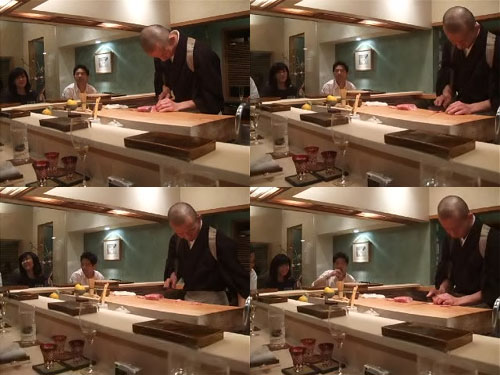 24. Gyusashi / Beef
- The first thing that hit me here was the zesty flavor of the grated yuzu skin; this then gave the way to the sweet flavor of the lightly cooked, slightly chewy meat, after which the wasabi came to the fore. Always a crowd pleaser! See the video for a clip of Hiro-san cutting and tenderizing the meat.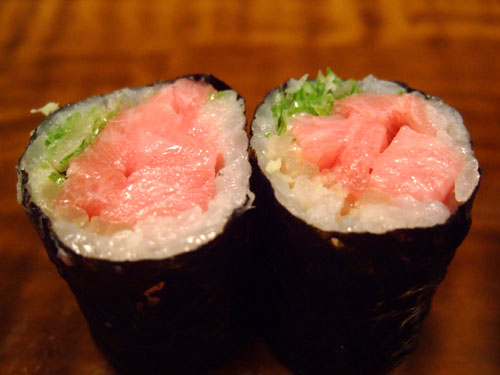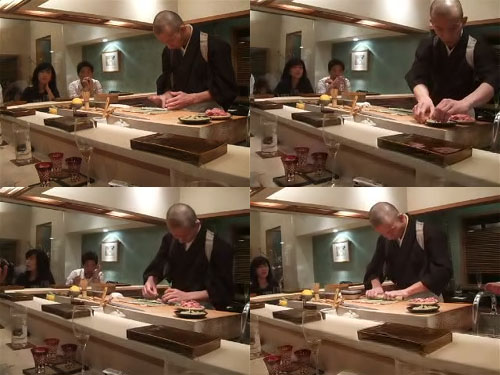 25. Negi-Toro Maki
- The only rolled sushi one typically get at Urasawa is the negi-toro maki, made of toro,
negi
(leek), and
takuan
(pickled daikon). The bitter leek was a wonderful complement to the heavy toro, and the daikon pickles gave the roll a slightly sour flavor, as well as a refreshing crunch. In the video above, we see the process of constructing this roll.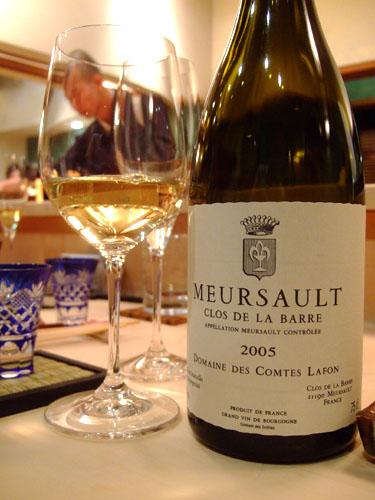 Our final bottle of the night was the 2005 Domaine des Comtes Lafon Meursault Clos de la Barre, brought by Brian. I'm usually not too keen on white Burgundy, but this was superb. The wine had a refreshing crispness and dryness, backed by notes of minerals, apple, vanilla, and stone fruit. Wonderfully acidic, the finish was long, sweet, and gravelly, with a bit of heat as well.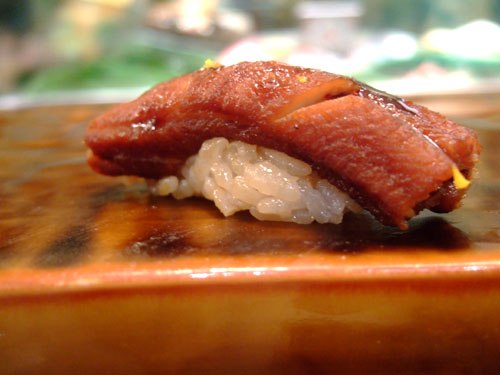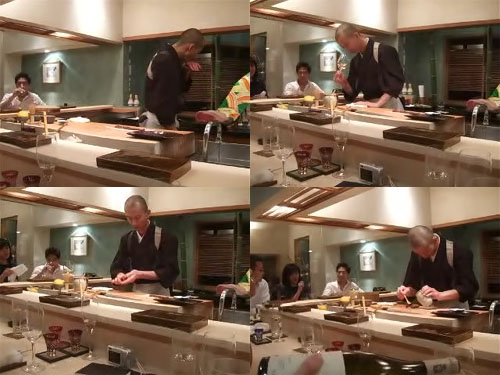 26. Anago / Sea Eel
- I've had anago on all three of my Urasawa trips, which I believe has helped convert me from unagi. You won't find unagi at Urasawa (at least not in nigiri form), as freshwater eel is traditionally not used as a sushi ingredient, due to its fattier, heavier consistency. This was the strongest anago amongst all my visits; the eel was lean and light in body, yet flavorful, and was accented by yuzu and a dollop of sweet sauce. The video above shows Hiro-san preparing pieces of nigiri using the grilled eel.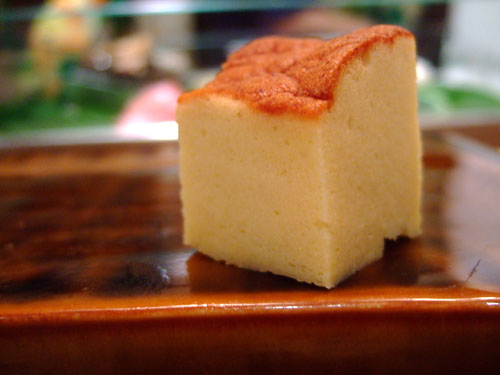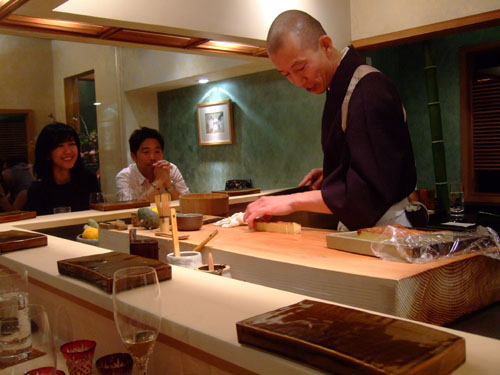 27. Tamago / Egg Omelet
- Tamago always signals the end of the sushi at Urasawa. Here, it's always made in-house, in a style that's completely different than what you'd see elsewhere. You'll find that the tamago is light, spongy, fluffy, and cake-like, with a flavor that's indeed eggy, but also quite sweet. In the photo above, we can see the
makiyakinabe
pan that the tamago is prepared in.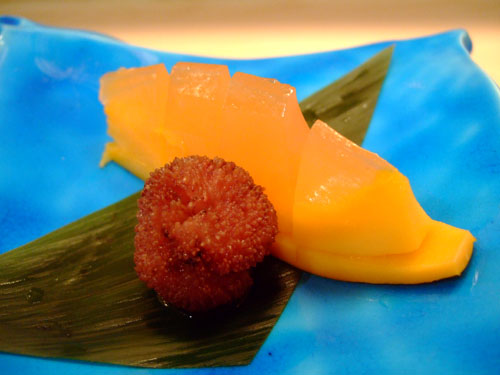 28. Papaya and Yamamomo
- When I saw this, I thought that it was just a piece of sliced papaya. I was wrong fortunately; instead, what we had was a grapefruit gelée that had somehow been melded on a slice of papaya. The effect was that the sour essence of grapefruit permeated the milder flavor of the papaya, creating a nice balance. The other component here was
yamamomo
, a.k.a. mountain peach or bayberry. It's flavor was interesting--tart but almost savory.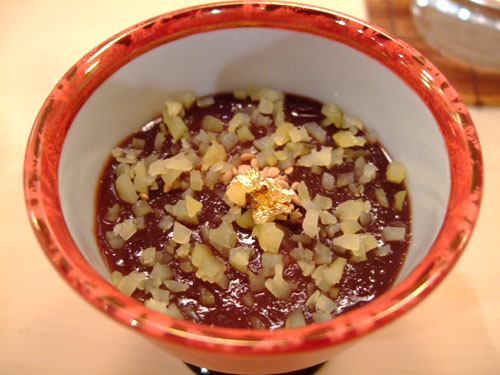 29. Goma Pudding
- This was a sesame pudding, topped with a layer of red bean paste, sprinkled with chestnuts, sesame seeds, and topped with gold foil. Very nice; this had a great base of sesame flavor, accented by the sweetness of red bean, while the chestnuts added a bit of nuttiness as well as a pleasing crunch to the whole amalgam.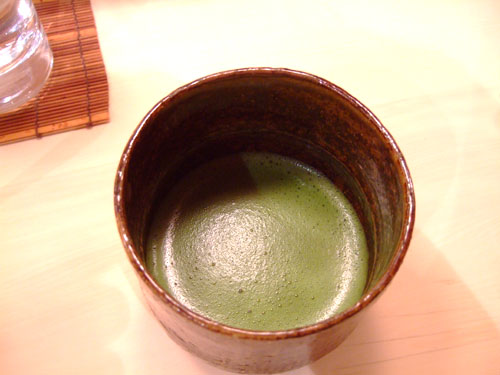 30. Matcha
- With dessert came a cup of matcha, a type of powdered green tea often used in Japanese tea ceremonies. It had a strong, bitter flavor that balanced the sweetness of the desserts, as well as a thick, grainy texture.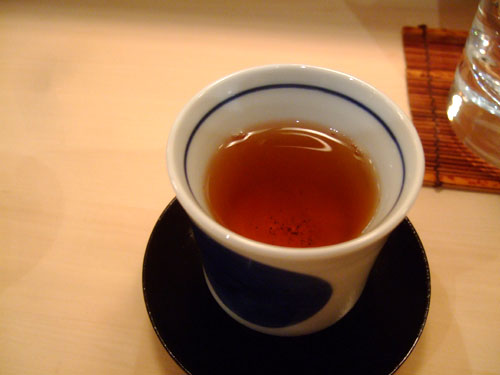 31. Hojicha
- A roasted green tea, hojicha signals the close of a meal at Urasawa. I'm usually not a tea drinker, but I always make room for a few cups of this (you get free refills).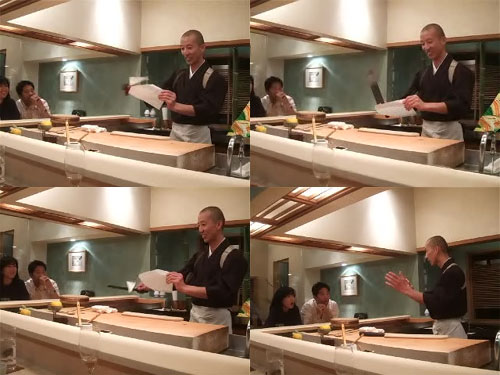 This video was my favorite from the entire meal. In it, Hiro-san demonstrates the sharpness of his
hamo honegiri
knife. Hamo is a type of eel (I had it on my
third visit
), one that has bones embedded into its flesh in such a way that removal is not viable. Instead, one uses a
hamo honegiri
to slice the bones into ultrafine pieces so that the eel is edible. In this day and age, I'm glad that there's still room for extravagances like this: a $2,000 knife that's only used for one very specialized purpose.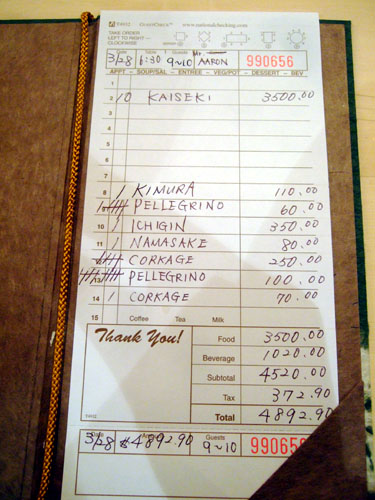 I believe the bill must have set a group record, though the per person record remains
Joël Robuchon
. Note that corkage was $50 per bottle of wine ($100 for the magnum), but $70 per bottle of sake. I still can't believe we put away $160 worth of water!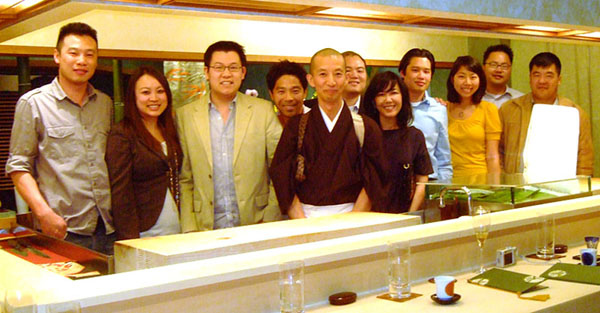 Denny, Gina,
Kevin
,
Brian
, Hiro-san,
Danny
, Jan,
Aaron
,
Yoko
,
Will
,
Mike
.
Over the course of dinner, Hiro-san asked me if I'd been to a few restaurants, such as
French Laundry
,
Joël Robuchon
, and even
The Bazaar
. Apparently, José Andrés had called Urasawa the best restaurant in Los Angeles; humorously, he also mentioned that Yoshie-san went to dinner at The Bazaar once, and thought that many of the dishes "tasted strange" (e.g. a dish with toro and apple)! I asked him what restaurants he liked. Names mentioned include Otafuku Noodle House in Gardena for soba and Oumi Sasaya in Lomita for udon. He also likes K-Zo in Culver City, though owner Keizo Ishiba is a friend of his. Hiro-san's favorite cuisine is Japanese, naturally, but behind that is Chinese, which he eats at least twice a week (he likes Sea Harbour in Rosemead and King Hua in Alhambra if I recall). His father actually ran a Chinese restaurant back in Tokyo, so Hiro-san grew up around good food. Though originally from Tokyo, he moved to Kyoto to learn the art of traditional kaiseki cuisine, which is evident in the elaborate courses that precede the sushi. Interestingly, while training in Kyoto, he worked alongside Kenji Kaji, the chef/owner behind
Kaji
, a restaurant I visited in Kyoto last year.
During our meal, I asked Hiro-san how business was holding up, given the recession and all. Interestingly, he noted that business has not, in fact, slowed. He did mention though that he talked to his old teacher Masa Takayama, Corey Lee, and Michael Cimarusti, and that all three had stated that business had slowed at Masa,
Per Se
, and
Providence
, respectively, as a result of the economic slowdown. The fact that Urasawa hasn't experienced declining business, I believe, is a testament to the quality and uniqueness of the restaurant. There's always room for the best right?