Mélisse (Santa Monica, CA)
Mélisse
1104 Wilshire Blvd, Santa Monica, CA 90401
310.395.0881
www.melisse.com
Sat 02/21/2009, 06:45p-11:50p
Ahh Mélisse, named after a lemon-scented herb from the Mediterranean. The restaurant is the brainchild of Chef/Owner Josiah Citrin, who opened Mélisse with wife Diane in July of 1999; the restaurant quickly became, and has remained, one of the top eateries in Southern California.
Previously, Citrin was chef and owner of JiRaffe, which he opened in 1996 with friend and fellow surfer Raphael Lunetta (the two are currently collaborating on Lemon Moon, a breakfast and lunch place). Before that, his résumé included working with two giants of the LA dining scene: Wolfgang Puck of
Spago
fame, and Joachim Splichal of the
Patina
Group. At Mélisse, Citrin emphasizes the techniques of traditional French cuisine, commixed with contemporary American flair. A fixture at local farmers' markets, he extols the virtues of local ingredients, which are presented relatively simply at Mélisse--no avant garde or molecular techniques here.
Mélisse had been on my radar for what seemed like forever, but for whatever reason, I'd never got around to going. During the weeks prior to this meal, I'd actually been thinking of planning a group dinner at the restaurant. However, before that could come to fruition, I received an invitation to try Mélisse, gratis no less, from none other than kevinEats reader, t-shirt mogul, Internet entrepreneur, and fellow gourmand Sunshine Megatron, the oft-maligned and mildy infamous founder of
T-Shirt Hell
. It was an offer I couldn't refuse.
Mélisse is located on the southeast corner of Wilshire and 11th. The valet ($8 if I recall correctly) is located on 11th, just south of Wilshire (immediately to the right of this photo). A word to the wise, don't try to park in the surrounding residential neighborhood unless you want to add at least $50 to your meal tab.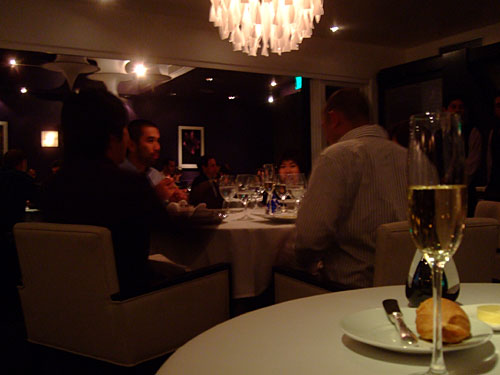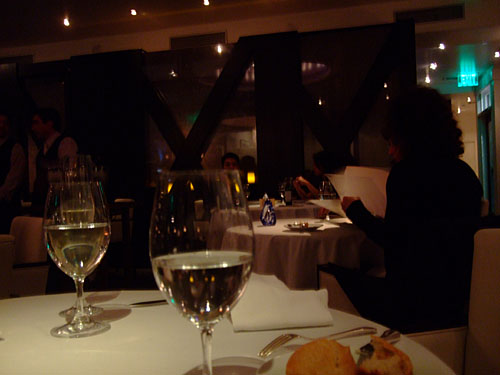 Prior to my visit, the interior of the restaurant had gone through almost a complete renovation. Originally, the space was warmer, more rustic, akin to a French home in the countryside. Now, the room is much more sleek and contemporary, albeit colder, with aubergine walls contrasting with the khaki chairs and ivory tablecloths.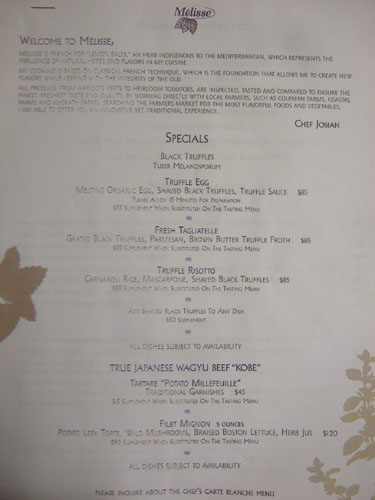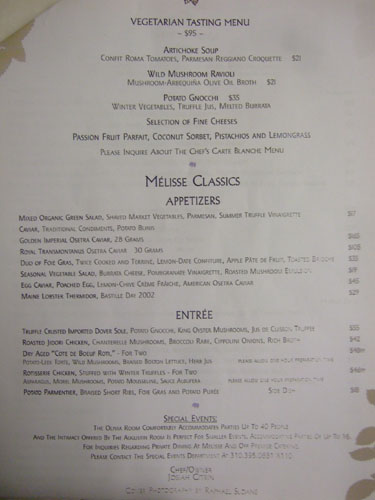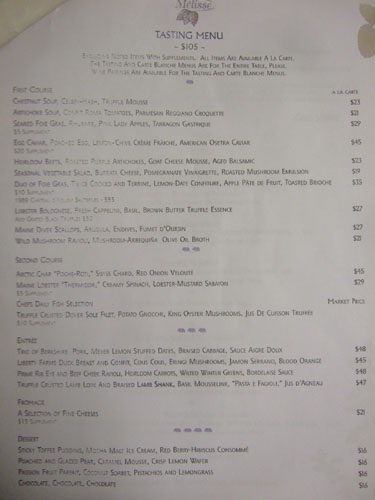 The menu is shown above; click for larger versions. We were originally contemplating ordering one of everything on the menu, but given the scope of the carte, wisely decided to just go with the 13-course Carte Blanche [$210.00] instead, along with a couple of supplements. As always, I requested a copy of the menu at the end of the evening (especially important given that the Carte Blanche is not printed on the regular menu). The request could not be handled on the spot, but I was given copy of the standard menu and told that the Carte Blanche would be emailed to me no later than Tuesday. To the restaurant's credit, Maître d' Matthew Greenberg did send
a copy
over at 12:52AM that very night (albeit with errors).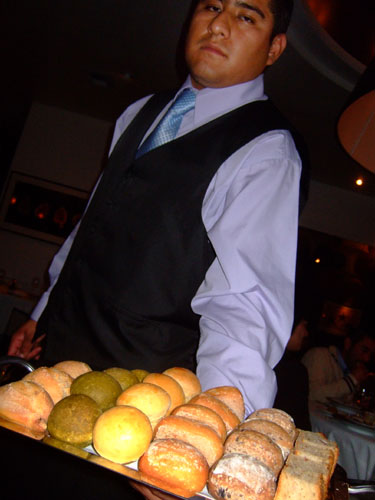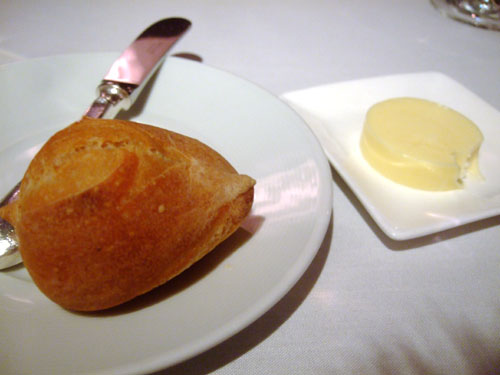 Six types of bread were offered, including: bacon, olive, ciabatta, and basil brioche, among others.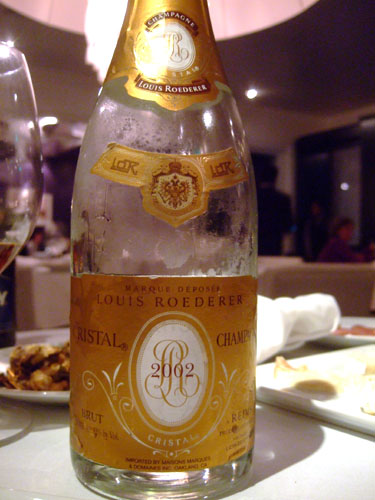 I ended up bringing a bottle of 2002 Louis Roederer Champagne Cristal Brut, taken from my personal cellar. Interestingly, Sunshine later mentioned that he also was thinking of bringing the same bottle; great minds think alike I suppose? In any case, it was a fabulous sparkler--soft, sweet, with notes of lemon and stone fruit--but also way more toasty than I remembered. Because of this, it didn't quite reach the heights I experienced at
Capo
or
Urasawa
. Surprisingly, I don't think were charged for corkage.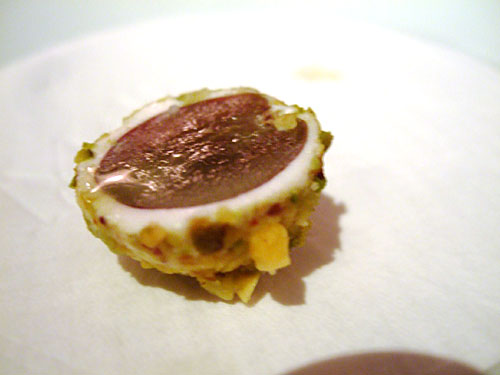 Amuse Bouche: Grape, Goat Cheese, Pistachio
Sort of Mélisse's signature amuse, we have here a single grape, covered in goat cheese, and coated with pistachio bits. The cheese was the first thing to hit me, with its creamy, slightly sour flavor. This was followed up by the sweet, juicy flesh of the grape, which subsequently gave way to a lingering finish of salty pistachio--an interesting way to kick things off.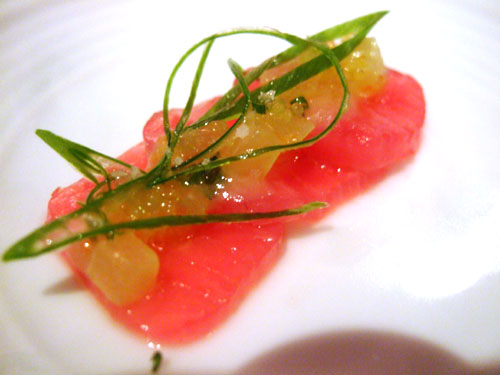 1: Ahi Tuna
Yuzu Emulsion. This was a very straightforward looking presentation of ahi, but surprised both of us in terms of flavor. The initial taste was light, clean and fruity, quickly leading to a salty zest. However, the tuna left a surprisingly strong lingering fishiness, which was rather unexpected for the normally mild ahi.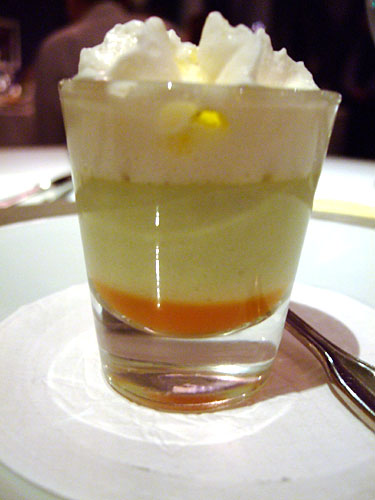 2: Fennel Flan
Orange Gelée, Cashew Mousse, Vanilla Essence. We were instructed to eat this from bottom up, in order to properly embrace all the elements at play here, to experience the transitions from sweet to savory, from warm too cool. The result was quite satisfying: a multi-layered, multi-faceted study in temperature, texture, and taste.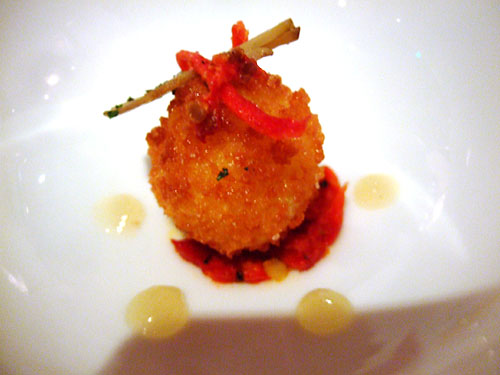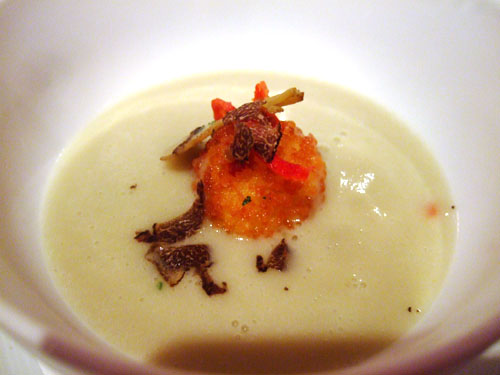 3: Artichoke Soup
Confit Roma Tomatoes, Parmesan Reggiano Croquette, Lemon Essence, Shaved Black Truffle. The croquette here reminded me of a Tater Tot(!) and really complemented the hearty artichoke soup, while the freshly shaved truffle provided an overarching, earthy aroma that tied everything together. The tomato confit, meanwhile, added a marked tartness to the dish to counteract all the richness. Very nice.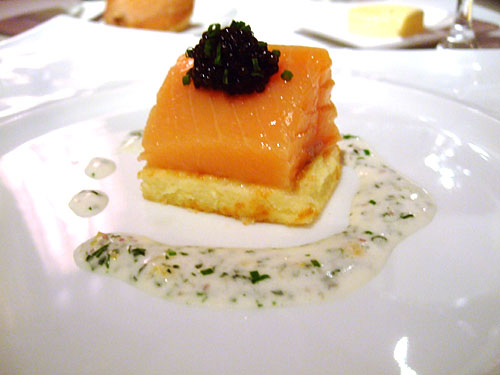 4: American Osetra
Arctic Char, Potato Blinis, Lemon Crème Fraîche. The Arctic char is closely related to salmon, and thus unsurprisingly, worked beautifully here. The amalgam of the blini and char formed a delicious combination that was further accentuated first by the tartness of the crème fraîche, then by the salty tang of the caviar. A classic combination, perfectly executed.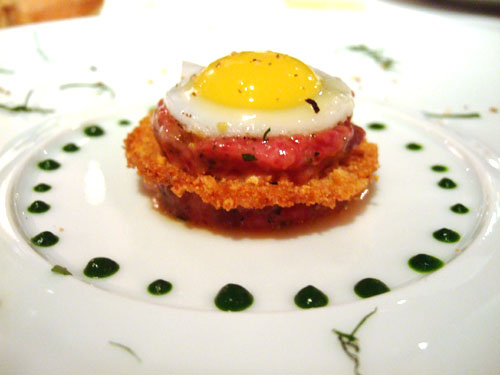 Supplement: True Japanese Wagyu Beef "Kobe" Tartare "Potato Millefeuille" [$45.00]
Traditional Garnishes. This was a superb tartare; I loved the contrast between the crunchy potato chip and the soft Wagyu, and how the richness of the beef was further heightened by the creaminess of the egg yolk. The only problem was that the beef wasn't uniquely Wagyu; it really could've been any quality cut of beef--that is, the superior marbling and texture of Wagyu wasn't apparent here.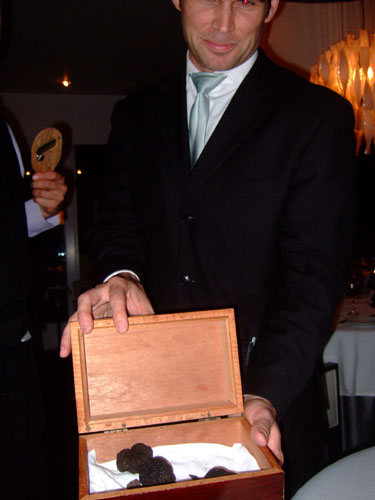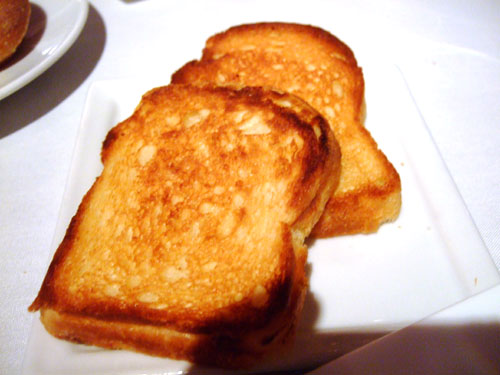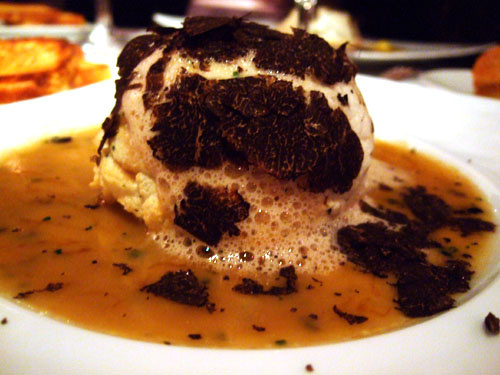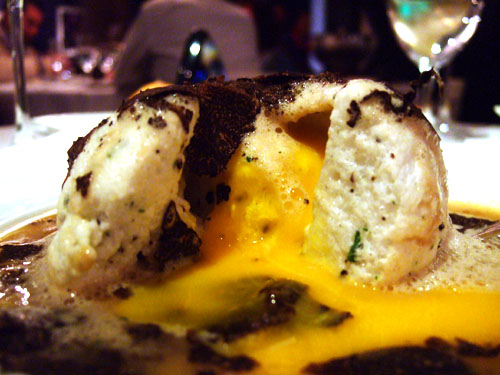 Supplement: Truffle Egg [$55.00]
Melting Organic Egg, Shaved Black Truffles, Truffle Sauce, Jus de Rôti. An absolutely fascinating dish; I've never had anything quite like it before. The first thing that hits you is the intense, earthy aroma of the freshly shaven black truffle. The truffle then takes a back seat as you taste the egg. The egg "white" had a positively unique texture; it was light, airy, fluffy, ethereal, with a very subtle egg flavor. Inside was the runny yolk, which contrary to the egg white, was a rich, creamy base that integrated the various aspects of the dish, moderating the truffle, egg white, and jus. Sunshine even stated that it was "like eating breakfast."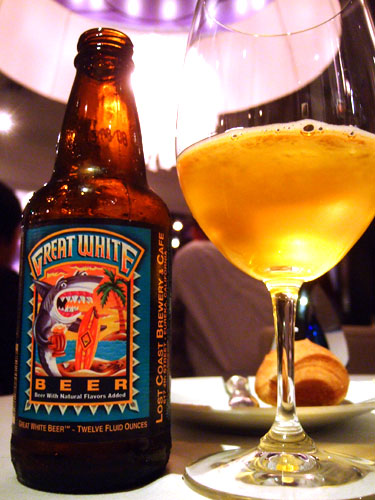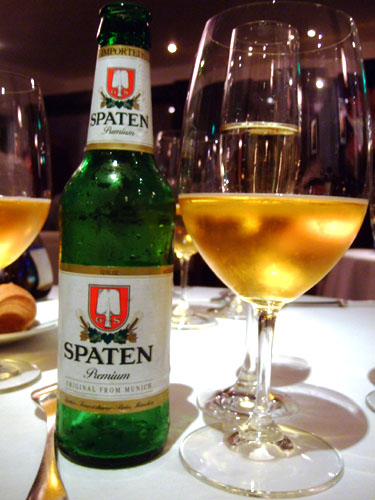 Instead of continuing on with wine, we decided to pair beer with the meal. Mélisse's beer selection is fairly limited, so we ended up going with four of the more interesting selections. First up was the Great White [$6.00], a
witbier
("white beer") from Lost Coast Brewery in Eureka, CA. White beer is a type of wheat beer that gets its name from the presence of wheat and yeast particles that give the beer a slightly whitish appearance. It was a nice, refreshing beer, with strong flavor and aromatic components of orange, spice, and herbs; light and zesty, with a wheat-tinged finish. Next was the Spaten Münchner Hell [$8.00], a pale lager by German brewer Spaten-Franziskaner-Bräu (part of InBev). A nicely balanced, tasty, though not outstanding beer, with a crisp, clean, lightly floral taste, and a soft bitterness from the hops.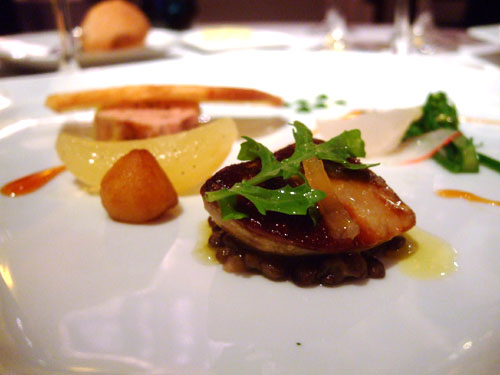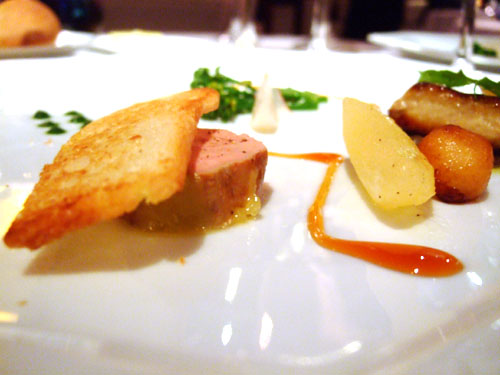 5: Duo of Mélisse Foie Gras
Pink Lady Apple, Broccoli, Truffle Essence, Tarragon-Sauternes Gastrique. Regular kevinEats readers will know that when it comes to foie gras, I'm definitely a terrine guy. So imagine my surprise when I actually preferred the seared presentation here. My usual complaints are attributable to either an overly strong flavor of the liver, or to the overt sweetness of the foie's accoutrements. Neither case was present here; instead, the flavor was delicate and subtle, with the essence of foie gras coming to the fore in just the right amount. The lentils, meanwhile, proved to be a superb contrast to cut the richness of the foie. Simply one of the best seared presentations I've had in recently memory. The terrine, on the other hand, fell a bit short, as the foie's natural flavor was somewhat subdued, instead replaced by a salty finish. The pâté was also served warmer than I prefer, with a consistency that was slightly too mushy.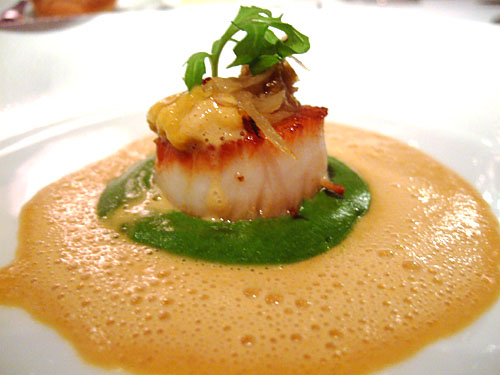 6: Maine Diver Scallop
Arugula, Endives, Fumet d'Oursin. The scallop itself was just about perfectly cooked, with a lovely charred, flavorful exterior surrounding a cool, delicate, sweet interior replete with the essence of scallop. Meanwhile, the
fumet d'oursin
, basically a sea urchin roe sauce, lent a rich creaminess to the dish that nicely accented the mollusk. A very nice presentation of scallop, though a bit boring according to Sunshine.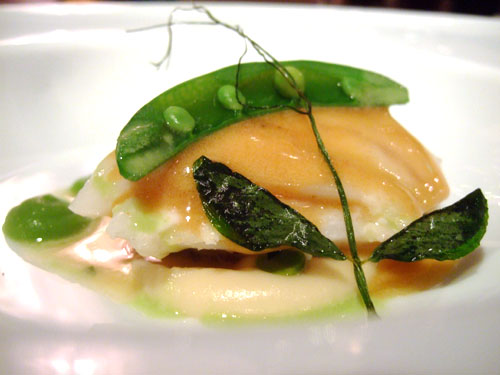 7: French Turbot
Sweet Pea, Morels, White Wine Mousseline, Pea Shoot Purée. Turbot is an interesting fish. The example here had a firm, flaky texture that was somewhat dry. The fish can be very delicate, but the morels and mousseline gave the turbot a creamy, buttery, rich flavor that was a bit surprising. The use of peas here was a wonderful and necessary contrast to the gravity of the fish.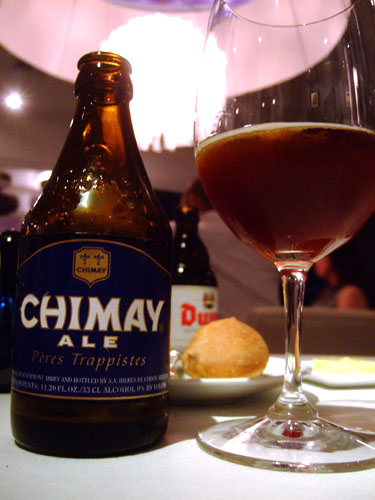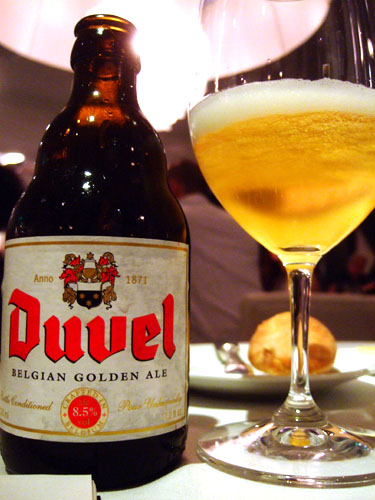 For our second round of beers, we first had the Chimay Grande Réserve [$8.00], a.k.a. Chimay Blue (there are also red and white varieties). The Chimay is a Belgian strong dark ale, brewed in a Trappist monastery. The Grande Réserve is "prototypical" Chimay, displaying hints of dark fruit and spice, with an undertone of yeast and bitterness. Quite good. Our last beer was the Duvel [$6.00], the flagship beer of Brouwerij Duvel Moortgat in Breendonk, Belgium. Duvel is perhaps the epitome of the Belgian strong pale ale style, showing archetypal notes of sweet citrus, yeast, pepper, and spice. Zesty, light, and lovely.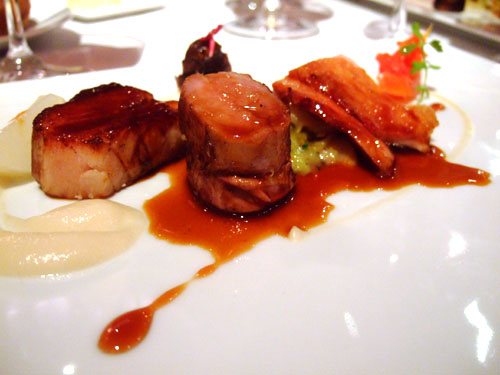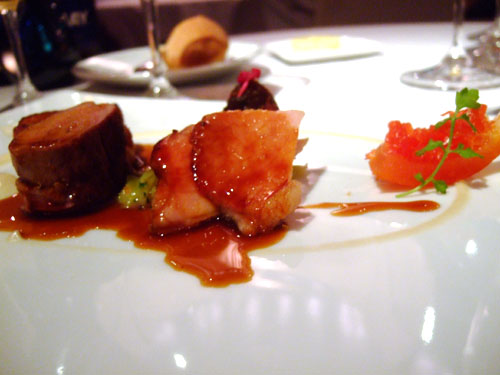 8: Trio of Berkshire Pork
Meyer Lemon Stuffed Dates, Braised Cabbage, Sauce Aigre Doux. The trio consisted of pork belly, leg, and loin, as pictured above. The belly was what you'd expect from pork belly--sweet, smoky, fatty, and rich as it should be; it was Sunshine's favorite, though it was perhaps a bit blunt for me. I preferred the leg, which had a much more pleasing herbal and spicy flavor to go along with the sweetness from the agrodolce, while the flesh was noticeably less fatty; it was my favorite of the troika. Finally, the loin was sort of a like a cross between the two, tasty but a bit nondescript. I found the date unnecessary, though I enjoyed the braised cabbage, which was reminiscent of sauerkraut.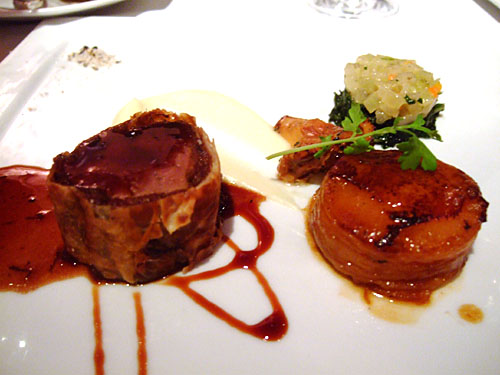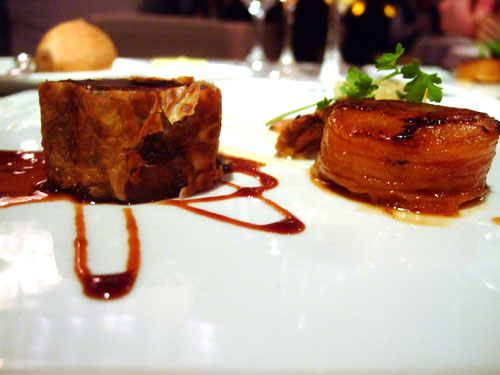 9: Prime Beef Filet Wellington
Potato Pavé, Swiss Chard, Perigordine Sauce. Interestingly, the last beef Wellington I had was also prepared under the auspices of Chef Citrin (at the 5x5 Chef's Collaborative dinner at
Providence
). In any case, this version had a layer of braised short rib between the tenderloin and puff pastry surround. The end result was quite pleasing, with the short rib lending a richer flavor to the subtle flavor of the filet. This was further heightened by the heady Périgueux sauce. Sunshine described the taste as "familiar."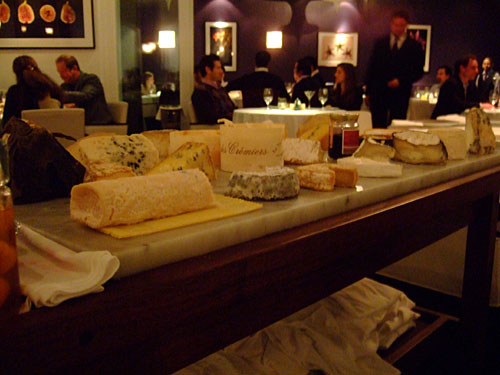 Mélisse definitely has one of the more impressive cheese carts in the city, a sight that's becoming rarer and rarer these days.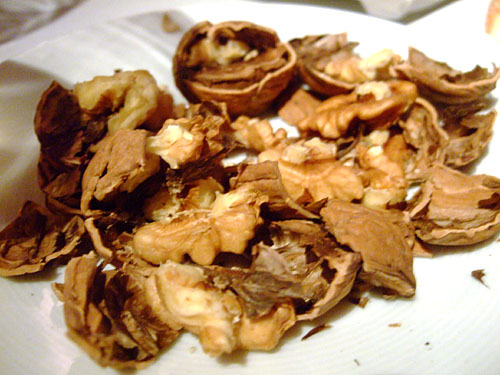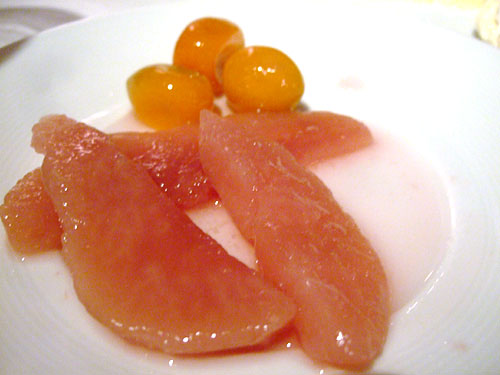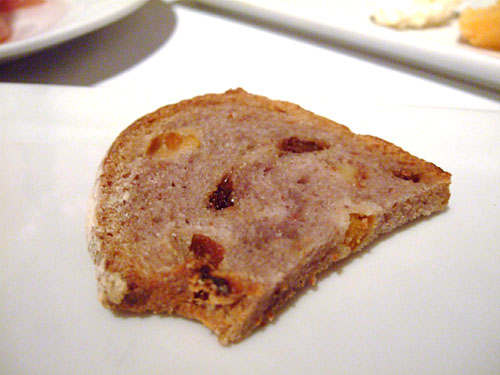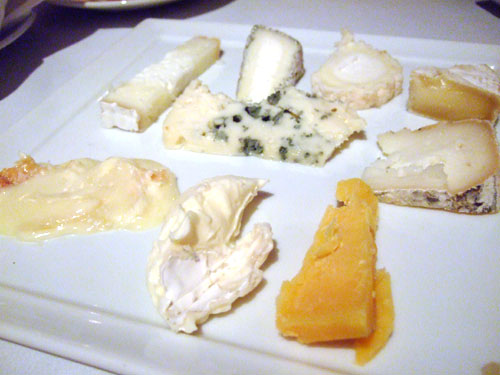 10: Fromage
We had a selection of nine cheeses (chosen by our server on our request), paired with walnuts, red wine candied pears and kumquats, and nut bread:
Nevat: A medium-flavored, soft-ripened, pasteurized goat's milk cheese from Catalonia. The name means "snowy" in Catalan and is a reference to the cheese's white mold rind; the rind results in a differential ripening, which means variations in texture within the cheese. Subtly sweet, mild, a bit earthy--nice but not particularly distinctive.
Selles-sur-Cher: A French goat's milk cheese named after the commune of Selles-sur-Cher, where it was first made in the 19th century. It was one of the stronger goat cheeses, with an ashy, tangy, salty flavor that lingers.
Sainte Maure: A goat's milk cheese traditionally from Touraine, France. The log-shaped cheese had an interesting, dual-faceted texture (young cheeses are soft, but as the mold develops, the cheese hardens), along with mild, nutty flavor.
Époisses de Bourgogne: A favorite of the Mélisse staff, Époisses is a soft, unpasteurized cow's milk cheese made in the village of Époisses in the Côte-d'Or. Called the "king of all cheeses" by famed gastronome Brillat-Savarin (whose eponymous cheese is one of my favorites), Époisses has a rather strong, funky odor that belies its creamy, sweet flavor.
Les Delice de Cremiers: A triple creme cow's milk cheese from Burgundy, France. One of my favorites, this had a luxurious, rich, buttery, soft consistency along with a mild initial tang that got stronger with time.
Old Amsterdam Gouda: Gouda is a yellow cheese made from pasteurized cow's milk, named after the city of Gouda, Netherlands where it was invented (though the name is not protected). The Old Amsterdam here is a gouda that has been matured for 18 months. It had a hard, brittle, gritty texture with a sharp, nutty flavor.
Pérail de Brebis: A raw sheep's milk cheese from the Aveyron department of France (in the Midi-Pyrénées region). Our server compared it to softer version of Manchego. I thought it had a mild flavor initially, which then increased in saltiness and intensity with time.
Queijo de Azeitão: Named after a small town in Setúbal, Portugal, this was a sheep's milk cheese with a semi-soft consistency. Lovely, with a mild, creamy flavor with just a hint of tanginess and herbaceousness.
Saint Agur Blue: Described as the "ice cream of blue cheese" by our server (due to its butterfat content), the Saint Agur is a blue cheese made from pasteurized cow's milk in the Auvergne region of France. It had a great, moist, smooth texture and a strong, spicy flavor. Its intensity rises as the cheese ages.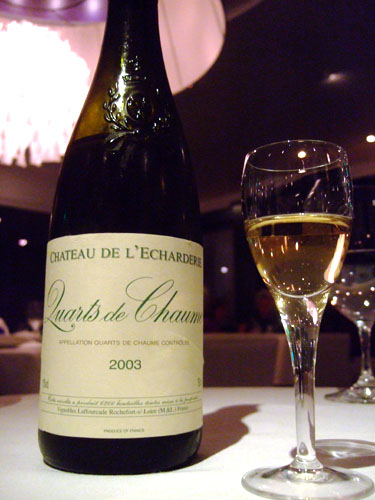 For dessert, we were presented with a complementary glass of the 2003 L'Echarderie Quarts de Chaume, a late harvest Chenin Blanc from the Loire Valley. It was pretty much exactly what I expected, with nice apple and honey flavors balanced by spice and a crisp acidity. Light and easy-drinking.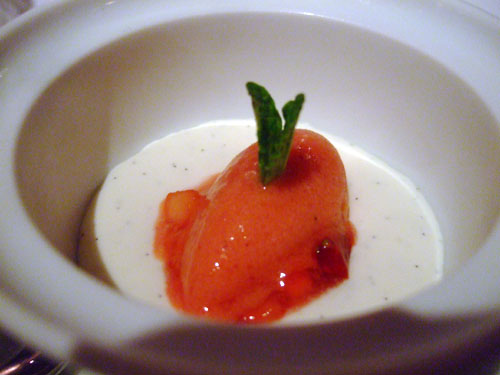 11: Vanilla Yogurt
Strawberry Sorbet. Yogurt and strawberry--a winning combination. The sweetness of the strawberry is tempered by the mild tanginess of the yogurt. The overall effect was somewhat like eating a strawberry yogurt.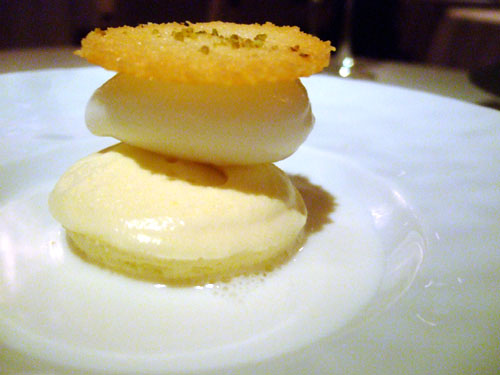 12: Frozen Passion Fruit Parfait
Coconut Sorbet, Lemongrass Tapioca. Very nice; I loved the interplay between the flavors of the passion fruit and sorbet, as well as the interaction between their different textures and temperatures. The use of lemon grass here definitely gave the dessert a Thai-like flavor, reminding me of dessert at
Providence
.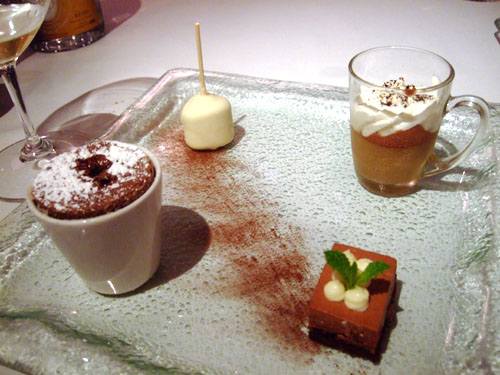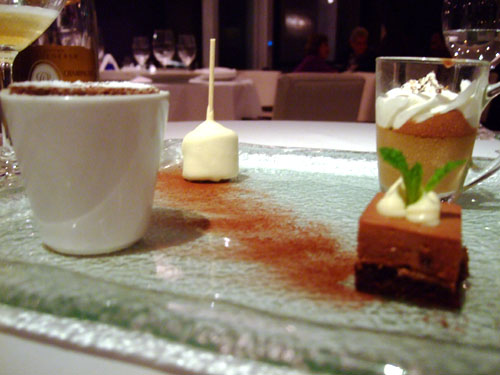 13: Chocolate Chocolate Chocolate
The presentation here was reminiscent of the themed desserts at
Jean Georges
. The theme here would obviously be "Chocolate." From top-left, we have: Mascarpone, Coffee (think caffè macchiato), Peanut Butter Crunch, and Soufflé. Overall, the dessert was enjoyable, but really nothing that I hadn't seen before.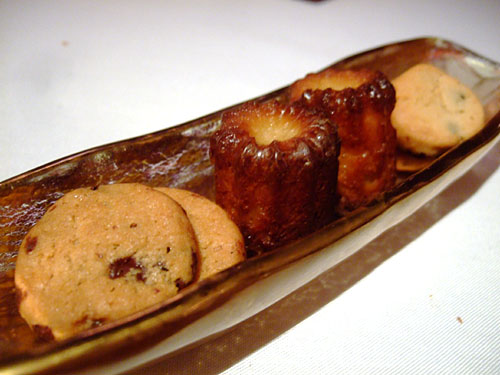 Mignardises
Two types of treats were presented at the end of the meal: cookies, which were rather pedestrian, and canelés, which were much more interesting. It was actually my first time having a canelé, basically a small French pastry with a soft custard center covered by a tough, caramelized outer layer. The dessert is typically flavored with vanilla and rum, giving it an intriguing flavor. I believe the phrase "rum-soaked churro" was mentioned during the meal.
I came into Mélisse with pretty high expectations, and much to my surprise, they were met, perhaps even exceeded--it was certainly one of the top meals I've had in Southern California. Sunshine mentioned that Mélisse was one of his favorite restaurants in the city, and I can see why.
Urasawa's
easily my number one, but I'd place Mélisse no lower than third. It's a solid Michelin two-star establishment, but to gain that one more coveted
étoile
, Mélisse needs to step it up a notch. I cannot fault the quality of ingredients, or the precision of the preparation. However, what I want to see is a little more innovation, creativity, and risk-taking (especially with regard to dessert). I get a feeling of complacency, of settling into routine. I know Citrin and company are up to the challenge, but how bad do they really want it?