CUT (Beverly Hills, CA) [3]
CUT
9500 Wilshire Blvd, Beverly Hills, CA 90212
310.276.8500
www.wolfgangpuck.com/restaurants/finedining/cut/beverlyhills/
Sat 03/07/2009, 06:10p-09:20p
As regulars readers will attest to, I've often written about CUT being the premier steakhouse in Southern California. Despite that fact, I wasn't in a hurry to go back. But this particular night, March 7, also marked the one-year anniversary of
kevinEats
(the site went live on 3/7/08), so I suppose that gave me an "excuse" to celebrate (sometimes I need to rationalize things). Joining me were food bloggers Fiona of
Gourmet Pigs
, Mike of
Right Way to Eat
(who came up with the idea of going to CUT), and Ryan of
Only Eat What Feeds Your Soul
, among others.
Please see the posts from my
first
or
second
trips for some better photos. Daylight saving time had not hit during this visit (we actually missed it by one day!), so natural light was unfortunately lacking.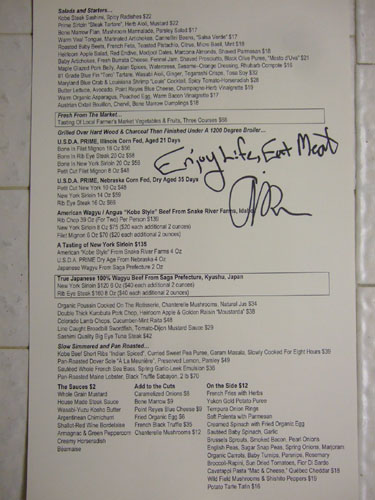 The menu was pretty much the same as last time--and the time before that--much to my disappointment. The appetizers have always been a strong point at CUT, so I'd really like to see the kitchen turn out some new creations. The dessert menu is slightly more novel, thanks in part I'm sure to the new pastry chef Nicole Lindsay, who replaces Ian Flores. Lindsay started out working for Tim and Liza Goodell's
Domaine Restaurants
. She had stints at the legendary OC French eatery Aubergine, the now defunct Troquet at South Coast Plaza (since replaced by the wonderful
Marché Moderne
), and the shuttered Red Pearl Kitchen in Downtown Huntington Beach (which was replaced by Takashi Abe's
Izakaya Zero
--recently closed down itself) before ending up at
Spago
and now CUT. Lee Hefter retains the Executive Chef title at CUT as well as Spago, while Ari Rosenson (formerly Executive Sous Chef at Spago) remains Chef de Cuisine. Click for larger versions.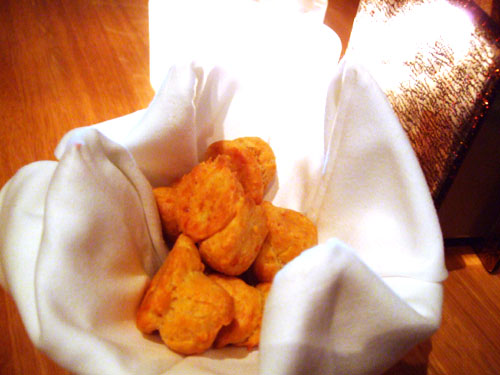 Once again, we started with the fantastic breadsticks and gougères. Though delicious, I would've liked to have seen something new in the amuse bouche department.
The bread selection hasn't changed much either, with pumpernickel, pretzel, rustic wheat, and onion focaccia available.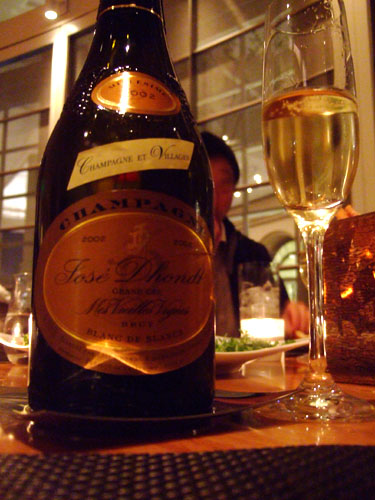 I love to start off with bubbly, so we ordered a bottle of the 2002 Jose Dhondt Champagne Blanc de Blancs Grand Cru Mes Vieilles Vignes [$122.00] to wash down our appetizers. A powerful sparkler, it showed loads of tart fruit on the palate, along with a bit of herbaceousness and light minerality. Its yeasty, toasty finish was reminiscent of an old (1990's) Krug.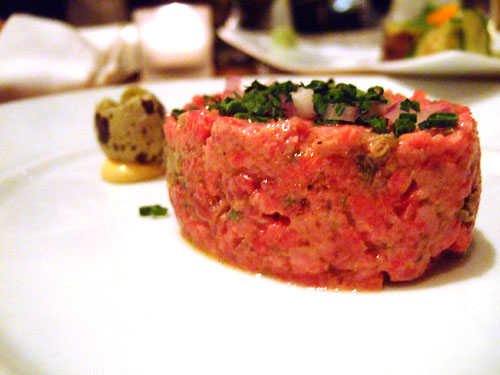 Prime Sirloin "Steak Tartare", Herb Aioli, Mustard [$22.00]
A very competent, classic preparation of steak tartar--basically a dish of raw ground beef named after the Tatar people of Central Asia; legend has it that the nomads would place raw meat underneath their horses' saddles, thus tenderizing it after a long journey. Here, the meat itself was of high quality, and was livened up by the application of the tangy aioli, tart mustard, and smooth creamy richness of the quail egg. Experiencing all the various components in one bite was satisfying indeed, and delicious.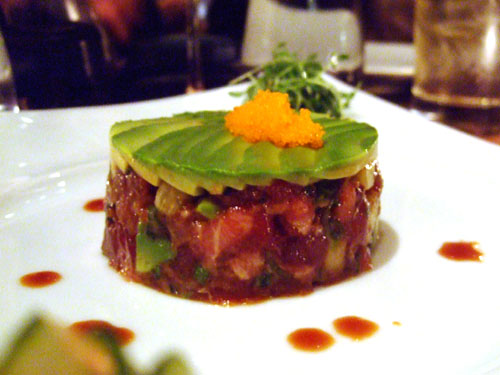 #1 Grade Blue Fin "Toro" Tartare, Wasabi Aioli, Ginger, Togarashi Crisps, Tosa Soy [$32.00]
I've had enough tuna tartares during the course of my culinary adventures that the dish has become somewhat clichéd. Fortunately, this one managed to break out of the mold somewhat. The mild sweetness of the tuna came through, but was superbly accented by the spiciness of the wasabi and the zestiness of the ginger. Meanwhile, the avocado, with its cool creaminess, served as a moderating contrast. Much improved from the first time, though I still think it could do with some more textural variety (like the pine nut- and pear-studded version at
XIV
).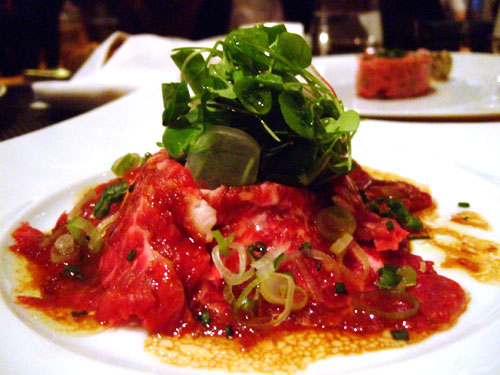 Kobe Steak Sashimi, Spicy Radishes [$22.00]
I absolutely loved this on my first visit, but tonight the dish fell short of that last experience. The beef itself seemed less rich, less flavorful, while the dish overall had a more distinct "Asian" tinge to it. I did appreciate the application of the tangy sauce, greens, and radishes and how they complemented the meat, but even they weren't enough to propel it to the heights I expected.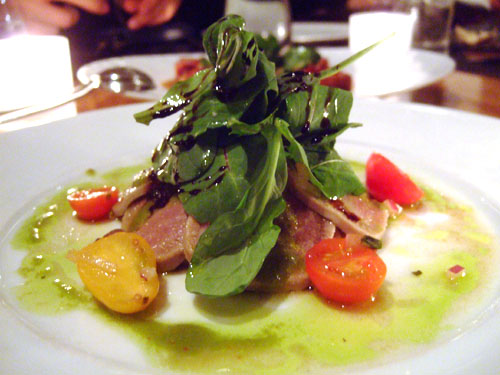 Warm Veal Tongue, Marinated Artichokes, Cannellini Beans, "Salsa Verde" [$17.00]
I was extremely impressed with the veal tongue on my second visit, and thus decided to order it again. Unfortunately, it didn't live up to its previous self. The tongue's flavor was much gamier this time around, and overpowered the rest of the dish. Furthermore, the texture was also much firmer, and not nearly as tender. Sadly, the best part of this dish were the cannellini beans.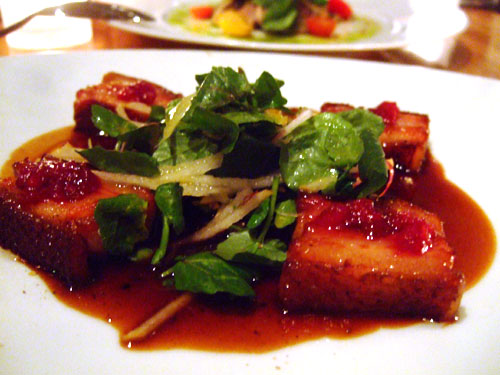 Maple Glazed Pork Belly, Asian Spices, Watercress, Sesame-Orange Dressing, Rhubarb Compote [$16.00]
This ended up being the only appetizer that I hadn't tasted before. Being pork belly, the meat was fatty, flavorful, and tender, as expected. However, the sweet glaze was a bit too much for me (like a fancy sweet & sour sauce), drowning out the natural flavor of the pork. Fortunately, the greens did help in tempering this to some extent.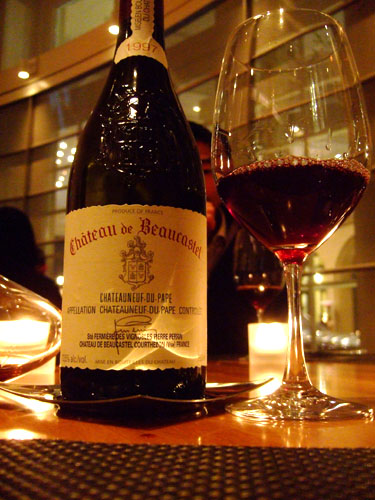 We ended up having a difficult time choosing a wine for our steaks, finally ending up with a Fiona's choice of a Southern Rhône wine: the 1997 Château de Beaucastel Châteauneuf-du-Pape [$190.00]. The wine actually reminded me a bit of Pinot, with heady notes of spice, smoke, dark fruit, and game. The tannins were light but apparent, while the finish was middling. Decent with the steak, but not outstanding.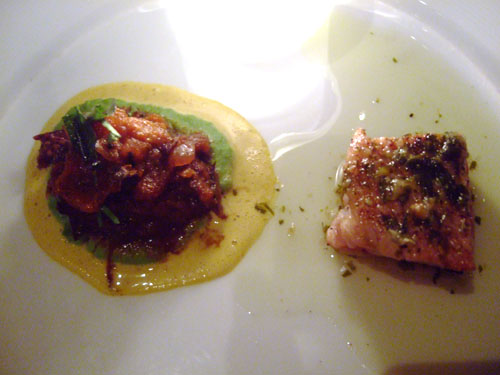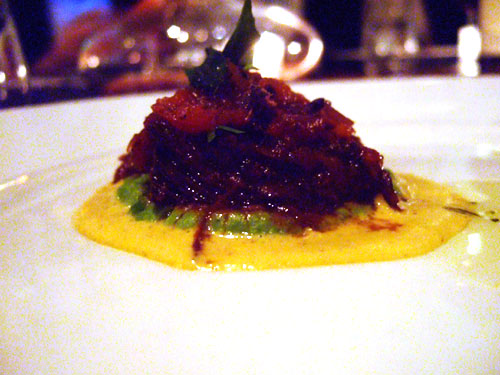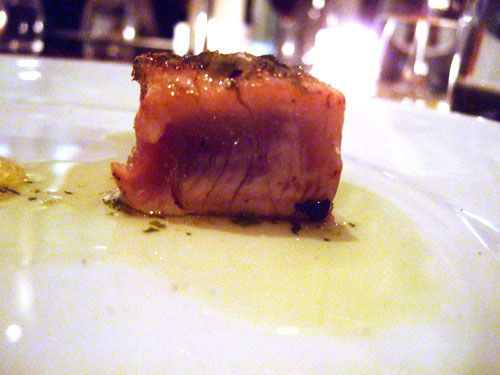 Kobe Beef Short Ribs "Indian Spiced", Curried Sweet Pea Purée, Garam Masala, Slowly Cooked For Eight Hours [$39.00]
Sashimi Quality Big Eye Tuna Steak [$42.00]
I decided to break away from tradition and actually order some non-steak items this time. Interestingly, and unexpectedly, the kitchen decided to split up the two courses into individual serving portions. First up were some short ribs. Initially, the ribs had a rather prototypical flavor to them, but after a few moments, the garam masala (a blend of spices) really made itself known, giving the meat a delightfully Indian-laced finish. A fun, flavorful dish--a twist on the classic short rib. Next was some big eye tuna. I hadn't had a good tuna steak in a while, so this was a welcomed change of pace. The fish was cooked to a firm texture on the outside, but the interior was still delectably rare. All the while, the mild flavor of the tuna was apparent in spades, deftly accented by the dish's herbally accoutrements--nice.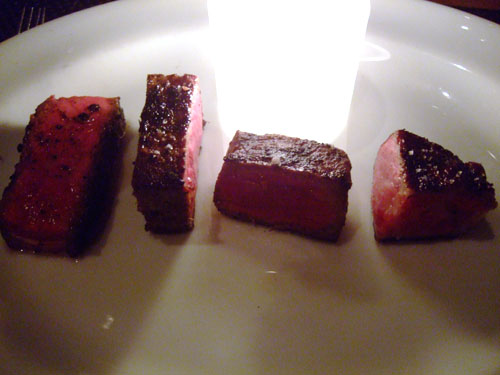 Now we get to what drew us here in the first place--the meat. CUT serves up four types of beef: regular, dry aged, American Wagyu, and Japanese Wagyu. In the tradition of past meals here, we decided on making our own steak tasting, getting one NY strip of each type in order to compare the subtle and not-so-subtle differences between them. All steaks were done medium rare, grilled over hard wood and charcoal before being finished in a 1200-degree broiler.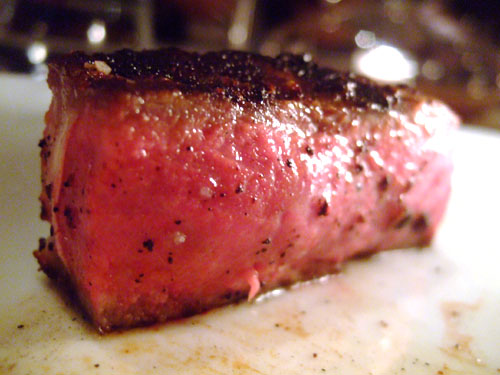 U.S.D.A. Prime, Illinois Corn Fed, Aged 21 Days; Bone In New York Sirloin 20 Oz [$56.00]
The "low-end" steak at CUT is still a cut above most. It is a wet-aged steak, with a mild flavor--tender, but not overwhelmingly so, with nicely charred exterior. My only real complaint was that a few bites had a bit of gristle in them. Though it was overshadowed somewhat by its peers, I'd be perfectly happy just eating this.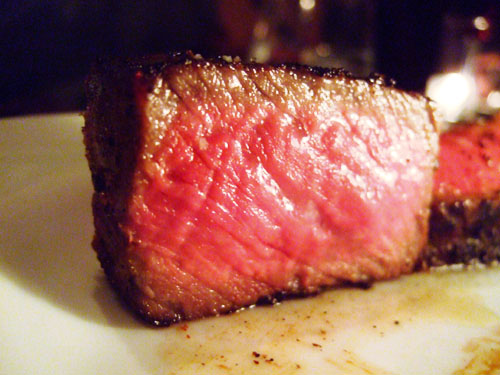 U.S.D.A. Prime, Nebraska Corn Fed, Dry Aged 35 Days; New York Sirloin 14 Oz [$59.00]
Now here's basically a dry-aged version of the standard steak. Dry-aging is a relatively expensive method of concentrating the beef's flavor through a process of controlled rotting. The price premium is worth it though. The flavor here was richer, grassier, and bolder. Interestingly, in terms of texture, the meat was slightly tougher.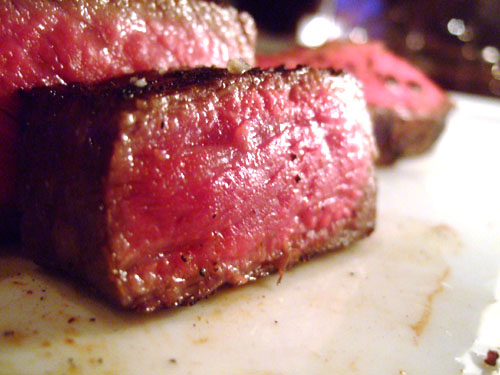 American Wagyu / Angus "Kobe Style" Beef From Snake River Farms, Idaho; New York Sirloin 8 Oz [$75.00]
Snake River Farms beef is actually a cross between Wagyu and Angus varieties, and thus, the meat represents a medium between the two styles. Tenderness was definitely kicked up a notch here, as was oiliness and fattiness, while flavor was retained. Surprisingly, this was actually my favorite of the quartet this time (it was my least favorite last time!).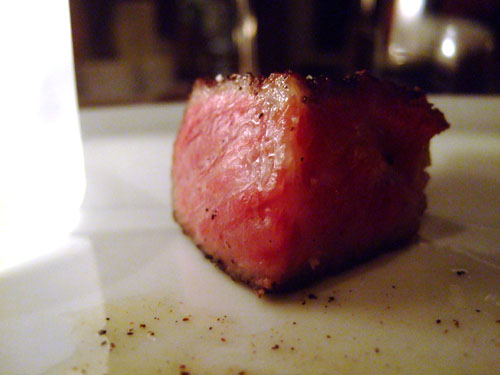 True Japanese 100% Wagyu Beef From Saga Prefecture, Kyushu, Japan; New York Sirloin 6 Oz [$120.00]
The amount of marbling, the amount of fat here was intense, resulting in a soft, gelatinous texture. This "real deal" Japanese beef had been my favorite on prior visits, but didn't live up to the hype this time around. I felt that the meat was somewhat "drier," lacking the rich, oozing juiciness present before. The fat was also not as well-integrated--it was more in-your-face, drawing attention away from the beef's natural flavor instead of augmenting it. Time for dessert...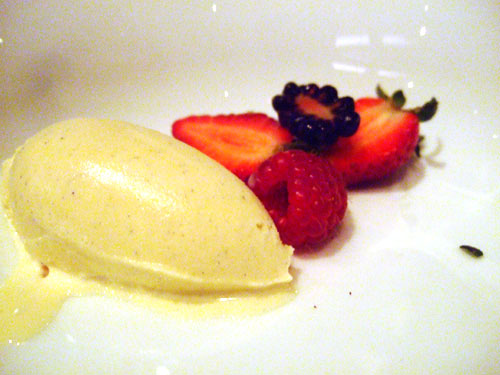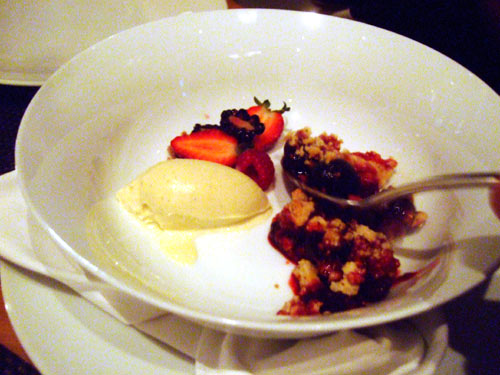 Brooke Cherry Toasted Almond Crumble, Tahitian Vanilla Ice Cream [$14.00]
This was basically ice cream and fruit, on top of which our server spooned the cherry crumble. The whole thing reminded me of a yogurt parfait, with the ice cream tempering the tartness of the crumble, while also providing a great contrast in texture as well as temperature.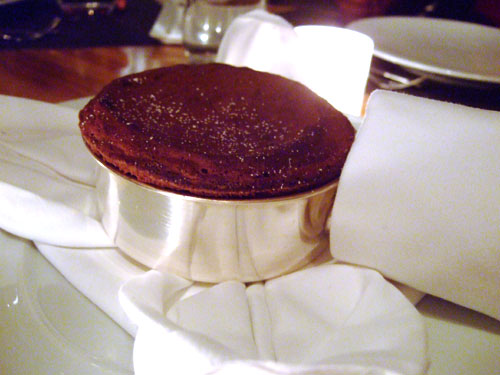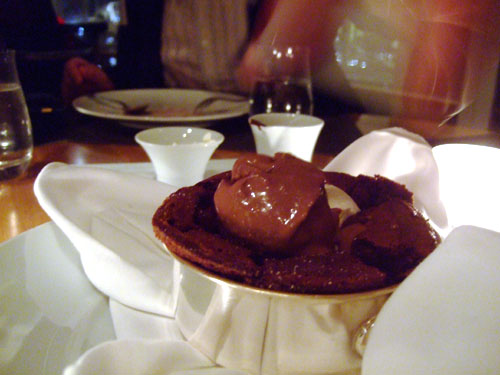 Dark Chocolate Soufflé, Whipped Crème Fraîche, Gianduja Ice Cream [$14.00]
Though I'm not a huge fan of soufflés, we somehow end up ordering one every time! The dessert remained pretty much unchanged from before--light, fluffy, not too sweet, well accentuated by the cold nuttiness of the gianduja (a hazelnut-chocolate ice cream) and the slight tang of the crème fraîche.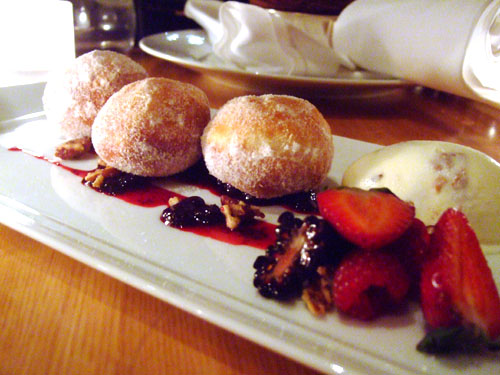 Warm Brioche Doughnuts, Huckleberry Compote, Butter Pecan Ice Cream [$14.00]
We're saving the best for last. The doughnuts were simply fantastic--delicate, yet powerful enough to stand on their own, they were taken to another level by the tart, fruity huckleberry (think jelly-filled doughnuts) and the rich, nutty ice cream. I thought that this was right up there with the infamous "Coffee and Doughnuts" at
French Laundry
, while one of my dining companions called these the "best doughnuts I've ever had."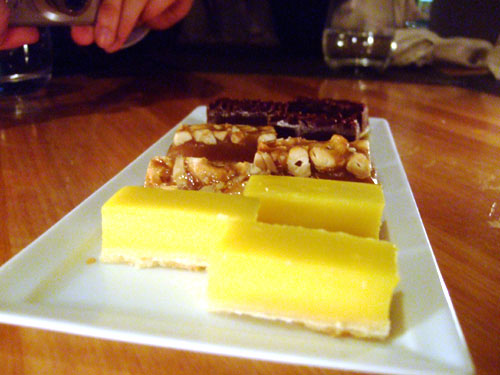 As before, we had three types of cookies to end the meal: lemon, caramel crunch (my favorite), and chocolate.
Sadly, I'd have to say that this was my weakest trip to CUT so far. In terms of the appetizers, all except the tartares fell short of expectations, while the steak wasn't quite as good as I recalled. There were highlights, to be sure, but overall, I felt a bit let down leaving the meal. Some of the novelty has worn off, and I think the kitchen needs to change things up a bit--maybe that's it. Nevertheless, I do still think that CUT is the best place for steak in LA, and I'm sure I'll be back (just not too soon).