Mo-Chica (Los Angeles, CA)
Mo-Chica
3655 S Grand Ave, Los Angeles, CA 90007
213.747.2141
www.mo-chica.com
Mon 08/24/2009, 07:20p-09:00p
Peruvian cuisine is widely thought of as one of the most celebrated, most diverse in the world, thanks to a confluence of factors including Peru's Inca and pre-Inca heritage, the influence of immigrant cultures, as well as the country's unique geography and openness. The capital city of Lima has historically been the center of immigration, and thus has a developed a food culture greatly supplemented by various Asian, Spanish, African, and European factors (in case you didn't know, Nobu Matsuhisa's food is largely influenced by his time spent in Lima).
It is this central coast cuisine that Mo-Chica focuses on. Named after the ancient language of the Moche people, Mo-Chica is the brainchild of Owner and Executive Chef Ricardo Zarate, a Limanite with considerable experience in Japanese-inspired fare (Wabi-Sabi, Zu Robata, Sai Sai, Zuma, Roka, Tetsuya), and his Chef de Cuisine Mario Orellana (Gjelina, Lot 1, Zu Robata).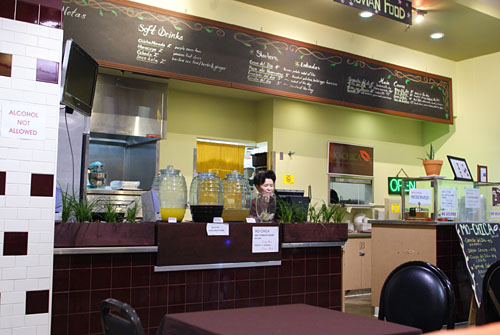 Somewhat interestingly, Mo-Chica is housed in the "food court" of Mercado La Paloma, a former warehouse turned bazaar near USC. Other eateries in the space include Chichen Itza, Oaxacalifornia, and Taqueria Vista Hermosa. Note the sign: alcohol is not served here.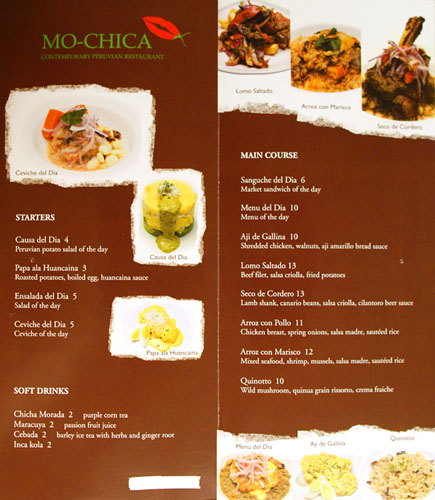 The menu is short and sweet, a smattering of Peruvian favorites augmented by one or two daily specials. Click for a larger version.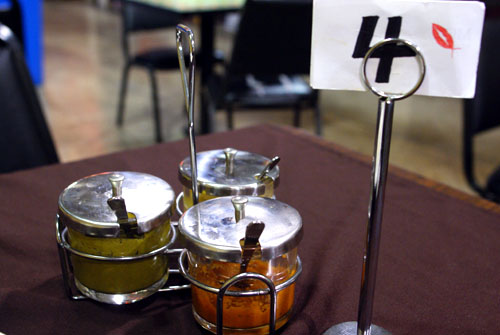 Three small jars of condiment were provided. One was the omnipresent aji amarillo, while I believe the others were green and red aji sauces, with the green one reminding me a bit of mint chutney.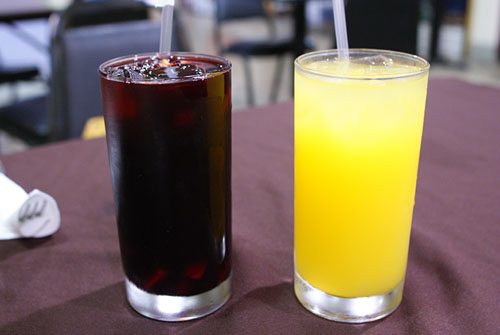 We started with two beverages. First was the Maracuya [$2], or passion fruit juice, which was sweet and delicious as it should be. The Chica Morada [$2], or purple corn tea, was much more interesting. It's made from boiled purple corn, intermixed with fruit and sugar, and had a fruity, slightly spicy flavor, with an unidentifiable tinge.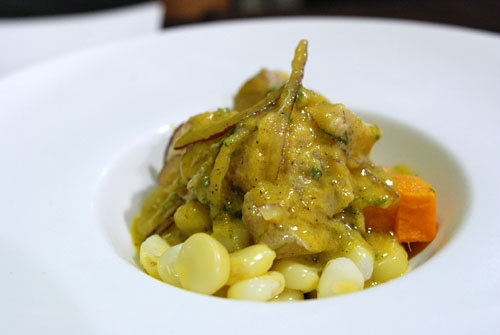 Ceviche del Dia [$5.00]
| Ceviche of the day
Ceviche, or cebiche, is arguably Peru's most famous dish, a fusion of white fish, marinated in lime juice, served here with aji, onions, seaweed (
yuyo
), sweet potato (
camote
), corn, and toasted corn (
cancha
). The fish utilized was
kamasu
(written
kamazu
on the menu board), which our server identified as "sea bass," though barracuda is the proper translation, at least according to Google. In any case, the fish was fairly benign, a base on which the other ingredients made themselves known. The ceviche was a great way to start, a bracing kick to the palate--light, refreshing, unabashedly tart, and a bit spicy to boot. Texturally, I appreciated the soft jumbo-sized kernels of corn, and loved the crunchy toasted kernels, which reminded me of CornNuts!
Causa del Dia [$4.00]
| Peruvian potato salad of the day
I rarely turn down an opportunity to have potato salad, so this dish was a no brainer. It was, however, not quite what I'd pictured in my mind. Causa is a concoction of finely mashed yellow potato, cylinder-shaped, over crab salad and avocado, topped with tomato, aji sauce, and cilantro. The end result was delectable, with the overt sweetness of crab on the attack, tempered by the mild potato, all finished with a distinct heat from the aji.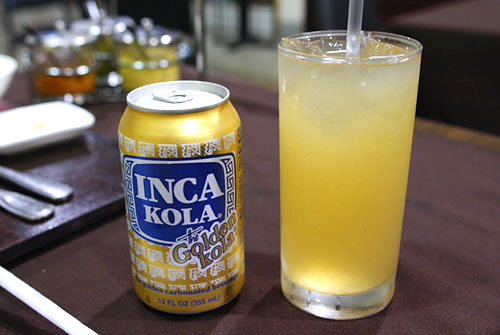 The next round of libations started off with Inca Kola [$2], Peru's iconic carbonated beverage. Given the name, I was expecting a cola-like drink, but instead, the antifreeze-colored Inca was surprisingly sweet, tasting almost like bubble gum. Finally, we have the Cebada [$2], a barley ice tea with herbs and ginger root. Its taste was perhaps the most distinctive of the four beverages, with a mildly sweet, floral sapor, backed by a hint of herbaceousness.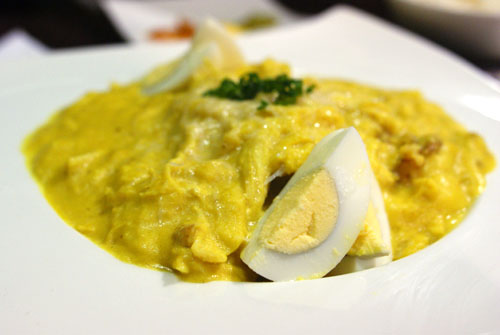 Aji de Gallina [$10.00]
| Shredded chicken, walnuts, aji amarillo bread sauce
Moving on to our mains, Ají de Gallina is basically a dish of shredded chicken in a creamy, mildly spicy ají amarillo sauce. Eating it, I couldn't help but think of curry. I quite enjoyed the chicken, balanced by the simple weight of chunks of potato, and how the slices of hard-boiled egg tempered the power of the dish. Not surprisingly, I could've done without the walnuts, given that I'm not a fan of them; they are, however, a traditional accoutrement.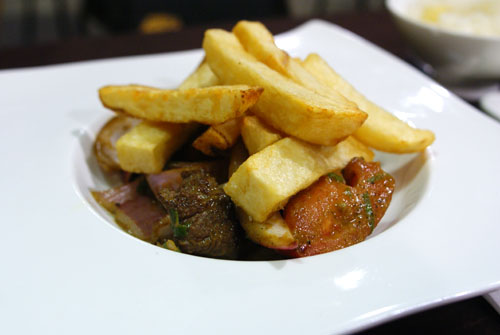 Lomo Saltado [$13.00]
| Beef filet, salsa criolla, fried potatoes
The Lomo Saltado was a dish that I just had to try. It's a distinctly Chinese (
chifa
) influenced item, made from vinegar-, soy-, and spice-marinated beef tenderloin, stir-fried with
salsa criolla
, or Creole sauce, containing tomatoes, onions, peppers, and parsley. It came stacked with thick French fried potatoes. I really enjoyed the spicy, intensely flavorful smack of the beef. The use of the various veggies and herbs provided levity to an otherwise heavy, monolithic dish, while the potato proved to be a fitting foil. The dish was fantastic over rice; my only complaint was that the meat could've been tenderer.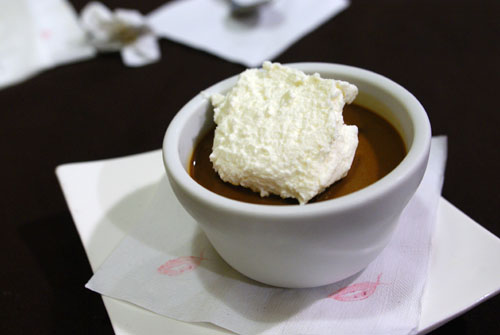 Algarrobina Mousse
Algarrobina
is a syrup made from the
algarrobo
, or carob, tree, a varietal mainly grown for its seed pods, which were a major source of sugar in earlier times. Here, the
algarrobina
made for a rich, butterscotch-y, caramel-like mousse that my dining companion likened to pumpkin pie, with a slightly spicy, nutmeg-esque finish. Quite good.
Given my limited experience with Peruvian cookery, I can't comment on the authenticity of the preparations at Mo-Chica (described by the restaurant itself as both "traditional" and "modern"). However, I did appreciate the focus of the food, the careful control of the various elements in each dish, as well as the very reasonable prices. Given the somewhat tepid food selection around the USC campus, Mo-Chica is definitely worth a try if you're in the area.