Hatchi at Breadbar (Los Angeles, CA) [2]
Hatchi at Breadbar
10250 Santa Monica Blvd, Los Angeles, CA 90067
310.277.3770
www.breadbar.net
Thu 08/06/2009, 08:00p-11:00p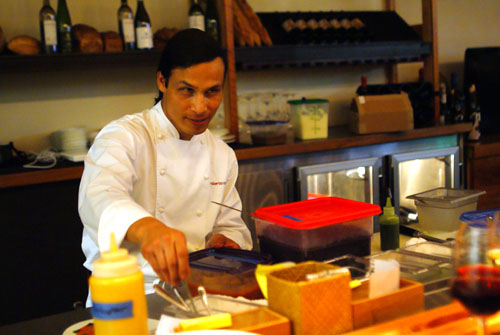 Despite some spotty service, I nevertheless enjoyed my experience at the last
Hatchi at Breadbar
event, featuring chef Michael Voltaggio of
The Dining Room at The Langham
. As such, I was quick to reserve a spot for this following event, featuring chef
Roberto Cortez
. Though Cortez is relatively unknown, he's actually a well-regarded "boutique private chef," specializing in intimate, food-driven events of up to 20 guests.
The Texas-born, (mostly) French-trained Cortez has served as personal chef to such influentials as Paul Allen, Antonio Banderas, Melanie Griffith, and Eddie Murphy, and has cooked for an even longer roster of business leaders, musicians, and actors. Furthermore, he runs the so-called
Billionaire Dinner Group
, an "underground restaurant" in Santa Barbara. Cortez combines his classic foundations garnered from his studies at institutions such as Le Cordon Bleu and Ecole Lenotre with his extensive travels to create cuisine that has been described as design-focused, contemporary, and artistic.
For the uninitiated, Hatchi is a series of one-night-only dinners at Breadbar Century City, wherein a guest chef prepares a suite of eight dishes, priced at $8 each. Future Hatchi dinners include Remi Lauvand on September 24, and Eda Vesterman on October 29.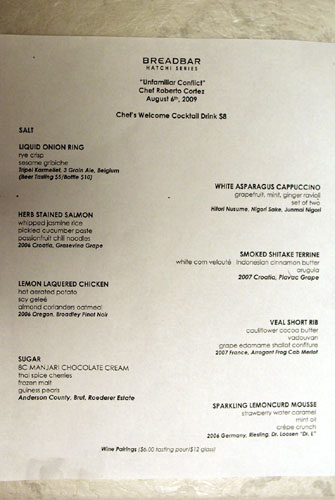 The night's menu is seen above; click for a larger version. Cortez titled his set of dishes "Unfamiliar Conflict," a provocative nomenclature that seems to describe Cortez's seemingly unconventional flavor combinations quite nicely. Given the $8 per dish limit, Cortez reveled in the chance to demonstrate his creativity while respecting the low price of each course:
Sometimes within the restrictions does inspiration soar.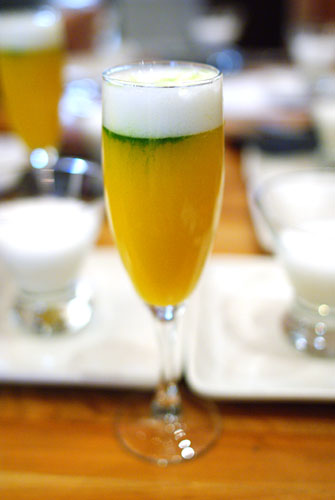 Chef's Welcome Cocktail Drink [$8.00]
To begin, we ordered up a couple "welcome" cocktails, comprised of spiced rum, OJ, ginger, and basil. The effect was a slightly disturbing interplay of sweet, spicy, and herbaceous, all backed by a marked alcoholic tinge. One of my dining companions even likened it to a screwdriver.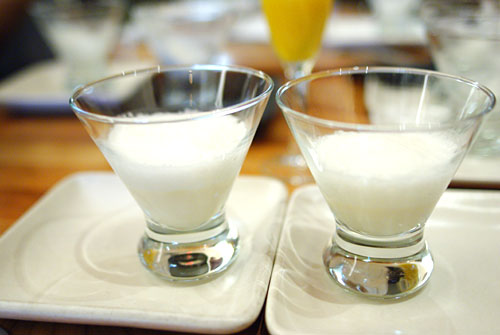 1: WHITE ASPARAGUS CAPPUCCINO
| grapefruit, mint, ginger ravioli, set of two
Hitori Nusume, Nigori Sake, Junmai Nigori
Given that I'm a fan of asparagus, this was a nice way to start things off. The soup was imbued with the rich essence of asparagus, and made for an interesting foil to the ravioli, stuffed with a mixture of grapefruit, ginger, and mint. Thus, the pasta, with its spicy/sweet smack, proved a somewhat jarring, but satisfying contrast. I'm curious as to why we were served two glasses though, given that they were identical (why not add some spice to one to mix things up?). I imagine that it was because it'd be hard to justify $8 for a single glass.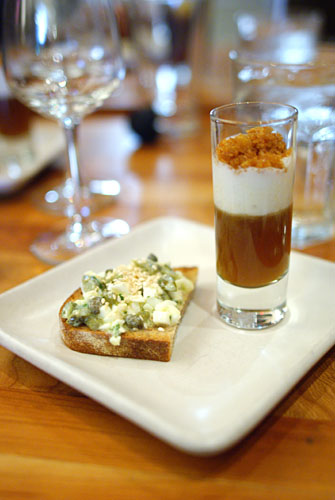 2: LIQUID ONION RING
| rye crisp, sesame gribiche
Tripel Karmeliet, 3 Grain Ale, Belgium
The first thing that I thought of when the liquid hit my tongue was "Funyun soup!" Seriously though, the soup did mimic the essence of onion rings, really capturing their sweet-salty interaction. It was accompanied by a piece of rye bread, topped with a sauce gribiche. Now, gribiche is a cold mayo-like sauce, made with chopped hard-boiled egg with a commixture of ingredients including capers, pickles, and mustard. The result was a tart, tangy amalgam, but I'm not sure how it was supposed to complement the "onion rings." The whole course was almost
Moto
-esque, and one of my dining companions even described it as "egg salad and French onion soup.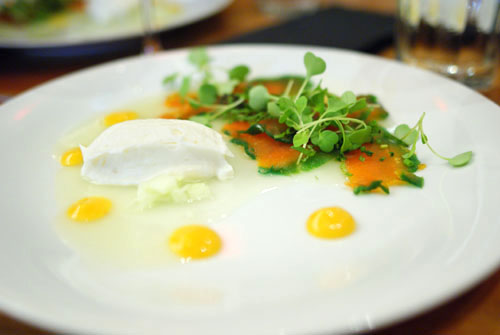 3: HERB STAINED SALMON
| whipped jasmine rice, pickled cucumber paste, passionfruit chili noodles
2006 Croatia, Grasevina Grape
Though the salmon was a bit too firm in body, I really enjoyed its flavor, "stained" with a concoction of herbs that gave the fish a slightly Thai tinge. As interesting as the fish was, I think we were more fascinated by the whipped jasmine rice. Jasmine rice (a.k.a. Thai fragrant rice) is a sweet-tasting rice, and here it functioned almost like
Ludo's
Sushi Rice Ice Cream in tempering and balancing the power of the fish, giving the salmon a sweet lingering finish, with a hint of mint. It also recalled
Michael Voltaggio's
Jasmine "Rice Cream" that we had at the last
Hatchi
event; a smaller portion would've been better though. Unfortunately, I didn't see the "passionfruit chili noodles" that we were supposed to get; one of my dining companions theorized that the noodles didn't form properly, and thus were not served.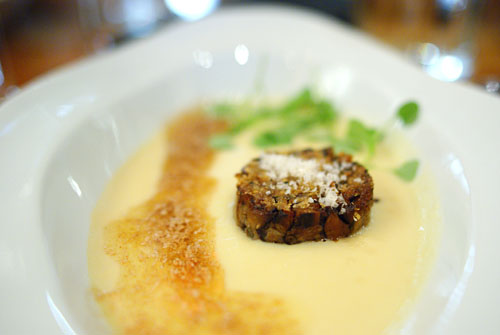 4: SMOKED SHITAKE TERRINE
| white corn velouté, Indonesian cinnamon butter, arugula
2007 Croatia, Plavac Grape
By itself, the velouté was far too sweet, too corn-y; and by itself, the terrine was far too salty. Together though, they worked themselves out well enough, really holding true to the night's theme of "unfamiliar conflict." The use of cinnamon was perhaps a bit much for me however, and I would've liked a more pronounced bitterness from the arugula.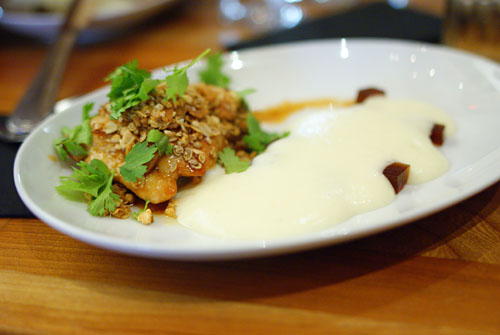 5: LEMON LAQUERED CHICKEN
| hot aerated potato, soy gelée, almond corianders oatmeal
2006 Oregon, Broadley Pinot Noir
This was my favorite course of the night, thanks to the chicken, which was juicy, tender, fantastic, with a distinctive cilantro finish that I loved. I also enjoyed the oatmeal crust, which gave the bird a bit of sweetness, while adding a great crunch to the dish. The potato was good enough, tasting just liked mashed potatoes, but I didn't think that it was quite necessary here. The chicken easily stood on its own.
6: VEAL SHORT RIB
| cauliflower cocoa butter, vadouvan, grape edamame shallot confiture
2007 France, Arrogant Frog Cab Merlot
Though this was veal short rib, it really reminded me of pulled pork. The meat was delicious on its own, a good mix of sweet and savory, with a slightly South Asian bend thanks to the use of vadouvan (an Indian spice blend), and I liked the moderating effect of the greens. The confiture, however, was too sugary for me, stealing attention away from the veal.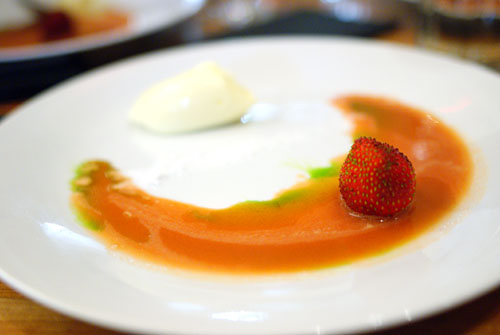 7: SPARKLING LEMONCURD MOUSSE
| strawberry water caramel, mint oil, crêpe crunch
2006 Germany, Riesling, Dr. Loosen "Dr. L"
Upon tasting the lemon curd mousse, one of my dining companions exclaimed that it tasted like a "lemon Starburst!" Keeping with the candy theme, another likened the intense sourness of the "crêpe crunch" powder to a Mega Warhead. Notwithstanding, the key to this dish was the pleasing interplay between the sweet strawberry and sour lemon curd, interspersed with a bit of mint to boot.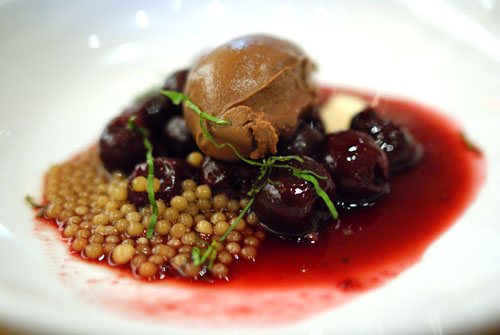 8: 8C MANJARI CHOCOLATE CREAM
| thai spice cherries, frozen malt, guinness pearls
Anderson County, Brut, Roederer Estate
Manjari is a chocolate from Valrhona that's made from Criollos and Trinitaros cacao beans from Madagascar; the end result is a bittersweet chocolate, with a bit of fruitiness. Tasting the chocolate, served at 8°C (46°F), with basil was a somewhat disconcerting experience for me at first, but I eventually came around to it, finding the herb to be a fitting counterpoint to the decadence of the Manjari. I also appreciated the malt (actually I wanted more), though the Guinness pearls were too subtle for me; I think that the smoky flavor of the beer would've been a great accoutrement here. But my main complaint with this dish: way too many cherries!
In terms of bloggers, the turnout this time around wasn't nearly as large as that of last week's event--not surprising given the recent buzz surrounding Voltaggio. Nevertheless, in attendance were Christine of
Folie à Choisauce
, Jo of
My Last Bite
, Mike of
Right Way to Eat
, and Ryan of
Only Eat What Feeds Your Soul
. I was also able to meet Rich and Christina, two readers of this blog. And we can't forget the most humorous moment of the night: one of my dining companions, Minh, was mistaken for Danny of
Kung Food Panda
--twice!
As lacking as service was last time, the service this time was arguably worse--at least I didn't have water spilled on me last week! To be fair though, after some initial problems, wine pairings were more on point, and service improved markedly when our table got the attention of Rogelio Marhx, Breadbar's Executive Chef, who was playing the role of server on this particular night. All the service foibles did, unfortunately, detract from the overall experience and Cortez's cooking, which was clearly creative, whimsical, and yes, even a bit "unfamiliar." Cortez is talented, but I wish there were a better venue to experience the full extent of his cuisine. Chef: when are you going to open your own place in LA?