Blogger Prom (West Hollywood, CA)
Blogger Prom
8401 W Sunset Blvd, West Hollywood, CA 90069
323.656.1234
blogger-prom.blogspot.com
Wed 07/22/2009, 07:00p-10:00p
Ahh prom...for some, the highlight of the high school experience; for others, an evening of dread, anxiety, of awkwardness, fear, loathing, of embarrassment. Sadly, my prom experience tended toward the latter, a sentiment that I imagine is shared by many of my blogger brethren. Perhaps that's why the idea of doing a "prom" came so easily...a chance to relive the fantasy, to redo the wrongs of years past. As a 1999 graduate (I just had my
10-year reunion
), the timing couldn't have been more perfect.
The event was the handiwork of the Prom Committee (a.k.a. "the popular kids"), eight of LA's most preeminent, prestigious, prominent bloggers: Caroline of
Caroline on Crack
, Esther of
e*star LA
, H.C. of
LA and OC Foodventures
, Lindsay of
LAist
, Marni of
Happy Go Marni
, Maya of
Shop Eat Sleep
, Natalie of
The Liquid Muse
, Tara of
When Tara Met Blog
. The original idea was to have a simple gathering of Los Angeles-based bloggers, but as more than a couple Committee members work in the public relations industry, they were able to exploit their sway to secure all sorts of schweet swag, support, and sponsorships, subsequently setting the stage for Prom.
Though holding Blogger Prom in a high school gym would've been pretty rad, the Committee found something even more bodacious: the rooftop of the legendary
Andaz West Hollywood
, which had just undergone a $35 million renovation in January. Originally opened in 1963 as Gene Autry's Hotel Continental (the first high-rise hotel on Sunset), the hotel was bought by Hyatt in 1966 and became widely known as the "Riot Hyatt" over the following years, thanks to the antics of touring rock bands in the late 1960s and 1970s (the hotel is located near numerous venues such as The Roxy, Troubadour, and Whisky a Go Go). Led Zeppelin and its entourage occupied as many as six floors of the hotel in the mid-to-late 1970s; drummer John Bonham was said to have ridden a motorcycle through the hallways. The Doors' Jim Morrison took up residence at the Continental Hyatt House, and both Rolling Stones guitarist Keith Richards and The Who drummer Keith Moon have reportedly thrown television sets out the hotel's windows (there'll be no more of that, as the Andaz's balconies are now glass-enclosed sunrooms).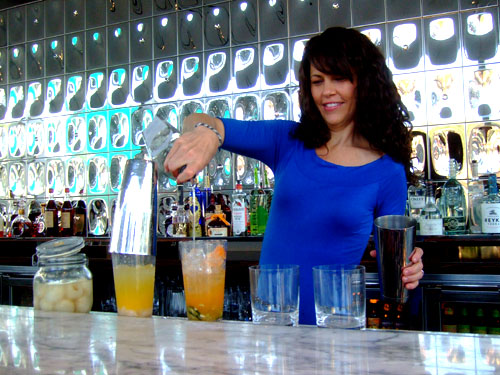 Overestimating traffic, we arrived about 40 minutes early, and thus spent some time with our vivacious mixologist at
RH Lounge
.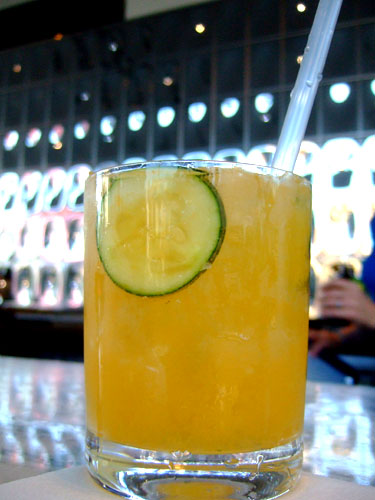 I ordered one of RH's signature cocktails, Mr. Plant, a homage to Led Zeppelin's frontman Robert Plant, made with No. 209 gin, cucumber, tangerine, agave syrup, and soda; I appreciated the gin's interaction with the various sweet components of the drink, while the cucumber made for a refreshing finish. My date, meanwhile, ordered a Lychee Blossom, a concoction of vanilla vodka, lychee juice, agave syrup, and lychees; the sweetness of this drink was much more apparent, with the lychee lending a sugary, juicy backdrop that tempered the intensity of the vodka.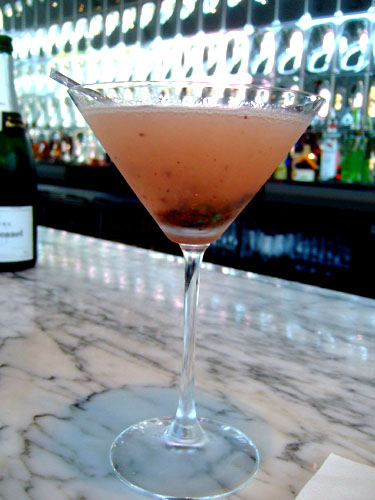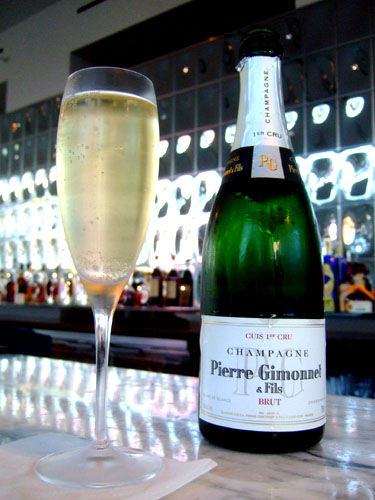 Since we did have 40 minutes to kill after all, another round of drinks was in order. This time I sampled RH's other signature drink, The Steelo, with Hangar 1 vodka, St. Germain liqueur, grapefruit juice, and blueberries; this was a more potent drink than the preceding two, though its power was balanced by the tart sweetness of the blueberry, St. Germain, and grapefruit. Having her fill of mixed drinks, my date went with some bubbly, the Pierre Gimonnet Champagne Brut Blanc de Blancs.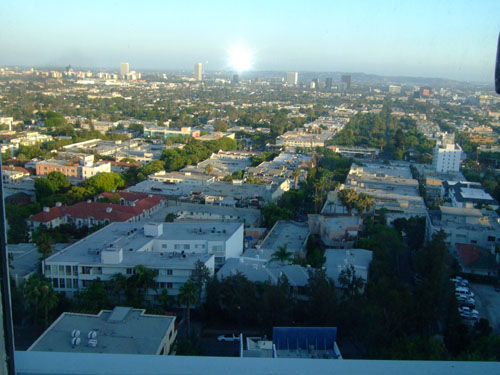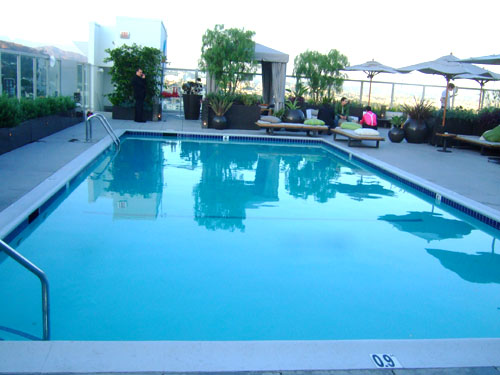 At around 7:00, the official start of the party, we wandered to the hotel's lobby to check in, drinks in hand, and then made our way to the rooftop...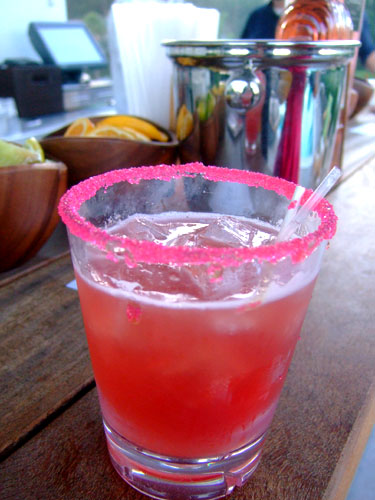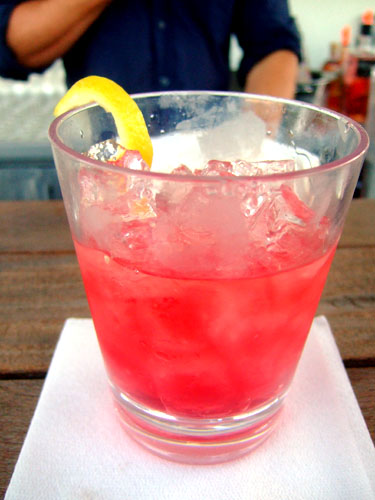 ...And immediately made a beeline to the bar. The very fact that there would be booze here meant that it was automatically more bitch'n than high school prom. The fact that it was
free
booze, well that made it all the more gnarly. Natalie of
The Liquid Muse
developed two signature cocktails for Blogger Prom. The first was the Prom Punch Jungle Juice (quite a step up from the Jungle Juice of my college days!), made with flower-infused Pinky Vodka and garnished with a pink sugar rim and lollipop. Next, the margarita-like Flor de Maria, replete with homemade hibiscus cabernet syrup, was created to showcase Gran Centenario's hibiscus-tinged Rosangel tequila. In addition to these complementary cocktails, also provided gratis were Martin Millers Gin, the 2007 Boro Hills Sauvignon Blanc, the 2008 Ambas Malbec, and for the beer-inclined, Newcastle in its new DraughtKeg container.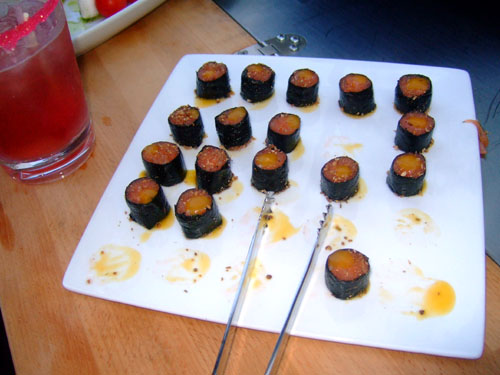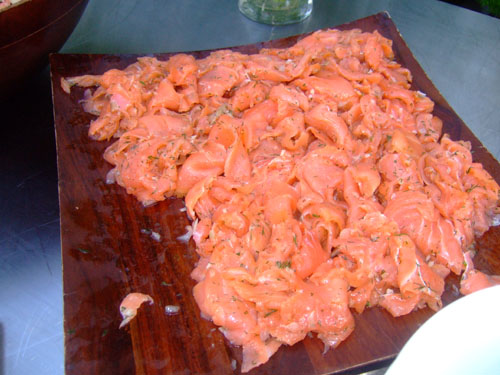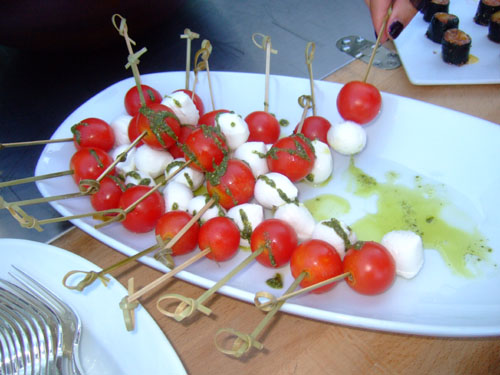 And now for the grindage, 'cuz a blogger gotta eat. Though I was sort of hoping for a proper sit down dinner, we had several tables of food set up, courtesy of the hotel restaurant RH and its chef Sebastien Archambault. The Texas-born, French-trained Archambault was formerly executive chef at Le Pirate in Corsica, which earned a Michelin star during his tenure. At
RH restaurant
, Archambault strives to create an honest menu of fresh, light, seasonal fare, and at this first station we were able to enjoy smoked salmon makis with mango sauce, marinated smoked salmon, skewered insalata capreses, and a delectable shrimp ceviche.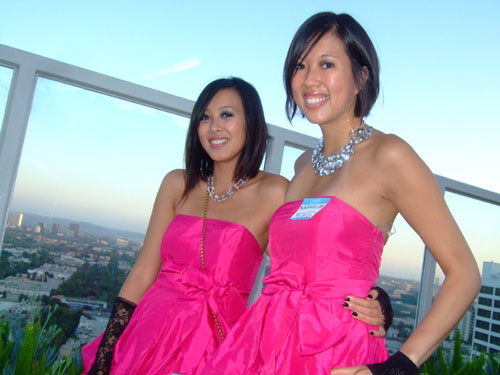 Since the theme du jour was "cheesy 80's prom," I expected to see my share of hot pink and black lace, but what I didn't expect to see were no less than five girls with identical or similar dresses; blame Forever 21 for that! Above, we see my lovely date
Kayla
, together with
Michelle
.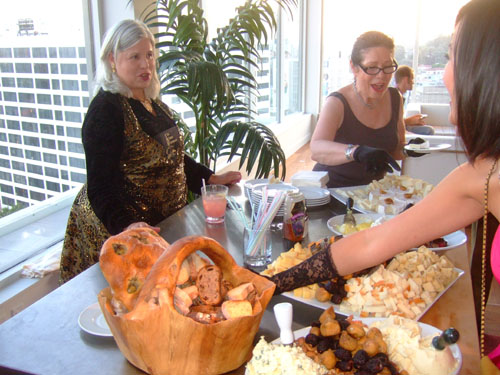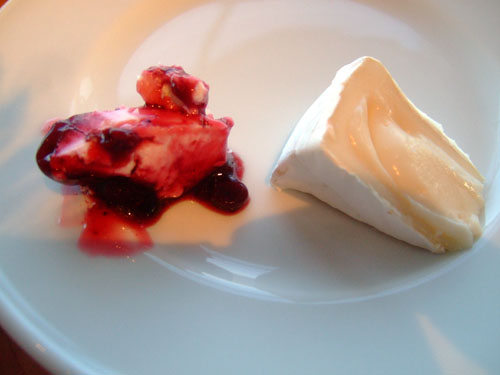 Making our way indoors, we stopped by the cheese station, manned by Barrie Lynn (the
Cheese Impresario
) and featuring cheese by Cowgirl Creamery. For my drink (the Flor de Maria), Barrie paired a goat brie and a goat cheese with blueberry and pomegranate compote (which I subsequently dropped all over my white pants...grr). In addition to cheese, there was also a charcuterie station.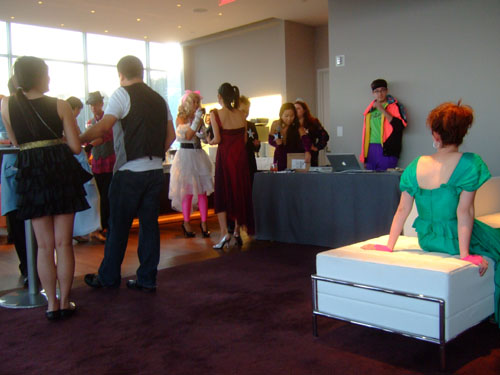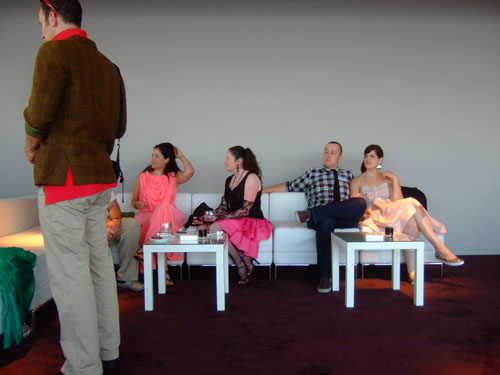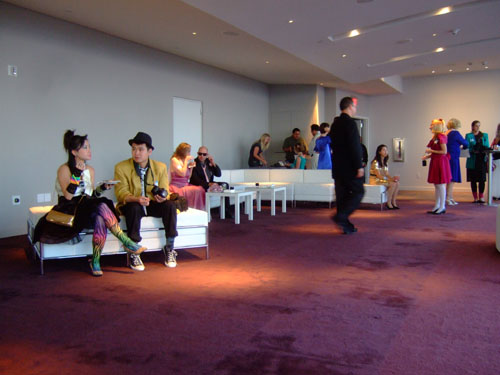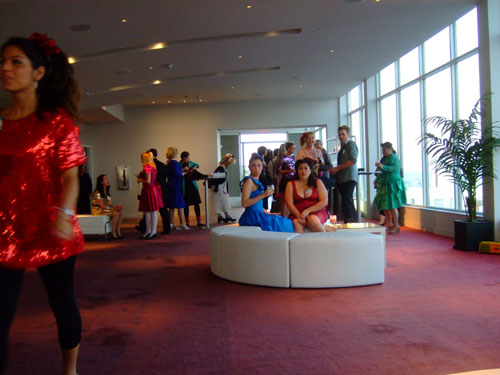 Bloggers are a motley crew.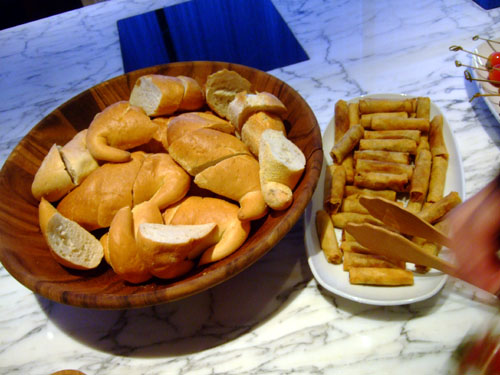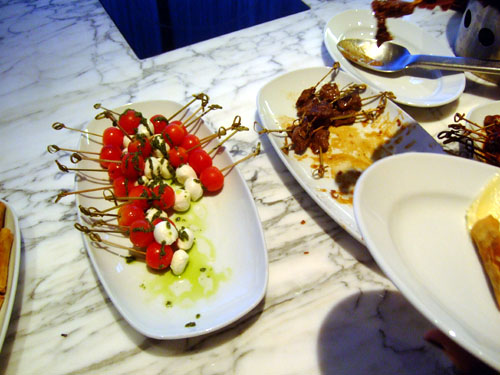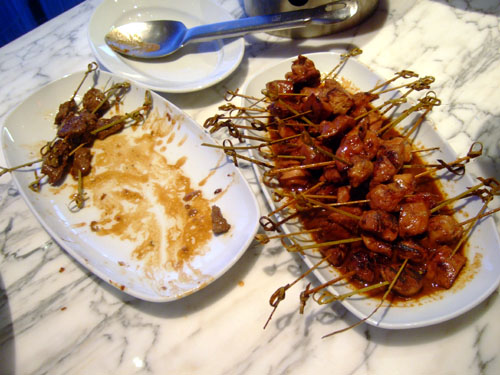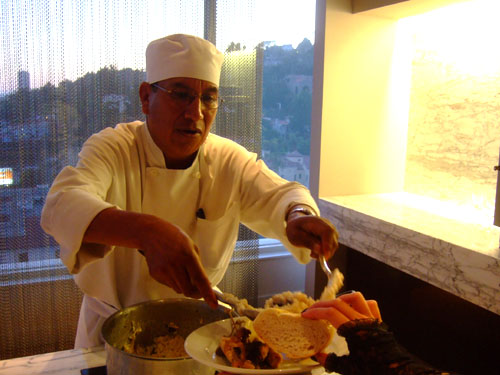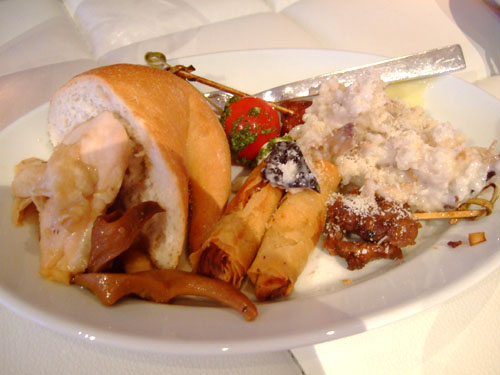 The hot food station served up an assortment of bread, mini eggrolls, more caprese, beef and chicken skewers, and a field mushroom risotto with Parmesan.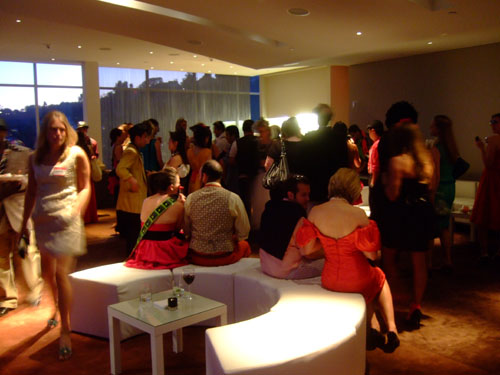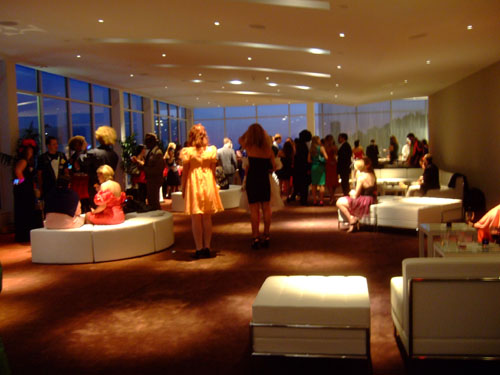 As the night progressed, the space filled out nicely with the City's
best and brighest bloggers
.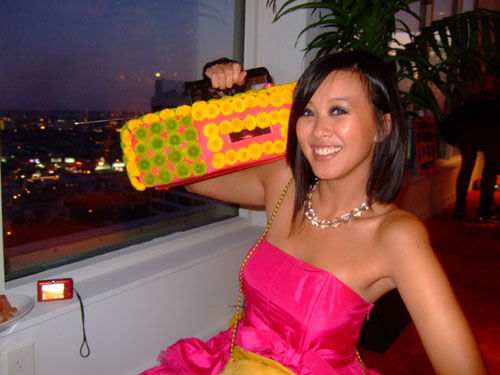 Jonathan Fong
was responsible for much of the interior decoration, including this kitschy flower-studded boom box.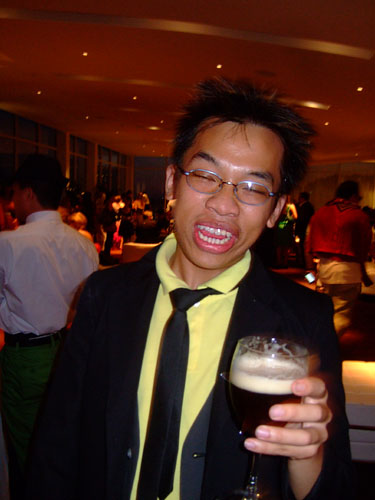 HC
-
cum
-Newcastle: a winning combination.
Caroline
: a strong contender for the cheesiest costume award!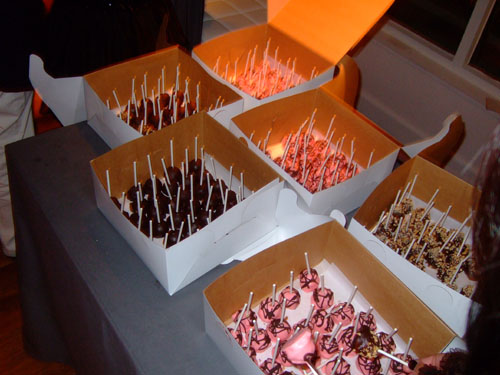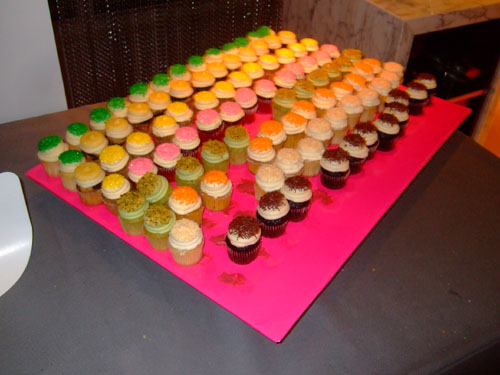 To indulge my sweet tooth,
Pure Cheesecakes
provided mini-cheesecake pops, while
Polkatots
served up some mini-cupcakes.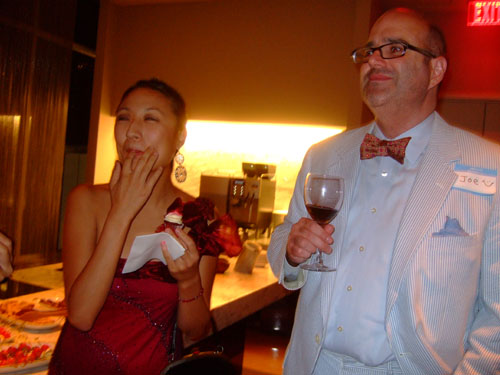 Christine
, with the dapper Joe of
Silver Lake Wine
.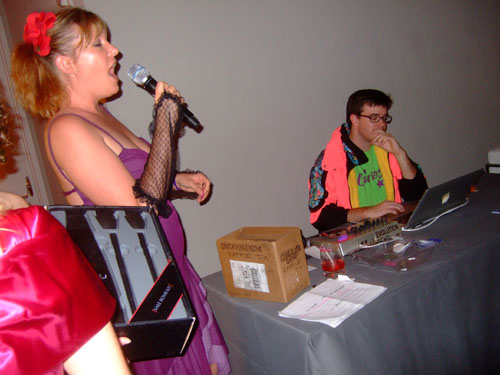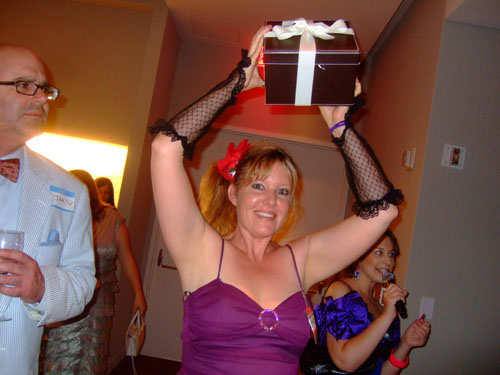 Raffle winners were announced in three rounds, but sadly, I didn't win anything (and there were some
phat prizes
too!).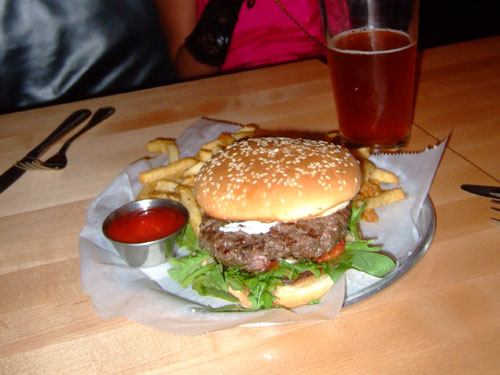 Afterwards, we headed over to
8oz Burger Bar
to take advantage of their Blogger Prom special: a Melrose burger, fries, and a soda, all for $8--not a bad deal. The burger itself was topped with blue cheese, arugula, garlic roasted tomatoes, and red onion marmalade, making is rather similar to a
Father's Office
burger.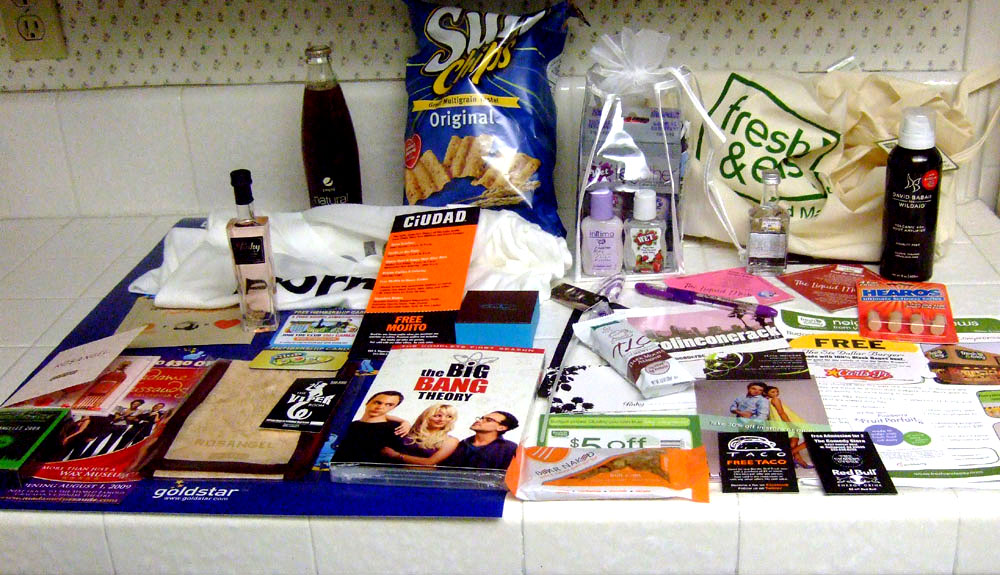 Last but not least: the swag bag. Stuffed in a Fresh & Easy reusable canvas bag were the following goodies: a "Born to Blog" t-shirt from The Gap, a Dark Mocha Almond bar from Kashi, a set of Hearos earplugs, the 2009 Los Angeles edition of Hungry? Deck, a Rosangel Tequila silk scarf, a Fruit + Nut bar from Bear Naked, a card for a free taco from the Border Grill truck, a complement of Wet personal lubricants (for post-Prom activities), a coupon for a free Six Dollar Burger from Carl's Jr., a bottle of Volcanic Ash Root Amplifier from David Babaii for WildAid, a coupon for a complementary English muffin from La Grande Orange, a card for a free mojito and a free margarita at Border Grill in Santa Monica, a coupon for $30 off at Madam Tussauds, a free pass to a show at The Viper Room, miniature bottles of Martin Millers Gin and Pinky Vodka, a coupon for a free fruit parfait from Pinkberry, a box of chocolates from Charles Chocolates, a 12fl oz bottle of the new Pepsi Natural, a $5 off coupon from Fresh & Easy, a coupon for 30% off at Live! on Sunset, passes for two to The Comedy Store, a free membership card for Club Pogo, the Season 1 DVD of
The Big Bang Theory
, a gift certificate to Pop Champagne & Dessert Bar, a Goldstar.com poster, and a 10.5oz bag of Sun Chips Original (whew!).
So in the end, perhaps Prom was a bit self-indulgent, a bit self-involved, a bit self-masturbatory, but it was also wicked cool. My hat's off to the Prom Committee: you gals (and one guy) pulled it off; thank you again. In fact, why let this be a one-off occurrence? Let's make this a yearly event, because, you know what, bloggers are the new rockstars (
note: last line should be read with tongue firmly planted in cheek!
).