Angelini Osteria (Los Angeles, CA)
Angelini Osteria
7313 Beverly Blvd, Los Angeles, CA 90036
323.297.0070
www.angeliniosteria.com
Wed 07/15/2009, 08:10p-10:45p
Of all the Italian eateries in this City, perhaps none have been celebrated more than Angelini Osteria, the eponymous brainchild of chef/owner Gino Angelini. Angelini (born 1953 in Rimini, Emilia-Romagna, Italy) began his life of cookery at age 14, and by age 23, was helming the kitchens at the luxurious l'Hotel Ambasciatori. Angelini's fame spread quickly throughout Italy, and he soon played host to dozens of luminaries and influentials. In 1995, Angelini moved to Los Angeles, where he worked at the late Mauro Vincenti's Rex Il Ristorante (in the space currently occupied by Cicada). Following, in late 1997, Angelini opened Vincenti Ristorante in Brentwood with Maureen Vincenti (Mauro's widow); the restaurant still stands today, under the watch of chef Nicola Mastronardi, who was mentored by Angelini.
In October 2001, Angelini opened his own restaurant, focused on deftly-executed northern Italian cuisine, and even eight years later, the place continues to garner consistent fame and acclaim. Following the success of the Osteria, Angelini opened La Terza with Gianluca Sarti in 2004. Unfortunately, the restaurant didn't match the smashing success of Angelini Osteria, and in early 2009, La Terza was replaced by Minestraio, a more downmarket trattoria focused on pastas and other traditional fare. Given everything that's surrounded Angelini, I was eager to try the Osteria out; a dinner organized by reader Selina (whom I met at
Wurstküche
) was thus a perfect opportunity to give it a shot.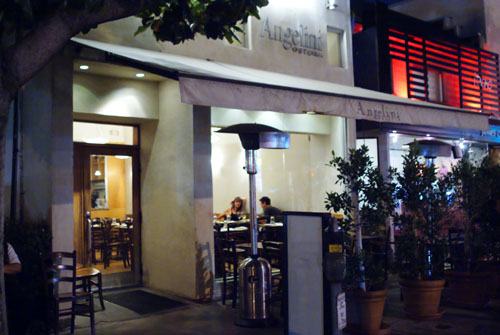 The sleek, contemporary exterior of the restaurant was not what I was expecting. If you can't make it inside, seating is available on the patio, though I hear that service can bit a be slow out there. Street parking is tricky, so I'd recommend valet. You can use the stand up in front of the restaurant (the official valet), or use the one 'round back (turn right at Poinsettia).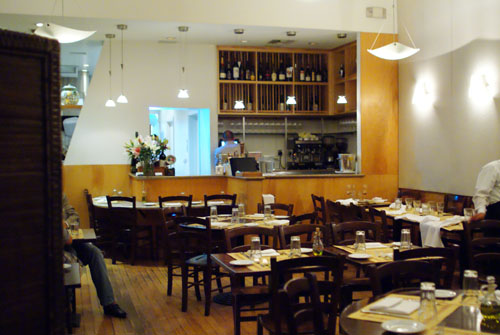 The restaurant's interior is similarly sleek, adorned in light wood and simple lines, belying Angelini's classic fare. The diminutive space required some fancy moves on the part of our waiters, who had to partake in some skillful maneuvering just to reach the opposite ends of our (admittedly large) table.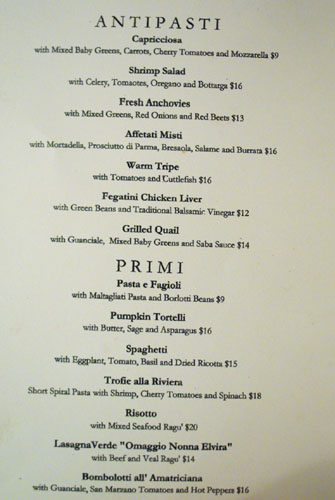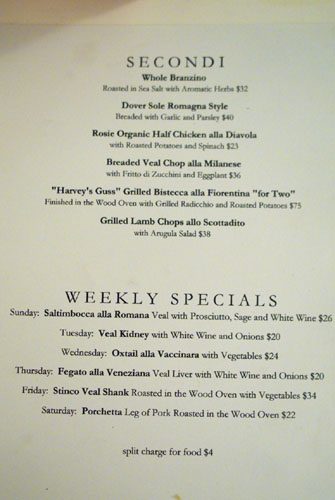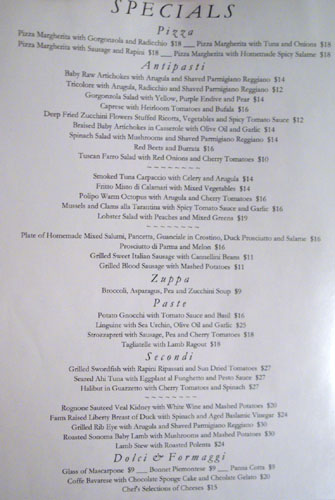 The menu consists of the "standard" carte (first two photos), and a list of Specials (which, apparently, don't change all that often); click for larger versions. All this makes deciding what to have a bit daunting. Fortunately, despite being overly-enthusiastic and overly-accented, our very Italian waiter was helpful in goading us toward the right dishes to have (hint: choose mostly from the Specials).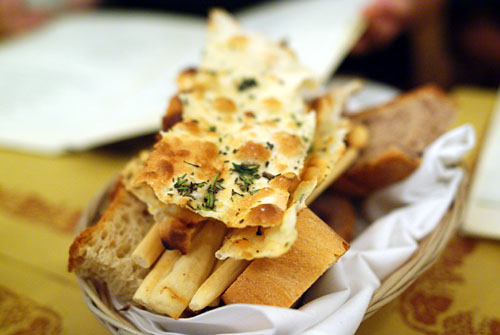 A bread basket was summarily brought out, brimming with four types of bread, including grissini, a thin, crisp flatbread (
pane carasau
?
Piadina Romagnola
?), Pane di Altamura, and what I believe was ciabatta. Olive oil (from Puglia possibly) was provided in a bottle on the table.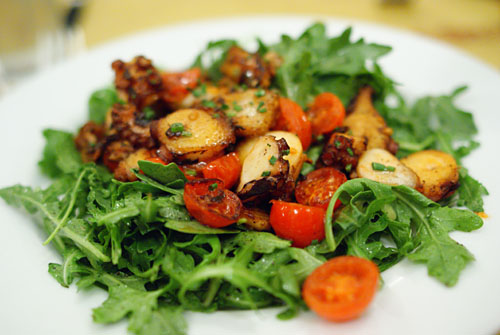 Polipo Warm Octopus with Arugula and Cherry Tomatoes [$16.00]
The meal started off strong with a lovely presentation of octopus. The cephalopod was cooked to a nice char (giving it a slight crunch), and to a flavor and was simultaneously savory, yet let the natural briny sweetness of octopus shine through. As good as the
polipo
was on its own, the sweet-bitter-salty interplay between the it, the juicy tomato, and pungent arugula was key. A favorite of the table, and one of the best preparations of octopus I've had.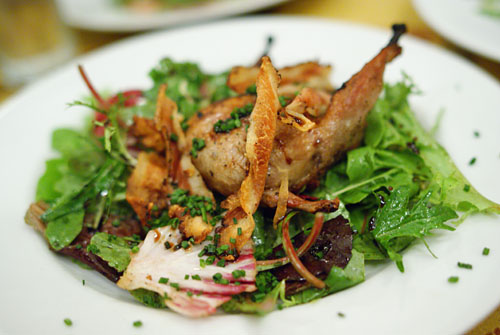 Grilled Quail with Guanciale, Mixed Baby Greens and Saba Sauce [$17.00]
Though the quail didn't reach the heights of the octopus, it was still quite tasty, with a strong flavor that was enhanced the saltiness of the
guanciale
(unsmoked pig's cheek bacon), while being tempered by bittersweet flavor of the veggies (which also provided a great crisp texture element) and
saba
(grape must reduction with a touch of balsamic).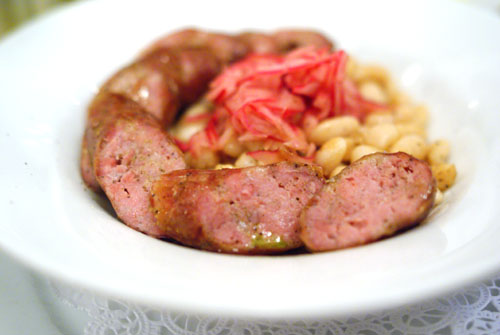 Grilled Sweet Italian Sausage with Cannellini Beans [$11.00]
I've never met a sausage I didn't like, so this sweet Italian varietal (done in the style of
salsicce lucane
, according to a reader) was a must try for me. The meat itself was a delicious amalgam of sweet and savory, with a delectable snappy casing to boot. Its weight was balanced by the tangy pickled vegetables, while the cannellinis (white kidney beans) added a moderating touch to ground the dish.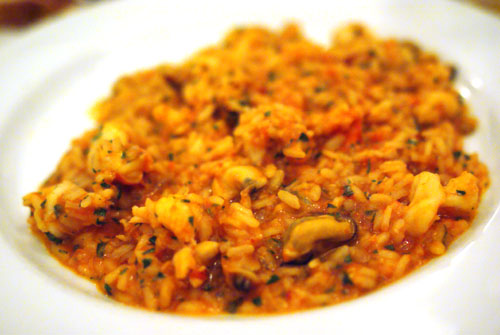 Risotto with Mixed Seafood Ragú [$20.00]
I've also never met a risotto I didn't like, so this version, a Veneto-style preparation as determined by a comment below, replete with cuttlefish, shrimp, and mussels, was another must try for me. The focus here wasn't on the rice, but rather the interaction between the briny seafood and the tart tomato sauce, which resulted in a brackish attack, a tangy tomato midpalate, and a lingering finish imbued with the essence of the ocean. Overall, a bit blunt, but effective. Perhaps some lemon would've added some subtlety here?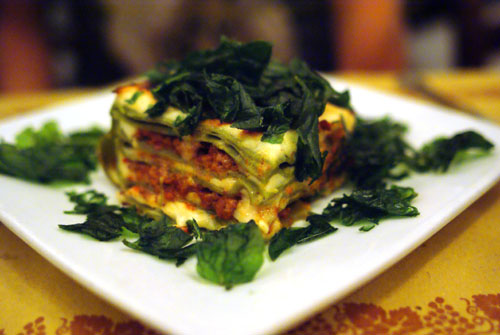 Lasagna Verde "Omaggio Nonna Elvira" with Beef and Veal Ragú [$14.00]
One of my dining companions ordered what is arguably Angelini Osteria's most famous dish, the green lasagna (with spinach added), an "homage to grandma Elvira" and a specialty of Bologna. A brick of a nearly a dozen layers of pasta, meat, and cheese, topped with fried spinach, it was a heavy dish, but perhaps lighter than most, with a slightly vegetal finish. It was probably the most conventional item I had.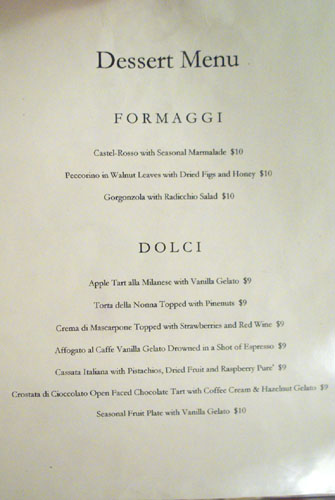 And with that, we were done with the savories. For dessert, we had the selection shown here (click for a larger version), but also could chose from a handful of items on the Specials menu above.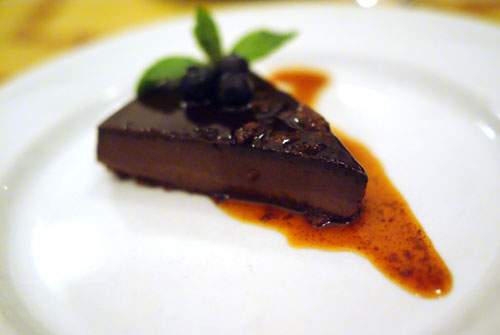 Bonet Piemontese [$9.00]
I asked our aforementioned overly-zealous waiter what his favorite dessert was, and he quickly came back with the bonnet, a Piedmontese pudding/custard cake of chocolate, coffee, and amaretti. He was right. Everybody loved its decadent sweetness, balanced with a superb nuttiness and subtle bitterness. Excellent, especially when eaten with the included blueberries. Thanks to my dining companions, I was also able to try the Crostata di Cioccolato [$9], which was comparatively pedestrian, and the superb Creme di Mascarpone [$9].
I came into Angelini Osteria expecting to be let down, but the place is actually quite good. Food was mostly on point, a bit of a departure from the norm, and the vibe was fun, festive. Angelini didn't "wow" me per se, but I can see why everyone loves it.