Hatchi at Breadbar (Los Angeles, CA)
Hatchi at Breadbar
10250 Santa Monica Blvd, Los Angeles, CA 90067
310.277.3770
www.breadbar.net
Thu 07/30/2009, 08:00p-11:35p
Given the smashing success of
Ludo Bites
, it was inevitable that Breadbar would institute other such "pop-up-style" events. Hatchi, a collaboration between Breadbar and
Noriyuki Sugie
(progenitor of Crudobar and Bentobar), is a prime example. Billed with the tagline "8 Plates at 8 Dollars," Hatchi ("eight" in Japanese) is a series of dinners that brings an up-and-coming guest chef into Breadbar's kitchens to prepare an original, one-off, one-night-only collection of eight dishes (six savory, two sweet), priced at $8 each. Diners can chose as few* or as many dishes and they'd like (*minimum three), creating their own "tasting menu," in a sense. The Series debuted on June 25 with Chef Debbie Lee of
The Next Food Network Star
, which I unfortunately missed. Given that the second guest chef would be none other than Michael Voltaggio, I made sure to make my reservation early this time around (good thing, since the event ended up being completely sold out). Following Voltaggio are chefs Roberto Cortez (August 6), Remi Lauvand (September 24), and Eda Vesterman (October 29).
The timing of Voltaggio's performance couldn't have been better. As we all know, in addition to being a contestant on the new season of
Top Chef
, Voltaggio recently became the head chef at The Dining Room at The Langham in Pasadena (replacing Craig Strong, who moved to
Studio at The Montage
). Prior, he was, of course, the Chef de Cuisine at José Andrés' much-lauded
The Bazaar
/
Saam
, where he earned that infamous four-star review from Sherry Irene Virbila. Before this, Voltaggio was Chef de Cuisine of Hemisphere and Tavern Room at The Greenbrier in West Virginia. Interestingly, early in his career, Voltaggio worked as an apprentice at The Greenbrier, only to return a decade later after cutting his teeth at The Ritz-Carlton Naples and Charlie Palmer's Dry Creek Kitchen in Healdsburg, CA, where he was Executive Chef. Voltaggio's style, which he really came into at The Greenbrier, blends contemporary American foundations with a smattering of ultramodern techniques (some of which veer toward molecular), in the process presenting familiar flavors in new and inventive ways. I'd experienced his cooking before at
Saam
, so I was very curious as to what he'd come up with here, unencumbered by the penumbra of Andrés' shadow.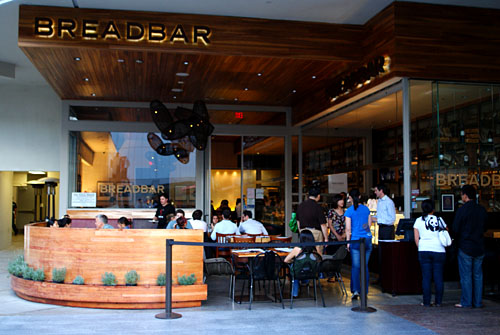 Wrapped in sleek sheaths of wood, Breadbar is situated in the Westfield Century City Mall, along with other eateries such as Gulfstream, Houston's, Pink Taco, and Rock Sugar. Thankfully, parking is free (for three hours) and plentiful in the mall's subterranean structure.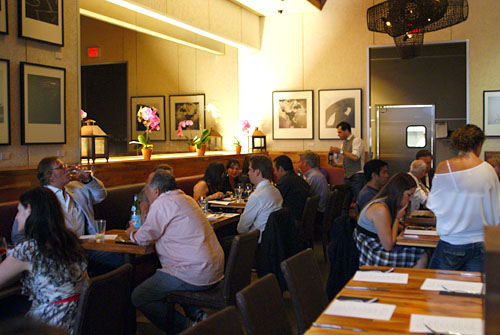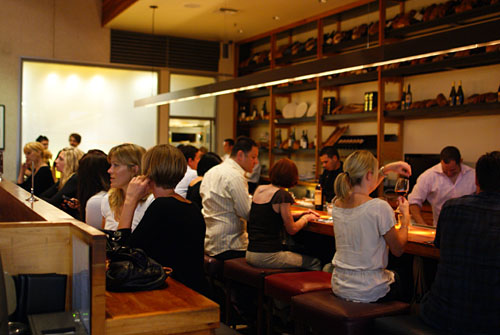 The theme continues into the cozy interior, and by cozy, I mean
hot
--my dining companions and I were sweating up quite a storm in there...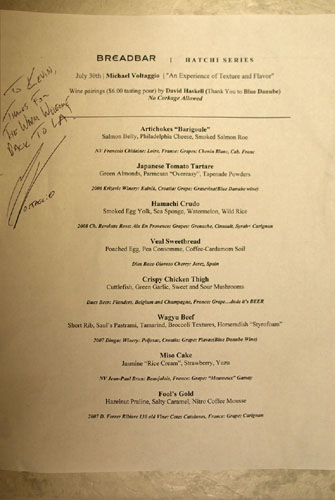 Voltaggio's menu for the night was dubbed "An Experience of Texture and Flavor: An Artistic Series of Small Plates Inspired by My Life as a Cook," with wine pairings by David Haskell (ex-owner of the now-shuttered Bin 8945 wine bar). Click for a larger version.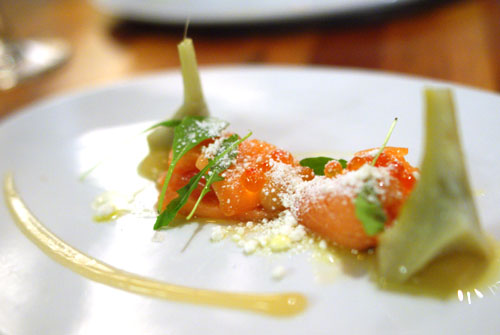 1: Artichokes "Barigoule"
| Salmon Belly, Philadelphia Cheese, Smoked Salmon Roe
NV Francois Chidaine: Loire, France: Grapes: Chenin Blanc, Cab. Franc
Dinner began with Voltaggio's take on barigoule, a classic Provençal dish of braised artichokes in a light white wine nage. I started with the salmon, a heavy, oily portion that was prototypical belly. It was quite delicious on its own, but its savory, briny flavor was heightened by the salty, smoky ikura, while the "cream cheese" added a palpable weight to the fish. The key, thus, was indeed the artichokes, which were possessing of a distinctive tang that effectively balanced the gravity of the salmon. A pleasing start to the meal.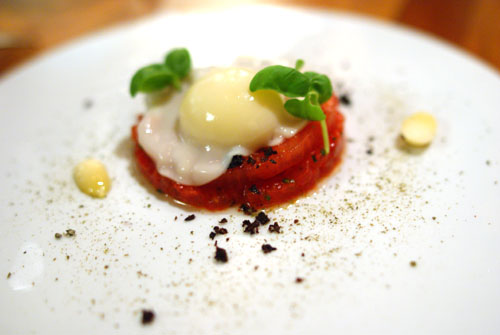 2: Japanese Tomato Tartare
| Green Almonds, Parmesan "Overeasy", Tapenade Powders
2006 Krizevic Winery: Kalnik, Croatia: Grape: Grasevina (Blue Danube Wine)
Upon cursory glance, one could've mistaken this dish for a classic beef tartare, topped with the requisite egg; such a thought would be selling the Chef's whimsy short however. Rather, Voltaggio substitutes tomato for meat, and cheese for egg--a beef tartare fit for a (lacto-) vegetarian, in a sense. I first tasted the tartare
sans
"egg," and found it actually not dissimilar from a classic
insalata Caprese
in sapor. Adding the Parmesan elevated the richness of the dish, while the green almonds provided a pleasing tart nuttiness, completing the experience. I was initially concerned that the tapenade would be overwhelming, but rather, it provided merely a subtle note of olive on the finish.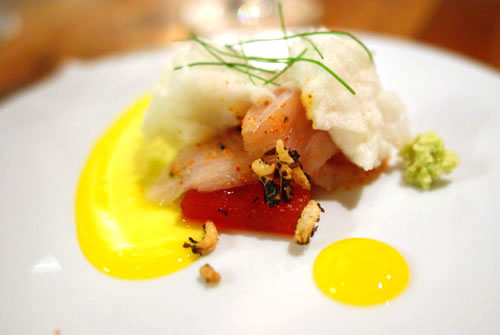 3: Hamachi Crudo
| Smoked Egg Yolk, Sea Sponge, Watermelon, Wild Rice
2008 Ch. Revelette Rose: Aix En Provence: Grapes: Grenache, Cinsault, Syrah, Carignan
Here, we have a fascinating study in the interplay of sweet and savory. There was a lot going on, but the focus for me was the complex of hamachi, melon, and sea sponge. The yellowtail, in a sense, was a canvas; on one hand, it was kissed by the fruity essence of watermelon, with just a hint of rice, while on the other, the sponge and yolk provided a foil to an otherwise saccharine crudo, giving the whole amalgam a lingering, salty finish. Furthermore, the wasabi was instrumental in contributing a piquant tang, offsetting the gravitas of the rest of the dish. Finally, the wild rice gave things a delightful crunch, adding a bit of fun to a complex, contemplative dish. I couldn't help but compare this to the Bluefin Tuna Toro I'd had at
Saam
; fortunately, I found this preparation much more effective.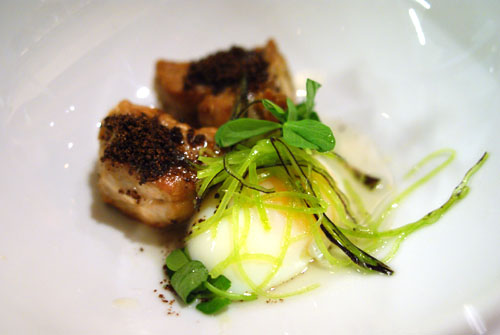 4: Veal Sweetbread
| Poached Egg, Pea Consomme, Coffee-Cardamom Soil
Dios Baco Oloroso Sherry: Jerez, Spain
Taking the sweetbreads alone, I found them firm but creamy, immensely flavorful, yet not overwhelming, not gamy. Combining the coffee-cardamom "soil" added a marked bittersweet component that I quite liked, balancing the momentousness of the sweetbreads. For me, what made this course though was the egg, cooked at 140°F according to our server (to ensure consistency between yolk and white). The result was a creamy contrast, a divine element that simply brought even more depth, even more breadth to the sweetbreads, revealing a previously latent side to them that I found particularly enjoyable. Very nice.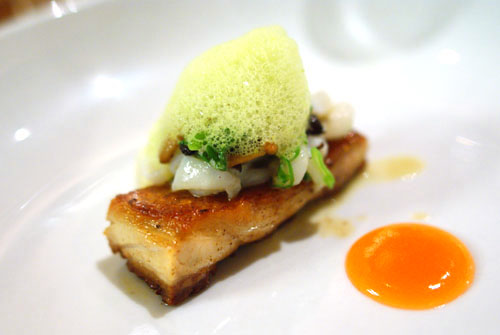 5: Crispy Chicken Thigh
| Cuttlefish, Green Garlic, Sweet and Sour Mushrooms
Dues Beer: Flanders, Belgium and Champagne, France; Grape...dude it's BEER
I usually eschew chicken on restaurant menus, viewing the bird as bland, boring, but this course went a long way in challenging that perception. Alone, the chicken was excellent--juicy, flavorful, with a delectably crisp skin--easily one of the best incarnations I've had. What took it to the next level for me was the combination of cuttlefish and green garlic, which lent a fantastic, light, bright brininess that went surprisingly well with the bird. The 'shrooms, meanwhile, gave everything a pointed earthiness, steeped in the acerbic tang of sweet and sour. My favorite course of the night.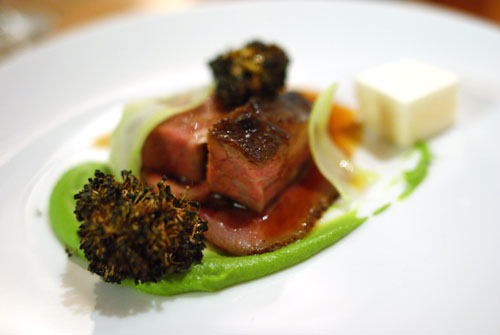 6: Wagyu Beef
| Short Rib, Saul's Pastrami, Tamarind, Broccoli Textures, Horseradish "Styrofoam"
2007 Dingac Winery: Peljesac, Croatia: Grape: Plavac (Blue Danube Wine)
Though broccoli may be the bane for some, I've always had a fondness for it. Here, the veggie was presented in three forms: thinly-sliced stalks, purée, and charred florets--a fancy broccoli and beef, thus. As for the beef, it was presented in short rib and pastrami form, the pastrami being my preferred variant, with a lean beefy flavor accented by lovely peppery notes and a bit of sweetness from the tamarind. The short rib, meanwhile, was similarly flavorful, but a bit tougher than I expected for Wagyu. In any case, the florets tended to emphasize the savory nature of the meat (a bit disconcerting, actually), but the best part for me was the interaction between the beef and the crisp, light broccoli stalks. For one of my dining companions, the best dish in the series.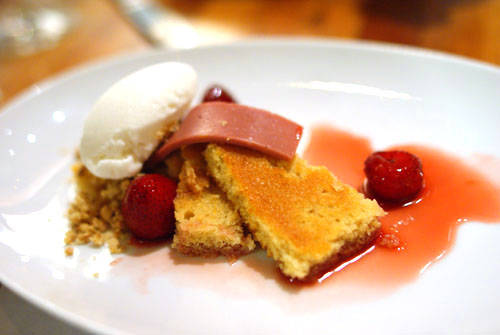 7: Miso Cake
| Jasmine "Rice Cream", Strawberry, Yuzu
NV Jean-Paul Brun: Beaujolais, France: Grape: "Mousseux" Gamay
Eating this, I couldn't help but think of Frosted Flakes with strawberries! The most interesting element here, clearly, was the "rice cream," an ice cream with a distinct sweet, ricey flavor that recalled
Ludo's
Sushi Rice Ice Cream. It served a similar role here, providing a foil to the sugary sweetness of the berries. Our thoughts were mixed regarding the strip of coagulated strawberry, which had the consistency of ham, along with a bit of apparent savoriness as well--one of my dining companions likened it to a Fruit Roll-Up.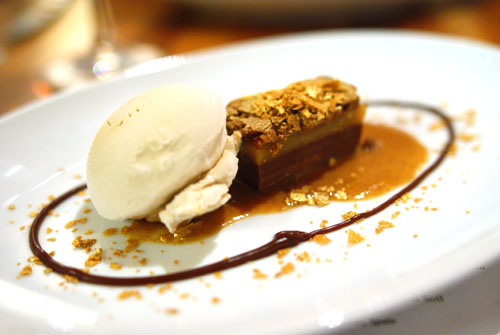 8: Fool's Gold
| Hazelnut Praline, Salty Caramel, Nitro Coffee Mousse
2007 D. Ferrer Ribiere 130 Old Vine: Cotes Catalanes, France; Grape: Carignan
According to one of my dining companions, this tasted like a Ferrero Rocher candy! I can see where he was going with that. The presence of hazelnut was quite pronounced, too much so for me, in fact; I would've appreciated the chocolate taking on a more apparent role. Nevertheless, the dessert was still enjoyable, and I applaud the use of a salted caramel here, as well as the nitro coffee mousse, which was indescribably cold, light, and airy, almost like a meringue.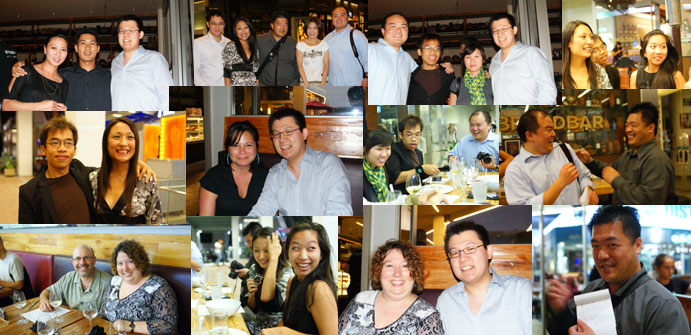 Hatchi turned out to be
the
event for local food bloggers. I personally encountered Andrea of
The Foodie Traveler
, Christine of
Folie à Choisauce
, Connie of
Hey Hey Scenesters
, Danny of
Kung Food Panda
, Esther of
e*star LA
, H.C. of
LA and OC Foodventures
, Jo of
My Last Bite
, Kate of
Princess Kitty's Lala-Land
, Mike of
Right Way to Eat
, Ryan of
Only Eat What Feeds Your Soul
, Tony of
SinoSoul
, and yes, even the elusive Lizziee of
Refined Palate
(David Haskell's mom!). Apparently Tara of
When Tara Met Blog
was also present, though I didn't spy her. Hell, even Marcel Vigneron of
Top Chef
fame (whom I met at
Saam
, and who was also at
Ludo Bites
) was in the house.
For me, Hatchi was nearly an unmitigated success. I love the idea, the concept, and food-wise, execution was almost spot-on. Service, however, left something to be desired; given the venue though, I'm willing to overlook the service foibles, based on the strength of everything else. I've already made reservations for next week's dinner with Roberto Cortez, and I can't wait.
More importantly, I was able to get a taste of what Voltaggio is capable of, by himself, sans the sway of our favorite Spanish chef. There's a lot of potential methinks, and I'm planning to visit The Dining Room this weekend, to see Voltaggio in his natural environment. Stay tuned.