A.O.C. (Los Angeles, CA)
A.O.C.
8022 W 3rd St, Los Angeles, CA 90048
323.653.6359
www.aocwinebar.com
Sun 09/20/2009, 06:45p-09:00p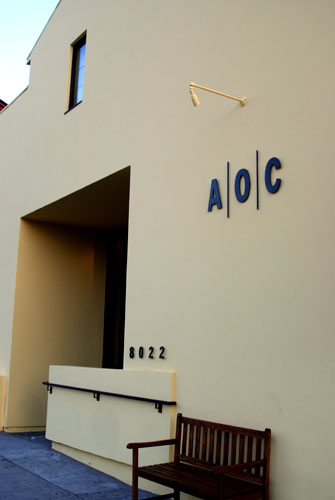 Regular readers may recall that early this year, I ventured to Madison, WI to attend the graduation of my former Berkeley roommate, who'd just finished medical school at UW-Madison. While there, we dined at the City's most vaunted restaurant,
L'Etoile
. Well, my former apartment-mate is starting at UCLA this fall for his PhD, and just moved out here to Los Angeles. I wanted to take him out for his first real meal here in the City, hence this dinner at A.O.C. I chose the place not only for its menu, but for its chef, Suzanne Goin--Goin started her career at Chez Panisse, the very place where I'd had my first fine dining experience during my undergrad years at Cal, an experience that I shared with this same roommate.
But the A.O.C. story starts much further back than that. Goin grew up in Southern California as part of a well-to-do, foodie family. Her parents planned their vacation itineraries around restaurants (sounds like me), and regularly took the young Goin to LA's finest establishments, places like L'Ermitage and Ma Maison (for her senior project, in 1984, Goin even spent three weeks here working in pastry), thus cementing her passion for food. Goin attended Brown as a history major, and during that time, worked at Al Forno Restaurant in Providence, RI. After graduation, she started a small restaurant in the area, but yearned for something bigger; that's when she applied to work at Chez Panisse. Alice Waters recognized Goin's talents quickly, and the young chef worked upstairs at the iconic Californian for two years, an experience that would have a profound impact on her developing culinary style. After Chez Panisse, Goin moved to France, where she was able to work at Alain Passard's legendary eatery L'Arpège. Following, Goin made a stop in Boston at Todd English's Olives before landing at Mark Peel (another Chez Panisse alum) and Nancy Silverton's Campanile in 1995. In 1998, Goin teamed up with partner Caroline Styne to open up Lucques, which became wildly successful, allowing Goin to write a cookbook (
Sunday Suppers at Lucques
, with a forward by Alice Waters) and open A.O.C. at the end of 2002, also with Styne. In addition, Goin and Styne recently opened Tavern in 2008, and Goin also co-owns The Hungry Cat (2005) with husband David Lentz.
The inspiration for A.O.C. stemmed from two sources. First, Goin and Styne noticed that the small bar at Lucques was turning out to be quite popular; the pair wanted to create an entire restaurant that would duplicate the atmosphere at Lucques' bar. Second, both women were fond of grazing on appetizer plates and sipping interesting wines for dinner; wouldn't it be nice if there were a restaurant catering just to that? Thus, A.O.C. was born. The name is short for
Appellation d'Origine Contrôlée
, a French term meaning "controlled term of origin." It signifies a certification given to certain geographically-defined agricultural products, including alcohol (e.g. Châteauneuf-du-Pape and Calvados), cheese (from Roquefort to Reblochon to Rigotte de Condrieu), and other such items (Lescure Beurre des Charentes, Poulet de Bresse, Lentilles du Puy, Miel de Corse Châtaigneraie). Though A.O.C. is most definitely small plates, don't you dare call it "tapas." The food here is meant to be much more, with each dish designed to be complex and interesting enough on its own. Diners can decide to nosh merely on a slice of Tomme de Savoie, or they can create their own multi-course "degustation."

A.O.C's space previously housed L.A. Trattoria, and retains its wood-fired oven, which once churned out some of the City's only official Neapolitan pizzas. Compared to Lucques, A.O.C.'s Barbara Barry-penned interior is more urbane, less rustic, more monochromatic, less cozy, sparer, but more elegant. Above, we see a 180-degree view of the space, starting with the charcuterie and fromage counter to the left, moving along the dark shelves hugging the walls, past banquets and tables in the main dining space, before ending at the 16-seater bar, home to the 50-wine Cruvinet dispenser.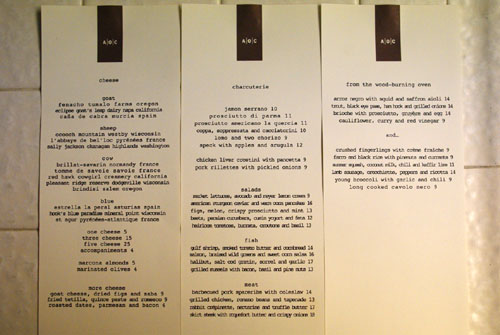 The menu is shown above; click for a larger version. Note that an entire page is dedicated to cheese.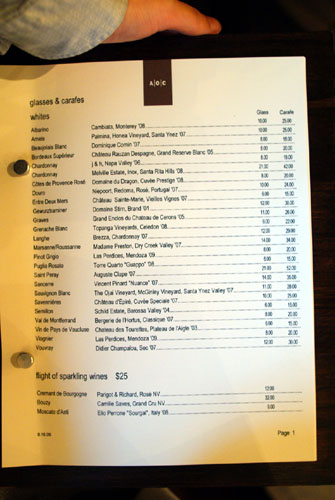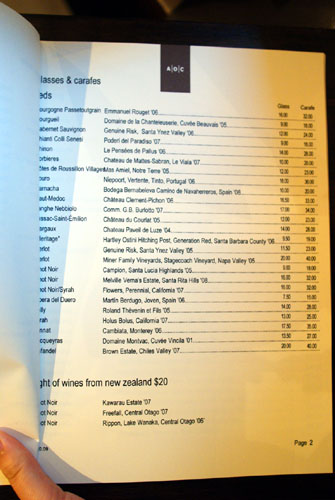 A.O.C's selection of 25 whites and 25 reds (by the glass or carafe), along with two flights, is large but manageable; click for larger versions. Naturally, there's also a considerable list of wines by the bottle as well.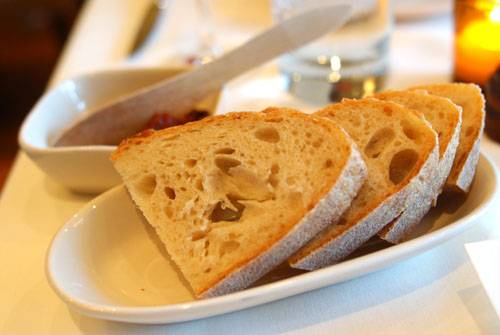 Upon being seated, a small plate of bread appeared without hesitation. It was competent, but what was much more interesting was its accompaniment, described as our server as harissa, basically a North African condiment made from ancho chilies, garlic, and cumin, among other ingredients. It had a smoky/spicy/sweet flavor that went surprisingly well with the bread.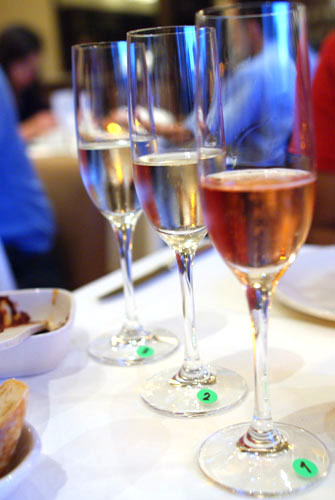 Being a fan of the bubbles, I started with the Flight of Sparkling Wines [$25], consisting of the Cremant de Bourgogne, Parigot & Richard, Rosé NV; Bouzy, Camille Saves, Grand Cru NV; and Moscato d'Asti, Elio Perrone "Sourgal", Italy '08. Though the glasses were individually numbered, really such markings were redundant. The three sparklers couldn't have been more different: the citrus tang and vermilion tinge of the rosé; the dry, toasty notes of the Champagne; and the juicy, sweet savor of the Moscato.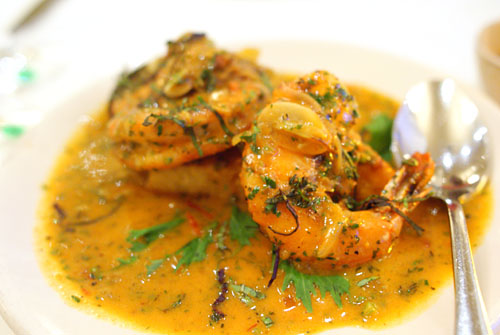 Gulf Shrimp, Smoked Tomato Butter and Cornbread [$14.00]
Upon arriving at the table, the dish gave out an aroma reminiscent of the Indian standby
murgh makhani
, or butter chicken; must've been the butter and tomato! The shrimp themselves were deftly cooked, firm, plump, with their natural flavor still intact. The crustaceans' sweetness was countered by the inherent tanginess of the sauce, as well as its marked richness. They were served with the shells still on, and though my dining companion meticulously de-shelled the shrimp, I devoured them shell and all. I must admit though that I didn't quite "get" the cornbread; it was tasty enough, having soaked up all the goodness in the sauce, but seemed a bit out of place.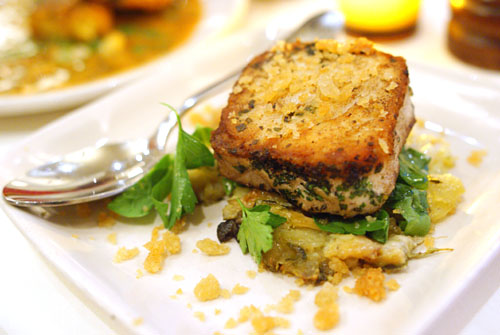 Halibut, Salt Cod Gratin, Sorrel and Garlic [$17.00]
I always appreciate a good halibut, and this was no exception: firm yet yielding, mildly flaky, and uncommonly juicy, with an excellent crust, accented beautifully by sorrel and garlic. The star of the show for me, though, was the salt cod gratin. Supremely savory, yet not overpowering, it formed a fantastic foil to the comparatively delicate halibut. Delish.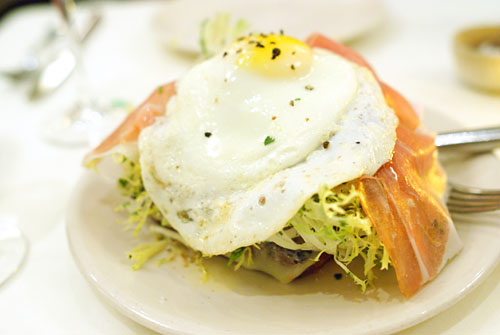 Brioche with Prosciutto, Gruyère and Egg [$14.00]
With these ingredients in one dish, it'd be pretty hard to screw things up--think a classy Egg McMuffin! You have a base of toasty brioche, which is complemented by the salty ham and heavy, rich cheese, while the egg adds further creaminess and heft. This whole complex, however, is mitigated by the frisée, which adds a lightness and levity to the whole course. I'd like to see this dish with asparagus substituted for the frisée; I think its bitterness would make for a nice contrast.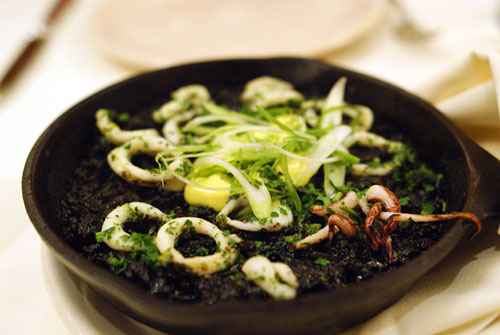 Arroz Negro with Squid and Saffron Aïoli [$14.00]
Arroz negro is a classic Catalonian/Valencian dish of rice flavored with squid ink, served with squid. Here, the use of ink gave the rice base a slightly tangy, somewhat briny flavor, which was superb. The rice was tasty enough on its own, but the squid rings added a distinct sweetness, as well as a chewy textural element. I also much appreciated the use of onions and garlic, which gave the dish a certain bite and buoyancy. Excellent.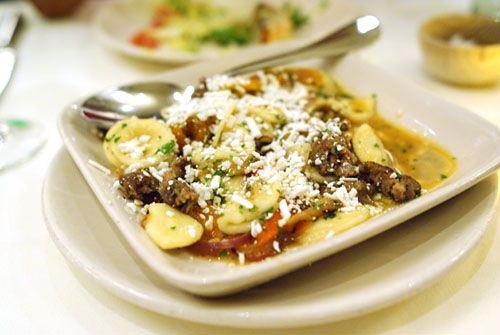 Lamb Sausage, Orecchiette, Peppers and Ricotta [$14.00]
When ordering this dish, we expected the sausage to come out in traditional tubular sausage form, not in bits. Nevertheless, the morsels of lamb present were indeed quite delicious--immensely flavorful and backed with an herbal tang. I wanted more of it! As good as the lamb was, I did appreciate the use of orecchiette (ear-shaped pasta) here, their mild flavor balancing the substantial sapor of the sausage.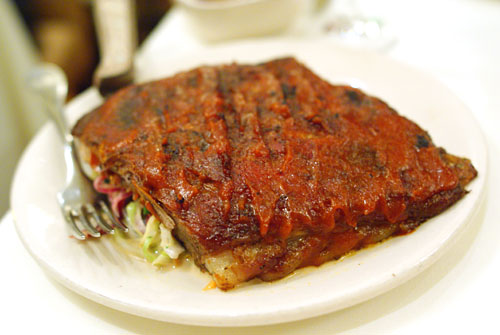 Barbecued Pork Spareribs with Coleslaw [$14.00]
And for our last savory course, we have a classic BBQ presentation of pork spareribs. Though a standard preparation, it proved nonetheless delectable, with a sweet yet savory smack and a consistency that was nearly falling-off-the-bone. Gimme a whole rack please! The coleslaw, meanwhile, effectively tempered the weight of the meat, and was scrumptious in its own right.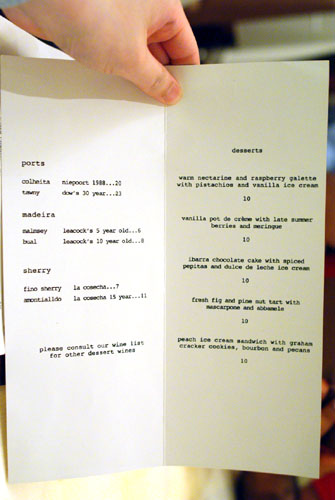 At this point, we were presented with a small selection of desserts and dessert wines; click for a larger version.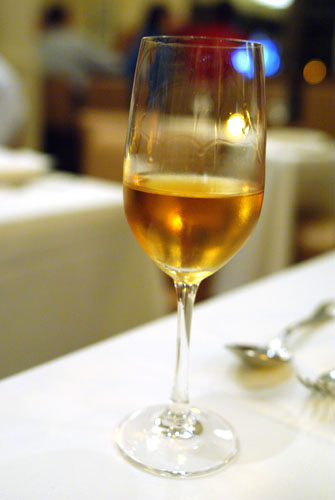 To drink, I went with the Amontillado, La Cosecha 15 Year [$11], a dry sherry with a sensational lingering nutty finish.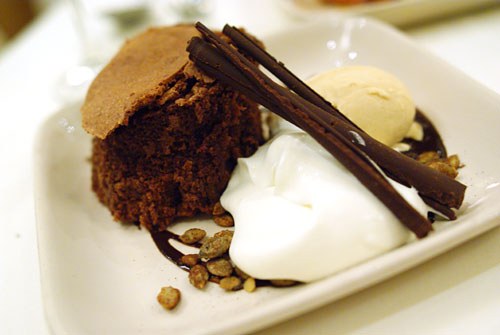 Ibarra Chocolate Cake with Spiced Pepitas and Dulce de Leche Ice Cream [$10.00]
Ibarra refers to a brand of chocolate from Mexico, commonly used to make hot cocoa. Because of that perhaps, the resultant cake here was actually quite mild in sugariness. Most of the sweetness, thus, came from the superb dulce de leche ice cream (which I wanted more of). The combination of cake and ice cream made for a great pairing, one that was accented expertly by the spicy pepitas and tangy mascarpone.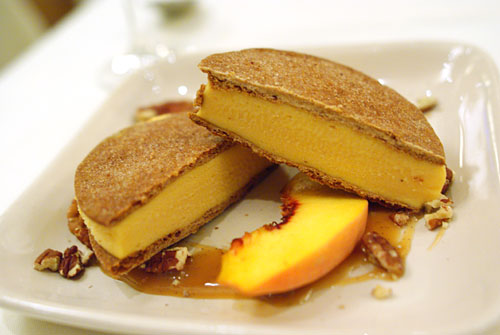 Peach Ice Cream Sandwich with Graham Cracker Cookies, Bourbon and Pecans [$10.00]
Who can resist an ice cream sandwich? I certainly couldn't. The peach ice cream was "peachy" indeed, imbued with the saccharine essence of the fruit. The cookies, thus, were a great complement, countering the peach's sweetness with a wonderful cinnamon-y spice. I didn't get much from the Bourbon, however.
I love the concept here: small plates of Cal-Med, reasonably-priced wine, how could you go wrong with that right? The key for me though is that the fare at A.O.C. is actually quite swell: a menu based on fresh, local, seasonal California ingredients and rustic Mediterranean flavors. The dishes at A.O.C. are almost always bold, honest, simple yet complex, familiar yet exciting. Nearly everything sounds good and everything that I had
was
good; it's a system that encourages trying, and sharing. No wonder the place is so popular--A.O.C. gets an A-OK from me.