Dal Rae (Pico Rivera, CA)
Dal Rae
9023 Washington Blvd, Pico Rivera, CA 90660
323.723.4427
www.dalrae.com
Sun 09/13/2009, 07:20p-09:30p
In the restaurant business, where eateries open and close with seemingly reckless abandon, Dal Rae, founded in 1958, must seem positively prehistoric. Brothers Ben and Bill Smith opened the restaurant in May of that year, and despite being in business for over half a century, the menu, and the vibe, have remained largely static. Ownership of Dal Rae was eventually passed to Ben's sons, Kevin and Lorin, who'd grown up immersed in the family business. They've successfully continued to secure Dal Rae's status as an iconic, "old school" eatery, and pride themselves on the restaurant's personalized service and long-time customers and staff, some of whom have been dining at or working at the restaurant for over 30 years. As an interesting aside, there was once another Dal Rae, located in Fullerton at the intersection of Harbor and Bastanchury--it had a
"colorful" history
.

The interior, renovated most recently in 1999, is pretty much what you'd expect: classic trimmings, lots of dark wood, and some big-ass booths. Lighting, however, was considerably brighter than I'd anticipated. In addition to the main dining room pictured above, there's also a bar/lounge replete with live entertainment, as well as a patio area (where smoking is permitted). There's even free WiFi, just in case you have the urge to live tweet a meal!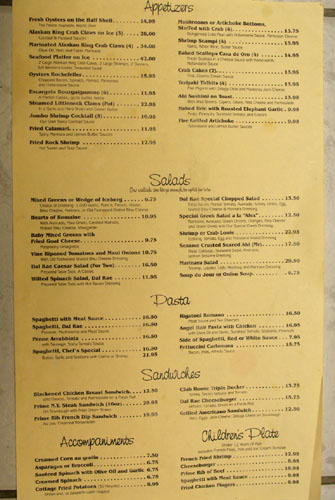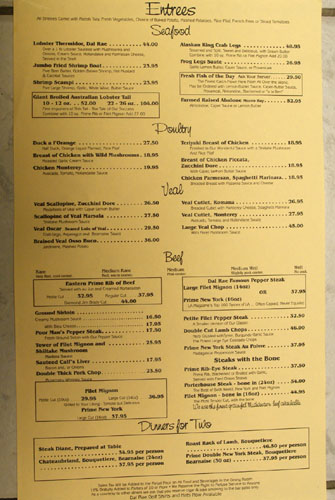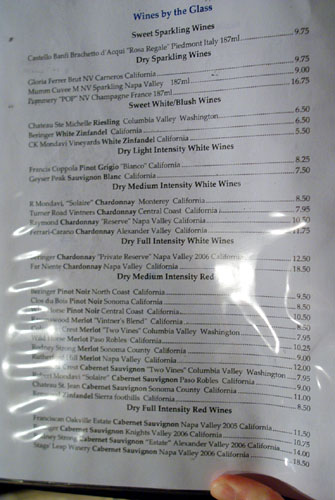 With over 100 items, the menu is vast to say the least, with nearly all your favorite continental classics represented. Steak Diane? You bet. Veal Oscar? No problemo. The wines by the glass list, disappointingly, is largely focused on typical American producers, with a French and an Italian sparkler representing the only international flair. Click for larger versions.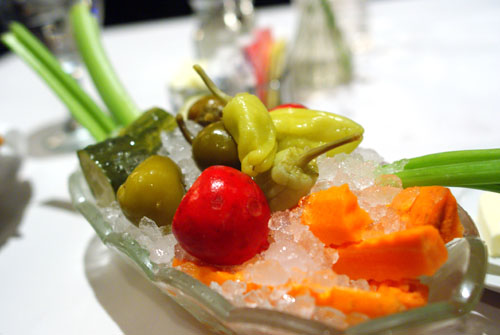 A relish tray, containing two types of peppers, pickles, radishes, carrots, and celery, was quick to appear on the table.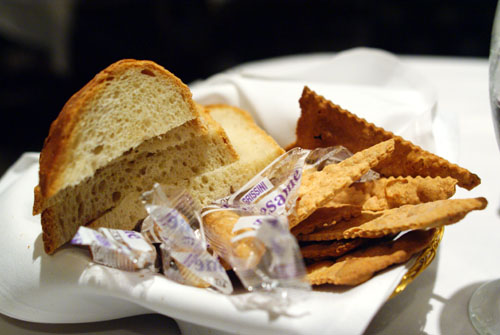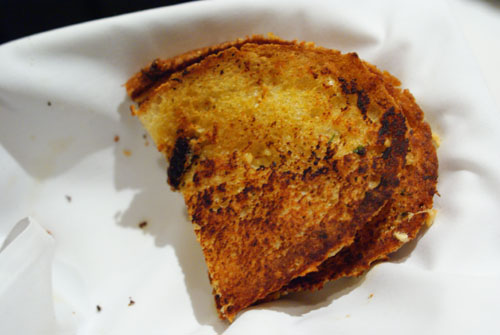 The relish was followed up rapidly by the bread basket, filled with three types of bread: sourdough, sesame breadstick in plastic, and a spicy crispy flat bread. Later on, a delicious cheesy garlic bread was also presented.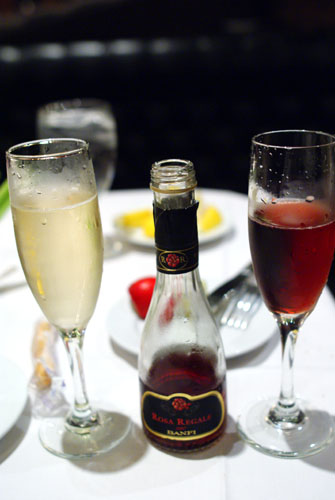 We began with bubbles: the Gloria Ferrer Brut NV Carneros California [$9.75], basically your prototypical dry California sparkler, and the Castello Banfi Brachetto d'Acqui "Rosa Regale" Piedmont Italy [$9.75], a very sugary, very viscous libation that was reminiscent of the FRV100 I'd had at
LudoBites
and
Church & State
.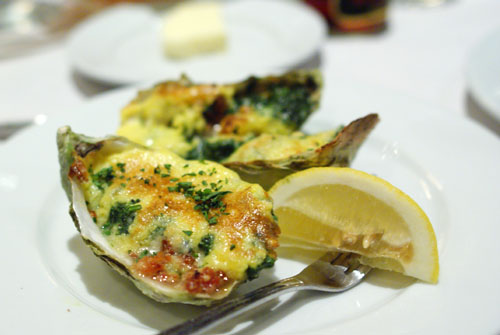 Oysters Rockefeller [$15.95]
Sure, I've had
"oysters Rockefeller"
before, but I believe this was the first time I'd had the real deal. The dish, first developed in 1899 at Antoine's in New Orleans, consists of oysters on the half-shell, baked with chopped bacon, spinach, Pernod, Parmesan, and Hollandaise. It was indeed named after the one-and-only John Davison Rockefeller, because, as with Rockefeller, the oysters too were very "rich." Getting back to the dish at hand, the oysters' flavor was very subtle, appearing mostly on the finish, and the mollusks were there mostly for texture; I wonder what type of oyster was used, definitely not Kumamoto that's for sure! Taste-wise, things were dominated by the complex of cheese and bacon, a delectable duo--savory, salty, and suitably stout--with a slight smack of spinach as well, and perked up by the optional application of lemon. All in all, I quite enjoyed this.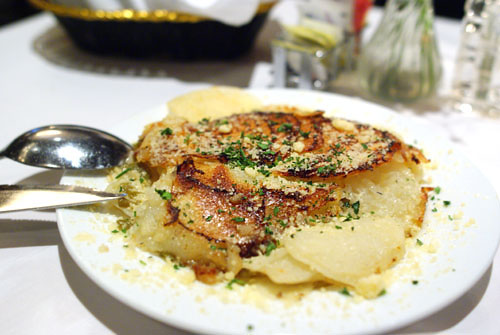 Cottage Fried Potatoes [$8.95]
For our side, we were debating between the creamed corn and sautéed spinach, but settled on these potatoes at the urging of our server. It was a great recommendation; served with onion and jalapeno, the dish was delicious indeed--I especially appreciated how the potatoes still had a bit of a crunch to them. The taters were mild in flavor on their own, but went beautifully with the cheesy sauce, accented by the tang of onion and pepper.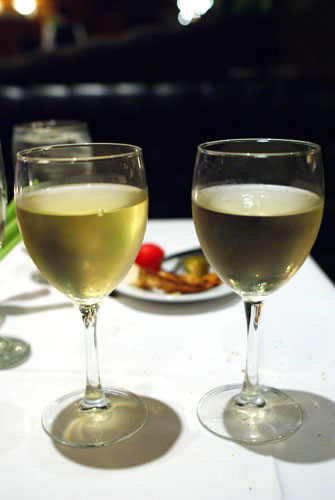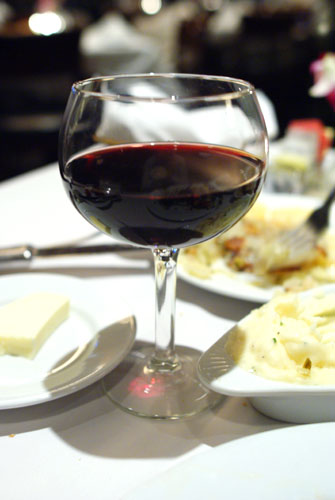 Now, for white wines, we went with the prototypical Beringer Chardonnay "Private Reserve" Napa Valley 2006 California [$12.50] and the very light Francis Coppola Pinot Grigio "Bianco" California [$8.25]. And a red to go with the steak: a single glass of the surprisingly good Rodney Strong Cabernet Sauvignon "Estate" Alexander Valley 2006 California [$14.00].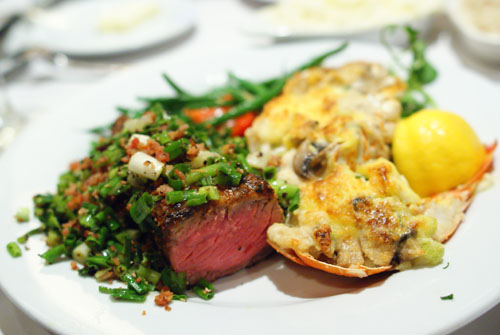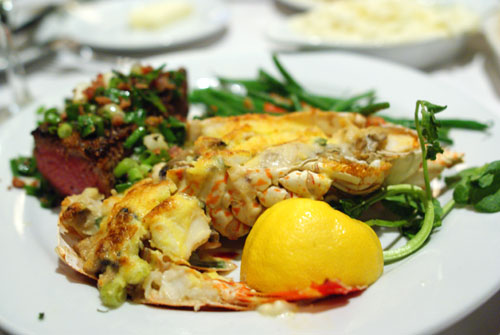 Lobster Thermidor, Dal Rae [$44.00]
Dal Rae Famous Pepper Steak, Prime New York (16oz) [$37.95]
It was now time for our mains, which our server conveniently split up into two plates. First up was the Lobster Thermidor, named for Victorien Sardou's play of the same name. A French dish, it was created in 1894 at the Parisian restaurant Marie's. Here, it consisted of sautéed lobster with mushrooms, onions, cream sauce, Hollandaise, and Parmesan, browned, served in a shell. Again, this was a very weighty dish, with the creamy, luscious sauce taking center stage. However, despite this gravitas, the lobster was still apparent, both texturally as well as on the finish--decadent, and quite delicious.
The steak, however, wasn't quite as ambrosial. Perhaps I've just been spoiled by
CUT
-level steak, but I found the meat somewhat tough, and weak on flavor. However, the course was saved somewhat by the topping of pepper, scallion, bacon, and bell pepper, which proved a lovely accoutrement to the strip. The classic combination of steak and lobster, our own version of surf & turf in a sense, also came with green beans, which were unexpectedly good; I'd imagined something very mushy and limp, but these had a nice, light snap to them.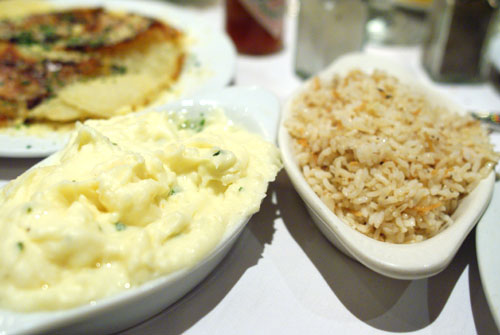 Entrées at Dal Rae come with your choice of side, and we went with nicely-lumpy garlic mashed potatoes and a surprisingly tasty, not tired, rice pilaf.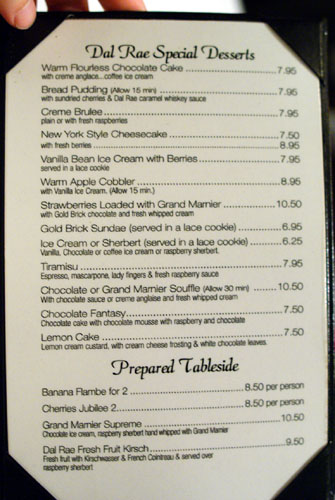 Though we were sated at this point, we always save room for dessert. The dessert menu, with all your usual suspects, is shown above; click for a larger version.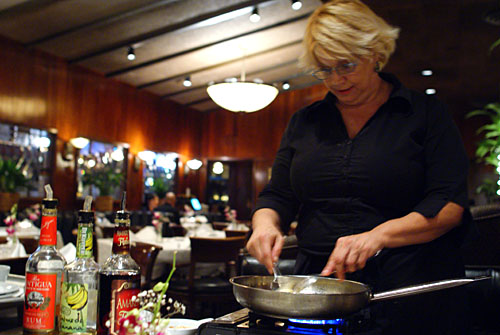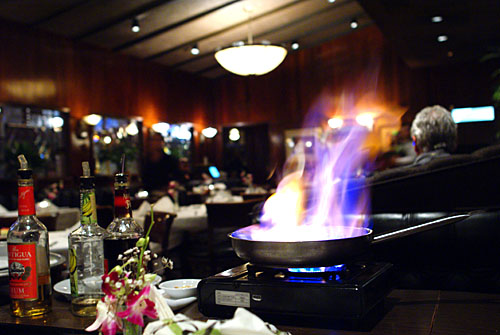 Ahh, the joys of tableside preparation...something that's becoming rarer and rarer these days. Who doesn't enjoy a good flambé? It's like dinner and a show.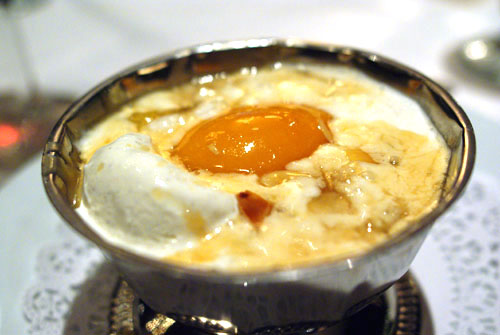 Banana Flambe for 2 [$8.50 per person]
Though not explicitly named on the menu, this was basically Bananas Foster, a dessert created in 1951 at Brennan's in New Orleans. Here, it consisted of bananas sautéed with butter and brown sugar, which were then flambéed in a concoction of Amaretto di Amore, DeKuyper crème de banana, and Ron Antigua rum. The bananas were thus served with nuts and peach, over vanilla ice cream. I quite liked the end result, with the ice cream proving a great base and temper for the caramelized bananas, accented deftly by the use of almonds. The once piece that seemed out of place was the peach, which was overly sugary compared to the rest of the dish.
Though I came into Dal Rae not expecting much, I must say that I liked my time here for the most part. Sure, there's not anything new brought to the table, but given the modern, molecular, avant garde, intellectual fare that's all the rage these days, perhaps sometimes it's good to step back and return to these straightforward, comforting classics, which never seem to go out of style completely. Obviously, there is a place for ostensively anachronous institutions like Dal Rae; it's been around for 50 years--they must be doing something right! Just go in knowing what to expect, and you'll be fine.