BondSt (Beverly Hills, CA)
BondSt
9360 Wilshire Blvd, Beverly Hills, CA 90212
310.601.2255
www.bondstrestaurant.com
Wed 09/09/2009, 08:20p-12:35a
Things were not looking up for BondSt: Trendy hotel location...check. Ubiquitous miso-marinated cod...check. "Beautiful" clientele...check. Pricey cocktails...check. "Scene-y" vibe...check. Attractive AMW waitstaff clad in black...check. Mediocre Asian "fusion" fare...well, not so fast.
Had I been here a year earlier, I'm sure that the last box would've been checked as well. BondSt started out, well, on Bond St, in New York that is. The place opened over a decade ago, and quickly established itself as one of the premier spots to go to for hip, trendy, Asian-inspired fare, thus paving the way for future outposts in Miami and here in Beverly Hills (opened in early 2008). But owners Jonathan Morr and Steven Durbahn made a grave miscalculation in simply importing the original BondSt to Los Angeles, largely unchanged--they even kept the same chef: Hiroshi Nakahara. But we Angelinos, raised in the birthplace of the Nobu empire--the sushi capital of the United States--were not impressed with the dated vittles, which apparently would've been considered cutting edge about ten years ago when the first location opened. The capstone of the duo's misstep here was arguably the gleaming
zero-star review
from The Notorious S.I.V.
Enter
Brian Redzikowski
, November 2008. The Long Island native comes from a family of chefs, and broke into the biz at the tender age of 15, working as a
plongeur
alongside his brother (the chef) at The Hollowbrook Inn in upstate New York. Redzikowski was eventually promoted to working the line, and subsequently enrolled at the CIA in 1999. He graduated in 2001 with honors, and had the opportunity to work at such leading NY restaurants as Le Cirque, Alain Ducasse at Essex House,
Le Bernardin
, and Christian Delouvrier's now-shuttered Lespinasse. Redzikowski then ventured south to Orlando, Florida to work as a sous chef at Epcot Center's Bistro de Paris, before embarking on a trip throughout Southeast Asia, an experience that would greatly shape his cooking style. Upon returning to the States, he landed at Matsuhisa's second location in Aspen, Colorado, where he spent two years learning the art of Japanese cuisine.
Joël Robuchon
opened his eponymous restaurant in Las Vegas in 2005, and Redzikowski was eager to work for the French master. He successfully garnered a spot at Robuchon, and under the tutelage of Chef de Cuisine Tomonori Danzaki, achieved sous chef status in two years. Redzikowski's next move would be just up the Strip, to the Bellagio, where he would helm the kitchens at Yellowtail for one-and-a-half years. It was here that he would meet his future employers, Durbahn and Morr, who recruited him to revitalize the ailing BondSt. At BondSt, Redzikowski has focused on blending his classical French roots, modern cooking technique, and his passion for Asian cuisine to create a market-driven, seasonal, local, product-centric menu targeted toward the sophisticated LA palate. So far, it seems to be working.
But even with its new toque and revamped menu, BondSt probably wouldn't have appeared on my culinary radar had it not been for burgeoning restaurant review site
FoodDigger
, which sponsored this
TastEvent
. I was joined by a nonet of local food bloggers: Caroline of
Caroline on Crack
, Christine of
Folie à Choisauce
, Danny of
Kung Food Panda
, Evelina (sans Wes) of
Two Hungry Pandas
, H.C. of
L.A. and O.C. Foodventures
, Holly of
The Michelin Project
, Jackie of
Citynitz
, Liz of
Food She Thought
, and Sarah of
The Delicious Life
/
TasteSpotting
. Brian, Eddy, Marshal, and Will from
FoodDigger
were also in attendance. Given Redzikowski's pedigree, I was eager to see if he really had turned things around here. And if you've been following his
Twitter
, you'd know that Redzikowski himself had perhaps been even more excited, tweeting anxiously about the dinner for weeks prior to the event.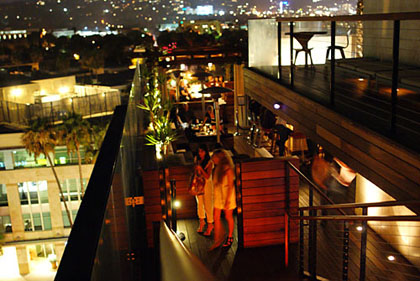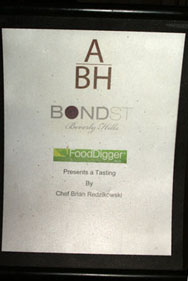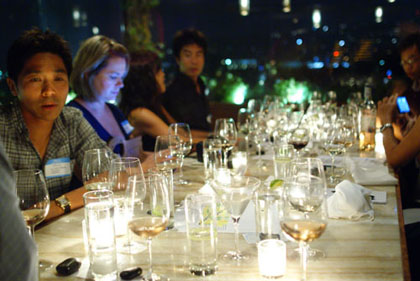 BondSt is situated in the 107-room Thompson Beverly Hills, a luxury, "lifestyle" hotel that was known as the Best Western Beverly Pavilion in its past life, before it underwent a $10 million dollar renovation (on top of the $24 million price tag) at the hands of Dodd Mitchell Design and (fer) Studio. You can struggle with street parking, but I'd go for the valet, at $7. Though the 130-seat BondSt is located on the Thompson's ground floor, we were instead whisked away to the hotel's roof, home to the pool, private cabanas, the fitness center, and the guests-only ABH (Above Beverly Hills) bar/lounge. We were seated in ABH's 12-person "tasting room," where we were treated to gorgeous views of the BH as well as free wi-fi (so
Caroline
could get her live tweet on!).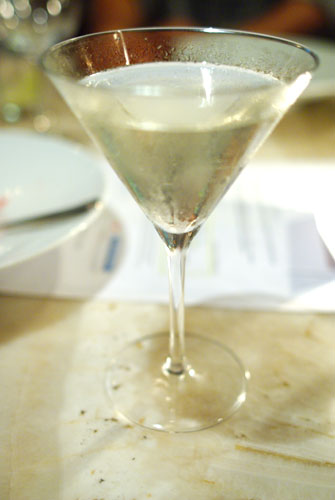 Almost immediately upon being seated, this cocktail was thrust before me. It was a Lemon Saketini, comprised of Belvedere vodka, sake, and lemon sour; it was actually surprisingly palatable, with the sweetness and weight of the sake proving a great temper to the power of the vodka.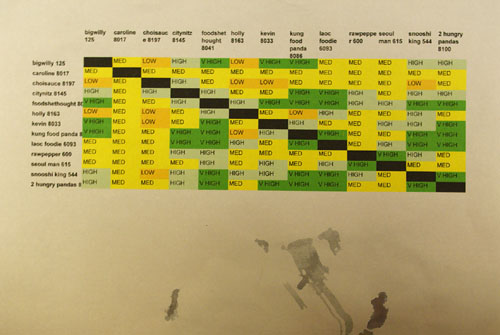 The meal began with a discussion of
FoodDigger's
revised Flavor Match algorithm, which strives to match the food preferences of the site's users to create more meaningful restaurant review results. The newest results are shown in the matrix above; click for a larger version. I've summarized the matches in the table below, and have also reprinted the relevant results from the last event at
LudoBites
.
Note that
Sarah
is conspicuously absent, as she did not answer the Flavor Match questionnaire in time. Note also the correlation between new and old matches--I'd say that the new version is a bit more true-to-life.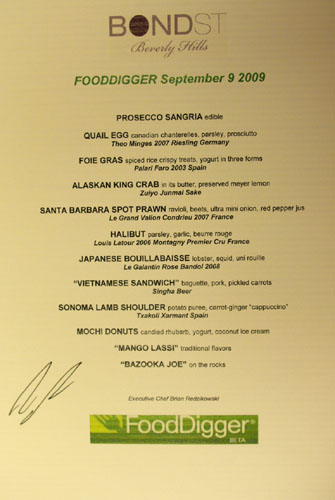 Above, we see the special 12-course
FoodDigger
degustation--click for a larger version. Apparently, Redzikowski is working on incorporating a daily tasting menu into BondSt's carte. Wine pairings were graciously provided by the FoodDigger staff, with Brian specifically taking the lead as sommelier.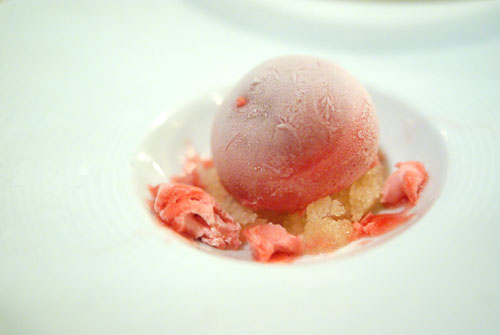 Amuse Bouche: Prosecco Sangria
| edible
We started with a course that Redzikowski had
been developing
the week prior
to the event. It was a reimagined sparkling wine sangria, made from Rainier and Bing cherries, along with yuzu and lemon. The "sphere" itself was expectedly saccharine, and slightly creamy in fact, with a fascinating soft, dense consistency. It was balanced nicely by the light, tart citrus granita, though I would've preferred a stronger tinge of Prosecco to counter the abundant sweetness.
Liz
thought that it'd make a great intermezzo, a pre-dessert or palate cleanser, and I'd agree with her.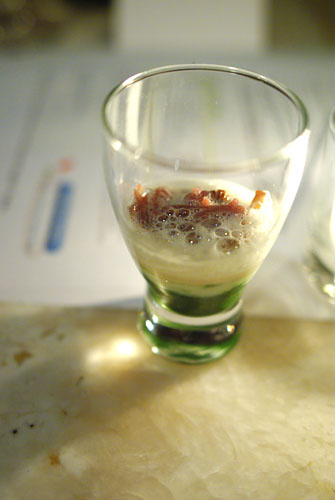 1: Quail Egg
| canadian chanterelles, parsley, prosciutto
Theo Minges 2007 Riesling Germany
Next was one of the table favorites: chanterelle mushrooms in chanterelle foam, on quail egg, with Prosciutto di Parma, on top of parsley purée. It was a multilayered, multifaceted affair, with the parsley coming in on the attack, which then gave way to the saltiness of the ham and earthiness of the mushroom, before leading to the creaminess of the egg, finally finishing with the bracing herbaceous tang of parsley. The key here was the vegetable, which effectively cut the gravity of the Prosciutto and chanterelles, though perhaps it was a touch too strong. Interestingly,
Christine
mentioned that the dish reminded her of the escargot at LudoBites.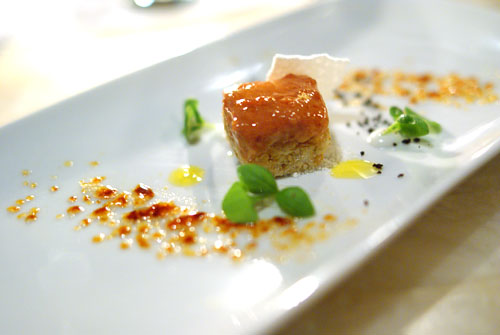 2: Foie Gras
| spiced rice crispy treats, yogurt in three forms
Palari Faro 2003 Spain
Overly-sweet foie gras is a bane of mine, so I was naturally concerned when this came out: caramelized and seared foie gras over a Rice Krispies square, with lemon pepper, cacao, basil, and a yogurt three-way (plain, powder, and chip). It was quite sugary in fact, but I think that it was so sugary that it actually made the dish work! The Rice Krispies treat, with its subtle spice, was a superb accompaniment to the foie, both in terms of taste and texture, seemingly simultaneously supplementing, yet subduing it. The course was almost dessert-like initially, and it was only on the late midpalate that the essence of liver began to show its face, resulting in a long, lingering finish of foie.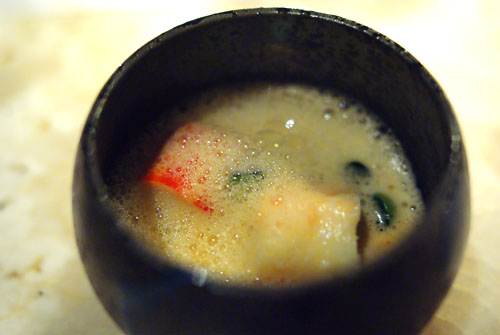 3: Alaskan King Crab
| in its butter, preserved meyer lemon
Zuiyo Junmai Sake
This was one of my favorites: king crab cooked in crab butter (innards), with meyer lemon. After enjoying the crab's heady bouquet, I first tasted the natural sweetness of the crustacean, which then gave way to an intense, briny savoriness, accentuated by the citrus. Superb texturally as well, with the crab's flesh firm, yet yielding, breaking apart upon mastication.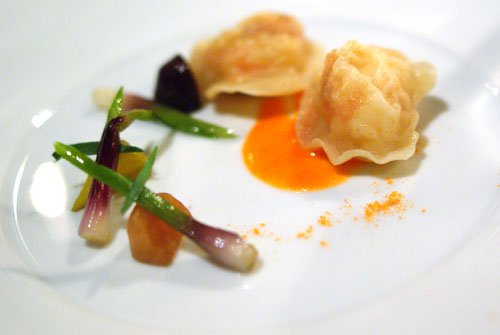 4: Santa Barbara Spot Prawn
| ravioli, beets, ultra mini onion, red pepper jus
Le Grand Vallon Condrieu 2007 France
Another strong course. Here, I first tried one "raviolo" by itself, and appreciated the natural sweetness of the shrimp, along with the pasta's crispy skin. Next, eating everything together, I enjoyed how the prawn's sapor was finished by the marked spiciness of the chili jus, and how the onion provided a distinct levity and tang to the dish.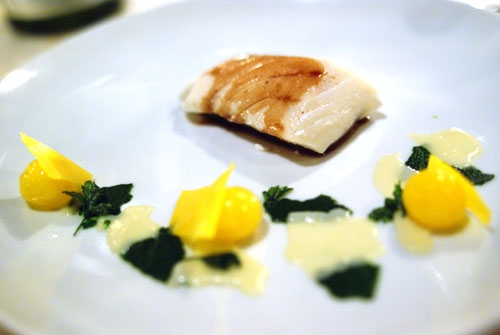 5: Halibut
| parsley, garlic, beurre rouge
Louis Latour 2006 Montagny Premier Cru France
Next was a lovely halibut, prepared sous vide, doused with Cabernet sauce, and served with compressed eggs and parsley/garlic chips. I quite liked the fish's flaky, somewhat buttery texture, as well as its mild, delicately briny smack. The egg yolks were great in adding creaminess and weight to the halibut, while the parsley formed a fitting vegetal contrast.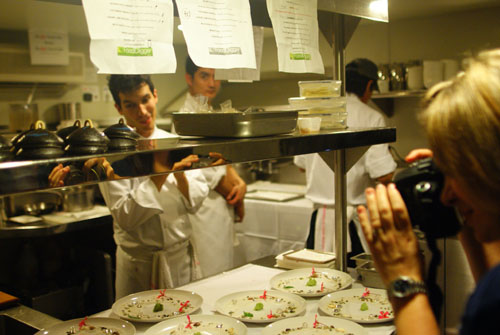 At this point in the meal, we took a brief intermission as Will took us to see the "kitchen," which Redzikowski described as a "closet." It couldn't have been more than 200 square feet, but utilizing the the main kitchen, on the ground floor, just wouldn't have been feasible.
Two turntables and a microphone?
More like two induction burners and an immersion circulator.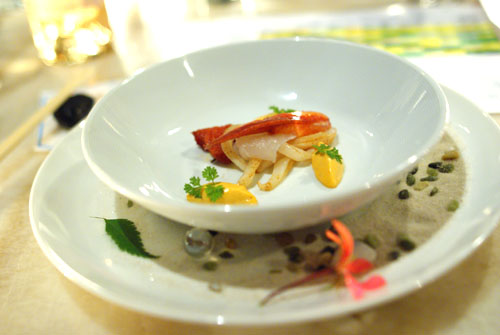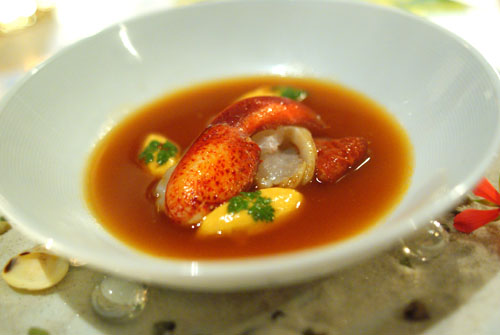 6: Japanese Bouillabaisse
| lobster, squid, uni rouille
Le Galatin Rose Bandol 2008
Here we have one of the restaurant's most vaunted dishes: a Japanese-style bouillabaisse with shrimp, squid, lobster, whitefish, and quenelles (a term that humorously flummoxed one of our servers) of sea urchin rouille, in a red pepper-based broth. I loved the dish's positively intoxicating aroma, saturated with the essence of the sea. This continued onto the palate, where I was able to enjoy the flavor of each of the various types of seafood presented, all deftly cooked. Furthermore, the rouille and broth created a fantastic, fiery foil to the other ingredients, and I eagerly drank down the left over soup, imbued with the briny essence of the seafood. I also appreciated the presentation, with the use of sand, stones, and other tchotchkes reminiscent of some of the plating I've seen at
Joël Robuchon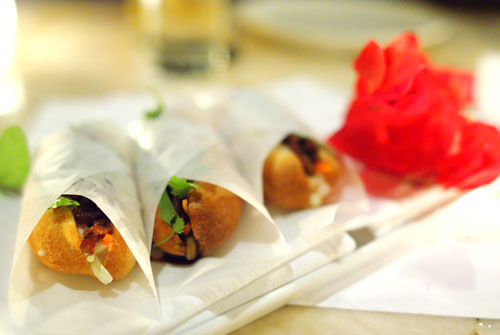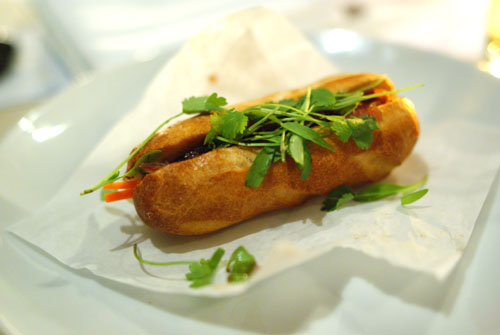 7: "Vietnamese Sandwich"
| baguette, pork, pickled carrots
Singha Beer
If you've been following the chef on
Twitter
, you'd've seen that this was a dish he'd been
working
on
for
some
time
. It was also the item that I was most looking forward to. Basically Redzikowski's interpretation of the classic Vietnamese
banh mi
sandwich, it consisted of soy-cured pork, hoisin, daikon, carrot, cucumber, cilantro, and serrano chile, all on a housemade mini-baguette. The meat itself was robust indeed, and further elevated by the sweet and spicy hoisin. However, it was superbly contrasted by the tart, crunchy pickled veggies, and the cilantro especially. Though Redzikowski's
banh mi
didn't stray too far from the original, it was nevertheless quite delicious; my only quibble was that the baguette could've been softer.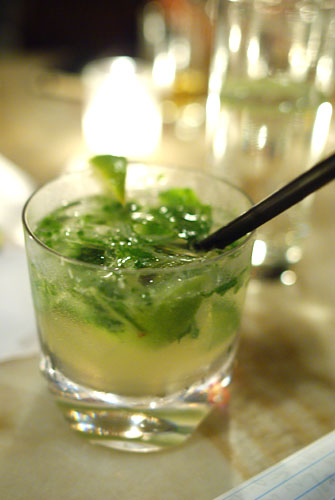 Before our final savory course, we took a quick trip to the bar, where I ordered up my classic Mojito (10-Cane Rum, Fresh Lime, Sugar, Mint & Club Soda), a solid though not stellar version.
Holly
had The Cartel (Belvedere Orange, Orange Juice, Cranberry Juice, Muddled Jalapeno, Sugar Rim), which was much more interesting, with a rather intense fire that persisted on my palate for nearly a minute.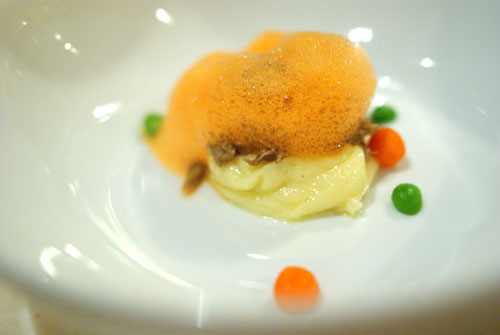 8: Sonoma Lamb Shoulder
| potato puree, carrot-ginger "cappuccino"
Txakoli Xarmant Spain
And now, lamb shoulder, over potato purée, topped with a ginger-carrot foam. The lamb itself was superb--tender and supremely flavorful, it was reminiscent of a braised preparation. It easily stood on its own, but I also liked the sweet-spicy counterbalance provided by the foam, as well as the tempering effect of the potato.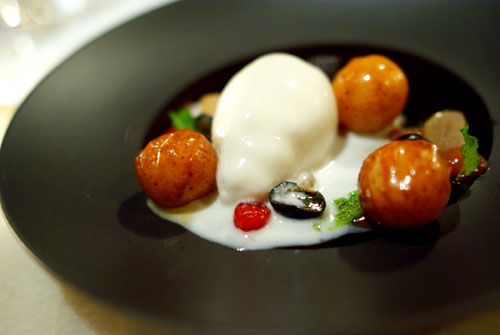 9: Mochi Donuts
| candied rhubarb, yogurt, coconut ice cream
Domaine de Piaugier Sablet 2007 France
And now, for our first dessert: Redzikowski's famous mochi donuts. Their fame is well deserved; the mochi was heavy, dense, chewy, with a sweet, rich, delectable sapor (must be the ricotta in there). They were fun to eat alone, but even better with the coconut ice cream and yogurt, which formed an effective counter to the gravitas of the mochi. Excellent.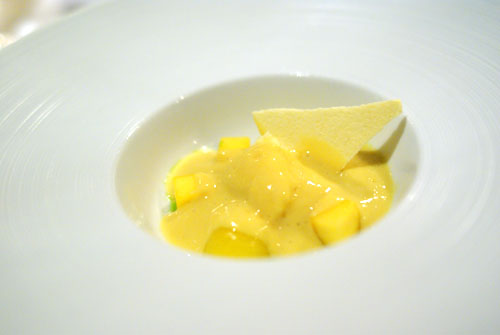 10: "Mango Lassi"
| traditional flavors
Apparently, the mango lassi is one of the chef's favorite libations. It's originally a South Asian concoction, a yogurt-based drink mixed with cream and mango. Redzikowski's version uses mango chip, mango gelée, and mint oil, along with a yogurt sponge. The end result recalls the classic lassi, a refreshing blend of sweet and tart, though I would've liked a bit more yogurt to balance things out.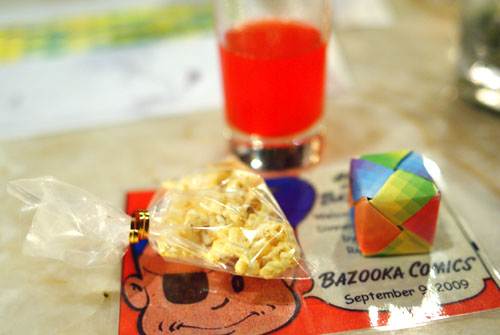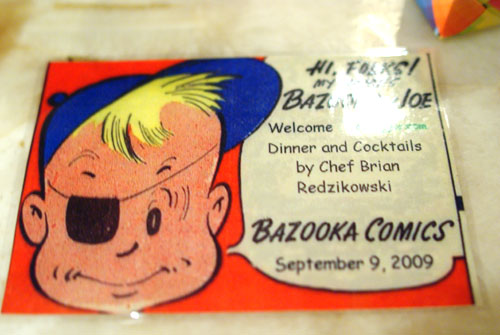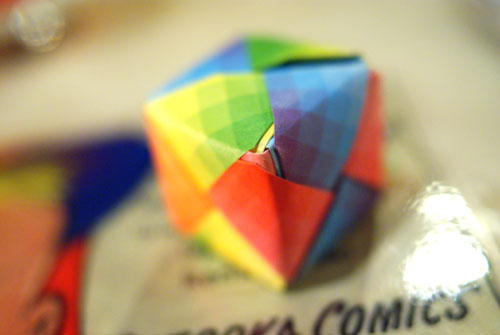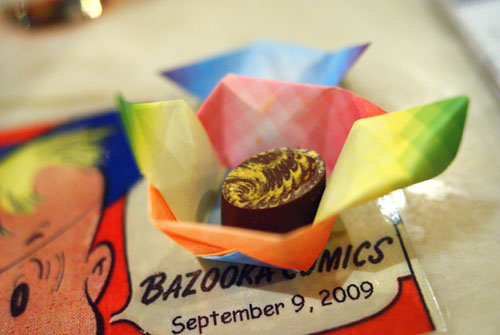 11: "Bazooka Joe"
| on the rocks
We finished with a troika of treats. First up was the vermilion-tinted Bazooka Joe shot, made with strawberry, rhubarb, and Veev (and acai-based spirit); it mimicked the flavor of bubble gum, reminding me of Big Red soda in fact. Next was the curry popcorn, which was superb: think popcorn, but with a subtle curry kick;
Christine
went through several bags! Last was the strawberry bonbon, wrapped in an origami-inspired paper box.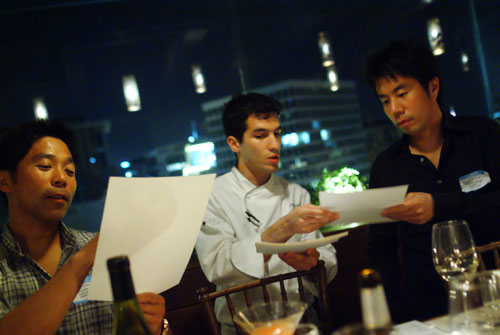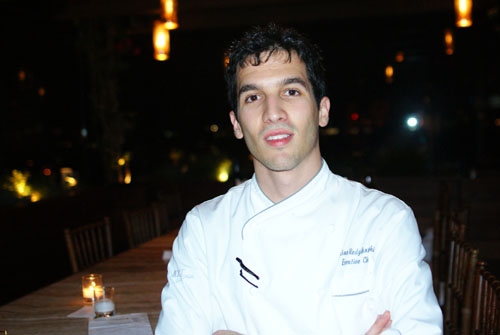 After the meal, Chef Redzikowski came out to chat with us for a while, also handing out and signing the menus.
With Redzikowski at the helm, I expected a unique, fun dining experience, and I got just that. With his considerable pedigree and experience, Redzikowski has successfully managed to blend French, Asian, Californian, and even molecular techniques here, creating dishes that are a departure from the norm, exciting, and even a bit avant garde, though I think he's still maturing as a chef, still defining his style, with room to grow. Since taking over the kitchens at BondSt, Redzikowski has made significant progress in erasing the mistakes of years past, and from what I've read, has been able to nearly double the number of reservations made at the restaurant--I can see why. After being panned by foodies and critics alike, let's hope that BondSt can survive and prosper under Redzikowski's newfound leadership.