Izayoi (Los Angeles, CA)
Izayoi
132 S Central Ave, Los Angeles, CA 90012
213.613.9554
www.fooddigger.com/RestaurantDetail.aspx?id=20900 (FoodDigger, restaurant has no web site)
Wed 08/26/2009, 07:50p-10:50p
Izayoi's story begins with its owner and head chef, Junichi Shiode, who previously helmed Sushi Ryo, a well-regarded, but not particularly bustling place in Hollywood. Though a favorite of those in-the-know, Shiode-san shuttered Sushi Ryo and reincarnated the place as Izayoi in June of 2005. Izayoi is considered an izakaya, basically a Japanese restaurant primarily focusing on small plates, or "tapas"-style food meant to be eaten while drinking (alcohol). It's a relatively uncommon concept here in the States, but has been catching on in recent years.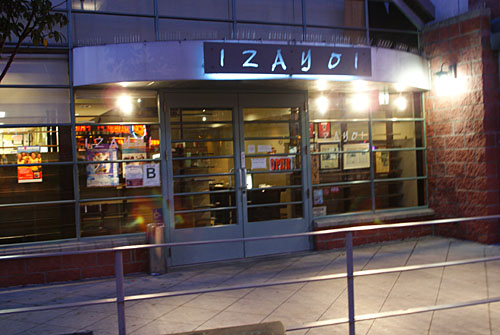 Located in the heart of Little Tokyo, Izayoi is situated along a row of modern-looking storefronts, right next to a Quizno's. Catty-corner is infamous yakitori-ya
Kokekokko
, which just happens to be one of Shiode-san's favorite restaurants. Parking is free in the nearby Office Depot lot. Note the "B" rating, par for the course for Chinese joints, but rare among Japanese eateries.

Inside, the room is split between a large, open kitchen-
cum
-sushi bar and table seating. It's a fairly austere, but comfortable, environment.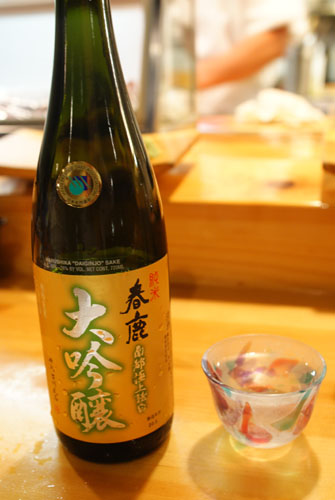 To drink, we started with the Harushika Junmai Daiginjo sake, which was brought by Dason, a reader of mine whom I'd met the previous night at
Providence
. Harushika means "spring deer," and is a 50%
seimaibuai
sake from Nara Prefecture. It was soft, smooth, and easy-drinking, with a light fruitiness over a backbone of sweet rice--quite delicious. I'd had Harushika's namazake previously at
Urasawa
, and their junmai at
R23
; both were positive experiences.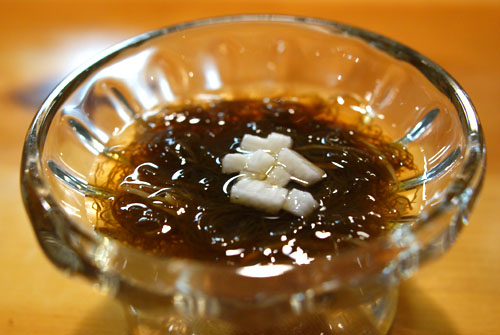 1: Mozuku
This was my first experience with
mozuku
, a type of seaweed primarily from Okinawa. It had a very fine, very stringy consistency with a bit of crispness to boot, and was served here in a transparent, slimy, gelatinous mass. Flavor-wise, the
mozuku
was sweet and briny, with a delightful finish of ginger. A nice start to the meal.
2: Mixed Green Salad
We moved on to a light, refreshing salad. I appreciated its slightly bracing tang and crunchy texture, along with its simultaneously sweet and savory flavor. The most interesting part of the dish, though, was the use of slivers of
you tiao
, or Chinese-style fried breakfast doughnuts, which added a palpable weight to the salad.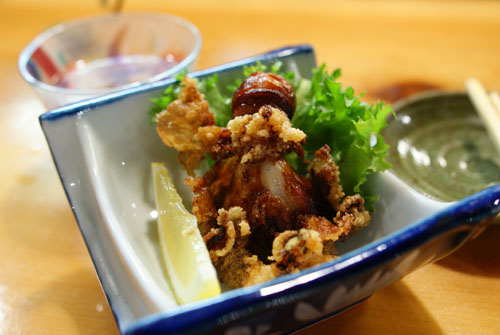 3: Idako
This was fried baby octopus from Japan. Initially, I tasted the crisp, rich, savory, oily crust, but this then gave way to the chewy, subtly sweet flesh of the octopus, which was immensely satisfying. Superb.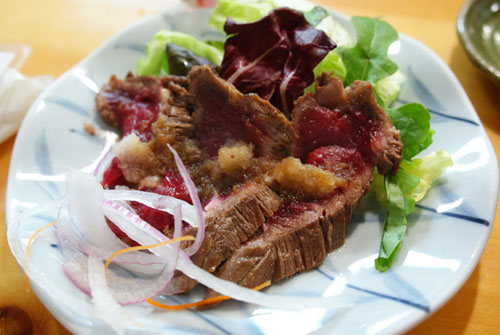 4: Beef Tataki
A presentation of seared beef filet sashimi, accompanied by onion and
daikon oroshi
. The meat itself was actually quite mild, so the key was to experience the contrast between the tangy onion and sweet daikon over the canvas of beef.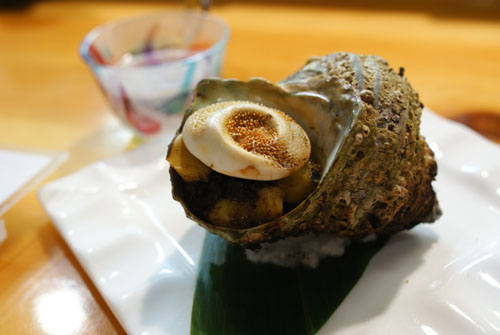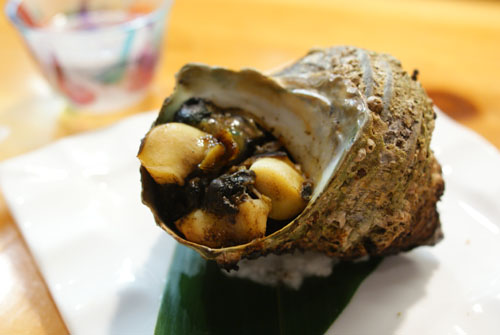 5: Sazae Tsuboyaki
This was a first for me:
sazae
, or turban shell, a type of sea snail. Here, it was done
tsuboyaki
-style, grilled in its own shell with kombu. I'll admit that it was a rather intimidating-looking dish when it was brought out, and note the large calcareous operculum "door" to the shell, removed in the second photo. The
sazae
's flesh was snappy, sweet, and slightly briny, with a bit of savory char flavor as well. I also had the snail's innards, which were mildly bitter; the entrails' strong taste was tempered by the use of kombu, which lent a great, vegetal tang to the entire dish.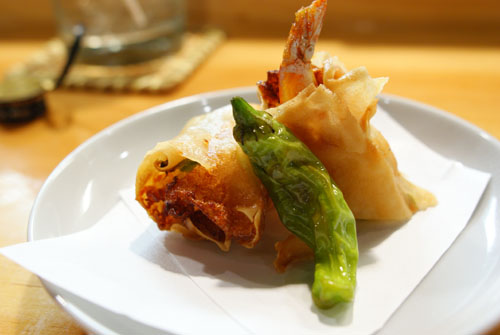 6: Ebi-Jalapeno Spring Roll
Taken by itself, the shrimp was sweet, soft, and nicely contrasted by the roll's crunchy wrapper. However, the key here was the jalapeno and the hot dipping sauce, both of which accented the shrimp's sweetness beautifully with a distinct spiciness. One of the best egg rolls I've had.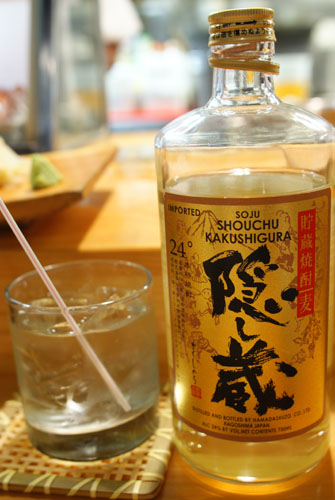 With our sake dispensed with, it was time to move on to the harder stuff: shochu, specifically the Kakushigura Mugi barley shochu from Hamada Shuzo brewery in Kagoshima [$42]. Aged in oak, which explains the drink's golden tinge, it had a woody, smoky, earthy aroma that was distinctive yet smooth, almost reminiscent of whiskey in fact. Here, we had it on the rocks, as well as mixed with oolong tea.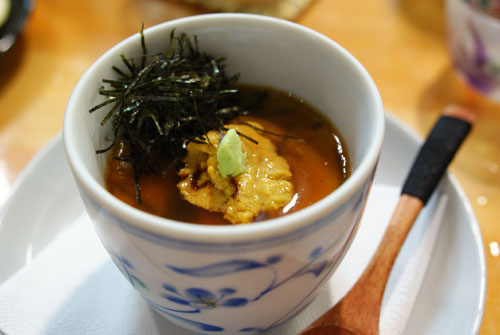 7: Cold Chawanmushi
Just in time for summer was this refreshing chawanmushi, served cool, containing egg, chicken, shiitake, uni,
kamaboko
(fish cake), fresh wasabi, and nori. It was definitely one of the better chawanmushis I've had, with the chicken adding a superb textural play and gravity to the dish, while the wasabi provided an excellent counter to the creaminess and weight of the egg.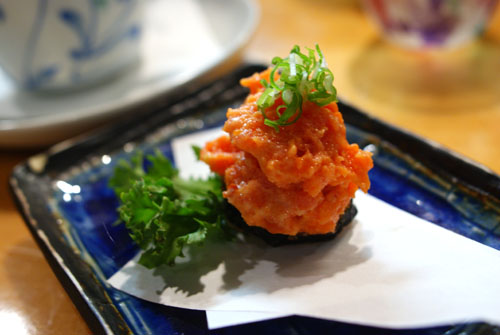 8: Spicy Tuna
The following bite was spicy tuna tartare, topped with scallion, atop a crispy rice cracker. A seemingly pedestrian dish, it was nonetheless delicious. I first was able to experience and enjoy the mild creaminess of the tuna, with the heat coming in only later on the lingering finish. The rice cracker, meanwhile, proved a superb textural contrast.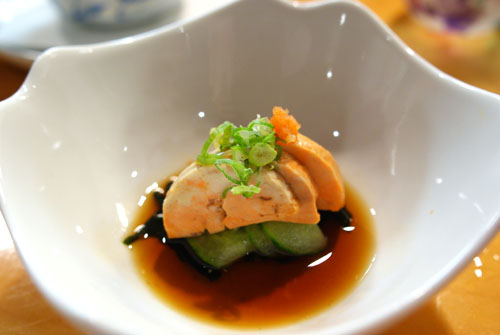 9: Ankimo
Ankimo, or monkfish liver, accompanied by scallion,
momiji oroshi
, kombu, and cucumber. This "foie gras of the sea" was noticeably milder than most, with a slight brine that was countered by the cool, crisp cucumber.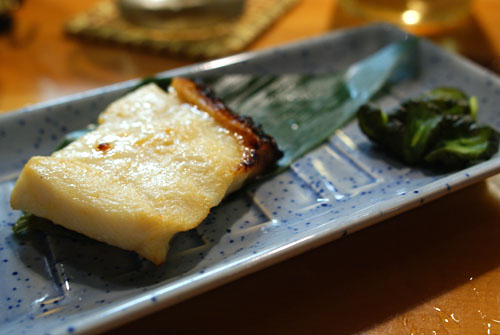 10: Chilean Sea Bass
Though I'm not a huge fan of Chilean sea bass, I did enjoy this preparation, marinated in miso. This gave the fish a slightly sweet flavor to go along with its unctuous, oily savoriness and supremely flavorful skin. At the same time, the tart pickles were key in balancing the weight of the soft, tender flesh. It actually reminded me a lot of Nobu's world-famous miso-marinated black cod.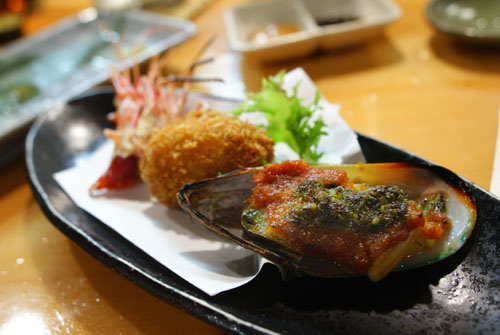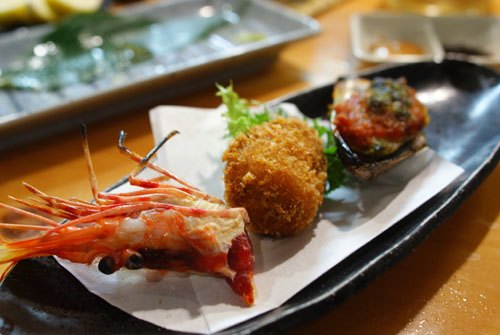 11: Mussel, Croquette, Shrimp Head
Our last course before the sushi gauntlet was this troika, served with two condiments: a tonkatsu sauce and a ketchup/mayo/honey sauce. I started with the mussel, baked in tomato sauce. The sauce added a significant gravity to the mollusc, tempering its brine with a marked sweetness. Next up was the shrimp croquette, my favorite of the trio: creamy, sweet, soft, with lovely chunks of shrimp interspersed within. Finally, we had shrimp heads, briny and sweet, with the body to be served next.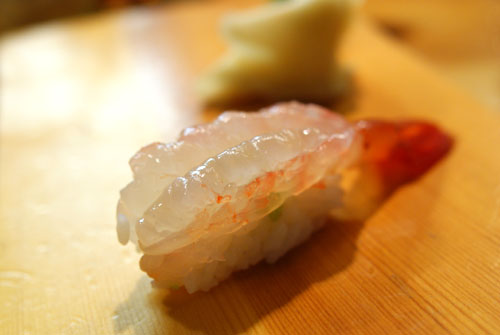 12: Amaebi
We had the head, now we have the body. This was basically your archetypical amaebi--snappy translucent flesh, lightly salty, subtly sweet, heightened by a finish of wasabi. Quite good.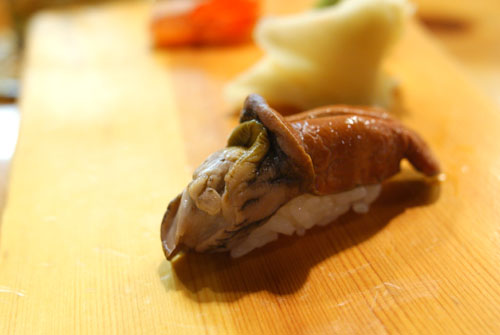 13: Sazae
Remember the
sazae
above? Before, we ate the body of the snail, now we'll consume the rather funky-looking foot. It was exceedingly crunchy, almost rubbery in fact, and had a very briny, ocean-y flavor that was fortunately countered by wasabi.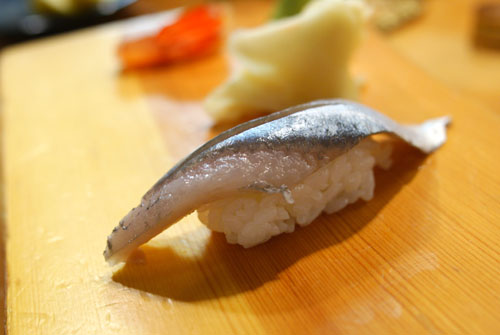 14: Sanma
A.k.a. pike mackerel, this is something I'd only had before at
Urasawa
. However, while Hiro-san "grills" the fish with a hot, long rod, the sanma here was served completely raw. It was delicious, with a prominent, yet delicate fishiness.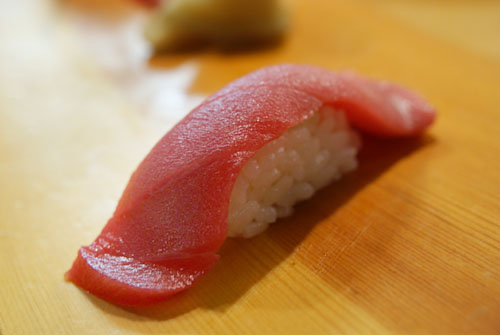 15: Toro
This looked quite dark for toro, so I was pleasantly surprised when I found that it was super soft, melt-in-my-mouth almost, and quite unctuous, though it wasn't as rich or as oily as the best toros I've had. Still, it was rather tasty.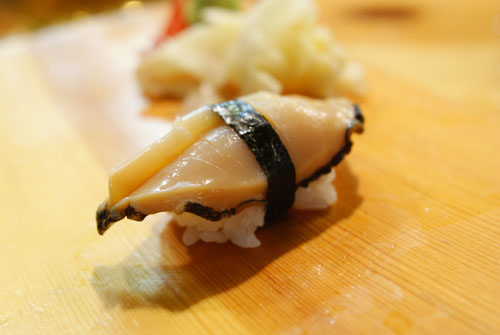 16: Awabi
Though the awabi here looked like that from
Go's Mart
, it didn't have Go's divine texture, being quite a bit crunchier. Nevertheless, it did have a brackishly sweet flavor to it, and went superbly with the rice.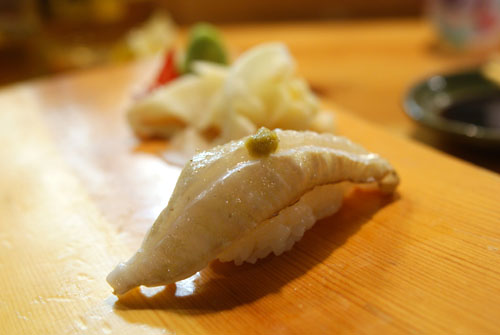 17: Engawa
Engawa is a relatively rare item, one that I've only had before at
Sasabune
and
Sushi Zo
. It's basically halibut fin muscle, normally a tougher cut of the fish. This preparation, however, was surprisingly tender, with a great sour/salty tang thanks to the
yuzu kosho
. Impressive.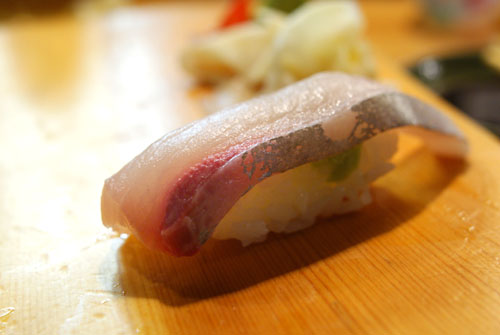 18: Kanpachi
Up next: kanpachi, or amberjack. In terms of taste, it was fairly typical, with a clean, mild flavor accented by the fire of wasabi. It was more impressive texturally, with a creamy, yet subtly snappy body.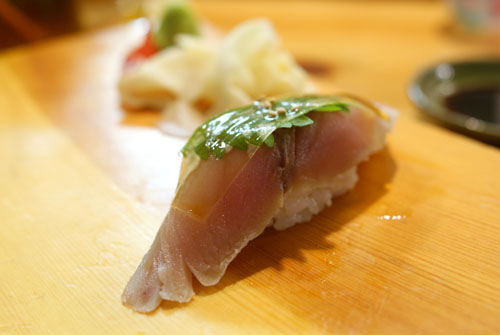 19: Saba
This was mackerel from Japan, topped with kombu. Though saba can often times be an assertive-tasting fish, it was tempered significantly here by the seaweed, which resulted in an almost sweet flavor to the sushi.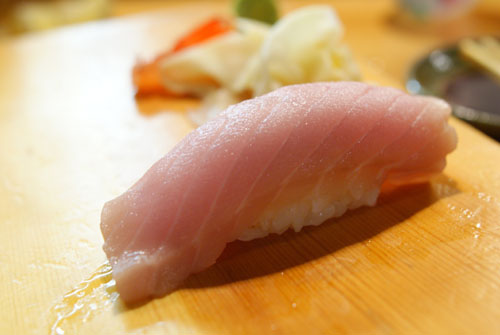 20: Shiro Sake
Now here was a first for me: "white salmon" from Alaska. Also known as "ivory salmon," it's a type of King salmon with an extra enzyme that can process the carotene that normally collects in and colors a salmon's flesh. It was quite a different beast indeed, with a much heavier, heartier complexion, but blunter, milder taste.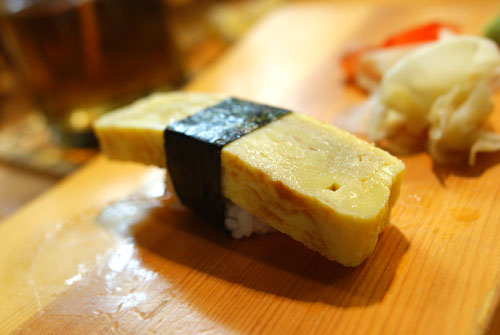 21: Tamago
Tamago in the middle of the meal seemed a bit strange, but we went with the flow. It was a cold, dense version, with your prototypical sweetness, but also possessing a great seaweed tang.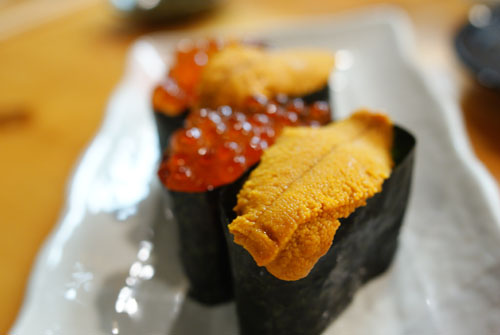 22: Uni, Ikura
Ikura and uni--egg and egg. Apparently, the combination originated from Hokkaido's famous
uni ikura don
rice bowl, and took off from there. I first tried the uni, from Santa Barbara, which was cold and briny, not quite as sweet or as creamy as I'd prefer. Next, the globules of salmon roe hailed from Alaska and exploded in my mouth with a pleasant pop, a burst of intense saltiness--not bad.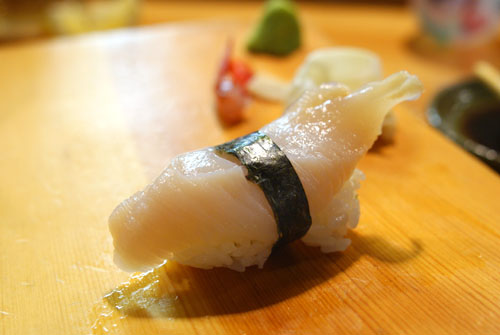 23: Mirugai
Next was mirugai, a.k.a. giant clam or elephant trunk clam. It was a bit crunchier than usual, but not too tough, still satisfying. In terms of flavor, it had a mildly briny smack, backed by a pleasant sweetness, finished by the flavor of the sushi's nori wrapper.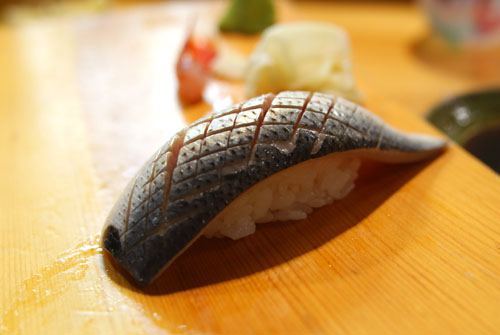 24: Kohada
Kohada is also known as Japanese gizzard shad. It was an oily, bold, robust fish, with an aggressively-flavored skin, and great, firm consistency. Note the beautiful cross-hatch pattern on the skin.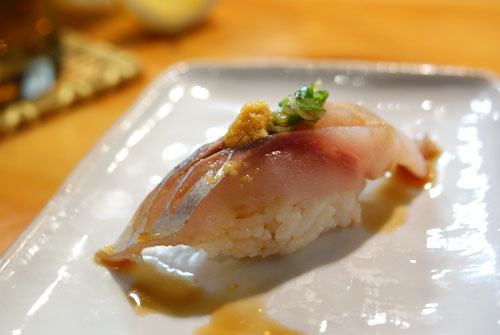 25: Aji
Aji, or Spanish mackerel, with the typical accoutrements of scallion and ginger. They're typical for a reason though--they provide a perfect balance to the flavor of the fish.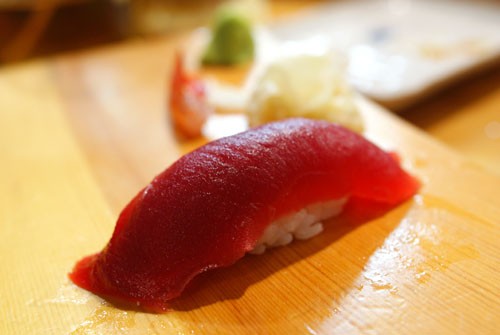 26: Maguro
Tuna, from South America. This was basically your standard maguro--it was certainly enjoyable, with a beatiful carnelian color, but didn't stand out in terms of taste.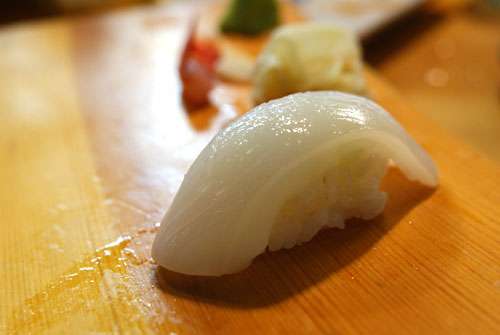 27: Ika
Next was squid from Japan. This had a creamy, sticky consistency that I expect from squid, along with a mild, soft flavor that was heightened by wasabi.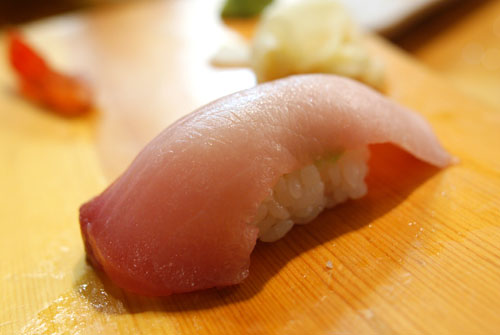 28: Hamachi
Our final piece of nigiri was yellowtail, perhaps the most common sushi ingredient out there. It used to be my favorite, back when I was a sushi neophyte, but has steadily fallen out of favor. The example here was heavy, dense, with a mild, indistinctive flavor.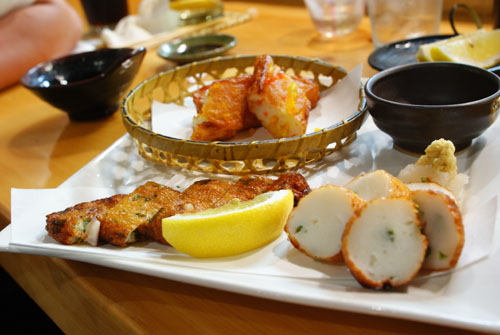 29: Fish Cake
With the sushi dispensed with, it was back to the cooked dishes, starting with this lovely selection of three different types of fish cake, paired with three accompaniments: daikon/wasabi, lemon, and a spicy dipping sauce. Given that I'm a fan of fish cake in general, I quite enjoyed their subtle sweet, yet slightly varying flavors. My favorite was the one in the lower-left, with its delightful vegetal tang finished with a touch of sour lemon.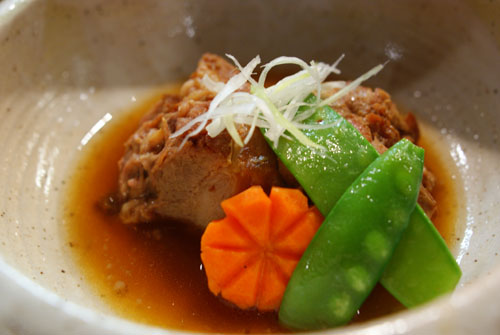 30: Kurobuta Kakuni
Following was Kurobuta pork belly, simmered in an admixture likely containing dashi, mirin, sake, soy, and sugar. As a result of the dish's long braising time, it was expectedly tender, rich, fatty, and flavorful, with a sweet yet savory smack mitigated by the lightness of the paired vegetables.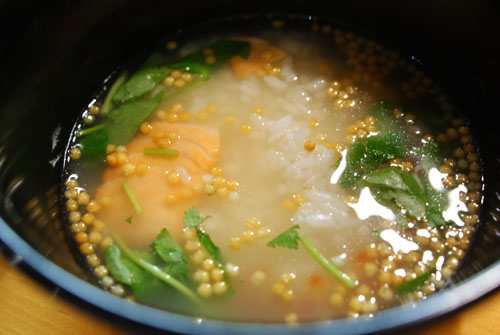 31: Ikura-Sake Chazuke
For our last savory course, we were given chazuke (or ochazuke), basically tea poured over a mix of ingredients--rice, seaweed, salmon, and salmon roe in this case. The salmon was fantastic when eaten with the seaweed, while the ikura provided a counterbalancing briny tang. Overall, a hearty, heartwarming dish that formed a fitting close to the meal.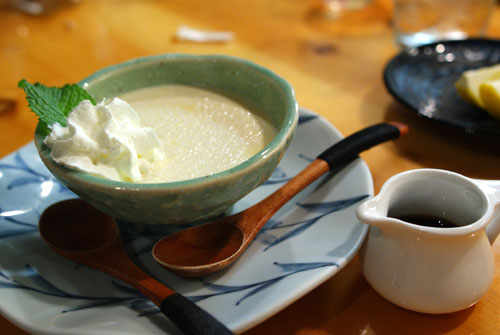 32: Goma Pudding
Our first dessert was this sesame pudding, served with black tea syrup. Eating the pudding alone, I noted a very strong, very pure essence of sesame. Pouring on the syrup elevated the sugar factor significantly.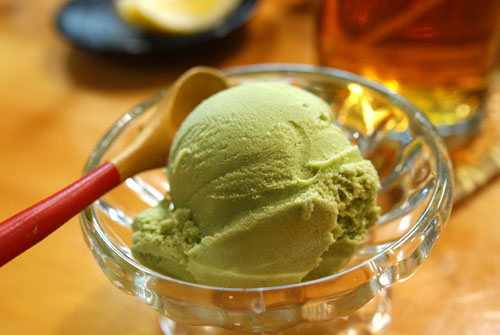 33: Matcha Aisu Kurimu
And now, for some green tea ice cream. This particular example was housemade, and was quite sweet on the attack, with the tinge of tea coming in only on the midpalate. Very good.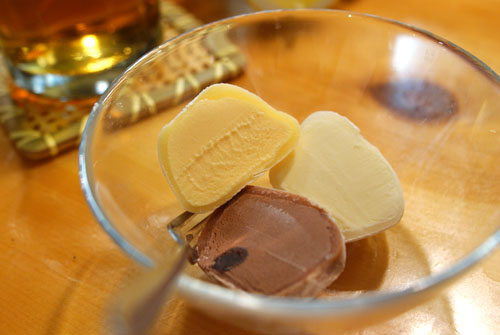 34: Mochi Aisu Kurimu
Finally, the ubiquitous mochi ice cream, here in chocolate, mango, and vanilla versions.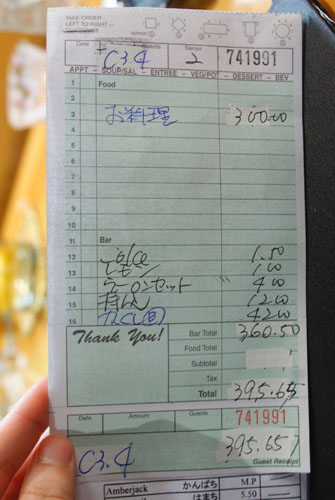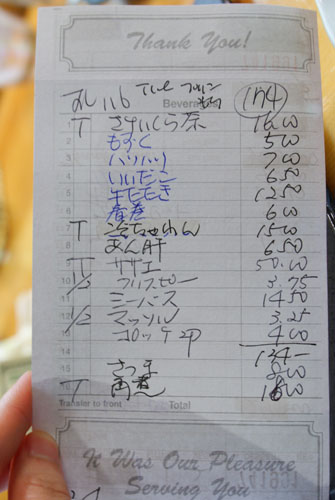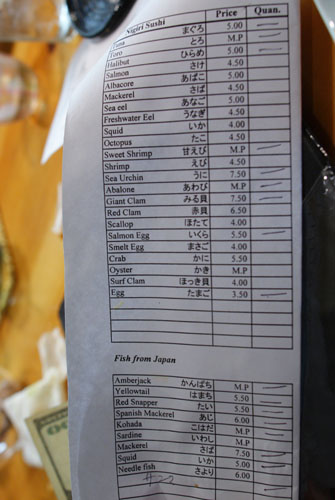 I couldn't make sense of the bill, but the bottom line was that the omakase here came out to $150 per person, higher than I expected, but not too bad given the
Urasawa
-level length of the meal.
Overall, I came away pretty satisfied with Izayoi. It's a fun place, with competent sushi to be sure, but the real excitement comes with the diversity of fare here: traditional izakaya-inspired food with Shiode-san's unique touch. Give it a shot if you're looking for something else besides mere sushi.