Kagaya (Los Angeles, CA)
Kagaya
418 E 2nd St, Los Angeles, CA 90012
213.617.1016
kagaya.dla.menuclub.com
Tue 08/10/2010, 07:50p-11:20p
"Masato Kagaya, 39, owner of a restaurant in Little Tokyo, and Masaho Hirahara, 49, of Kanagawa, Japan, were charged with smuggling $92,000 worth of Kobe beef into the United States."

Clearly then, chef/owner Masa Kagaya is a man serious about his beef, which may explain why his eponymous 16-year-old restaurant is considered the priciest shabu-shabu house is all of Southern California. It may also explain why it's considered
the best
.

Inside the smallish restaurant, diners have the choice between counter and table seating. Note that tables share one communal hot pot (possibly an issue if one doesn't want seafood mixed in with beef), whereas counter patrons enjoy individual burners. The space fills up pretty quickly, so reservations are recommended.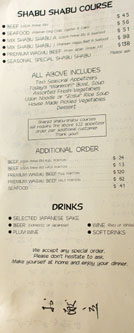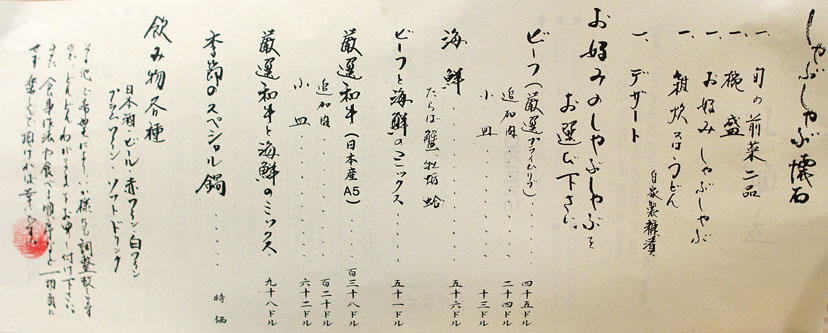 Above, we see the menu, in English and in Japanese. Note the huge disparity (over 3x) in prices between the American beef and Japanese wagyu (from Miyazaki). Interestingly, at one time, Masa-san also offered a "regular" wagyu option as well, but given that it wasn't all that much cheaper than the "premium," I guess he determined that it was a bit redundant. There's also a "seasonal special" offered: a live Alaskan king crab that I hear is pretty spectacular. Click for larger versions.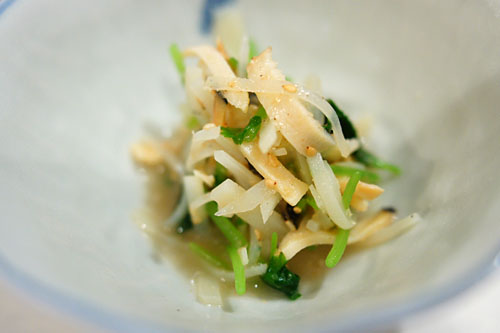 Mushi Awabi
Given Masa-san's extensive training back in Japan, shabu isn't the only thing that he can prepare, as evinced in his trio of appetizers to start. We began with a small cup of steamed abalone. Nicely supple in consistency with a slight brine, it worked well with its crisp vegetable accompaniments, and I quite liked the nutty sesame dressing as well.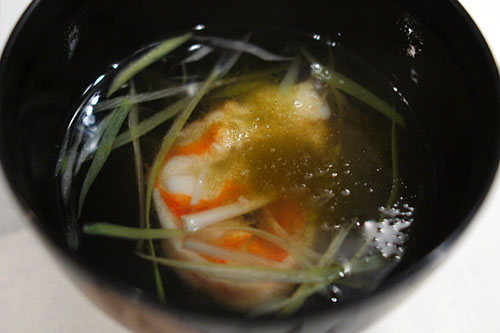 Yude Ebi Supu
Next up was a lovely boiled shrimp (
yude ebi
) soup, replete with a heady, briny bouquet that forcefully conveyed the essence of decapod. Tasting the crustacean, I appreciated its superb, snappy, supple texture and strong, salty savor, intensified by its seaweed accoutrement. At the same time, the broth itself was teeming with herbaceous, lemon-y flavors, and went beautifully with the shrimp. Yummo.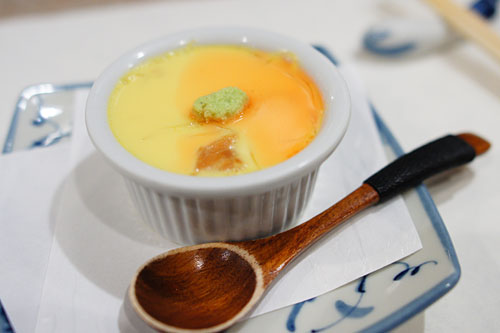 Fukahire No Chawanmushi
Being somewhat of an
egg slut
, I appreciate a good chawanmushi (steamed egg custard), but I'd never had one before that utilized shark's fin, or
fukahire
. The egg was tasty as usual, while the fin contributed a delightful crunch to the dish, giving the custard some stringy, gelatinous elements. Gorgeous wasabi finish here as well.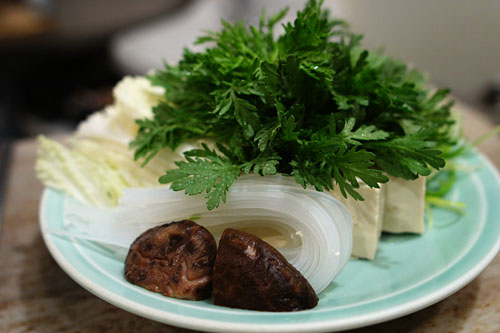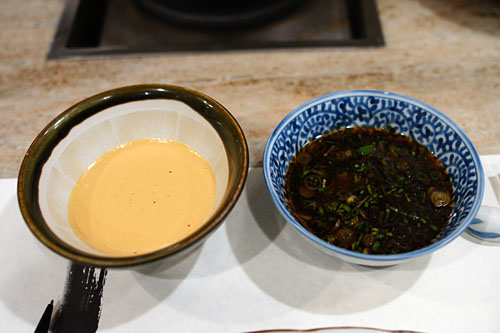 And with that, it was on to the "meat" of the dinner. We were subsequently brought a plate of shabu-shabu embellishments: Garland chrysanthemum leaf (
shungiku
), shredded green onions (
negi
), potato starch cellophane noodles (
harusame
), shiitake mushroom, tofu, and napa cabbage (
hakusai
). The light shabu broth doesn't contribute much flavor to the beef, so dipping sauces are a must. The duet here included a citrus-tinged ponzu and a nutty, almost peanut-esque
gomadare
(sesame sauce).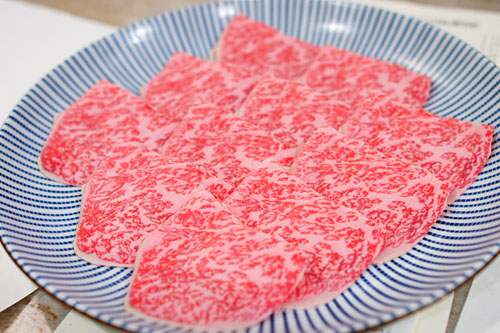 Premium Wagyu Beef (from Japan, Grade A5) [$138.00]
Beef (USDA Prime Rib) [$45.00]
And now, what we were all waiting for:
the beef
. We ordered one of each type in order to compare and contrast. Now, the standard USDA prime was nicely marbled, but the wagyu was just
ridiculously
marbled. Given the glaring disparity in appearance, it's not surprising that the two tasted distinctly different. Both were delicious, but the wagyu was noticeably fattier, more buttery, with a softer, silkier consistency and more sensuous mouth feel. The USDA prime wasn't nearly as decadent, but demonstrated a "purer" beef flavor. It actually didn't give up much vis-a-vis the wagyu, so for my money, this would be what I'd go for most of the time.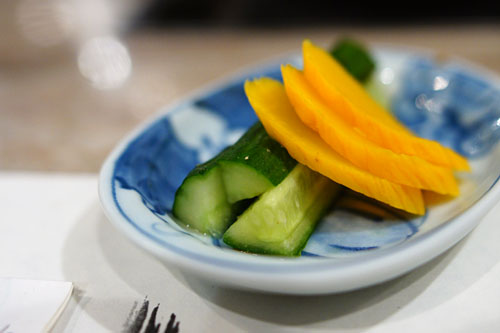 But wait, there's more
. In preparation for the rice/noodle course to follow, we were given some housemade pickles: cucumber (
kyuuri
) and daikon (
takuan
).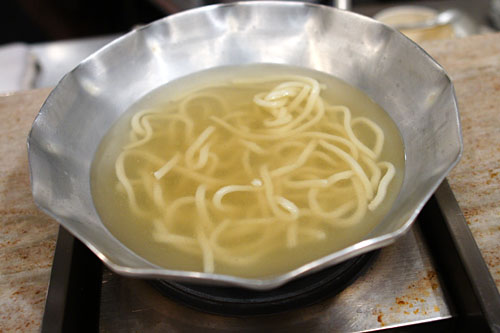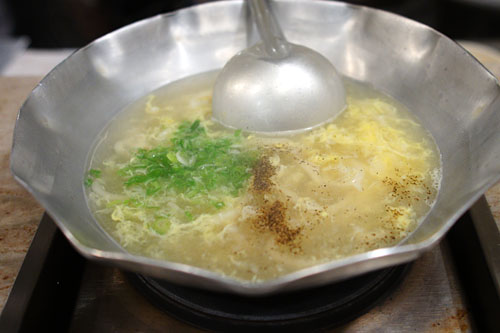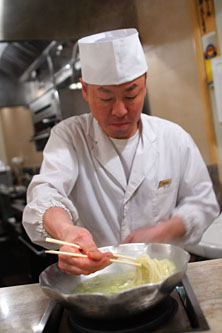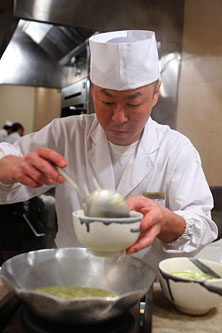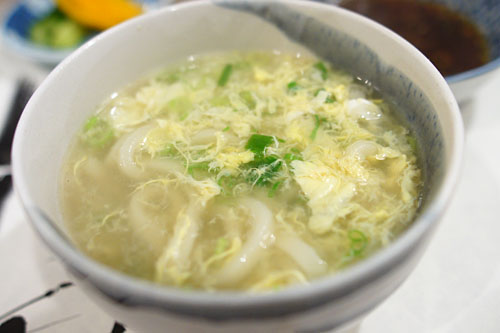 Udon Noodle Soup
You get a choice of noodles or rice, so obviously we had to try both (most people seem to prefer the rice, though). First up was the udon, which Masa-san (pictured) tarted up with green onion, egg, salt, and pepper. Hearty and satisfying.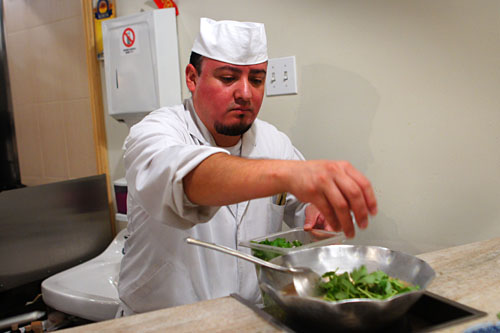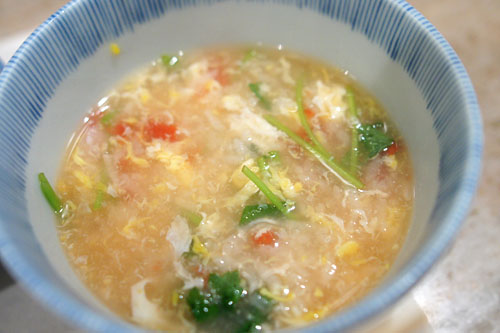 "Zosui" Rice Soup
Masa-san's assistant Victor prepared the rice porridge, which contained egg, ginger, cilantro, and plum (
umeboshi
). This was a more complex dish than the udon, with the plum adding a distinct sour-salty tinge to the soup that deftly complemented the rice.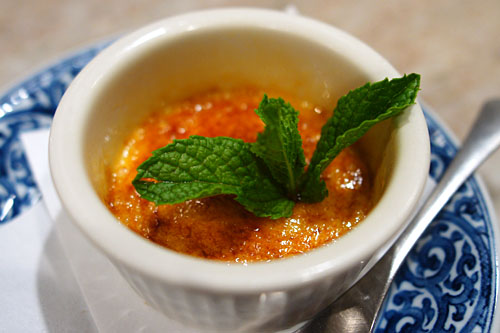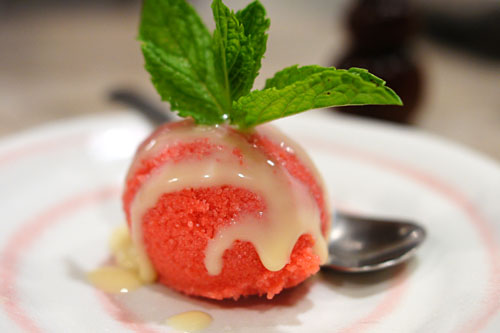 Crème Brûlée
Strawberry Sorbet
Diners are given a choice of desserts, and we went for the crème brûlée and strawberry sorbet. The brûlée showed off a pleasant vanilla tinge, while its hard, caramelized top contributed a marked char bitterness that aptly countered the sugariness of the custard. The most interesting aspect of this was that Masa-san doesn't use a blow torch to caramelize the dessert; rather he utilizes a sort of hot metal branding iron! The sorbet, meanwhile, showed off light, bright, and surprisingly natural flavors of strawberry, augmented by a drizzle of condensed milk. A bit icy, but very tasty.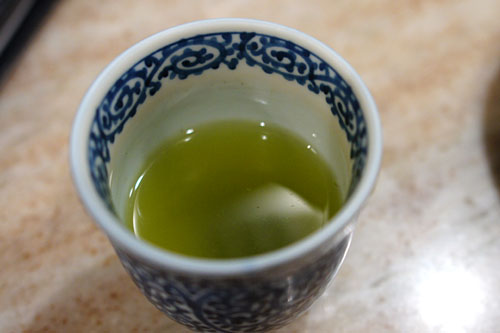 Green tea, of course, to close out the evening.
I'm not exactly a shabu-shabu connoisseur, so unfortunately I can't definitively say that Kagaya reigns supreme in LA. However, I am a
food
connoisseur, and I can say that this was a pretty damn good meal notwithstanding. You can tell that the kitchen puts a lot of effort into this typically humble cuisine. This extra care is apparent on the plate, and on the palate, and makes me willing to wager that indeed, Kagaya
is
the best shabu-shabu in town.
---
And now, for something completely different...let's rewind the evening for a bit. Due to unexpectedly light traffic on the way to DTLA, I arrived about a half-hour earlier than planned. So what do to with that extra 30 minutes...why not drop in at
LudoBites 5.0
?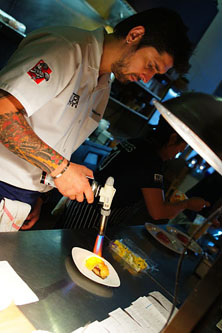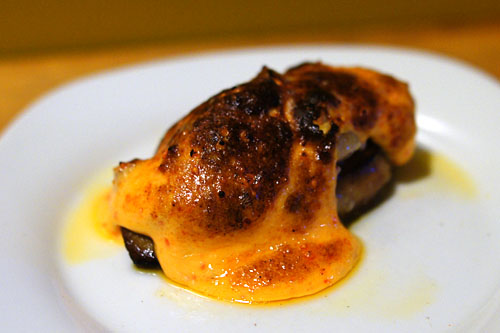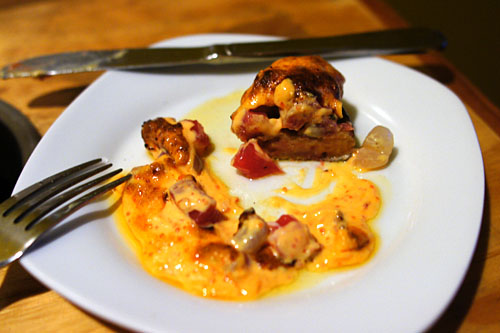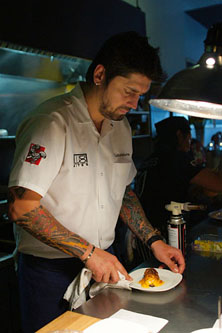 Hot Foie Gras, Dynamite, Tuna, Lychee, Crackers
Since I missed out on the foie during my
last visit
, Ludo was keen on giving me a taste of his newest duck liver creation, and I was eager to oblige. In the context of Japanese cuisine, "dynamite" refers to a dish (often a spicy tuna maki roll) slathered in a spicy mayo sauce, then quickly seared with a blowtorch. Here, Ludo applies that concept to foie gras, which he generously tops with tuna, lychee, and plenty of that gooey yellow dressing. The dish may not look like much (sort of resembling a Dali-esque eclair), but the flavors were there in spades. The interaction between the liver, tuna, and dynamite was genius, with the spicy sauce and cool, delicate tuna balancing the heft of the foie perfectly. Unexpected, but thoroughly effective dishes like this are what you come to LudoBites for.
Dy-no-mite
indeed!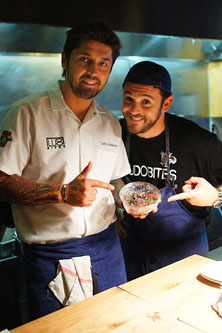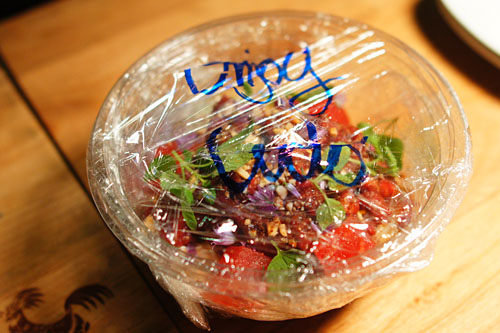 Raw Waygu Beef, Dried Miso, Somen Noodle, Peanut Vinaigrette, Candied Watermelon, Mint
The wagyu and noodle dish was one of my favorites
last time
, so when I asked for a dish "to go," it was a natural choice (being a cold dish, it made sense, too). The interaction between the savory beef, succulent watermelon, peanuts, and somen just works, making this something I could just eat a big bowl of. And yes folks, that is indeed Fred Savage in the kitchen, whom some of you may remember from
LudoBites 3.0 at Royal/T
!