Matsuhisa (Beverly Hills, CA)
Matsuhisa
129 S La Cienega Blvd, Beverly Hills, CA 90211
310.659.9639
www.nobumatsuhisa.com
Fri 08/06/2010, 07:40p-11:30p

Recently, one of my readers, whom I dined with at
Meadowood
a few months back, was in town for a cooking competition. During her stay here, she wanted to have one memorable meal, at somewhere very "LA," so to speak. I suggested Matsuhisa: arguably the birthplace of Japanese fusion cuisine in America, Nobuyuki "Nobu" Matsuhisa's seminal SoCal restaurant, the progenitor to the myriad of eponymous eateries dotting the globe. My last meal here was sometime in 2004, so I was long overdue for another visit.
The story of Nobu, however, goes back even further than Matsuhisa. The Chef was born (March 10, 1949) in Saitama, Japan, near Tokyo. After a life-changing visit to a sushi restaurant at age 11, he knew from then on that he wanted to become a sushi chef. As with many Japanese chefs, Nobu first worked as an apprentice following high school graduation, starting out at Tokyo's Matsuei restaurant as a dishwasher. In 1973, seven years later, he set out to Lima, Peru with a regular customer of his, opening a restaurant (also called Matsuei) there that featured his first experiments with Japanese-Peruvian fusion cuisine. The two, however, disagreed on how the business should proceed (Nobu was a stickler for quality), and after three years, the Chef moved south to Buenos Aires (working briefly at a local sushi spot), then back to his homeland.
On the suggestion of another regular customer (and future business partner), his next move was up to Anchorage, Alaska. The duo opened up a successful restaurant, but the place burned to the ground after only a month of operations--Nobu was suicidal at this point, but persevered for his family's sake. In 1977, after a very brief stint back in Japan, he moved to Los Angeles and worked at a friend's restaurant for two years before getting his green card. Afterward, the Chef toiled at yet another sushi joint, this time for over six years. When that place was sold, Nobu borrowed money from an old acquaintance and debuted Matsuhisa, his "dream restaurant," in January of 1987.
Matsuhisa really was the turning point in the Chef's career. The eatery achieved considerable success, paving the way for his glitzier restaurant concept, Nobu. The Chef was initially hesitant to expand, but after four years of nagging from future business partner Robert De Niro (a regular Matsuhisa patron back in the day), he finally agreed, and the rest is history. Unlike the Matsuhisa chain of restaurants, which are family-owned, Nobu represents a partnership between the Chef, De Niro, and Myriad Restaurant Group. The first Nobu opened in New York during the August of 1994 to considerable fanfare. From here, a veritable constellation of Nobu restaurants sprang up around the world: Malibu, Las Vegas, Milan, Miami, London, Dallas, Tokyo, Melbourne, the list goes on and on--I'm not sure if anyone really knows how many restaurants there are now.


Above, we see the main dining room, which, I believe, occupies the site of the original restaurant (pre-expansion into the space next door). Note the silhouettes adorning the walls; according to legend, these are modeled after some of the restaurant's old school regulars.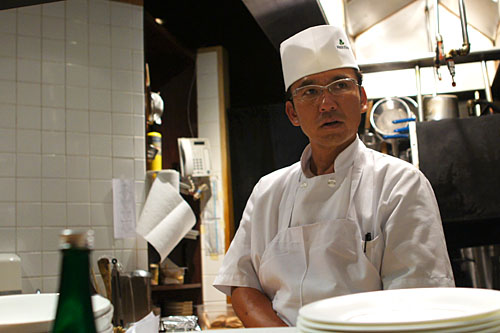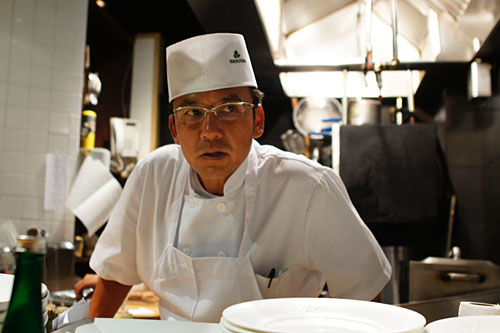 We, however, wanted a more intimate experience, and thus opted for the "hidden" omakase room, accessed by a discreet sliding door near the entrance. The room features an eight-seater bar, helmed by two or three chefs. Ours was Kuri-san, a 14-year veteran of Matsuhisa.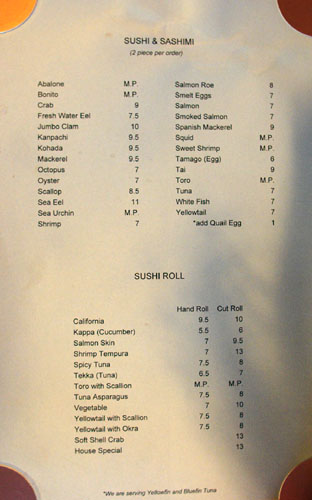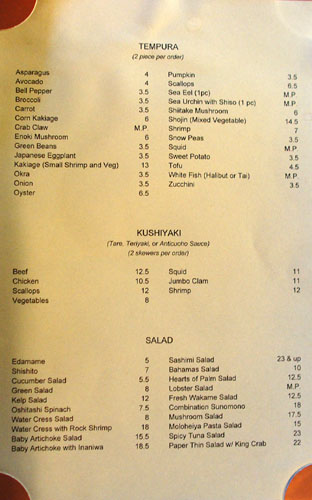 Upon being seated, we were quickly handed abridged versions of the restaurant's regular menu, really not necessary given that we were here for the top-of-the-line $155 omakase. Click for larger versions.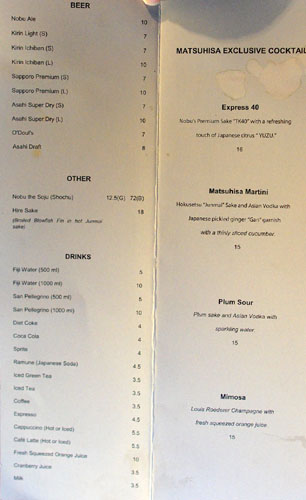 The drink menu, on the other hand, did come in handy. Click for larger versions.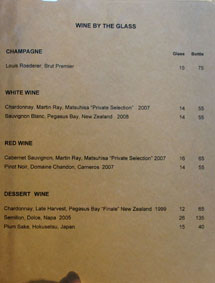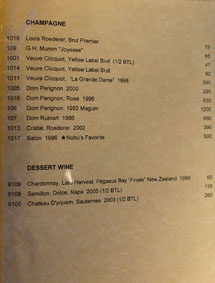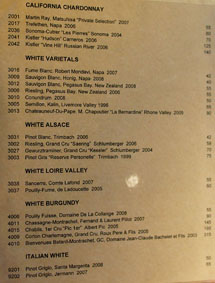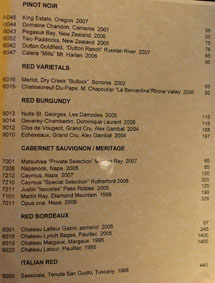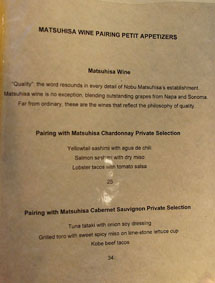 We didn't dabble with wine, but if you must, a brief list is available. Click for larger versions.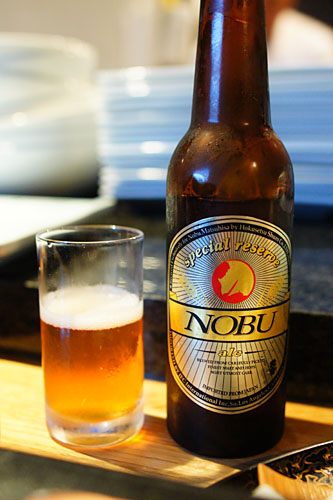 To start, we ordered up a round of Nobu "Special Reserve" Ale [$10], which is brewed exclusively for Nobu restaurants by Hokusetsu Shuzo (they also produce Nobu's namesake sake). It was actually a fairly interesting brew, with marked notes of toffee and malt essence, balanced by some hoppy character.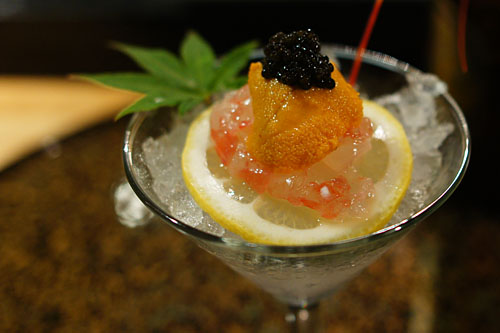 1: Santa Barbara Sweet Shrimp and Sea Urchin
Our degustation began with a duo of amaebi and uni--both harvested from the prime waters off the Santa Barbara coast--topped with osetra caviar and a Japanese yuzu dressing. The overarching tang of the citrus led to the subtle sweetness of the crisp, snappy shrimp, which was then augmented by the lusciousness of the urchin. The dish then closed with the briny, lingering relish of caviar. A wonderful beginning to the meal.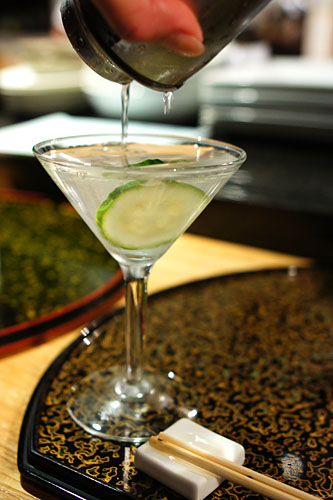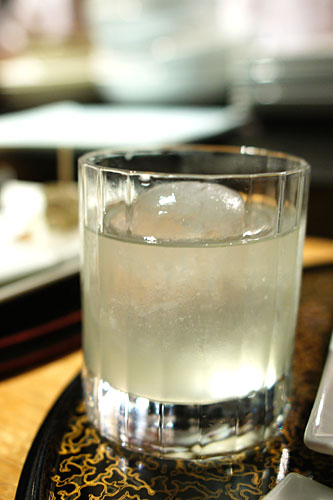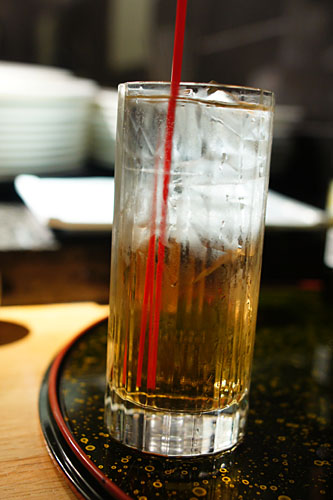 With our brewskies dispensed with, it was time to move on to the cocktail round. I had the signature Matsuhisa Martini [$15], made with Hokusetsu junmai sake, Asian vodka, Japanese pickled ginger (
gari
), and sliced cucumber. This was actually a great take on a classic cucumber martini; the vegetable's distinct flavor was strong initially, then moderated by the piquant prick of ginger, while the close was imbued with the rice-y essence of sake--very nice. The group's favorite was the Express 40 [$16], made with Nobu's "TK40" sake and yuzu. This demonstrated a fantastic complexity, with contrasting sweet, sour, and even savory notes that made for a supremely well-integrated drink. Clearly then, the weakest of the trio was the Plum Sour [$15], comprised of plum sake, Asian vodka, and sparkling water. The interaction here between the cloyingly sweet plum and vodka just seemed unbalanced, disconcerting even.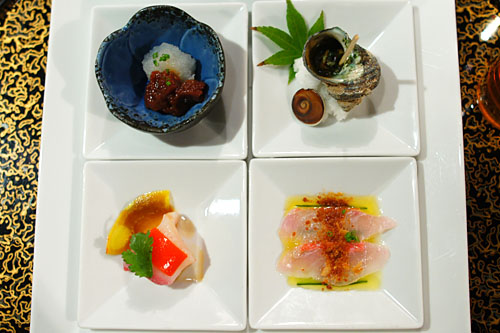 Next up was a quartet of small, amuse bouche-like dishes.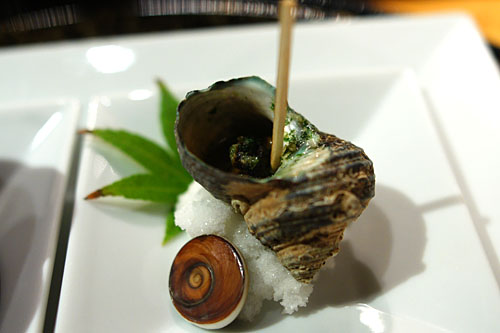 2a: Japanese Baby Conch
I started with what was described as "baby conch," or
sazae
, prepared escargot style, meaning with plenty of butter and parsley. At first, it did taste quite like escargot, showing off a rich, luxurious, garlicky goodness. However, this transitioned to a marked bitterness towards the end, which wasn't all that unpleasant.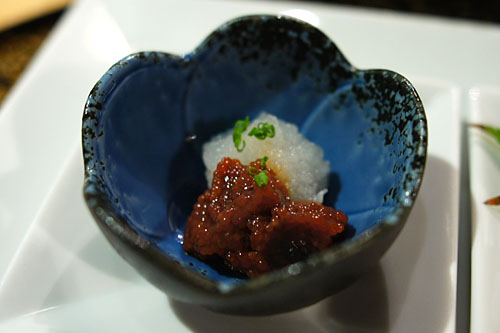 2b: Japanese Ocean Trout Roe
Next up was the roe of Japanese ocean trout, paired with soy sauce and grated daikon. The flavor alternated between sweet and briny, and was nicely moderated by the cool
daikon oroshi
.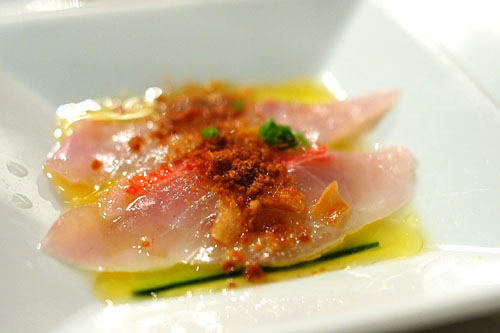 2c: Golden Eye Snapper Sashimi
My favorite of the bunch was this sashimi of kinmedai snapper, with cucumber and dry miso powder. The fish itself was delicate in flavor, so I loved the intense savory finish imparted by the fermented soybean, as well as the powder's subtle crunch. The cucumber, meanwhile, provided a suitable counter to the miso.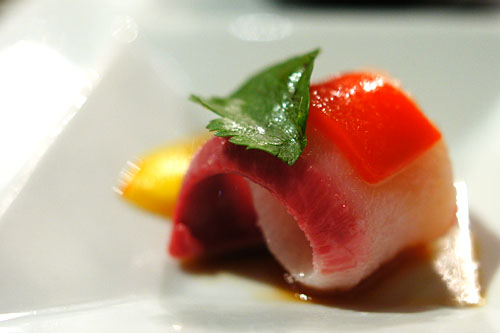 2d: Yellowtail Sashimi
Hamachi, too, was also quite delicious. Here, it came paired with soy, yuzu, and an "agua de chile" (pepper) gelée, a obvious nod to Nobu's South American propensities. The use of chili pepper provided a wonderful temper to the soft, fatty yellowtail, giving the sashimi a great spice on the midpalate, which led to a fitting, umami-tinged finish.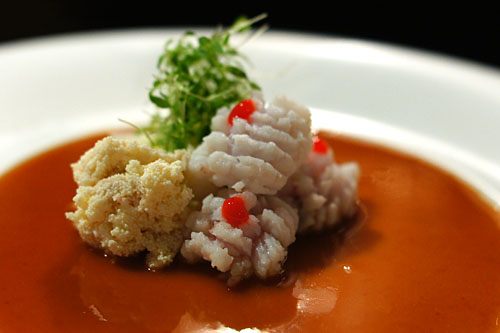 3: King Eel
Here was
hamo
, or king eel, a delicacy that I'd only had previously at
Urasawa
. The eel has bones embedded into its flesh in such a way that removal is not viable. Instead, one uses a
hamo honegiri
knife to slice the bones into ultrafine pieces so that the eel is edible. Unfortunately, the bones weren't cut as fine as I'd hoped for, and thus they were still apparent when chewing, an annoyance, to be sure. Moving beyond the bones, the flesh itself was prototypically spongy, without much flavor on its own. Thus, its accoutrements were absolutely key. The paired yuzu-miso dressing and plum sauce gave the dish a sugary-salty tinge, while the wasabi mixed in with the roe added a palpable heat to things. I appreciated the moderating effect of the heart of palm slices, as well as the slight zing of the greens.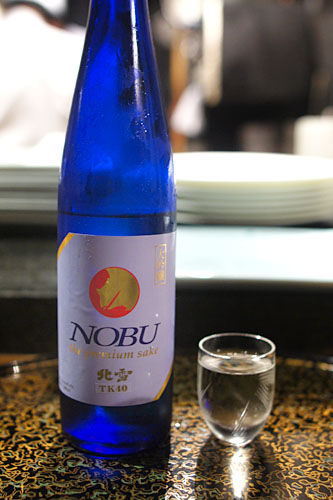 It was now time to move onto sake, specifically, the Hokusetsu Nobu TK 40 Daiginjo [$80 for 500mL]. There wasn't much bouquet to speak of here, but the viscous palate was brimming in ripe melon and white fruit notes, bounded by a lovely floral character and a touch of alcoholic burn.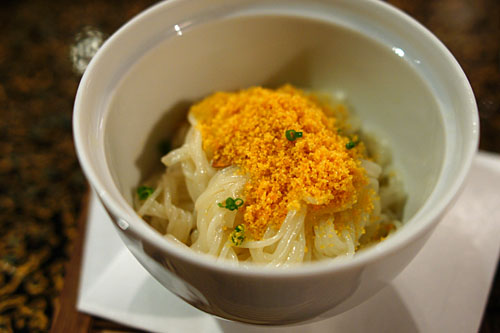 4: Somen Noodle with Bottarga
This was one of the simplest dishes that we had, but also one of my favorites. What we had was somen noodle, topped with bottarga, a type of salt-cured fish roe (a.k.a.
karasumi
). The roe lent a positively profound fishy aroma to the otherwise mild wheat noodles, while the lingering finish of the dish was awash in loads of briny goodness. The application of garlic made things even better.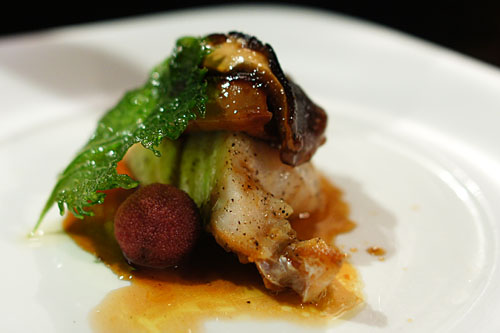 5: Rock Cod with Foie Gras
Rock cod (not truly a cod, by the way) came next, topped with generous slices of foie gras and shiitake mushroom. The firm-fleshed fish was imbued with the heady pith of the liver, which, by itself, was characteristically intense, but not overwhelming. The mushrooms, meanwhile, provided strong hints of umami flavor, while the mountain peach added touches of integrating sweetness.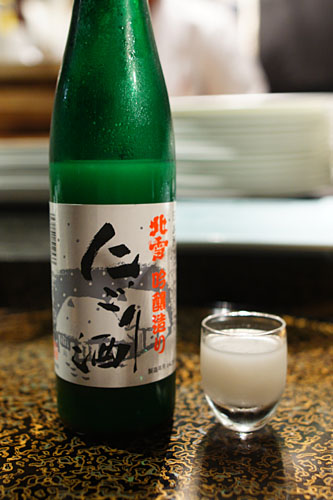 For the next sake, we went with the Hokusetsu Nigori [$41 for 500mL], an unfiltered sake--relatively sweet, with a creamy body, but also a surprising amount of heat.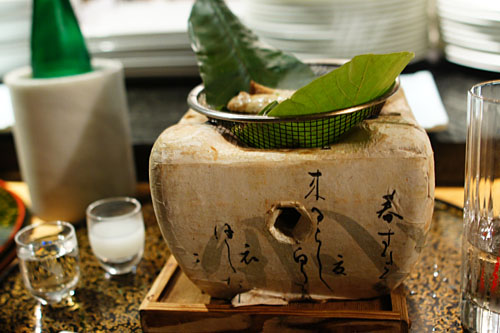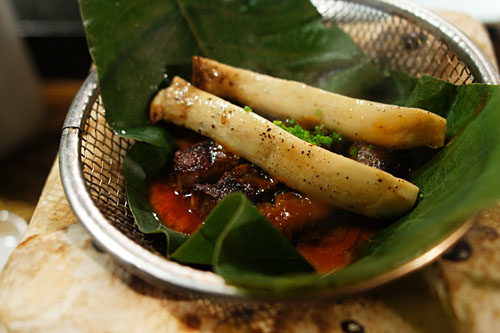 6: Grilled Japanese Wagyu Ribeye and Eringi Mushroom
A charcoal grill (carved out of a single piece of
keisodo
clay, typically referred to as a
Hida konro
) was soon placed before us. On top, insulated by a large leaf, were bits of wagyu ribeye and eringi mushroom, dressed in a miso-anticucho sauce. The mushrooms had a delightfully spongy-crisp texture and great, subtly earthy flavor, backed by a trace of yuzu tang. What was even better, though, was the meat. Stupendously tender, the beef barely required mastication, and showed off a heady, highly-aromatic, smoky-sweet relish that I quite enjoyed. Think of it as the best BBQ ribs that you've ever had!

The presentation of the sushi quintet signaled that the meal's end was near.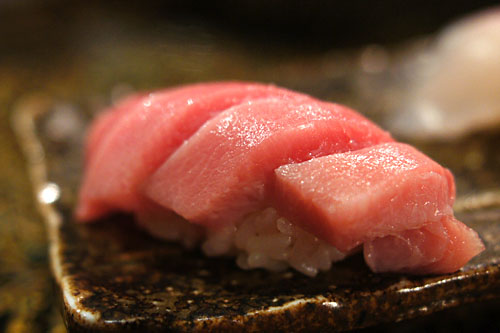 7a: Toro
Eating from left to right, I started with tuna belly. The toro was textbook: tender, melt-in-your-mouth, oily, fatty, delicious.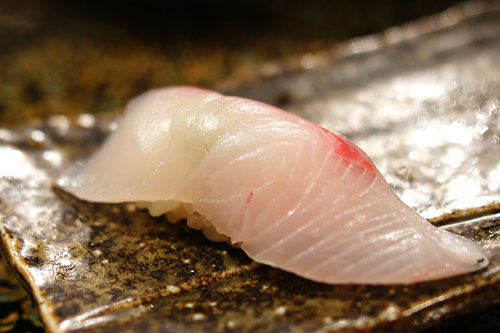 7b: Kanpachi
Kanpachi, or greater amberjack now. Mild in flavor, with a snappy, supple texture and a pleasant bit of wasabi burn on the finish.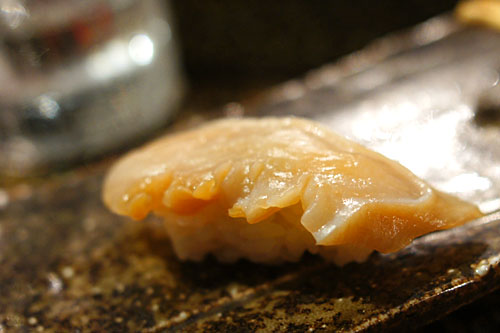 7c: Mirugai
A very nice showing for giant clam, or geoduck: crisp but still tender, with a lovely sweetness to complement its brine. Great application of wasabi.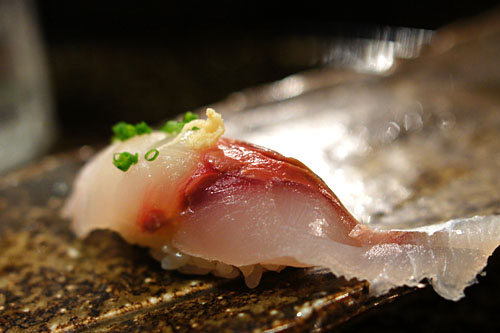 7d: Seki Aji
Seki Aji is a special type of aji (mackerel) caught near Kyushu, known for its delicate, elegant flavor. Indeed, the aji lacked the fishiness typically found in mackerel, and went superbly with its zesty scallion and ginger accompaniments. My favorite.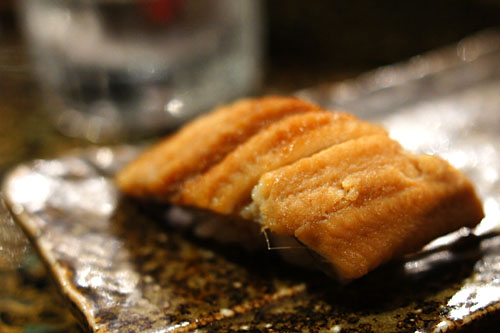 7e: Anago
We ended the sushi fivesome with anago, or sea eel. This was a cooked preparation, lean in body, showing off soft, sweet flavors.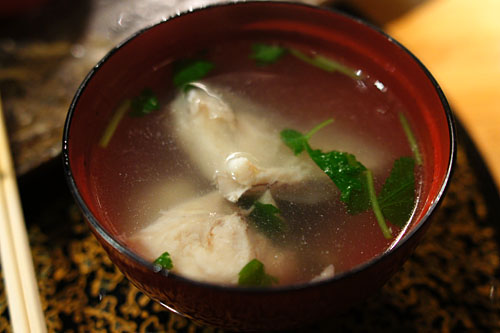 8: Clear Broth with Snapper Collar
The last savory course on the standard omakase was this soup, perfumed with the heady, fishy essence of snapper. Hearty and wholesome, it was an immensely satisfying concoction.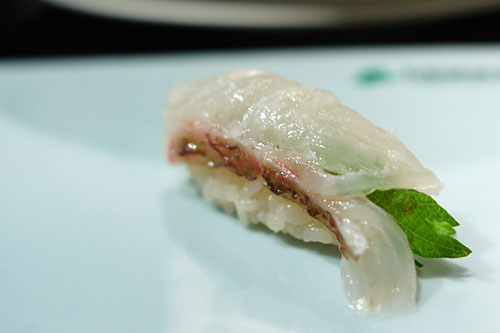 Supplement: Tai [$9.00]
We still weren't quite full by this point, so we requested some à la carte selections from the menu. First up was this tai, or Japanese red snapper, beautifully done up with sea salt, lemon, and shiso.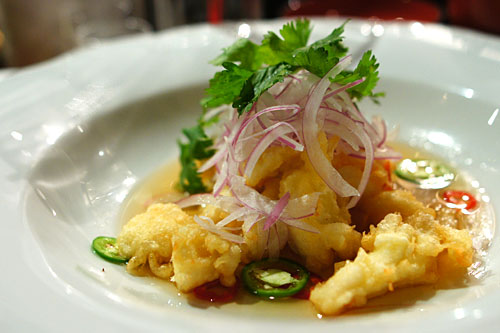 Supplement: King Crab Tempura with Amazu Jalapeno [$23.00]
We also ordered up a batch of king crab tempura, served with an
amazu
sauce, which is a sort of sweet & sour dressing made with vinegar, water, salt, and sugar. Not particularly complex, but still rather tasty, the nuggets of fried crab were deftly augmented by the sweetness in the
amazu
, while the onions adding a lovely, bracing tang. Very nice lingering heat from the jalapenos, as well.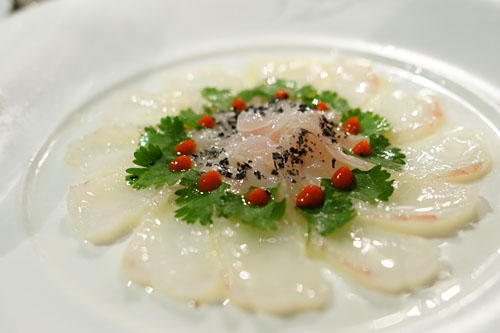 Supplement: Tiradito [$23.00]
Here, we see another unabashed tribute to South American culinary tradition. A tiradito is a Peruvian dish of raw fish--akin to a ceviche, crudo, or carpaccio--influenced by the Japanese presence in that country. Marinated in lime juice, the whitefish showed off a light, bright, refreshing citric tang, perked up even more by the application of cilantro. Nice!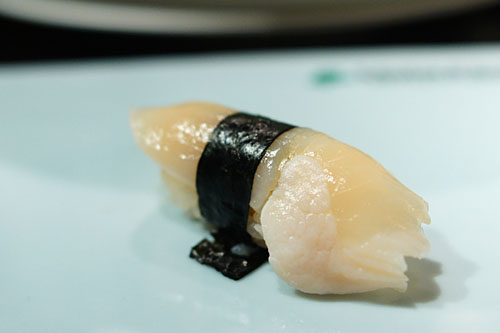 Supplement: Tairagai [$11.00]
This may look like scallop, but it was actually tairagai, or pen-shell clam. It had a clean flavor--a bit more austere and perhaps a touch saltier than your typical scallop--that went well with the briny flavor of its seaweed wrapper.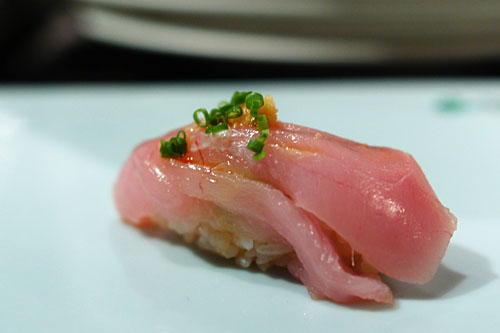 Supplement: Shiro Maguro [$MP]
Albacore tuna, also known as binnaga, is often served seared, so this preparation, garnished with ginger and scallion, was a refreshing departure from the norm. Eaten sans soy, it was creamy, pure in flavor, and aptly accented by the ginger--one of the strongest albacores that I've had.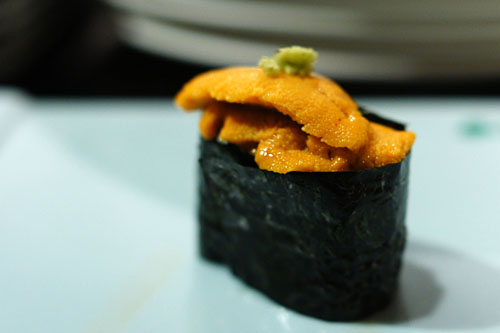 Supplement: Uni [$MP]
Last up was uni. Cool, sweet, and creamy, the roe was expertly accentuated by its nori, gunkanmaki wrapper.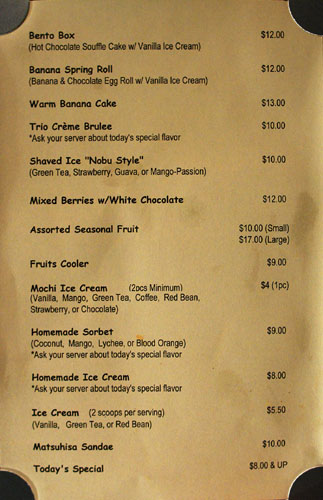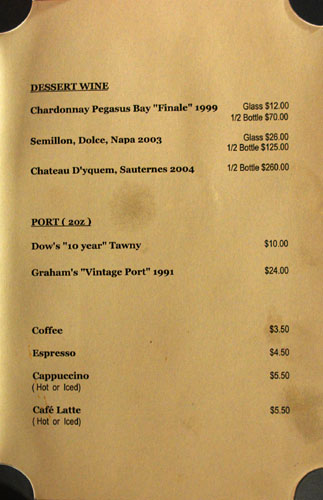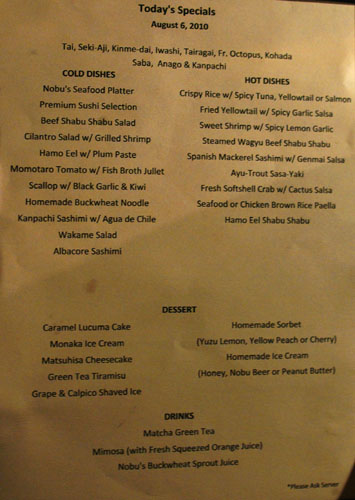 Dessert time! We were each allowed to pick an item off the regular dessert menu, or the specials menu. Click for larger versions.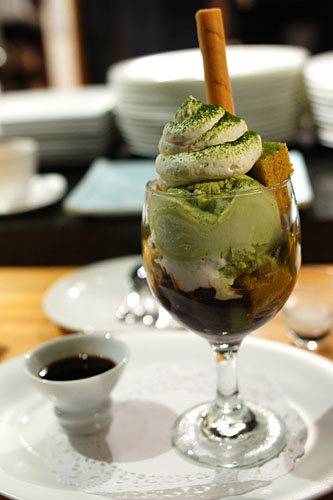 9a: Matsuhisa Sundae
The Matsuhisa sundae was my selection, and also my favorite of the sextet (no bias at all!). The green tea here did a great job in complementing the heavy cream and cubes of cake, while the red bean mochi on the bottom added a definite heft and sugariness to the fray.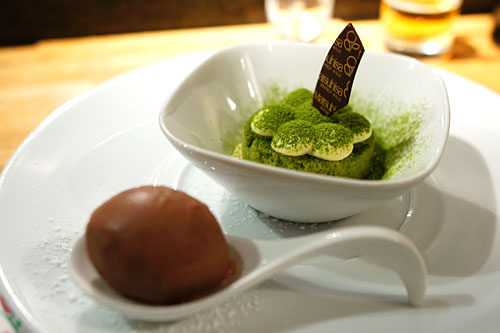 9b: Green Tea Tiramisu
Green tea tiramisu showed a similar interplay of sweet and bitter green tea flavors, but wasn't nearly as successful in my opinion.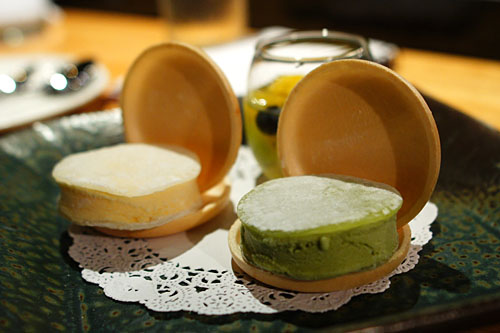 9c: Monaka Ice Cream
Monaka
refers to a type of Japanese ice cream sandwich, filled here with mochi ice cream and encased in thin, crispy wafers. My second favorite of the desserts, these came with a trio of dipping sauces: red bean, strawberry, and molasses.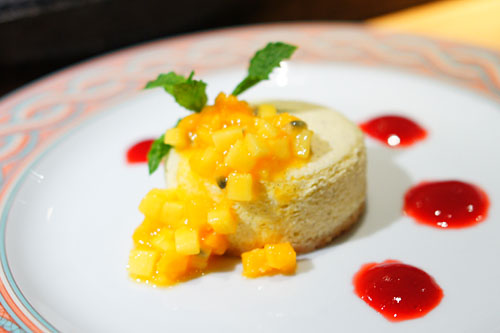 9d: Matsuhisa Cheesecake
Cheesecake was tasty, though not particularly interesting, with the tangy fruit tempering the weight of the cake nicely.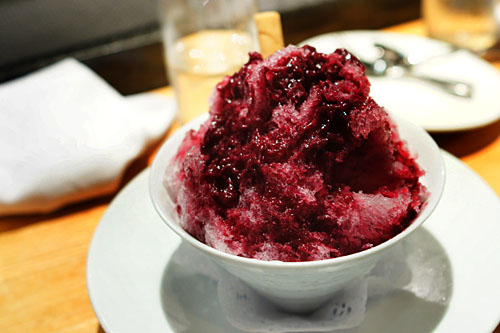 9e: Grape and Calpico Shaved Ice
Light, artificial grape flavors here, over a base of ice cream. I liked the dessert's light, almost fluffy texture, but I would've liked to have tasted more from the Calpico (a sort of yogurt-flavored soft drink).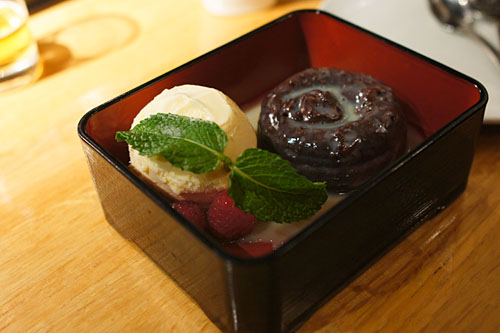 9f: Bento Box (Hot Chocolate Souffle Cake with Vanilla Ice Cream)
We end with perhaps the most banal of desserts. Molten chocolate cake, vanilla ice cream, berries, a sprig of mint--delish, but done to death.
I think we were all curious as to how well Matsuhisa had held up over all these 23 years. Astonishingly, we left the restaurant pleasantly surprised. The sushi was of uniformly high quality, and the cooked dishes were utterly up to par as well. Desserts were clearly the weak point, but that could be said for the vast majority of Japanese restaurants. All in all, given how thin Nobu's spread these days...pretty impressive.