Angeleno's Chefs Night Out 2010 (Santa Monica, CA)
Angeleno's Chefs Night Out 2010
101 Wilshire Blvd, Santa Monica, CA 90401
media.modernluxury.com/chefsnightoutla/
Sun 08/01/2010, 05:30p-07:25p

On Sunday, August 1st, food critic Brad A. Johnson hosted Angeleno magazine's Chefs Night Out and 8th Annual Restaurant Awards, with proceeds going to support the
LA's Best
after-school program. The event took place at the Fairmont Miramar Hotel & Bungalows in Santa Monica, and brought out a veritable who's who of the Los Angeles dining scene. Early on in the evening, Johnson presented awards to 2010's honored restaurants and chefs. Immediately following was the Grand Tasting, where guests were able to enjoy culinary creations from some of LA's most celebrated chefs, along with samplings of wines and spirits. Here's a list of this year's winners:
Best New Restaurant: Lazy Ox Canteen
Best New Chef: Michael Voltaggio
Chef of the Year: Michael Cimarusti, Providence
Restaurant of the Year: Hatfield's
Pastry Chef of the Year: Zoe Nathan, Huckleberry Café & Bakery
Outstanding Wine & Spirits: SAAM at the Bazaar by José Andrés
Outstanding Service: The Grill on the Alley
Vanguard Award: Water Grill
Fellow foodies in attendance included: Aaron of
The Savory Hunter
,
Ann "menu taster"
from Yelp,
Brian Saltsburg
, Caroline of
Caroline on Crack
, Esther of
e*star LA
, Fiona of
Gourmet Pigs
, Hadley Tomicki from
Grubstreet
(joined by site photographer Tatiana Arbogast), Helen of
I'm Hungry and Proud of It
, Hong and Kim from
Ravenous Couple
, legendary LA restaurant reviewer
Jay Weston
, Jo of
My Last Bite
, Josh of
Food GPS
, Julie Wolfson from
LAist
, Kat Odell from
Eater LA
and
Cork & Rind
, Lindsay Williams-Ross from
LAist
, Matt of
Mattatouille
, Shauna of
The Minty
, and Tony of
SinoSoul
.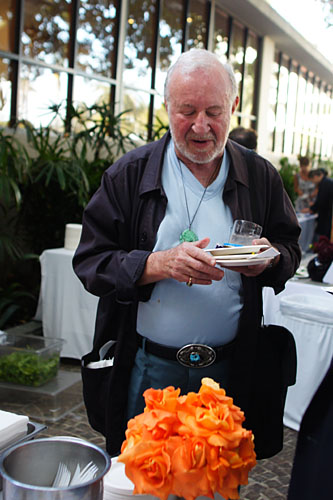 I didn't tell anyone that I'd be attending Chefs Night Out, but I knew, inevitably, that I'd run into some familiar faces, the first of which was none other than
Jay Weston
!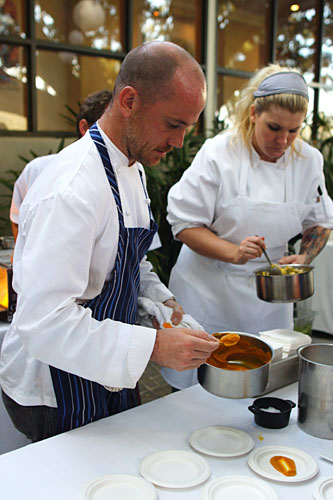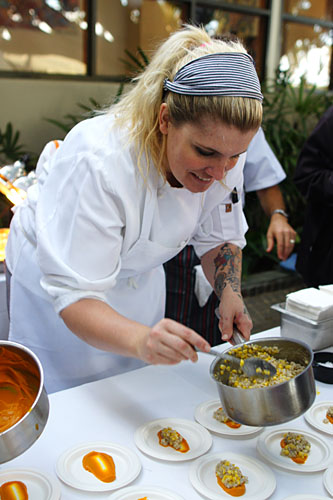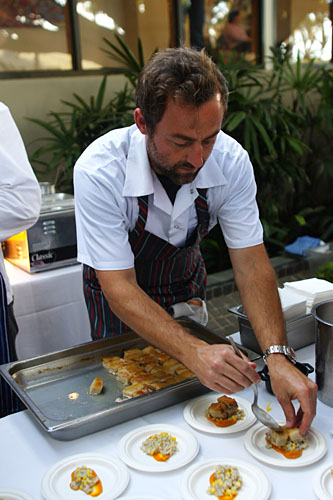 Quinn Hatfield and company prepare their braised pork belly dish.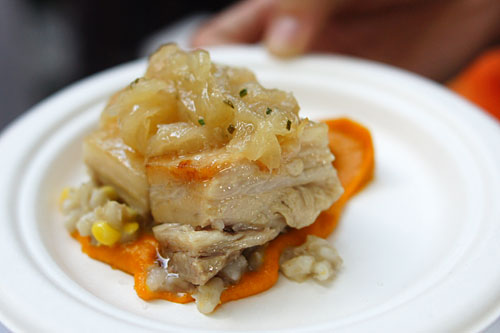 Braised pork belly with barley, corn and carrots in vadouvan sauce
|
Hatfield's
, Chef Quinn Hatfield
I loved the subtle, yet distinct porcine savor of Hatfield's pork belly, as well as the tempering effect of his barley and vegetable accompaniments. One had to be careful, though, to prevent the vadouvan from dominating the pig.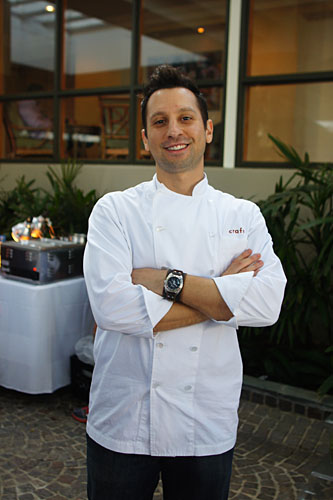 Chef Tony Zappola from Craft. I need to pay the restaurant another visit--haven't been back since former Chef de Cuisine Matt Accarrino left (taking Pastry Chef Catherine Schimenti along).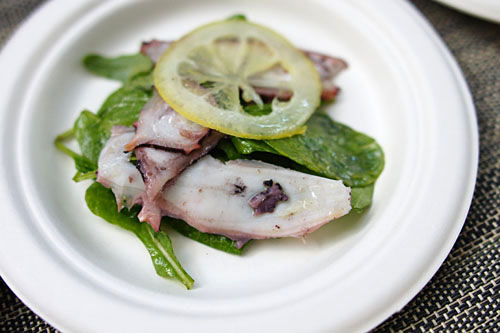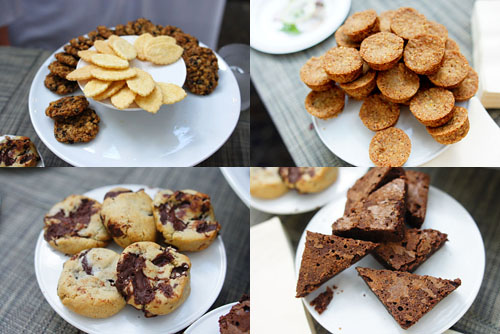 White wine braised Spanish octopus with lemon, mint and potato vinaigrette
|
Craft
, Chef Anthony Zappola
I'm a sucker for a well-prepared octopus, and this was a shining example of such: tender and subtly sweet, with apt accents from the zesty lemon and mint. Cookies, meanwhile, were prepared by new Pastry Chef Shannon Swindle.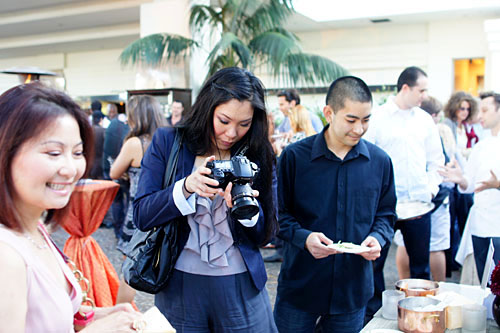 Helen of
I'm Hungry and Proud of It
was in line right behind us.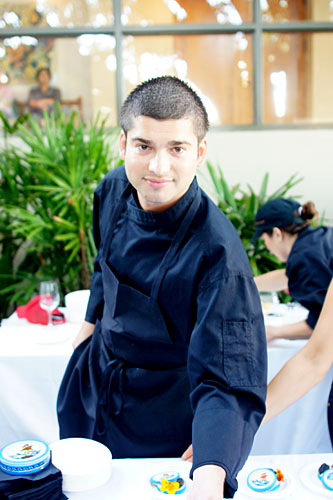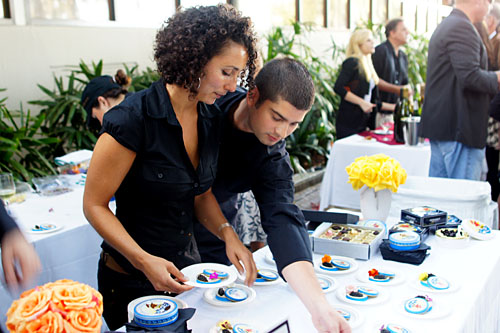 Petrossian's Ben Bailly--always a hit with the ladies. Interestingly, we found out that the Chef's birthday is only four days after mine!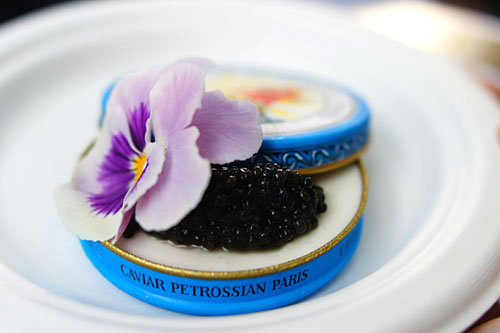 Cauliflower panna cotta with Transmontanus caviar
|
Petrossian
, Chef Benjamin Bailly
We have here a light, ethereal cream, imbued with the gossamer essence of cauliflower. To this, the caviar was a superb, unabashedly briny counter.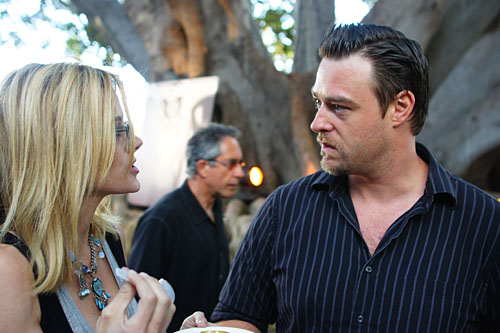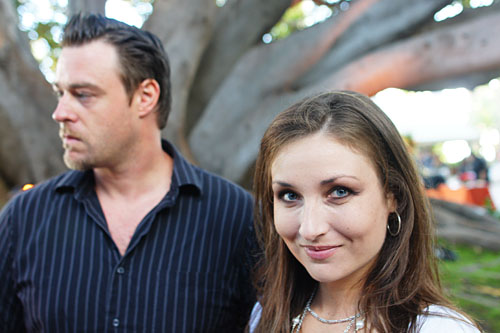 Krissy chats it up with
Hadley Tomicki
and Tatiana Arbogast from Grubstreet.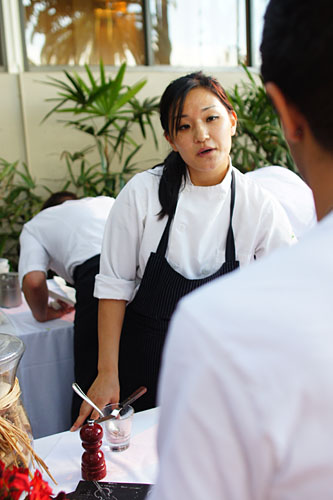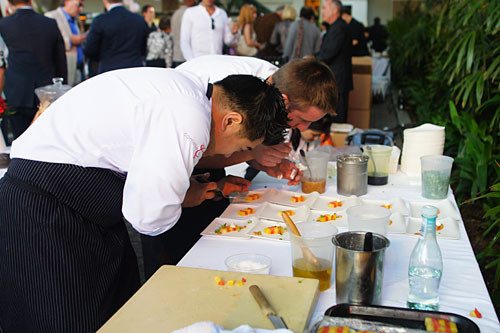 Comme Ça had Chef de Cuisine Dong Choi prepping in the back. Owner
David Myers
was not present.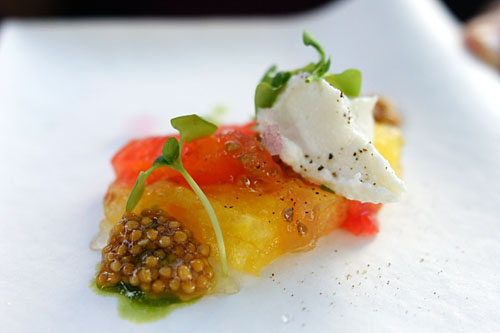 Heirloom tomato and watermelon terrine with red onion granita, pickled watermelon rind, whipped ricotta and candied mustard seed
| Comme Ça, Chef Doing Choi
Nice interaction between the sweetness of the watermelon and tomato combo, balanced by the richness of ricotta. A light, bright, refreshing salad, perfect for summer supping.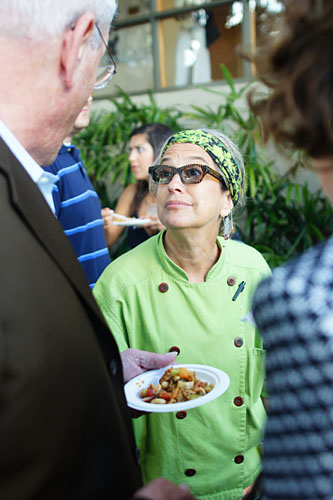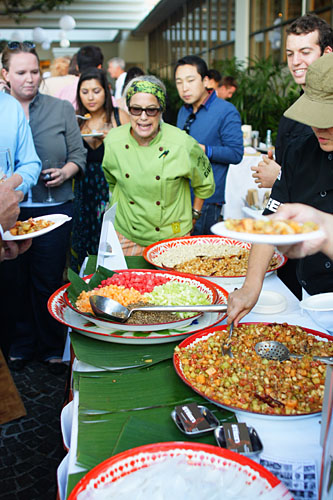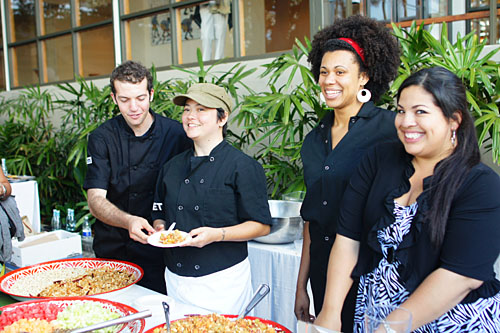 You couldn't miss Street's Susan Feniger, not in her lime green chef's coat!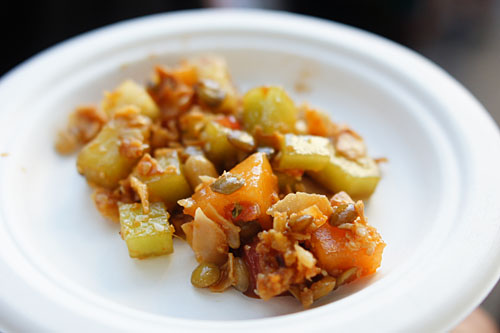 Burmese melon salad with fresh seasonal melons, toasted coconut, peanuts, fried onions and sesame ginger dressing
| Street, Chefs Susan Feniger and Kajsa Alger
Beautiful, bold flavors here, with the sweetness of the melons playing perfectly with the peanuts and salty onions, while the ginger dressing added a piquant counterpoint.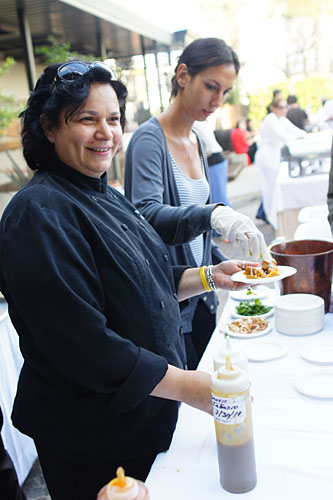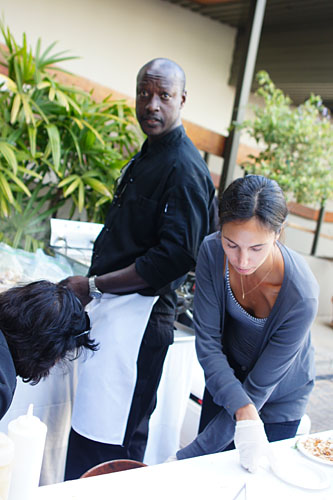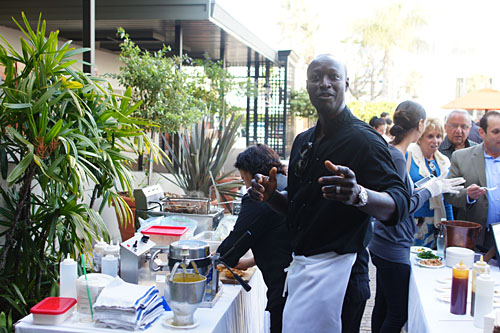 The line for Chef Monique King's chicken 'n' waffles was one of the longest.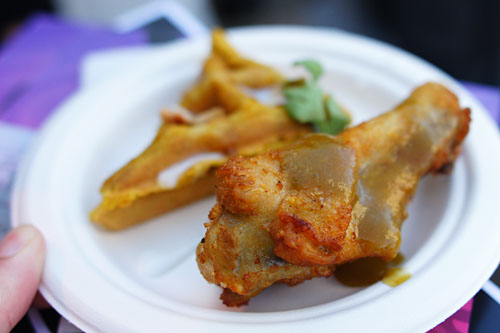 Indian spiced fried chicken with fennel seed waffles and cardamom syrup
| Nine Thirty, Chef Monique King
I know that they were trying to present a homage to Roscoe's, but the waffles weren't quite necessary. That being said, the chicken was quite tasty, showing off a light tinge of Indian savor, intensified by the application of cardamom.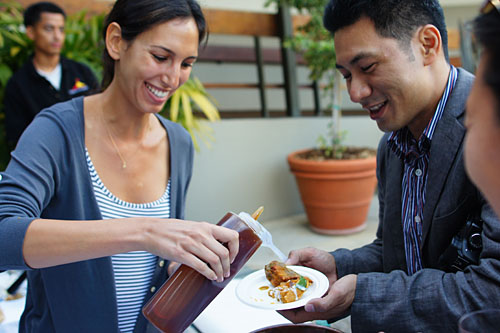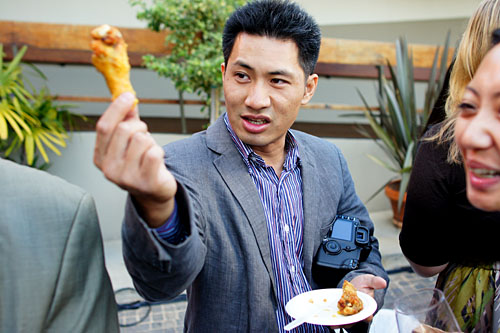 While queuing up for Nine Thirty, we ran into Tony of
SinoSoul
, who obviously is, as we can see, very passionate about his fried chicken.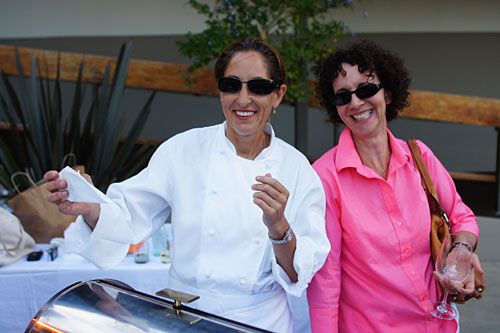 Chef Suzanne Tracht from Jar. Nice shades!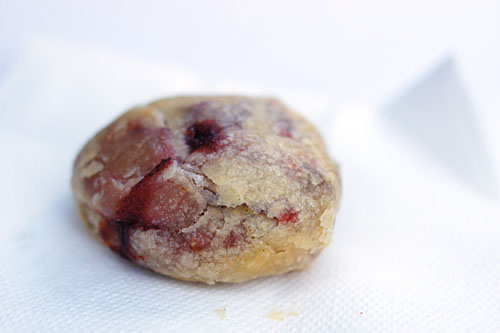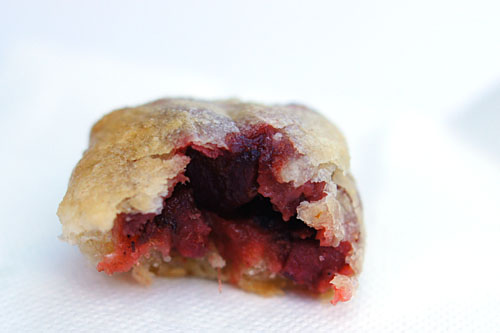 Pork Croissant
|
Jar
, Chef Suzanne Tracht
This almost looked like it could be a dessert item, but rather, the croissant came filled with a Chinese-inspired,
char siu
-esque pork mixture. Perhaps a hint of what's to come at Suzpree?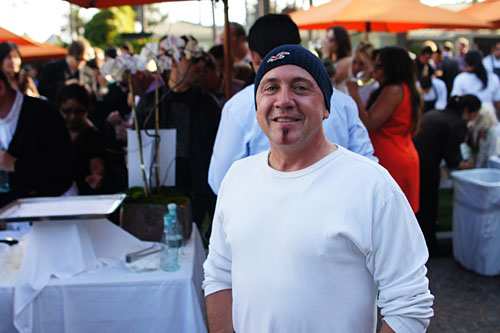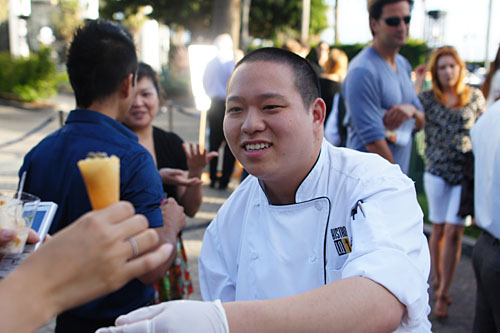 Laurent Quenioux and company take the prize for most dishes served, with four.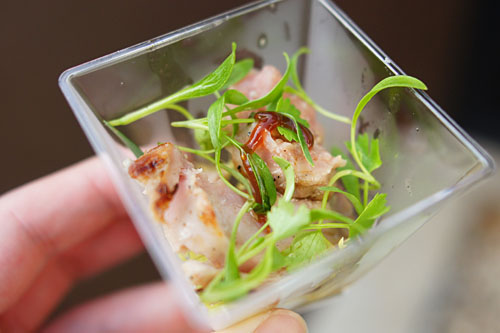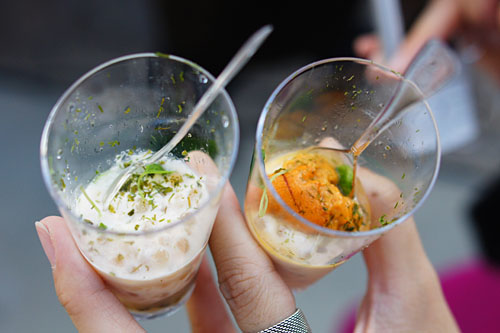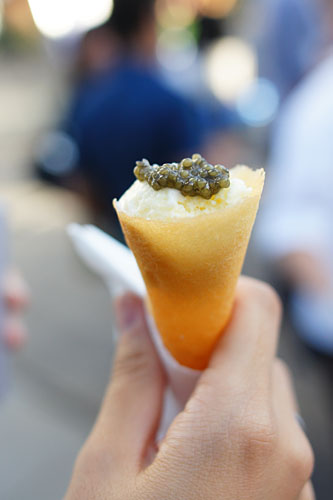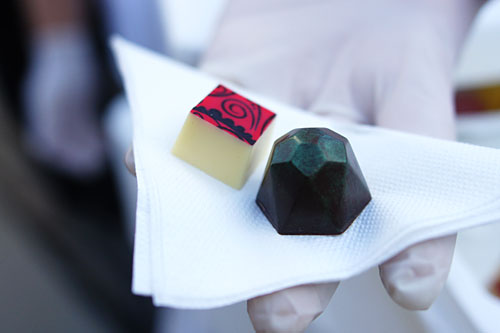 Rabbit loin stuffed with veal sweetbreads, vanilla dressing and uni tapioca pudding
|
Bistro LQ
, Chef Laurent Quenioux
We actually began with the tiny cups of tapioca pudding, one with oyster, and one with uni and lobster. Both were quite delicious, showing off a great interaction between sweetness and brine, with the added textural play of tapioca pearls. The rabbit, meanwhile, was even more delicious; rich and suitably saporous, the meat was aptly countervailed by the application of cilantro. Finishing things off was a scrumptious white chocolate ice cream cone, topped with caviar, as well as some assorted chocolates and macarons.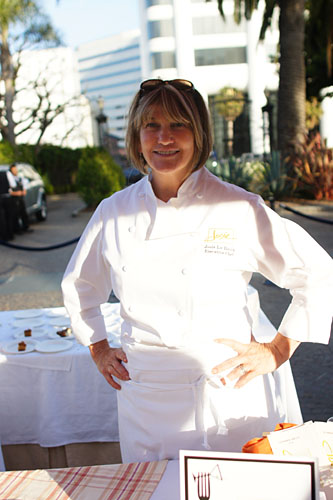 Yes, there is an actual Josie! Chef Josie Le Balch.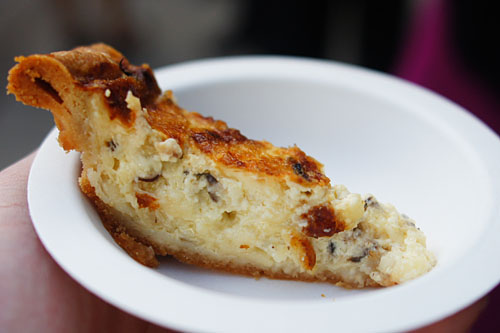 Wild mushroom and Gruyère cheese quiche
| Josie, Chef Josie Le Balch
Gorgeous flavors here, with the earthiness of mushroom playing marvelously with the heft of the Gruyère. I would've liked a slightly crisper crust, though.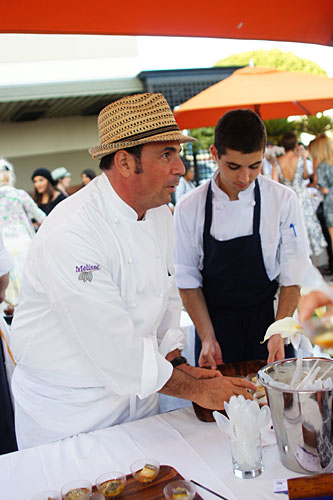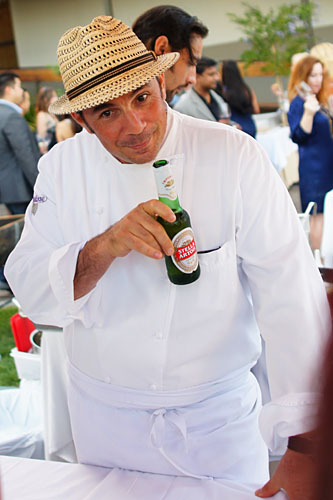 Chef Josiah Citrin, sippin' Stella, looking dapper as ever in that hat.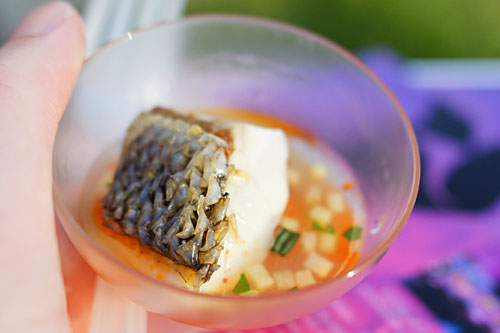 Loup de mer "en écaillés" with heirloom tomatoes and cucumber-basil
|
Mélisse
, Chef Josiah Citrin
The loup de mer came cooked "en écaillés," which means with the skin on, giving the fish a fantastic crispness. I also enjoyed its firm, yet supple consistency, and delicate flavor, aptly countervailed by the accompanying vegetable broth.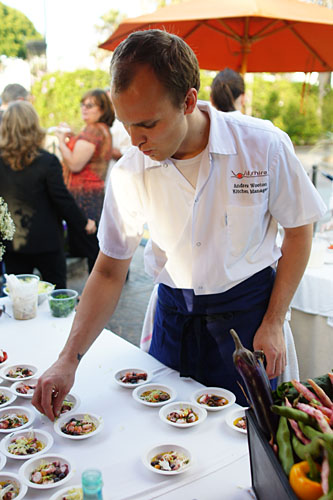 Wilshire's Andrew Wooton,
not
Andrew Kirschner.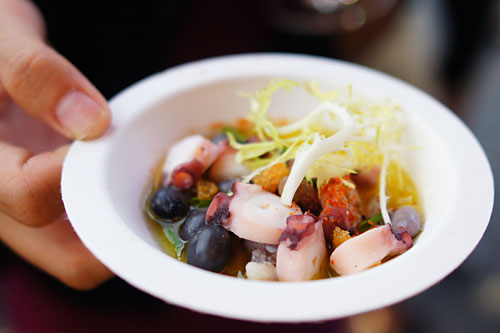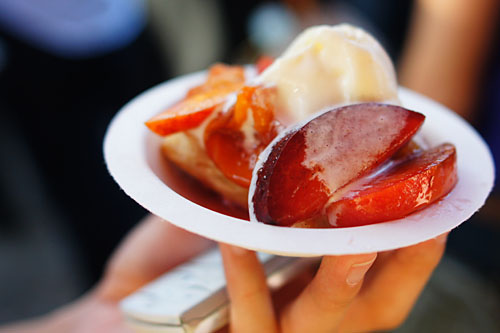 Olive oil poached octopus with frisée, beans and kalamansi broth & Stone fruit cobbler with cinnamon ice cream
| Wilshire, Chef Andrew Kirschner
Another strong presentation of octopus here, heavy in olive oil relish, deftly complemented by earthy beans and a tartish kalamansi broth. Dessert, meanwhile, paired saccharine stone fruit with the light spice of cinnamon--classic.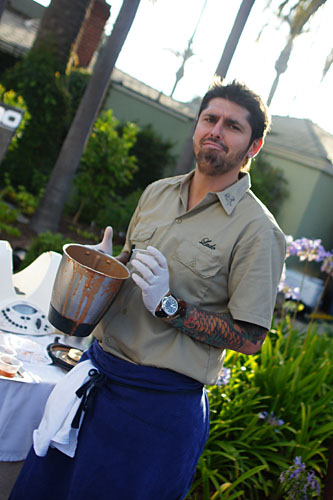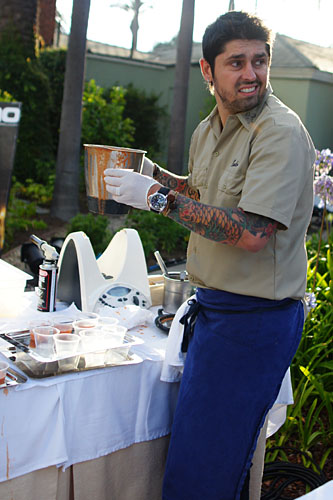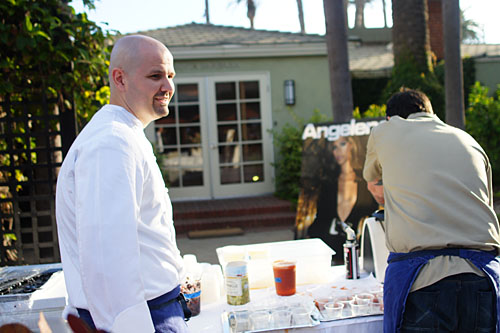 Ludo, looking lovely as ever, aided by Chef
Dan Moody
of
The Relationchef
.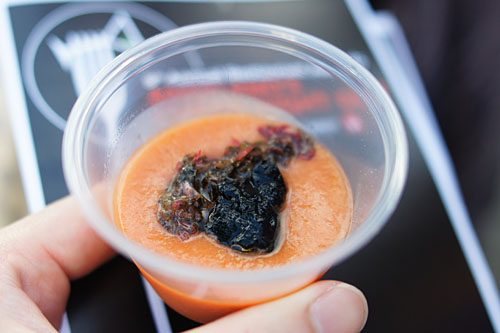 Heirloom tomato smoothie, squid ink vodka jelly, seaweed tartar
|
Ludo Bites
, Chef Ludo Lefebvre
Though rather unappealing in appearance, this "smoothie" actually worked quite well, with the mild sugariness of the tomato providing a marvelous moderating base to the big, briny flavors of seaweed and squid ink. Perhaps this should be an addition to the new LudoBites menu?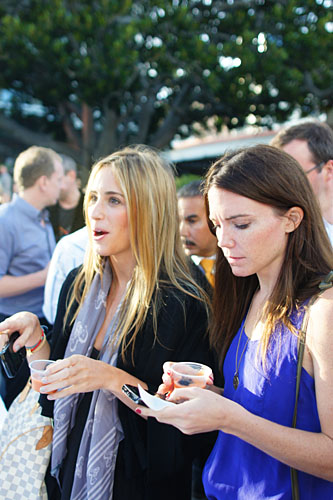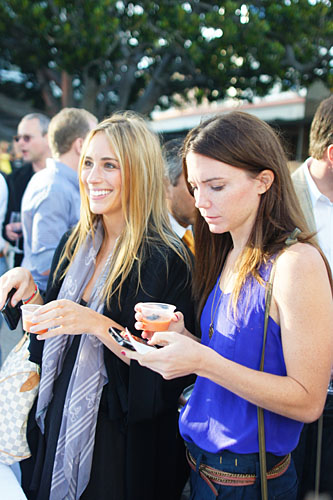 Eater LA's lovely editor, Kat Odell (left), at the Ludo booth with PR person Rachel.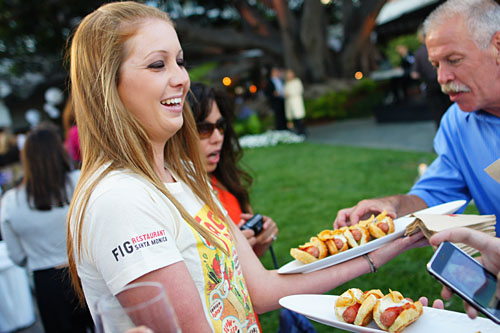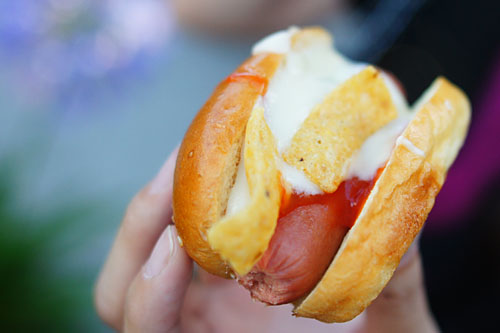 Milling around the crowd were a gaggle of hot dog girls, doling out FIG's eponymous wiener. It was an all-beef dog, with Comte fondue, bacon-habañero marmalade, Fritos, all on a sesame seed bun. It was also pretty damn tasty, with the Fritos adding a great bit of crunch to the sausage.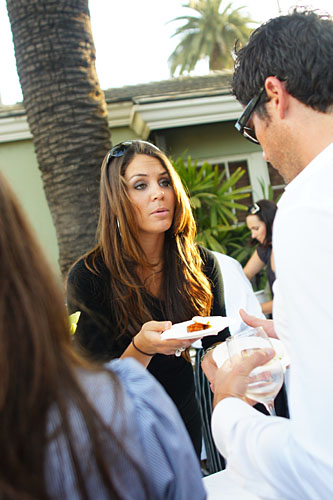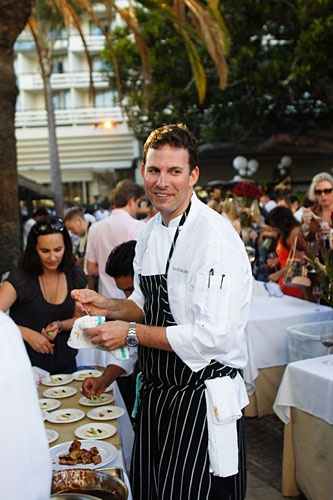 Next up was Wolfgang Puck's 24, helmed by Chef David McIntyre. Pastry Chef Sally Camacho was also helping out. And yes, they've rectified the heinous
$35 valet
; it's now a flat $10.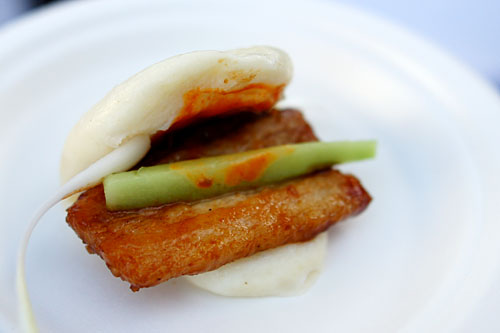 Slow braised pork belly bao buns
|
WP 24
, Chef David McIntyre
I absolutely adored the duck liver buns at WP24. Though these weren't quite as revelatory, they were still rather delish, with the scallion and cucumber deftly tempering the gravity of the pork.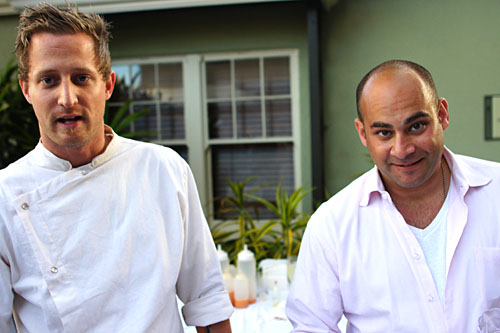 Dynamic duo: Michael Voltaggio with business partner Josh Goldman. Still no new word on their upcoming restaurant...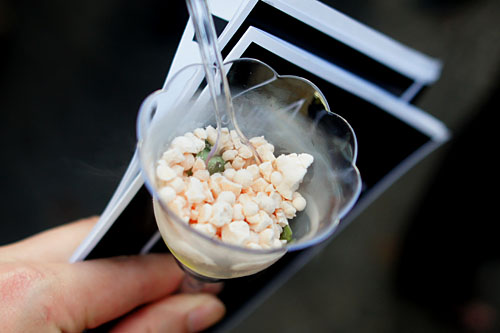 Market peach and burrata
| Chef Michael Voltaggio (most recently of
The Langham
)
Not surprisingly, Voltaggio served up the most avant garde dish of the evening. The "Dippin' Dots," imbued with the saccharine essence of peach, actually went surprisingly well with the creaminess of the burrata, with the whole interaction perked up by the overarching tang of arugula.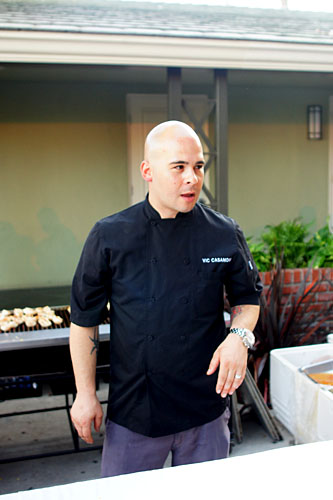 Vic Casanova, casanova?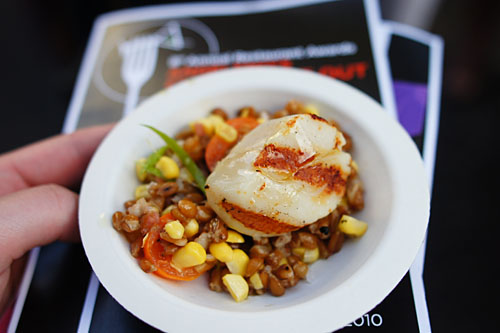 Capesante day boat scallops with farro, summer corn, heirloom tomatoes, scallions, English peas and citronette
| Culina, Chef Victor Casanova
Don Juan or not, Casanova did give us an expertly cooked scallop, while its accompanying mélange of farro, corn, and vegetables just worked.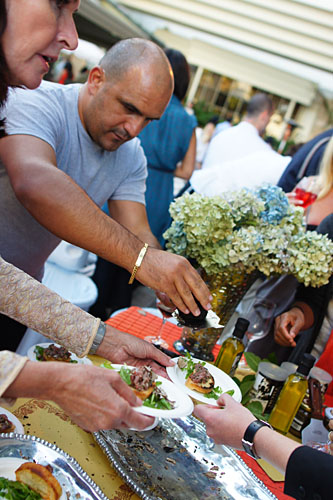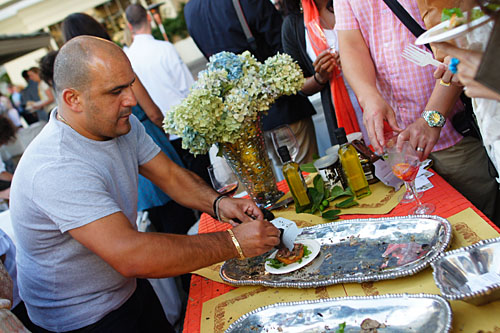 Plenty of truffle shaving action at the Angelini Osteria table...
Beef tartare crostino with guanciale zabaglione and shaved black summer truffles & Baby artichokes in casseruola
|
Angelini Osteria
, Chef Ori Menashe
This was actually one of the strongest tartars I've had in a long time, with the salty guanciale and earthy truffle adding a great depth of flavor to the beef, while the arugula contributed a light, zesty counterpoint. Unfortunately, we didn't get to try Angelini's artichoke dish.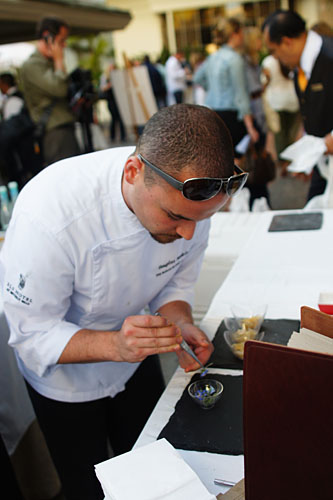 The unnamed chef at Saam at the Bazaar. [Edit:
Jo
informed me that this is Sous Chef Douglas Rankin.]
Linguine with clams & Tuna handroll 2009
|
SAAM
at the Bazaar by José Andrés
Saam had run out of their tuna handrolls by the time we stopped by, so we were limited to their modern take on the classic linguine and clams dish. Taken alone, the noodles weren't particularly interesting, but the dish was really completed by the briny bits of shaved clam.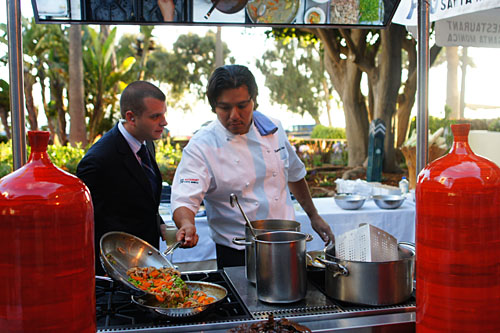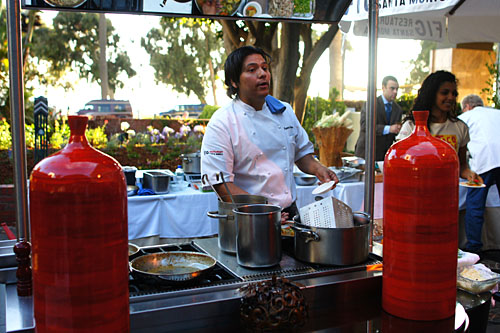 Chef Ray Garcia from FIG enthralled guests with a cooking demonstration.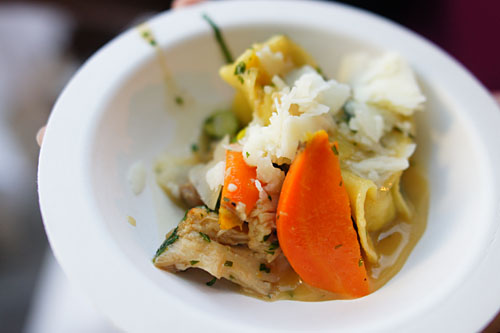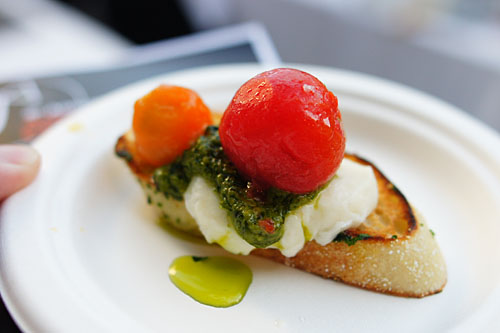 Corn tortellini with braised rabbit, carrot and English peas & Crostino with pesto, burrata and heirloom tomato
| Fig, Chef Ray Garcia
The carrots and peas seen above went into Garcia's tortellini dish. The pasta, imbued with the sweetness of corn, was augmented by savory, succulent bits of rabbit, while the vegetables took things down a notch. His crostino, meanwhile, was straightforward, with classic, but effective flavors recalling that of an insalata caprese.
Amazingly, this was my first time attending an event like this. Things were a bit rushed, a bit hectic, and I didn't have as much time as I'd like to savor the food like. That being said, it was a fun time, and I enjoyed mingling, meeting chefs, and running into acquaintances both old and new. Hell, who knows, maybe I'll be back in 2011. Congrats to all of this year's winners!