Patina (Los Angeles, CA) [2]
Patina
141 S Grand Ave, Los Angeles, CA 90012
213.972.3331
www.patinagroup.com/patina/
Thu 07/01/2010, 07:45p-01:40a

Patina
has always been one of the standbys in the LA dining scene--never really drawing too much attention to itself, but consistently reliable, a bastion of fine dining for hungry Angelenos. And since its inception in 1989, the restaurant has served as the proving ground for a generation of chefs; past alumni include: opening Chef de Cuisine Traci Des Jardins (Jardinière), Mark Gold (Eva), Octavio Becerra (Palate Food & Wine), David McIntyre (
WP24
), Josiah Citrin (
Melisse
), Raphael Lunetta (JiRaffe),
Walter Manzke
(ex-
Church & State
), David Myers (
Sona
), Eric Greenspan (The Foundry on Melrose), Steven Rojas (ex-
Saddle Peak Lodge
), and Ian Gresik (
Drago Centro
). Of course, the newest addition to this formidable lineup is Patina's latest Executive Chef: Tony Esnault, who is, according to S. Irene Virbila, "the best chef that founder Joachim Splichal has had in years." SIV recently wrote a glowing
four-star review
of the place, which, along with a friendly letter from Patina Catering General Manager and
kevinEats
reader Johannes Masserer, inspired me to pay the venerable spot another visit.
About Tony Esnault
: Born in the wine-centric Saumur commune of western France, Esnault, who often spent summers on his grandparents' farm in the Loire Valley, was inspired at an early age to seek a career in the kitchen. He attended the Lycée Hôtelier François Rabelais in Lyon before beginning his formal restaurant career in 1990 at Paris' Michelin-starred Le Montparnasse 25 (starting in pastry). Following, he transitioned to the two-star Carré des Feuillants, then to the three-star L'Auberge de L'Ill in Alsace. 1996 saw the Chef move to mentor Alain Ducasse's legendary Le Louis XV in Monaco. After working with Ducasse for three years, Esnault immigrated to the US to cook under Sylvian Portay (Louis XV's former Chef de Cuisine) at San Francisco's
Ritz-Carlton Dining Room
.
In 2002, Esnault transferred to the Ritz-Carlton in Boston, but the hotel (the first in the chain) eventually closed in 2005. At this point, he reunited with Ducasse and became the Executive Chef at New York's Alain Ducasse at the Essex House; he achieved three Michelin stars here in the 2006 edition of the red guide. The famously excessive Essex House restaurant shuttered in 2007, and Esnault was a natural choice to head up Ducasse's new "down-market" venture,
Adour
(which garnered two stars from the Michelin man). The Chef's tenure here would only last about a year, and in 2008, he begun collaborating with Martha Stewart. Then, in September 2009, Esnault moved to Los Angeles to helm the kitchens at Patina.

Patina used to be located at the
Providence
space at 5955 Melrose, but moved to its current digs at the Frank Gehry-designed Walt Disney Concert Hall in 2003. The Main Dining Room, which seats 150, has been slightly altered since my last visit, with a geometric wooden table now enveloping one of the main structural supports, newly upholstered banquettes, and lighter shades of paint. Unfortunately, that yellow-ish lighting that that wreaked havoc with my photos back in '07 is still here. In addition to the main space, there's also a Private Dining Room for 30, a Patio for 55, and a kitchen-adjacent Chef's Table for nine (where we were seated).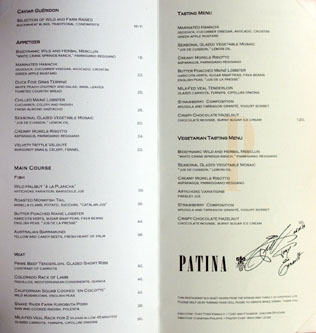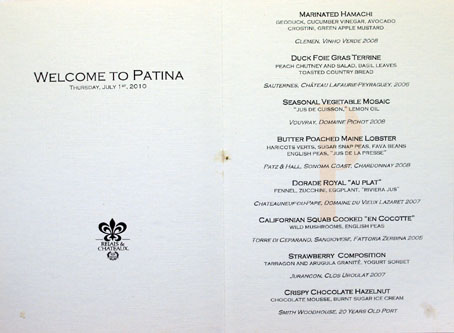 The menu now is largely Cal-French, with perhaps less Italian influence than its had in the past. Diners are normally greeted with à la carte selections and a choice of two tasting menus, but, as mentioned above, we opted for the Chef's Table, which features a special degustation normally priced at $145pp, plus $70 for wine pairings by Sommelier Sylvestre Fernandes (it was reduced to $95 and $50 for us, however). Click for larger versions.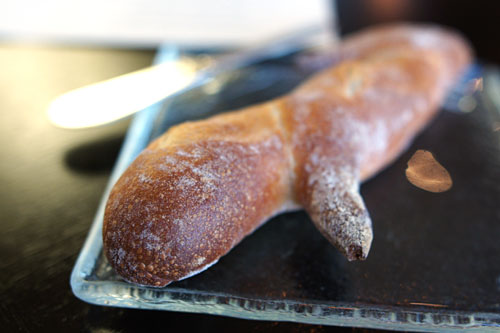 A troika of bread was offered, with my first selection being the
pain epi
. A prototypical example of the style, it went beautifully with the supple, subtly saccharine butter.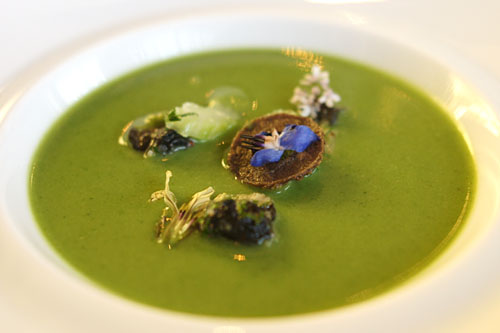 Amuse Bouche: Velvety Nettle Velouté
| BURGUNDY SNAILS, CELERY, FENNEL
Our meal began with a resplendently verdant velouté imbued with the very essence of celery. Not being a fan of the vegetable, I appreciated how its flavor was apparent, yet somehow restrained. To this potage, Esnault adds a trio of Burgundian snails, wonderfully textured, with a great savory butteriness to boot. The greenness of the celery and fennel combination deftly tempered the weight of the escargots, while the tiny buckwheat
galette
mixed things up texturally. All in all, a strong start to the meal--when I was finished with everything, I even made sure to sop up the remaining broth with my bread.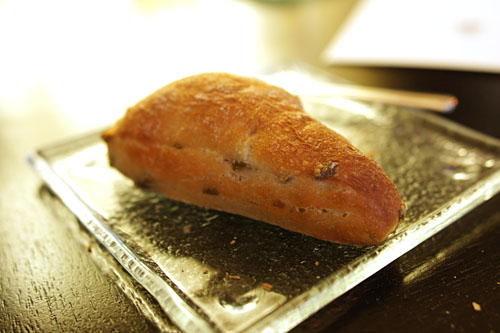 Next up was a green olive loaf. Breads of this type can often be overwhelming, but the olive here was surprisingly subdued, with only a delicate tartness on the midpalate.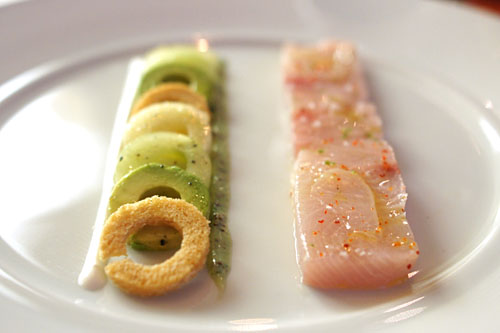 1: Marinated Hamachi
| GEODUCK, CUCUMBER VINEGAR, AVOCADO, CROSTINI, GREEN APPLE MUSTARD
Clemen, Vinho Verde 2008
The meal proper began with a hamachi sashimi dish, a version of which I had at
Adour
back in December 2008. I preferred this iteration. The fish itself was stronger, showing a somewhat fatty, fishy character that one'd expect with good yellowtail. It was tasty alone, but the crux was the geoduck slivers, which added a sweet brine to the amalgam that really intensified the hamachi. Countering the yellowtail were a variety of accoutrements that aptly played off each other and the fish: the tantalizing sweetness of apple, the crunch and salt of the crostini, the cool crispness of cucumber, and the creaminess of avocado. The array of accompaniments was especially effective when paired with the stone fruit-floral-mineral notes and bright acidity of the paired Vinho Verde.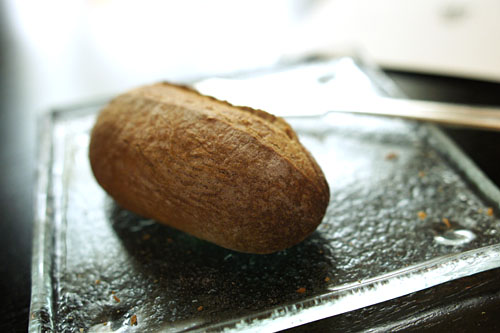 Our final bread was a 7-grain, which was easily the most complex of the triad, as well as my favorite. Interestingly, one of my dining companions likened its flavor to that of Corn Flakes!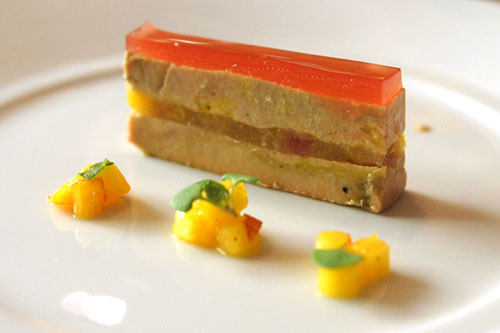 2: Duck Foie Gras Terrine
| PEACH CHUTNEY AND SALAD, BASIL LEAVES, TOASTED COUNTRY BREAD
Sauternes, Château Lafaurie-Peyraguey 2006
Next, we were presented with a slender parallelepiped of foie gras, the sapor of which was unmistakably liver-y in essence, and which seemed to heighten with continued mastication. I'm typically wary of overly fruity concomitants, but I was surprised how effective, and how apt, the peach was in this application--it had just the right amount of sweetness to accent the foie. The flaky country bread, meanwhile, served as a fantastic temper and base for the liver.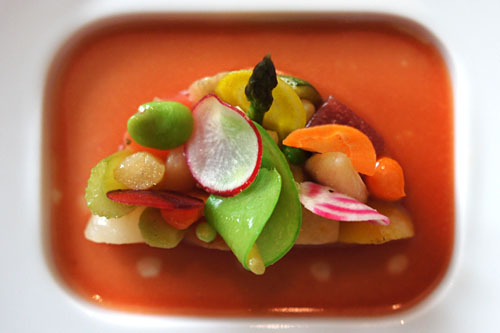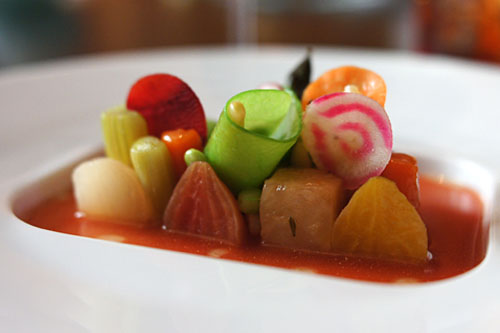 3: Seasonal Vegetable Mosaic
| "JUS DE CUISSON," LEMON OIL
Vouvray, Domaine Pichot 2008
Here, Esnault presents one of his most well-known dishes, which can almost be compared to a cooked, composed, and compressed version of Michel Bras' famed
gargouillou
. It is a skyline of seasonal vegetables, bathed in "cooking juice," with minute dollops of lemon oil. I do not recall the exact list of ingredients, but surely included in the admixture were beet, turnip, carrot, asparagus, celeriac, and radish. The result was a hefty, rustic, almost stew-like dish, cohesive, yet with each vegetable clear and distinct in character. Fortunately, it was noticeably less sugary than the version at
Adour
, good news for the paired Vouvray.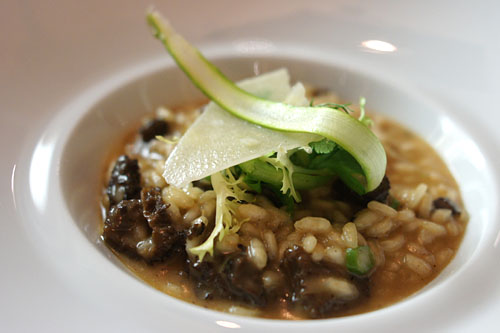 Supplement: Creamy Morels Risotto
| ASPARAGUS, PARMIGIANO REGGIANO
Rjgialla Selènze, La Tunella 2006
The risotto on my last
Patina
visit was revelatory. This version didn't quite achieve such lofty heights, but still was nonetheless quite tasty, albeit a touch overdone. The use of morels lent a heady, smoky, earthy savor to the risotto, which, along with the Parmesan, was perfectly countered by the light, bright notes of the greens.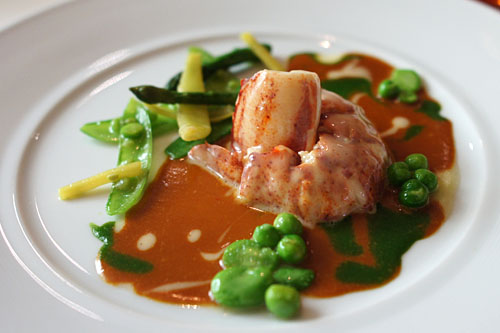 4: Butter Poached Maine Lobster
| HARICOTS VERTS, SUGAR SNAP PEAS, FAVA BEANS, ENGLISH PEAS, "JUS DE LA PRESSE"
Patz & Hall, Sonoma Coast, Chardonnay 2008
The lobster was some of the best I've had in a while--supple yet snappy, with its inherent sweet brine still intact and brilliant, but augmented by the luxuriousness of butter. Further weight was added by the accompanying lobster jus, tarted up with the inclusion of white wine and Armagnac, while the vibrant veggies did wonders in adding a countervailing force to the dish. Very nice, especially when eaten with the Chard, a slightly oaky, citrus-tinged, quintessential pair with lobster.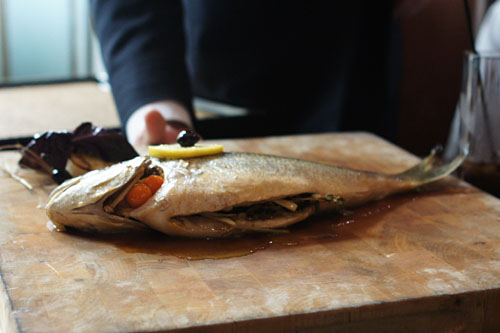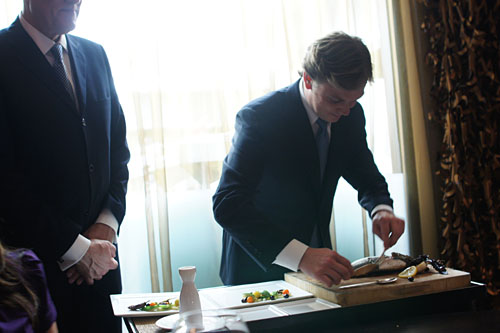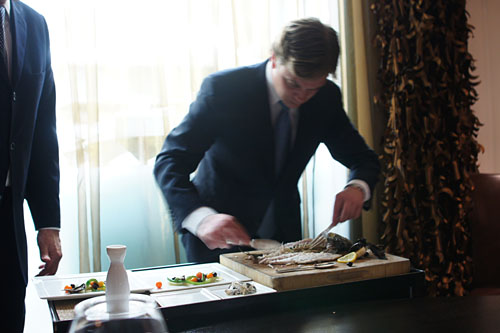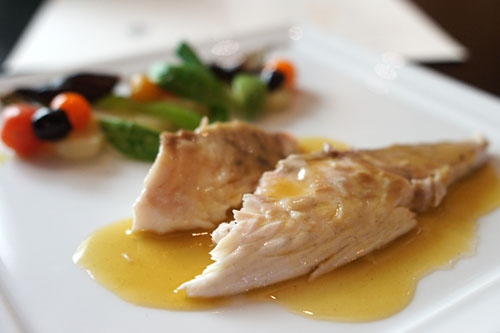 5: Dorade Royal "Au Plat"
| FENNEL, ZUCCHINI, EGGPLANT, "RIVIERA JUS"
Chateauneuf-du-Pape, Domaine du Vieux Lazaret 2007
Dorade, a.k.a. orata or gilt-head bream, is a fish that I don't get to enjoy too often, which is a shame, because it was excellent here. Prepared tableside by General Manager Christian Philippo, the fish had just the right amount of brine, a fantastically savory flavor that was just what I was looking for. Its consistency was soft, yet with a bit of resistance--spot on, really, some of the best cooked fish I've had in a long time.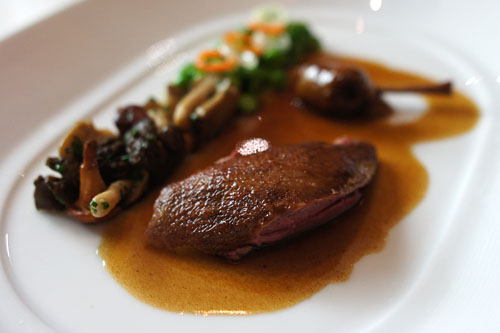 6: Californian Squab Cooked "en Cocotte"
| WILD MUSHROOMS, ENGLISH PEAS
Torre di Ceparano, Sangiovese, Fattoria Zerbina 2005
Squab rarely disappoints, and this was no exception. In fact, it was one of the strongest preparations I've had to date. The confit leg was dense, heavy, falling-off-the-bone tender, but the real star of the show was the sous vide breast. It had a particularly prodigious, profound, immensely satisfying relish that I absolutely adored. The bird easily stood alone, but I did also enjoy the rich, umami-soaked smack of the mushrooms, as well as the relative levity of the peas.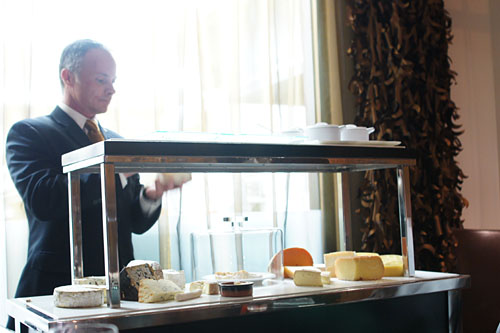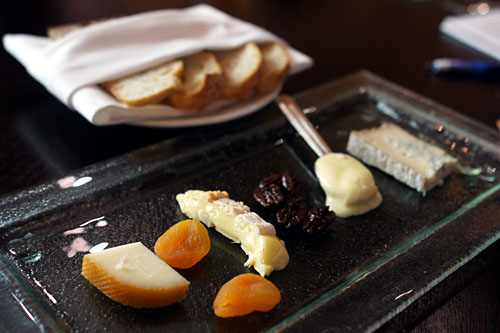 Supplement: Fromage
At this point, it was time for the presentation of the cheese
gueridon
. We let the fromager select for us, and he came up with the following quartet, served with dried apricot, candied pecan, and two types of bread:
Etorki - The first cheese was the Etorki, a sheep's milk varietal hailing from French Basque country. Firm yet supple in texture, it had a nutty, rich flavor that went quite well with the apricots.
Pont-l'Évêque - A soft, smooth, salty cow's milk cheese from Normandy. Given its similarity to Brie or Camembert, it's not surprisingly that I rather liked it.
Époisses de Bourgogne - This washed-rind cow's milk cheese from Burgundy is quickly becoming one of my favorites. It has a soft, gooey consistency and strongly pungent aroma, along with a rich, salty sapor to match.
Blu di Bufala - We ended with a blue cheese from Italy, our fromager's favorite. Easily the strongest flavored cheese in the group, it showed off a characteristic bleu zest, with a bit of spicy saltiness to go along with its earthiness.
At this point, it was time to bring out the sweet stuff, which, at Patina, is the charge of Pastry Chef Waylynn Lucas. We last caught up with Lucas at
Saam at The Bazaar
, where she was turning out some innovative desserts, such as her "Nitro Floating Island." Lucas left The Bazaar in late 2009, and became the Executive Pastry Chef at the Penthouse restaurant in Santa Monica's Huntley hotel. In November, she was the guest chef at Breadbar's monthly Hatchi dinner series, and in May 2010, she started heading up the pastry department at Patina. Meanwhile, on July 7th, Lucas will be participating in a special
Iron Chef
dinner at
Sashi
in honor of Chef Makoto Okuwa (Masaharu Morimoto and
Michael Voltaggio
will also be cooking).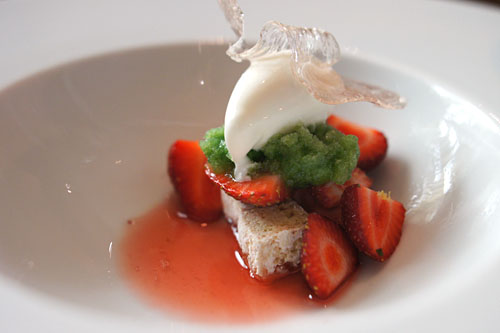 7: Strawberry Composition
| TARRAGON AND ARUGULA GRANITÉ, YOGURT SORBET
Jurancon, Clos Uroulat 2007
Strawberries in various forms--sliced, glass, jus--were vibrant both in flavor and color, while the herbaceousness of tarragon and arugula served as an intriguing counterpoint to the sweetness of the fruit. The yogurt, on the other hand, moderated the whole interaction, and the "dessert crouton" provided some textural variation.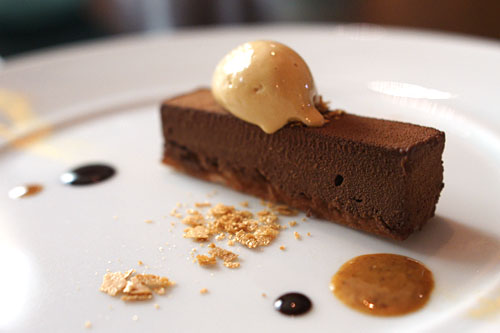 8: Crispy Chocolate Hazelnut
| CHOCOLATE MOUSSE, BURNT SUGAR ICE CREAM
Smith Woodhouse, 20 Year Old Port
Upon seeing this dish, I was instantly reminded of
Michael Voltaggio's
"Fool's Gold," as well as
Michel Richard's
"Kit Kat Bar." Flavor wise, it wasn't too far off either; the hazelnut provided a great bit of nuttiness to offset the overt sugariness of the chocolate, while the ice cream served as a fitting accent. I rather enjoyed the dessert's lovely, crisp-creamy texture as well. In addition to the Port, we were also served a 1945 Rivesaltes with the dessert. Unfortunately I don't remember the producer, but the grenache-based fortified wine showed plenty of raisin-y, dark fruit charm, with a bit of nuttiness for good measure--superb.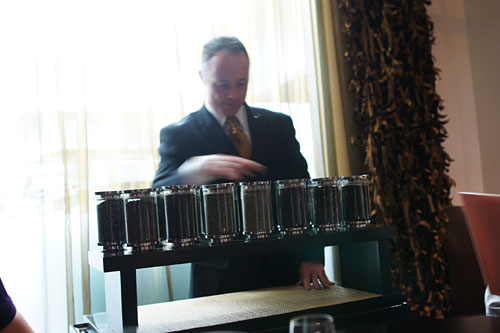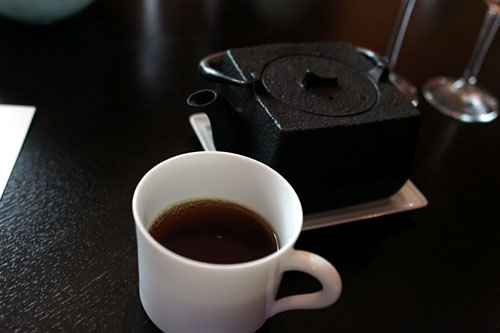 With the meal dispensed with, we were presented with another
gueridon
, this one holding cylinders of loose leaf tea. I opted for the Lavender Earl Grey, our server's favorite, a sweetish, floral Assam tea that my dining companions likened to "spa tea" and "freshly laundered linen." I also tried the French Plum black tea and Jasmine Pearls green tea, both of which were excellent as well.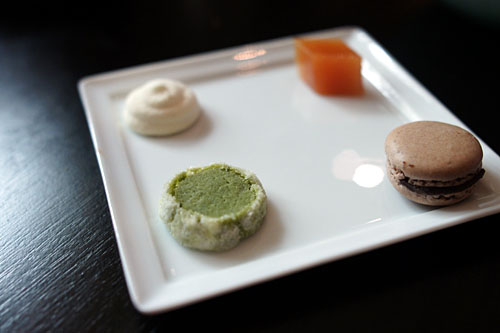 Mignardises
Mignardises consisted of a green tea cookie, passion fruit marshmallow, guava pâte de fruits, and chocolate macaron.
After the meal, Chef Esnault and I chatted for a bit about how business has been affected by the state of the economy, with more and more people shying away from fine dining in the classic sense. I personally think that the "LA" mentality plays a part, too, but nevertheless, it's great to see that Patina is still serving up one of the City's remaining "traditional" fine dining experiences, and the food is probably better than ever, too. With Esnault at the helm now, a revisit to this gastronomic institution, this grande dame of LA dining, is a proposition worth considering.