Hatchi at Breadbar (Los Angeles, CA) [4]
Hatchi at Breadbar
10250 Santa Monica Blvd, Los Angeles, CA 90067
310.277.3770
www.breadbar.net
Thu 07/29/2010, 08:15p-10:45p

When we last encountered Chef Makoto Okuwa, he was serving up a 23-course dinner at his Manhattan Beach hot spot,
Sashi
. Since then, the former Masaharu Morimoto protégé made an appearance on
Iron Chef America
, losing, unfortunately, to Michael Symon. After showing up at
Michael Voltaggio's final dinner at The Dining Room
, Okuwa's latest move landed him squarely at BreadBar, where he was able to try his hand at Hatchi, the restaurant's monthly guest chef series.
For the uninitiated, Hatchi is a sequence of one-night-only dinners at BreadBar in which a special guest chef prepares an octet of dishes, priced at a reasonable $8 each. Past participants have included (in order of appearance): Debbie Lee (Jun '09),
Michael Voltaggio
(Jul '09),
Roberto Cortez
(Aug '09), Remi Lauvand (Sep '09), Eda Vesterman (Oct '09), Waylynn Lucas (Nov '09), Marcel Vigneron (Dec '09), Ricardo Zarate (Jan '10), Iso Rabins (Feb '10), Kumiko Yagi/Ramon Perez (Mar '10), Saul Cooperstein (Apr '10), Brian Redzikowski (May '10), and
Walter Manzke
(Jun '10). Next Month,
Chicks with Knives
will serve up "Love & Kisses & BBQ," while September brings us "Girando Le Isole: A Menu Inspired by the Islands of Sicily and Sardinia," courtesy of
Pizzeria Ortica
alums Steve Samson and Zach Pollack.
Foodie types in attendance tonight included
Alexandra B.
and
Amy K.
from Yelp, Christie of
Pardon My Crumbs
, Darin of
Darin Dines
, Holly of
The Michelin Project
, Ila of
I Nom Things
, Linden of
The Gastronomnom
, and Mike of
Right Way to Eat
.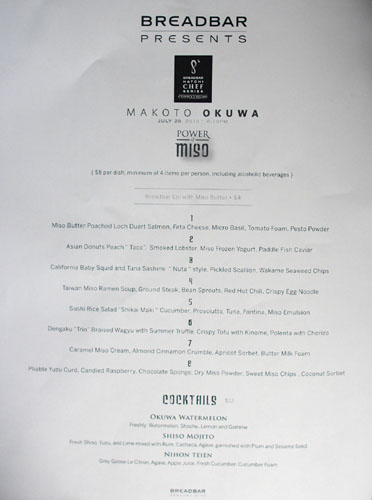 Above, we see Chef Okuwa's menu, entitled "Power of Miso," an ode to the ubiquitous Japanese ingredient. Click for a larger version.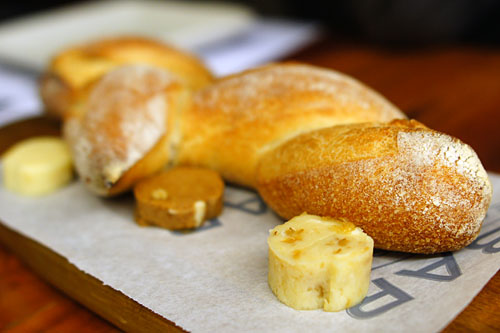 Breadbar Epi [$4.00]
| Miso Butter
Breadbar's standard baguette arrived with three types of miso-infused butter. First was the white
shiromiso
, the mildest of the trio, showing off a pleasant sweetness on top of your typical buttery goodness. The red
akamiso
, on the other hand, was much heavier in savor, with a dark, umami-tinged essence. The barley-based
mugi miso
, finally, was somewhere in the middle, showing off a marked saltiness at first, while transitioning to a rather sugary finish.
Okuwa had crafted three cocktails to pair with our meal, the first of which was his eponymous Okuwa Watermelon, made with shochu, lemon, gomme (sort of a gum arabic emulsified simple syrup), and, of course, watermelon. This
chuhai
-esque libation demonstrated juicy, delicious watermelon flavors initially, while the back end hinted at the slight nuttiness of the shochu. I appreciated how the cocktail was sweet, but not cloyingly so--a perfect drink for summer quaffing.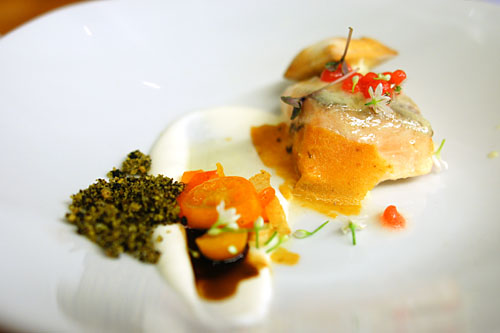 Miso Butter Poached Loch Duart Salmon [$8.00]
| Feta Cheese, Micro Basil, Tomato Foam, Pesto Powder
Our first course of salmon came to us from Scotland's Loch Duart, one of the leading purveyors of sustainably farmed salmon in the world. I found the fish tremendously tender, succulent, and just beautifully cooked. The use of miso gave the salmon a subtly sweet attack, which deftly countered the slight brininess on the finish--superb. Meanwhile, the feta, basil, tomato, and pesto lent a somewhat Mediterranean cast to the dish, though the feta was a bit too domineering at times. Finally, I absolutely adored the textural contrast imparted by the air bread.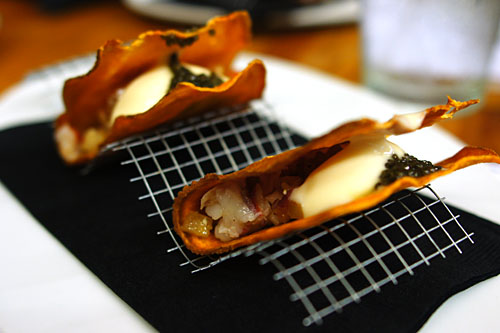 Asian Donuts Peach "Taco" [$8.00]
| Smoked Lobster, Miso Frozen Yogurt, Paddle Fish Caviar
Wrapped in yam potato shells, these were perhaps the most unconventional "tacos" that I've ever had. The smoky savor of the lobster was quite apparent at first, but this then led to the somewhat overbearing sweetness of peach and white miso, while the finish was dominated by the lingering brine of caviar. Unfortunately, given the rapidly crumbling shell and melting yogurt, the dish was difficult to eat, leading to uneven, unbalanced bites that didn't let the flavors meld as they should.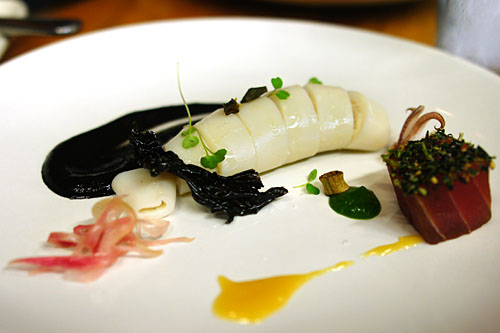 California Baby Squid and Tuna Sashimi "Nuta"-Style [$8.00]
| Pickled Scallion, Wakame Seaweed Chips
Next up was one of my favorite courses of the meal. The squid came cooked to a wondrously supple consistency, and was stuffed with a lovely blue crab salad that deftly complemented the cephalopod's natural sweetness. At the same time, the pickled scallion and green onion purée, augmented by the application of sweetish vinegar
sumiso
and briny squid ink miso, provided sharp pricks of piquant power that served as superb counterpoints to the relative mildness of the squid--excellent. The tuna, meanwhile, was certainly up to par, tinged with a nice wasabi burn; but given the strength of the squid, it was overshadowed.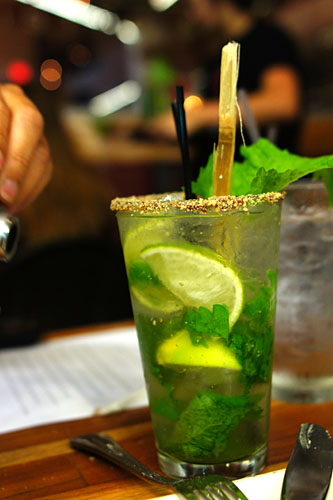 Given the similarity between shiso and mint, using the leaf in place of, or in addition to mint is a no brainer. In fact, I'd had a similar drink three years ago in Denver at
Zengo
. In any case, the Shiso Mojito (shisojito? shishito?) here was composed of shiso, lime, rum, cachaça, agave, plum, and sesame seed (on the rim). The result was quite delicious, actually, with the sesame-umeboshi adding a fascinating nutty-sour finish to the combination of minty-tart flavors and earthy booze. I did find it fascinating that Okuwa added cachaça, making the drink somewhat of a mojito-caipirinha hybrid.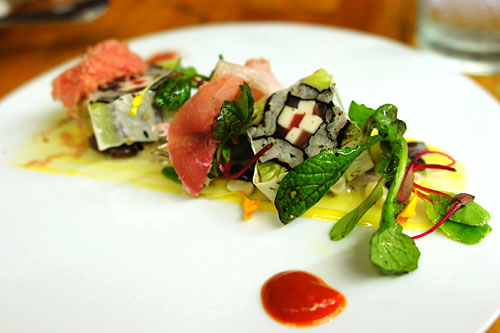 Sushi Rice Salad [$8.00]
| "Shikai Maki" Cucumber, Prosciutto, Tuna, Fontina, Miso Emulsion
During his tenure at Morimoto, Okuwa was known for his signature
shikai maki
, an elaborate square-shaped roll featuring tuna and prosciutto. At Breadbar, he presented a version with tuna, fontina cheese, and cucumber, all encased in a soy paper wrap. Taking a bite of the maki alone, I noted mild flavors of tuna, interspersed with a bit of gravity from the cheese, all leading to a cool, cucumber- and nori-tinged finish. Very enjoyable. The accompaniments, however, really took this dish to the next level. I appreciated the additional savoriness courtesy of the miso and ham, but what was even more appealing was the homemade Sriracha, which lent a fantastic heat to things. Also quite delectable was the mélange of beans and chickpeas in the dish, both of which added substantial weight and earthiness.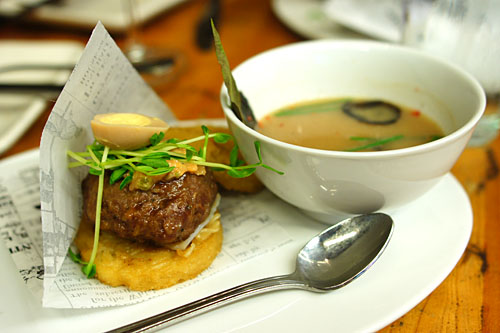 Taiwan Miso Ramen Soup [$8.00]
| Ground Steak, Bean Sprouts, Red Hot Chili, Crispy Egg Noodle
At
Sashi
, I had Okuwa's signature Taiwan ramen noodle soup and loved it. I was expecting something similar here, but boy was I wrong--this "soup & sandwich" course was almost like a deconstructed version of the former dish! I first attacked the heady stew, and immensely relished its profound, spicy smack, imbued with the earthiness of wood ear mushroom and the zest of lemon verbena and
mayu
(a sauce of charred garlic). As good as the soup was, the "slider" was arguably better. Described by my dining companions as a fancy MOS Burger, the burger showed off fantastic hearty, peppery, and beefy flavors, beautifully balanced by the paired bean sprouts, the slice of
naruto
fish cake,
tamago
, and egg noodle "buns." A table favorite.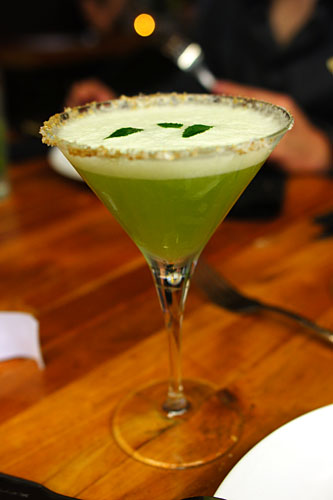 My final cocktail of the evening was the Nihon Teien, comprised of Grey Goose Le Citron, agave, apple juice, cucumber, and cucumber foam. The name means "Japanese garden," and given that nomenclature, I would've appreciated some more herbaceous notes on this one. Nevertheless, I did enjoy the cocktail, with its unabashed cucumber-y bouquet, strong flavors of apple, mild alcoholic burn, and salty finish.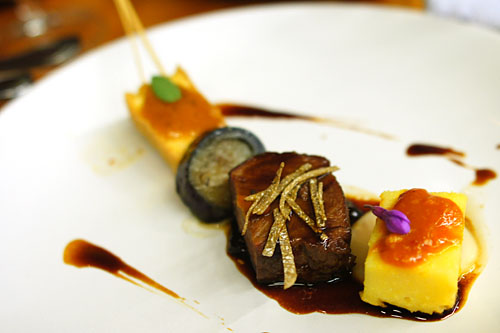 Dengaku "Trio" [$8.00]
| Braised Wagyu with Summer Truffle, Crispy Tofu with Kinome, Polenta with Chorizo
Our final savory of the night came in the form of
dengaku
, a style of grilling in which foods are coated in sweet miso and cooked. I started with the wagyu. Cooked so tender as to barely require chewing, it tasted deep, dark, and positively bovine (though not particularly truffle-y); one had to be careful, however, not to overwhelm the meat with the heavy savor of the accompanying Nagoya miso. Next up was the tofu, which had that great textural interplay of crisp exterior-fluffy interior that I crave. Its subtle sapor played nicely with its concomitants of sesame and
kinome
(Szechuan peppercorn leaves, used to make
sansho
). Finally, I devoured the polenta, the delicate flavor of which was marvelously countervailed by the piquant pinch of chorizo.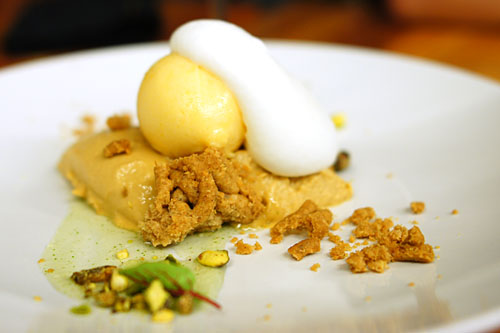 Caramel Miso Cream [$8.00]
| Almond Cinnamon Crumble, Apricot Sorbet, Butter Milk Foam
My last experience with a miso-based dessert at
Providence
left me a bit disconcerted, but fortunately, Okuwa's were a bit more approachable. The cream put forth prodigious notes of caramelized sugar initially, but this then led to a strong, savory miso finish with a touch of cinnamon; it was actually a bit overwhelming. Thankfully, the dessert was made whole by the application of the apricot sorbet, buttermilk, and pistachio, all of which beautifully tempered the caramel cream, finishing the dish.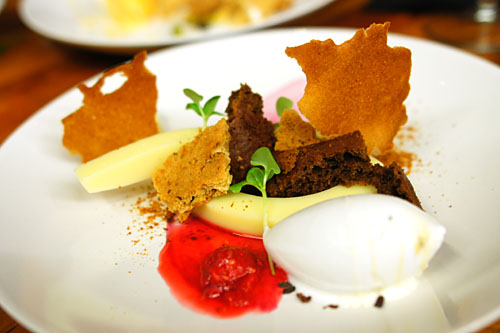 Pliable Yuzu Curd [$8.00]
| Candied Raspberry, Chocolate Sponge, Dry Miso Powder, Sweet Miso Chips, Coconut Sorbet
We ended the evening with an almost
Voltaggio-esque
dessert. The curd, taken alone, had a pure, almost bracingly sour yuzu flavor that played surprisingly well with the gentle sugariness of the chocolate and saltiness of the miso. Simultaneously, the raspberry provided overarching notes of berry sweetness, while the close, again, was imbued with the essence of miso.
Okuwa's homage to fermented soybean was a risky move, given miso's ability to be rather off-putting, but he pulled it off admirably. The Chef was really able to highlight the various faces and facets of miso, and how the ingredient can be incorporated into cuisine in so many drastically different ways. Standout dishes included the ramen soup, squid, and sushi rice salad. Given that I've had Okuwa's food at
Sashi
, I can say that what he presented tonight was considerably different--more complex, more creative, more
challenging
--more my style.