Playa (Los Angeles, CA) [2]
Playa Restaurant
7360 Beverly Blvd, Los Angeles, CA 90036
323.933.5300
www.playarivera.com
Sat 02/04/2012, 03:30p-06:35p
Food and art.
Food as art
. The connection becomes closer yet again with this collaboration between
Playa
and
Pacific Standard Time: Art in L.A. 1945 - 1980
. A six-month initiative from The Getty's Andrew Perchuk that began last October,
PST
brings together more than sixty cultural institutions from across Southern California to showcase the birth of the Los Angeles art scene and how it became a major player in the art world. The people behind
Pacific Standard Time
saw a natural linkage between the spheres of art and food, and thus partnered with John Sedlar and Julian Cox to present a special menu inspired by seminal Southern Californian art pieces.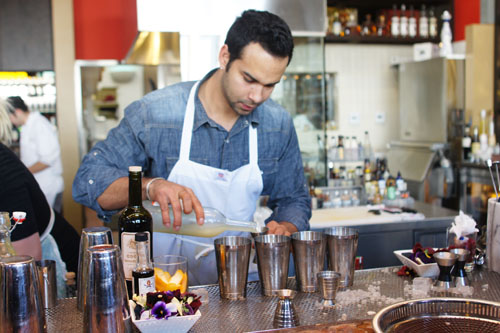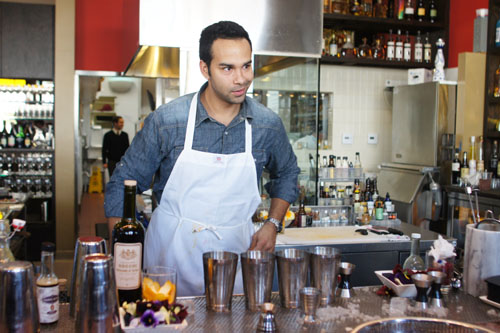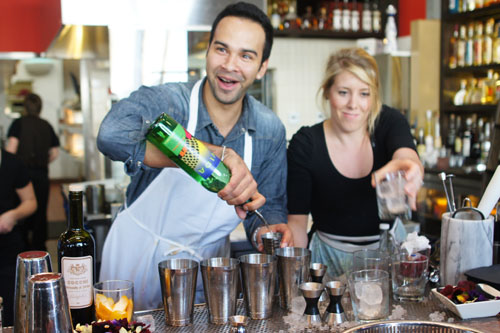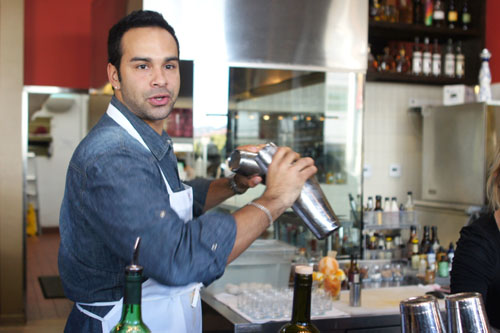 Upon arriving at the friends/family/media kickoff party, I naturally gravitated toward the bar to watch Julian whip up some cocktails, all of which featured mezcal by top producer
Del Maguey
, a company founded by noted LA artist
Ron Cooper
(who co-hosted the event).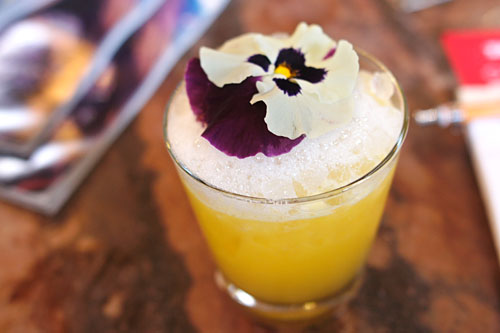 Micro-Climate Mezcal, St. Vincent Orgeat, Fresh Lemon, Agave Nectar, Passion Fruit, Lavender Air
We began with a cocktail inspired by Oscar Castillo's 1972 photograph
47 Chevy in Wilmington, California
. It was a fun, festive, and delicious drink, perfectly playing the smokiness of the mezcal off of the contrasting sugary notes of agave, passionfruit, and orgeat, while the lavender imparted some beautiful floral overtones.


The "Art as an Appetizer" menu was easily one of the most visually striking that I've ever seen, with its bold colors and playful interplay of text, graphics, and space. This three-course
PST
menu is currently available at Playa until March 31st, and will run you a not-too-unreasonable $34. Click for larger versions.

A packed house.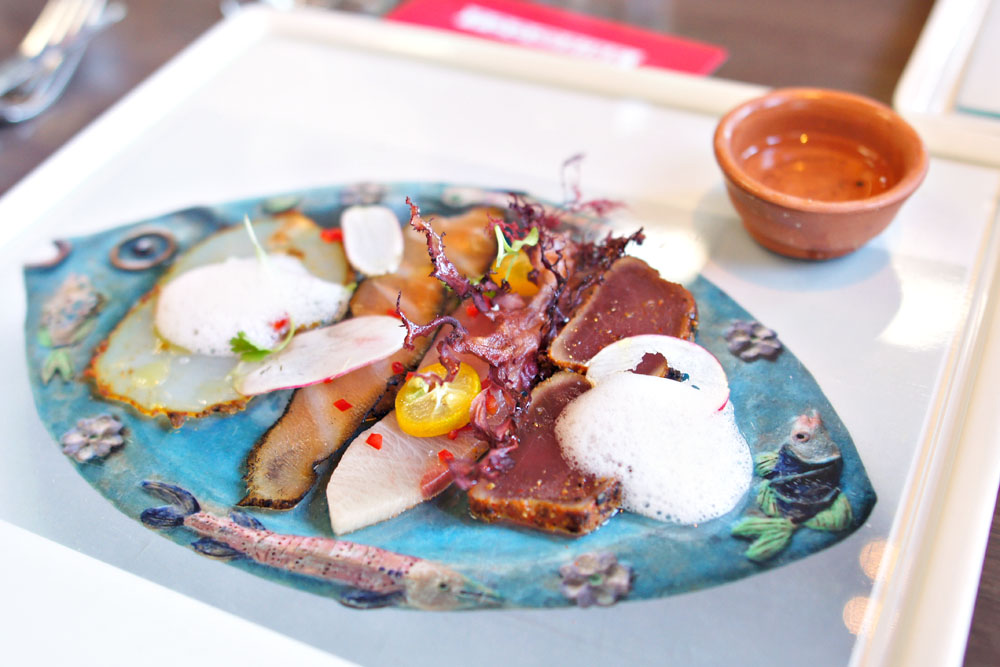 1: Crudo Assortment of Fresh and Smoked Seafood
| Kumquats, Fresno Chiles, Lime, Red Seaweed, Copita of Chichicapa Mezcal
Our first course, served, fittingly, on a print of Beatrice Wood's
Fish Platter
, brought us quite possibly the best presentation of crudo that I'd ever experienced. I began with the tuna, lightly seared and imbued with a fantastic Asian flair courtesy of
togarashi
. It had a superb, creeping, lingering spice that I loved, but the essence of the fish was still beautifully preserved as well. The yellowtail, meanwhile, showed off a mix of fatty, fishy flavors that went perfectly with the countervailing tartness of those kumquats, as well as the crunch of the seaweed. The house-smoked salmon was a favorite for a lot of us, with its rich, almost ham-like savoriness that paired marvelously with the light, bright taste of radish. Last, but certainly not least, was the scallop. Coated in vadouvan, it conveyed a great, Indian-inspired essence that managed to accent, but not overwhelm the intrinsic nature of the bivalve. All four were distinct, delicious, and deftly washed down by a tiny cup of Del Maguey mezcal. The mezcal was so good, in fact, that immediately after the dinner, I stopped by
K&L Wines
and picked up a bottle!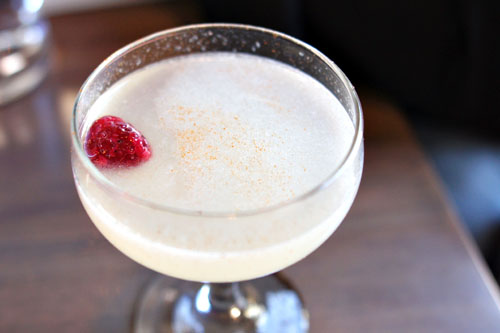 Single Village Mezcal, London Dry Gin, Fresh Lime, Yuzu Tincture, Velvet Falernum, Cayenne
Ron Cooper's 1969 film
Ball Drop
was the muse for our next libation. It was probably my favorite of the three cocktails, with its deft balance of the sweet, tart, spicy, and woody flavors, all underscored by whispers of heat on the tongue. Utterly balanced.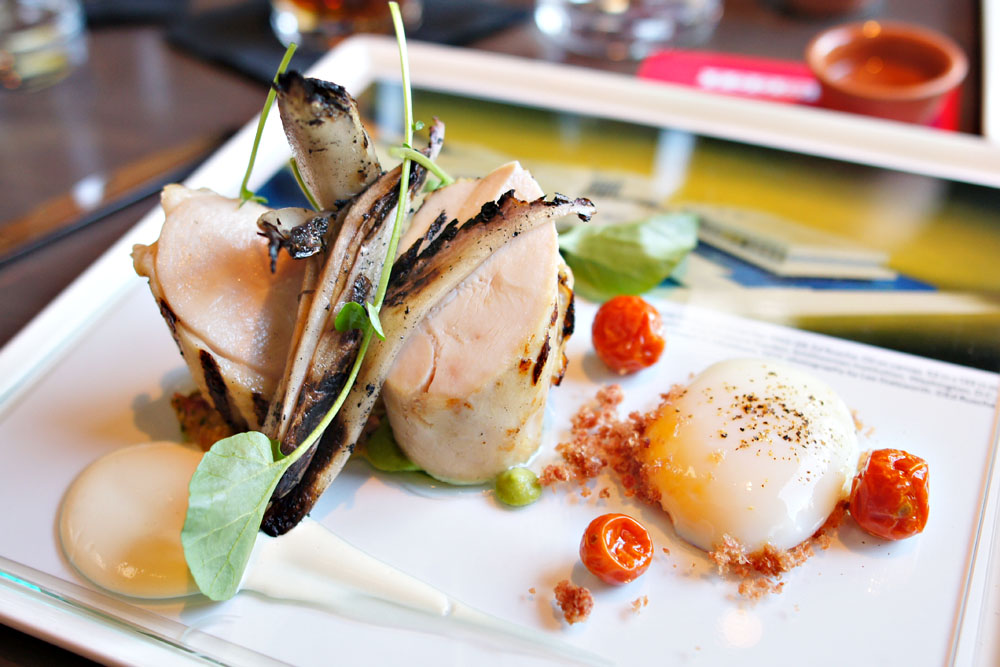 2: Fire-Grilled Breast of Chicken
| Cobb Salad Quemada, Goat Cheese, Incendiary Salsa
I often avoid ordering chicken breast, as we all know that it can be pretty boring, but this preparation, inspired by Ed Ruscha's
Los Angeles County Museum of Art on Fire
, was easily one of the strongest that I'd had. Here, the Chef riffs on the classic Cobb salad, and the results were immensely satisfying. The breast itself was cooked sous vide, then finished on the grill, making for a moist, tender, flavorful bird with a delightfully savory, smoky skin. It was certainly delicious alone, but I also appreciated the lusciousness imparted by the runny egg, while the endive added a fantastic bitterness and crunch to the fray.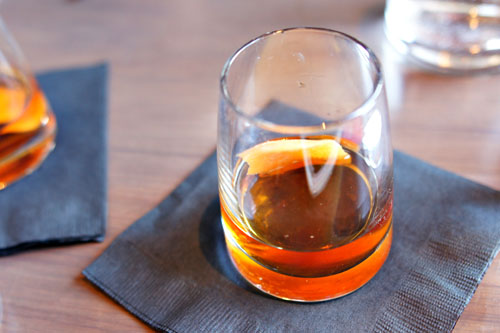 Chichicapa, Cocchi Vermouth di Torino, Oloroso, Grapefruit Peel
Our final cocktail was easily the most serious of the three. Based on Larry Bell's 1964 sculpture
Untitled
, it displayed an intoxicating, juicy nose of citrus, leading to bittersweet notes on the palate, intertwined with the dark, complex flavors of the sherry, all over a smoky base of mezcal. Absolutely lovely.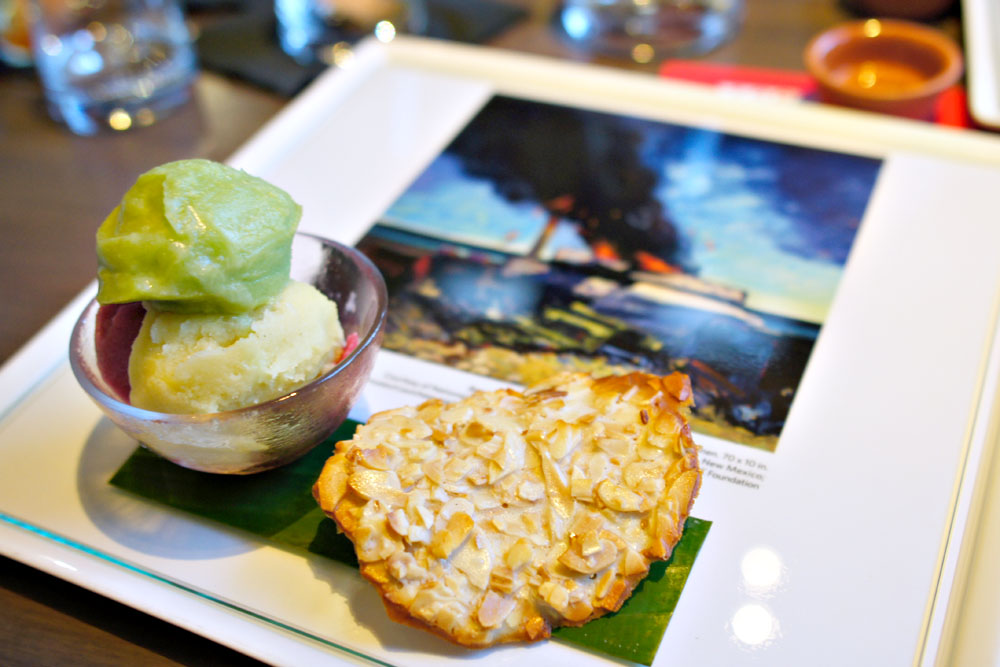 3: Sorbet Splashes
| Roasted Pineapple Mezcal, Poblano Chile Lime, Hibiscus Pomegranate
Carlos Almaraz's
Beach Trash Burning
formed the fire for our final course of the evening. Three flavors of sorbet were presented before us, each one focused, pure, and distinct, all coming together nicely in a mélange of contrasting sweet, sour, smoky, and spicy flavors, moderated by the accompanying tuile.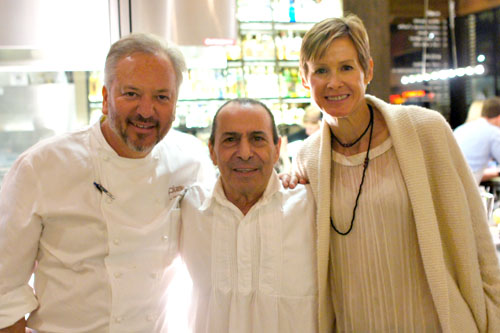 Chef John Sedlar, along with Del Maguey's Ron Cooper and Playa co-owner Elizabeth Chait.
All in all, there was some pretty outstanding food here tonight, making me wish that we could've had more than a mere three courses! Playa's fare already verges on the artistic in some regard, so the collaboration worked out really nicely, sort of presenting food as a form of art in its own right, one that nourishes the body and the spirit alike.