Picca (Los Angeles, CA) [2]
Picca Peru Restaurant
9575 W Pico Blvd, Los Angeles, CA 90035
310.277.0133
www.piccaperu.com
Wed 12/14/2011, 08:30p-11:00p
On December 20th, Opinionated About Dining released its annual recounting of
Best Meals
from various chefs and other food influentials, and I was honored to be included in that list. If you're unfamiliar with OAD, it's a New York-based dining survey and restaurant guide, founded by Steven Plotnicki and based on user-submitted ratings (go
here
to partake). OAD has always had an East Coast slant, but Plotnicki and company are aiming to relieve some of that bias. You might recall that they hosted a
dinner at Providence
in June, and to garner even more participation for next year's guide, Plotnicki recently organized a couple of dinners in LA, including one at Ricardo Zarate's perpetually packed Peruvian,
Picca
.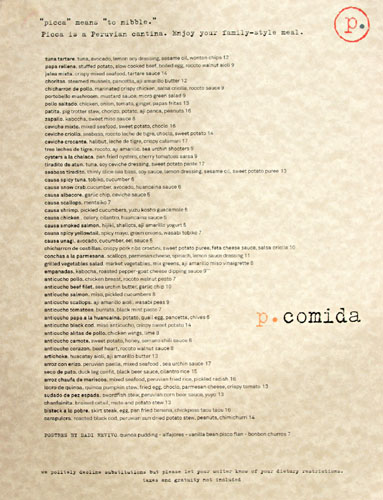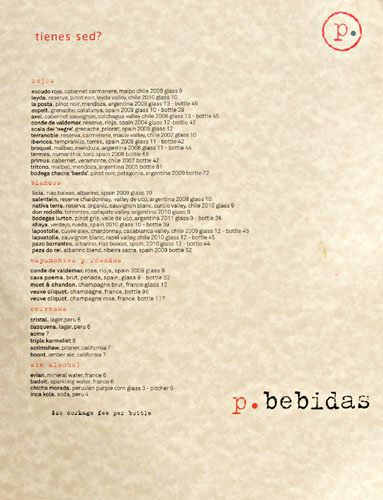 Picca's latest menu is shown above. Now, we didn't go through all 50 or so courses like
last time
, though we did manage 16 dishes and a corresponding number of libations. Click for larger versions.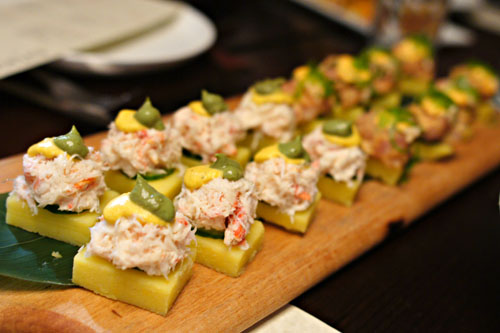 causa snow crab [$6.00]
| cucumber, avocado, huancaina sauce
causa spicy yellowtail [$7.00]
| spicy mayo, green onions, wasabi tobiko
We kicked things off with dual octets of
causa
"sushi." I began with the crab, and appreciated the sweetness of the meat, intermixed with the creamy Huancaína sauce and moderated by the base of potato. The yellowtail was just as tasty, with a delightful prick of heat that balanced out the inherent salinity of the fish nicely.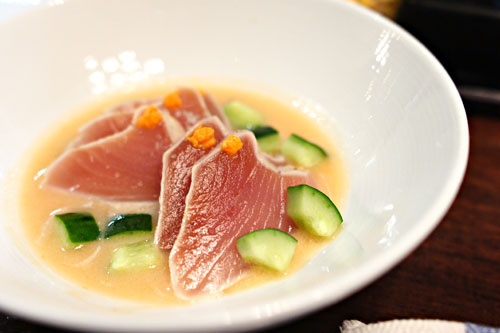 albacore ceviche
| cucumber, rocoto
A special of the evening, albacore tuna arrived lightly cooked and accompanied by a rocoto-infused
leche de tigre
and cucumber. The fish worked well with its tangy, slightly spicy marinade, while the cucumber imparted a refreshing note to the dish.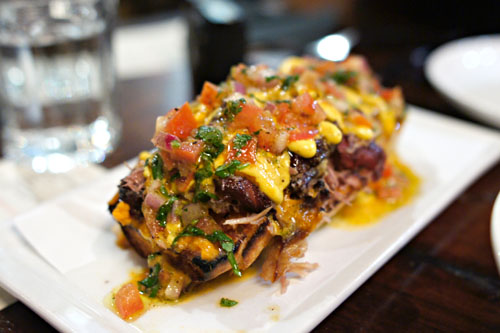 chicharron de costillas [$10.00]
| crispy pork ribs crostini, sweet potato puree, feta cheese sauce, salsa criolla
I've had this dish a
couple
times
before, and it never fails to impress. Not surprisingly, the pork was the hero here, with its lovely, caramelized crunch and beautiful pork-y flavor. It melded flawlessly with the sweet potato and cheese, while the salsa served to balance out all this weight with a touch of acidity. Just a great medley of disparate tastes and textures.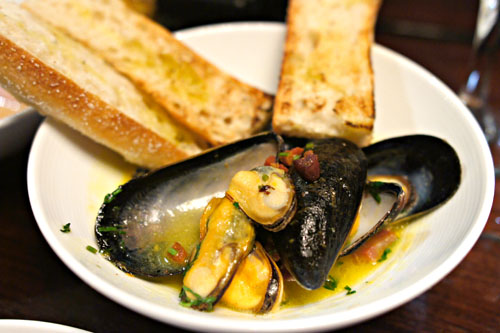 choritos [$12.00]
| steamed mussels, pancetta, aji amarillo butter
Mussels were delicious as well. Plump, snappy, and supple, they showed off a marked brine that was perfectly countered by the combination of salty pancetta and tangy
aji
flavors.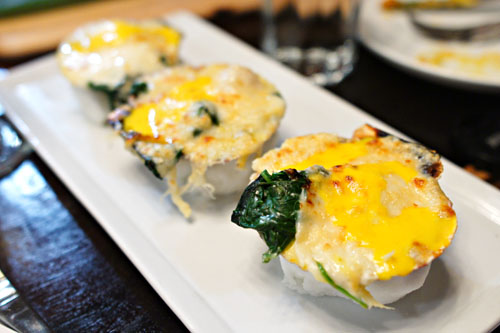 conchas a la parmesana [$11.00]
| scallops, parmesan cheese, spinach, lemon sauce dressing
The scallops, unfortunately, weren't quite as good as I'd had
previously
. The
conchas
themselves were solid, as was the countervailing astringency of the spinach and tartness of the lemon. However, the Parm here was just too much for me, masking a lot of the other nuances at play.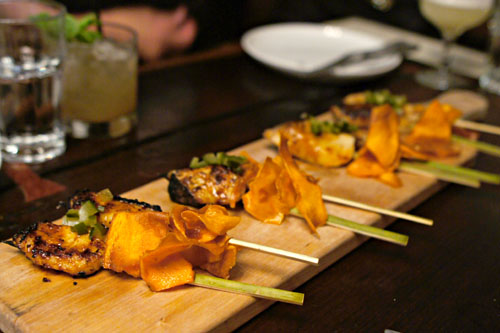 anticucho black cod [$14.00]
| miso anticucho, crispy sweet potato
Here, Zarate presents his take on the ubiquitous dish of black cod and miso. The fish itself was suitably tender and fatty, with a refined sweetness from the miso that was balanced out by a nice bit of smokiness. The potato, meanwhile, served to add a different textural element to the course.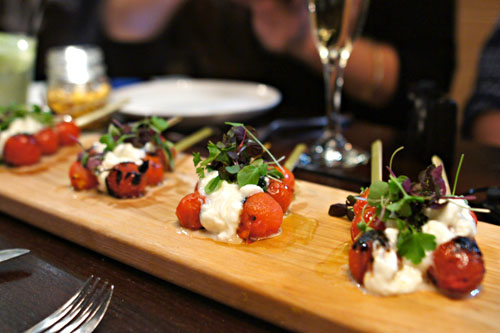 anticucho tomatoes [$7.00]
| burrata, black mint pesto
Juicy orbs of cherry tomato arrived mated with burrata mozzarella and mint pesto, making for a bite that I found reminiscent of a Caprese salad.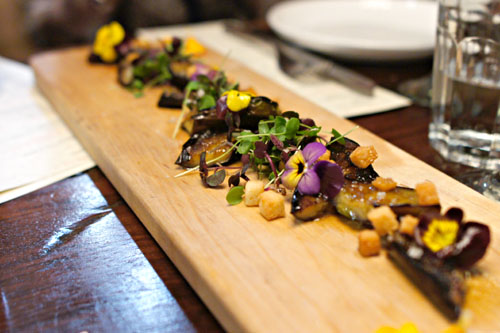 anticucho eggplant
| aji amarillo
Grilled eggplant formed another special of the night. Given that I'm not a fan of the vegetable, this was about as good as it could've been, with a nice mix of smoky and savory flavors to balance out the eggplant's sweet, dense flesh.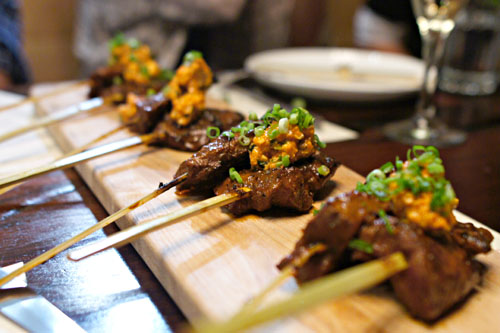 anticucho corazon [$8.00]
| beef heart, rocoto walnut sauce
I first fell in love with Zarate's
corazon
at 2010's
Plate by Plate
tasting. If anything, his beef heart has only improved since then, with its snappy, satisfying, and somewhat chewy bite and incredible bovine sapor, all bound by a perfect application of heat from the accompany rocoto pepper condiment. Delish.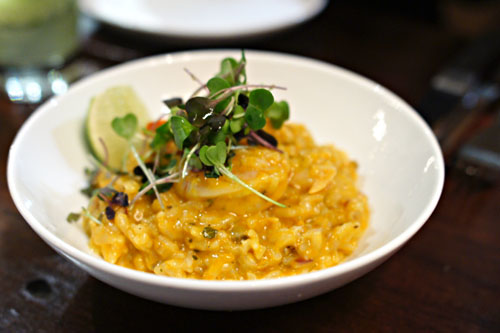 arroz con erizo [$17.00]
| peruvian paella, mixed seafood, sea urchin sauce
Next up was the so-called "Peruvian paella," and boy did it not disappoint. I loved how each item of seafood here--clam, scallop, shrimp--was thoroughly and completely distinct in nature, a perfect showcase of ocean-y, saline savors amped up by the inclusion of sea urchin sauce. A highlight of the evening.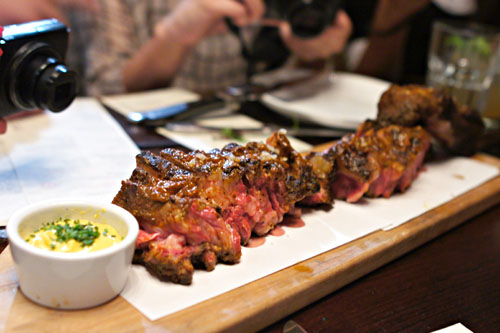 32oz rib eye bone in [$72.00]
| marinated in anticucho sauce
And now, Zarate's
plato principal
: a massive 32-ounce ribeye steak, bathed in anticucho sauce, sous vide'd for eight hours, sliced, and served with a Huancaina condiment. It was an awesome sight to behold, and even more amazing to eat. In fact, it was one of the best rib eyes that I've ever had, with a profoundly beefy character that remained always at the fore, but which also took on different dimensions when complemented by a hint of bitter char and a touch of spice from the rocoto. The accompanying dipping sauce was nice to have, but wasn't even necessary--the steak easily stood on its own.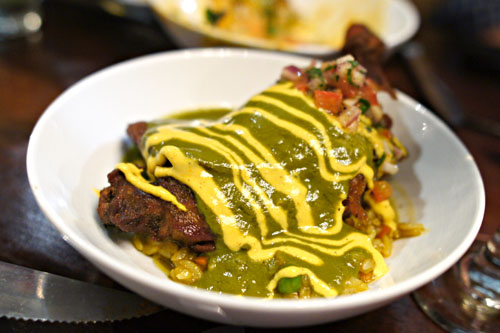 seco de pato [$15.00]
| duck leg confit, black beer sauce, cilantro rice
Rounding out our savories was another one of my favorites. I absolutely adored the duck's supple, luxurious flesh, along with its bold, heady flavors and beautifully crisp skin, all perfectly paired with the accompanying beer sauce and fragrant cilantro rice. A must try.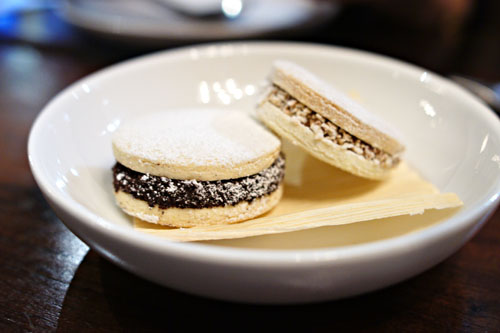 alfajores [$7.00]
Picca has a new Pastry Chef in the form of
Dadi Revivo
(formerly of Darioush), and we were excited to try out some of his new desserts. First up were the
alfajores
, which were basically two cookies joined together here by either dulce de leche or chocolate ganache, then topped with powdered sugar. I found the biscuits nicely crisp, with a mild taste that went well with the dense, sugary centers.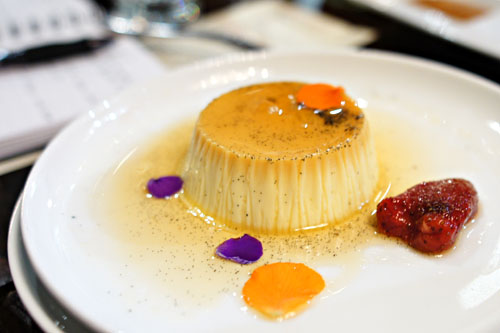 vanilla bean pisco flan [$7.00]
Classic flan flavors were kicked up a notch by a very nuanced hint of pisco tang, then accentuated by a bevy of fruity and floral notes. Beautiful, velvety consistency on this one as well.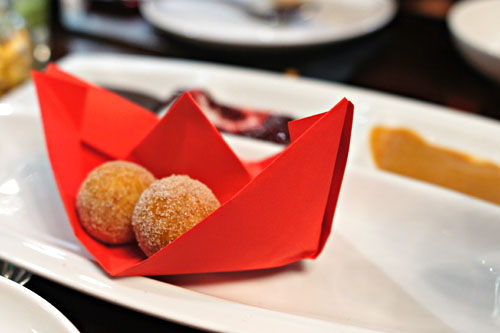 bonbon churros [$7.00]
Churros are always a good bet, and here, they arrived light, crisp, and smelling of sweet spice, bursting with their filling of passion fruit cream. Dipping sauces, meanwhile, included dulce de leche, mixed berry, and dark chocolate varieties.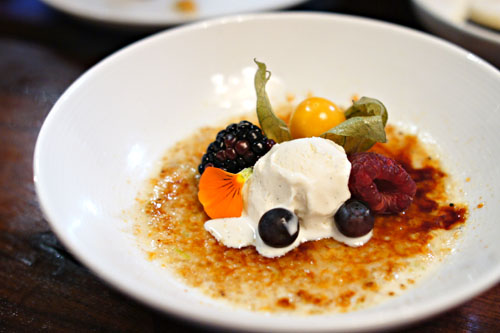 quinoa pudding [$7.00]
We ended with what could be compared to a
crema catalana
-
arroz con leche
hybrid. It really was reminiscent of a crème brûlée with its hard, caramelized top and conveyed plenty of sweet, ricey flavors, balanced by the application of fruit. I actually liked it, though some of my dining companions found the gritty texture of the quinoa a tad disconcerting.
Not surprisingly, we enjoyed another strong, satisfying meal from Zarate and company here at Picca. The place was jam-packed, and given the food, that fact shouldn't be surprising at all. Many thanks to Steve Plotnicki and
Opinionated About Dining
for organizing the event!