CR8 Texture Lab (Los Angeles, CA)
CR8 Texture Lab Underground Dinner
Los Angeles, CA 90021
310.569.4738
www.robertocortez.com
Tue 12/13/2011, 07:00p-12:00a

Particularly astute readers may remember Roberto Cortez from his stint two years ago at the
Hatchi
series, held at BreadBar. Since then, he's been private cheffing and holding various dinner parties, but mostly in the Santa Barbara area. However, Cortez is in the process of transitioning to Los Angeles proper, and aims to establish himself here via a series of innovative underground dinners. As such, I was invited to attend Cortez's CR8 "Texture Lab" event, held December 13th-15th at a non-descript loft in Downtown LA's Warehouse District. The focus of these dinners was to, in the Chef's own words, highlight
the experimentation and exploitation of textures in harmonic and non harmonic balances
, in effect using various textures to provoke and stimulate the mind and senses.

For this dinner, Cortez utilized a building currently serving as home to a series of
underground brunches
(I was previously unaware that such a thing existed!). Therefore, the location came fairly well-equipped in terms of kitchen space. As seen in the photo above, assisting Cortez is Phillipe Sautot, who runs Santa Barbara-based event planning company
Events by Philippe
.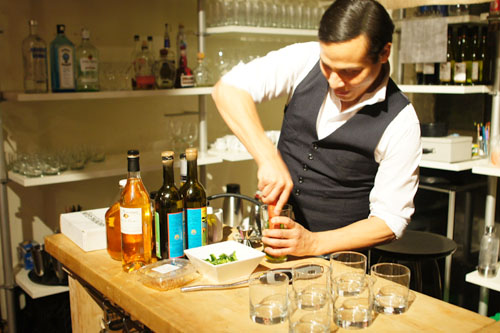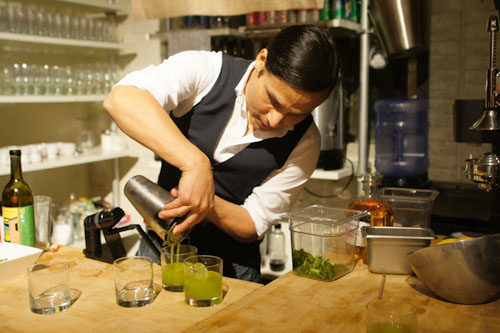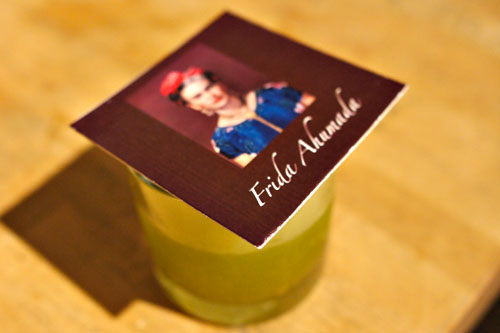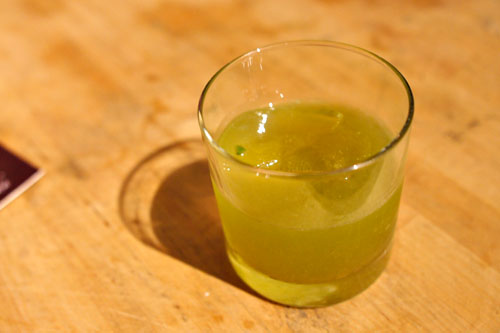 Cortez kicked things off with one of his cocktail creations, the so-called Frida Ahumada, the Chef's tribute to famed Mexican artist Frida Kahlo (of whom he is a big fan). The libation comprised mezcal, apple liqueur, poblano, jalapeño, cilantro, cumin, honeycomb, and a double dose of smoke, courtesy of both a housemade mesquite-smoked ice cube and the application of PolyScience's
Smoking Gun
. Upon lifting the specially made coaster, I was consumed with the drink's woody essence, which formed a masterful interplay with the simultaneously sweet and peppery flavors in the cocktail, making for an intriguing experience indeed.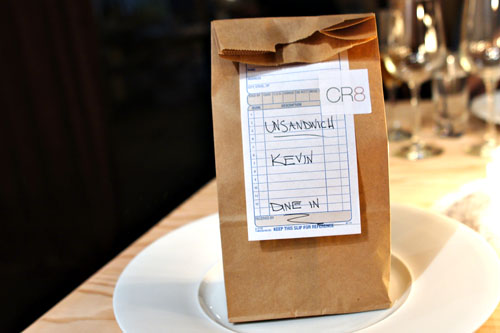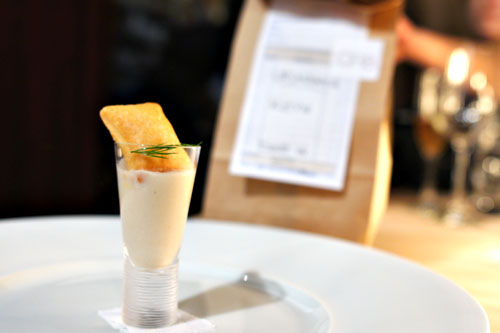 1: un sandwich
We began the meal with a whimsical brown paper bag placed before us, every one customized with each diner's name. Lifting the bag, we were thus treated to our first course, the Chef's deconstructed sandwich, featuring liquid sourdough, "frothy" corned beef, Swiss cheese cracker, egg drops, and a small sprig of dill. It was a beautiful opening, a wonderful marriage of cheesy and beefy tastes in a crunchy wrapper, all moderated by the silky sourdough broth. Classic, comforting flavors, just reimagined.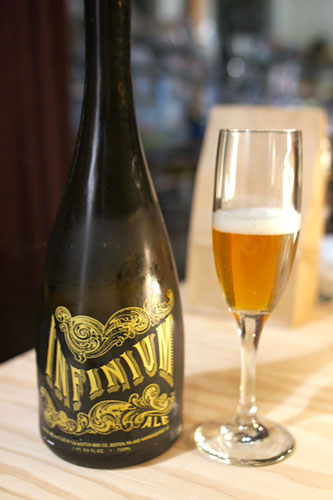 Cortez's dinners are strictly BYOB, so I made full use of that by bringing along a troika of beers to share. First up was the Infinium, a
bière de Champagne
resulting from a joint venture between the Boston Beer Company (makers of Samuel Adams) and German brewer Bayerische Staatsbrauerei Weihenstephan. Not surprisingly, the beer showed off some wine-like qualities, with a fruity character accentuated by some lovely notes of spice and a tangible bit of heat.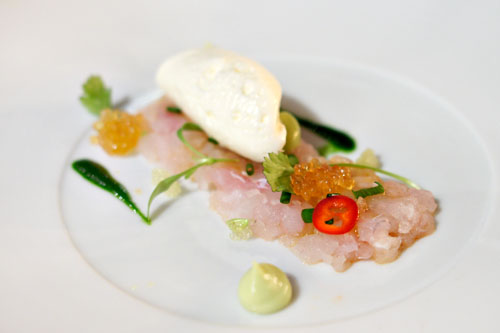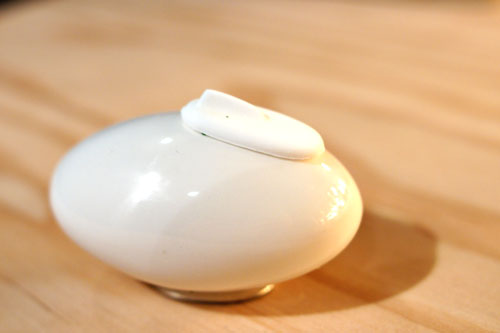 2: texture roll テクスチャロール
Next up was the Chef's abstracted take on a tempura'd sushi roll. The dish was based on a tartar of wild fluke, made with dashi, lemon, soy, and olive oil. This was then joined by BLiS golden brook trout caviar, finger lime, coriander purée, avocado gel, chive, red jalapeño,
nigirizushi
"shinmai rice cream," and an orb containing tempura-nori powder. The dish really came together nicely, with the fresh, subtle essence of the fluke serving as a fitting stage on which the other ingredients could really sing. I especially enjoyed the salty kick of the trout roe, the crunchy-crumbly texture and umami-rich flair of the tempura-nori, as well as the vegetal accent of the cilantro.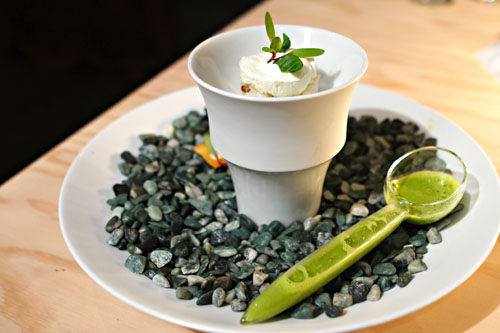 3: minted crab
Here, we were treated to a mound of Dungeness crab, topped with a whipped lemongrass-crème fraiche gel, served with jerusalem artichoke, roasted yellow pepper, and heirloom tomato waters, then accompanied by a Parmesan cracker and a "ghost spoon" of winter mint pesto bouillon. It was delightful, with the sweet, briny crab taking center stage, joined by the bright flavors of the veggies and the creamy weight of the crème fraiche. At the same time, the pesto imparted just a wonderfully green, aromatic counterpoint to the dish that really tied things together for me, while the Parmesan crisp added a lovely crunchiness and saltiness to the mix.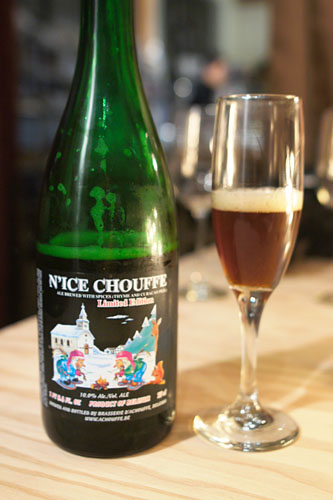 Fitting for the season, I made sure to bring a Christmas beer, specifically the N'Ice Chouffe Belgian dark ale. This was just as you'd expect, with a marked malty sweetness balanced by delectable spicy and herbaceous flavors.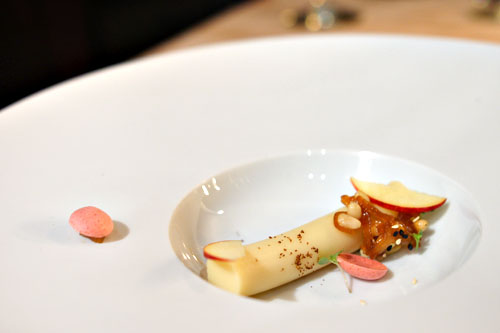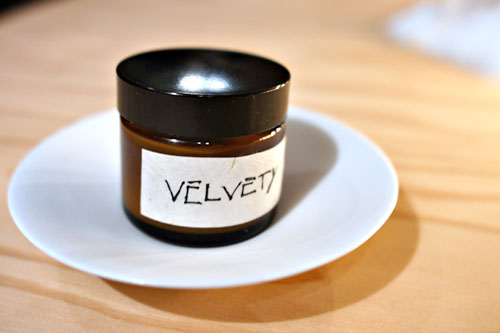 4: apple discovery
The "Apple Discovery" brought us a log of Fuji apple panna cotta, Arkansas Black apple skin meringue, Crimson apple slices, apple juice, shallot, ginger, pine nut, Thai basil, clove, and sesame powder, all served with a jar of smoked pork belly velouté. I really appreciated how the various facets of the fruit were on display here, joined by the savory, nutty, and spicy flavors of all its various accoutrements. What really made the dish, however, was the addition of the viscous,
velvety
velouté, which conveyed an almost unfathomable porcine goodness that really drove home the classic pairing of pork and apple.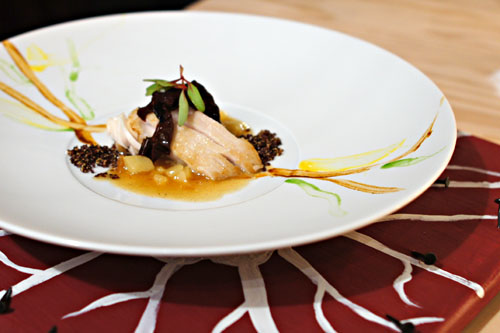 5: painted kahlo flavors
Given that Cortez is a self-proclaimed "Frida freak," it was no surprise to see him pay homage to her in this next dish, which was even served on a specially-constructed tray. Here, the Chef presents oven-roasted black cod, done with an ancho chile escabeche, puffed red quinoa, caramelized endive, pineapple, honey, nutmeg, and canela, garnished by brush strokes of ancho, pineapple, and parsley "paint." The cod itself was spot on, buttery and soft in consistency, with a subtle savoriness that went well with the sweet spice of fish's multiple accompaniments. My favorite element here, though, was the quinoa, which added an absolutely fantastic crunchiness and earthiness to the dish that just wrapped things up perfectly.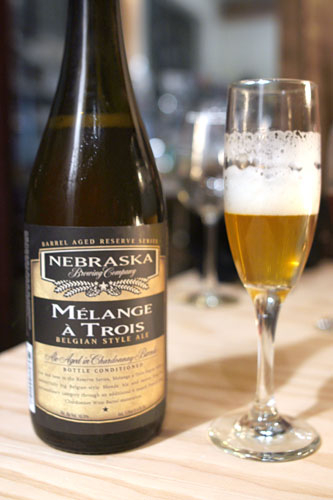 My last beer was the Melange a Trois, a Belgian-style pale ale from Nebraska Brewing Company that's aged in Chardonnay barrels. As such, the brew was very vinous in nature, with a good amount of woodiness and a marked sweetness, accented by flashes of citrus-y tartness.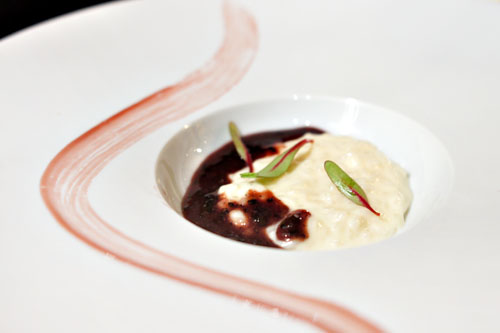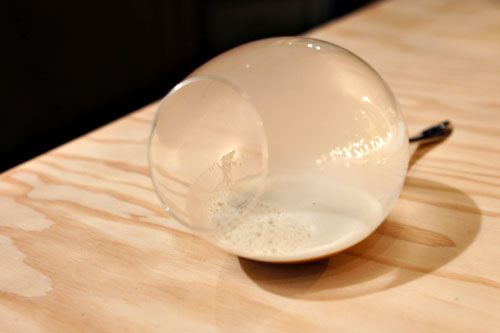 6: earth's deep perfumes
Given how much of a risotto fiend I am, it's no shock that I had a hard time resisting this next course, an Acquerello carnaroli risotto with a reduction of Intelligentsia Black Cat coffee and Syrah, paired with a spoon-wine glass hybrid of shiitake-morel cappuccino. Talking about the risotto alone, it was tremendous, with a perfectly
al dente
texture along with a wonderfully rich, luscious character. Somewhat to my amazement, it worked marvelously with the wine-coffee glaze, with the simultaneously sugary and bitter flavors of the sauce playing off the weight of the rice flawlessly. The crunchiness of the bits of coffee bean was a gratifying surprise as well. At the same time, the cappuccino conveyed the pure, earthy, umami-rich essence of the mushrooms to great effect, and linked together with the risotto in wondrous fashion.
Très
cool.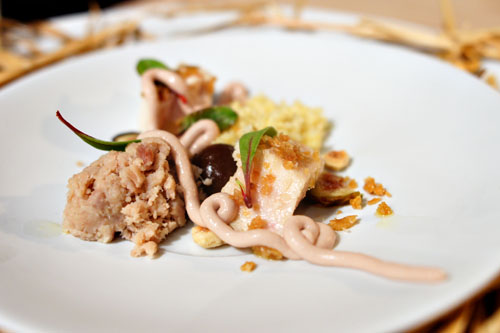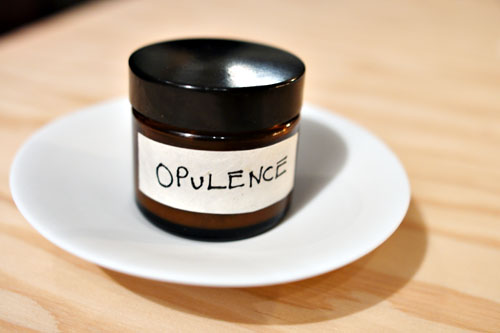 7: jidori ortolon ceremony
For our final savory course, Cortez was inspired by the famously taboo culinary delight that is the
ortolan
. Now, given the difficulty of acquiring the bird in the US, the Chef substituted Jidori chicken in three forms: legs confit'd in duck fat then made into rillettes, breast cooked sous vide, and skin fried. To evoke the fattening process of the ortolan, in which the bird is force-fed millet and figs, we had here a fig spherification and pressure cooked millet and hazelnuts. Giving a nod to the process in which the ortolan is killed by drowning in brandy, Cortez includes an Armagnac gelée. And finally, to convey the flavor of the internals of the bird, foie gras is used here as well. If that wasn't enough, a jar of roasted chicken bone-black truffle jus was thrown in for good measure. The end result of all this was something rather special, just an amazing mélange of wonderfully savory flavors, augmented by the heady relishes of the liver, yet punctuated by the piquant counterpoints of the brandy and fig, with the truffle jus providing overtones of earthy
opulence
that deftly integrated the dish.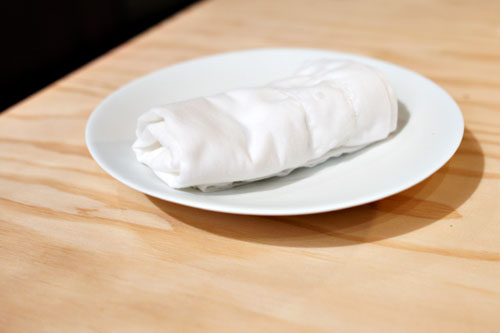 A lavender towel set the stage for dessert, enrobing us with its delicately floral bouquet.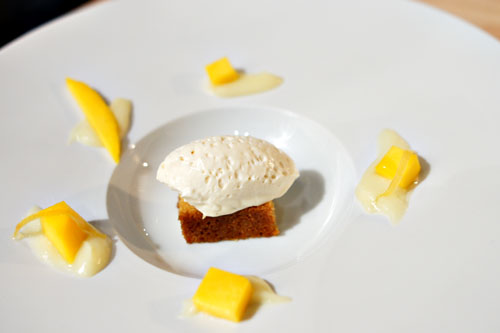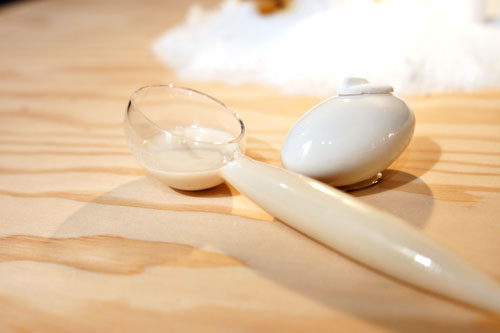 8: velvet tenderness
Dessert comprised a rice pudding cremeaux with Indonesian cinnamon, resting atop a citrus brown butter cake, surrounded by five points of mango and lemon pith/peel sauce, all accompanied by an orb of warm salted liquid toffee caramel and a spoonful of almond lavender milk. I began with the milk, and
my god
, it was fantastic--I wanted an entire pint of its sugary, floral goodness. The toffee caramel was similarly addictive, and served as a faultless foil to the comparatively subdued nature of the rice pudding and cake combo. Meanwhile, the lemon purée added a bittersweet component that definitely helped balance out the saccharine flavors at play.
Compared to what I experienced at Hatchi, I can only say that Cortez has stepped up his cooking dramatically. The food was delicious certainly, but was so much more than that. I loved the whimsy and thematic nature of his plates, as well as the inventiveness and creative blending of tastes and textures going on. This truly was one of the most intriguing, memorable meals that I'd had in a while, and if the Chef can keep executing on the level, he'll be a force to be reckoned with on the underground dining scene to be sure. He might even give
Wolvesmouth
a run for his money!