The Spice Table (Los Angeles, CA)
Spice Table Restaurant
114 S Central Ave, Los Angeles, CA 90012
213.620.1840
www.thespicetable.com
Fri 01/27/2012, 07:10p-11:00p

I'm surprised that it took me so long to get here. The Spice Table was opened up way back in March last year by Chef Bryant Ng and wife Kim Luu-Ng (an attorney). Housed in an unassuming, 100-year-old, 2,000-square-foot Downtown building that once was home to the mediocre Cuba Central, the restaurant serves up Southeastern Asian fare inspired by the culinary heritages of its proprietors: Singapore and Vietnam.
About the Chef
: Bryant Ng was born and raised in the San Fernando Valley, the scion of a Singaporean family that ran a Chinese eatery called, cleverly, Wok This Way. Being a proper Asian boy, he attended UCLA, where he majored in molecular biology and business administration. Then, following graduation, Ng worked in pharma and biotech consulting in the Bay Area before being lured back into the kitchen. He attended Le Cordon Bleu in Paris, and after his studies there, returned to San Francisco to cook at Roland Passot's longstanding La Folie. From there, Ng moved to New York, cheffing under Daniel Boulud at his eponymous Daniel before returning back to LA, landing at Mark Peel's Campanile.
That gig, with its Nancy Silverton connection, set him up for becoming the opening Chef de Cuisine at
Pizzeria Mozza
, working with Executive Chef Matt Molina. Ng, however, was out the door by 2009, and ended up consulting for
Pizza East
in London in the latter part of that year. By July 2010, word had spread about Ng's plans to open up shop in Little Tokyo. The Spice Table was supposed to debut that fall, but delays in the Weiland's Brewery-adjacent eatery pushed the opening until the following year. The restaurant finally bowed in March 2011, with Ng joined by Sous Chef Bonnie Jiang (Lucques, AOC) and Erik Black (Campanile,
Osteria Mozza
), and font-of-the-house coordinated by former Mozza alums Sharon Aronson and Ralph Waxman.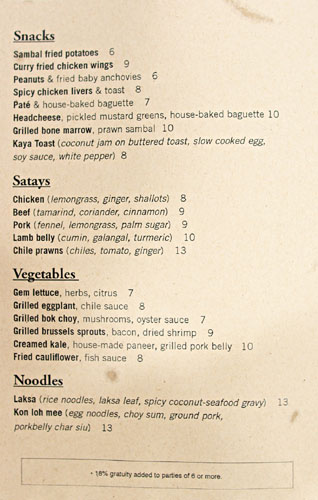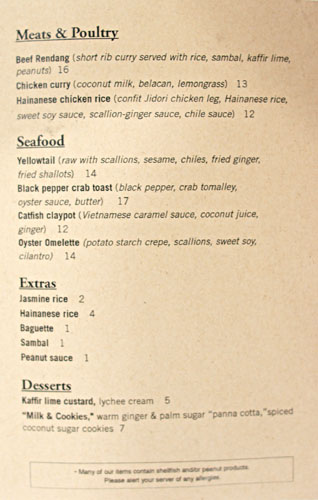 The Spice Table's dinner menu is dominated by smaller sized plates, intended for sharing and grazing, with special attention being paid to satays and other dishes grilled on Ng's wood-burning hearth. There's also a lunch menu focused on
banh mi
and other, more casual fare. Click for larger versions.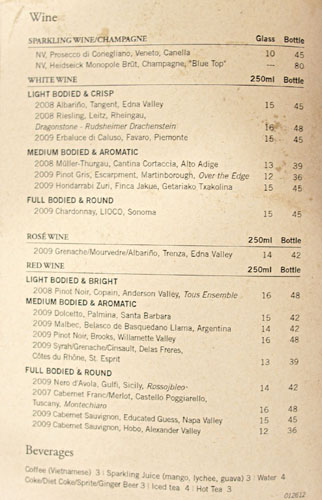 To drink, we're talking about a smart, focused selection of wines available by the 250mL carafe or bottle, as well as a small list of California-centric craft beers on tap. Click for larger versions.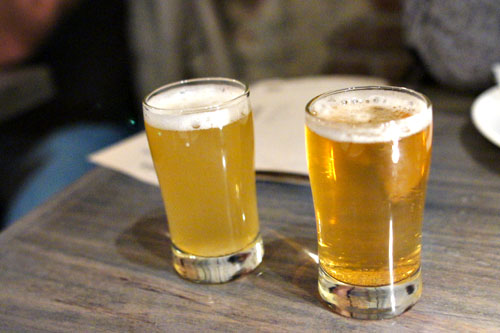 Beers here are available in 4-, 12-, or 16-oz sizes, with the smallest pour allowing you to sample a wider variety of beers; I wish more restaurants would follow in this model. In any case, we began with the
Allagash Brewing Company, Allagash White, Belgian Style Wheat [$2.50]
, a wonderful witbier, in addition to the
North Coast Brewing Company, La Merle Saison [$3]
.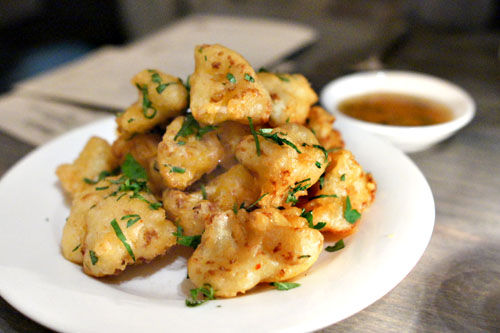 Fried cauliflower [$8.00]
| fish sauce
I'm somewhat of a cauliflower fiend, so this would've been a must-order even had it not been recommended by pretty much everybody. I loved the florets' light, crisp batter, contrasted against their supple, soft centers, relatively mild in essence but dutifully accented by what I believe was a lacing of turmeric powder. The cauliflower was certainly delicious alone, but what took this over the top was that fish sauce, which added a heady, piquant pungency to things that just wrapped all the flavors up so perfectly. Simply put, this was quite possibly the best cauliflower dish that I'd ever had.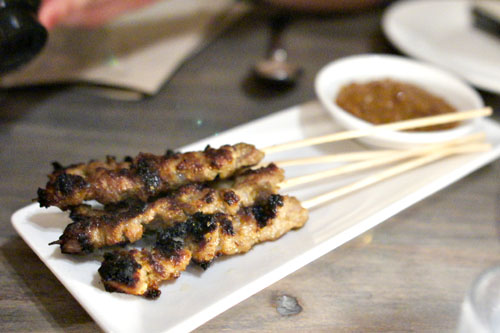 Lamb belly [$10.00]
| cumin, galangal, turmeric
Given that Ng specializes in satay--grilled, marinated meat on a stick basically--we had to give one of his skewers a shot. We chose the lamb belly, which came enthusiastically recommended by our server. Flavor-wise, it was pretty spot on, bursting with succulent, ovine goodness and punctuated by a smoky, bitter char. I also enjoyed the accompanying peanut sauce, which I found rather spicy, and much more subtle, much more appealing that the cloyingly sugary versions that typically come with satay. However, I would've liked to have seen more substantial pieces of lamb here, because, as the dish stands, the skewers weren't particularly satisfying in terms of texture.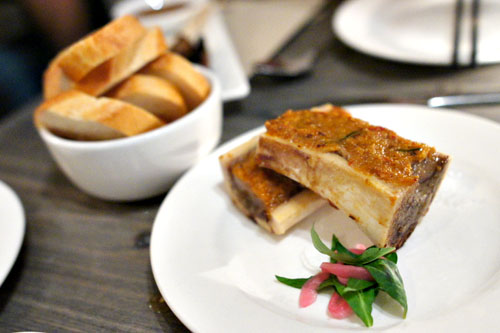 Grilled bone marrow [$10.00]
| prawn sambal
Bone marrow was tremendous, coming straight off the wood-burning grill and then topped with a layer of spicy prawn
sambal
(a paste of chile and fermented shrimp), then served with small mound of sea salt and a miniature salad of
rau ram
and red onion. I proceeded to assemble the various ingredients on the sliced baguette, and the resulting bite was genius, with the incomparable gravity of the slippery, gelatinous marrow playing perfect against the heat and umami-tinged relish of the
sambal
, all while the veggies added sharp pricks of piquancy to the fray. Just a marvelous mélange of disparate flavors, making for the strongest bone marrow dish that I'd ever experienced.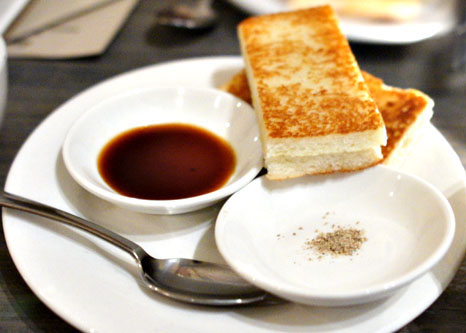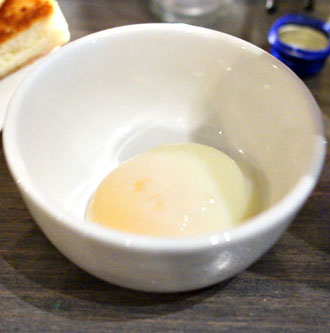 Kaya Toast [$8.00]
| coconut jam on buttered toast, slow cooked egg, soy sauce, white pepper
Another oft recommended dish is Spice Table's
kaya
(coconut jam) toast. It arrived at our table along with a perfectly poached egg, pepper, and soy sauce, ingredients which we were instructed to mix together into a thick liquid, and then dunk the rectangles of toast in. I was a bit skeptical, but the course really did wow me. The interaction between the sweetness of the jam and the savory character of the soy, all moderated by the lush, runny egg, was a taste to behold, a faultless balance of flavors that was simultaneous simple, yet stupefying.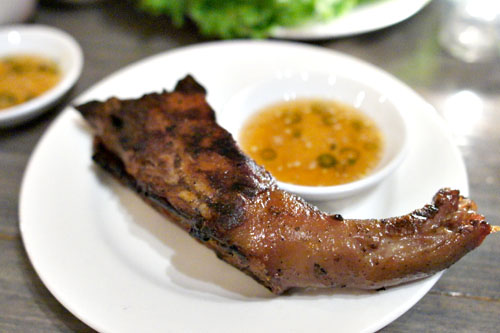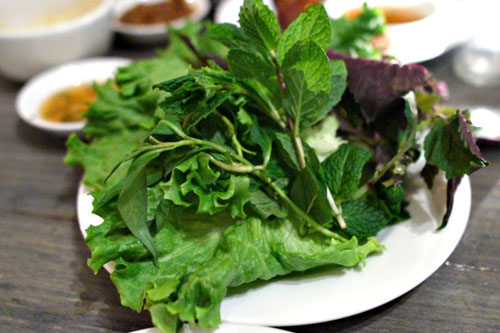 Pig's tail [$13.00]
| lettuce, herbs
At this point, the kitchen sent out an unexpected plate of pig tail (no, it's not nearly as curly as you'd think) for us to try. Tail is still a rarity in restaurants, but I'd thoroughly enjoyed Kris Yenbamroong's version at
Night+Market
, so I had some high expectations here. Think oxtail, but better: an amalgam of tender, falling-apart flesh and fat, wrapped around bone, teeming with porcine richness and swank. It was a dish of almost unimaginable heft, so the paired plate of lettuce, mint, perilla, and
daun laksa
was absolutely crucial in providing balance and levity to the course. A mound of pork, mixed in with the greenery, wrapped in lettuce, and bathed in fish sauce--talk about an enchanting eating experience!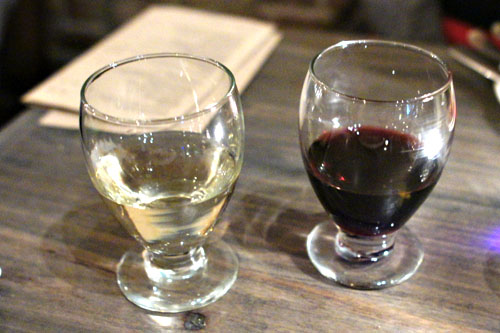 With our beers gone, we moved on to wine, and our server recommended one white and one red carafe to go with the remainder of our meal. The white was the
2009 Hondarrabi Zuri, Finca Jakue, Getariako Txakolina [$15]
, a delightfully light, refreshing txakoli with great acidity. The
2007 Cabernet Sauvignon, Educated Guess, Napa Valley [$15]
, on the other hand, was sort of the complete opposite, with straightforward Cab notes of dark berry accented by a touch of smoke and spice--quite nice.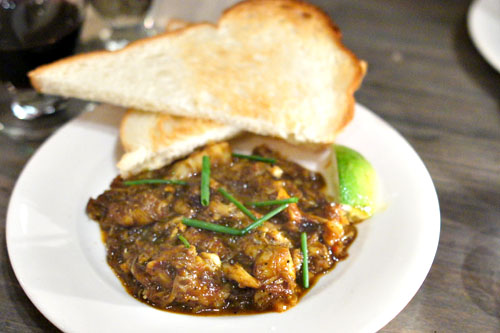 Black pepper crab toast [$17.00]
| black pepper, crab tomalley, oyster sauce, butter
Up next was my most anticipated dish of the night, Ng's signature black pepper crab. A great heap of crab meat came in substantial chunks, better for me to enjoy the crustacean's texture and chew. There was loads of peppery spice up front, intertwined with the slightly saccharine character of the oyster sauce, further accented by pinpoints of sourness from a squeeze of lime. Despite all the strong flavors at play though, the crab remained the hero of the dish, its inherent sweetness and brine still at the forefront of each bite, underscored by a delightfully lingering, creeping heat.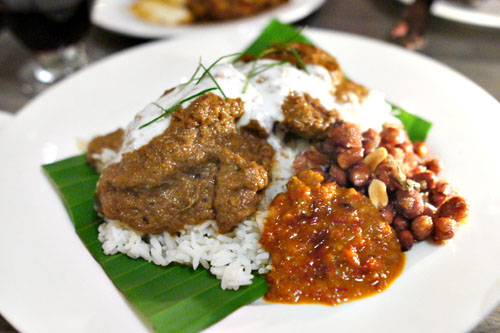 Beef Rendang [$16.00]
| short rib curry served with rice, sambal, kaffir lime, peanuts
In our final savory course of the evening, Chef Ng riffs on the classic Indonesian dish of
rendang
, which is basically a dry curry of sorts. Niman Ranch short ribs show off their dark, deep flavors, joined on the palate by countervailing notes of ginger, lemongrass, peanut, and anchovy, with the coconut and jasmine rice serving to temper the dish. Overall, a great showcase of contrasting salty, sweet, spicy, and sour flavors; I just wish that the beef was a touch more tender.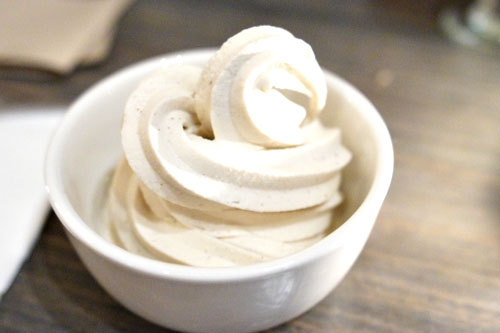 Spiced cognac [$6.50]
| soft-serve ice cream
Moving on to desserts, we began with easily the most intriguing soft serve that I'd ever had. The flavors at first were a hair disconcerting actually, but the more I ate, the more I grew to like the dish. Its enticing, slightly perplexing, yet fantastic interplay between brandy, spice, and sugary ice cream make this a must-try.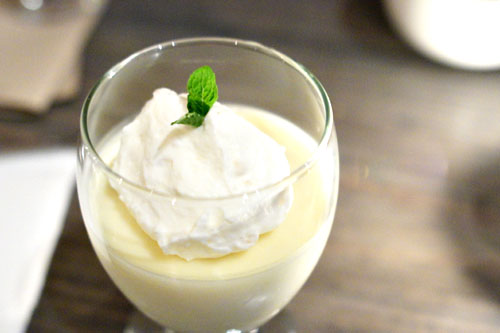 Kaffir lime custard [$5.00]
| lychee cream
The lime custard, meanwhile, wasn't quite as successful. I appreciated the pointed tartness of the light, airy custard, as well as the tempering effect of the lychee cream, but I wanted more to balance out the dessert, both in terms of flavor, and texture, perhaps the inclusion of something like a graham cracker crumble.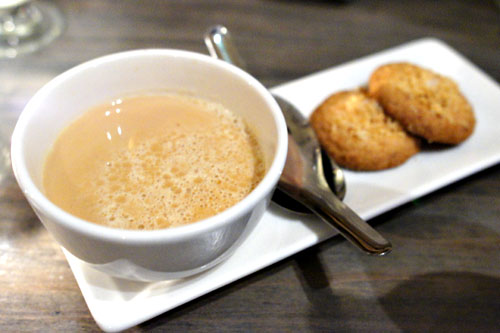 "Milk & Cookies" [$7.00]
| warm ginger & palm sugar "panna cotta," spiced coconut sugar cookies
We ended with Ng's take on the traditional treat of milk and cookies. The milk was a porridge-like liquid brimming with warm, spicy, sugary, and even savory flavors, a hearty, satisfying soup in which to dunk my cookies. Nice.
Given the mixed reviews that The Spice Table has garnered over the past year, I came into the restaurant with some trepidation. I left, however, suitably impressed. I think Ng's cooking really captures the culinary climate here in LA at the moment, a multicultural affair that offers up flavors that are robust, confident, polished, yet rustic, all at the same time. It's this perfect blend of the Chef's heritage, unflappable Continental training, and unwavering Angeleno panache that give The Spice Table its magic.