Ohshima (Orange, CA)
Ohshima Japanese Cuisine
1956 N Tustin St, Orange, CA 92865
714.998.0098
www.yelp.com/biz/ohshima-japanese-cuisine-orange-3 (restaurant has no web site)
Fri 12/23/2011, 07:00p-10:45p

When it comes to sushi in Orange County, we all tend to have our preferred places, whether it be
Ikko
,
Nana San
,
Shibucho
,
Sushi Wasabi
, or some other worthy spot. However, one name that I'd been hearing about more and more over the past year was Ohshima up in the City of Orange.
Ohshima was opened with minimal fanfare by one Shige Kimura back in 2007. The restaurant garnered a small local following, but interestingly enough, decided to change its name and direction in September 2008, becoming Ronin Sushi & Izakaya. This was, I imagine, in response to the success of its sister eatery
Ronin Izakaya Bistro
up in West Hollywood (at 359 N La Cienega, next to the nudie bar), which had debuted earlier that year. I suppose the izakaya thing didn't have much lasting power, though, as the Orange restaurant reverted back to Ohshima in May 2009, while the Los Angeles outpost shuttered just six months later. Since then, Ohshima has become a darling of the Yelp crowd, and for once,
they were absolutely right
.

Inside, things are about what you'd expect. There are a smattering of tables abound, but of course, the best way to dine here is to saddle up to the
omakase-only
12-seater sushi bar. Reservations are definitely recommended if you don't want to wait.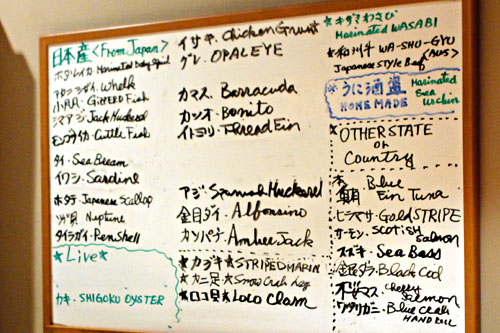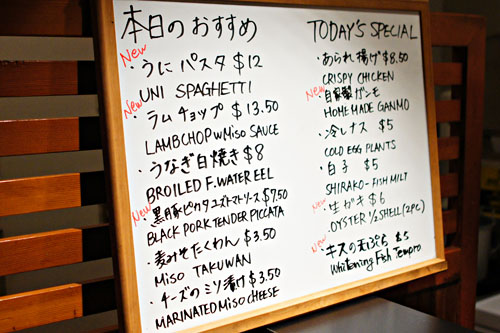 After you're done with the eight-piece minimum omakase at the bar, you'd be wise to choose the rest of your meal from the list of daily specials. Pay particular attention to the list of seafood items flown in from Japan.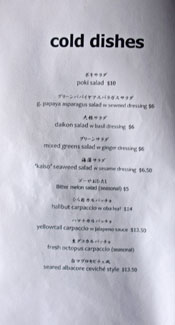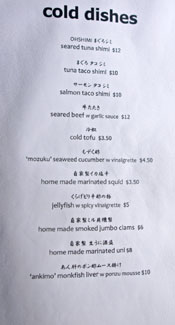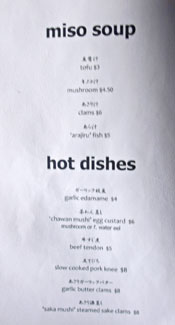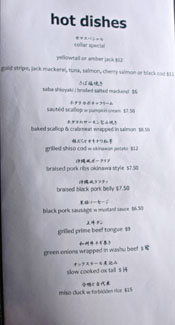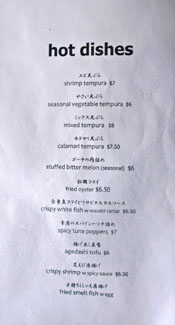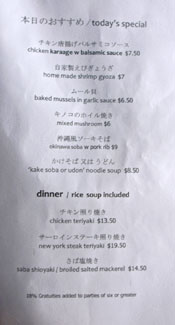 If you must, the rest of the menu is also available to order from. Note that it includes a number of izakaya-style selections from the old Ronin days, including the signature "taco shimi." Click for larger versions.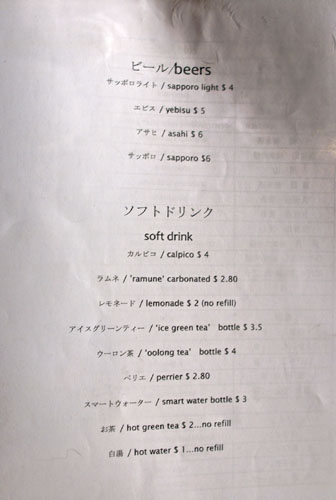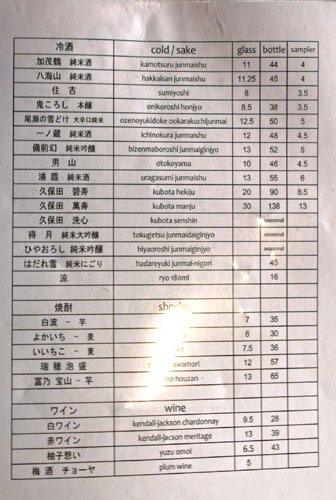 And to drink, the typical beers, along with a respectable selection of sakes and shochus, including the hard-to-find Kubota Senshin. Click for larger versions.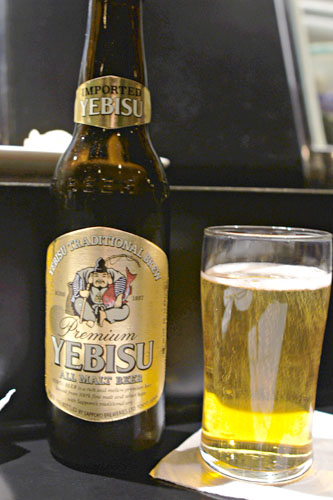 Yebisu [$5] beer, something light, to start.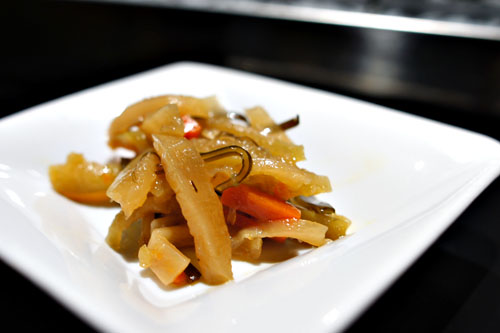 1: Marinated Daikon Radish, Seaweed, and Carrot
A small "salad" of marinated veggies served as a sort of amuse bouche, an aromatic mix of sweet, salty, and umami-laced flavors accented by the slight crunch of the seaweed.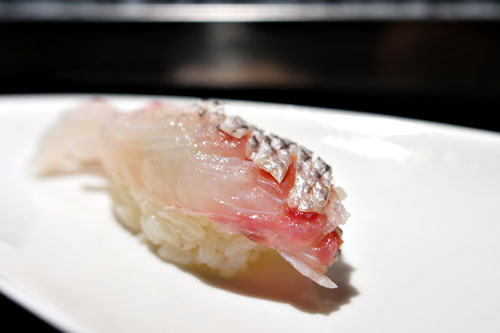 2: Sea Bream / Tai
We began our sushi marathon with beautiful ruby red bream. There was a great yuzu tang here on the attack, leading to the mild flavors of the fish, intermixed with the slight burn of wasabi. Nice.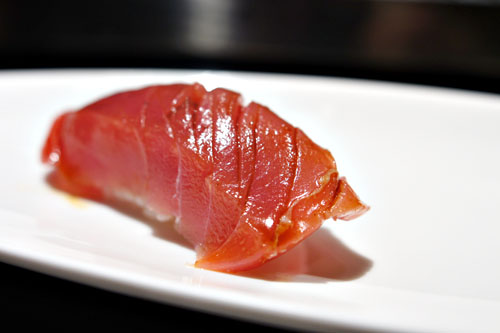 3: Bluefin Tuna / Kuromaguro
Tuna was delightful, silkier and more luscious than usual, with a great savory soy accent and a lovely countervailing finish of wasabi.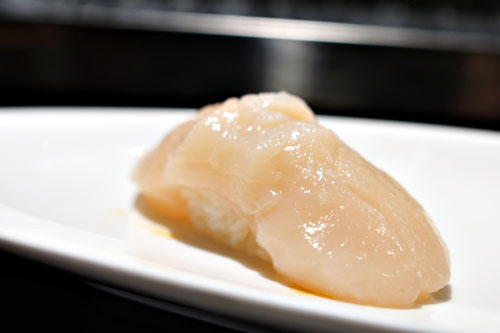 4: Scallop / Hotate
Scallops from Japan were the epitome of what
hotategai
should be--creamy, supple, and subtly sweet, with a smart application of sea salt and citrus.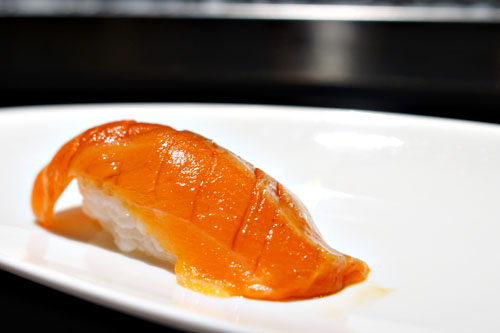 5: Cherry Salmon / Sakuramasu
Ohshima is somewhat known for its cherry salmon, and the fish did not disappoint. It was my first time having it, and I can see why it's so popular. Compared to regular salmon, the
sakuramasu
was more full-bodied, with a deeper flavor and nicely crisp consistency.
6: Sea Bass / Suzuki
Seabass was also quite lovely--soft and subtle, with a great bit of piquancy from its topping of
yuzukosho
(a condiment of chili, yuzu, and salt).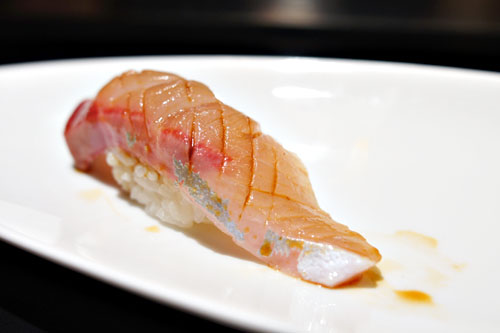 7: Amberjack / Kanpachi
Amberjack was totally on point, with a wonderfully snappy texture paired with a refined flavor that was perfectly augmented by the brushing of
murasaki
.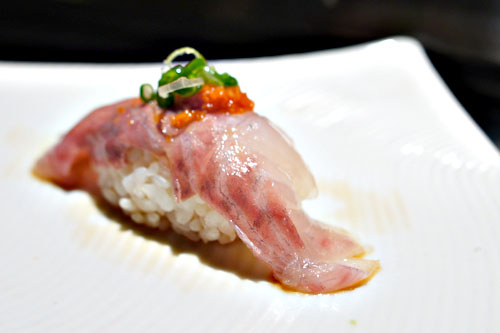 8: Chicken Grunt / Izaki
Now here was another first for me. The unfortunately-named chicken grunt (a.k.a. threeline grunt) was a pleasant surprise, with a somewhat chewy consistency and a rich flavor, balanced by the application of scallion. Definitely worth a try if you haven't had this before.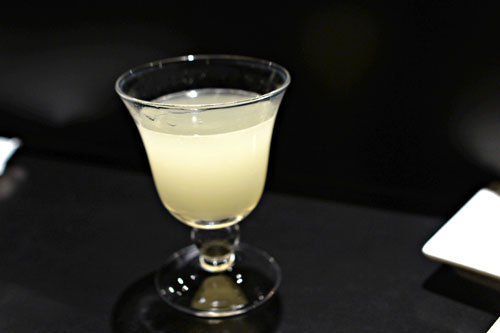 With the
biru
gone, we opted for a glass of Yuzu Omoi [$6.50], a yuzu-infused sake from Kyoto that reminded me of the shots of juice that you get at the end of meals at
Sushi Zo
. It was delicious, with the soft, sweet essence of the citrus fruit hiding pretty much all of the drink's alcoholic heat--I could see this stuff being dangerous!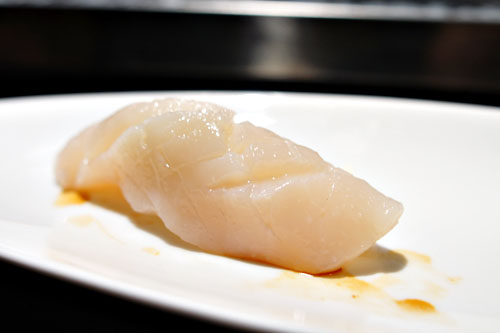 9: Pen Shell Clam / Tairagai
Pen shell is another rarity, one that I'd only had a
Matsuhisa
and
Sasabune
prior to this. The clam showed off a satisfying, meaty body, with a great brine and wasabi bite. I would've liked a touch more yuzu however.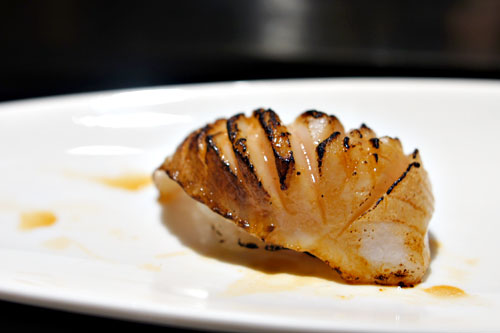 10: Black Cod / Gindara
Black cod was another new one for me, and managed to be one of the highlights of the meal. The
gindara
was torched, resulting in a great interplay between the fattiness of the fish and the bitter char. Just wonderfully heady flavors here, paired with a lovely blend of raw and cooked textures.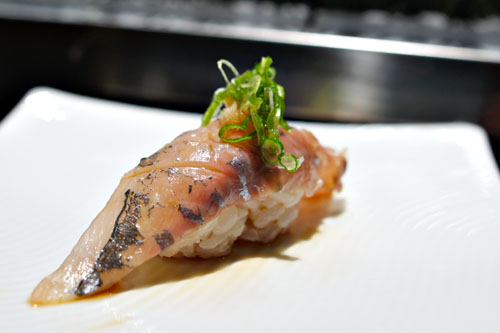 11: Horse Mackerel / Aji
Aji was a prototypical example of the fish, with its firm bite and marked salinity, bound by the piquancy of the accompanying
negi
and ginger.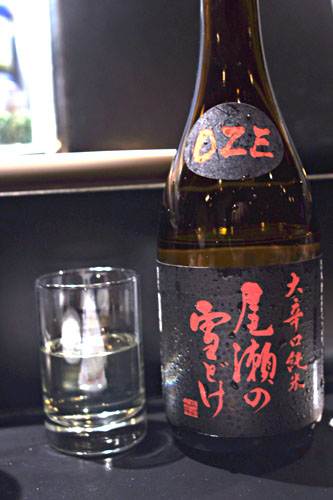 Time for some sake, specifically the Oze no Yukidoke Okarakuchi Junmai [$50] from Gunma Prefecture's Ryujin Shuzo. This was a very dry, almost savory tasting sake, with a marked backbone of alcoholic burn. Interestingly, the brewery also makes beer in addition to sake, and I'd had their Ozeno Yukidoke IPA before at
Lazy Ox Canteen
.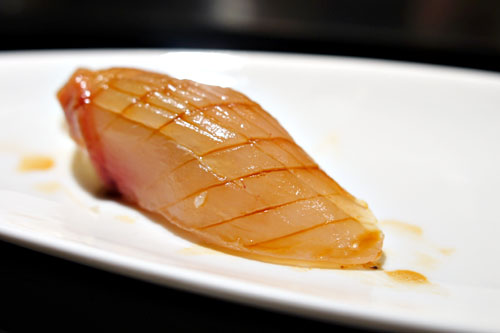 12: Gold Stripe Amberjack / Hiramasa
Hiramasa
, also known as kingfish, is something that I'm beginning to see on more and more menus these days. That's not a bad thing, as the fish made for a fine sushi
neta
, firm and crisp, with just a whisper of ocean-y flavor that went well with the aromatic soy.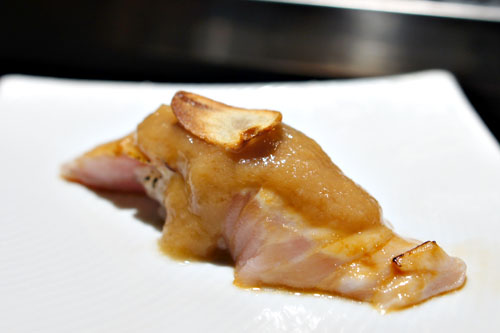 13: Albacore Belly / Binnaga Hara
Albacore came topped with a garlic chip and a garlicky, sweetish "secret sauce." I had no complaints about the fish, and I even liked the crunchy chip, but the accompanying sauce was too much, overwhelming and masking the inherent character of the tuna. Less would've been more here.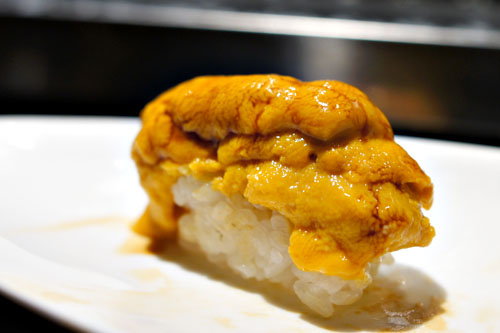 14: Sea Urchin Roe / Uni
Uni, however, hit the mark, with its mild, creamy, sweet brine, all set off by a deft application of soy sauce.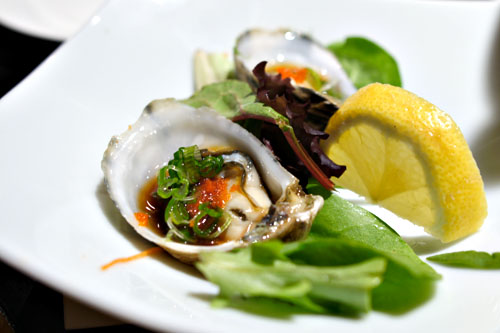 15: Shigoku Oyster / Kaki
Historically, my favorite oysters have been the Kumamoto and Kusshi varieties, but these Shigokus, which I'd never experienced before, are right up there. They're a relatively new strain of the Pacific oyster, and tonight they were fantastic, with a fresh, fruity salinity that played perfectly against a dash of ponzu, scallion, and
momiji oroshi
.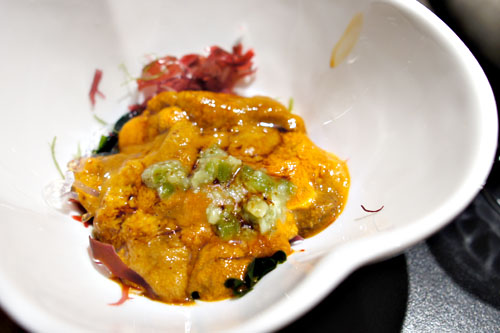 16: Marinated Uni
A bowl of marinated uni, unfortunately, wasn't as tasty as the version above. Its flavors were more muddled, more bitter, but still palatable, especially when cut with the included seaweed and 'sabi.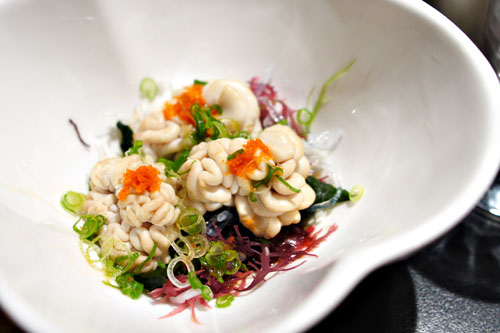 17: Shirako - Fish Milt
The
shirako
("white children"), flown in from Japan, was easily the most adventurous item of the night. It's milt, otherwise known as soft roe, the sperm sack of the fish basically. The taste, though, wasn't nearly as off-putting as you might think. It was actually pretty non-threatening, with a hearty, saline savor tempered by the various bits of accompanying greenery.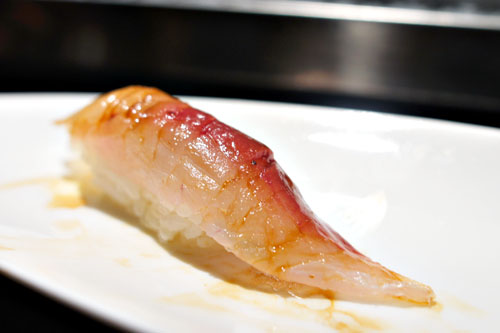 18: Barracuda / Kamasu
Barracuda is also a relatively hard-to-find item on sushi menus. For me, the fish was more about its slightly tendonous, toothsome texture, as its flavor was fairly nondescript.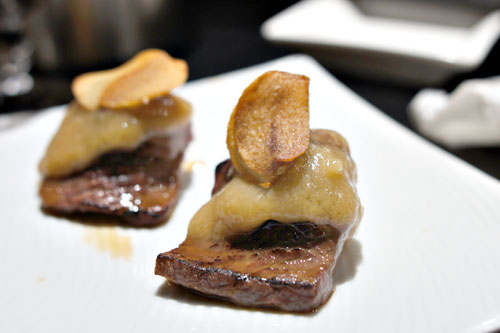 19: Japanese Style Beef / Wa-Shu-Gyu
Wagyu beef from Australia arrived topped with what seemed to the same accoutrements that graced the albacore belly above. Fortunately, the combination worked out somewhat better this time around, but still, I wanted more from the meat.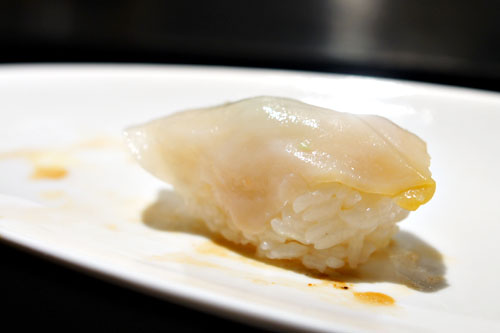 20: Neptune / Tsubugai
The
matsubugai
, or "true neptune whelk," is a type of sea snail, and it was pretty fantastic, displaying a very clean crunchiness and delicate brine that paired beautifully with a touch of yuzu and wasabi.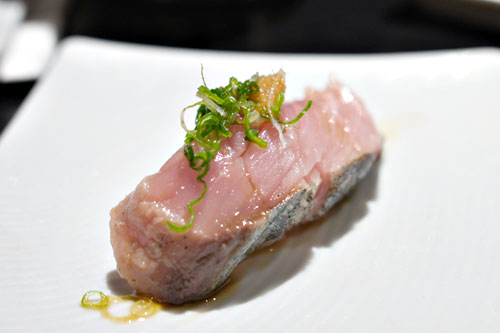 21: Bonito / Katsuo
Skipjack tuna was soft and succulent, with a medium fattiness and pure, fresh flavor that played admirably with the tanginess of scallion.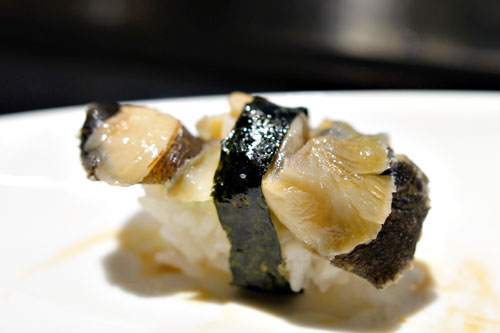 22: Veined Rapa Whelk / Akanishigai
Here was another type of whelk, the veined rapa whelk or Asian rapa whelk. It was one of the more interesting items that we had, with a somewhat tough, but satisfying bite and an earthy smack that well swimmingly with the small band of accompanying
nori
.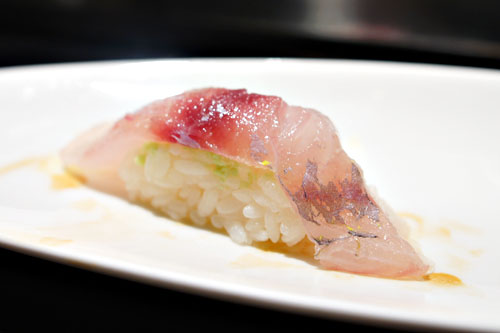 23: Threadfin / Itoyori
Threadfin was a real treat, something that I'd only eaten before at
Nozomi
in Torrance. It was a beautiful piece of fish, with a great savoriness to it that went wonderfully with a squeeze of yuzu.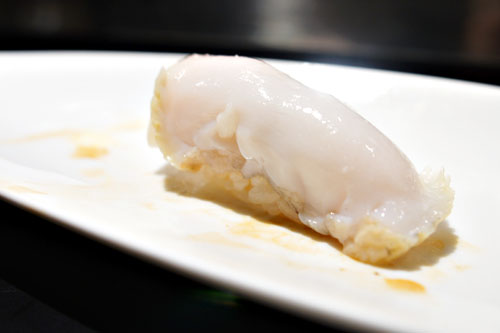 24: Loco Clam / Horagai
Up next was yet another first for me, the so-called
loco
clam. Also known as Chilean abalone, the gastropod was delicious, with a supple yet crisp consistency and wonderfully intense salinity, moderated by just a touch of wasabi heat.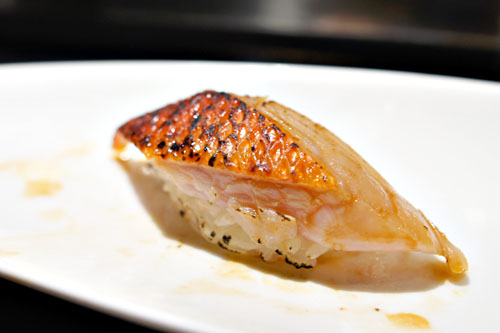 25: Alfonsino / Kinmedai
Alfonsino arrived slightly cooked, giving it a superb savoriness and weightiness, along with a great balance of cooked and rare consistencies. Very, very nice.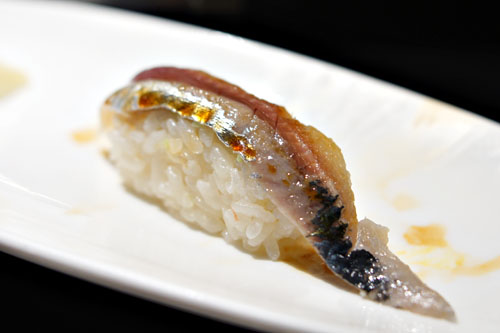 26: Sardine / Iwashi
At this point, we were in the mood for some fishy fish, and thus, we requested some sardine. It had a pretty intense relish, as expected, but was surprisingly refined at the same time. A great change of pace from the lighter, cleaner flavors that we'd been having.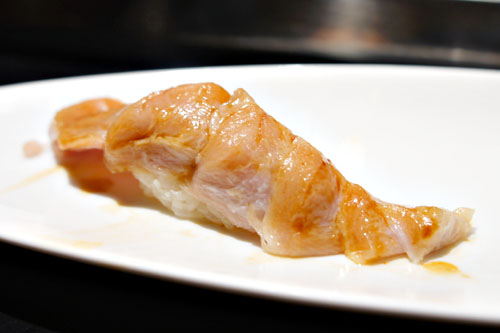 27: Otoro / Tuna Belly
A sushi meal just wouldn't seem complete without toro right? And so here it was: soft, fatty, melt-y, and slightly sinewy.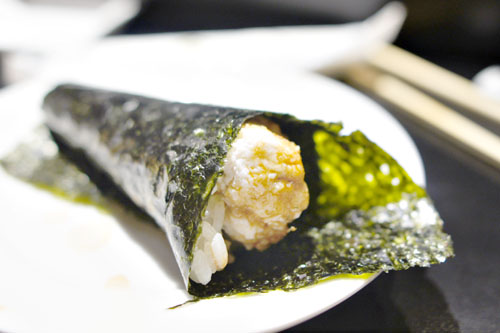 28: Blue Crab Hand Roll / Watarigani no Temaki
A
temaki
of blue crab was arguably the best version of the dish that I've tried. The ratio of crab to rice was spot on, with the sweetness of the crustacean easily coming to the forefront, tempered by its savory
nori
wrapper.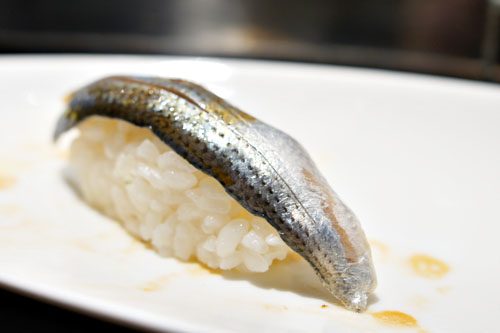 29: Gizzard Shad / Kohada
Gizzard shad, meanwhile, showed off its prototypically firm nature, along with its heady, ocean-y relish, augmented by a rather remarkable sweetness.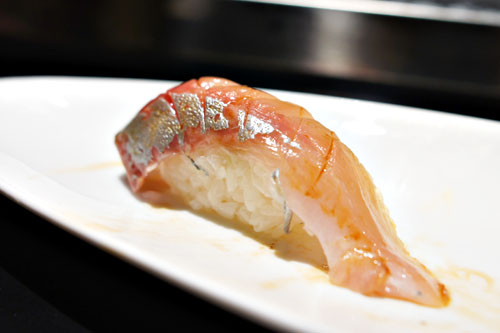 30: Jack Mackerel / Shima Aji
Striped jack had a gorgeous texture, a perfect mix of crispness and tenderness. Its flavor, though, was even more remarkable, probably the most well-integrated, cohesive
nigiri
of the night in fact.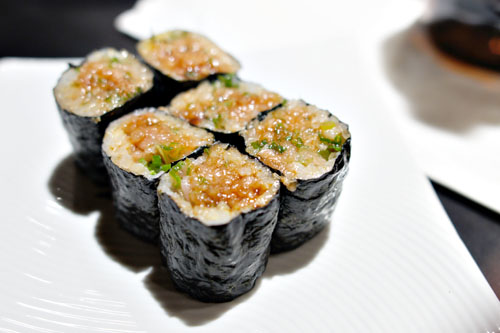 31: Negitoro Maki
The party beside us ordered the
negitoromaki
, and we followed suit. It was a classic preparation of the roll, with the proven interaction between tuna and scallion taking center stage, moderated by the nori and the dish's soy sauce overtones.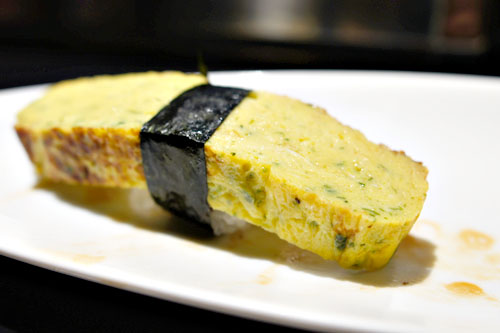 32: Egg / Tamago
We finished with the traditional closer of
tamagoyaki
: sugary and cool, with a slightly herbaceous element as well.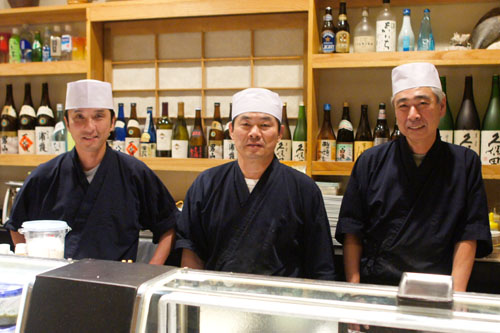 Manning the bar that night were
itamae
Yuji-san, Miki-san, and Shige-san (the owner). We were served by Yuji-san, who I'm told used to work at Sushi Gen and Tomodachi up in Los Angeles. Apparently, he also had his own place up in Hacienda Heights at one time, which he closed before moving back to Japan.
Well hot damn, this was a mighty fine meal. The sushi was pretty much spot on in terms of both quality and preparation, save for a couple items, and the breadth of the seafood here is pretty much unrivaled by any other place, as evinced by the multiple, phenomenal "firsts" tonight. The rice, which comes slightly warm, was commendable as well. Certainly, Ohshima isn't cheap, but neither is it expensive. Our 32-course omakase extravaganza was a mere $116 per person, food only, which seems pretty reasonable to me. People say that this is the best sushi in OC--I can believe it.