Sushi Kimagure (Pasadena, CA)
Sushi Kimagure Ike
220 S Raymond Ave, Pasadena, CA 91105
626.535.0880
Thu 12/27/2012, 07:00p-10:25p

One of the more notable sushi openings of recent times has been Sushi Kimagure in Pasadena, and I'm actually surprised that it's taken me this long to give the place a try. The restaurant is run by one Hiroshi Ikeda, better known as
Ike-san
. He's the man behind the longstanding Sushi Ike in Hollywood, which he opened way back in 1985. For over 20 years, it was
the
spot for sushi in the area, and garnered a large, loyal following. However, Ike-san sold the joint back in the latter part of 2010, and, from what it seems, the quality has taken a precipitous drop since then. Ikeda's best customers, though, have followed the chef to his new joint in Pasadena, which opened at the end of August 2011 in the former spot of cheese steak slanger Philly's Best, on the ground floor of the Del Mar Metro station complex.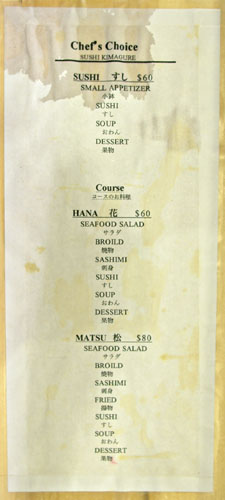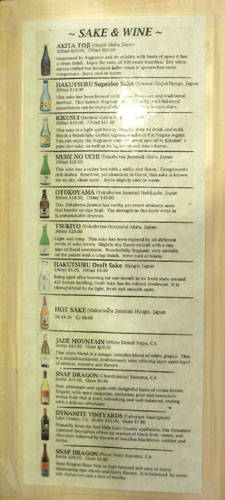 As for Sushi Kimagure's menu, there's not much to it:
omakase
is the only way to go here. There's the flagship $80 "Matsu," the shorter $60 "Hana," as well as a $60 sushi-only choice. We went with the first option, supplemented by a few extra courses of sushi at the end. To drink, think the typical selection of beers, as well as a decent list of sakes. Click for larger versions.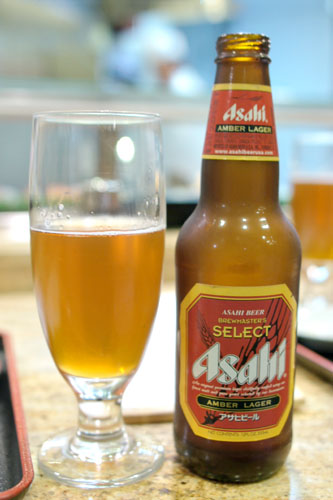 To drink, we began with the
Asahi Select [$3.80]
, probably my favorite of the standard Japanese beers. It's actually got a lot of flavor for a Japanese macro lager, with a good amount of malty character and a hint of fruit. Smooth and easy drinking.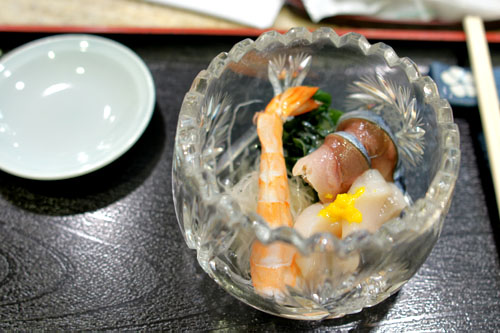 1: Seafood Salad
The salad course brought along three types of seafood. First was the scallop, which I found creamy and fresh, with a clean, sweet relish and a tangy counterpoint in the form of that yellow sauce (I'm actually not sure what it was,
tamamiso
perhaps?). The Japanese mackerel, meanwhile, was spot on: firm and fishy, yet delicate and restrained at the same time. Rounding out the trio was the shrimp, snappy and supple, which had an inherent sweetness that paired well with its lemon-y overtones.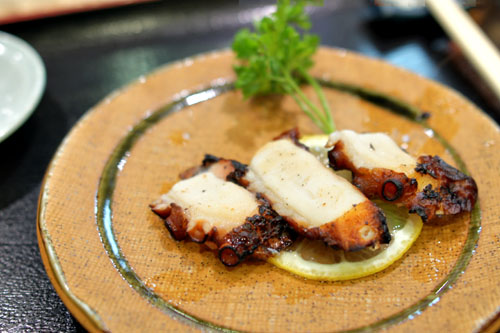 2: Yaki Tako
Ike-san's legendary for his grilled octopus, and it's obvious why. This might've been the tenderest preparation of the cephalopod that I've ever eaten, even beating out the remarkable example I'd had not long ago at
Bestia
. It was positively pillow-y in texture, with a fantastic char crispness to boot. Besides the stellar consistency of the
tako
, its taste was spot on as well: sweet and saline, yet with a wonderful bitterness and just a splash of citric tang on the finish.
So good
.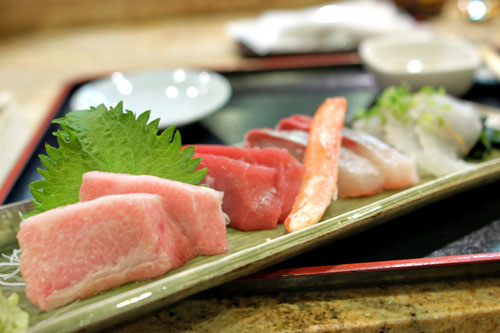 3: Sashimi
Our next course comprised no less than five varieties of sashimi. First up was the toro, which I found fatty, oily, and meltingly tender, albeit a bit sinewy--tasty alone, but it really opened up when taken with a dab of the included wasabi. The regular tuna, meanwhile, was soft and sticky, with a mild relish keenly accented by the application of 'sabi and soy. Crab was delish, cool and sweet, while the
kanpachi
was superb when brushed with a bit of
murasaki
. We ended with my favorite item on the plate: firm, fleshy cuts of halibut, fantastic when eaten with scallion, seaweed, and a dash of the included dipping sauce.
Moving on to sake now, we had here a bottle of the
Akita Toji (Ginjo) [$65]
from Akita Prefecture's Kimura Shuzo Brewery. I found it eminently balanced, a lovely blend of floral and fruity flavors with an undercurrent of rice and alcoholic nuances. Delicious.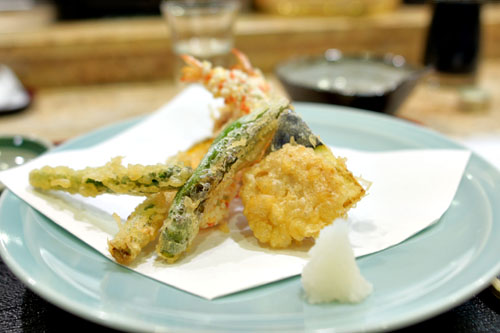 4: Tempura
It'd been a while since I'd had a good tempura, so I was quite looking forward to Kimagure's presentation. It did not disappoint, with the light, crisp batter forming a fitting foil to the various items on the plate--mushroom, shishito, shrimp, squash--while letting their true character really shine through. The included
tentsuyu
dipping sauce, with its small pyramid of grated daikon, was quite appreciated as well.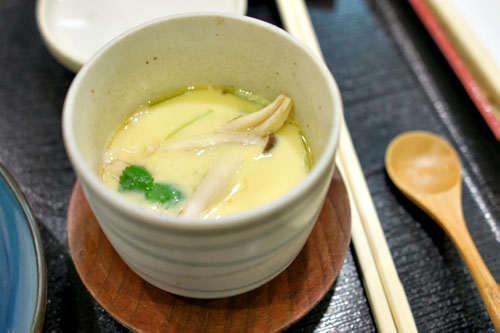 5: Chawanmushi
Chawanmushi
was hot, hearty, and satisfying, with the light egg custard playing off of the earthy mushrooms and various bits of seafood in expert fashion.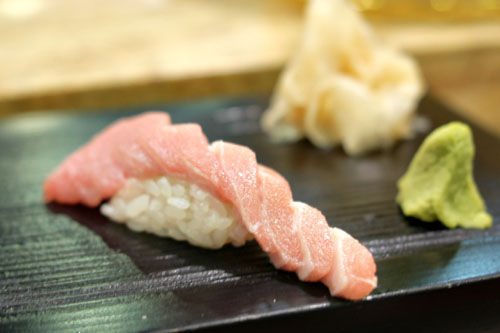 6: Toro
The sushi portion of the meal got off to a strong start with this cut of toro. It may not have looked like much, but displayed a perfect texture and fattiness that really was sort of the paradigmatic presentation of the tuna belly.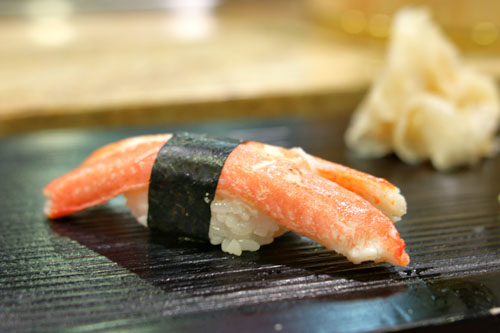 7: Kani
Crab legs were delightful, sweet and succulent, with a great salinity that melded beautifully with the band of nori here.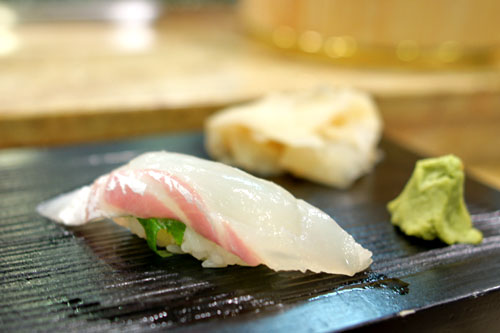 8: Tai
Sea bream was similarly delicious, supple and clean, with a fantastic, minty contrast from the sliver of shiso folded in.
9: Ikura / Uni
Some egg on egg action here. Salmon roe conveyed great pops of salinity, while the sea urchin was even better, with a creamy, sweet, ocean-y goodness that worked faultlessly with its seaweed wrapper.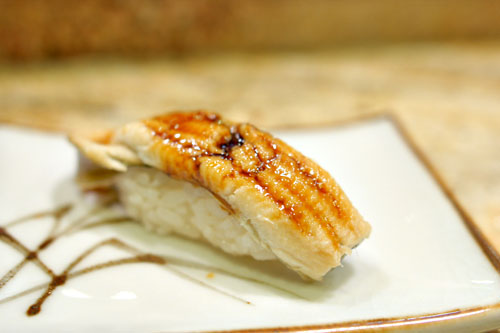 10: Anago
Sea eel arrived dressed in a sweet-ish sauce, and showed off a citrus-y tinge that gradually transitioned to the brine of the
anago
. Its appearance marked the end of the standard sushi set, but we weren't quite full yet, so we requested a few more pieces to fill us up.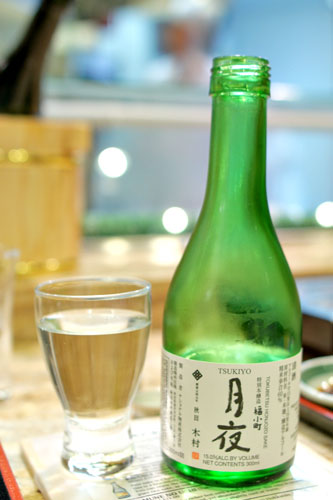 To pair with the rest of the dinner, we enjoyed a small bottle of
Tsukiyo (Tokubetsu Honjozo) [$20]
, also from Kimura Shuzo. This one was drier, crisper, with more intensity and a stronger alcoholic presence, yet still smooth.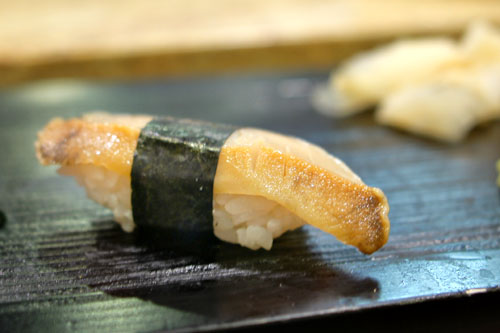 Awabi
Our first supplemental course was abalone, and it was just what I expected: a crunchy, briny eating experience duly highlighted by the burn of wasabi near the close.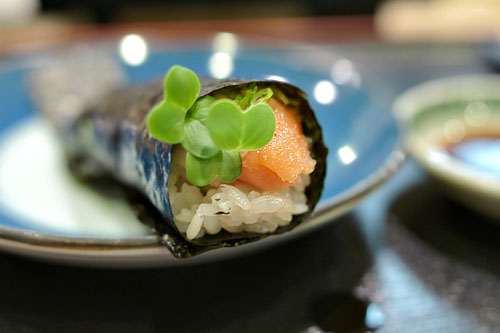 Mentaiko-Yamaimo Temaki
Next, Ike-san prepared a hand roll featuring marinated roe and mountain yam. As you'd expect, the
mentaiko
displayed an intense saltiness that was countered by the crisp, mild, mucilaginous bits of
yamaimo
within, all while the greenery added a sharp, biting astringency to the course.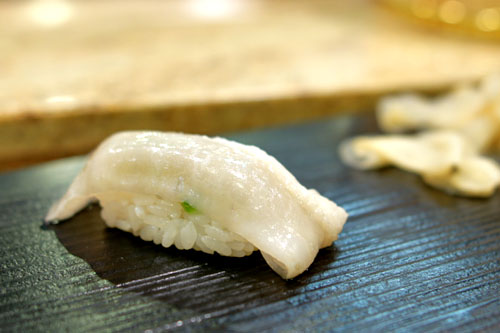 Engawa
The halibut fin was one of my favorites, with a marvelously chewy consistency and a slight lemon-y tang that really set off the fish. Nice!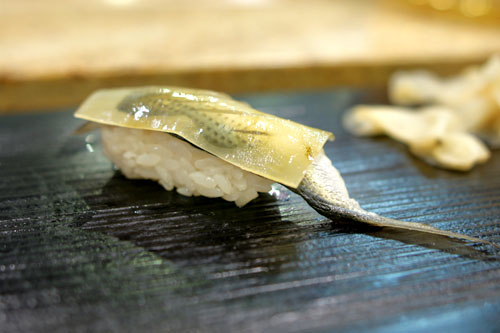 Kohada
Our last savory course brought us
kohada
, or gizzard shad. This one was expectedly firm, with a fishy flair tempered by a thin sheet of
battera kombu
(pickled kelp). My complaint here was that too much skin was left on, resulting in some extra chewing being required.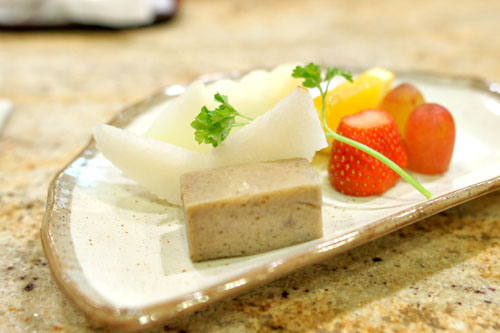 11: Fruit
To close: a fruit platter, quite a welcomed sight after the heft of all the fish that we'd had.
Save for a couple peccadillos here and there, this was a strong showing from Ike-san, and should do well in appeasing old fans of the Hollywood spot. The food isn't too fancy here; instead, the Chef offers up a solid take on traditionalist sushi, intermingled with an appealing array of non-sushi dishes as well. I am curious to try the sushi-only tasting though. Some people are calling Kimagure the best sushi bar ever to hit Pasadena, and I can certainly believe it.