Eveleigh (West Hollywood, CA)
The Eveleigh Restaurant
8752 W Sunset Blvd, West Hollywood, CA 90069
424.239.1630
www.theeveleigh.com
Thu 11/29/2012, 07:30p-09:50p

Named after a suburb of Sydney, Eveleigh (say it like "everlee") has been one of the hottest WeHo debuts in recent years. The restaurant was opened by the Down Under trio of Nick Hatsatouris, Nick Mathers, and Lincoln Pilcher (Kingswood, Dudley's, Ruby's, Rugby Club in New York), along with fellow Aussie Jordan Toft (I keep wanting to say
Tosh
), who serves as Executive Chef. As is all the rage these days in Los Angeles, Eveleigh offers up rustic, market-driven, farm-to-table, French-Italian-inflected modern American fare--not exactly groundbreaking food, but I figured, two years in, it was worth trying out.
About the Chef
: Chef Toft grew up in the suburb of Guildford in Sydney, and started cooking at the ripe age of 16. In 1997, he moved to Sydney proper, and spent six years under noted Australian chef Peter Doyle, first at the now-shuttered Celcius, and later at Est, where he became Sous Chef. Following, Toft worked at a chalet in the French Alps, then transitioned to a personal chef role for a Saudi businessman in 2006, which allowed him to travel throughout Italy and Spain. He left in 2010 to start work on Eveleigh, which bowed on November 1st that year.


Eveleigh occupies a historic 1923 residence once occupied by a Kenneth Cole store. The structure isn't much to look at from the front, but it's a different story inside. The decor by Nick Mathers is, unsurprisingly, filled with reclaimed, repurposed, raw, and rustic elements, making for an urban-farmhouse-chic sort of aesthetic. In the front, there's a large, shiny bar surrounded by tables, allowing for a peek into the open kitchen and glass-encased wine cellar. However, everybody knows that the best seats are in the back patio, with its retractable ceiling and sweeping views of the City.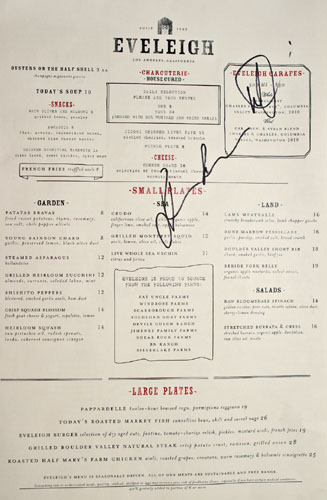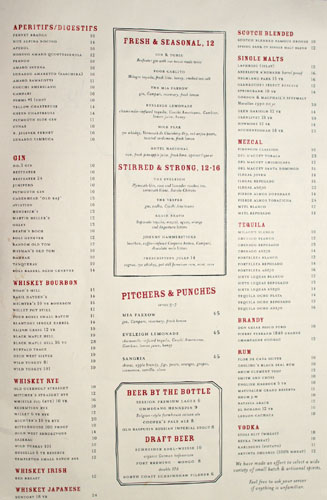 Eveleigh's menu reads well, focusing on approachable dishes rooted in Californian and European traditions, and I do like the presence of housemade charcuterie. In addition, there's even lunch service on Fridays, as well as brunch on the weekends. To imbibe, the cocktail program here is definitely of note, featuring sort of an old-school-meets-farmer's market vibe. Sasha Petraske of the vaunted Milk & Honey in NYC was involved early on, but was superseded by Dave Kupchinsky/Ol' Man Winter (The Tar Pit, Comme Ca) a month in; he was later joined by Kiowa Bryan (Lexington Social House) and Kevin Tidwell (Thirsty Crow, Little Dom's) in mid-2011. On the wine side, the selection here was originally crafted by opening Sommelier Jason Ditto (ex-
The Bazaar
), and shows off a heavily Aussie/New Zealand-influenced list, with a nod to small, interesting producers from California and France as well. Click for larger versions.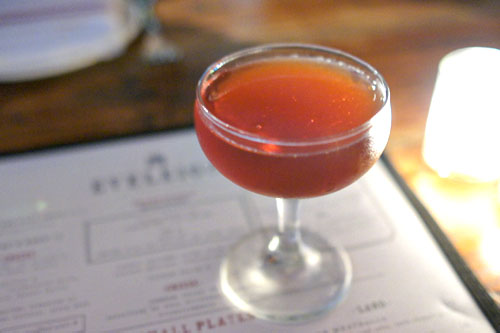 Johnny Hammersticks [$12.00]
| bourbon, coffee-infused Carpano Antica, Campari, chocolate mole bitters
My first cocktail came highly touted by our server Margaret (who reminded me a bit of Amy Poehler, interestingly enough), and she was right on the money. I loved the subtly saccharine, almost medicinal flavors from the vermouth here, moderated by the complex bitterness of the chocolate-coffee combo, all while the Campari added a bittersweet tinge to the drink. Definitely worth a try.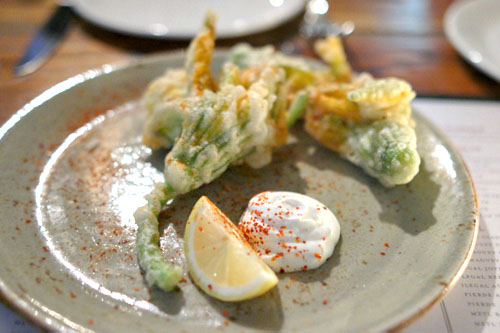 Crisp Squash Blossom [$14.00]
| fresh goat cheese & yogurt, espelette, lemon
We began with fried squash blossoms, which turned out to be some of the tastiest I've had. The crispy, savory smack of the fritters was spot on, and went perfectly against the creamy, lactic tanginess of the cheese and yogurt; the lemon, meanwhile, added a great touch of acidity to things.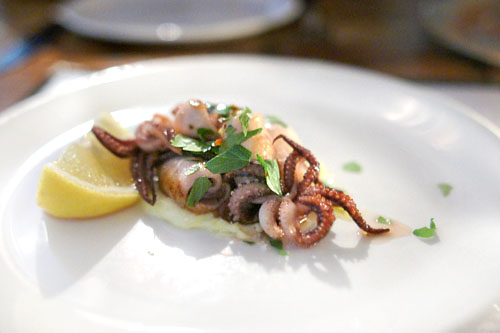 Grilled Monterey Squid [$12.00]
| aioli, lemon, olive oil, chili flakes
Squid is almost always a must-order for me, and didn't let me down tonight. I thoroughly enjoyed its bite and snap, as well as its saline, savory flair enhanced by a smidge of char astringency. To that, the aioli and lemon added countervailing nuances that took the squid to the next level. Yum.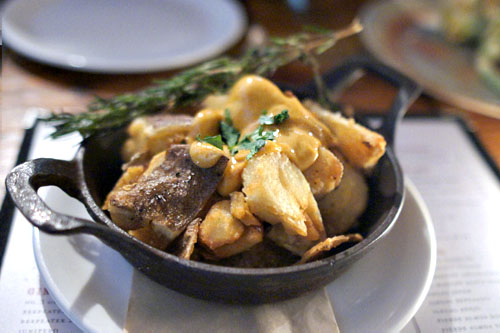 Patatas Bravas [$8.00]
| fried russet potatoes, thyme, rosemary, sea salt, chili pepper allioli
I'm a sucker for potatoes, and Toft's version of the classic tapas dish was one of the highlights of the evening. Fried to a wonderful crispness, they were salty, savory, and oh-so satisfying, with a deft herbaceous temper from the rosemary-thyme, while the alioli served to both punctuate and integrate the course.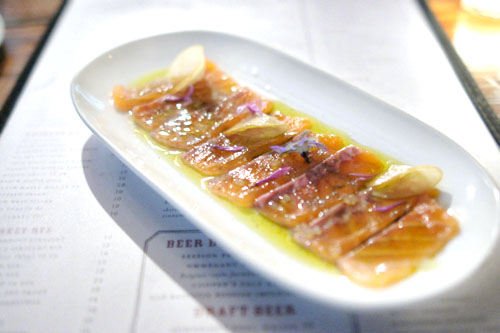 Crudo [$14.00]
| californian olive oil, pickled organic apple, finger lime, smoked salt, apple balsamico
The crudo tonight featured salmon, and the fish itself was on point: clean, slightly fatty, with a good brine. The apple and lime added some much-needed acidity to the dish, but the olive oil was a bit much. I would've liked a lighter hand with the stuff, to let the other ingredients shine more.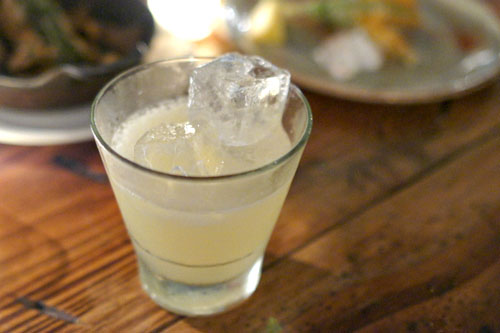 Poor Carlito [$12.00]
| Milagro tequila, fresh lime, honey, smoked sea salt
Margaret also pointed me to the Poor Carlito, which turned out to be another smart recommendation. The tequila was clearly the star of the show here, but the contrasting flavors of citrus and honey really made the cocktail work, all while the sea salt provided a thin veil of smokiness to the drink. Utterly balanced.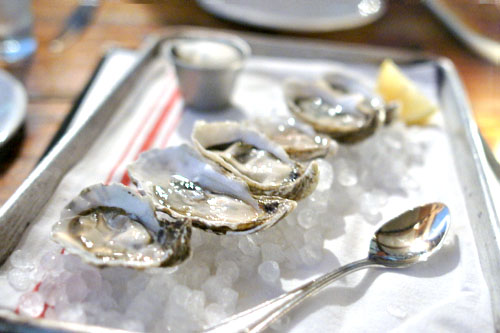 Oysters on the Half Shell [$3.00/each]
| champagne mignonette granita
Oysters were of the Kumamoto variety if I recall correctly, and were prototypical examples of the style: plump and crisp, with a sharp minerality. The accompanying mignonette granité, meanwhile, added a bracing chill and tartness to the bivalves.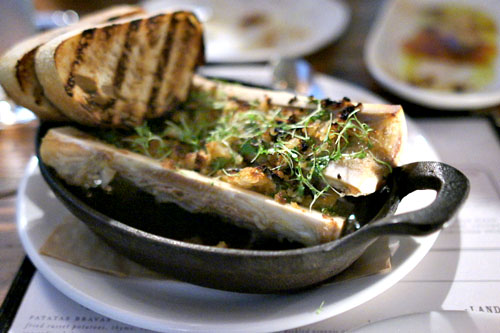 Bone Marrow Persillade [$16.00]
| garlic, parsley, smoked salt, bread crumb
Bone marrow's another item that I have a hard time passing up. Toft did a commendable job with this preparation: fatty, trembling, and really classic in essence. The use of persillade was a smart move too, providing a garlicky, herb-y counterpoint to the marrow, and I appreciated the slight crunch imparted by the bread crumbs to boot.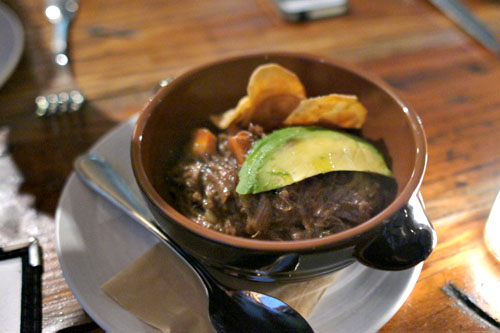 Rossotti Goat Stew [$21.00]
One of the specials tonight was this stew, featuring grass-fed goat from Petaluma's
Rossotti Ranch
. Indeed, this was very "goat-y," with boatloads of rich, dark, sticky character and an undeniably tender, falling-apart consistency, offset by the avocado and a nice crunchiness from the yam chips. Some pretty intense flavors here--this one's not for everybody!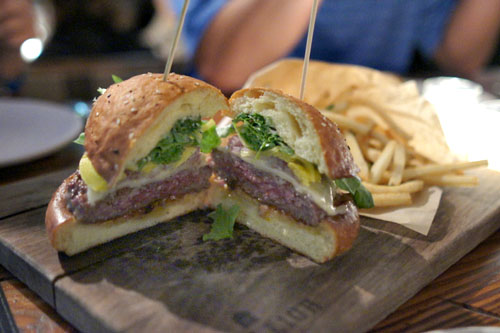 Eveleigh Burger [$19.00]
| selection of dry aged cuts, fontina, tomato-chorizo relish, pickles, mustard aioli, french fries
Naturally, we had to try the restaurant's signature hamburger. The most striking thing about it was how "beefy" the patty (a varying blend of several cuts, including kidney) was. It definitely gave off that intense dry-aged character, which actually melded seamlessly with the Fontina here. Given the heft of the meat-cheese combo, I really appreciated the levity provided by the pickles and onions, making for a delicious, very well-integrated burger overall. The fries were a fitting accoutrement as well: nicely crisp, with a lovely herb-y zing. I found them tasty alone, and even better with a dab of ketchup or the optional truffle aioli [$2].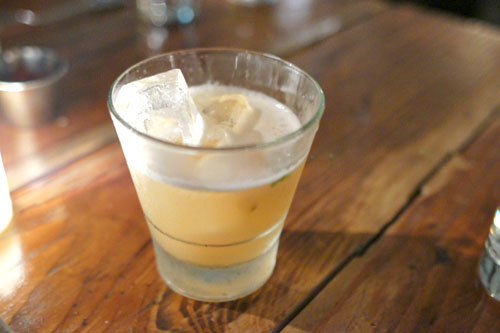 Penicillin Cocktail [$12.00]
My final cocktail was the off-menu Penicillin, which was first devised by Milk & Honey's Sam Ross. I was rather enamored with it. I loved the smokiness on the nose courtesy of the Islay, which continued on to the palate, where it was joined by more boozy notes and a superb temper in the form of zesty ginger and citrus, as well as smooth, sugary honey.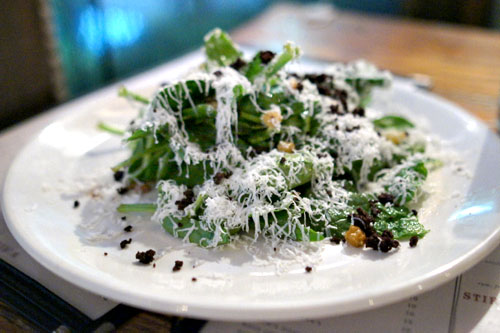 Raw Bloomsdale Spinach [$14.00]
| golden raisins, pine nuts, ricotta salata, olive dust, sherry-lemon dressing
Moving on to something lighter now, this salad was nice, with the bitterness of the crunchy spinach playing off of the sweet raisins in admirable fashion, while the grated ricotta added a salty, cheesy weight to things. Perhaps my favorite element here, though, was the olive dust, which added an intriguing, overarching piquancy to the dish.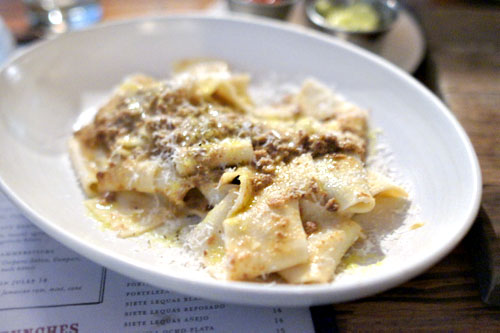 Pappardelle [$19.00]
| twelve-hour braised ragu, parmigiano reggiano
Next was a delightful dish of pappardelle. The ragù itself really spoke to me, offering up an immensely satisfying, undeniably hearty savoriness with an almost Asian-y tint to it that went flawlessly with the slick, snappy pasta.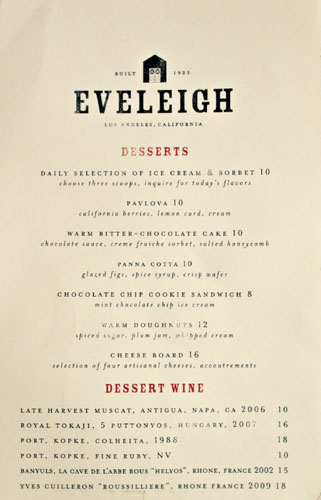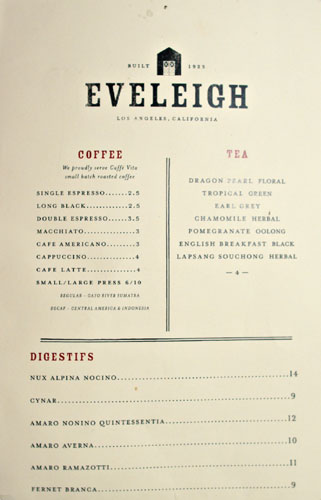 Of course, we made sure to save room for dessert. Click for larger versions.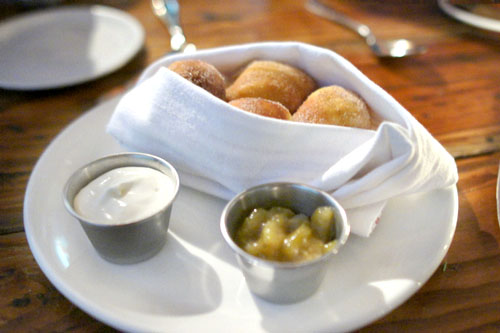 Warm Doughnuts [$12.00]
| spiced sugar, plum jam, whipped cream
Our first dessert comprised some wonderfully soft, fluffy donut holes, dusted with a sweet spice that made them hard not to like. They stood well on their own, but the paired plum jam and whipped cream did add some further points of interest to the dish. Nice!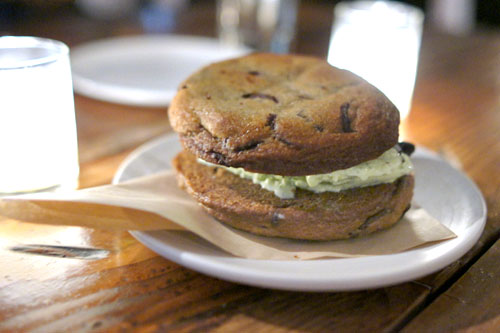 Chocolate Chip Cookie Sandwich [$8.00]
| mint chocolate chip ice cream
Last up was Eveleigh's ice cream sandwich, which ended up looking more like an ice cream burger! It was as good as you'd expect, with the minty ice cream working swimmingly with the chocolate cookies--I just wish there was more of it.
In the end, I was pleasantly surprised by my experience here. Toft is serving up the type of rustic-yet-modern, comfort food-ish cooking that seems pervasive in LA's current culinary
Zeitgeist
, but he's doing a good job at it. It's the type of cuisine that most anybody can enjoy, and I do appreciate the honest, ingredient-driven nature of the plates. Cocktails, meanwhile, were impeccable, and service was commendable as well, making Eveleigh a smart choice for the Sunset Strip.