CUT (Beverly Hills, CA) [4]
CUT Restaurant
9500 Wilshire Blvd, Beverly Hills, CA 90212
310.275.5200
www.wolfgangpuck.com/restaurants/fine-dining/3789
Sat 12/08/2012, 07:00p-11:20p
Ever since my
first visit
back in 2007, CUT has always been my favorite steakhouse, not only for their phenomenal meat, but for the quality of the sides and apps, which usually play second fiddle at these types of restaurants. However, following my
last meal
here in 2009, Japanese beef imports were banned due to fears of foot and mouth disease, and, as such, I've been reluctant to return knowing that the best stuff just wouldn't be available. Fortunately though, the USDA finally came to its senses this past August, and relaxed the ban. With real deal wagyu beef back in play, a revisit to CUT was definitely in order.

Like the food here, CUT's environs (designed by Richard Meier) lean toward the contemporary--no dark wood paneling and overstuffed booths to be found here.
I did have a complaint with where we were seated, though. We had a party of 10, and thus requested a large table (and even sent in a large party confirmation form). The restaurant had assured me that this would be no problem (they told me that they had a table that could comfortably seat 12), but when we arrived, we were squeezed into a round table that would've been a tight fit even for eight. I suspect that the original table was given away to someone else. Needless to say, this was not a comfortable situation; our placemats were all on top of each other, and we were constantly banging knees and elbows together, trying to maneuver around all the tableware piled on the too-small table. Not a promising beginning to the meal, and a restaurant of this caliber should really know better.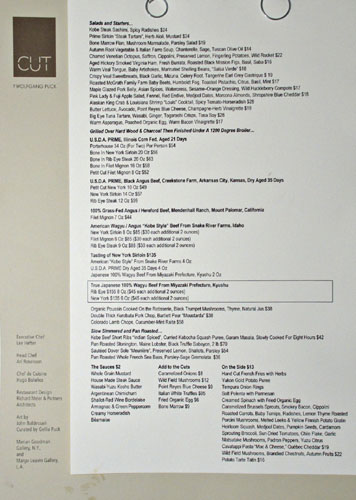 The product of Executive Chef Lee Hefter, Head Chef Ari Rosenson, and Chef de Cuisine Hugo Bolaños, CUT's menu retains the same format and layout that it's always had. A lot of the dishes have remained static, too, though tonight there were a few items that I hadn't seen before. Click for a larger version.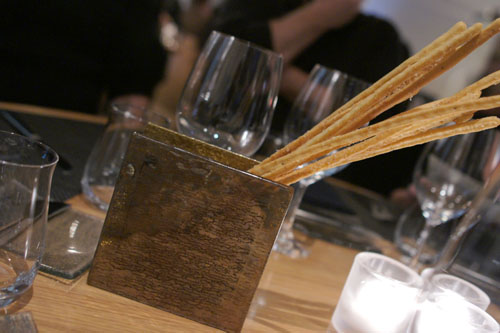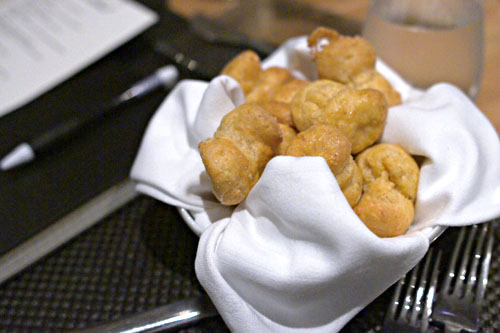 To begin: CUT's signature cheesy break sticks and Gruyère gougères. Both were quite delicious, though the gougères could have been a bit more luscious on the inside.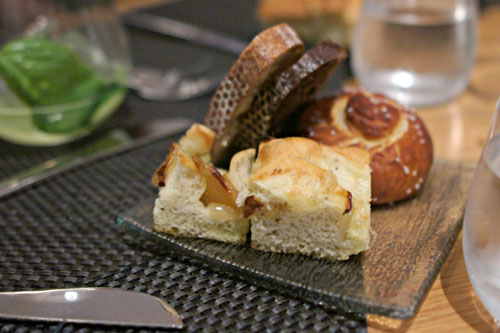 Bread consisted of pretzel, whole grain sourdough, pumpernickel, and onion focaccia varieties.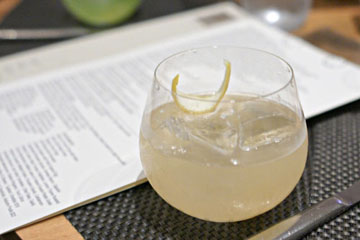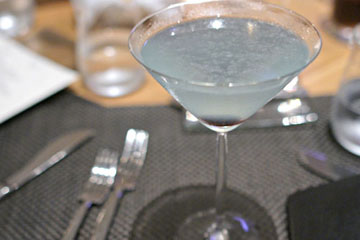 Samurai Sword [$18.00]
| Yamazaki 12 Year Whisky, Honey Syrup, Lemon Juice, Ginger
Aviation "Violette" [$18.00]
| Tanqueray "10" Gin, Pages Crème de Violette, Maraschino Liqueur, Lemon Juice
Pepino's Revenge [$18.00]
| Patron Silver Tequila, Japanese Cucumber, Fresh Basil, Lime Juice
Cocktails are available courtesy of the adjacent Sidebar, and we went with a threesome to start. The
Samurai Sword
was nice, with a good sweet-sour interplay between the honey and lemon, all over a boozy base of whiskey and accented by just a whisper of ginger. The
Aviation "Violette"
, meanwhile, was the most polarizing of the bunch; I appreciated how the lemon and maraschino melded with the gin here, all with a floral undercurrent from the crème de violette, though others weren't quite as enamored. Last up was
Pepino's Revenge
, the most approachable of the trio, which showed off a lovely aromatic flair from the basil that paired well against the cucumber, all while the tequila adding a fitting heft to the drink. Overall, some solid cocktails, though a notch below those at a true mixology focused place.
A note: All the appetizer courses pictured below were double-sized portions, since we were splitting them amongst the entire table.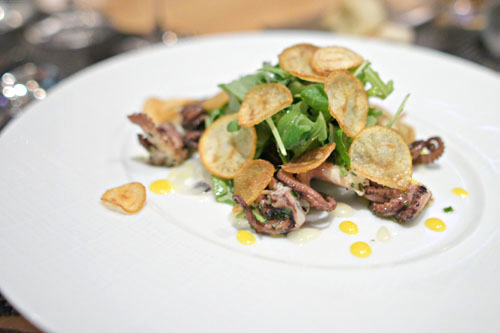 Charred Venetian Octopus, Saffron, Cippolini, Preserved Lemon, Fingerling Potatoes, Wild Rocket [$22.00]
We began with one of the newer creations on the menu. Octopus was supple and satisfying, yet with a good bite and a delightful char bitterness. The combination of arugula, saffron, and lemon worked well as a counterweight to the cephalopod, and I loved the salty zing of the mini potato chips sprinkled on top.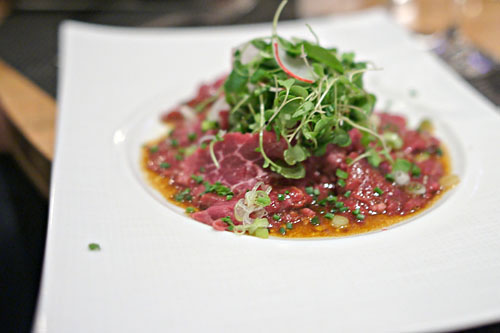 Kobe Steak Sashimi, Spicy Radishes [$24.00]
CUT's steak sashimi is one of the restaurant's longest-lived apps. Tonight, the beef itself was wonderfully tender, though it didn't really wow in terms of taste, being somewhat less flavorful than I'd hoped for. The key, thus, was the umami-rich, Asian-y dressing, which added the needed potency to the meat, as well as the superb contrast provided by the radishes and greenery.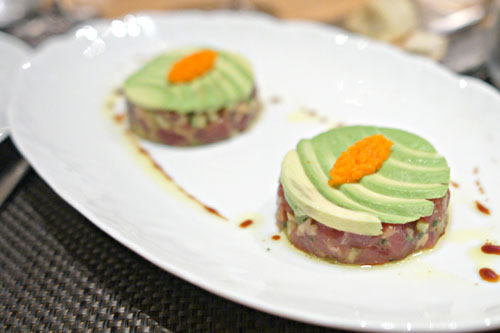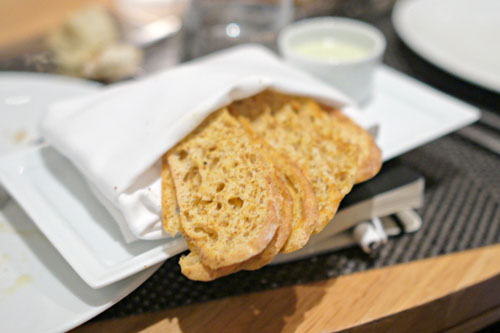 Big Eye Tuna Tartare, Wasabi, Ginger, Togarashi Crisps, Tosa Soy [$28.00]
Tuna tartar seems a bit trite these days, but this was one of the better ones I've had. The fish itself was spot on, with a keen counterpoint in the form of the ginger and added luxuriousness from the avocado. The wasabi, meanwhile, added a nice latent heat to the dish, while the
togarashi
crisps imparted a delightful spiciness and crunch.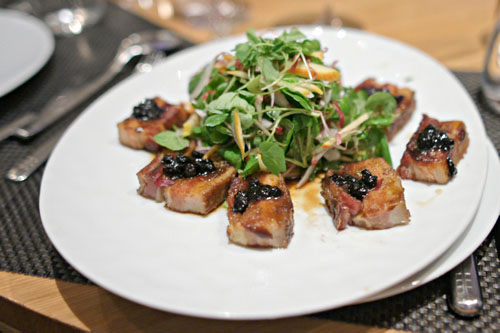 Maple Glazed Pork Belly, Asian Spices, Watercress, Sesame-Orange Dressing, Wild Huckleberry Compote [$17.00]
The pork belly was nice enough, with a lovely crisp crust and a good mix between fat and lean. It was tasty alone, but the use of orange dressing and berry compote rendered the meat rather sweet. I would've liked a more savory flair, thought the watercress did do an admirable job balancing out the dish.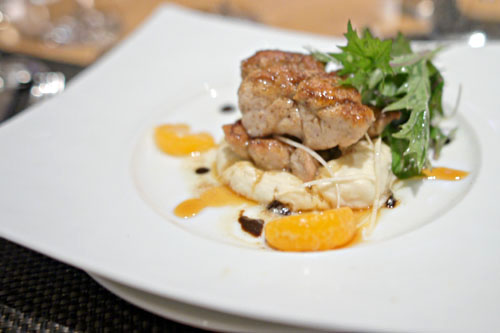 Crispy Veal Sweetbreads, Black Garlic, Mizuna, Celery Root, Tangerine Earl Grey Gastrique [$19.00]
Our final app was also a relatively new addition to the menu. The sweetbreads were deftly prepared, showing off boatloads of the rich, deep, earthy relish that you'd expect from the organ meat; I will say that they could've been crispier though. I did appreciate the piquancy of the black garlic here, while the mizuna provided a touch of levity to the fray.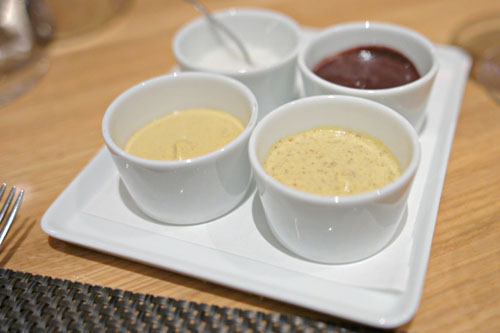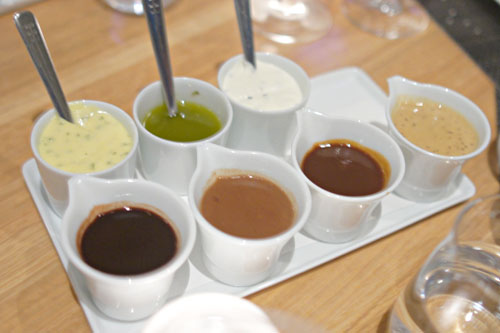 Before the steaks arrived, we were provided the standard accompaniments of Dijon, spicy, and violet mustards, as well as
fleur de sel
. In addition, we requested every single optional sauce on offer (each priced at $2): Whole Grain Mustard, House Made Steak Sauce, Wasabi-Yuzu Kosho Butter, Argentinean Chimichurri, Shallot-Red Wine Bordelaise, Armagnac & Green Peppercorn, Creamy Horseradish, and Béarnaise. I'm generally not a fan of saucing my steaks, but others at the table were more inclined.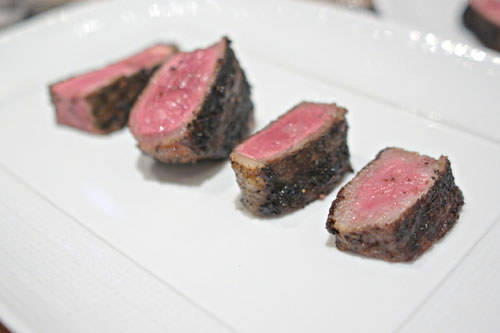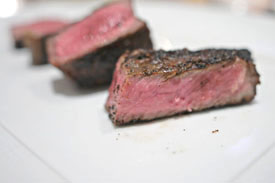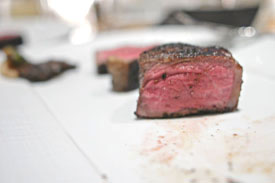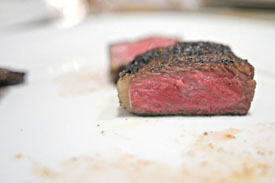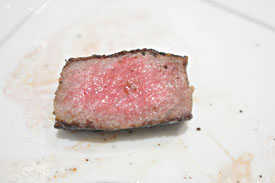 U.S.D.A. PRIME, Illinois Corn Fed, Aged 21 Days; Bone In New York Sirloin 20 Oz [$56.00]
U.S.D.A. PRIME, Black Angus Beef, Creekstone Farm, Arkansas City, Kansas, Dry Aged 35 Days; New York Sirloin 14 Oz [$57.00]
American Wagyu / Angus "Kobe Style" Beef From Snake River Farms, Idaho; New York Sirloin 8 Oz [$85.00]
True Japanese 100% Wagyu Beef From Miyazaki Prefecture, Kyushu; New York 6 Oz [$135.00]
In classic CUT fashion, we went with a custom tasting of steaks, the first of which was a line-up of New York sirloins. I began with the standard wet-aged, which was good, but a touch drier than I'd expected, with a milder flavor and a strong (almost too strong) char bitterness. The dry-aged Kansas preparation was similar, though slightly tougher and slighty beefier, along with an almost identical crust. Moving up the ladder, we had American wagyu, which was a
huge
step up in the flavor and fattiness department. Of course, we saved the best for last, and the Japanese wagyu was exactly what I was expecting, with both the fat and luxuriousness taken up to the nth degree. The meat was almost gelatinous in consistency, and practically oozed oil upon mastication--not for the faint of heart!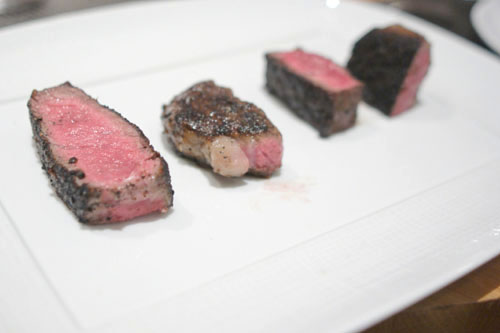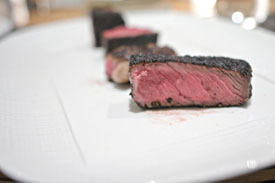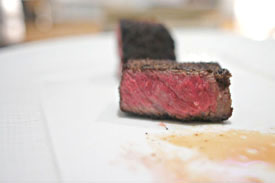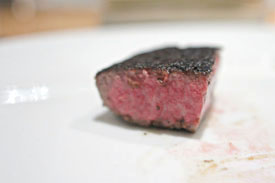 U.S.D.A. PRIME, Illinois Corn Fed, Aged 21 Days; Bone In Rib Eye Steak 20 Oz [$63.00]
U.S.D.A. PRIME, Black Angus Beef, Creekstone Farm, Arkansas City, Kansas, Dry Aged 35 Days; Rib Eye Steak 12 Oz [$59.00]
American Wagyu / Angus "Kobe Style" Beef From Snake River Farms, Idaho; Rib Eye Steak 9 Oz [$88.00]
True Japanese 100% Wagyu Beef From Miyazaki Prefecture, Kyushu; Rib Eye 8 Oz [$155.00]
With the strip steaks dispensed with, we moved on to the degustation of ribeyes. Again, we began with the wet-aged Illinois, and it was
quite
satisfying, a lot more flavorful than the sirloin, but not at all overwhelming in terms of fat (a oft complaint of mine with the cut). The dry-aged was actually a step down this time, being markedly more austere. The Snake River Farms, meanwhile, was, once again, a big jump up, with noticeably more flavor and intramuscular fat. Finally, the Miyazaki beef was once again the king of the hill, with an unbeatable richness, depth, and opulence that you'd only find with Japanese beef; interestingly, I also found it more balanced than the comparable sirloin above. Overall, a stronger showing than we had with the New Yorks.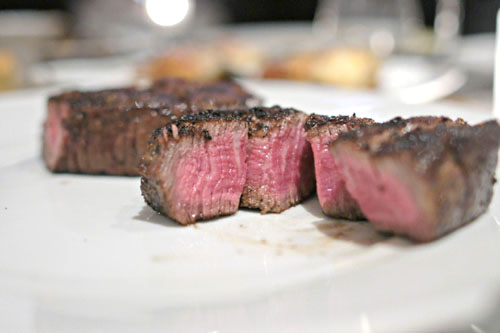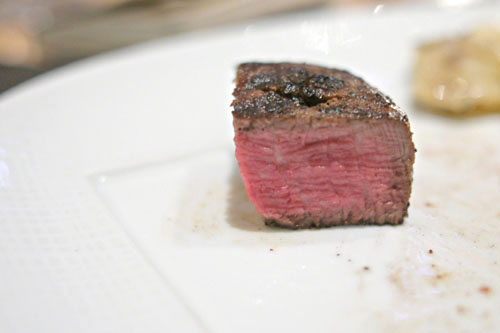 American Wagyu / Angus "Kobe Style" Beef From Snake River Farms, Idaho; Filet Mignon 6 Oz [$85.00]
Given that we'd been gorging ourselves on New York and rib eye cuts, a classic filet mignon made sense to cap off the steak gauntlet. We chose the American wagyu variety, and it did not disappoint, with a lot more flavor than a typical filet, yet with all the tenderness that you'd expect. Can't go wrong with this one.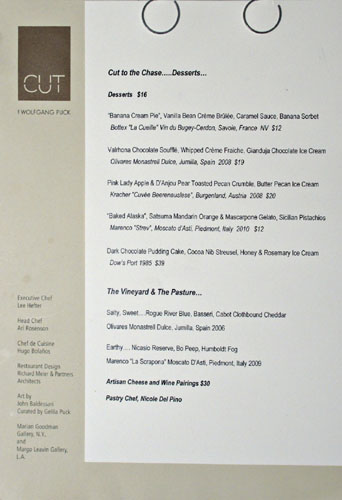 We were all quite stuffed with beef by this point, but some sweet stuff was a must, nevertheless. Desserts at CUT are currently the task of Pastry Chef Nicole Del Pino (
Spago
, Domaine Restaurants, The Peninsula Beverly Hills, California School of Culinary Arts), and we ended up with one of each item on the menu. Click for a larger version.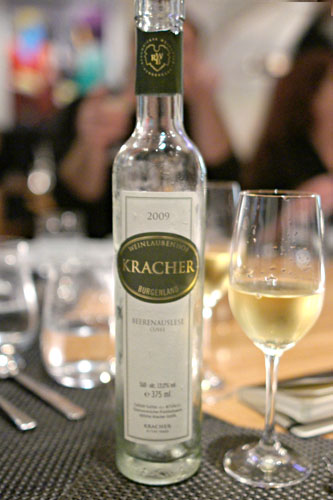 For dessert, we ordered up a bottle of the
Kracher "Cuvée Beerenauslese", Burgenland, Austria 2008 [$80]
, which, coincidentally, I'd had not long ago during
my last visit to Spago
. It was as delicious as I remembered, loaded with honeyed fruit and a touch of spice, all balanced by a nice acidity.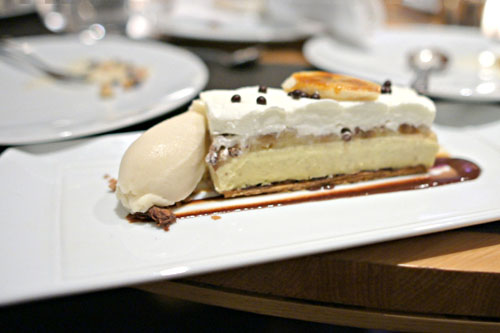 "Banana Cream Pie", Vanilla Bean Crème Brûlée, Caramel Sauce, Banana Sorbet [$16.00]
Kicking things off was this reimagined banana cream pie, which managed to be my favorite dessert of the bunch. I loved its focused, yet subtle banana character, with a touch of lightness courtesy of the cream, but the best part was the crispy layer of burnt caramelized sugar, which lent a wonderful counterpoint to the dish. Even my banana-hating friends appreciated this.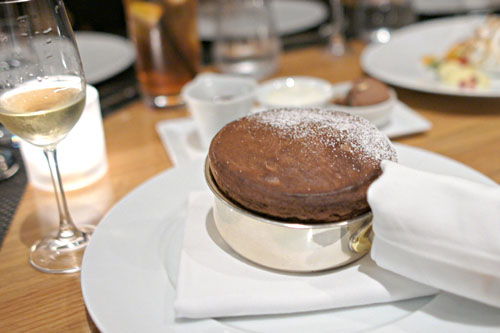 Valrhona Chocolate Soufflé, Whipped Crème Fraiche, Gianduja Chocolate Ice Cream [$16.00]
CUT's soufflé was pretty much a textbook presentation of the dessert, but was just about flawless, conveying loads of chocolate-y goodness in a light, hot, fluffy custard. At the same time, the crème fraîche imparted a certain lightness to the dish, and the combination of chocolate sauce and gianduja upped the ante even further.
Pink Lady Apple & D'Anjoy Pear Toasted Pecan Crumble, Butter Pecan Ice Cream [$16.00]
Here, the sweetness of the pear and apple melded well with the tarter flavors of the berries, all while the ice cream served to tie all the various flavors together. The crux of the dish, though, was the pecan crumble, which added a savory character to things and also provided a wonderful textural contrast.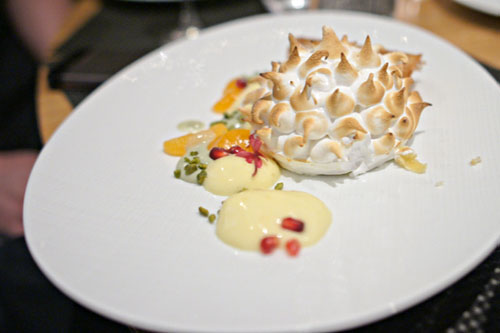 "Baked Alaska", Satsuma Mandarin Orange & Mascarpone Gelato, Sicilian Pistachios [$16.00]
Del Pino's riff on the classic Baked Alaska was another winner, with its cool, creamy, citrus-y center playing perfectly off of the sugary meringue. Meanwhile, pistachios, pomegranate seeds, and mandarin supremes added further points of interest to the dish.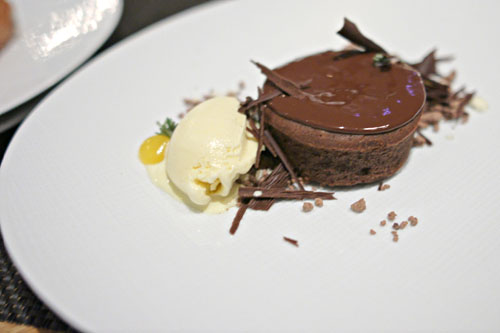 Dark Chocolate Pudding Cake, Cocoa Nib Streusel, Honey & Rosemary Ice Cream [$16.00]
Last up was the chocolate pudding cake. The cake itself was fairly pedestrian, and a bit dry to boot. However, the dessert's saving grace was that fantastic ice cream, which conveyed some delectably herb-y notes over a sugary base of honey. I wanted to eat a whole pint of the stuff!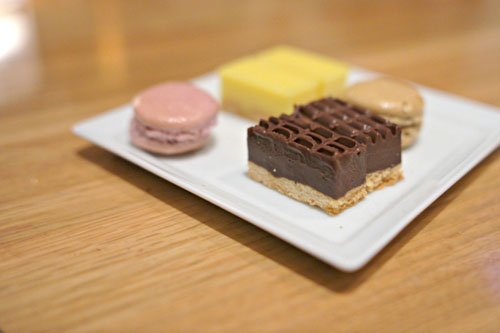 Mignardises comprised mini macarons, lemon bars, and chocolate-Jack Daniel's bars.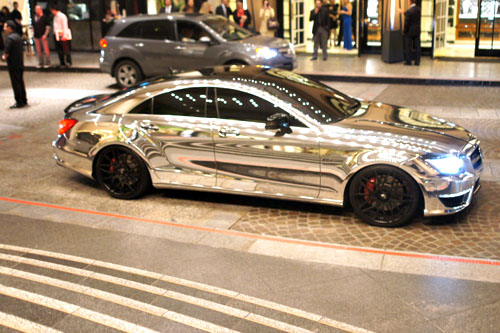 The valet line at the Beverly Wilshire has always been a car show of sorts, with Bentleys, Ferraris, Lamborghinis, and Rolls Royces being common sights. The showstopper tonight, though, was this chrome-wrapped Mercedes CLS63. I wasn't the only one who snapped a photo!
Though this meal at CUT was certainly solid, the restaurant didn't quite live up to my fond memories of the place. The apps didn't seem to have as much sparkle as they did before, some of the steaks lacked the richness and depth that I was hoping for, and the whole seating debacle certainly didn't help. I don't know if it's the food that's changed, or if it's my standards that have gotten loftier. CUT's still probably the best steakhouse in LA, though its position at the top has definitely become more tenuous.