Alma (Los Angeles, CA)
Alma Restaurant
952 S Broadway, Los Angeles, CA 90015
213.444.0984
www.alma-la.com
Sat 12/15/2012, 07:00p-11:00p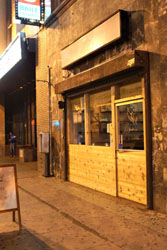 Certainly, one of the most promising pop-ups to hit LA in recent times has been
Ari Taymor
's
Alma
. It debuted in February at Flake in Venice, then moved down the street to Brickhouse in March. From there, Alma transitioned to Millie's Cafe in Silver Lake, before finally landing at its
current Fashion District space
, next to the super-sketchy Club Las Palmas, in June. Since becoming a permanent restaurant, Taymor and company have been making quite a name for themselves, garnering praise from local critics and even participating in
Test Kitchen
's "
Offal Night
" back at the end of October (he also served "bar bites" for
Jeremy Fox
). They've also started a guest chef series (which kicked off on December 12th with Jason Mattick of
Milo & Olive
), and are even running a community outreach program targeted toward fostering an "edible schoolyard" initiative.
Things have been in flux on the staff side of things as well. In the kitchen, Sous Chef
Danny Romo
(
Providence
, Attica,
Fifth Floor
) has replaced Derrick de Jesus, and there
was
a new Pastry Chef in the form of Sam Song, who came from The Dutch and
Bouchon
in NYC but quickly decamped for Sweet Rose Creamery. Meanwhile, in the front-of-the-house, GM duties have been handed over from Dinelle Lucchesi to Ashleigh Parsons, a Harvard grad who's worked at La Chassagnette in Arles, France and Camino in Oakland; she'll be managing Alma's outreach program as well. The only constant, thus, has been Beverage Director
Chris Yamashiro
(whom I first encountered at a
Wolvesmouth
event early in the year) and his house-made sodas.

When it first bowed in the former
Lula Kabob
space, Alma wasn't all that much to look at, a humble space functioning as a sort of tea/elixir bar-
cum
-art gallery. However, during the month of November, the room was refurbished with much more concept-appropriate furniture and fixtures, giving it a sort of Mid-Century-meets-Nordic farmhouse chic sort of aesthetic. The miniscule kitchen and attendant counter still remain, though.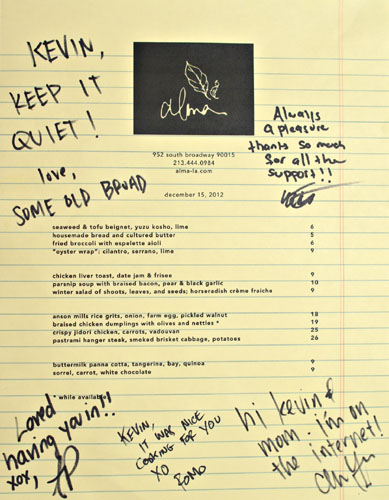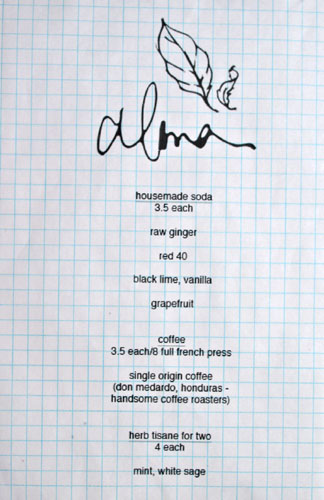 Alma's menu, too, has evolved, from a mandatory prix fixe setup to a full à la carte selection and optional tasting menu (for parties of four or smaller), and now highlights even more locally-foraged product from partner
Urban Outdoor Skills
. As far as the tipple goes, the restaurant is in the process of acquiring a liquor license, but once that's done, the idea is to offer up a focused list of organic, biodynamic wines and craft beers. For now, you'll be able to enjoy Chris Yamashiro's artisanal sodas, coffee and herb tisanes, as well as a liberal BYOB policy. Click for larger versions.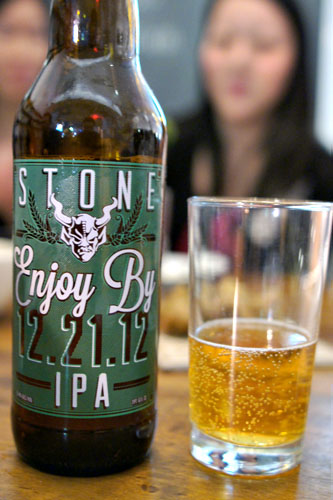 To take advantage of the BYO policy, I pulled four bottles that I'd acquired
just a few days prior
. The first was the
Stone Enjoy By 12.21.12 IPA
, the brewery's third release of short shelf-life IPAs meant to be drunk
quick
, like within a month of bottling (which was on 11.16.12). My initial thought was that the whole setup was a bit gimmicky, but the beer is genuinely some good stuff: hoppy and bitter, sure, but with some tasty citrus notes and a hint of sweet spice. Balanced, smooth, and surprisingly easy to drink.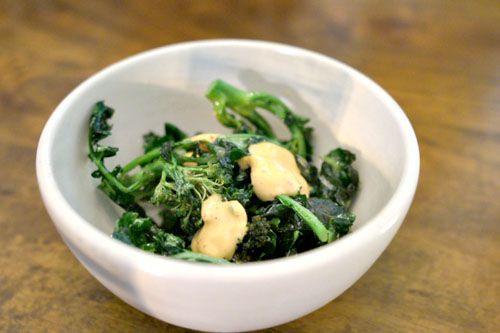 fried broccoli with espelette aioli [$6.00]
Kicking things off was a bowl of fried sprouting broccoli, quite possibly the best preparation of the vegetable that I'd ever had. There was, of course, a wonderful bitterness apparent, set against overtones of citrus, with the weight of the aioli adding a delightful, multidimensional heat to the dish. Texturally, I appreciated how the stems provided a crunchiness that offset the consistency of the fried leaves.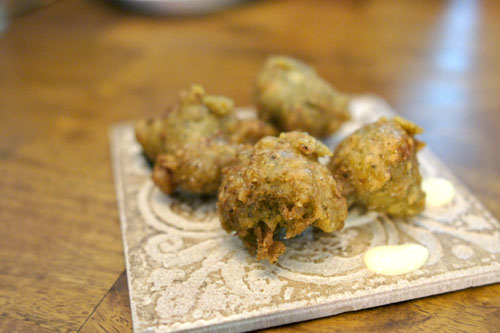 seaweed & tofu beignet, yuzu kosho, lime [$6.00]
Taymor's beignets are a constant on the menu, though the version we had tonight differed from those at previous Alma experiences. The fritters showed off a crisp, flavorful crust that conveyed flashes of Chinese
youtiao
savor, while the insides were nicely chewy, with a delicate ocean-y relish that was deftly tempered by the zestiness of the
yuzukosho
and lime.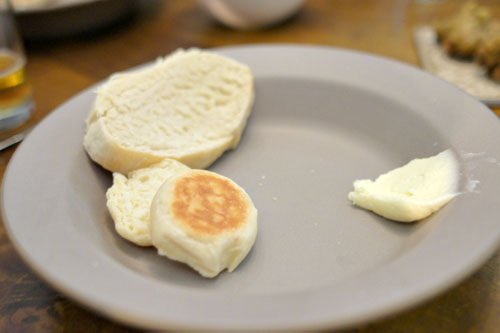 housemade bread and cultured butter [$5.00]
Bread and butter arrived at the table looking deceptively simple, but turned out to be quite profound. The bread was baked in-house, and was effortless, yet substantial, while the homemade butter was even better, with a keen mix of undeniably focused, sweet-and-salty flavors that formed a perfect pairing. I do not hesitate in deeming this one of the best bread & butter presentations that I've ever tasted.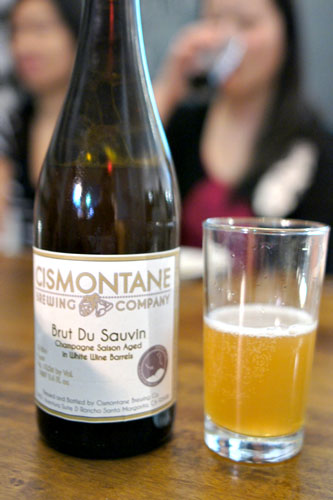 Our next beer was the amazing
Cismontane Brewing Company Brut Du Sauvin
, a white wine barrel-aged Champagne saison that was one of the tastiest beers that I've had in a long while. Vinous in nature, the brew showed off notes of apple and citrus--laced with spice--that transitioned beautifully to a funky, woody, almost oxidative character toward the dry-ish close. Utterly balanced, fantastically complex--get a bottle if you can.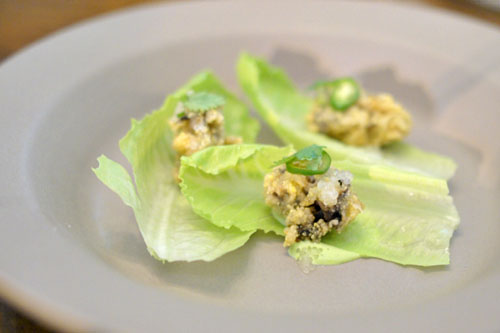 "oyster wrap": cilantro, serrano, lime [$9.00]
Oysters arrived lightly fried, with a subtle, yet present brine on the midpalate that was gorgeously moderated by the spicy attack of the dish, while the finish was thoroughly imbued with the herb-y, aromatic qualities of the cilantro. Delicious--this is one to convince the oyster haters.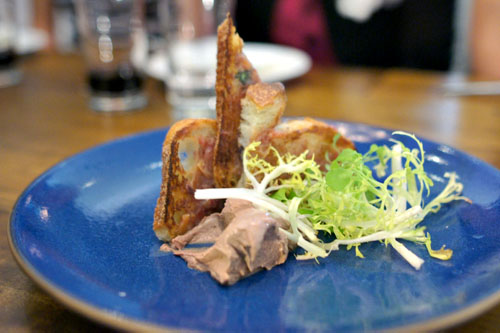 chicken liver toast, date jam & frisee [$9.00]
Here, Taymor presented the classic flavors of chicken liver, but refined. Of course, the earthy, lush character of the mousse was proudly conveyed, its heft dutifully counteracted by the very apropos sweetness of the date jam. However, the frisée was just as important, adding a much-appreciated touch of levity to the course.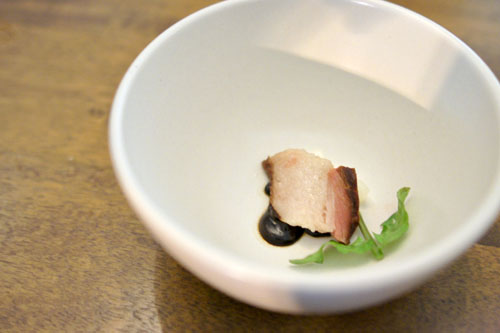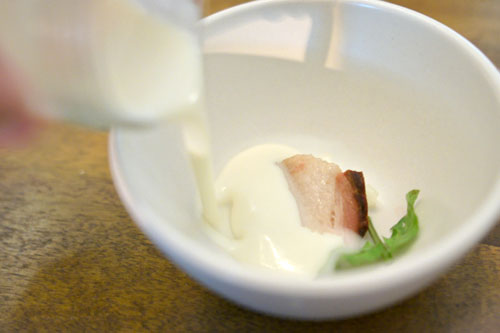 parsnip soup with braised bacon, pear & black garlic [$10.00]
Parsnip soup arrived in a canning jar: hot, hearty, buttery-smooth, and with a distinct sugariness. It melded well enough with the intense smoke from the bacon, though I would've liked a touch less sweetness from the soup, in order to let the gravitas of the pork shine through even more. Dices of pear, meanwhile, added some crunchiness to the fray, and I liked the piquancy of the black garlic as well.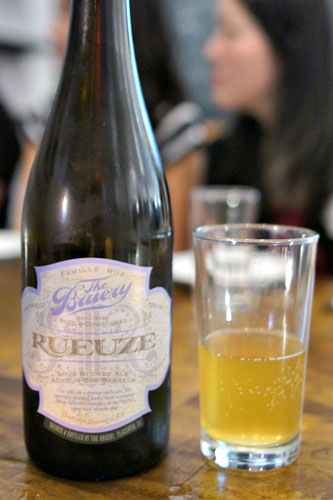 The Bruery Rueuze
was an attempt at the classic gueuze style, a successful one at that. A blend of three vintages of sour ale, the beer conveyed loads of tart, puckering flavor with a strong citrus character set off by a funky, lactic tang. Definitely something for fans of the sour stuff.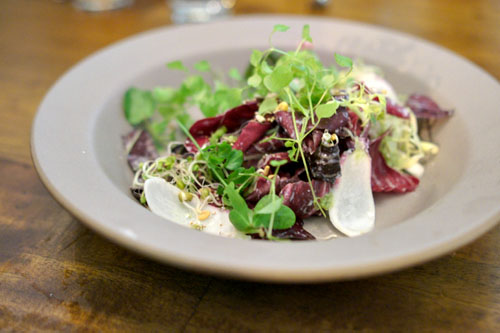 winter salad of shoots, leaves, and seeds; horseradish crème fraiche [$9.00]
A salad of various plant parts showed off a bracing, biting bitterness that almost stunned the palate, while seeds provided a well-placed, savory crunch to the mélange of flavors. A helping of horseradish crème fraîche, meanwhile, contributed a creamy contrast to the greens, but I wanted more of it to further integrate the various elements at play.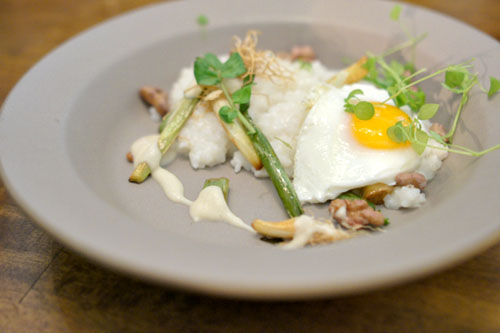 anson mills rice grits, onion, farm egg, pickled walnut [$18.00]
Grits were quite lovely, and almost risotto-like in character. I loved the enveloping richness of the egg, as well as the counterbalancing crunch and piquancy from the walnut, but my favorite thing here was the onion, which added a superb crunch and astringency to the dish that brightened it up perfectly. There was sort of a lot going on here, but it all came together admirably; it was something that you could just eat a big bowl of.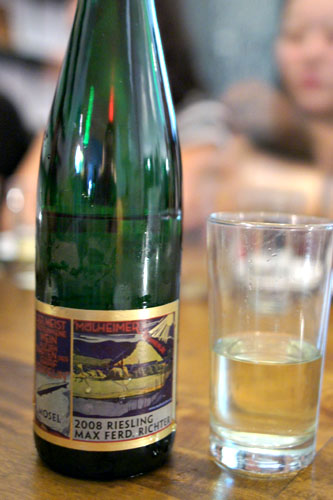 The first wine of the meal brought us the
2008 Weingut Max Ferd. Richter Mülheimer Sonnenlay Riesling Qualitätswein
from Germany's Mosel Saar Ruwer region. This was a quaffable wine, not terribly complex, but with a rich, fruity, floral base and just a touch of minerality.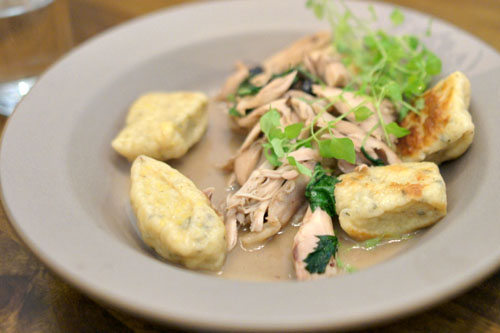 braised chicken dumplings with olives and nettles [$19.00]
Chicken and dumplings were next, with the tender, succulent bird showing off an incredible depth of flavor that sort of blew me away--I don't think I'd ever had chicken quite like that before. I loved the astringency of the greenery here, too, and the dumplings I found dense and filling, with a distinct rosemary-like tinge to them that I really appreciated.
crispy jidori chicken, carrots, vadouvan [$25.00]
Rolled slices of Jidori were tasty as well: moist and tender, with an excellent shot of vadouvan spice on the skin that accented the meat in stellar fashion. Carrots provided a surprisingly apt sweetness to the dish, while the bitterness of the greens was on point as well.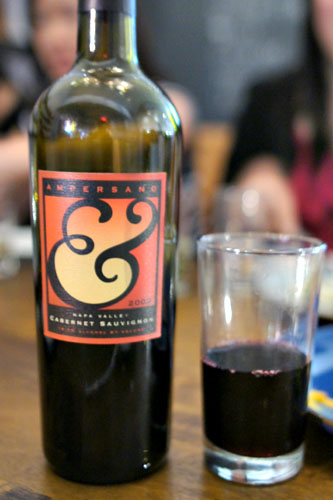 To pair with the beef, we went with the
2009 Ampersand Larry Bump Cabernet Sauvignon Darms Lane Vineyard
. This was a tasty wine, nicely balanced and loaded with ripe, juicy currant nuances, all set off by a marked peppery character that actually paired beautifully with the meat.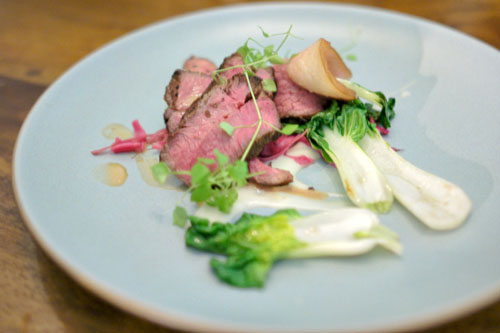 pastrami hanger steak, smoked brisket, cabbage, potatoes [$26.00]
Our final savory brought out a duet of beef. The brisket displayed an intense, mouth-watering, hammy smokiness and savor to it, but needed to be more tender, more supple. The hanger, on the other hand, was just about perfect: beefy, sure, but also with a gorgeous mouthful of pastrami spice that kept me going back for more. I absolutely adored the use of bok choy here as well, which imparted a fantastic crunch and lightness to the dish.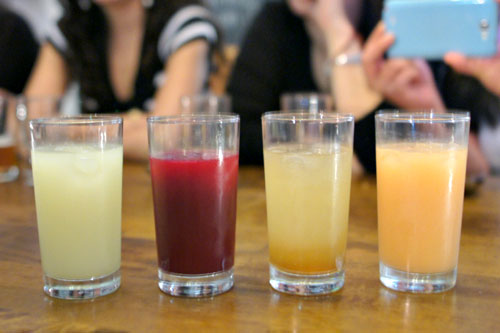 At this point, we requested a tasting of Chris Yamashiro's homemade sodas, each priced at $3.50. Going from left to right, we began with the
raw ginger
, which really did a wonderful job in displaying the pure, bracing, unmitigated essence of the rhizome. The
red 40
(beet, star anise, pomegranate, rosewater), on the other hand, was delightfully sweet, yet not cloyingly so, with a nice hint of spice. The
black lime, vanilla
was also tasty, with a base of vanilla sweetness counterbalanced by the focused sourness of lime on the finish. Last was the
grapefruit
soda, which conveyed plenty of tart, tangy citrus flavors leading to an almost nose-tingling sensation of cinnamon-y spice.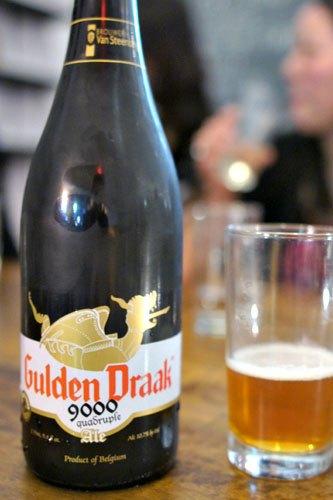 Our last bottle of the evening came in the form of the
Brouwerij Van Steenberge Gulden Draak 9000 Quadruple
. I'd had the standard Gulden Draak at
LudoBites
earlier this year, and quite liked it, but this was even better. The bouquet on this one was
maaahvelous
, wonderfully aromatic and redolent of pear. The fruit continued on to the palate, but in subdued form, where it was joined by spicy, boozy notes and a slight earthy funk. A superb, versatile brew that really improves on the original.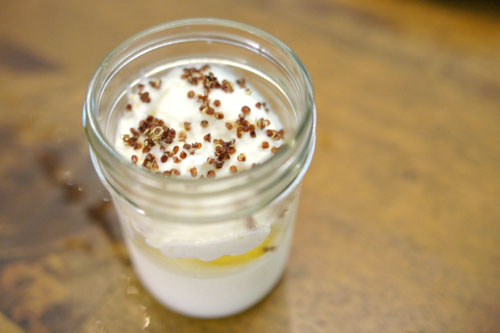 buttermilk panna cotta, tangerine, bay, quinoa [$9.00]
A jar of buttermilk panna cotta came layered with tangerine, its tangy, lactic character adeptly offset by the refreshing, juicy sweetness of the fruit, while the quinoa added a delightful crunchiness to things.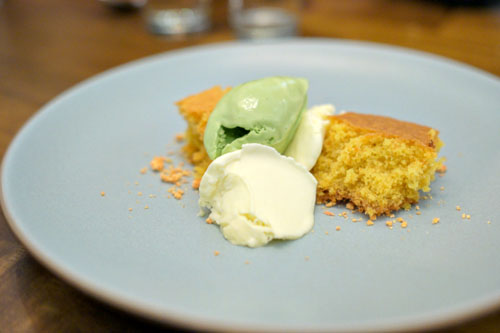 sorrel, carrot, white chocolate [$9.00]
The sorrel ice cream was the star of the show here, putting forth a distinct sourness that formed a great foil to the sugariness of the white chocolate semifreddo and carrot cake. It was a smart mix of flavors, and I swear, in some bites, I even tasted foie gras in there somewhere!
In my previous reports on Alma, I strongly praised Chef Taymor's cooking, which is imbued with a marked Norcal sensibility that's really something you don't find in LA. That rings true more than ever. It was sort of interesting to see how his cuisine has evolved over the course of the year, and if anything, the food has gotten even more confident. Taymor has a great culinary point-of-view that deftly marries rusticity and refinement, with a reverence for all that's great about famer's market-driven, Californian fare, and yet, he imbues his cooking with just the right amount of modern flair. The result is a thing to behold: seemingly simple plates that somehow manage to be profound and multifaceted, yet approachable at the same time, with uncommonly precise flavor combinations that are almost uncompromisingly delicious. Keep an eye out for this one.